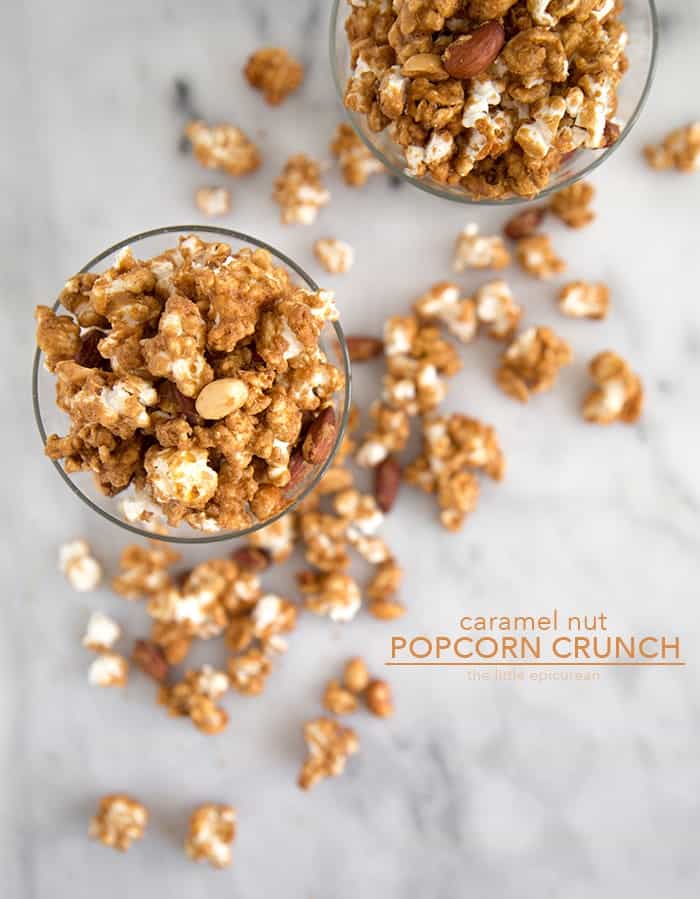 I made a huge batch of this caramel nut popcorn crunch in preparation for all the baseball games I'd be watching in October. I had enough popcorn to last me until the Dodgers made it to the World Series.
Unfortunately I was too optimistic. The Dodgers lost last week to the Cardinals. (Sigh.) It's just like last year, except much earlier in the post season. Oh well, there's always next year!
I'm just really hoping the Cardinals beat the Giants this week. Obviously being born and raised in Los Angeles, I could never ever in a million years root for the San Francisco Giants.
Although, let's not get into the whole NorCal/SoCal rivalry here. Let's talk about caramel popcorn.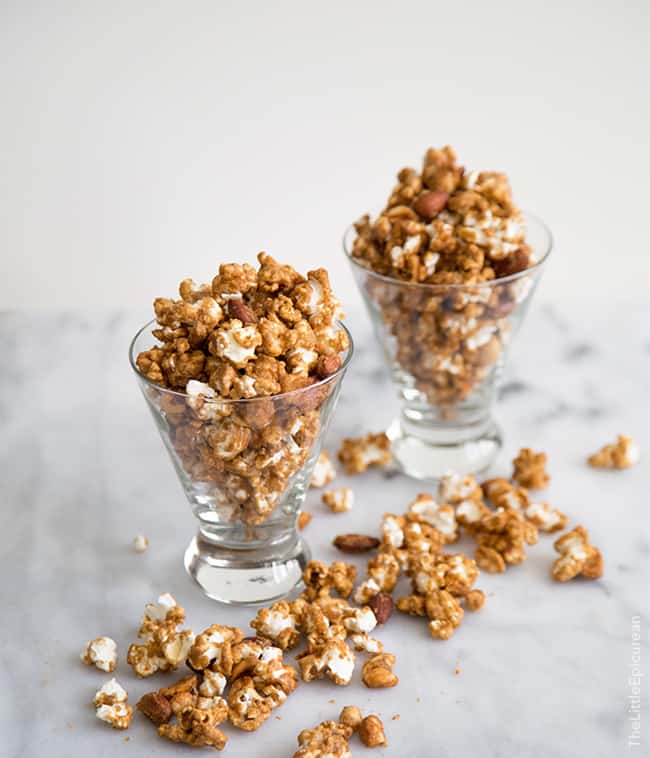 As a kid, boxes of Cracker Jack and Crunch n' Munch were not safe around me. I was notorious for eating an entire box in one sitting, and equally known for complaining about the ensuing stomachache that comes with consuming that much sugar.
My sweet tooth has definitely changed over the years. I need a touch of salt to go along with sweets.
I don't like having all the popcorn kernels completely covered in caramel. It ends up being too sweet and I can only eat a handful before getting bored of the flavor.
To cut the sweetness from the caramel, I added a touch of ground cinnamon to round out the flavors. To amp the crunch factor, I also threw in some salted peanuts and almonds.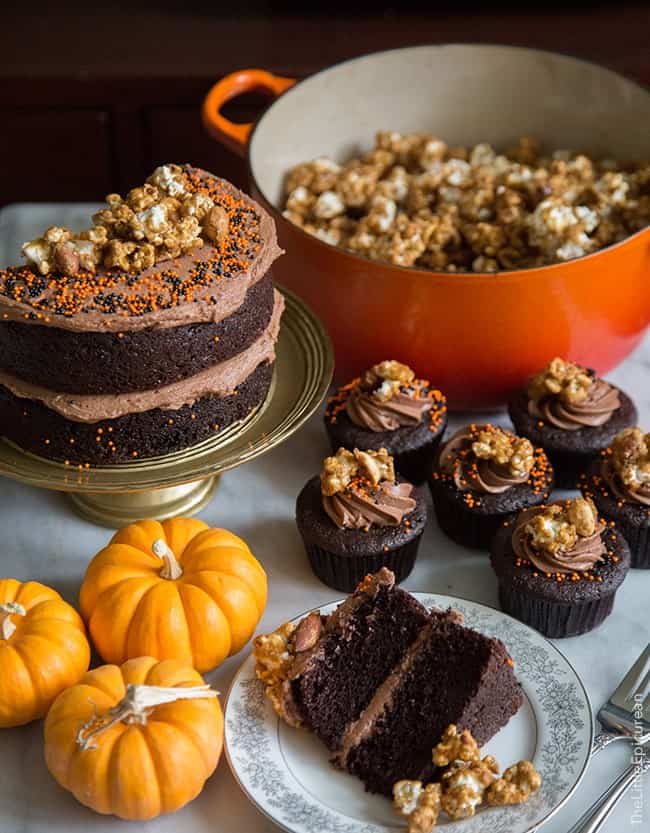 Luckily, caramel popcorn isn't just for watching baseball. They're perfect for television watching, movie nights, and game nights.
But best of all, caramel popcorn is the perfect topping for chocolate cake! Have a sneak peek at the new peanut butter chocolate cake I'm working on for Halloween!
Caramel Nut Crunch Popcorn
Cook Time
1
hour
15
minutes
Ingredients
3

oz

bag microwave popcorn (no oil or salt added)*

about 10 cups popped

½

cup

unsalted butter

cut into tablespoons

1

cup

brown sugar

packed

¼

cup

light corn syrup

¼

cup

water

½

teaspoon

baking soda

½

teaspoon

kosher salt

1

teaspoon

pure vanilla extract

1

teaspoon

ground cinnamon

1

cup

salted peanuts

¾

cup

salted almonds
Instructions
Place popcorn in the largest bowl you have. Set aside

In a heavy bottomed sauce pot, combine butter, brown sugar, corn syrup and water.  Set over medium heat to melt butter and sugar.  Using a candy thermometer (or food safe thermometer), cooked mixture to 250° F.  Stir mixture as needed to ensure even cooking.

Once desired temperature is reached, remove pot from heat. Add baking soda and whisk to combine.  (BE CAREFUL when adding the baking soda, as the caramel mixture will bubble up and rise!)  Whisk in salt, vanilla, and cinnamon until combined.

Pour hot caramel over popcorn.  Using a large spatula, fold to distribute caramel.  Add peanuts and almonds and fold until incorporated.  Spread caramel popcorn into an even layer over prepared baking.  (If necessary, use more than one baking sheet if popcorn does not fit.)  Bake for 60 minutes, stirring popcorn every 20 minutes to ensure even caramel coating.

Remove from oven and let popcorn mixture cool slightly.  Break up any large chunks that may have formed.  Allow to cook to room temperature and store in an airtight container.