Calling all fans of Cracker Jack and Crunch n' Munch! Whip up your own homemade version using this caramel nut popcorn crunch recipe.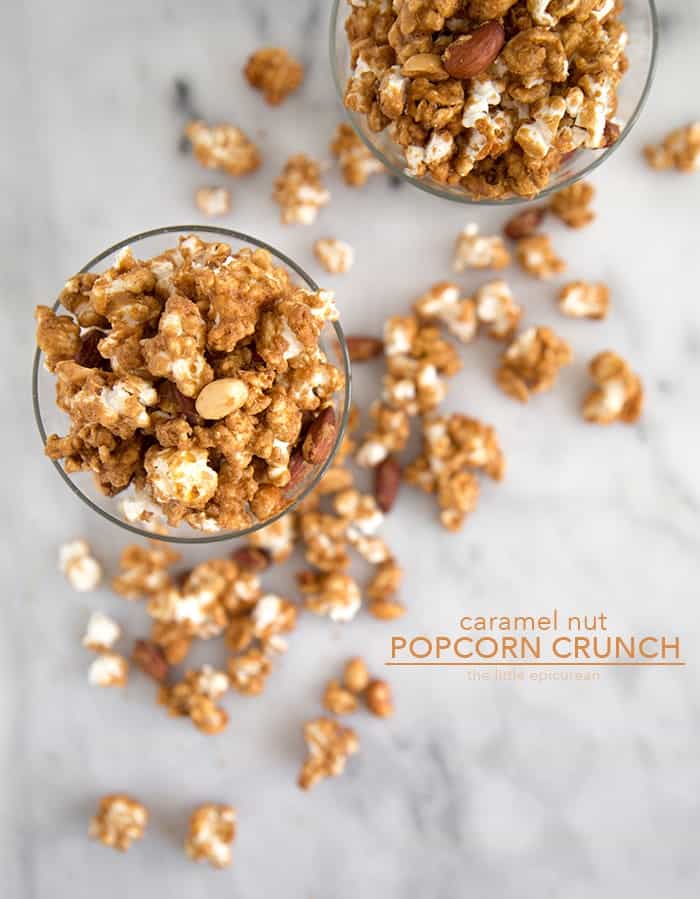 Take me out to the ball game, take me out to the crowds, buy me some peanut and crackerjack…
This homemade popcorn crunch recipe packs together freshly popped popcorn with caramel sauce, salted peanut, and salted almonds.
It's a crunchy, sweet, and salty snack perfect for baseball games, movie nights, and cozy nights in.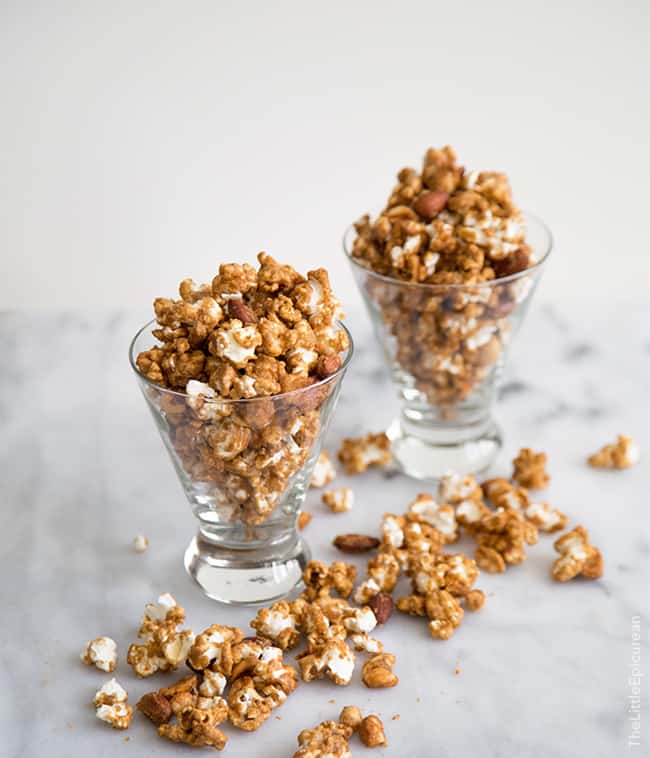 Homemade Caramel Popcorn
More than often, store bought caramel popcorn is far too sweet.
This caramel crunch popcorn is a fine balance of sweet and salty. The popcorn is lightly coated with caramel.
A touch of ground cinnamon is added to the caramel to cut through the sweetness and balance out the burnt sugar bitterness.
To amp the crunch factor, salted peanuts and salted almonds are thrown into the mix.
Special Tools Needed:
large heavy bottomed sauce pot
candy thermometer
large mixing bowl
non-stick silicone baking mat (or parchment paper)
Cook the caramel sauce in a large heavy bottom sauce pot. I recommend a 5 to 7 quart pot. Heavy bottomed pot will help to ensure even heat distrution.
Candy thermometer is a vital tool! The caramel sauce needs to be cooked to 250°F to set properly.
Grab the largest mixing bowl you have. It should be large enough to hold 10 cups of popped popcorn. Be sure the bowl can withstand heat.
Spread caramel coated popcorn in a single layer on a silicone mat lined baking sheet (or parchment lined). Pop in the oven for about an hour, stirring every 20 minutes.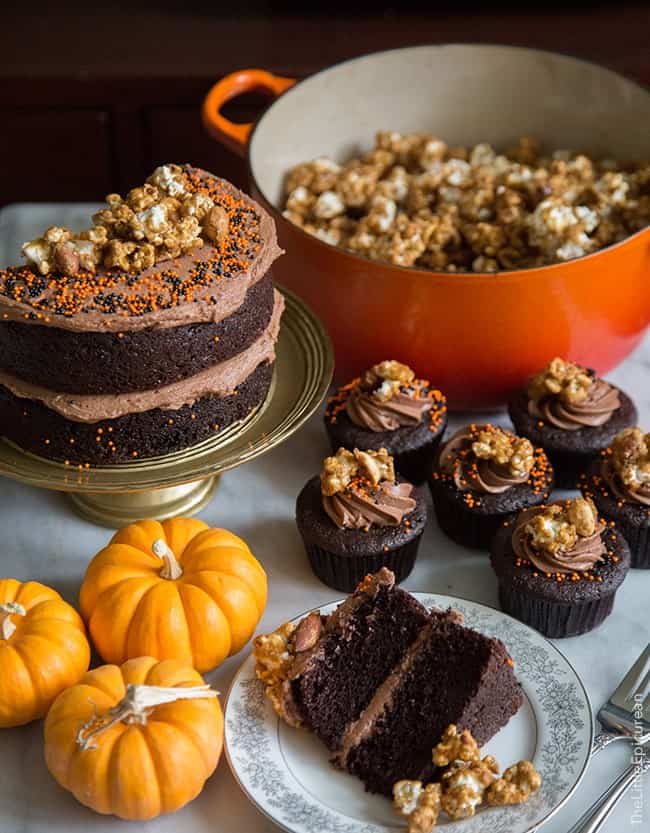 Eat the caramel crunch popcorn on its own… or use it to top desserts!
Caramel popcorn is the perfect topping for chocolate cake!  I use extra caramel crunch popcorn to top this peanut butter chocolate cake for Halloween!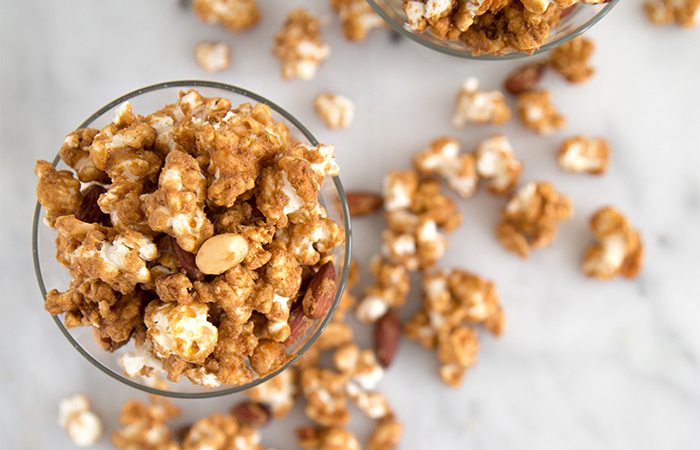 Caramel Nut Crunch Popcorn
Whip up a batch of these caramel nut popcorn crunch. It's a homemade version of Cracker Jacks and Crunch N Munch!Yield: about 11 cups
Ingredients
3

oz

bag microwave popcorn (no oil or salt added),*

about 10 cups popped

½

cup

unsalted butter,

cut into tablespoons

1

cup

brown sugar,

packed

¼

cup

light corn syrup

¼

cup

water

½

teaspoon

baking soda

½

teaspoon

kosher salt

1

teaspoon

pure vanilla extract

1

teaspoon

ground cinnamon

1

cup

salted peanuts

¾

cup

salted almonds
Instructions
Place popcorn in the largest bowl you have. Set aside

In a heavy bottomed sauce pot, combine butter, brown sugar, corn syrup and water.  Set over medium heat to melt butter and sugar.  Using a candy thermometer (or food safe thermometer), cooked mixture to 250° F.  Stir mixture as needed to ensure even cooking.

Once desired temperature is reached, remove pot from heat. Add baking soda and whisk to combine.  (BE CAREFUL when adding the baking soda, as the caramel mixture will bubble up and rise!)  Whisk in salt, vanilla, and cinnamon until combined.

Pour hot caramel over popcorn.  Using a large spatula, fold to distribute caramel.  Add peanuts and almonds and fold until incorporated.  Spread caramel popcorn into an even layer over prepared baking.  (If necessary, use more than one baking sheet if popcorn does not fit.)  Bake for 60 minutes, stirring popcorn every 20 minutes to ensure even caramel coating.

Remove from oven and let popcorn mixture cool slightly.  Break up any large chunks that may have formed.  Allow to cook to room temperature and store in an airtight container.