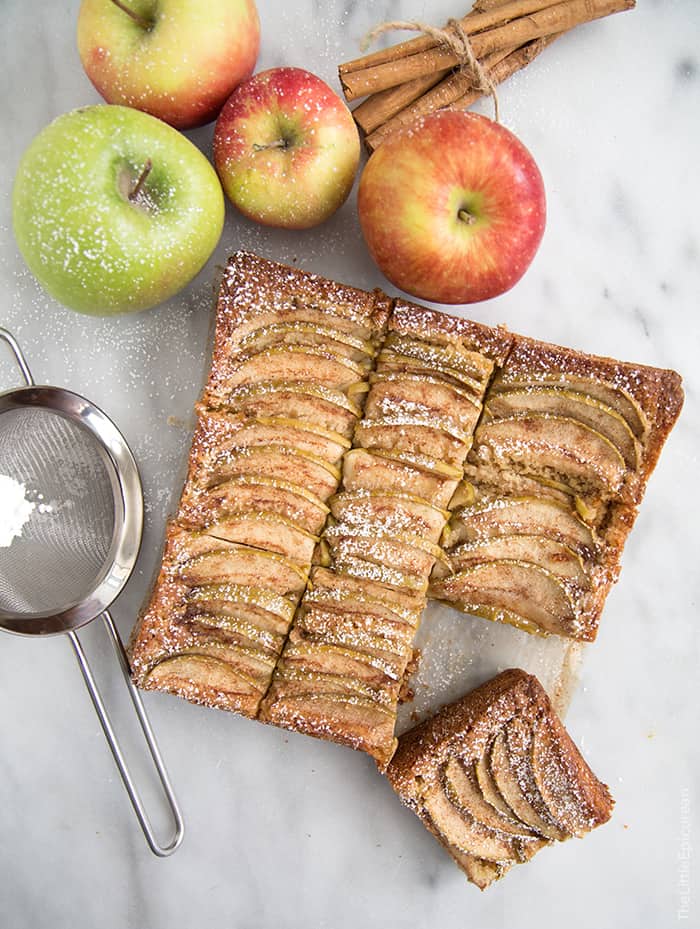 I'm left-handed and I am a terrible apple peeler.  I'm also very slow at peeling potatoes and carrots.  Here's the problem: I write with my left hand but I use a knife with my right hand.  I throw right-handed, use scissors on my left, I pipe frosting left-handed, but I frost cakes right-handed.  I'm complicated.  When it comes to using a peeler, my brain can't decide which hand to use.  That's why I love recipes that keep the peel on.  And that is why this German Apple Cake has become my favorite autumn dessert.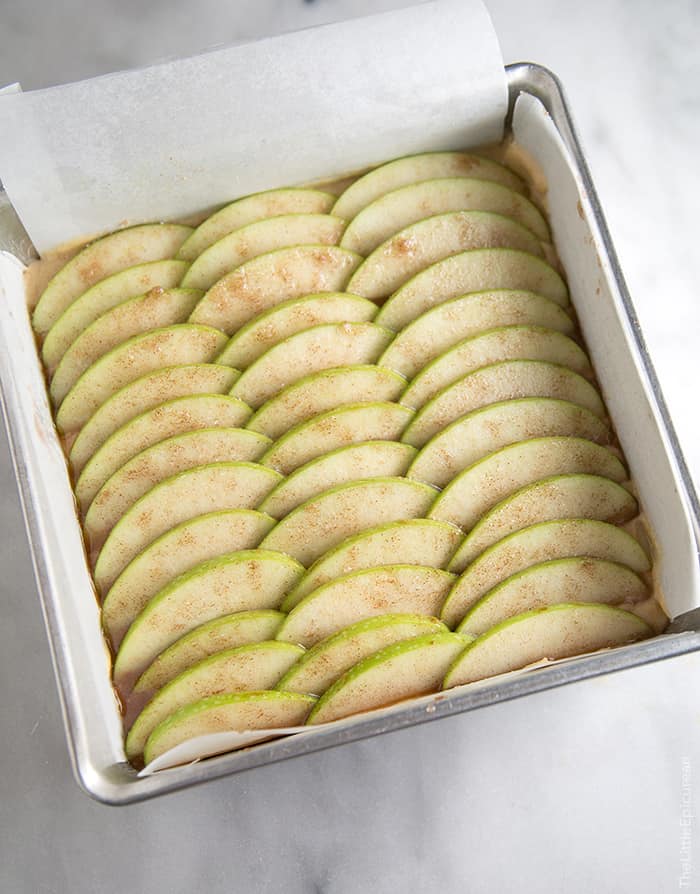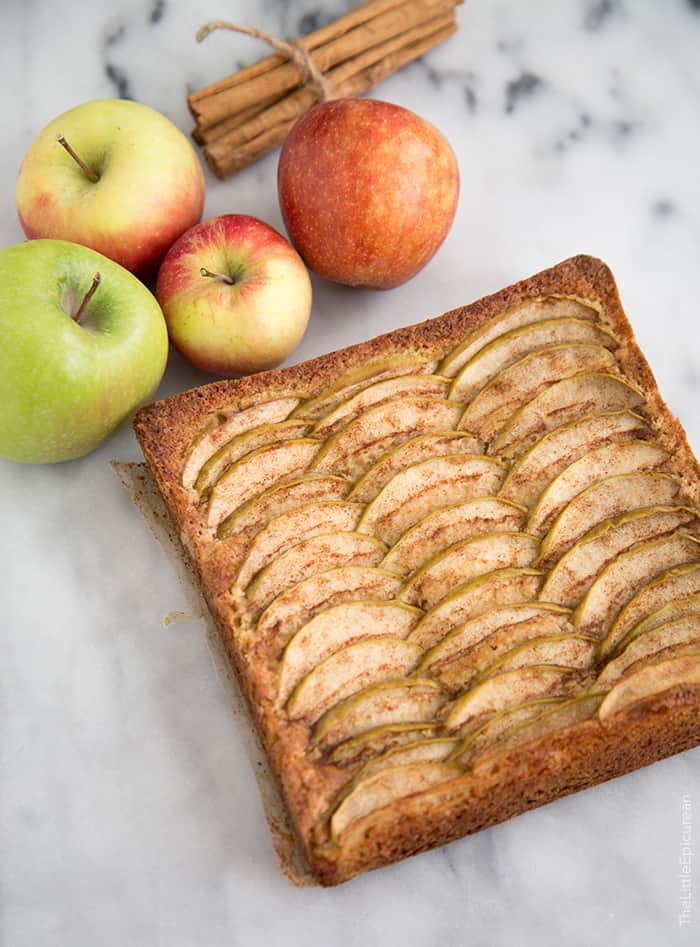 I'm not really sure why it's called "German" apple cake.  I tried to search for an explanation, but this one by Edible Rhody is the best one I could find.  Regardless of the name, I'm calling this apple cake the quintessential autumn dessert.  Not only it is easy to make, it doesn't require the use of a stand mixer or electric hand mixer.  All you need is a couple bowls and a sturdy spatula.
Since the recipe only calls for one large apple, it's the perfect recipe to make when you have that one overripe apple that you don't know want to do with.  While any apple will do, I prefer tart Granny Smiths for baking.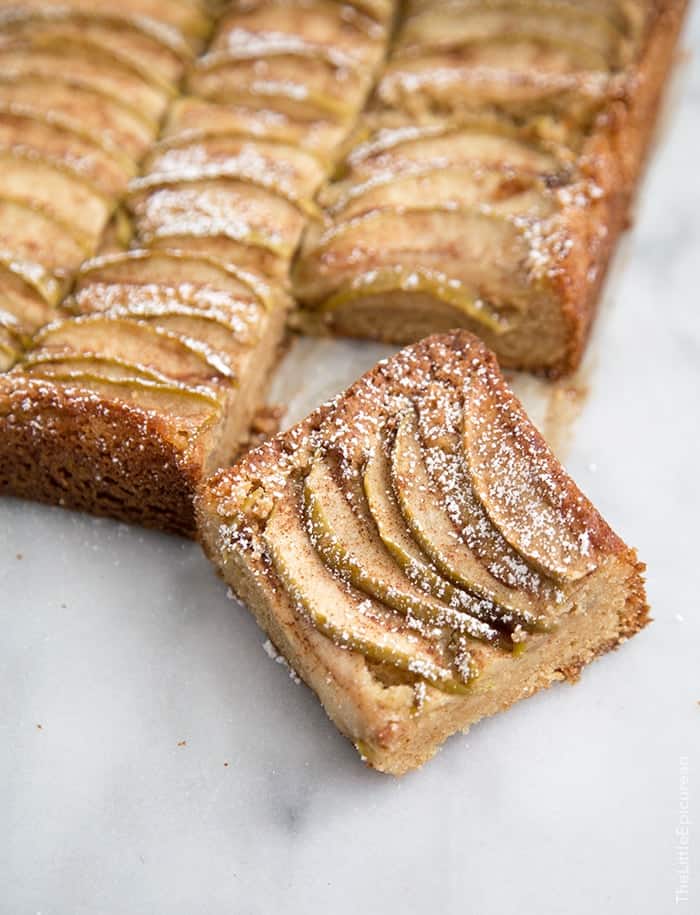 This apple cake is the kind of dessert I like to eat while I'm tucked under a blanket with a mug of warm tea and a good book.  It's also the kind of dessert that I need to portion out because it is way too easy to eat.   And since this cake doesn't require the use of a fork, my left-handedness isn't a problem.  I can totally have a slice of cake in each hand without confusing my brain.
German Apple Cake
I'm call this apple cake the quintessential autumn dessert. It's simple and easy to make. It doesn't require the use of a stand mixer or electric hand mixer. And it's the perfect recipe when you only have one apple on hand!
Yield: 8-inch square pan
Prep Time: 15 minutes
Cook Time: 45 minutes
Total Time: 1 hour
Ingredients:
1 cup all-purpose flour
2 tsp baking powder
1 tsp fine sea salt
3/4 tsp ground cinnamon
1/4 tsp ground nutmeg
1/2 cup unsalted butter, softened, room temperature
1/2 cup dark brown sugar, packed
1/3 cup granulated sugar
2 large eggs, lightly beaten
1 tsp pure vanilla extract
Apple Topping:
1 large Granny Smith apple, cored, thinly sliced
1/4 cup granulated sugar
1/2 tsp ground cinnamon
sifted powdered sugar, to garnish
Directions:
Preheat oven to 350 degrees F.  Cut parchment paper so that it is about 2 inches larger than the pan.  Line 8-inch cake pan with parchment paper, allowing the paper to extend over the edges.  Lightly coat with butter or cooking spray.  Set aside.
In a small bowl, whisk together flour, baking powder, salt, cinnamon and nutmeg.  Set aside.
In a large bowl, cream together softened butter, brown sugar, and granulated sugar.  Add eggs and vanilla.  Mix until combined.  Add flour mixture and stir until just combined.
Transfer batter to prepared cake pan.  Use the back of a spoon or a mini offset spatula to evenly distribute batter in pan.
Apple Topping: In a small bowl whisk together sugar and cinnamon.  Add sliced apples.  Toss to coat in cinnamon-sugar mixture.  Arrange apple slices on top of batter in desired configuration.
Bake for 40-45 minutes until toothpick inserted in center of cake comes out clean.  Let cool in pan for 10 minutes.  Unmold by lifting excess parchment paper overhang.  Allow to cool on wire rack.  Serve warm or at room temperature.  Garnish with powdered sugar, if desired.