Moist and flavorful apple coffee cake featuring vanilla cake with cinnamon apples and a walnut oat crumb topping.
This post was sponsored by Lodge Cast Iron. Thank you for supporting my brand partners. As always, all opinions stated here are entirely my own.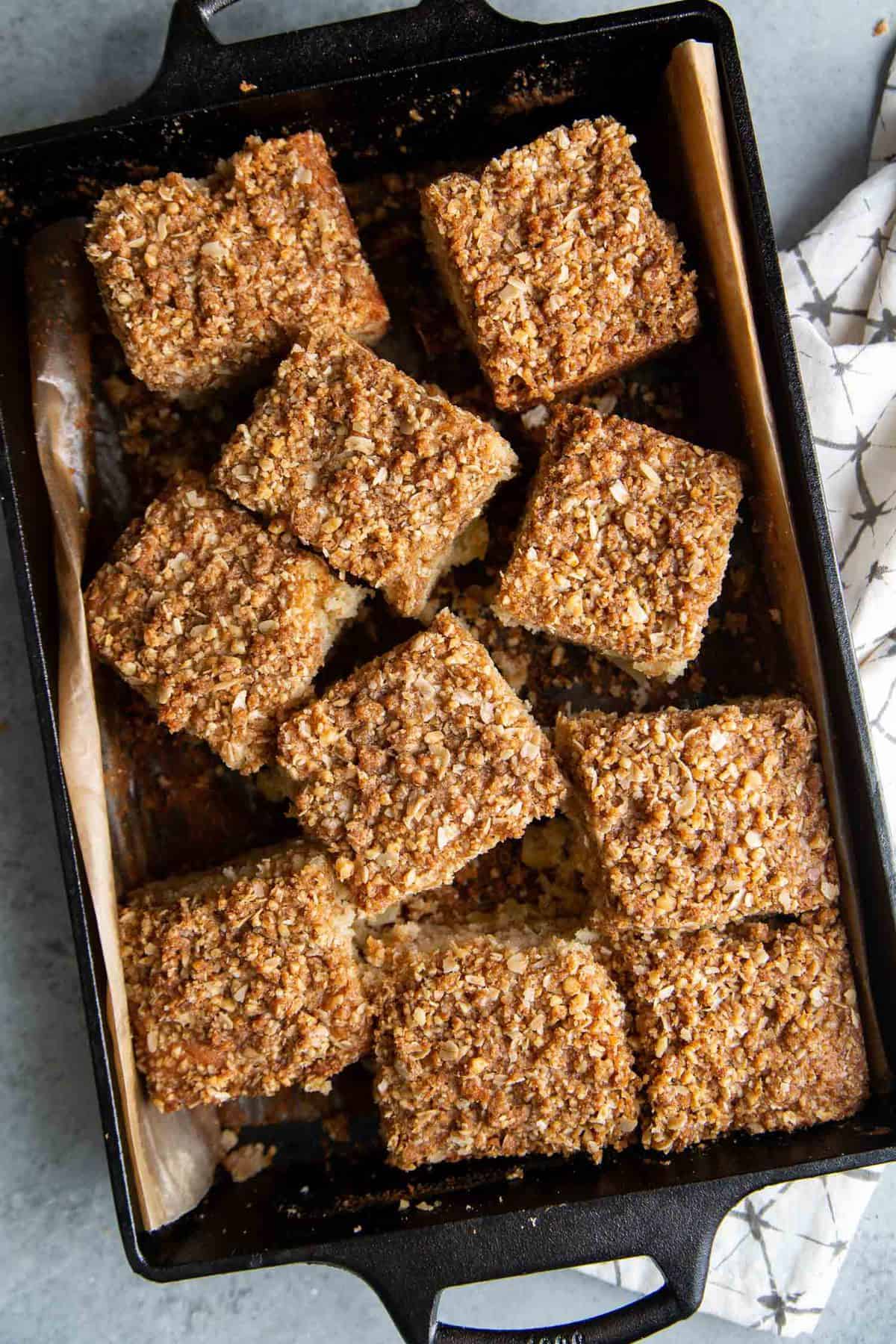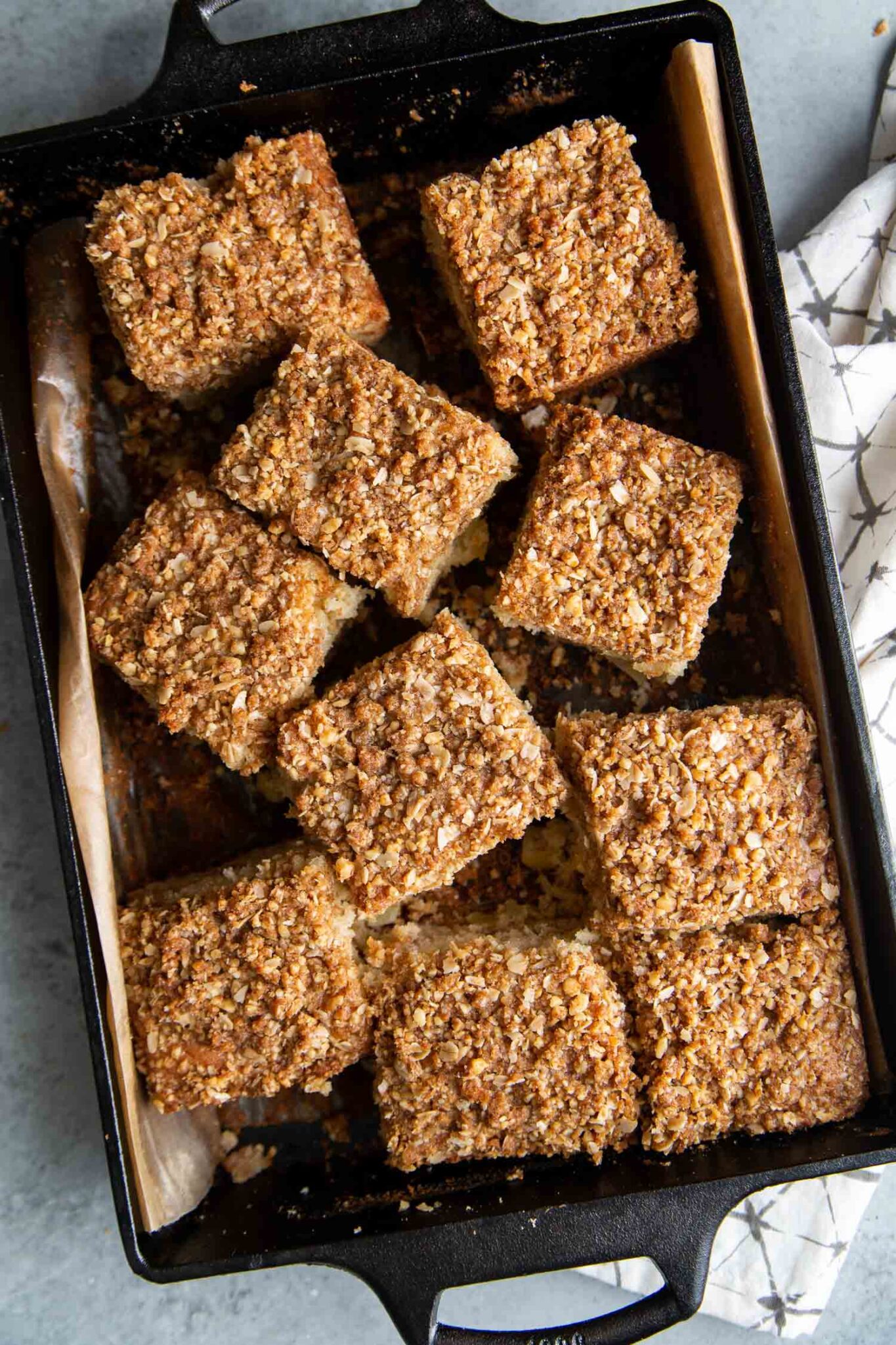 This isn't your average run of the mill coffee cake. This is better!
Moist, tender vanilla cake studded with chunks of cinnamon dusted apples all topped with a buttery, crunchy walnut oat crumble.
Forget apple pie. Let's make apple coffee cake all autumn long!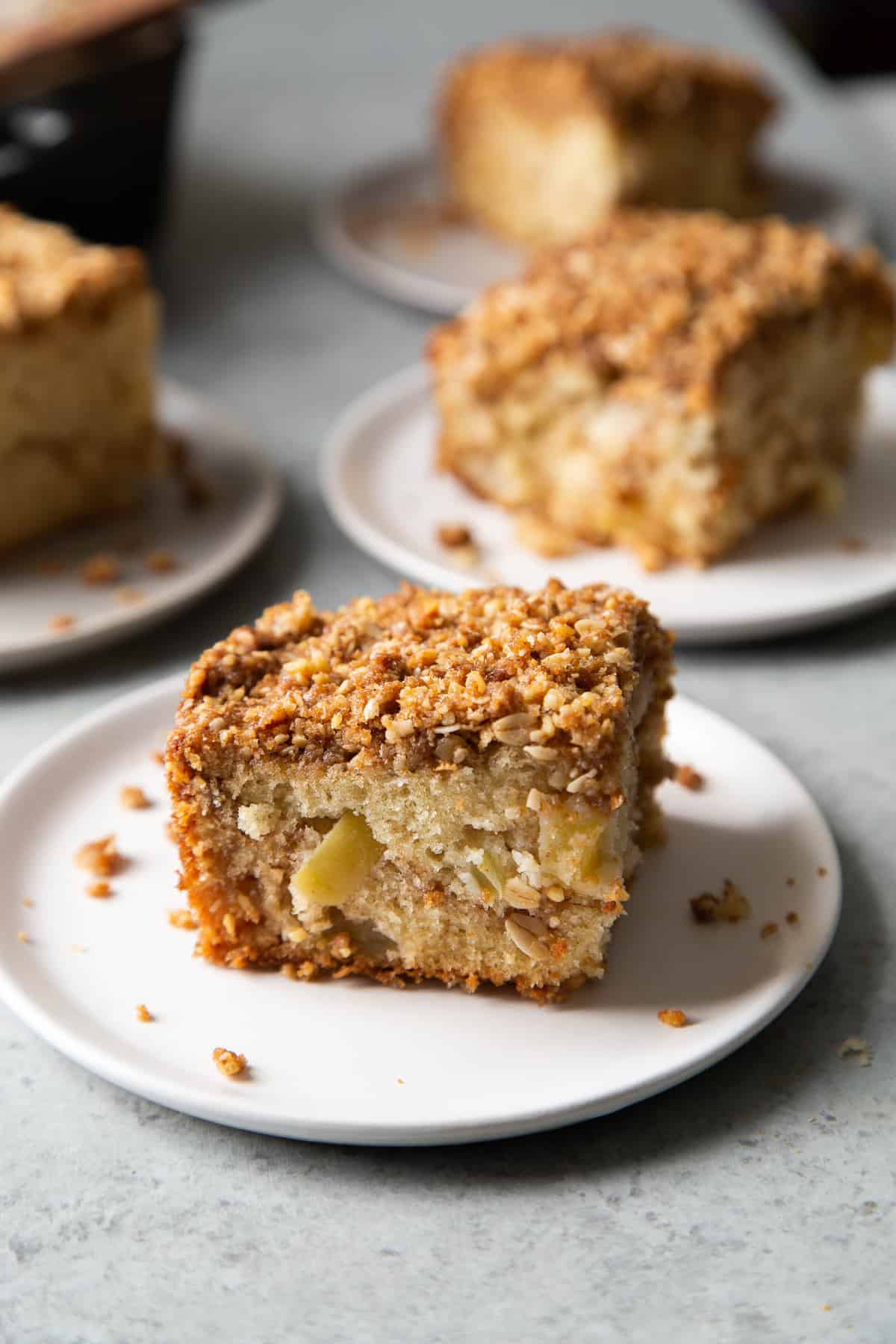 The word "coffee cake" is a bit of a misnomer. Coffee cake does not contain any coffee. Rather, it is a moist cake that is served alongside coffee or tea.
This is a well-balanced coffee cake. It's not too sweet, making it a great anytime snack.
Enjoy it for breakfast, as a pick me up snack, or turn it into a decadent dessert by serving it a la mode with a scoop of vanilla ice cream and drizzle of caramel sauce!
The key to this apple coffee cake is choosing the right baking pan!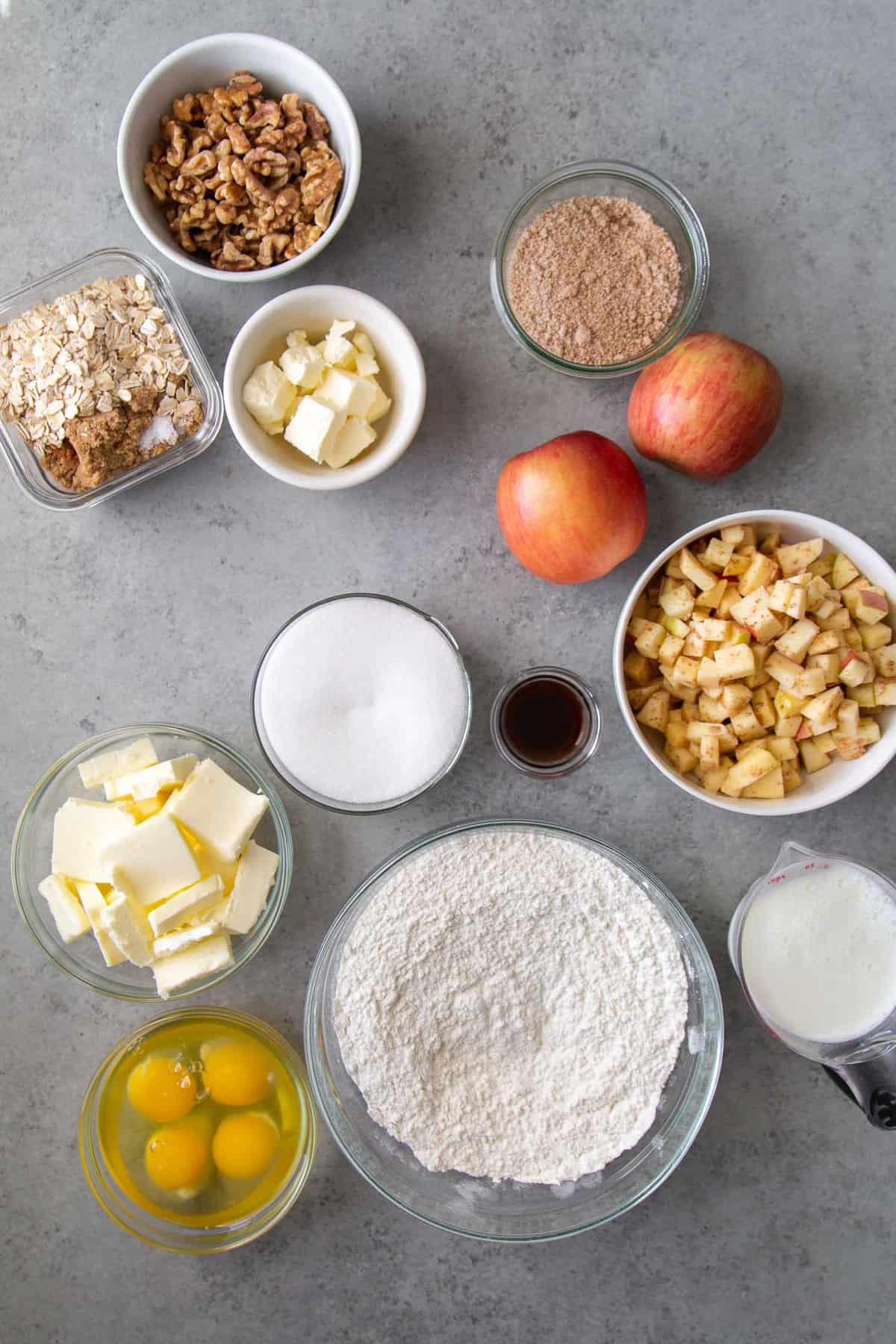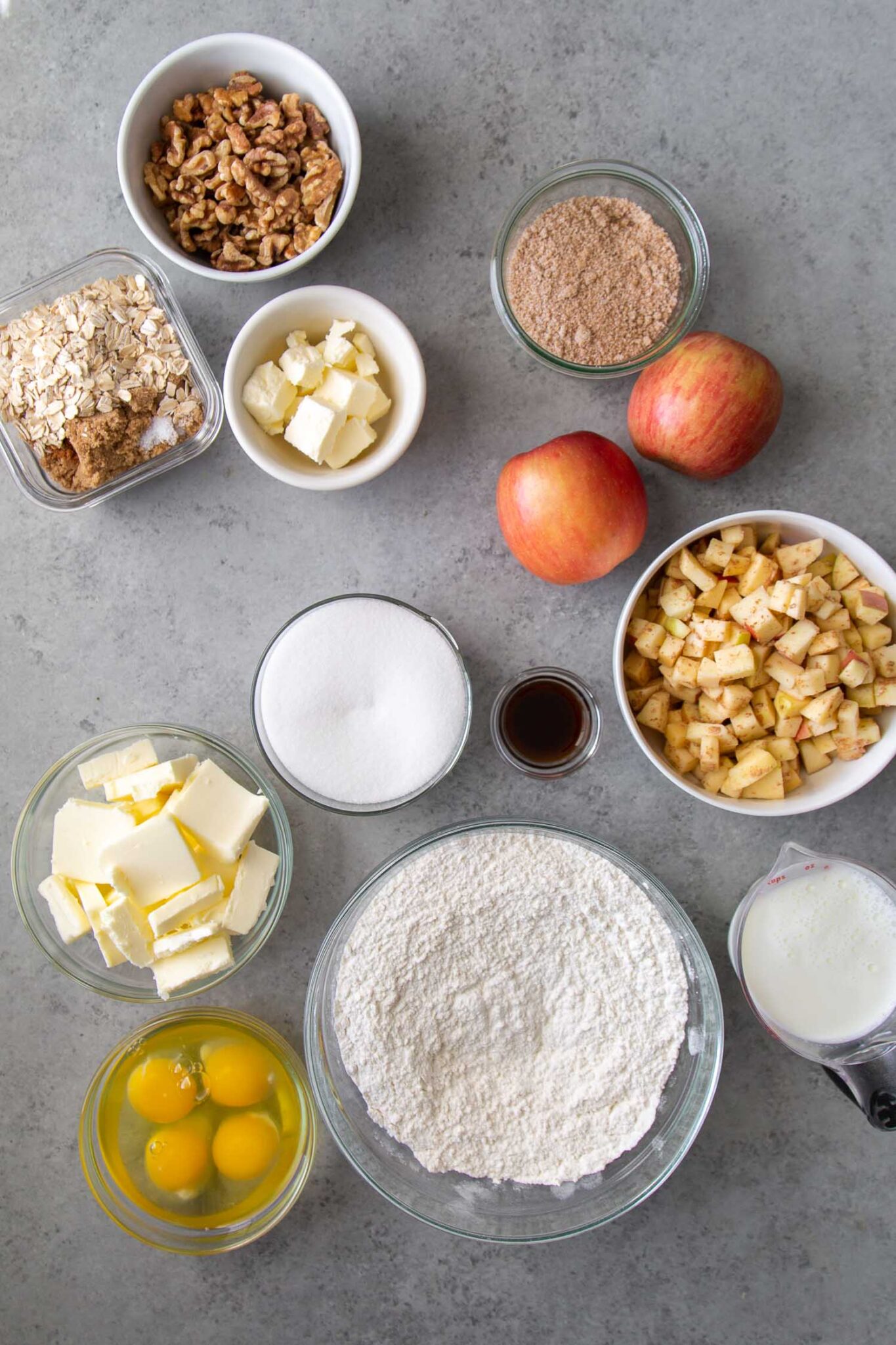 Apple Coffee Cake with Oat Crumble
This coffee cake has three components: vanilla apple cake batter, cinnamon sugar filling, and walnut oat crumble topping.
Chopped apples are folded into the thick vanilla cake batter. Spread half of the batter onto the casserole dish. Sprinkle cinnamon sugar all over. Top with the remaining cake batter. Then, sprinkle walnut oat crumble all over.
Bake until golden brown. You end up with a delicious, layered coffee cake perfect for autumn!
Lodge Cast Iron Bakeware
We've all heard that baking is a science. It's important to properly measure your ingredients to ensure consistent results.
Your choice of bakeware is also an important factor. Baking in glass versus versus metal versus ceramic can greatly affect your finished product.
Lodge is a family-owned company based out of Tennessee. They've been making cast iron products in the USA since 1896.
(And I can attest that their products truly stand the test of time. I have a Lodge cast iron skillet from my husband's grandmother that is over 75 years old. It's still going strong!)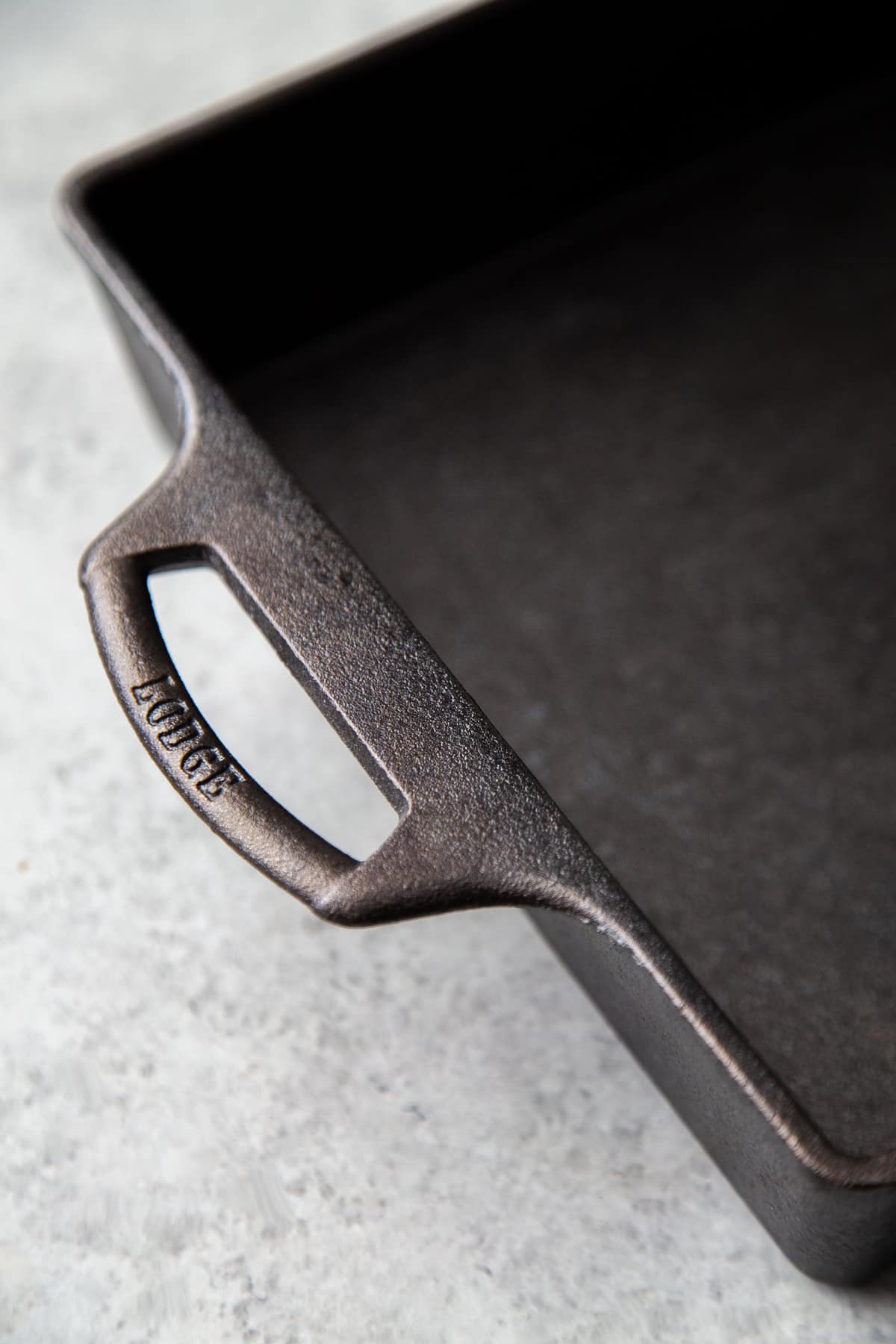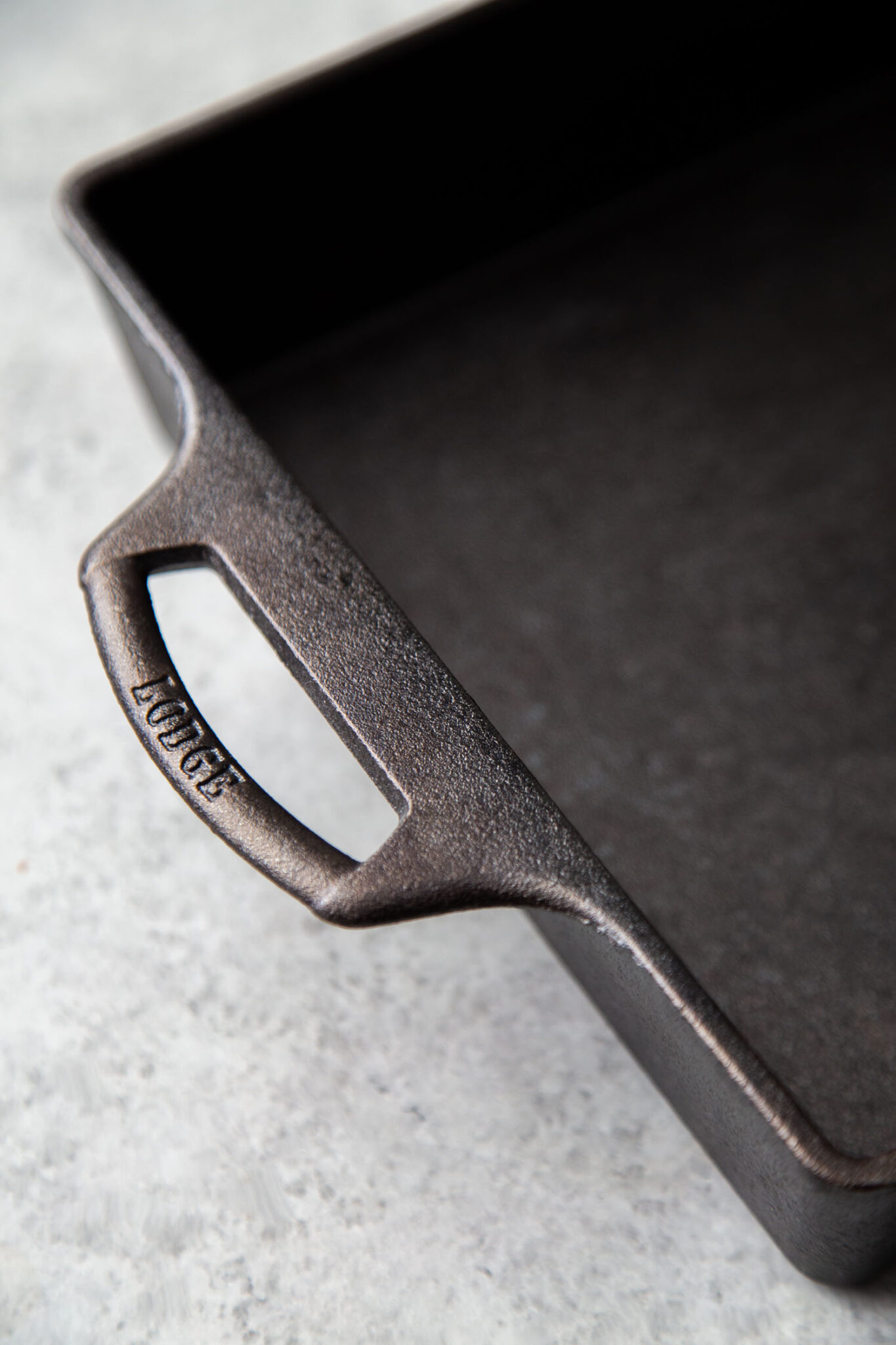 Lodge carries an assortment of baking products including a Pie Pan, Baker's Skillet, Loaf Pan, and more. I am featuring the 9×13-inch Seasoned Cast Iron Casserole Pan in this recipe.
What makes this bakeware better?
Lodge's cast iron bakeware is super sturdy. They won't bend, dent, or warp at high temperatures. It is a durable bakeware that can last you years.
I specifically like the dual-handle design at the ends of the casserole pan. This allows for easy lifting in and out of the oven.
Cast iron conducts steady, even heat. It retains and distributes heat evenly. This means whatever you're baking will cook evenly throughout. No need to worry about hot spots or cool spots in the oven.
Best of all, this 9×13-inch pan is versatile and perfect for sweet and savory recipes. It is excellent for baking focaccia! Use it for cinnamon rolls, giant slab pies, or lasagnas!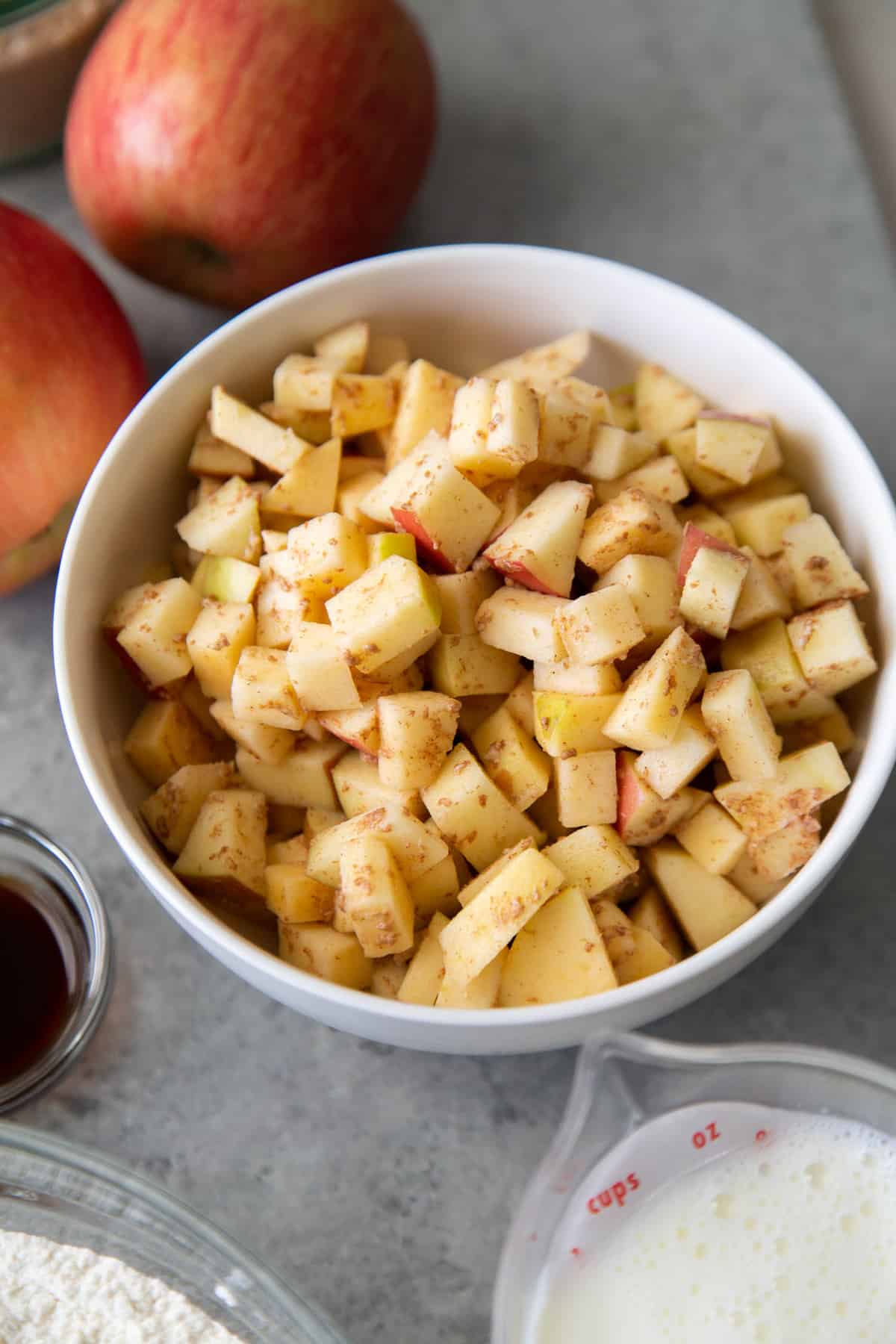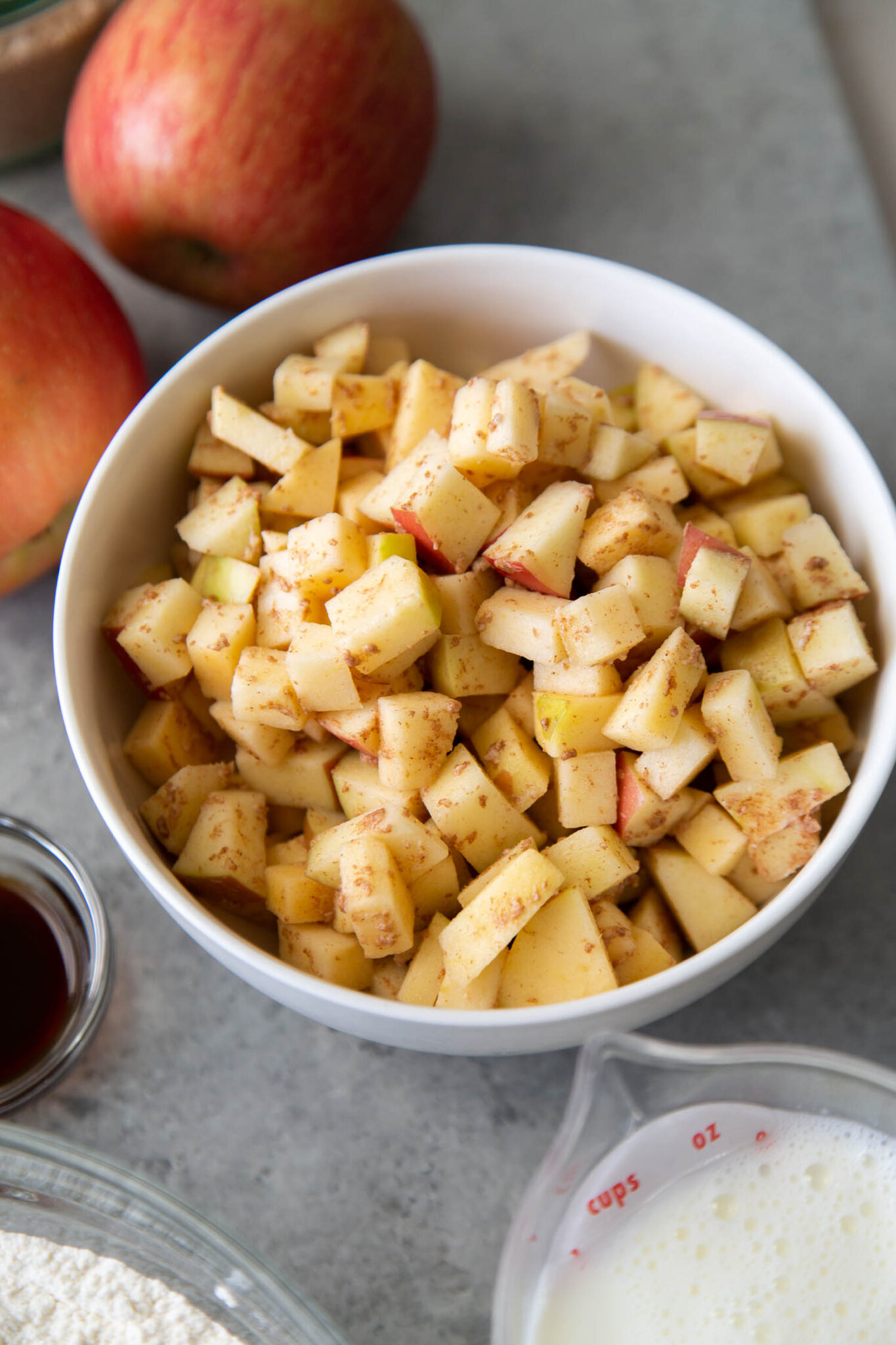 Cinnamon Apples for Baking
This is a great way to use fresh apples.
I highly recommend using Fuji apples. In my opinion, Fuji apples are one of the most balanced apple varietites.
It's crisp and slightly tart like a Granny Smith, but also sweet and juicy like a Honeycrisp.
Of course, you may choose your apple of choice. Just be sure to use apples that hold their shape well under heat.
I used unpeeled apples for the recipe. The apple peel provides additional flavor, while also adding a pop of color.
The cored and chopped apple chunks are tossed in ground cinnamon and lightly coated in flour. Flour prevents the apples from clumping together when being folded into the cake batter.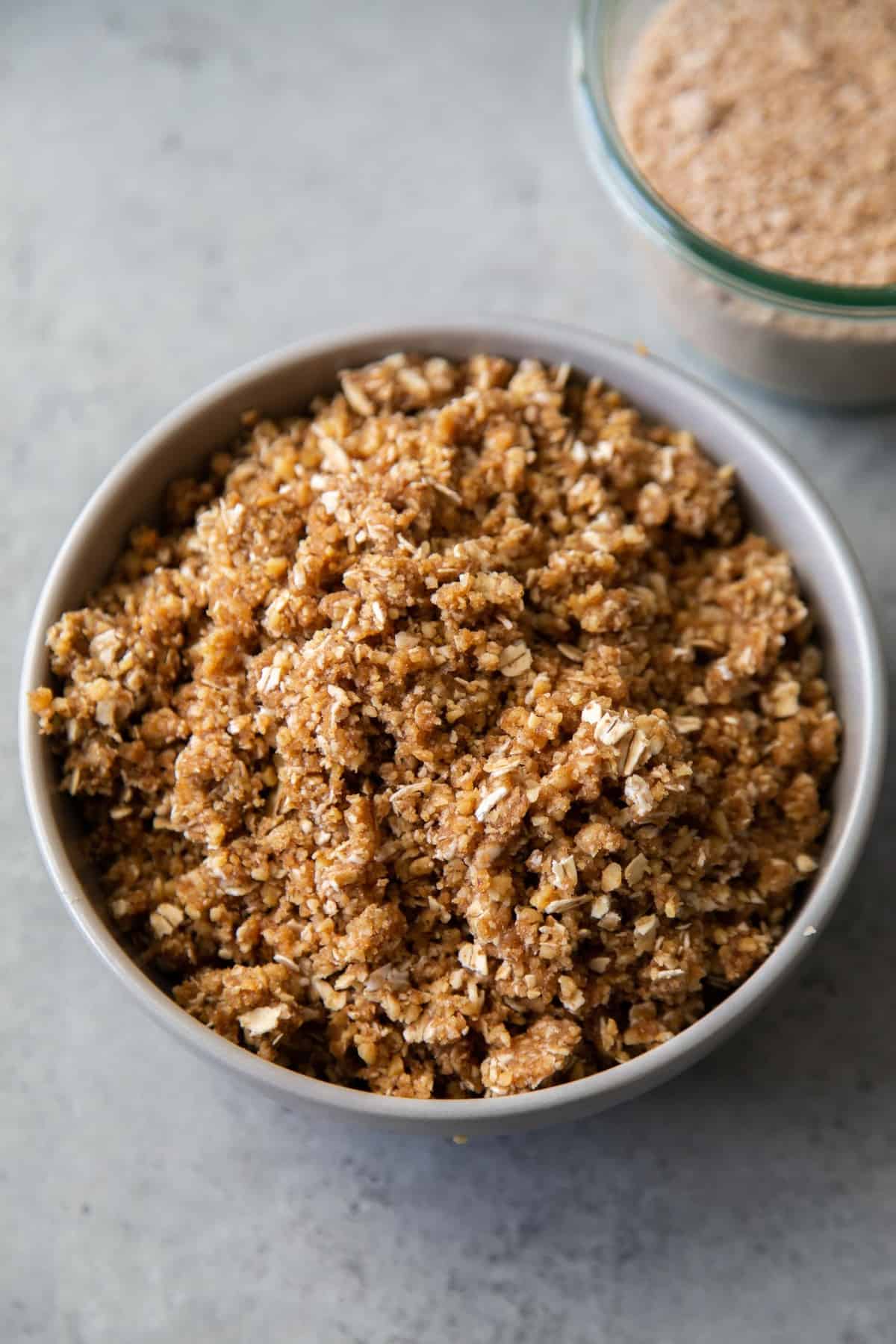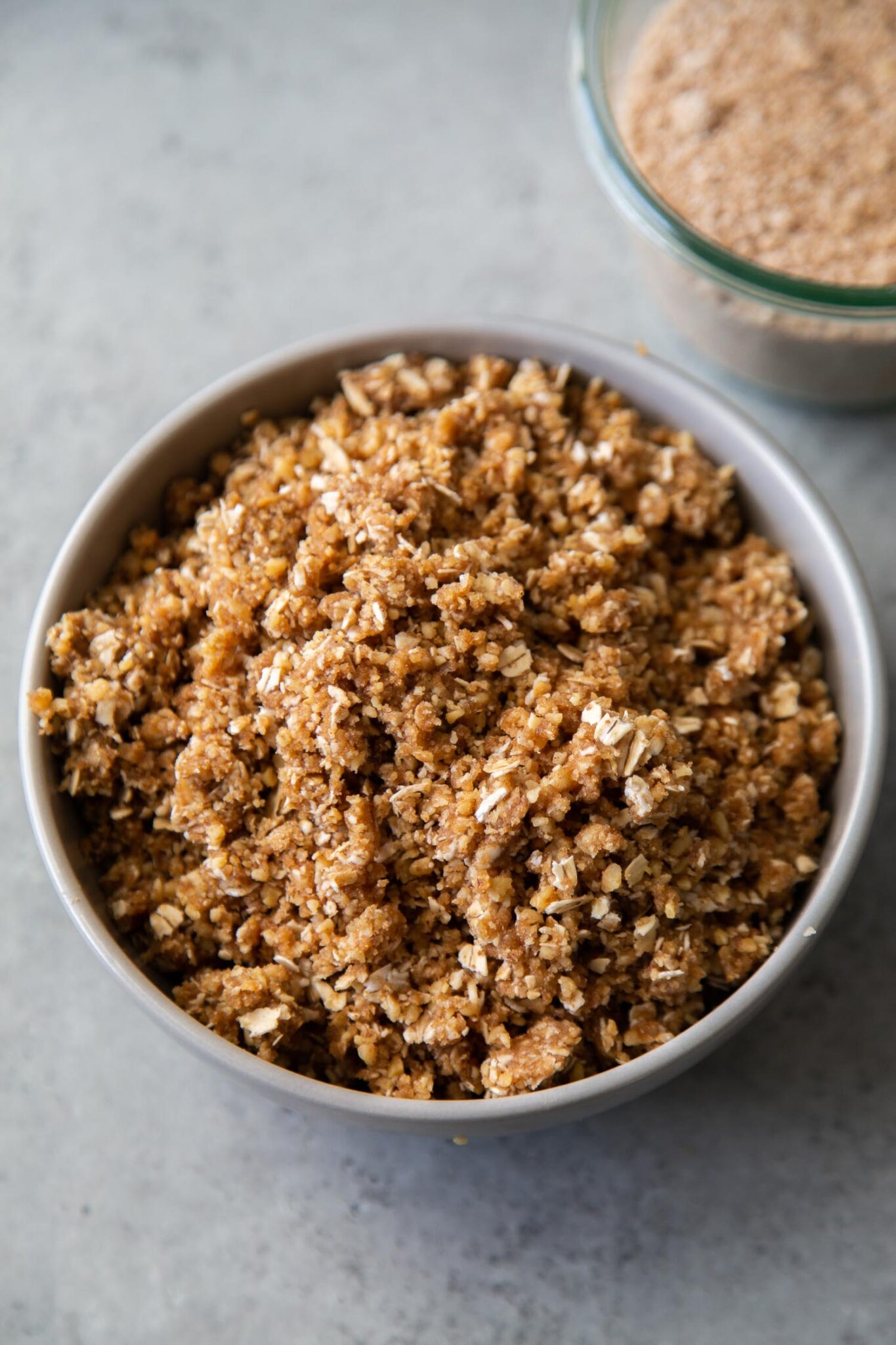 Walnut Oat Crumble Topping
This super versatile crumble topping is a mixture of walnuts, old fashioned oats (rolled oats), sugar, cinnamon, and butter.
Use a food processor to quickly pulse the ingredients together.
Be sure to use COLD BUTTER! Otherwise, the mixture will turn into a dough. You want a crumbly mixture.
This crumble topping is great for muffins or other quick breads!
Pecans, almonds, and hazelnuts are great alternatives to walnuts.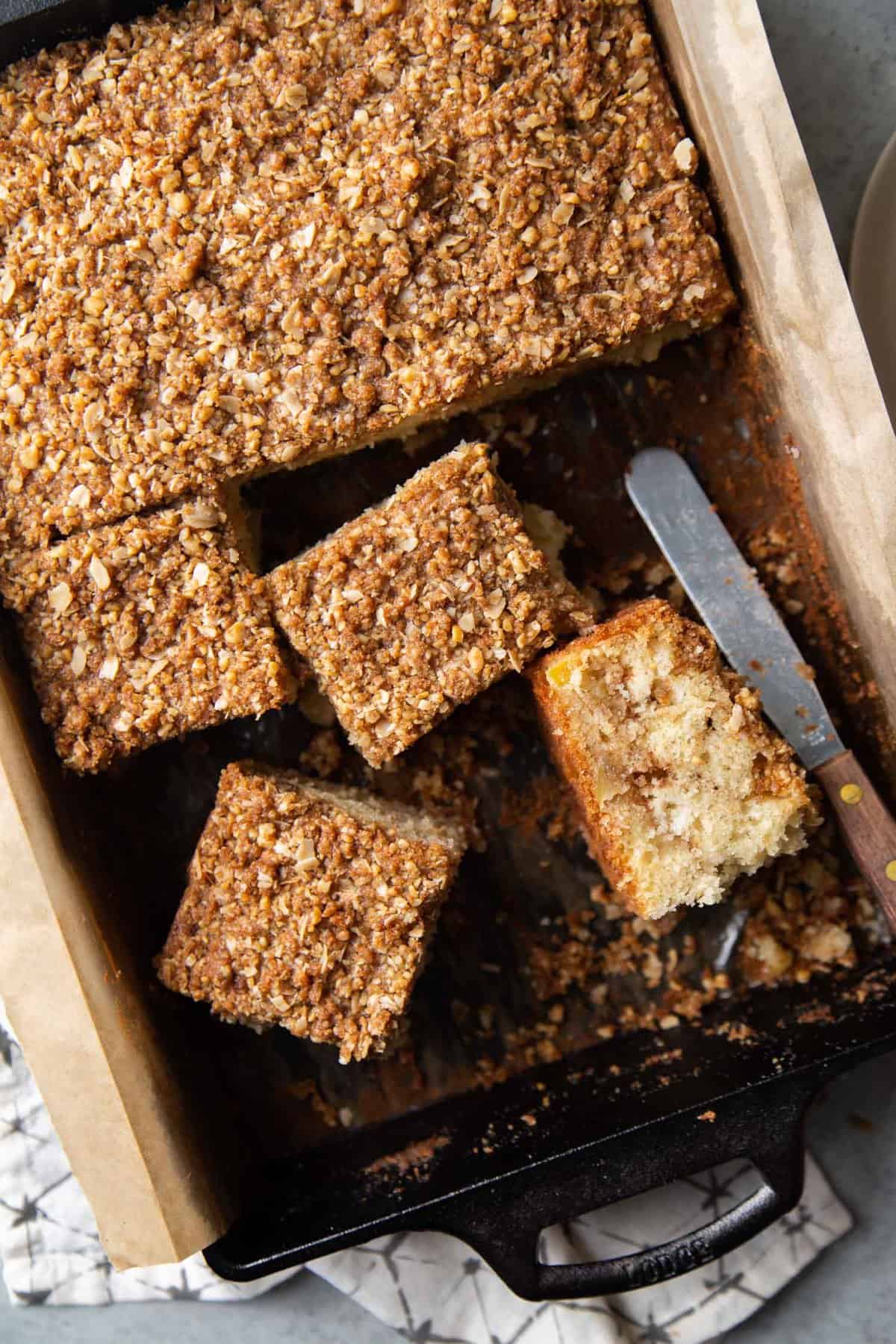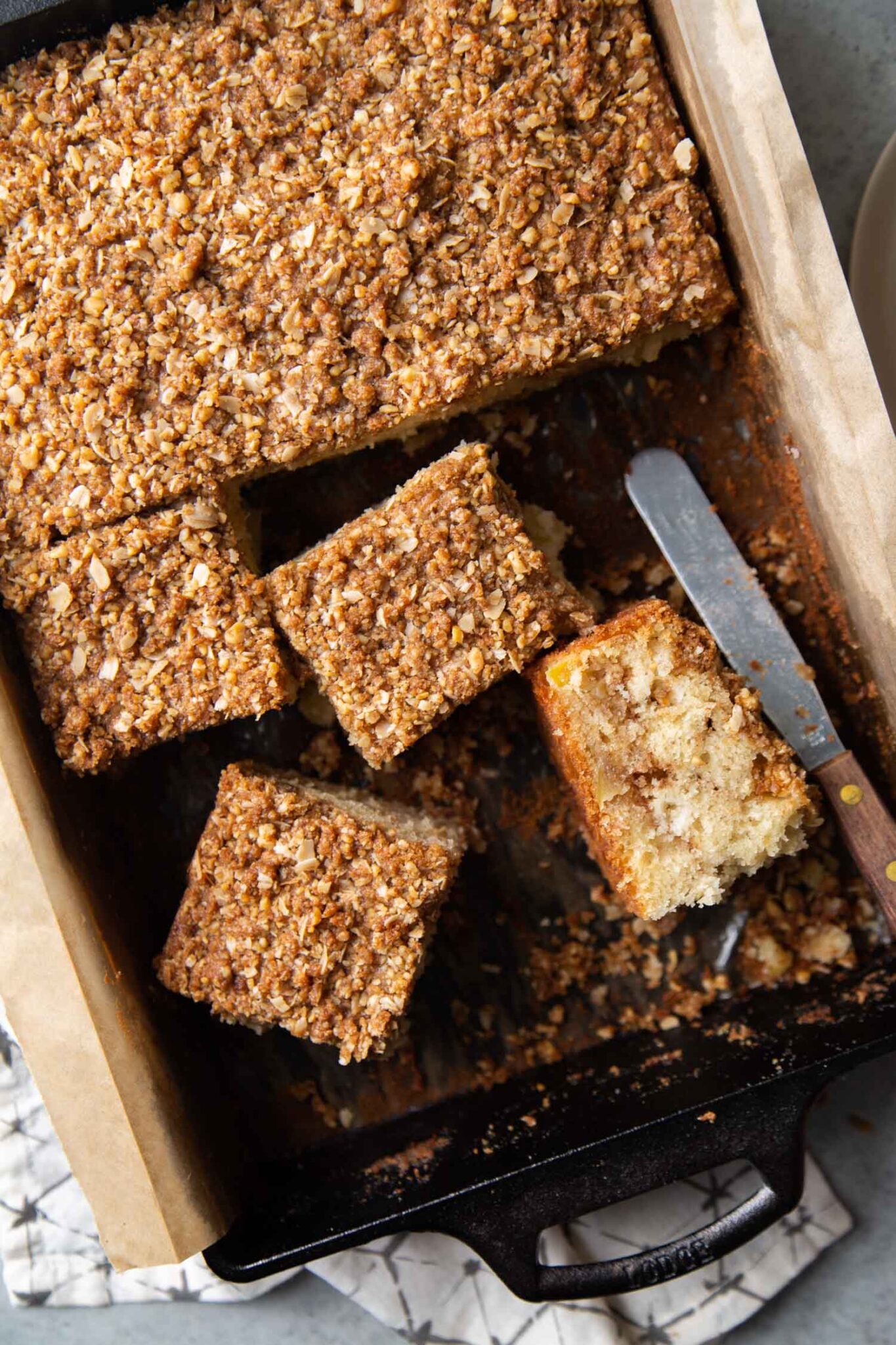 Notes on Cooling Apple Coffee Cake
The apple coffee cake will be crumbly and fragile directly out of the oven. The cake needs time to cool and regain its structure.
Leave the cake in the casserole pan for about 15-20 minutes before slicing.
The coffee cake will be much easier to slice and serve once it has cooled to room temperature.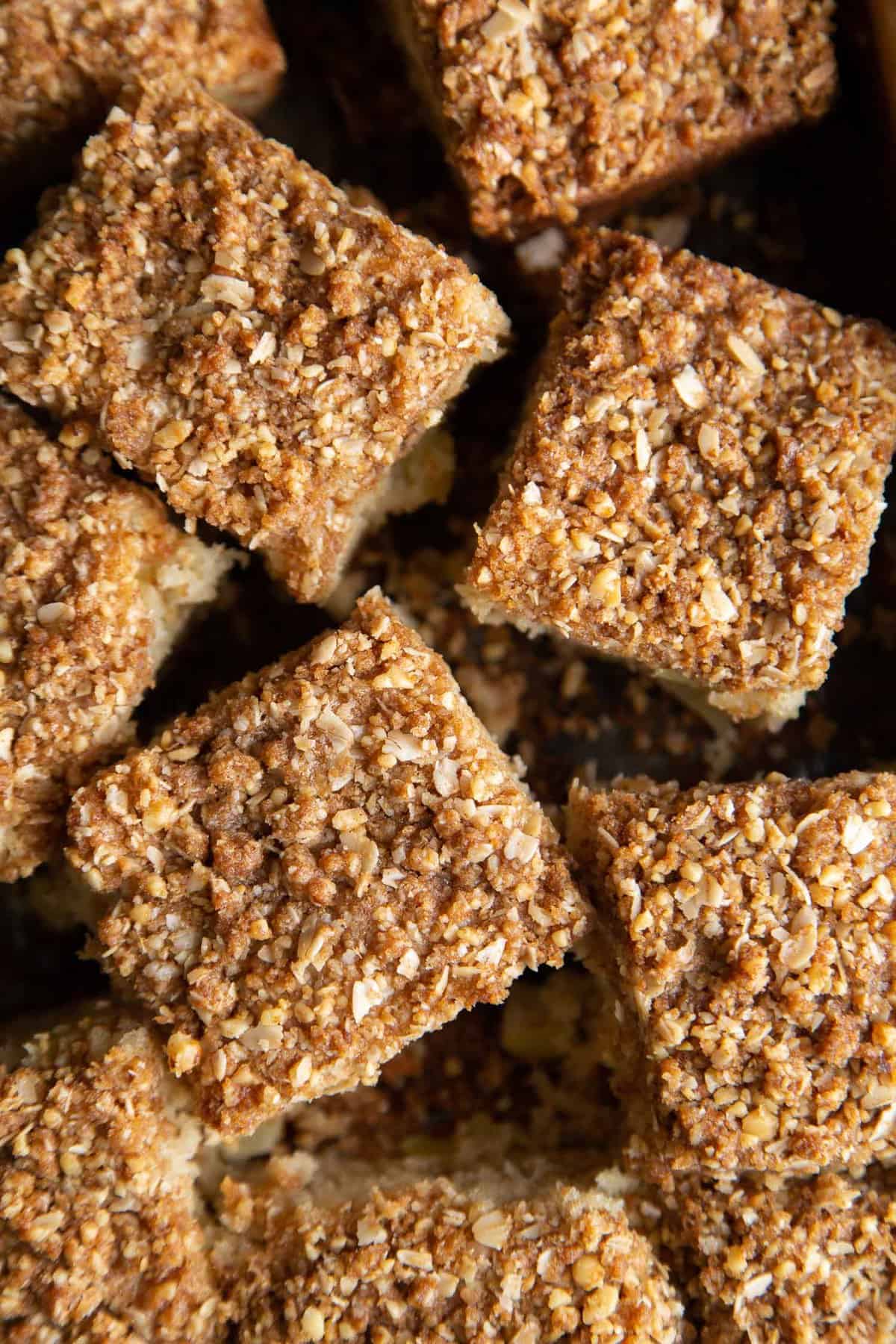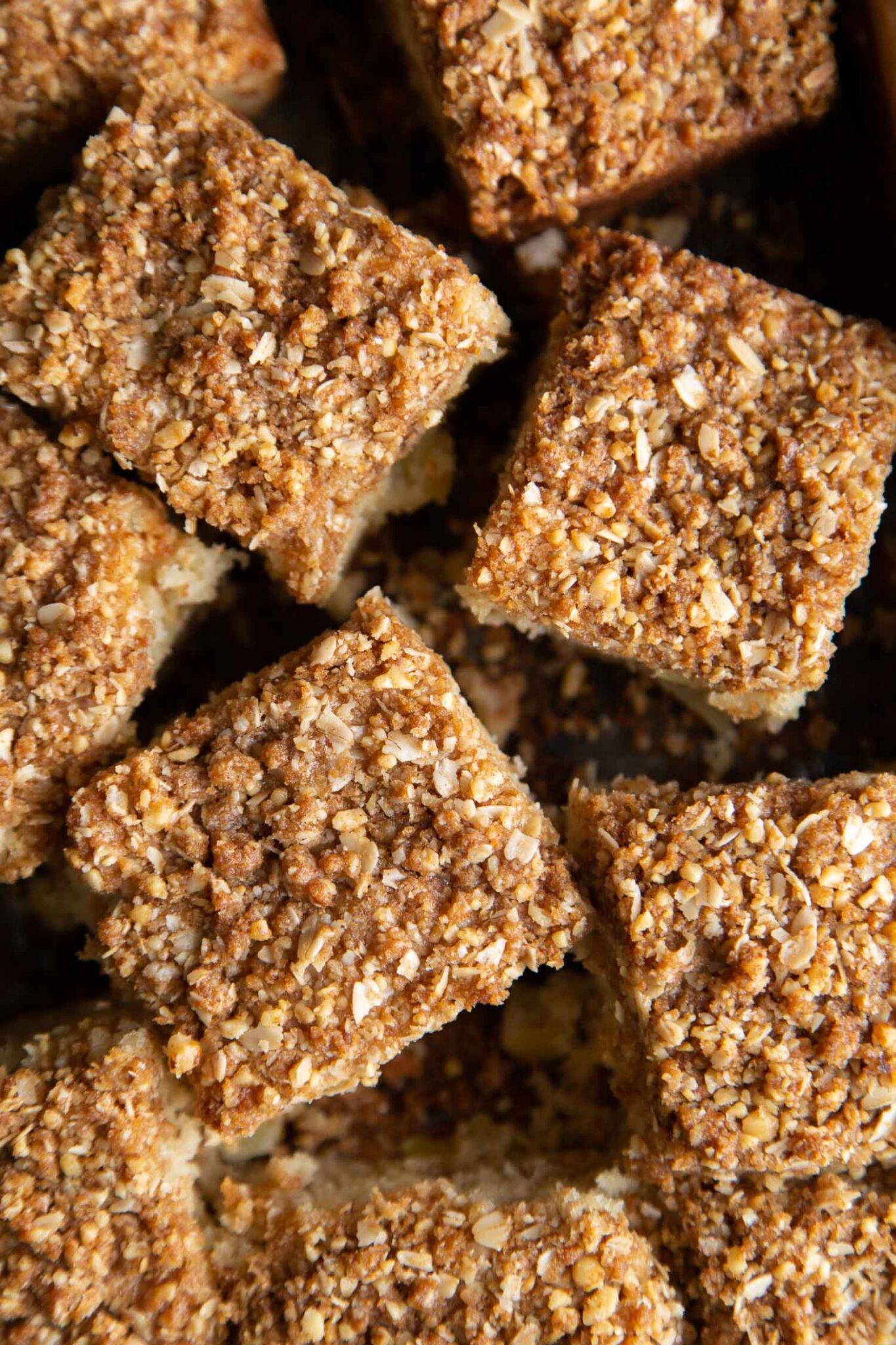 Storage and Leftovers
Keep leftover apple coffee cake in an airtight container at room temperature for two days.
For longer storage, keep in an airtight container in the fridge for up to up to five days.
Enjoy leftovers at room temperature or gently reheat in the microwave or toaster oven.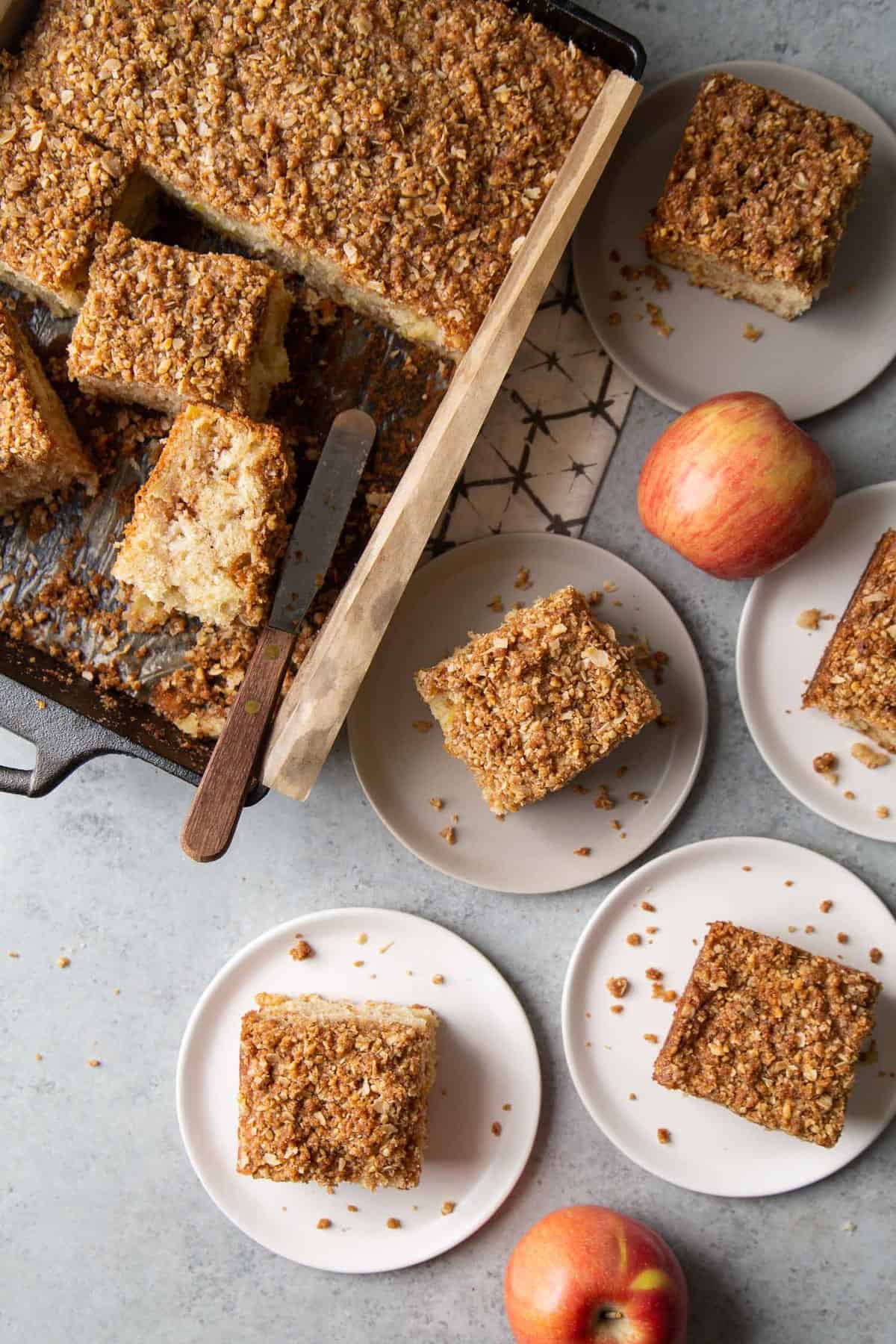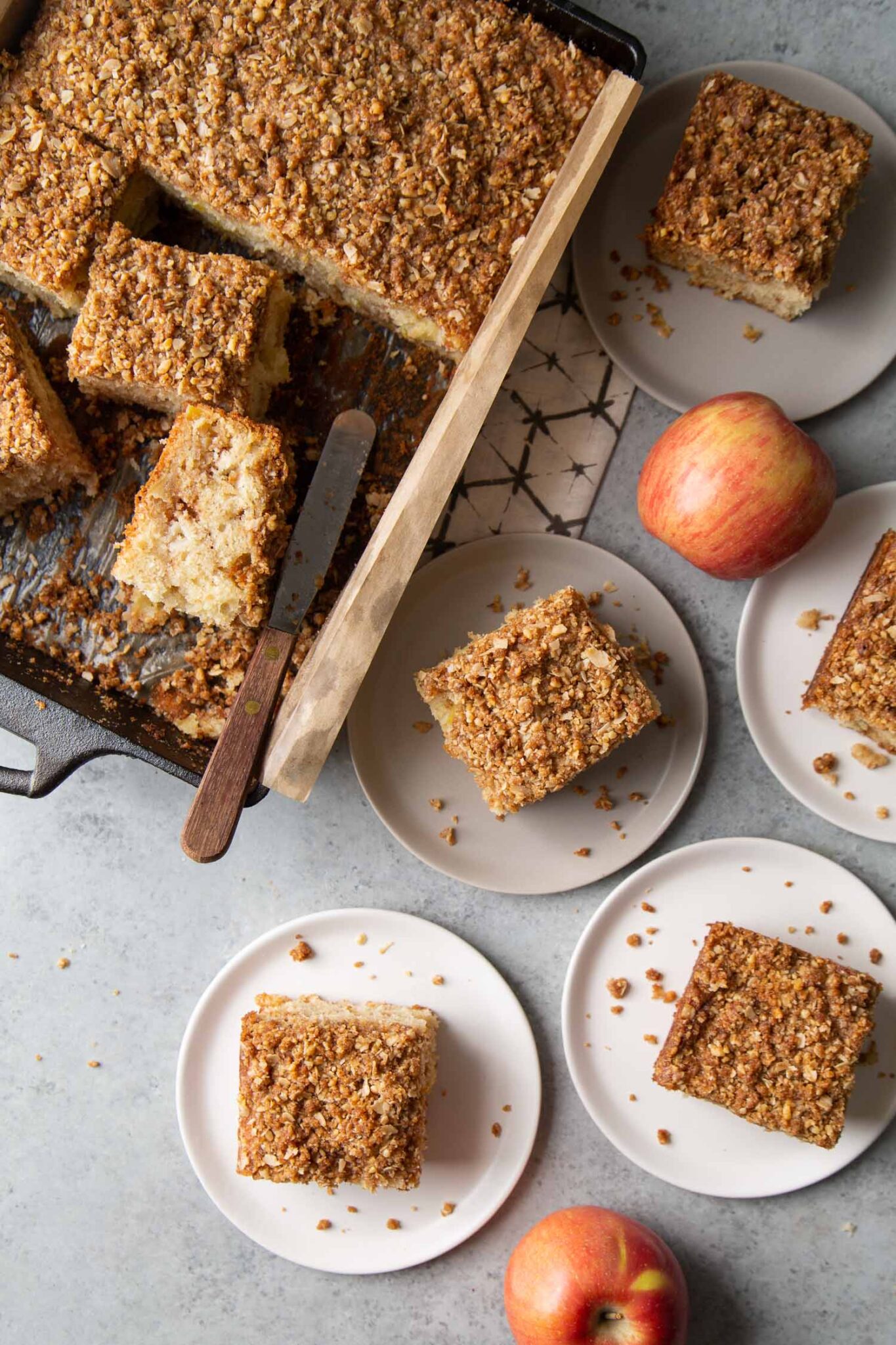 More Recipes to Bake in Lodge Cast Iron's 9×13-inch Casserole Pan
Apple cinnamon rolls with spiced cream cheese frosting is an autumn spin on classic cinnamon buns.
Coconut walnut baklava benefits greatly from the even heat distribution of the cast iron bakeware casserole.
Double this recipe to make apple blondies for a large crowd! These baked bars are sweet, luscious, and decadent. Ideal for the holiday season.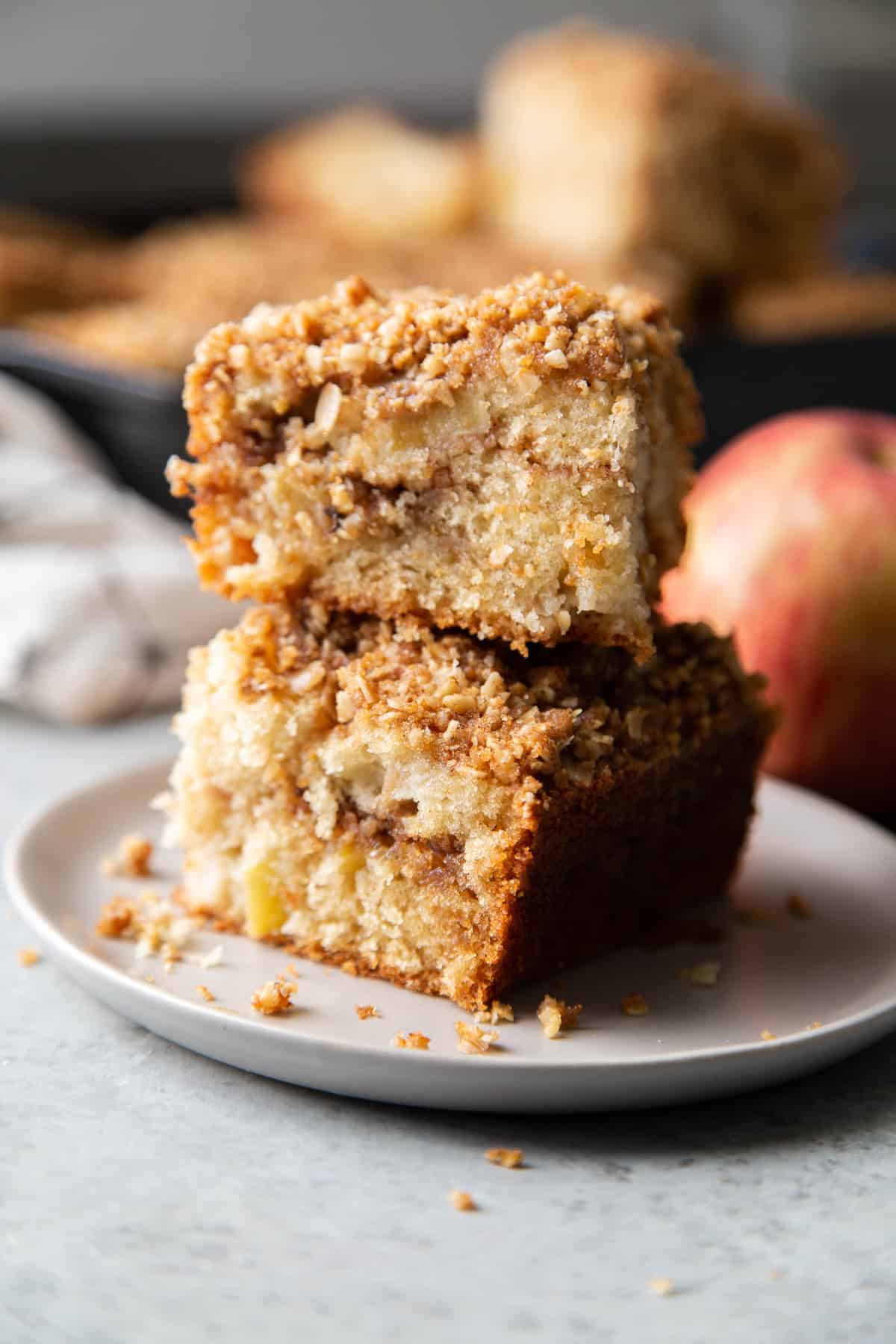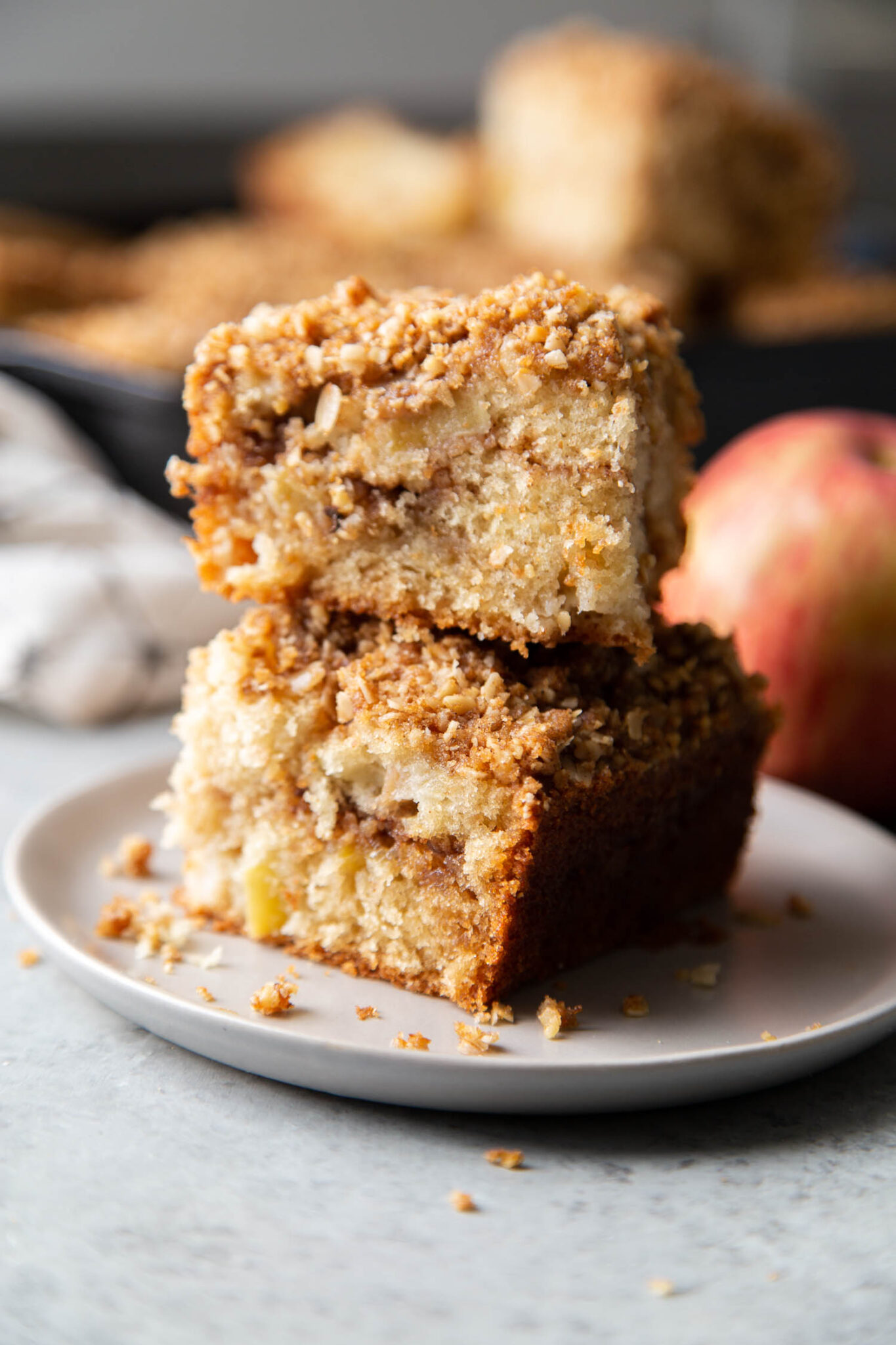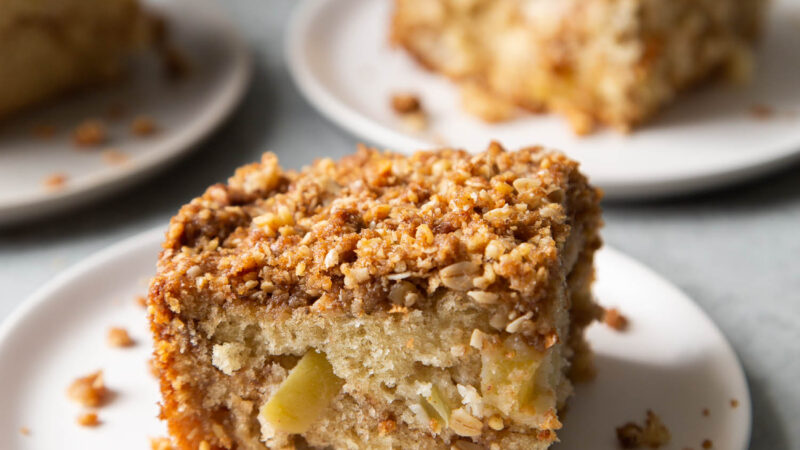 Apple Coffee Cake
Moist and flavorful apple coffee cake featuring vanilla cake with cinnamon apples and a walnut oat crumb topping. Level: IntermediateYield: 9×13 inch
Ingredients
Crumble Topping:
1

cup

walnuts

(130 g) lightly toasted

½

cup

brown sugar

(100 g), packed

½

cup

rolled oats

(60 g), aka old fashioned oats

1

teaspoon

ground cinnamon

½

teaspoon

kosher salt

¼

cup

unsalted butter

(56 g), cold, cut into tablespoons
Filling:
5

Tbsp

brown sugar

(62 g)

5

Tbsp

granulated sugar

(62 g)

1

teaspoon

ground cinnamon
Apple Vanilla Cake:
1

cup

unsalted butter

(228 g), room temperature

1 ¼

cup

granulated sugar

(250 g)

4

large eggs,

room temp

1

Tbsp

pure vanilla extract

3 ⅓

cup

all-purpose flour

(440 g)

2

teaspoon

baking powder

1

teaspoon

baking soda

1

teaspoon

kosher salt

1

cup

whole milk

(228 g), room temp

2

medium Fuji apples,

cored, chopped into small chunks (335 g)*

1

Tbsp

all-purpose flour

¼

teaspoon

ground cinnamon
Instructions
Preheat oven to 350°F. Brush softened butter all over Lodge 9×13-inch Casserole Pan. Line pan with parchment paper, allowing parchment to run up the long sides and slightly over the pan. (This will help with unmolding). Set aside.
Topping:
Place walnuts, brown sugar, oats, cinnamon, and salt in a food processor. Quickly pulse 3 to 5 minutes until walnuts are coarsely chopped. Add cold butter. Pulse another 3 to 5 times until mixture is crumbly. Set aside.
Filling:
Whisk together brown sugar, granulated sugar, and cinnamon. Set aside.
Cake:
In the bowl of a stand mixer fitted with a paddle attachment, cream butter and sugar until smooth. With the mixer running on low, add eggs one at a time until fully incorporated. Add vanilla. Mix until well combined. Scrape down sides of bowl as needed.

In another bowl, whisk together flour, baking powder, baking soda, and salt. Add dry flour mixture in three additions, alternating with milk in two additions.

Begin and end with the dry mixture. Mix on low speed until just combined. Scrape down the sides and bottom fo the bowl to ensure thorough mixing.

Toss chopped apples with cinnamon and 1 Tbsp flour. Fold apples into cake batter until evenly distributed.
Assembly:
Add half of cake batter to prepared Lodge 9×13-inch Casserole Pan. Spread into an even layer. Sprinkle cinnamon sugar filling all over cake batter. Top with remaining half of cake batter. Carefully spread into an even layer. Sprinkle crumble topping all over cake batter.

Bake for 45-50 minutes until crumble topping is golden brown and toothpick inserted in center of cake comes out clean. Cool cake in pan for at least 15-20 minutes before slicing and serving.
Notes
How to toast walnuts: Place walnut on parchment lined baking sheet. Bake for 8 minutes in a preheated 350 degree F oven until nuts are lightly toasted. Rotate baking sheet midway through baking and shuffle nuts around to ensure even heating. Cool walnuts before adding with other ingredients.
Ingredient Notes:
Apples may be peeled or unpeeled. The weight listed in the ingredients refers to apple weight after being cored and chopped.
Use your choice of apples such as Granny Smith, Gala, or Honeycrisp. 
Almonds, hazelnuts, or pecans may be used in place of walnuts.
Storage & Leftovers:
Cool cake to room temperature before storing in airtight container. Alternatively, cover tightly in plastic wrap.
Apple coffee cake can be stored at room temperature in airtight container for two days. 
For longer storage, keep in airtight container in the fridge for up five days.
Enjoy coffee cake chilled, at room temperature, or gently reheat in the microwave or toaster oven.