Homemade teriyaki sauce is super easy to make! It takes three main ingredients plus a little sugar to make the best chicken teriyaki sauce ever!
Chicken teriyaki was a staple dish during my childhood. My mom made it often because it was a meal no one has complaints about.
She would make different versions of the sauce to throw us off from time to time and to make sure we never got bored of her cooking.
Sometimes, she would add minced ginger. Another week, there might be a splash of pineapple juice or a hint of garlic.
Regardless, the base sauce consisted of the same three ingredients.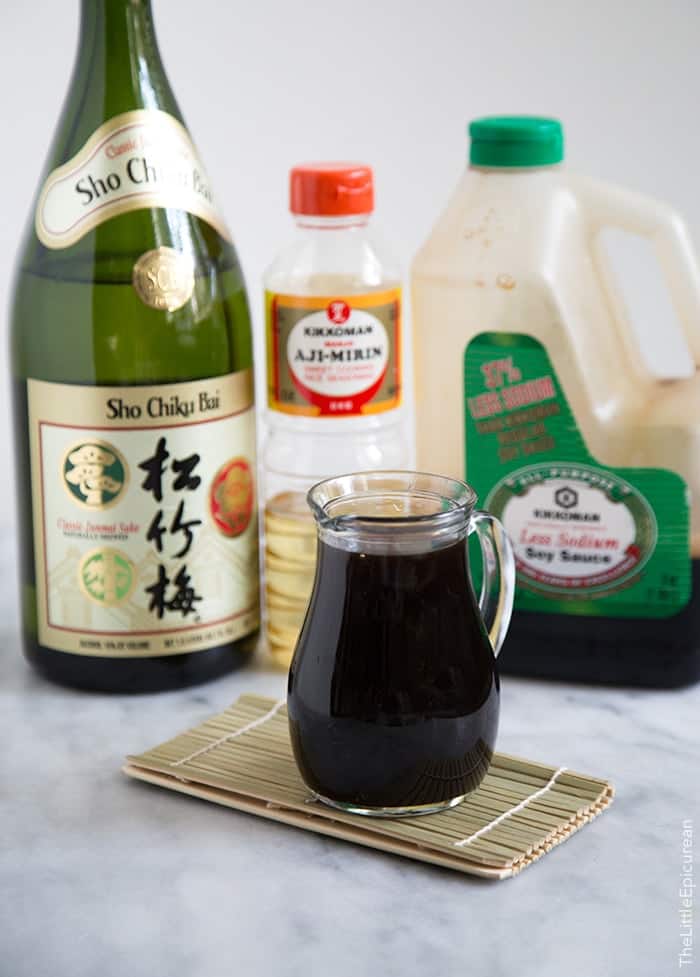 Easy Teriyaki Sauce
Homemade teriyaki sauce is simple to make. I remember the first time I watched my mom make it.  
I was around 10 years old and at that time, my only understanding of sauce making came from watching episodes of Jacques Pepin and Julia Child make super labor intensive French sauces.
I figured all sauces just took time. Obviously, my mind was blown when I watched my mom make teriyaki sauce in less than 5 minutes!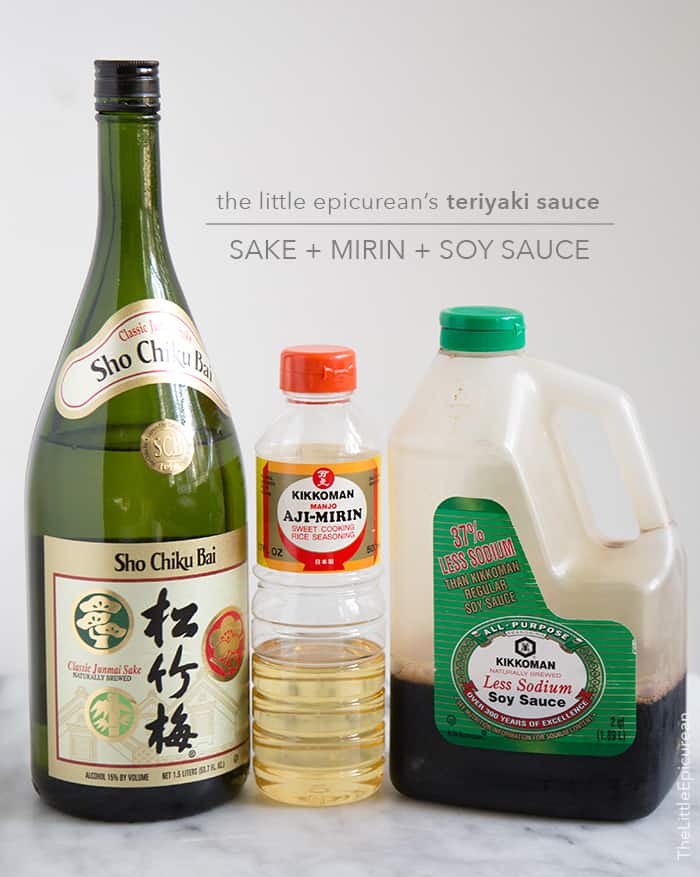 Easy No Fail Sauce
It's so easy that you can totally memorize the recipe without any effort.
Simply use equal parts:
Sake
Mirin
Reduced-sodium soy sauce
Add sugar (brown sugar or honey works too) according to your desired sweetness.  
You can boil the mixture to reduce and thicken the sauce, or you can save time by adding a cornstarch slurry.
I choose the slurry. When using cornstarch, be sure to dissolve it in water before adding it to the sauce.  Once you've added the cornstarch slurry to the sauce, bring the liquid mixture to a boil to cook off any unwanted starchy flavor.
As the sauce cools, it will thicken thanks to the cornstarch.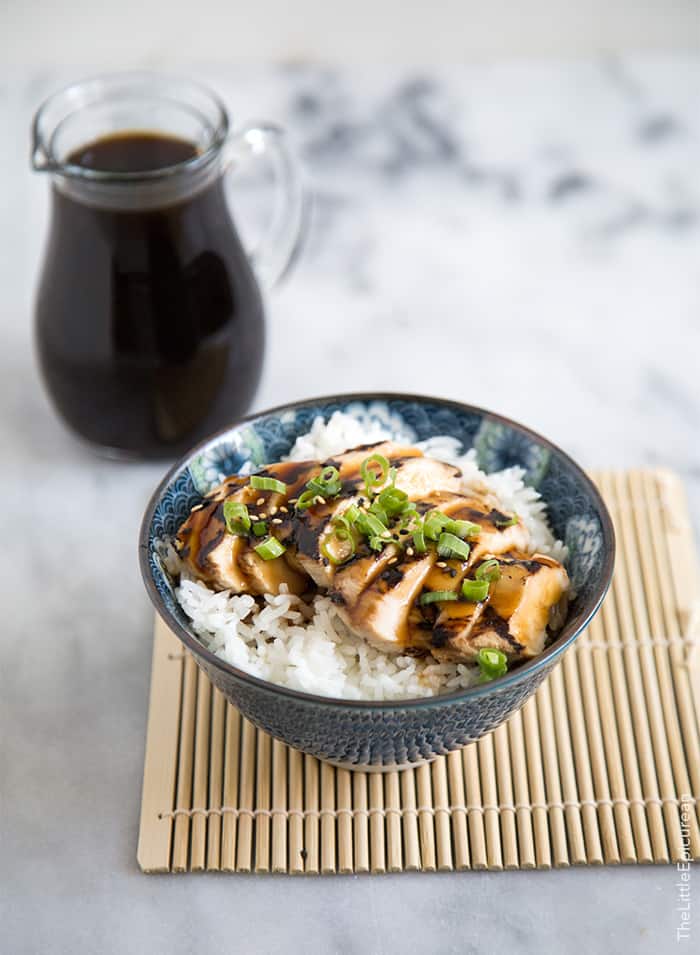 That's it! No need to order take-out tonight. Stay in and make easy dinners like this.
The teriyaki sauce keeps well in the fridge for about a week, or you could just make another batch in 5 minutes.
This sauce is terrific on any protein or vegetable. It's wonderful with this barley rice bowl or drizzle over .
In addition, the sauce makes for a delicious marinade.
Thicken the sauce even more to use as a glaze for chicken wings, grilled fish, or baked tofu.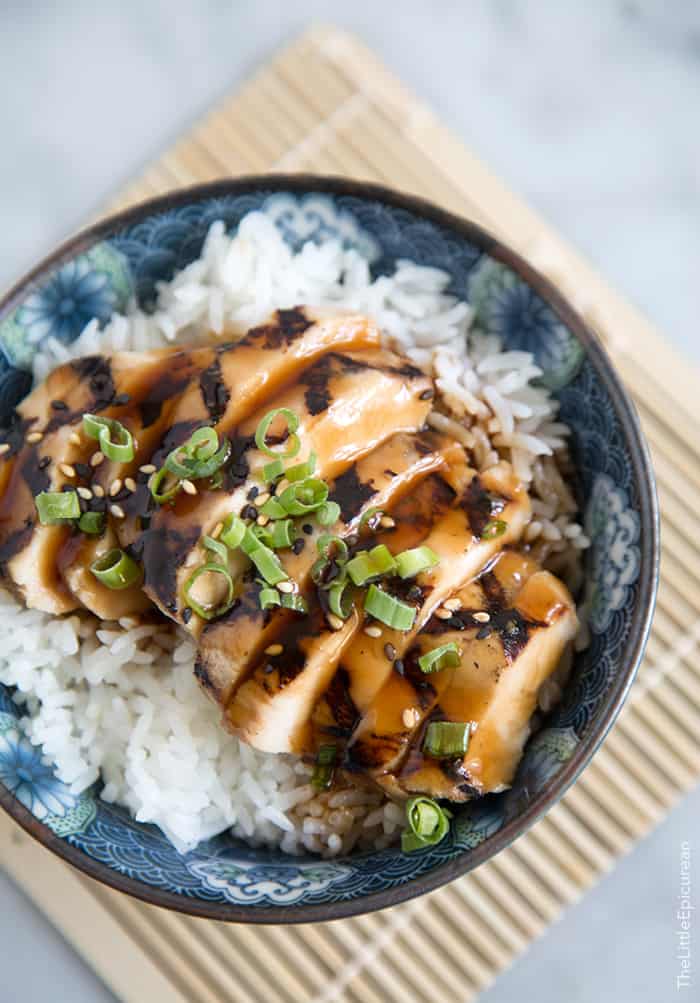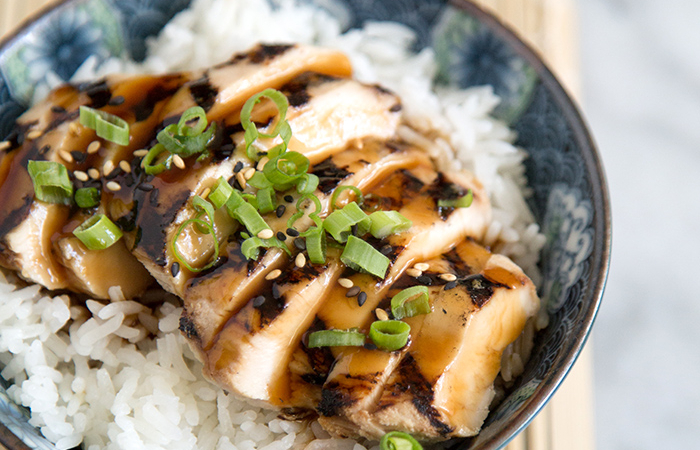 Teriyaki Sauce
This super simple, no fail, best teriyaki sauce will become a staple in your weeknight dinner menu. The sauce works on just about anything- grilled chicken, baked fish, or steamed vegetables!Yield: about 1 ½ cups sauce
Ingredients
½

cup

sake

½

cup

Mirin

(Japanese sweet cooking rice wine)

½

cup

reduced sodium soy sauce

2

Tablespoon

granulated sugar

1 ½

Tablespoon

cornstarch
Instructions
In a small sauce pot, combine sake, Mirin, soy sauce and sugar.  Set over medium heat and cook until sugar dissolves.

In a small bowl, whisk together cornstarch with 2 Tbsp water to make a slurry. Once smooth, whisk into sauce. Bring sauce to a boil. Remove from heat.
Notes
Keep leftover sauce in an airtight container for up to a week. The sauce will thicken when cold. Simply reheat in the microwave or over low heat to loosen.