Hidden underneath this Chocolate Swirl Bread pudding is peanut butter and Nutella.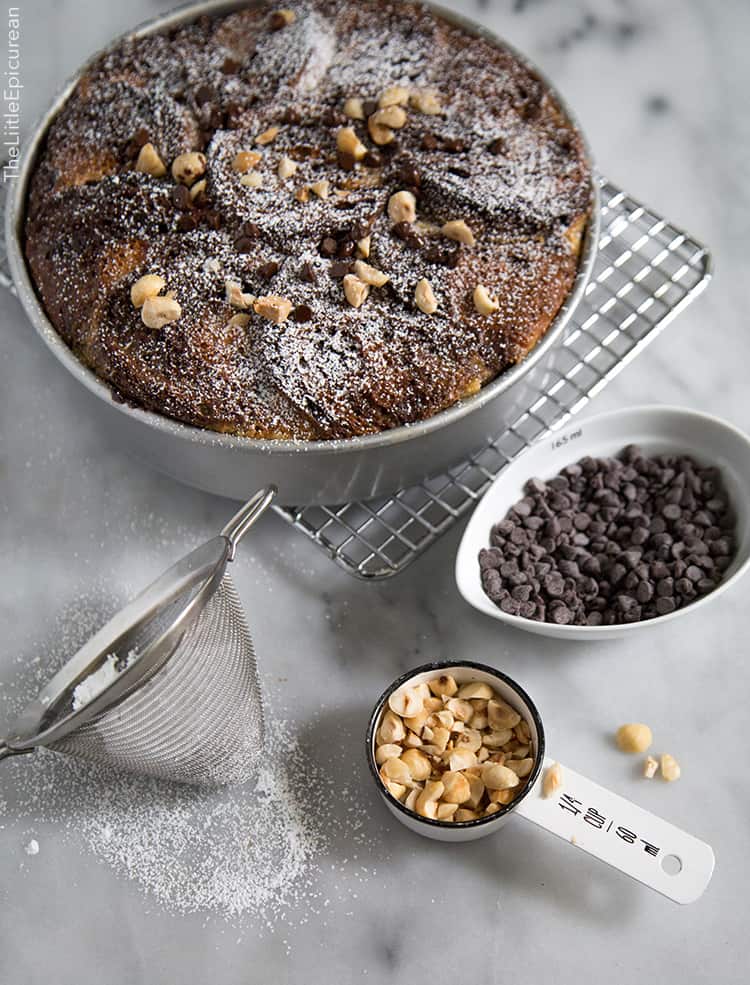 Bread pudding. I get goosebumps just thinking about all the different flavor combinations I could make.
There are savory ones like my parmesan bread pudding with bacon and kale, and then there are the magical sweet ones like this chocolate swirl bread pudding.
I have a love/hate relationship with bread pudding. It's one of my favorite things to make, but it's so darn hard to photograph.
It's often messy, but then again, it's usually the messy foods that are the tastiest. Bread soaked in a rich custard and baked until golden. It sounds sooo delicious, right?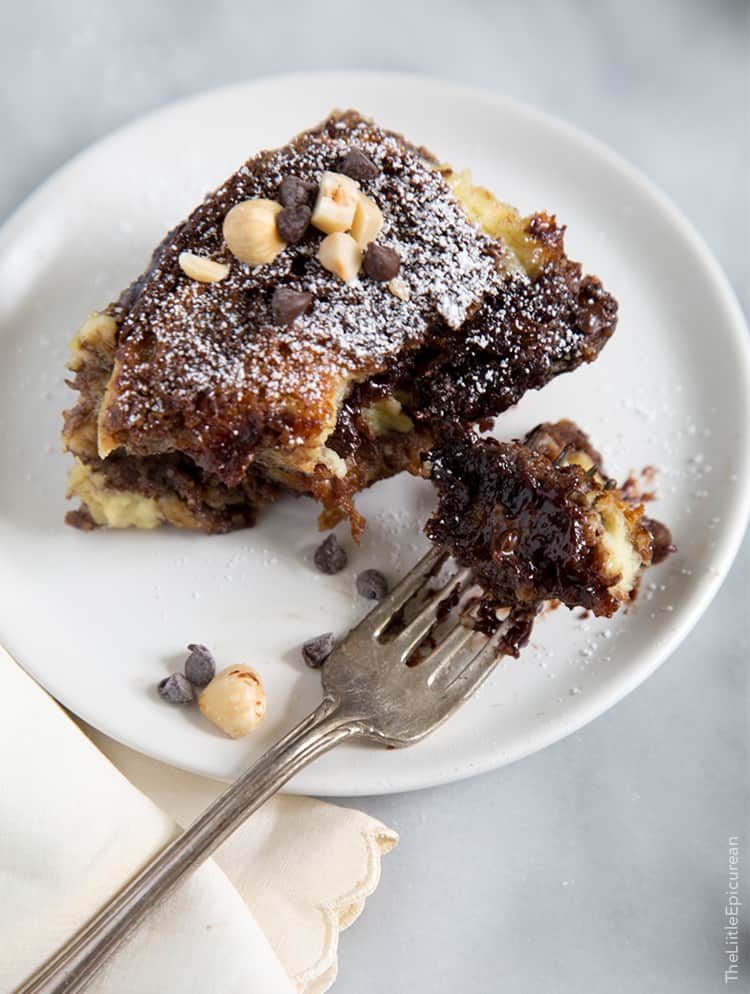 A couple of weeks ago, La Jolla Baking Company offered to send me a sample of their new chocolate swirl sliced bread. I've never been one to shy away from chocolate, so I agreed to give it a try.
OH MAN. Alex and I couldn't stop eating it. No kidding. We ate for it breakfast every morning for a week. (Simply toasted with with a slather of peanut butter for me and almond butter for Alex.) Sure I could have kept eating the chocolate swirl bread as toast, but that's not good enough for me. I need more. I need bread pudding!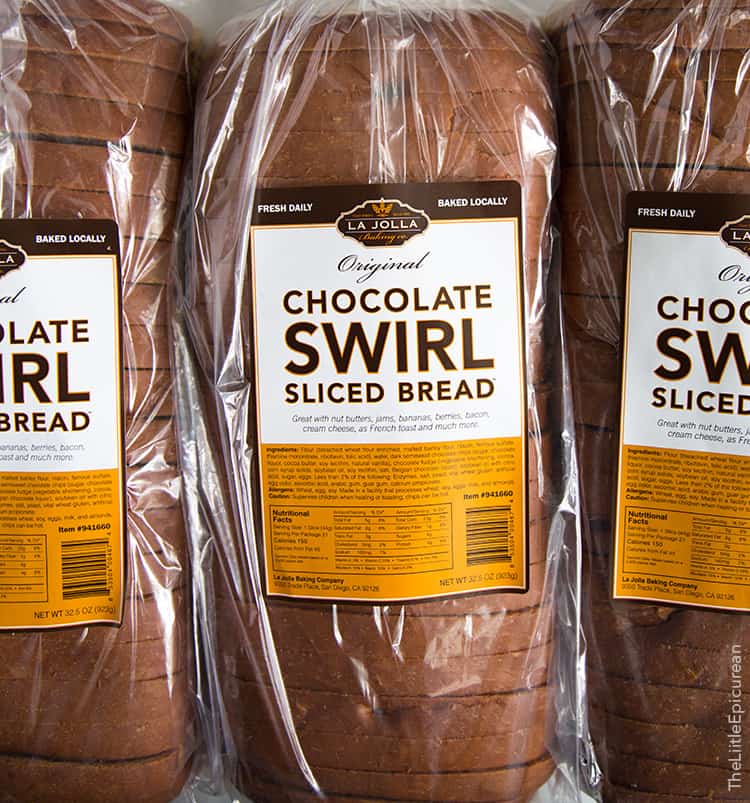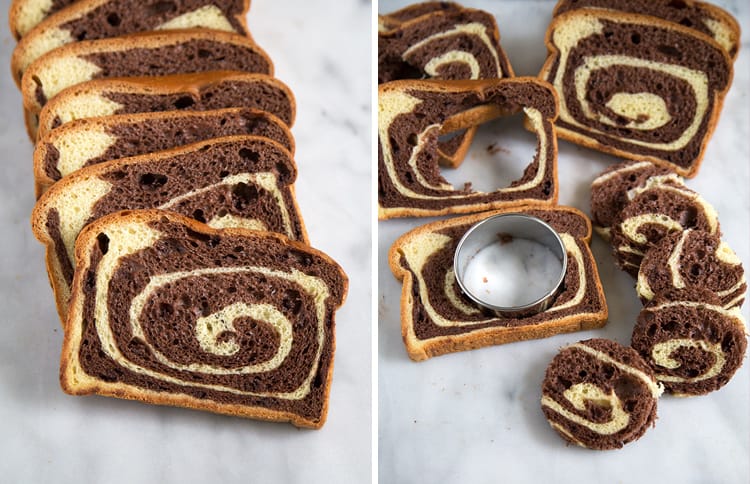 The great thing about this bread is the mini chocolate chips sprinkled throughout the loaf. Meaning when you toast the bread, the chocolate melts leaving you little surprises of sweet goodness.
Best of all, La Jolla Baking Company is a SoCal based company. They're about a two hour drive south from me.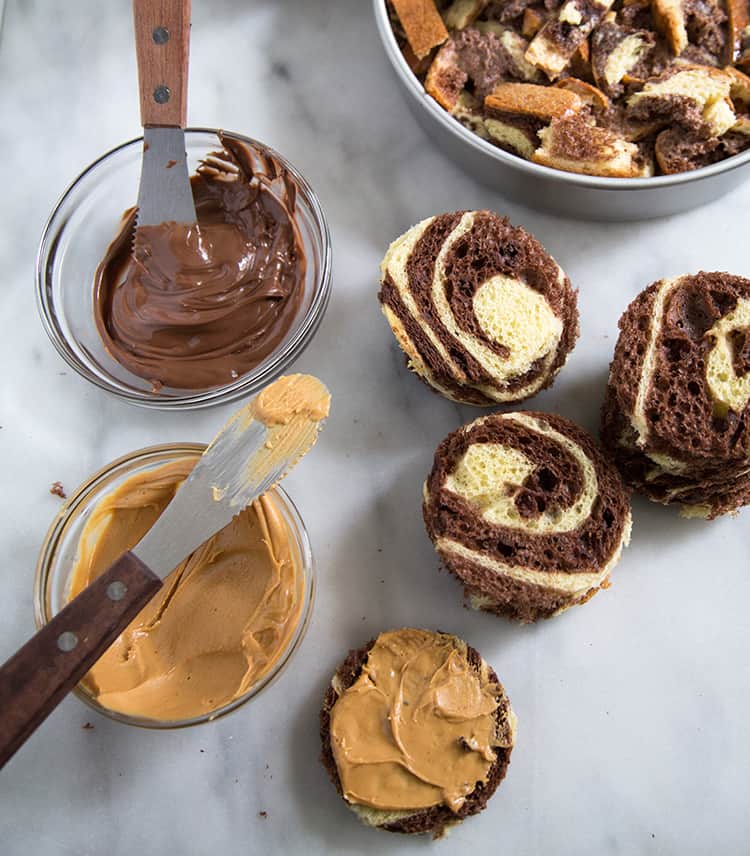 This bread pudding is special. Hidden underneath that pretty bread exterior is peanut butter AND Nutella.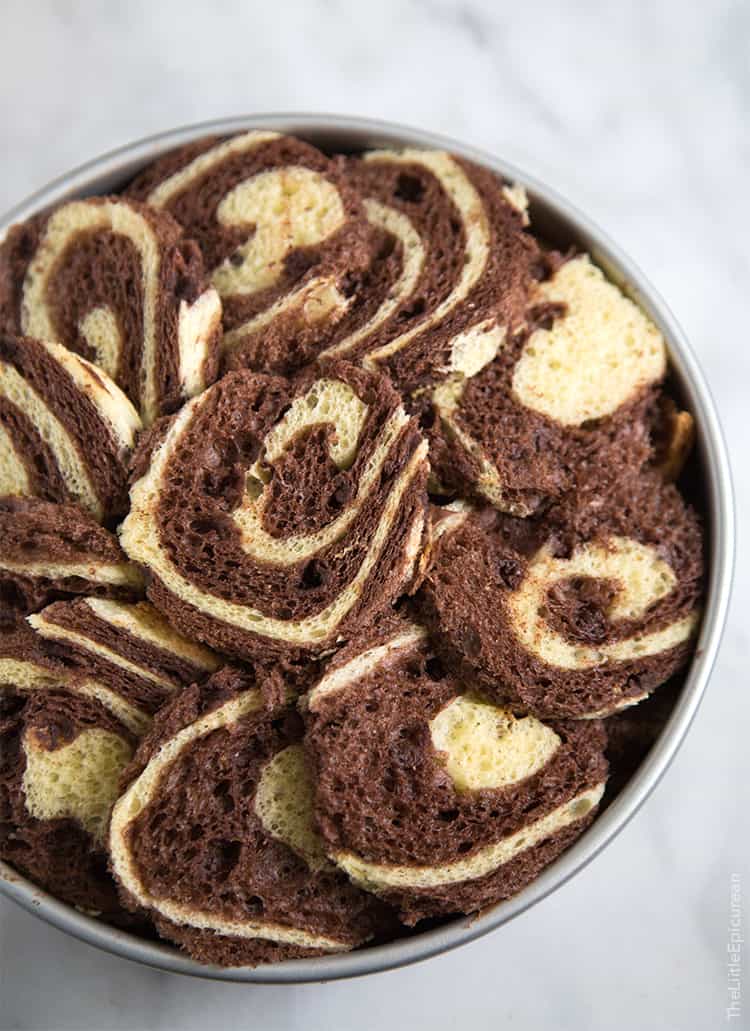 Isn't the swirl bread so pretty?!
I learned about this bread shingling technique from an issue of Bon Appetit last year.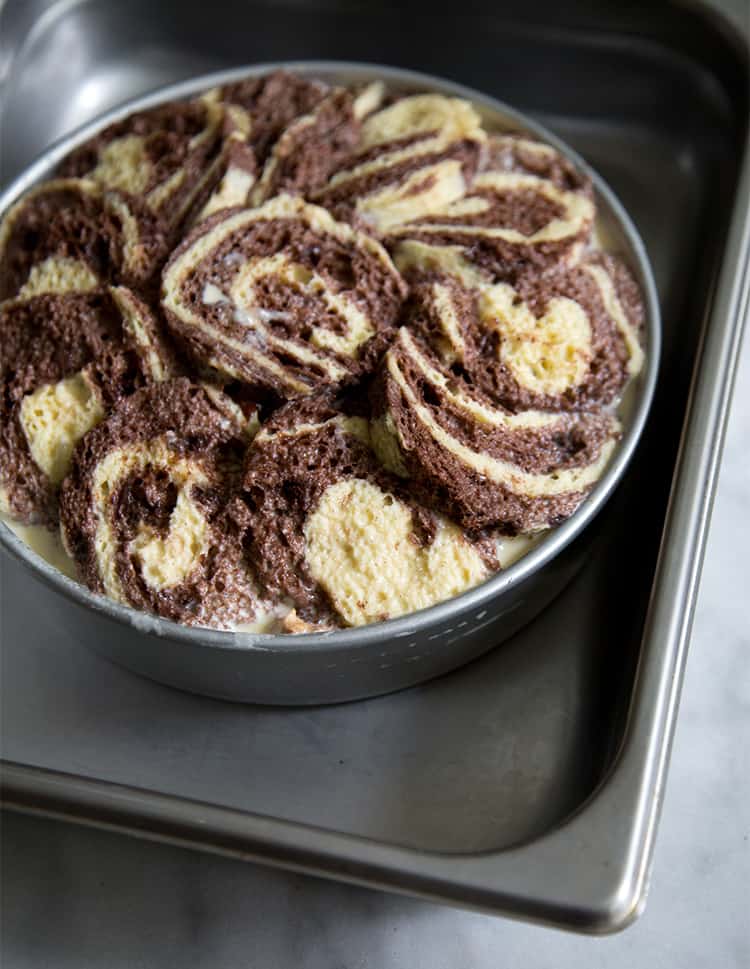 This bread pudding requires a little more work than the average bread pudding. Because it's so rich from all the eggs and yolks, it's cooked in a water bath.
The water bath allows the custard in the bread pudding to cook low and slow. This method prevents any unwanted eggy taste and nasty curdling. Take the extra step, this bread pudding is worth it.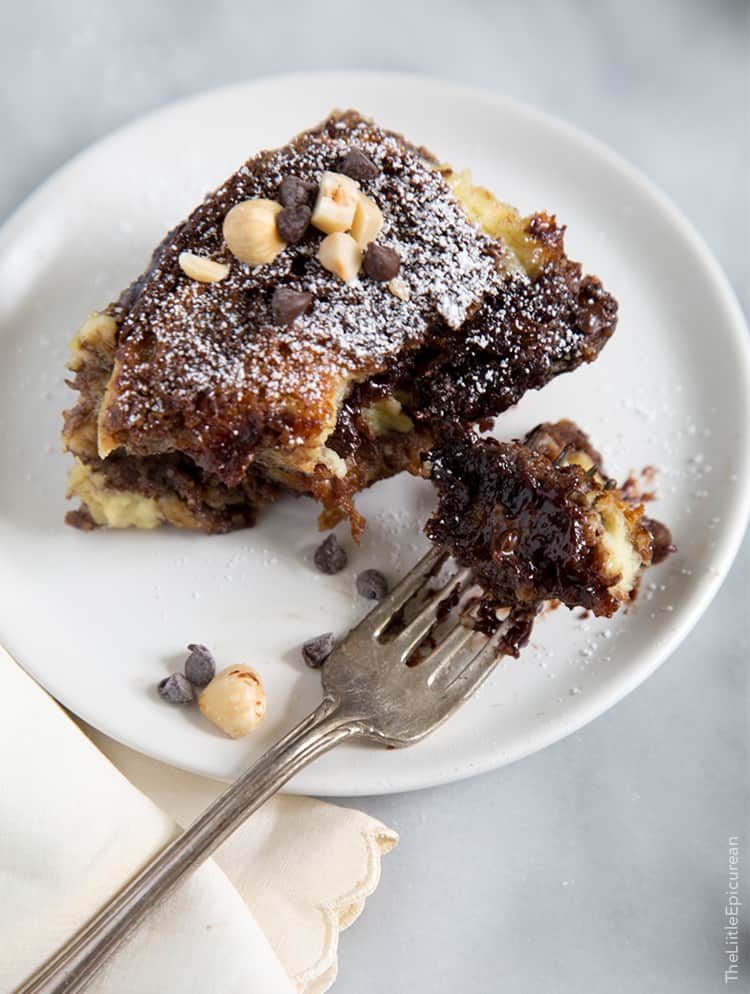 After all your hard work, you'll be rewarded with the best chocolate swirl bread pudding EVER. Remember all the chocolate chips I mentioned in the bread? Yup, they melt along with the peanut butter and Nutella, creating the most decadent, nutty, rich dessert.
This is the perfect dessert to have around during the holidays when your home is filled with people. You definitely don't want to be alone with this chocolate swirl bread pudding!
Don't stress or fret too much this weekend. For at least one day, be optimistic and see the glass as half full. Cherish your loved ones and be thankful for all the blessings life brings.
Happy Thanksgiving! Enjoy the four day weekend!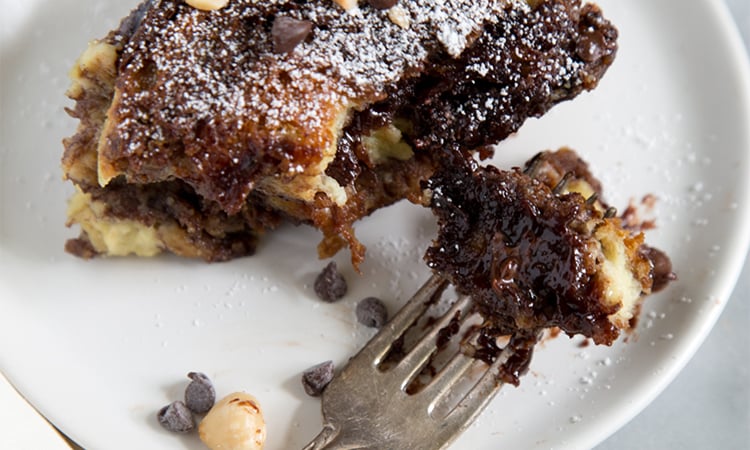 Chocolate Swirl Bread Pudding
Hidden underneath this Chocolate Swirl Bread pudding is peanut butter and Nutella. This is the perfect dessert to have around during the holidays when your home is filled with people.
Servings:
9
-inch cake pan
Ingredients
1

pound

(11 slices) La Jolla Chocolate Swirl Bread

1 3/4

cup

heavy cream

3/4

cup

whole milk

1/2

Tablespoon

vanilla bean paste

4

large eggs

4

large egg yolks

1/2

cup

granulated sugar

1/2

teaspoon

kosher salt

1/3

cup

smooth peanut butter

1/3

cup

chocolate hazelnut spread,

such as Nutella

toasted hazelnuts,

chopped, as needed

mini chocolate chips,

as needed

powdered sugar,

for dusting
Instructions
Preheat oven to 350 degrees F. Butter a 9-inch cake pan. Set aside.

Using a 3-inch round cutter, punch out 11 circles from the sliced bread. Take the remaining bread scraps and tear them into small pieces. Take about 1/3 of the scraps and spread half with peanut butter and the other half with Nutella. Place all the scraps into the prepared cake pan. Push down to compact the bread scraps.


In a large bowl, whisk together cream, milk, vanilla, yolks, eggs, sugar, and salt. Whisk until sugar dissolves. Pour half of the custard over bread scraps.


Spread peanut butter on half of the bread rounds. Spread Nutella on the remaining rounds. Arrange the bread rounds spread side down on top of the bread scraps. Arrange the rounds in an overlapping patter to create a shingle. Place the last bread round in the center. Pour the remaining custard over the bread.


Place the cake pan into a roasting pan. Fill the roasting pan with hot water until the cake pan is halfway submerged. Cover the roasting pan with a foil tent, allowing the cake room to expand. Bake for 35 minutes. Remove foil and continue baking for another 30 minutes. By this time the custard should be set and the bread golden brown. Remove from oven and remove cake pan from water bath. Let bread pudding sit for 5-10 minutes to cool. Dust with sifted powdered sugar and garnish with chopped toasted hazelnuts and chocolate chips before serving. Serve warm.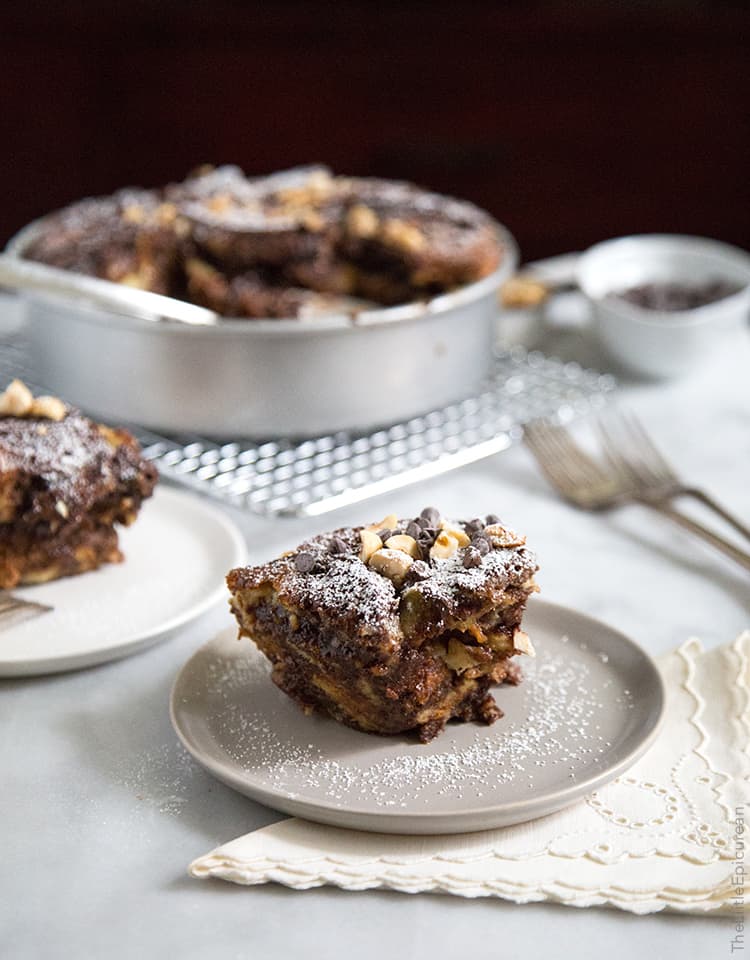 Note: Chocolate Swirl Sliced Bread is currently available at these Costco locations throughout Southern California.