Steel cut oats can take quite some time to prepare. This overnight steel cut oatmeal recipe cuts the cooking time to less than 5 minutes!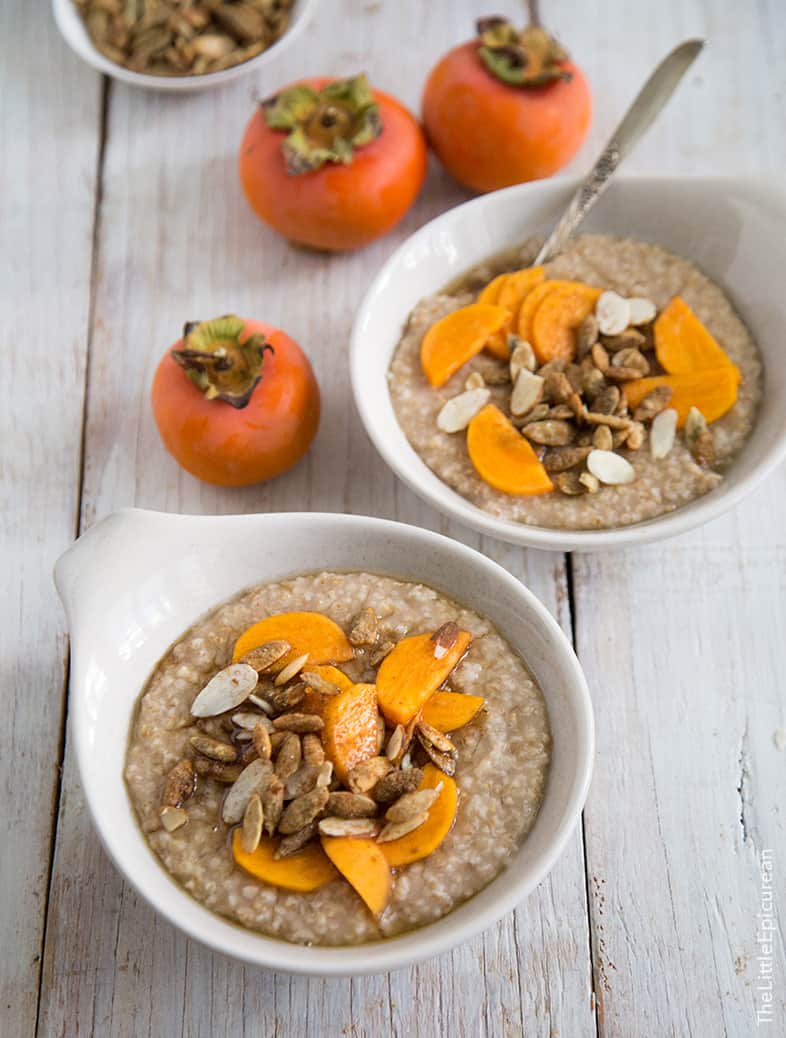 Waking up at the crack of dawn is not something I look forward to.  Especially now that it's finally chilly in LA, all I want to do at 5 am is stay warm in my cozy bed.
I have to set multiple alarms on running days, otherwise I'll never get up.  I often use coffee and breakfast as an incentive to go downstairs.  I have found that this overnight oatmeal is totally worth waking up for.
Persimmon and Spiced Pumpkin Seed Overnight Steel Cut Oatmeal
If I can't stay warm in bed, I might as well warm up with a bowl of this steel cut oatmeal with sliced persimmon and spiced pumpkin seeds.
Why on Earth am I waking up so early?  I may have mentioned that I'm training for three half-marathons next year.  Am I crazy?  Nope.
This is my way of ringing in my 30th birthday.  I'm running two events at Disneyland and one at Disney World.
It's been 14 years since the last time I went to Disney World and I'm super excited.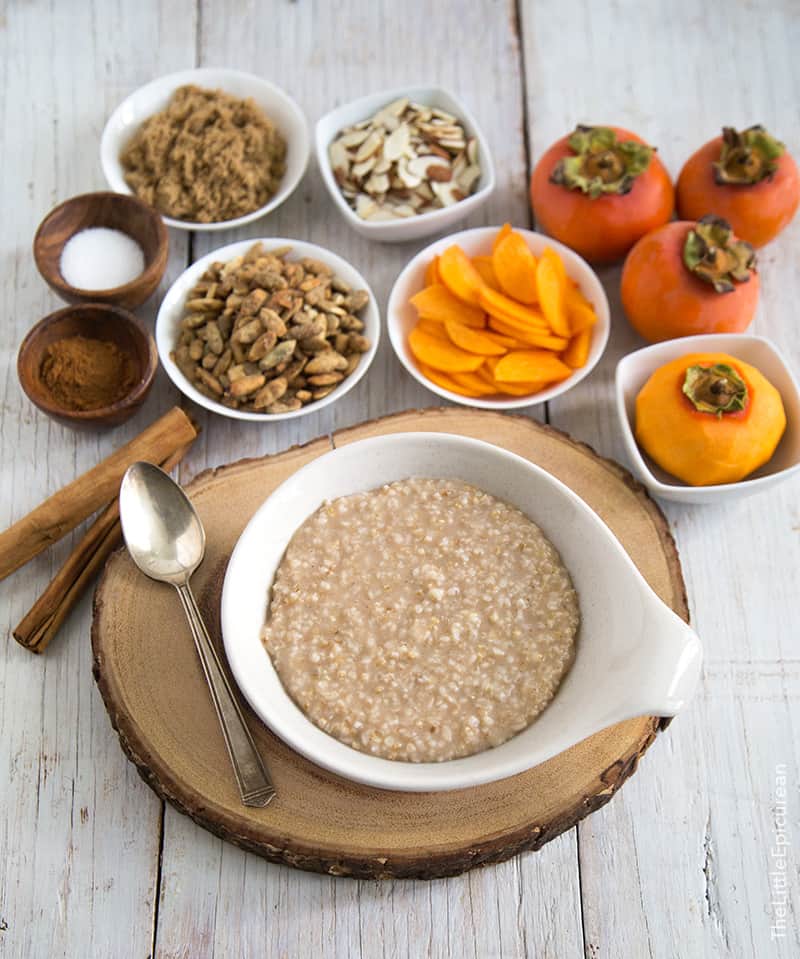 Rolled Oats vs Steel Cut Oats
Oatmeal is a great for running days.  It gives me enough fuel for a long run.  I'm not starving by mile 9.
If given the choice between old fashioned rolled oats and steel cut oats, I'd always pick steel cut.
Old fashioned oats are much easier to cook.  It's the same oats used in prepackages instant mixes.  Steel cut oats require a little more work because they are less processed than rolled oats.
And in my opinion they taste a whole lot better.  Normally it takes about 30-45 minutes to cook steel cut oats from scratch.  Who has time for that?!  Especially in the morning?!  That's an extra half hour that I could be sleeping.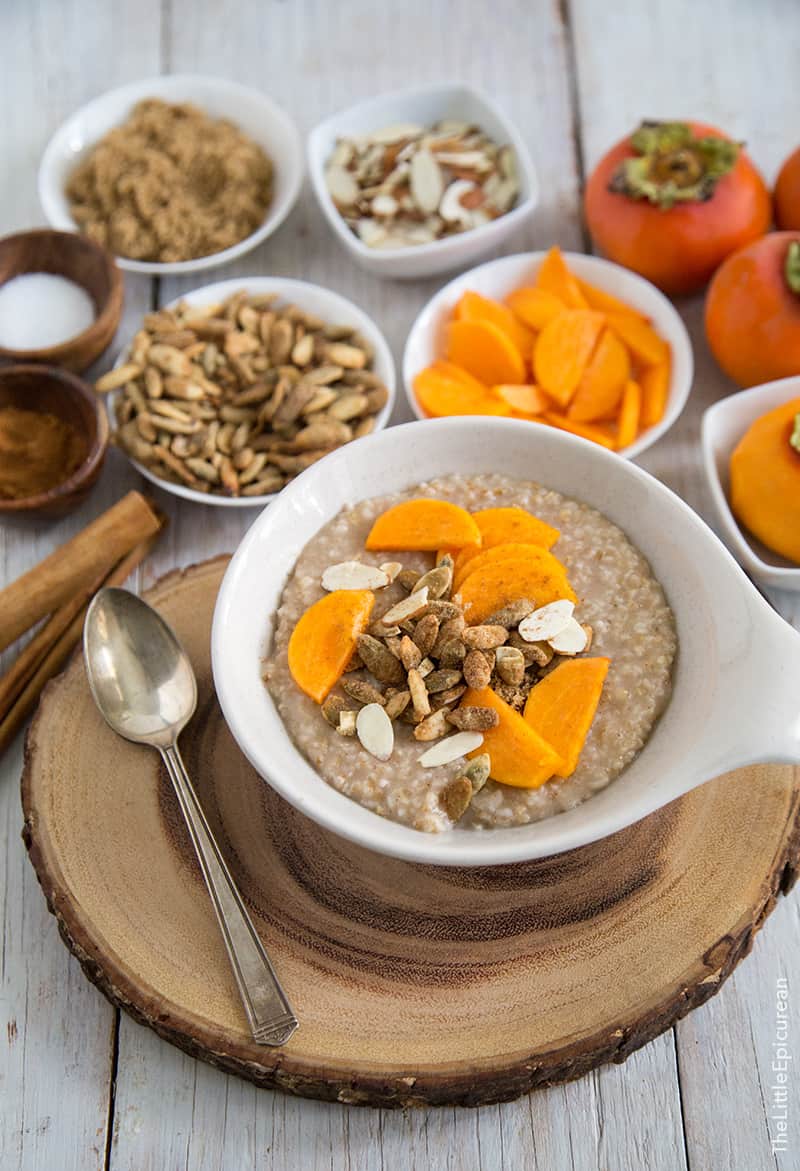 Last year, I learned about overnight steel cut oatmeal and I became obsessed.  I made it all the time until I got sick of it.  Now I'm fallen back in love with this breakfast staple and autumn-ized it.  U
sing seasonal toppings like sliced persimmon and spiced pumpkin seeds (from Trader Joe's!) makes this otherwise boring oatmeal into something special and exciting! Come spring, I can't wait to make this with fresh strawberries.  In the summer, this would be lovely with peaches.
How to make overnight steel cut oats:
Before you go to bed, bring a pot of water to a boil.  Remove from heat and mix in steel cut oats.  Put a lid on it and go to sleep.
While you're sleeping the oats will magically absorb the hot water and the mixture will slightly thicken.  When you wake the following morning, simply reheat the mixture and bam! You're got a delicious, hot and nutritious breakfast!
Okay, I've finished my bowl.  Now it's time for a run!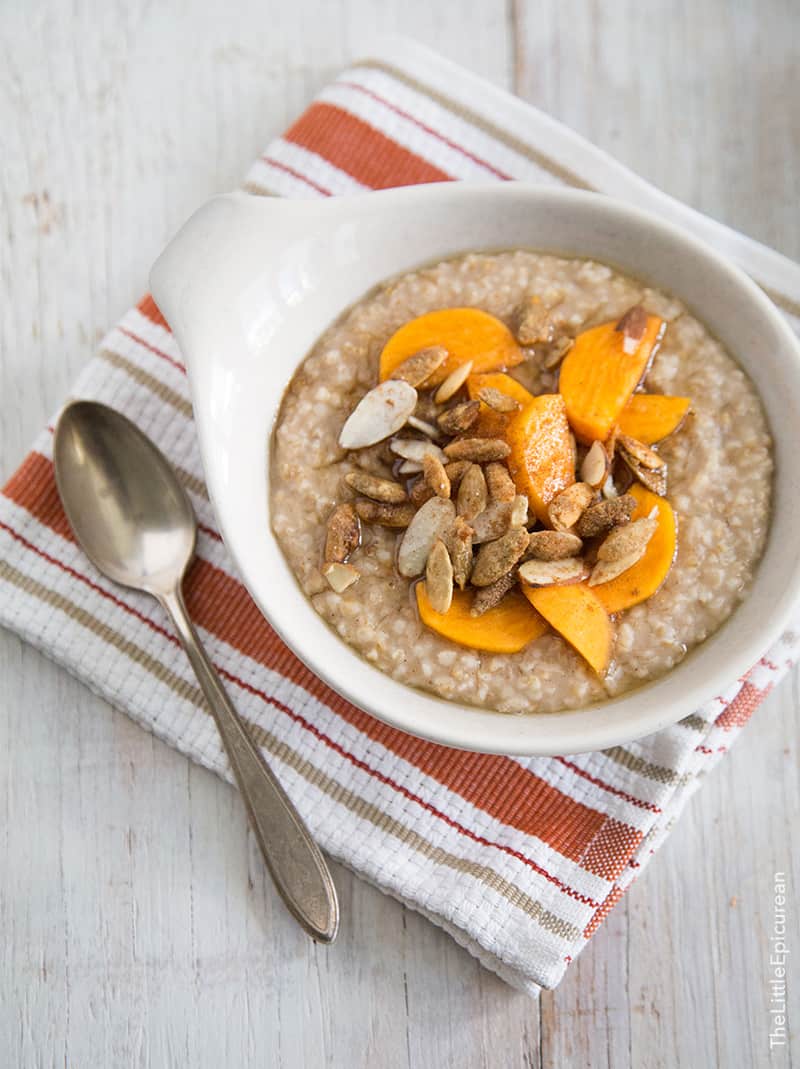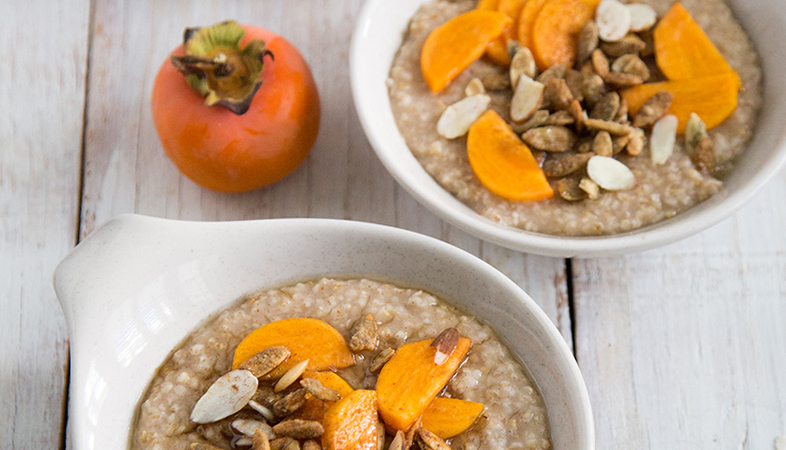 Overnight Steel Cut Oatmeal with Persimmons and Toasted Nuts
This overnight steel cut oatmeal recipe cuts the cooking time to less than 5 minutes! It's a delicious and nutritious hot breakfast that will help you get out of bed in the morning!Yield: serves 2
Ingredients
2 1/2

cups

filtered water

1/2

cup

steel cut oats

1

Tablespoon

agave syrup

1

Tablespoon

light brown sugar

1

teaspoon

ground cinnamon

1/2

teaspoon

fine sea salt

sliced persimmion

spiced toasted pumpkin seeds

toasted sliced almonds
Instructions
Bring water to a boil. Remove from heat. Add steel cut oats and cover with lid. Let sit overnight.

In the morning, uncover pot. The mixture should be creamy and slightly thickened. Season with agave syrup, brown sugar, cinnamon and salt. Stir and bring to boil. Let boil for about 30 seconds. Reduce heat and let simmer uncovered for 3-5 minutes, stirring occasionally, until thickened.

Ladle oatmeal into serving bowls. Adjust sweetness according to taste. Top with sliced persimmons, toasted pumpkin seeds and toasted sliced almonds.