These brown butter chocolate chunk cookies are chewy, chocolatey, and such a delight.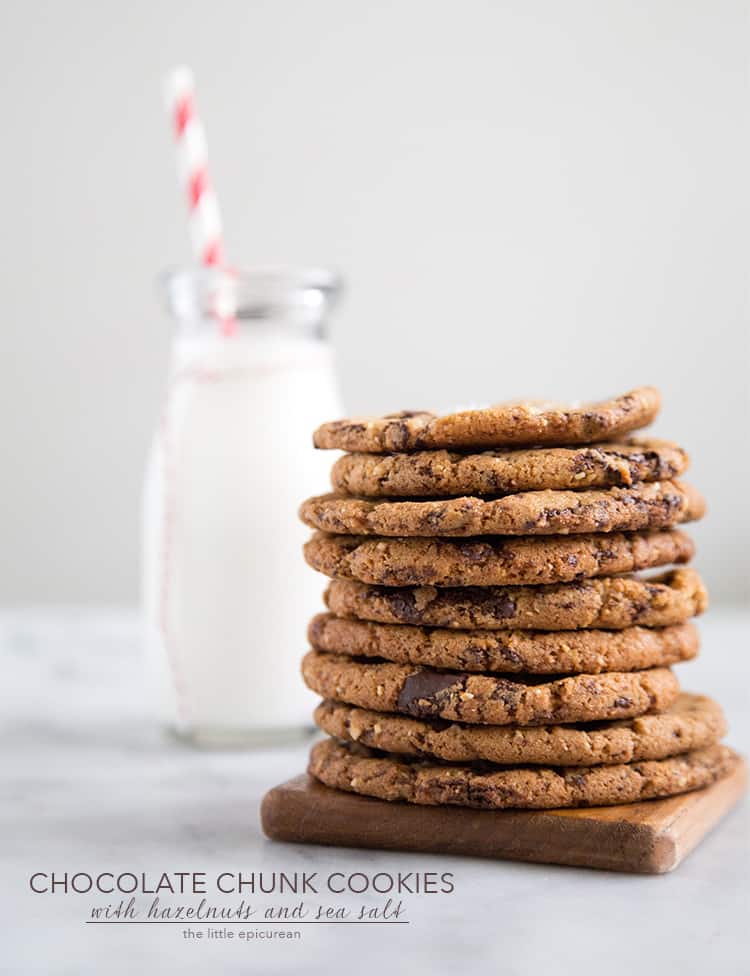 Nothing brings food bloggers together quite like cookies!
This was my first year participating in the Great Food Blogger Cookie Swap. (Since I missed the sign-ups last year, I was determined to join in the fun this year.) It's so exciting getting treats in the mail.
I hardly get snail mail anymore and all the packages I receive come with email/text notifications and tracking numbers. With everything going digital, it's so nice to find an unexpected box of cookies in your mailbox.
The best thing about this cookie swap (aside from getting three dozen delicious cookies from bloggers near and far) is being able to contribute to Cookies for Kid's Cancer. Cookies for a good cause? You bet I'm in!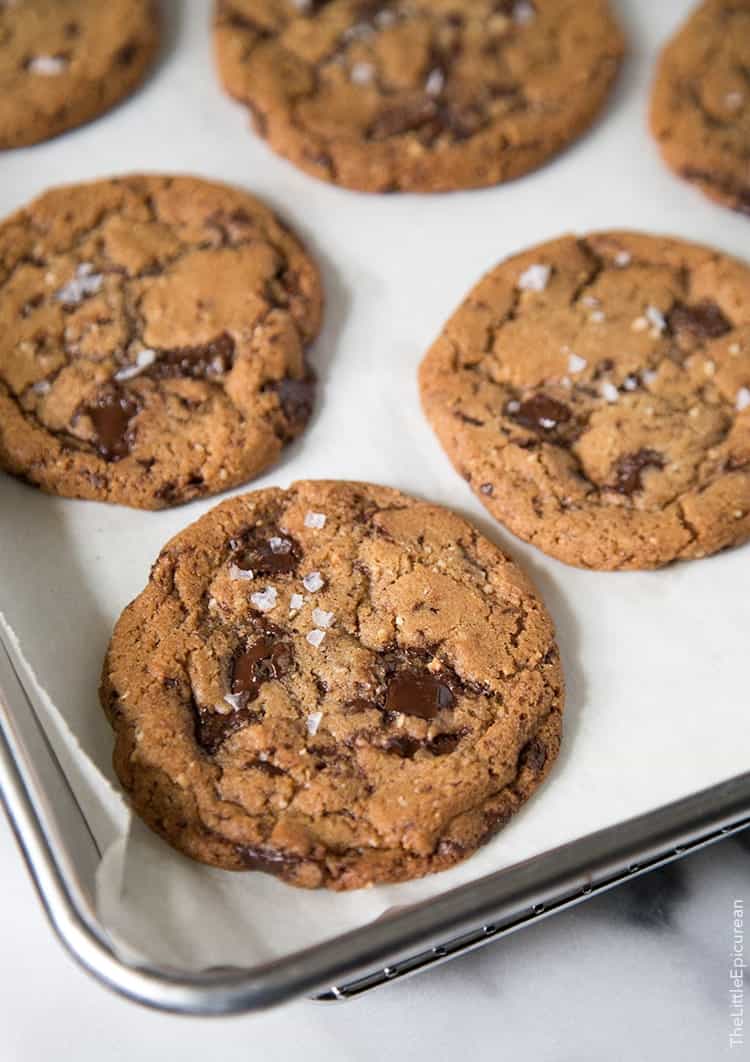 How do you make the quintessential chocolate chip cookie better?
You can't go wrong with the classic chocolate chip cookie. It is the quintessential, universally loved cookie. It sure is my all time favorite cookie.
Over the years, I've done all sorts of additions and substitutions in attempts to make chocolate chip cookies better. And I think I've found THE ONE. The one chocolate chip cookie recipe to end all cookies.
Brown butter is the secret ingredient!
Brown butter chocolate chunk cookies with ground hazelnuts and Maldon sea salt.
Yes, the name is a bit much. And yes, it takes a little more work than the average chocolate chip cookie.
But, I believe that these chocolate chunk cookies are THE BEST cookies I've ever made.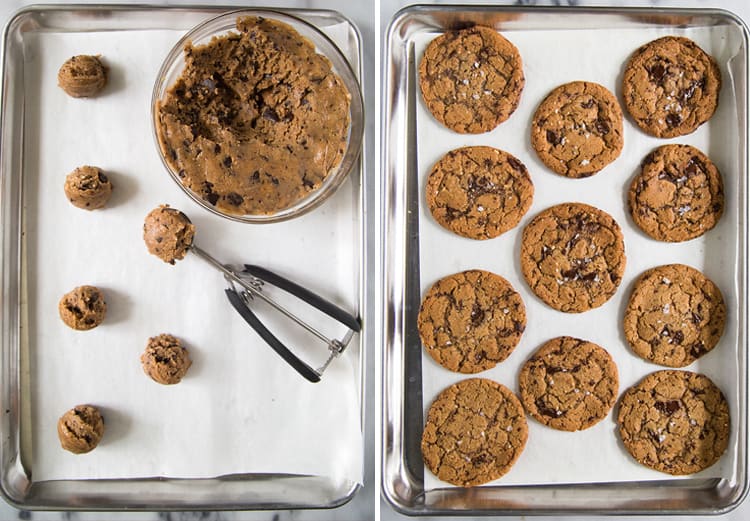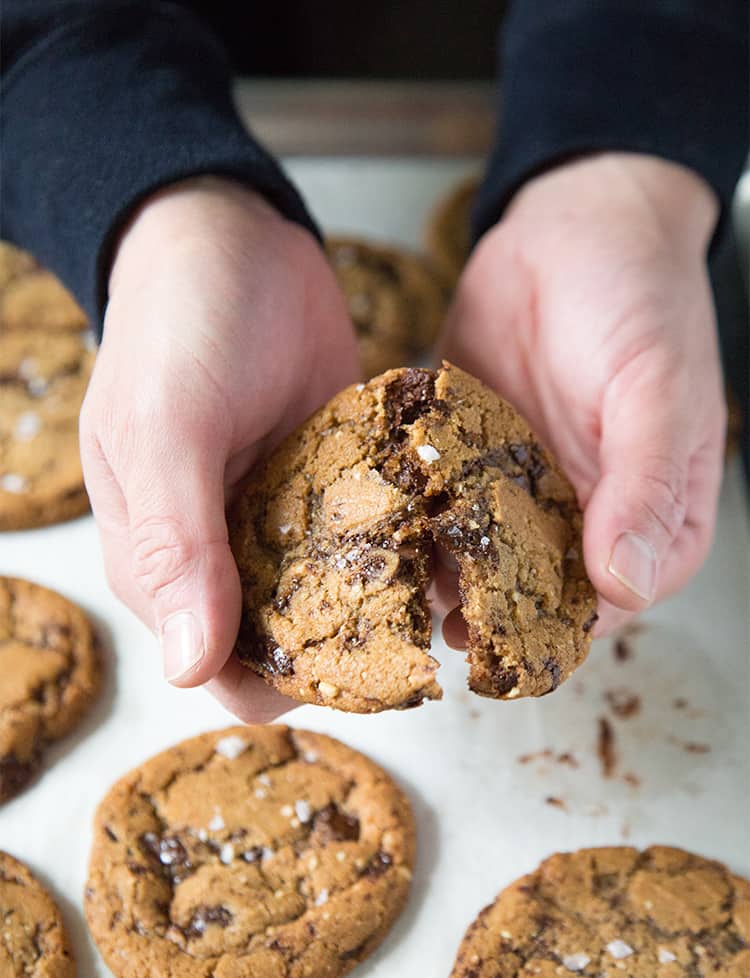 Fresh from the oven, these chocolate chunk cookies are ooey-gooey and so addicting.
As hand model Alex demonstrates, the chocolate in these cookies stay melted even after cooling. While the edges of the cookie crisp up a little bit during baking, the center remains soft and chewy…which makes these cookies PERFECT for ice cream sandwiches… just saying.
I've made 10 dozen of these cookies (and counting) this holiday season and I'm still not tired of it. And as you've probably suspected, Alex and I have stopped counting how many of the cookies we've snacked on.
I'm so happy to share this recipe with y'all and I hope you enjoy them just as much as my friends and family do!
Notes on Tools and Ingredients Used:
These cookies were portioned using a size 40 cookie scoop, which is roughly 1 1/2 tablespoons of dough.
Use a food processor to uniformly grind the toasted hazelnuts. I have a large 14 cup food processor, but this smaller version works just as well for this application.
I recommend using dark chocolate that's at least 60%. Although, 72% works best in this recipe. The bitterness of the dark chocolate pairs wonderfully with the sweet dough.
My favorite brands of chocolate are: Callebaut, Valrhona, and Lindt.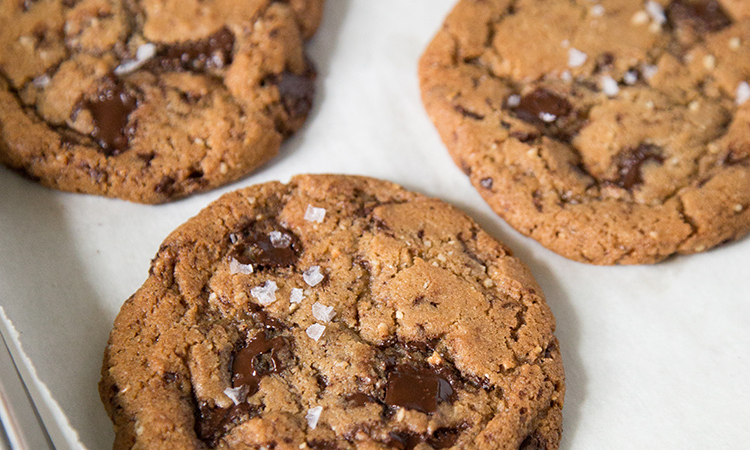 Brown Butter Chocolate Chunk Cookies with Hazelnut and Sea Salt
How do you make the quintessential chocolate chip cookie better? Brown the butter, add in some hazelnut flour, and sprinkle Maldon sea salt on top. These chewy and super addicting chocolate chunk cookies will soon be your favorite cookie!
Yield: about 2 dozen cookies
Ingredients
1 ¼

cup

all-purpose flour

½

cup

lightly toasted ground hazelnuts

1

teaspoon

baking powder

½

teaspoon

baking soda

½

teaspoon

kosher salt

½

cup

+ 2 Tablespoons unsalted butter

1

cup

light brown sugar,

packed

½

cup

granulated sugar

2

large egg yolks

1

large egg

1

teaspoon

vanilla extract

6

oz

dark chocolate (72%),

roughly chopped

Maldon sea salt flakes,

as needed for sprinkling
Instructions
In a large bowl, whisk together flour, hazelnuts, baking powder, baking soda, and salt. Set aside.

In medium sauce pan, melt ½ cup of butter over medium heat. Once the butter has melted, continue to cook. Swirl pan occasionally. Mixture will bubble and foam as it cooks. Continue to cook until butter smells nutty and fragrant. The milk solids in the butter will turn rich brown in color. Remove from heat and pour into a heat-safe bowl. Allow brown butter to cool for 30 minutes.

Pour cooled butter into a mixing bowl. Add brown sugar and granulated sugar. Mix until sugars are moistened. Add remaining 2 Tbsp of softened butter and beat in until combined.

Add egg yolks, egg, and vanilla. Mix until incorporated. Add flour mixture in three batches. Mix on low speed until there are no longer any streaks of flour. Use a sturdy spatula to fold in chopped chocolate. Transfer cookie dough to a large bowl. Cover with plastic wrap and let chill in the fridge for at least 1 hour (up to overnight).

Preheat oven to 350° F. Scoop tablespoon portions of cookie dough. Place cookie balls 2-inches apart on a parchment lined baking sheet. Bake for 12 minutes, rotating pan midway through baking. Immediately sprinkle with Maldon sea salt. Allow to cool in pan for 2 minutes before transferring to wire rack to cool completely.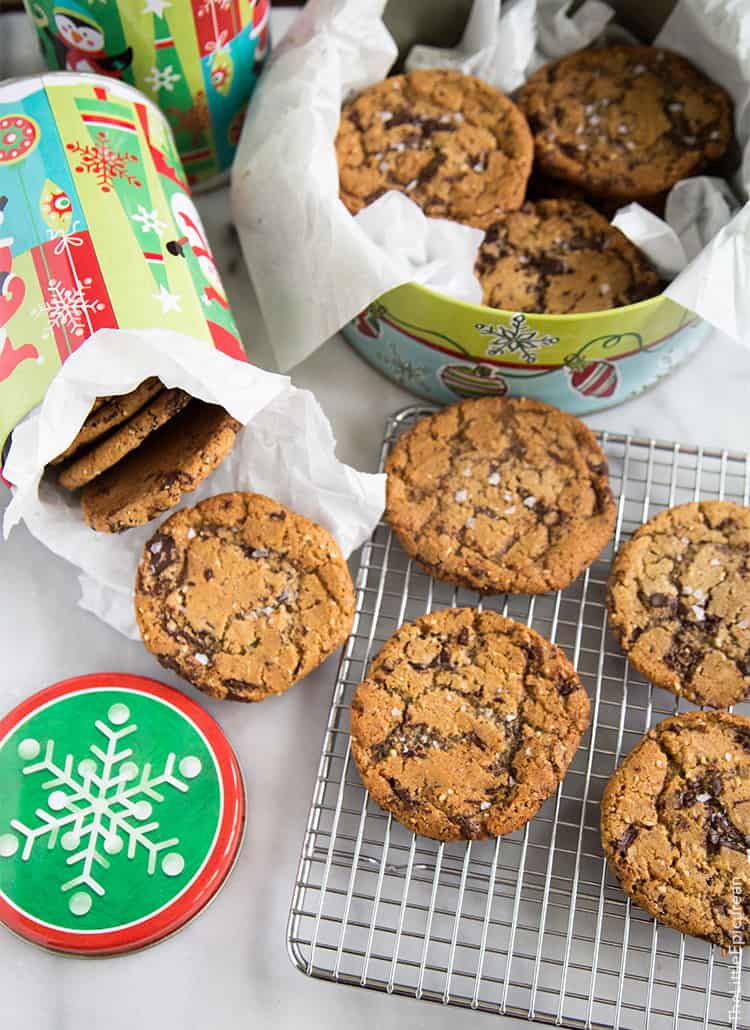 These cookies are great for mailing because they travel well and they can be easily reheated in the microwave to get that fresh from the oven experience!