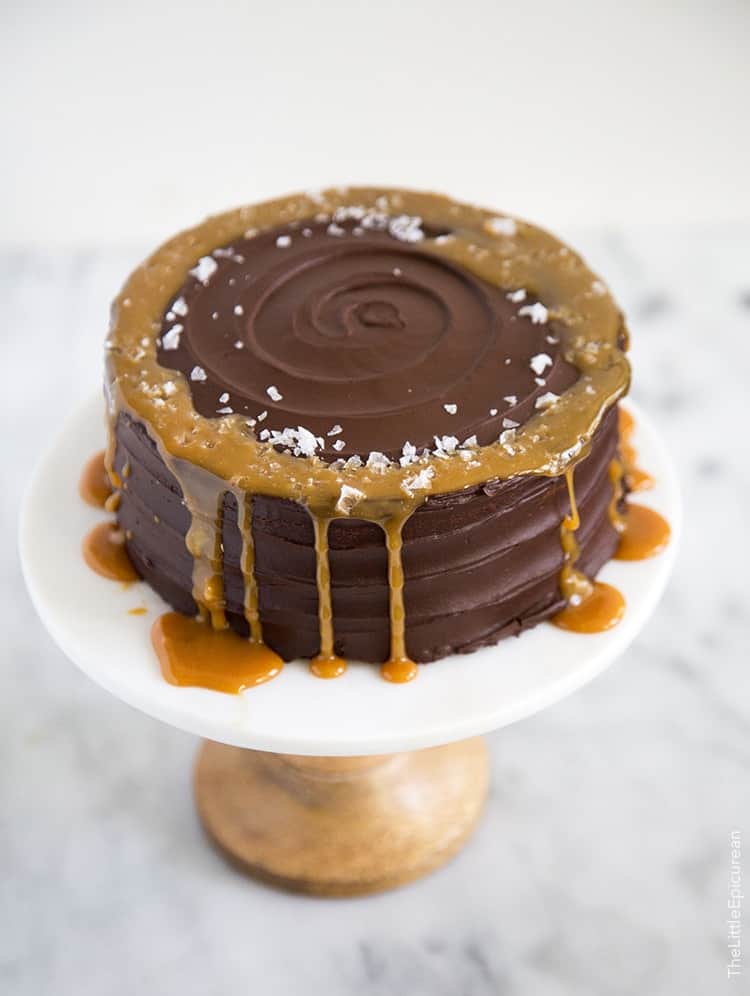 Yesterday, I woke up really early and made this buttermilk chocolate cake because I knew the kind of day I was going to have.
Often, I wish I could hire my own personal tech team.  I dream about the hours I could save, the frustration and headache I could avoid.  But alas, The Little Epicurean is a company of one (and two pups).  Over the last couple of weeks, I've been having A LOT of trouble with my blog email.  One day I can't receive emails and then another day, I can't send out emails.  I've finally had enough and decided to migrate my email to Google Apps for Work.
I spent the better of the day (some 5 hours!) updating the backend of my blog.  You know, the not-so-fun part about having a blog (without a staff or tech team).  Coming up with ideas, tasting and photographing food, and sharing recipes with you all– that's the FUN part.  Finding and redirecting broken links, researching about which plug-ins to have/update/delete, confronting sites and business that have stolen your photos/recipes– well, those are definitely the BAD parts.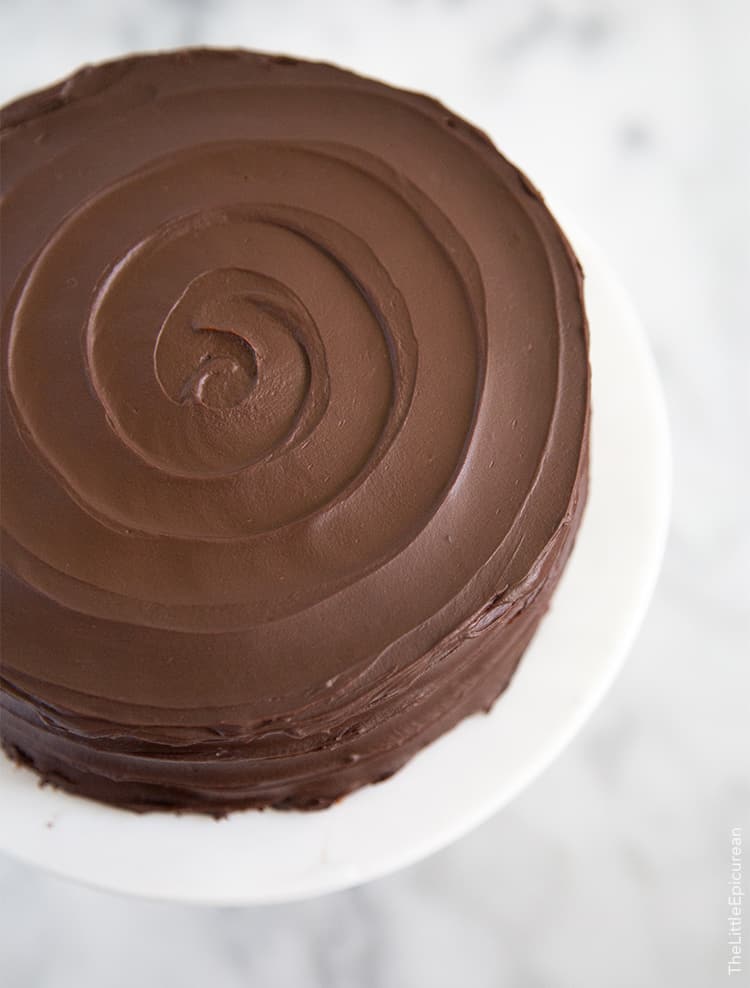 During all this mess, the two pups were going crazy because they could see the neighborhood kids playing in the park across from our window.  Mind you, during all the pup's wining and crying I was on the phone with Google Support trying to unravel the situation I got myself into.
I wanted to pull my hair out.  I stress out (easily).  Although I'd like to think I'm pretty cool, calm, and collected- Alex, my brother, and my parents know otherwise.  I forget to breathe, my shoulders get really tense and then my brain goes bonkers.  Eventually, I completed everything I sought out do to.  And luckily, I had this chocolate cake waiting for me.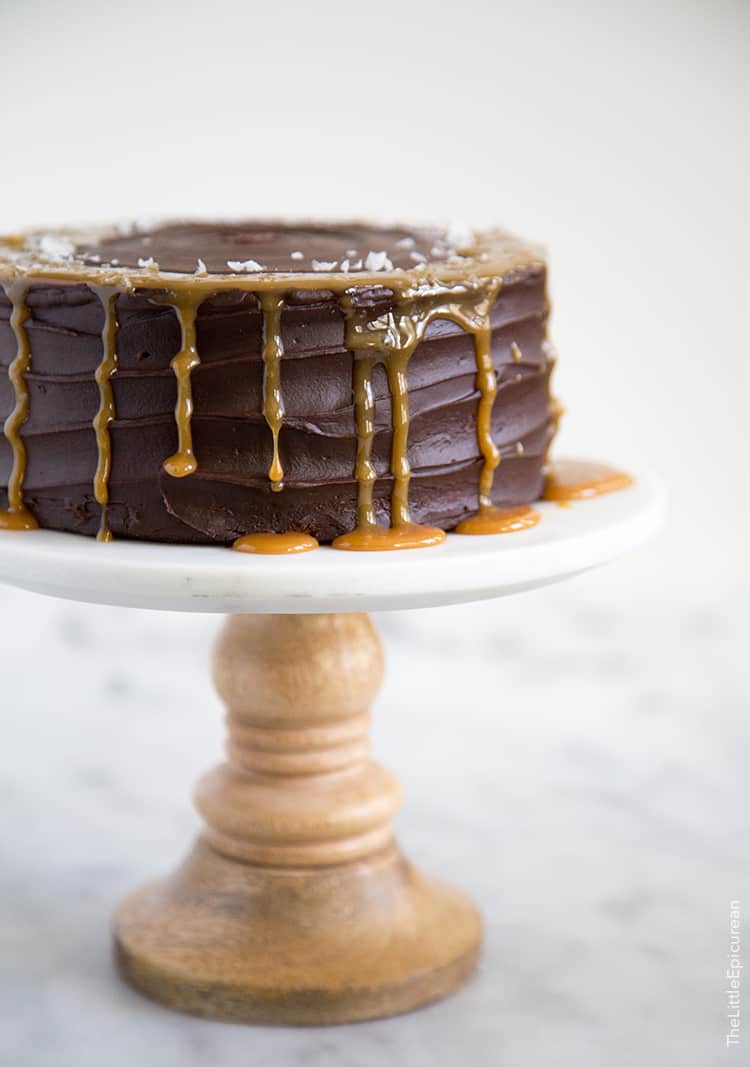 Victory never tasted so sweet.  Four thin layers of buttermilk chocolate cake soaked in caramel sauce then covered with dark chocolate ganache and finished with more caramel and a sprinkle of sea salt.  Yes, that's how accomplishment is supposed to taste- rich, decadent, and oh so lovely.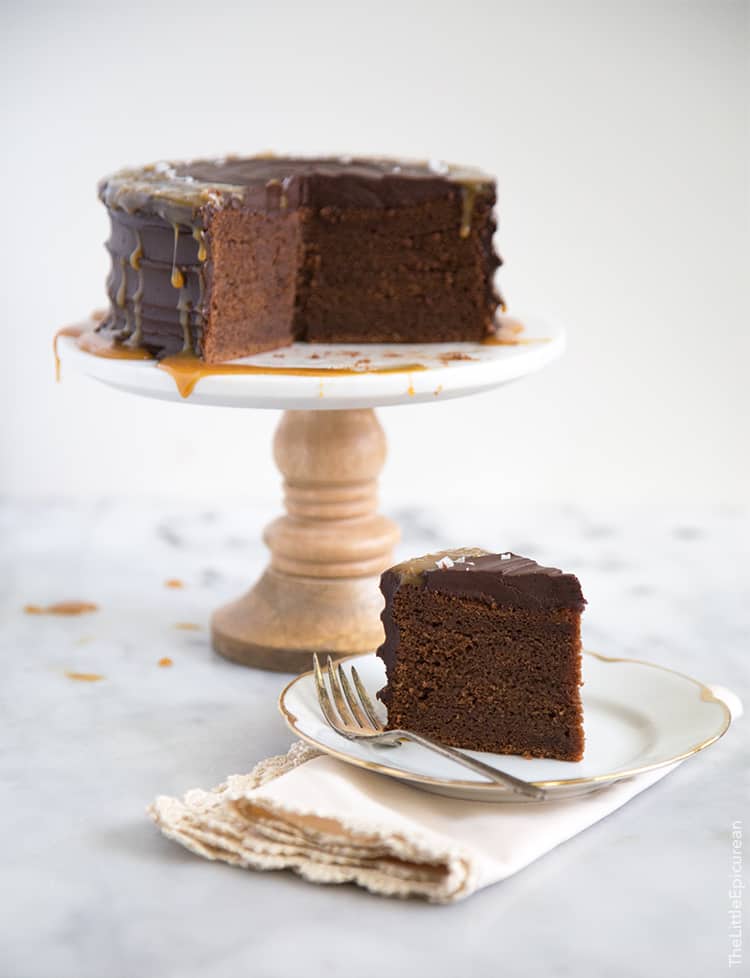 It's kind of difficult to see, but the cake is made up of four layers. To prevent the chocolate cake from drying out, there's about two tablespoons of caramel sauce soaked between the layers.  That same caramel is then poured over the edges of the ganache enrobed cake.  Just be careful not to pour too much caramel (like me).  Caramel runs and gets quite messy.
Moral of the story, when dealing with serious/boring/necessary issues, be sure to have chocolate waiting in the wings.
Buttermilk Chocolate Cake with caramel and ganache
Ingredients:
1 1/2 cups cake flour
1/2 cup unsweetened cocoa powder
1 tsp instant espresso powder
1/2 tsp baking powder
1/2 tsp baking soda
1/2 tsp fine sea salt
3/4 cup unsalted butter, room temperature
1 1/4 cup granulated sugar
2 large eggs
1 large egg white
2 tsp vanilla extract
1 cup buttermilk
Chocolate Ganache:
5 oz dark chocolate (72%), roughly chopped*
3/4 cup heavy cream
Caramel Sauce:**
3/4 cup + 2 Tbsp granulated sugar
1/4 cup water
1/2 cup heavy cream, heated
3/4 cup unsalted butter, cut into tablespoons
1 tsp fine sea salt
Directions:
Preheat oven to 350 degrees F.  Butter two 6-inch cake pans and line bottom with parchment paper.  Set aside.
Sift together cake flour, cocoa powder, espresso powder, baking powder, baking soda and sea salt.  Set aside.
In the bowl of a stand mixer fitted with paddle attachment, beat butter on medium speed.  Slowly add sugar.  Continue to mix, scraping down bowl as needed to ensure throughout creaming.  Add eggs one at time, mixing on low speed.  Add egg white and vanilla extract.
Add 1/3 of dry flour mixture and mix on low speed.  Add 1/2 of buttermilk and mix until incorporated.  Follow with another 1/3 of flour, then remaining buttermilk.  Finish with last 1/3 of flour mixture.  Mix on low speed until there are no longer any dry streaks of flour.
Divide batter evenly between the two prepared cake pans.  Bake for 40-45 minutes until toothpick inserted in center of cake comes out clean.  Let cool in pan for 5 minutes.  Unmold the cake and set on a wire rack to cool to room temperature.
Once cake is cooled, slice each cake into two equal slices.  To build the cake, place one layer on a serving platter.  Pour between 1 1/2 tablespoon to 2 tablespoons of caramel over the layer.  Spread evenly.  Place another cake layer on top and repeat until you have the fourth cake layer on top.  Spread thickened chocolate ganache all over the cake.  Pour remaining caramel sauce over the edges of the cake.  Sprinkle Maldon sea salt over caramel, as desired.
Chocolate Ganache:  Place chopped chocolate in a large bowl.  Bring heavy cream to a simmer.  Pour hot cream over chopped chocolate and cover bowl with plastic wrap.  Let sit for 3 minutes.  Remove plastic wrap and stir ganache until homogenous.  Cover with plastic wrap, allowing plastic wrap to touch chocolate to prevent condensation.  Every 30 minutes, stir ganache until it has thickened to frosting consistency (about 2 hours).
Caramel Sauce: Melt sugar and water in a heavy bottomed sauce pot on high heat.  Lower heat and allow sugar syrup to color.  Remove from heat once syrup is aromatic and amber in color.  Warm up heavy cream in the microwave for 45 seconds.  Add about 1/3 of warm cream to sugar syrup and whisk.  BE CAREFUL as the mixture will bubble and steam.  Add the remaining warm cream and whisk until mixture has slightly cooled.  Add butter and salt.  Whisk until mixture is homogenized.  Let cool to room temperature.  Once cooled, sauce will thicken.  To speed up the process, you can also place caramel in the fridge to cool faster.
*Use good quality chocolate, not chocolate chips or chocolate candy bars.
**Good quality store-bought caramel sauce is a perfect alternative.