These black sesame shortbread cookies are iced with naturally colored pink hibiscus glaze.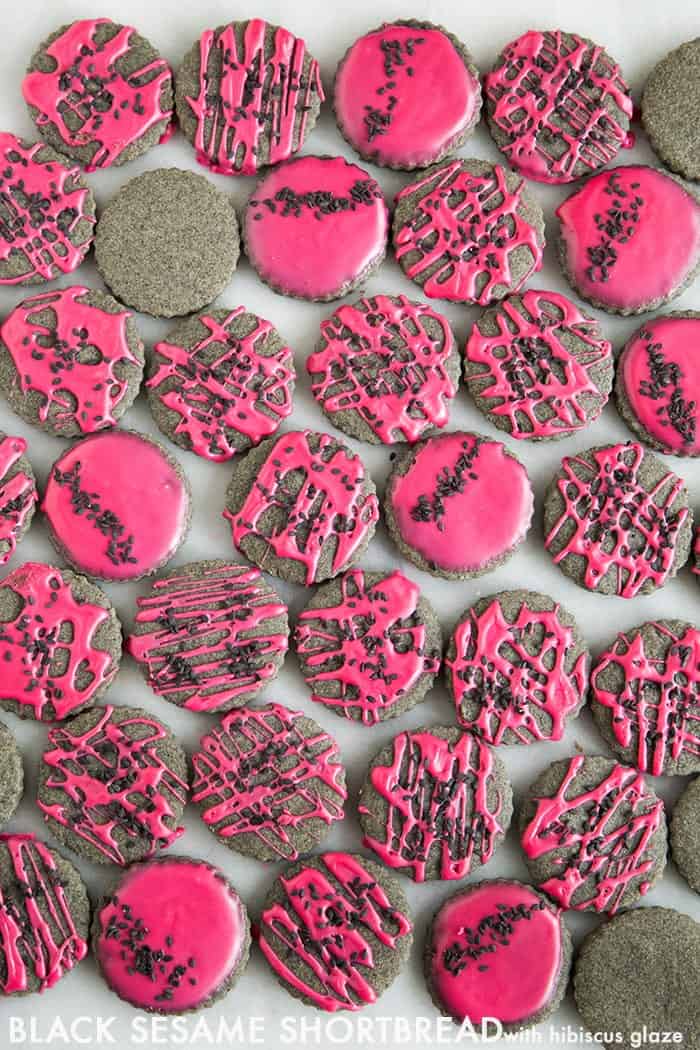 I normally associate shortbread cookies with afternoon tea. I think of ladies in pastel colored clothes daintily sipping on tea with their pinkies in the air. These black sesame shortbread cookies with hibiscus glaze would definitely not be invited to that kind of event. These are the rebellious punk shortbread cookies that belong to a break-all-the-rules kind of tea party. Perhaps like an Alice in Wonderland Mad Hatter's tea party!
(Do afternoon tea parties like that exist in real life? If you know of one, please send over the info!)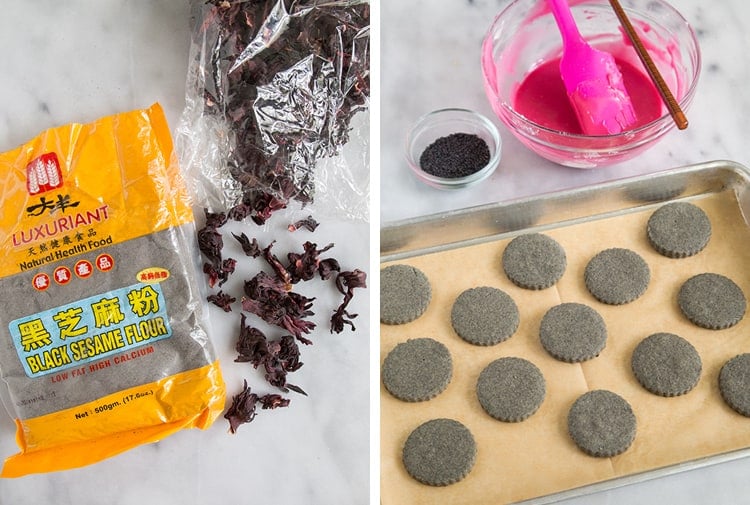 If you've never had black sesame, it tastes really nutty. It's almost like a peanut butter kind of nutty, but toastier in flavor. I love it! Black sesame is popular in Asian desserts. Some of my favs include: black sesame ice cream, black sesame cupcakes, black sesame sweet rice dumplings (I can go on and on!).
Black sesame flour (or powder) is available at Asian markets. It is usually stocked in the same section with the rice flours and tapioca starches or alongside all the teas and powdered drink mixes.  It's also readily accessible online.
Black sesame is normally paired with red bean or matcha (green tea). But rather than do the expected, I wanted to try something really different. Black sesame with hibiscus is a pairing I've never heard of. I was skeptical at first, but the pair actually plays surprisingly well together. The nutty black sesame is balanced with the slightly tart hibiscus glaze. The exciting and unusual flavor combo leaves you wanting more and more.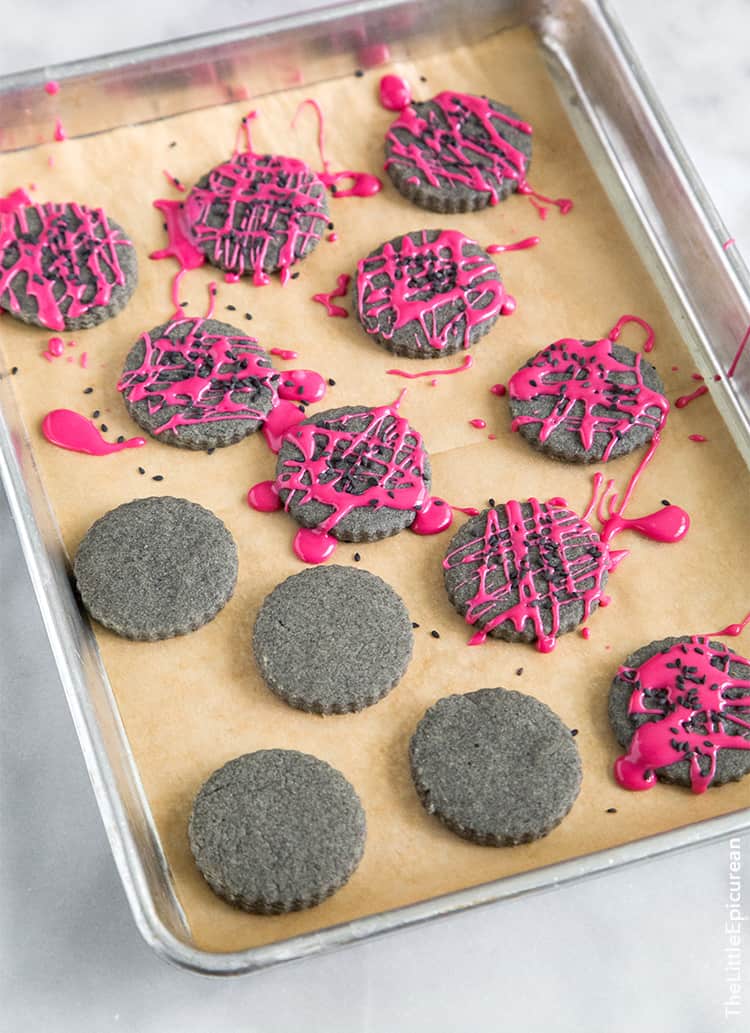 I'm a big fan of the colorful cakes and desserts of Katherine Sabbath. Her work is full of bright pinks, vibrant turquoises and luscious lavenders. These black sesame shortbread cookies were inspired by her Instagram feed.
And if it wasn't pretty obvious from the color scheme of my blog, I really really really love pink. Any shade of pink puts me in a good mood and makes me happy.
There are no artificial colors in this cookie. It's ALL NATURAL! Once baked, the black sesame shortbread turns an even gray color. The electric pink glaze takes it's tones from the super red color of the dried hibiscus flower.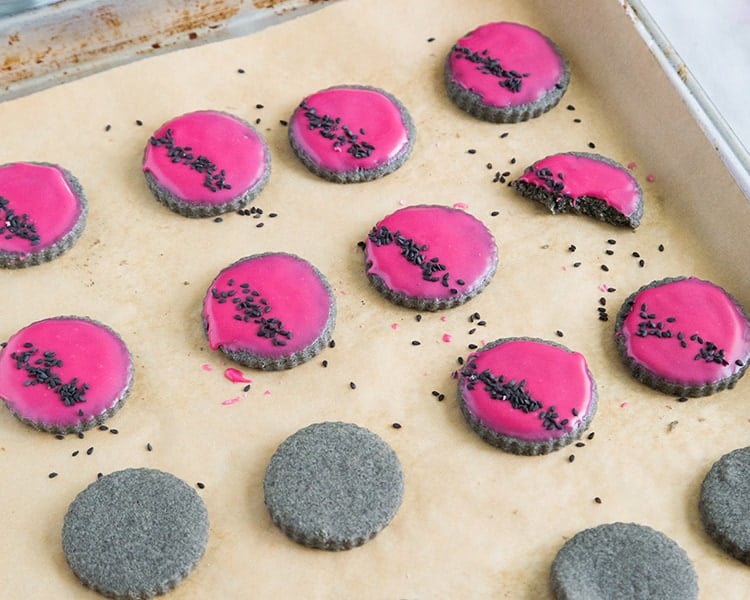 At first, I tried to make these cookies look prim and proper. Dip one side of the cookie in the hibiscus glaze and then sprinkle a little black sesame on top. That got boring really fast.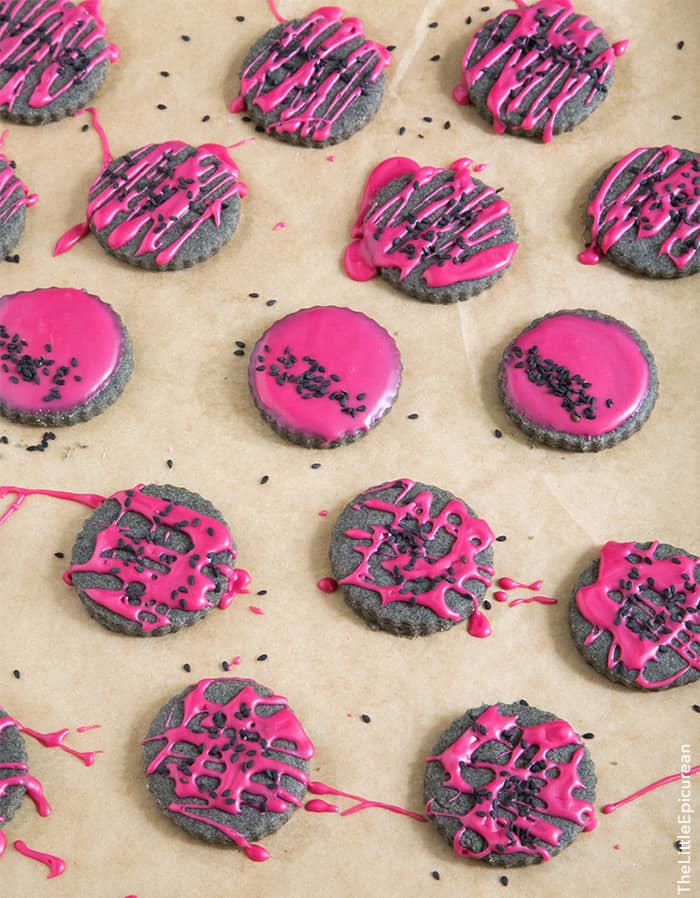 It's much more fun and exciting splattering and drizzling the cookies in a sort of Jackson Pollock kind of matter. It's also quite stress relieving and relaxing to go a bit wild sometimes.
Black Sesame Shortbread with Hibiscus Glaze
Yield: about 5 dozen cookies
Ingredients
Black Sesame Shortbread:
2

cups

all-purpose flour

3/4

cup

black sesame flour

1/2

teaspoon

fine sea salt

1/2

cup

unsalted butter, softened

1/2

cup

coconut oil

1/3

cup

granulated sugar

1/3

cup

powdered sugar, sifted

3

large egg yolks
Hibiscus Glaze:
1

Tablespoon

dried hibiscus flowers

1/2

cup

hot water

1 1/2

cup

powdered sugar, sifted
Instructions
Whisk together flour, black sesame flour, and salt. Set aside.

In the bowl of a stand mixer fitted with a paddle attachment, cream together butter and coconut oil. Once smooth, add sugar and powdered sugar.

Add dry mixture and mix on slow speed. Add egg yolks one at a time and mix until dough comes together.

Scoop dough out of a bowl, divide into two equal parts and flatten gently into two rectangles. Wrap in plastic wrap and let chill in the fridge for 30 minutes (up to overnight).

Preheat oven to 350 degrees F. Line baking sheets with parchment paper.


Remove shortbread dough from the fridge. If dough is too cold, allow to warm up slightly until dough is pliable. Roll out dough to a thickness of about 1/2-inch. If dough is too cold and starts to crumble while you roll, simply warm up the dough with your hands and press it into a ball. Once dough is pliable, re-roll. Use a lightly floured fluted 2-inch round cookie cutter to stamp out cookies. Ball up any scrapes and re-roll as necessary.

Place cookies on prepared baking sheet at least 1-inch in apart. Bake for 15-17 minutes. Allow to cool in pan for 3 minutes before transferring to a wire rack to cool to room temperature.

Hibiscus Glaze: Bring water to a boil. Add dried hibiscus flowers. Allow to steep for 5-8 minutes until tea is super dark red. Place sifted powdered sugar in a medium bowl. Add 3 Tbsp of hibiscus tea to powdered sugar. Stir until mixture is smooth. Dip cookies into hibiscus glaze or drizzle glaze over cookies and top with black sesame seeds.