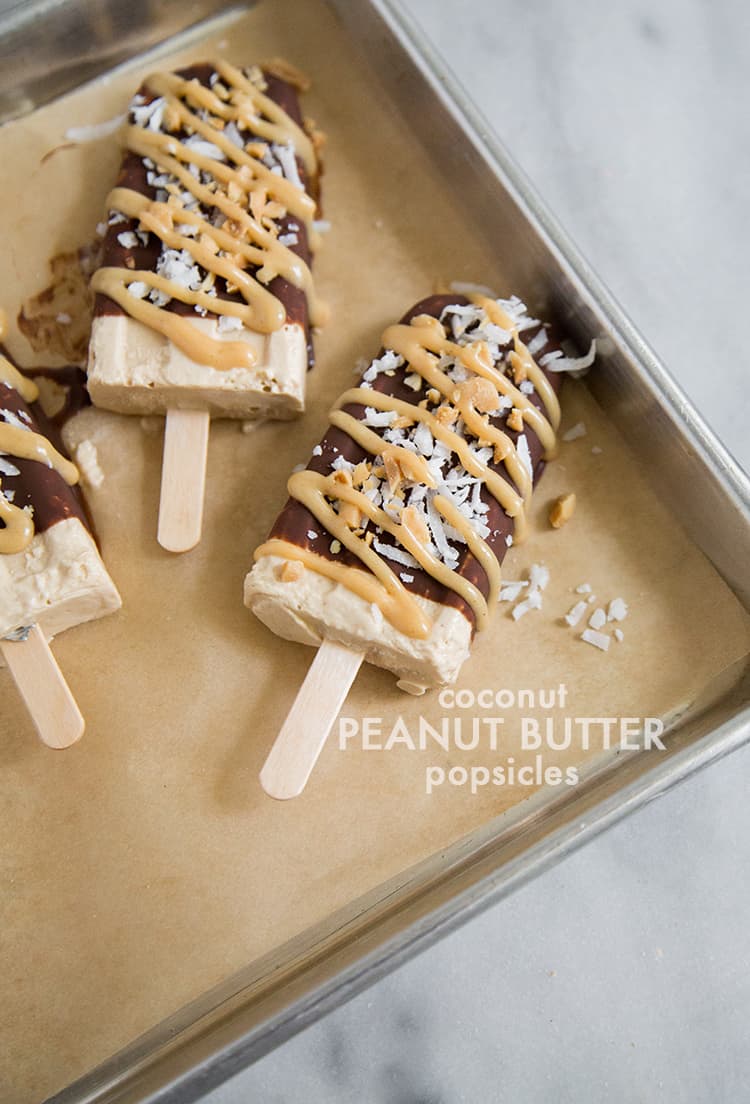 Coconuts and peanuts both have "nut" in their name, but neither are actual nuts. Coconuts are botanically drupes, better known as stone fruits. And peanuts belong to the legume family.
They are closer in relation to beans and peas rather than tree nuts like walnuts and hazelnuts. I just wanted to share that little tidbit.
Hey, you never know… it might be the winning answer on a game show.
Summer is in full swing! Get ready for a frozen treat overload these upcoming weeks! Today I bring you these decadent and delicious coconut peanut butter popsicles.
I created this recipe to participate in Peanut Butter & Co.'s "Pin-a-Pop" summer contest . Participates were challenged to whip up a summer popsicle featuring peanut butter.
Nothing is more summer to me than coconut. I figure coconut and peanut butter would be a tasty combo because of Chick-O-Sticks. Strangely enough these two "nuts" pair wonderfully together. And of course when you add chocolate to the party, it gets even better.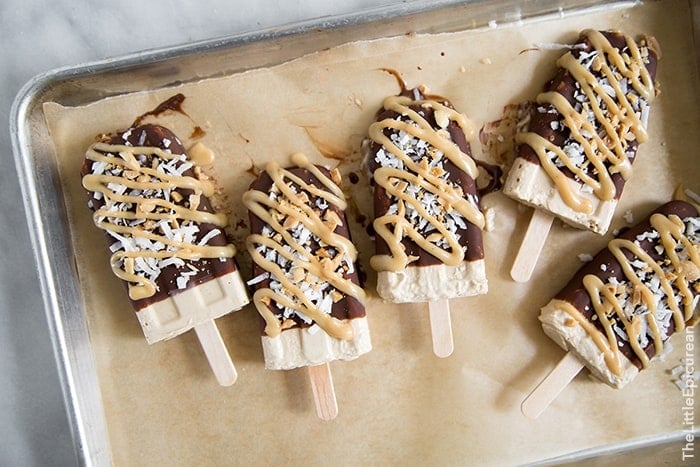 These coconut peanut butter popsicles are dairy-free! I used coconut milk in place of milk or cream to create the base of these treats.
Coconut milk not only tastes great, it also is responsible for the creamy and luscious texture of the pops.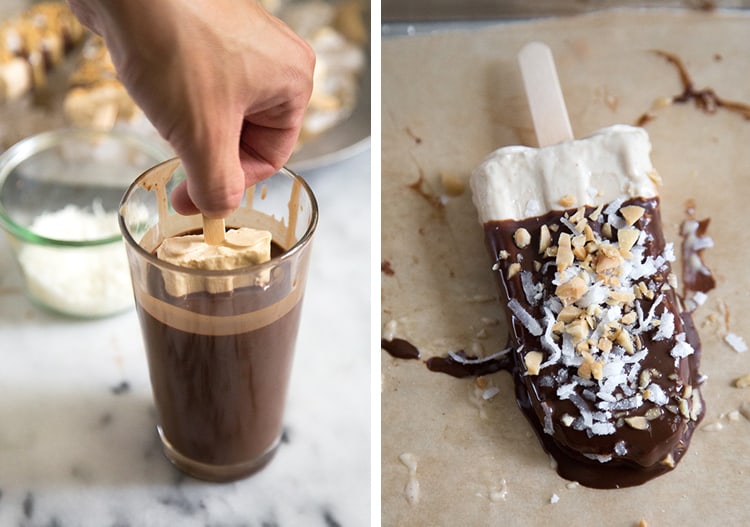 Chocolate dipping can be messy and frustrating. I find the best way to dip ice cream bars/strawberries/ice cream cones/etc. is by pouring the melted chocolate in a tall glass. With less surface area you get more dipping depth. (Does that make sense?)
Working with melted chocolate can be a bit tricky. There are numerous things to worry about: is the chocolate in temper, has the chocolate seized up and become gritty, is the chocolate overheated? I've got the perfect quick-fix for making your own "magic" chocolate shell.
I learned about it from Oh, How Civilized. Gently melt the chocolate with coconut oil until the mixture is smooth. Dip anything cold into the chocolate and within seconds it will magically set up. It's great! Especially because it leaves you with a nice even coat of chocolate.
Plus, you can dip the bars over and over again if you want a thicker shell. Just remember to work quick when it comes to adding your toppings. The chocolate sets up really fast!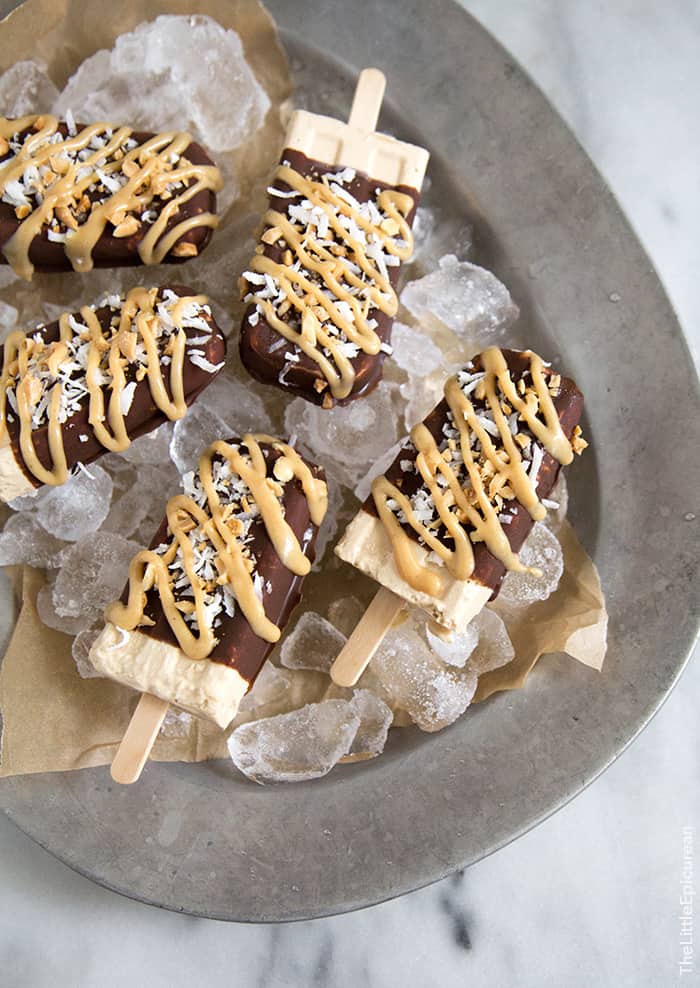 Creamy coconut peanut butter popsicles dipped in luscious chocolate, sprinkled with shredded coconut and chopped peanuts, and topped with a generous drizzle of peanut butter glaze.
This is the perfect little frozen indulgence to enjoy all summer long!
Coconut Peanut Butter Popsicles
Ingredients
2/3

cup

Peanut Butter & Co. Smooth Operator peanut butter

1 1/2

cup

full-fat coconut milk, canned, well-shaken

1 1/2

cup

soy milk, unsweetened

1/4

cup

granulated sugar
Toppings:
1

cup

dark chocolate, chopped

1/3

cup

coconut oil

1/4

cup

sweetened shredded coconut

1/4

cup

dry roasted peanuts, chopped

3/4

cup

confectioners' sugar

2

Tablespoon

soy milk, unsweetened

2

Tablespoon

Smooth Operator peanut butter
Instructions
In a food processor, combine peanut butter, coconut milk, soy milk and sugar until smooth. Pour mixture into popsicle molds. Insert wooden sticks into mold. Freeze for at least 4 hours until popsicles are solid.

To make chocolate shell: In a small bowl, combine chopped dark chocolate and coconut oil. Place bowl over a pot of simmering water. Make sure bowl does not touch water. Melt gently and stir often to ensure even melting. Pour into a tall drinking glass and set aside.


To make peanut butter glaze: Combine powdered sugar, soy milk, and peanut butter. Stir until smooth. Set aside.


Assembly: Dip frozen popsicle into chocolate shell mixture. Immediately sprinkle shredded coconut and chopped peanuts over chocolate shell. Drizzle peanut butter glaze over toppings. Enjoy immediately or wrap and return to the freezer. Repeat with remaining popsicles.

Want to win a $500 gift card and a year's supply of Peanut Butter & Co. peanut butter? Pin your favorite popsicles from the Pin-a-Pop Sweepstakes!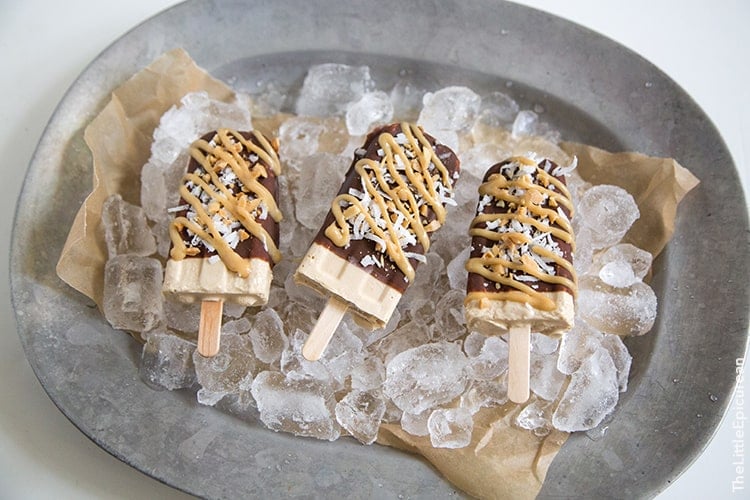 Disclosure: I was not compensated for this post. I created this recipe to participate in Peanut Butter & Co.'s "Pin-A-Pop Summer Contest." As always, all opinions are my own.