Cinnamon Toast Crunch Ice Cream Pie transforms a favorite breakfast cereal into a delicious homemade frozen treat.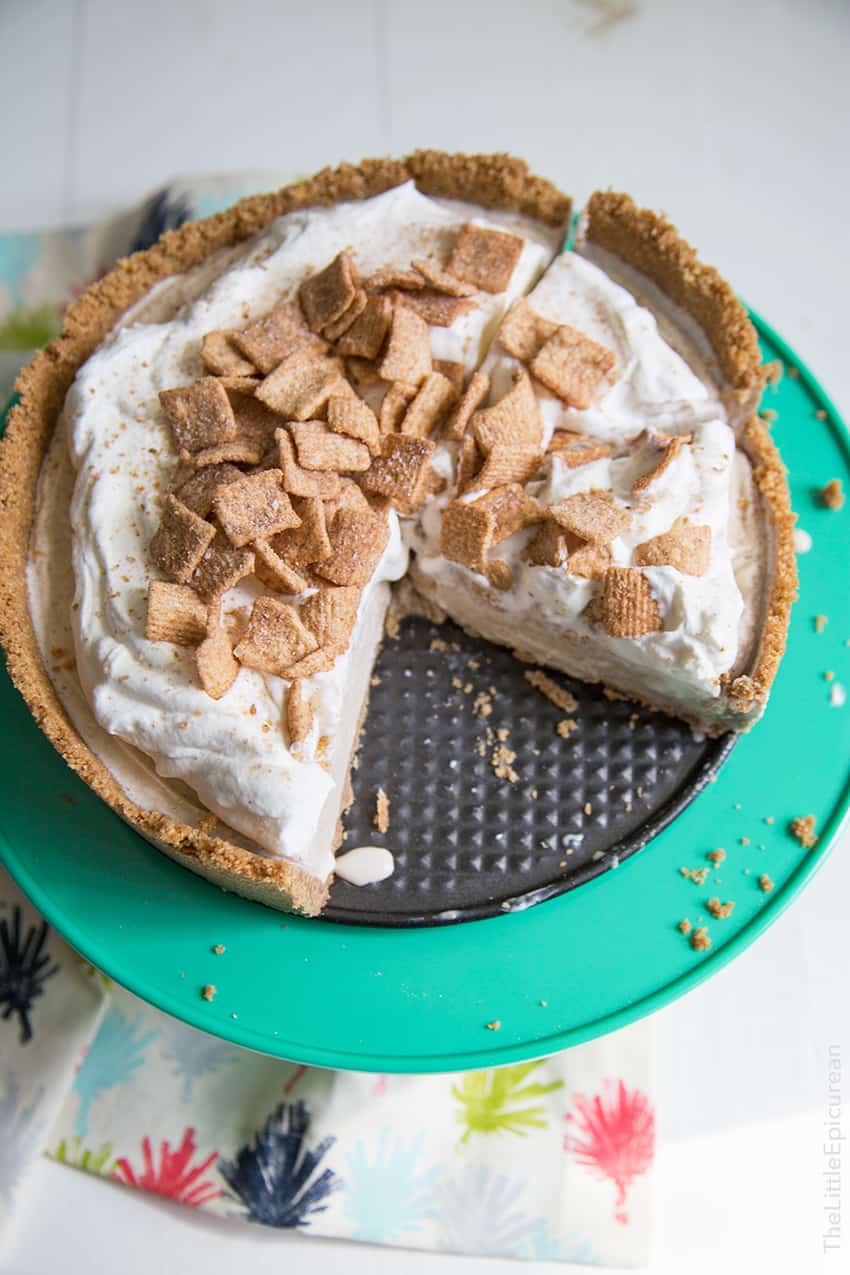 This is the ultimate treat for Cinnamon Toast Crunch fans, asides from Cinnamon Toast Crunch doughnuts.
This is the kind of dessert my childhood self dreamed of. Luckily, my current self was able to turn that dream into a reality.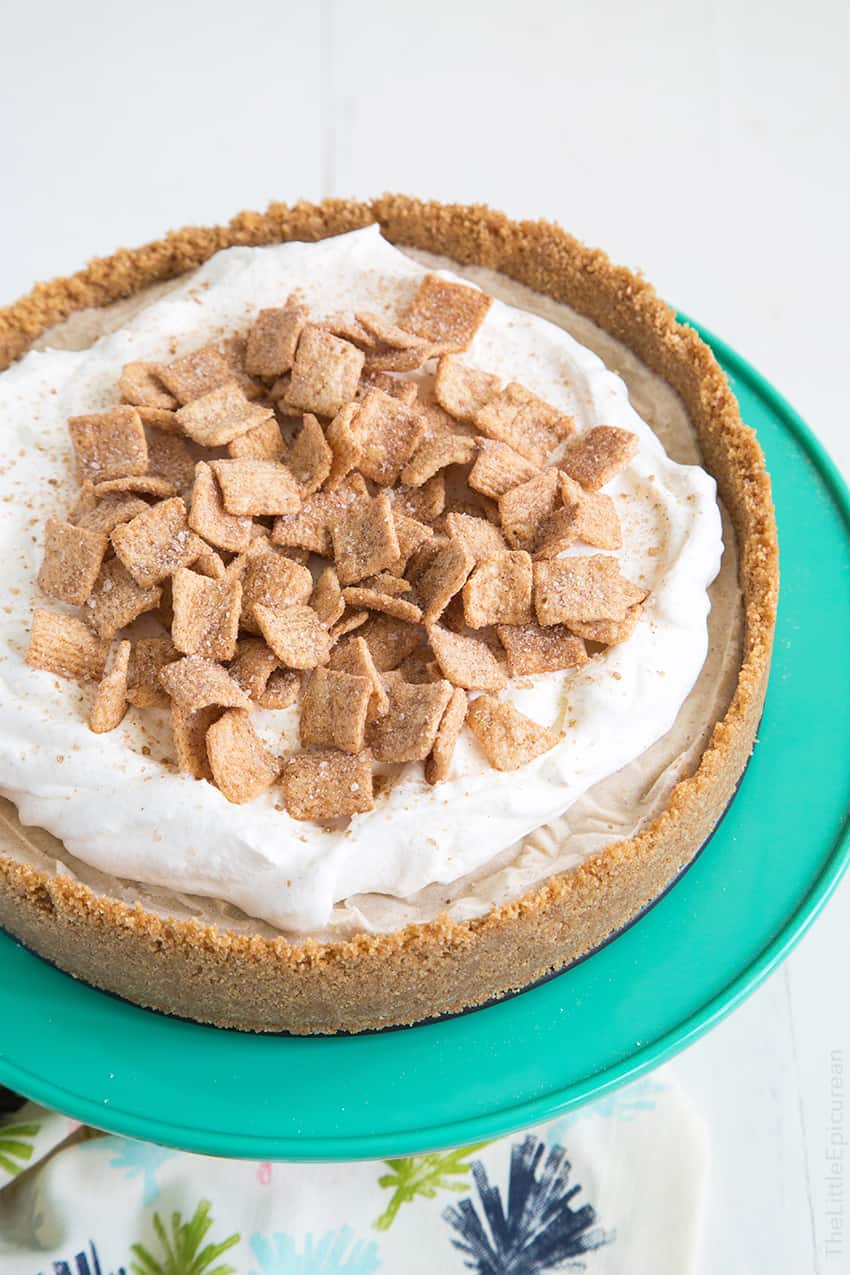 Cinnamon Ice Cream Pie
We can all agree that the best part of eating CTC is the sweet cinnamon milk that is leftover at the bottom on the bowl after you've eaten all the cereal.
Inspired by Momofuku Milk Bar's cereal milk soft serve, I took my favorite sugary cereal and turned it into an ice cream!
Ice Cream Pie Components:
Crust
Ice Cream
Whipped Cream Topping
The no-bake crust is a made from a mixture of crushed graham crackers and Cinnamon Toast Crunch cereal tossed together with melted butter.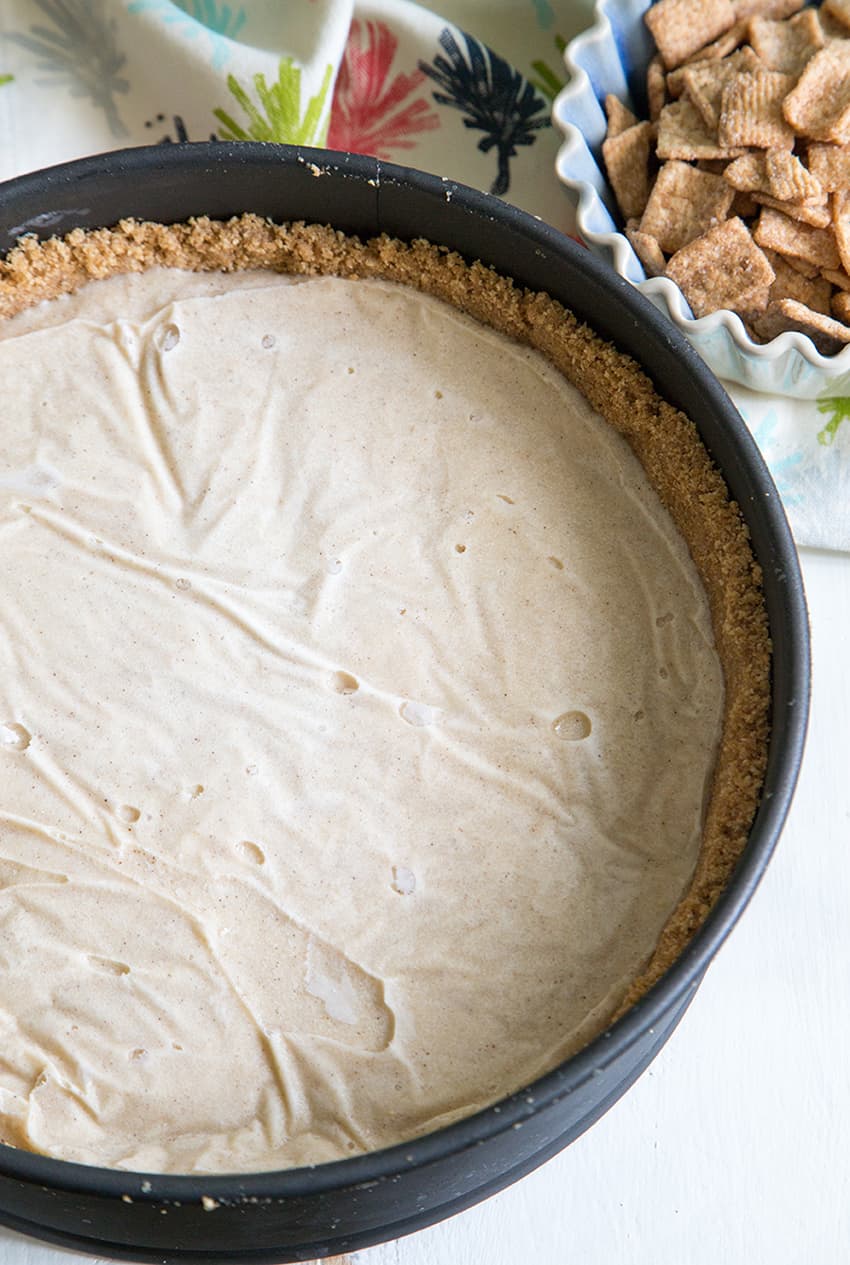 Follow the recipe below for homemade cinnamon ice cream made with cinnamon toast crust cereal milk.
This special milk is made by soaking the sweet cinnamon cereal in milk and cream until the liquid is infused with all the sugary goodness.
UPDATE: Since first creating this ice cream pie recipe, Cinnamon Toast Crunch as come out with ice cream! It should be available at your local supermarket. Use the store-bought Cinnamon Toast Crunch Light Ice Cream if you prefer to skip the homemade ice cream step.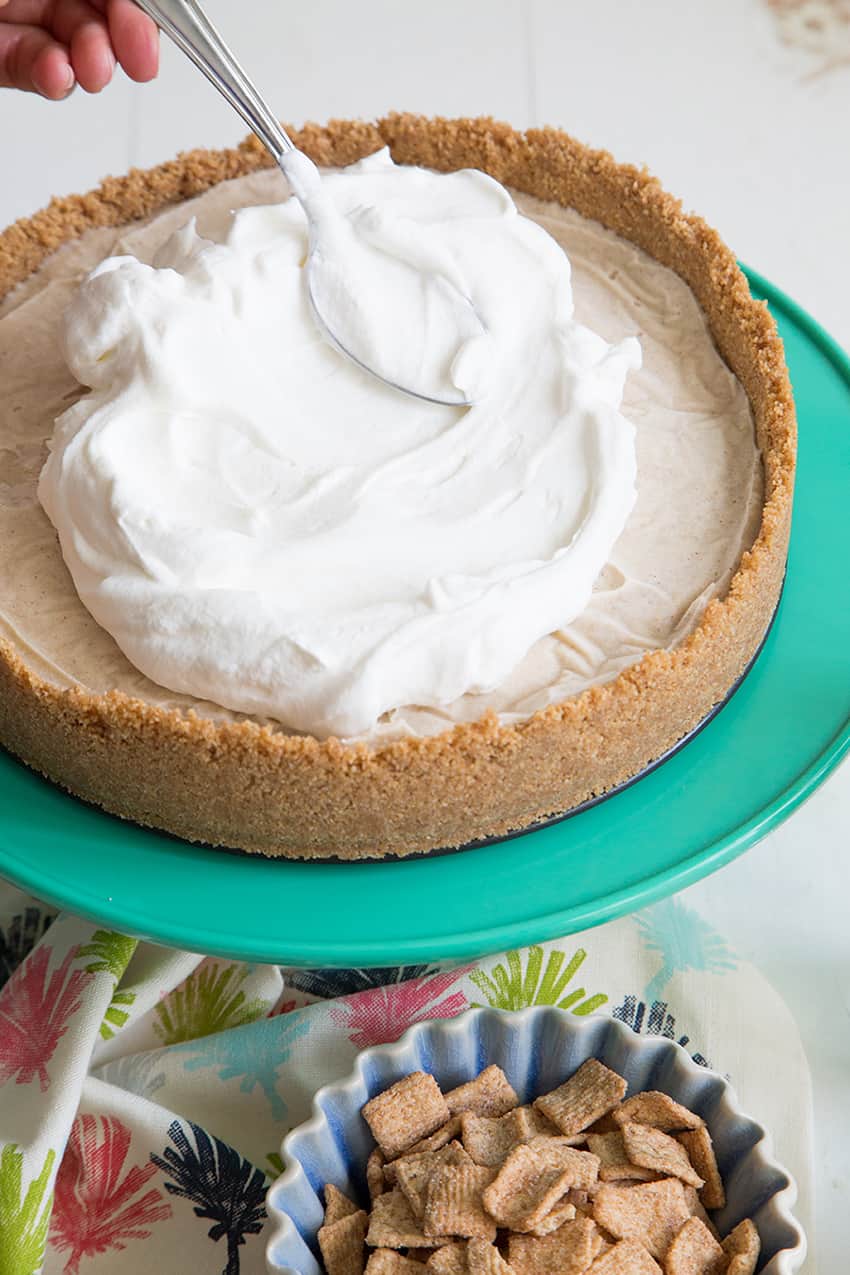 Homemade whipped cream is super easy to make. Simply whip chilled heavy cream with sifted powdered sugar. Beat to medium peaks. That's it!
Heavy cream is also known as heavy whipped cream. In a pinch, you may use "whipping cream" which has a slightly lower fat content.
Alternatively, you may use store-bought whipped topping.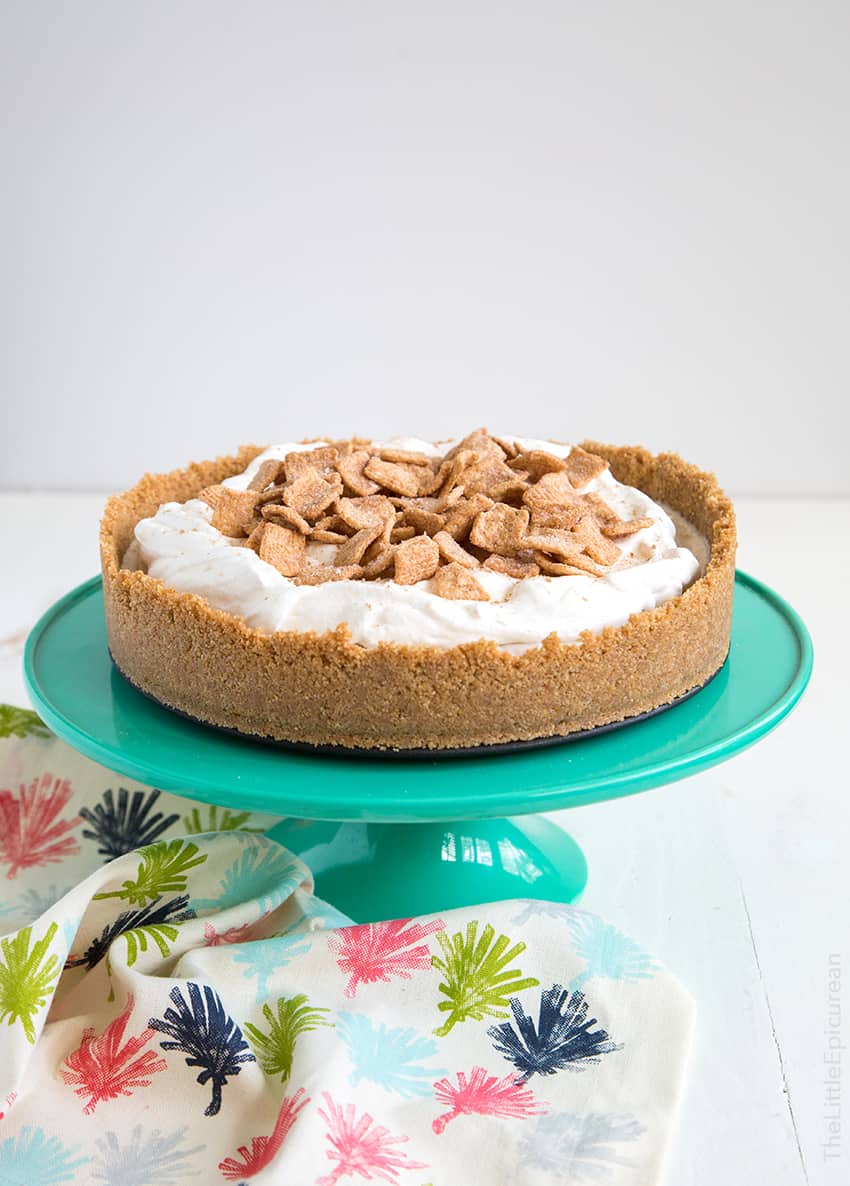 How to make Simple Homemade Ice Cream
Do not be alarmed. Do not be frightened. Homemade ice cream is easier than you think.
The recipe shared here is a standard ice cream base made with: yolks, sugar, cream, and milk. The egg yolks play a crucial part in creating the cinnamon ice cream's creamy texture.
Egg yolks act as part thickener, part stabilizer, and part flavor enhancer.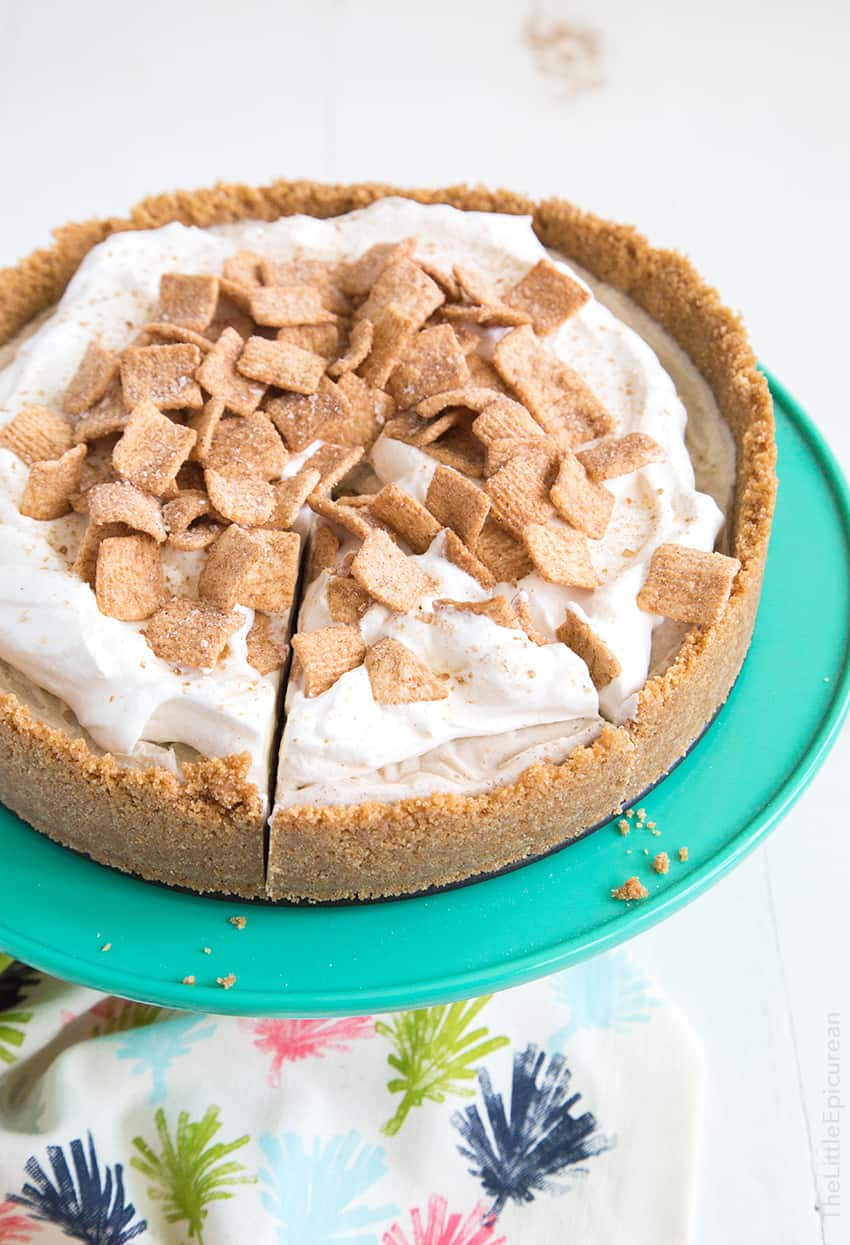 Important Tools for Ice Cream Making
Kitchen thermometer
Ice Cream Machine
An instant read digital kitchen thermometer is a very useful tool.
I highly recommend the Thermapen (about $100). If that is out of your price range, Amazon sells numerous thermometers in the $15 range. Here are a few options: thermopro, kizen, and another ThermoPro variation.
The thermometer helps to ensure you cook the liquid to the correct temperature. (Meaning you cook the ice cream base until the eggs are safe to eat.)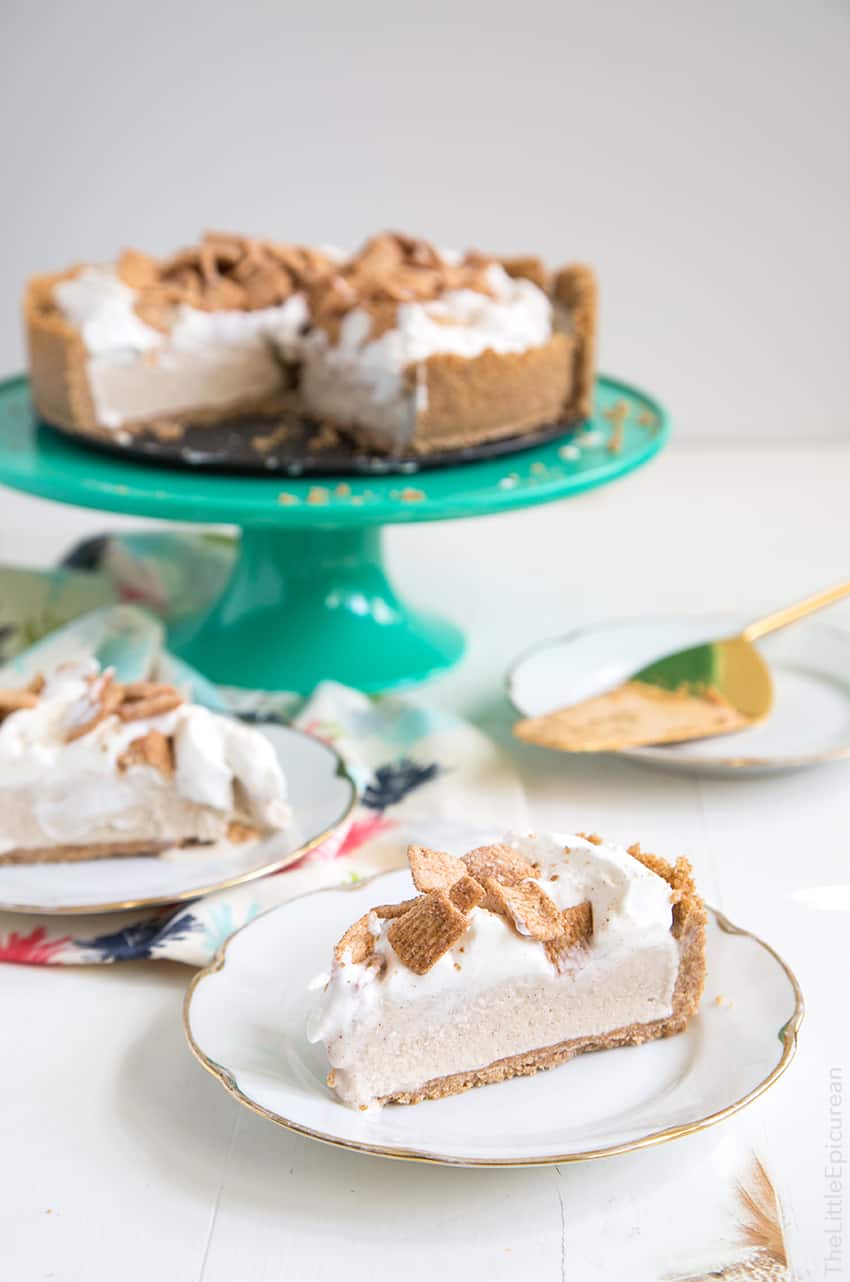 Over the years, I have used a variety of different ice cream makers/machines.
This compressor ice cream maker is by far my absolute favorite. I highly recommend it.
Most ice cream machines (such as this Cuisinart one or this KitchenAid ice cream maker attachment) requires you to freeze the canister ahead of time.
The compressor ice cream maker skips that step. No prep required. Simply pour the liquid ice cream mixture into the machine and have fresh churned ice cream within 30 minutes.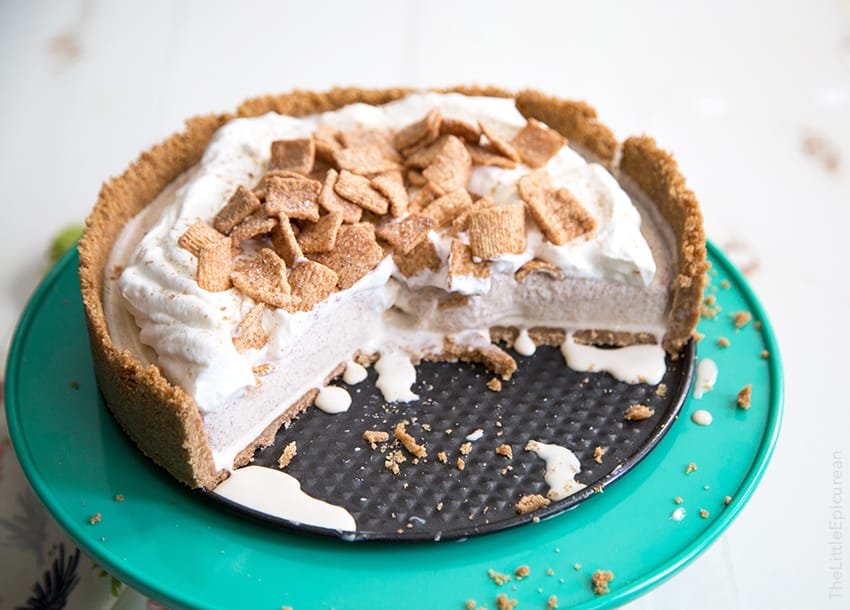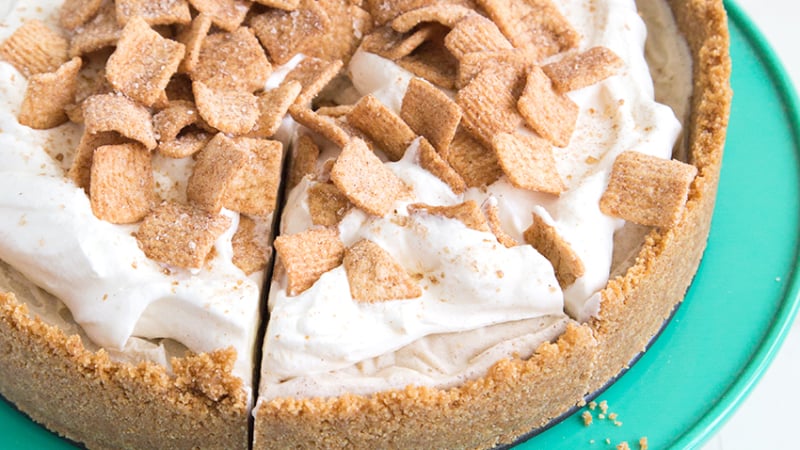 Cinnamon Toast Crunch Ice Cream Pie
Cinnamon Toast Crunch Ice Cream Pie transforms your favorite breakfast cereal into a delicious homemade ice cream treat!Yield: 10-inch ice cream pie
Ingredients
Cinnamon Toast Crust:
1 ⅓

cups

ground graham cracker

(8 full sheets)

3

cups

Cinnamon Toast Crunch cereal

1

teaspoon

ground cinnamon

¾

cup

unsalted butter,

melted
Cinnamon Ice Cream:
2

cups

whole milk

1

cup

heavy cream

1 ⅓

cup

Cinnamon Toast Crunch cereal

6

Tablespoons

granulated sugar

1 ½

teaspoon

ground cinnamon

6

large egg yolks
Instructions
Cinnamon Toast Crust:
Place graham crackers and cinnamon cereal in a food processor. Pulse until mixture is ground. Transfer to a large bowl. Stir in ground cinnamon. Add melted butter and mix together using a spatula.

Press mixture into the bottom and up the sides of a 10-inch springform pan. Use the bottom of a muddle or a drinking glass to ensure the crust is compact. Cover with plastic wrap and let chill in the fridge or freezer until ready to use.
Cinnamon Ice Cream:
In a medium pot, stir together milk, cream, and cinnamon cereal. Let sit at room temperature for 20 minutes. Strain and discard cereal. The cereal will absorb some of the liquids. Measure liquid. Add enough cream until mixture is a total of 3 cups. Add 1 tablespoon sugar to pot and bring to simmer.

Meanwhile, in a large bowl whisk remaining sugar, cinnamon, and yolks. Once milk mixture begins to simmer, lower heat.

Temper hot milk into sugar-yolk mixture. Slowly add hot milk into yolks about 1/4 cup a time, whisking to distribute heat. Once all the milk has been added to yolks, transfer everything back into the pot.

Stir over medium-low heat until mixture reaches nappe consistency, or 180° F on a kitchen thermometer. Let mixture sit at 180-185°F for 3 minutes to pasteurize egg yolks. Remove from heat. Transfer to an airtight container and let mixture mature in the fridge overnight, or for at least 4 hours.

Freeze mixture in ice cream maker according to your unit's instructions. Once the volume has increased by half and has reached a soft serve consistency, turn off ice cream maker. Pour cinnamon ice cream into prepared pie crust. Cover with plastic wrap and freeze for at least 5 hours.

Before serving, top cinnamon ice cream with whipped cream. Add cinnamon cereal to garnish. Serve immediately.
Notes
Whipped Cream: Whip 1 cup chilled heavy cream and 2 tablespoons sifted powdered sugar to medium peaks. Spread over assembled ice cream tart. All images and text © The Little Epicurean
Frequently Asked Questions
How long does this ice cream pie last in the freezer? Cover and wrap the ice cream pie well to avoid unwanted "freezer" flavors. Ice cream pie will keep fresh in the freezer for up to two weeks.
I don't have a springform pan. What else can I use? Line 10-inch cake round with parchment paper, allowing parchment paper to run up the sides of the pan. Use the parchment paper to lift the frozen pie out of the pan.
Can I use other breakfast cereal with this recipe? Yes, you can! This recipe works with any sweet cereal such as Fruit Loops, Apple Jacks, Frosted Flakes, and Lucky Charms.