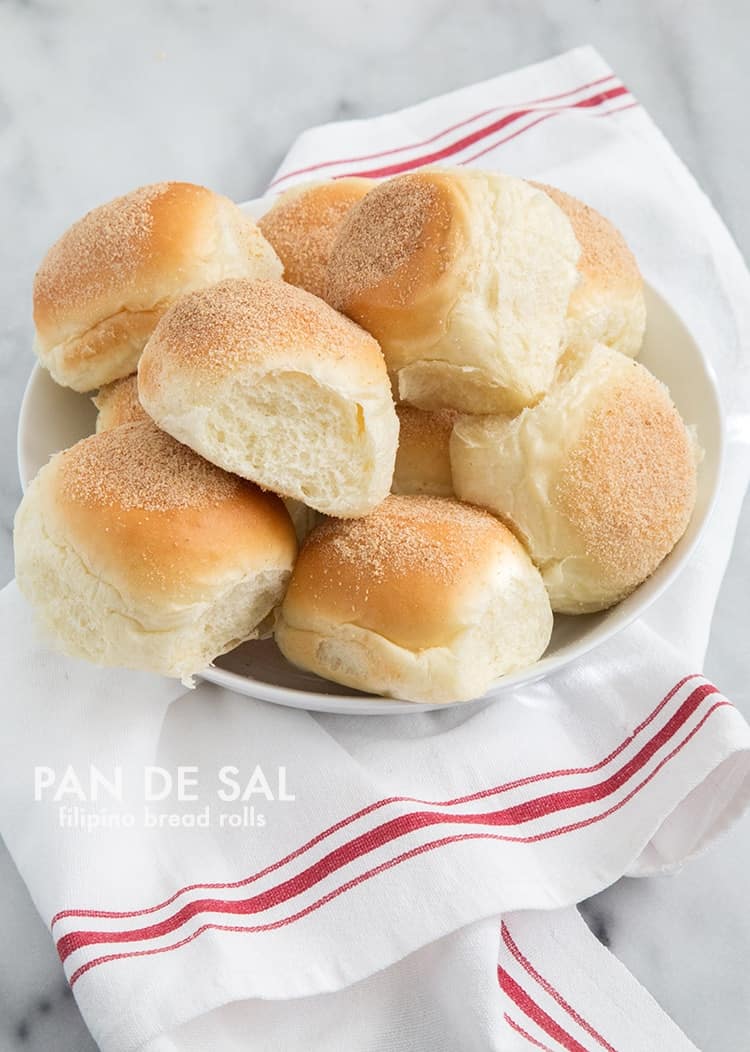 Every country/cuisine/city has a nationally beloved bread. Think French croissants, San Francisco sourdough, and Italian focaccia. I introduce you to one my favorites- pandesal (also commonly spelled as pan de sal). Pandesal is the quintessential bread roll of the Philippines.
They look very similar to dinner rolls like Parker House rolls. However, the main different, being that pan de sal is pretty much served anytime of day except during dinner. It's a classic breakfast or mid-snack.
It's a slightly sweet, soft and fluffy white bread roll that tastes amazing with salty cheese. I like it with gouda, edam, or smoked cheddar. It's best served warm fresh from the oven. As a kid, I loved eating it with peanut butter. Sometimes when I'm feeling crazy, I'll eat it with sweetened condensed milk and salted butter… and then I dip it in sweet coffee. It's a delicious combo…no matter how weird it may sound. Trust. It's delicious. It's also terrifically awesome with Filipino hot chocolate (tsokolate). (I'll definitely have to share a recipe for that drink later this fall.)
They also make fabulous little ham and cheese sandwiches. They are kind of similar to Hawaiian sweet rolls in texture, except way less sweet in flavor.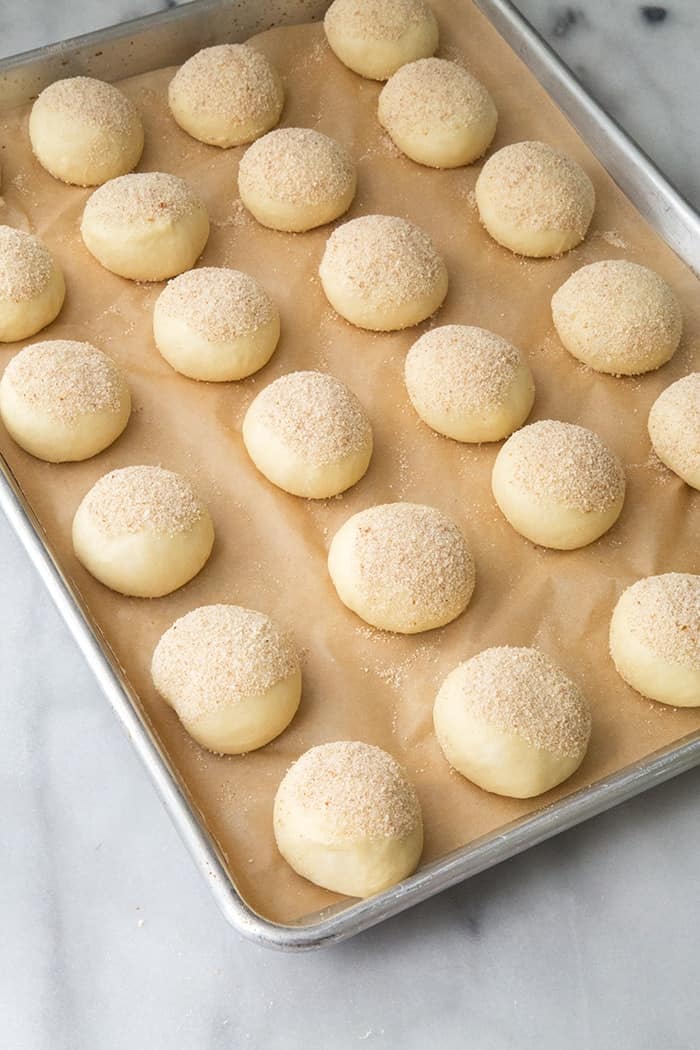 I think bread making is uber relaxing. Whenever I'm stressed out or mad, baking a batch of bread always seems to calm me down. Maybe it's the learning to be patient part that does the trick? Or perhaps it's the repetitive rolling of the bread? After the dough is divided into 24 pieces, each is rolled into a ball and dipped into bread crumbs.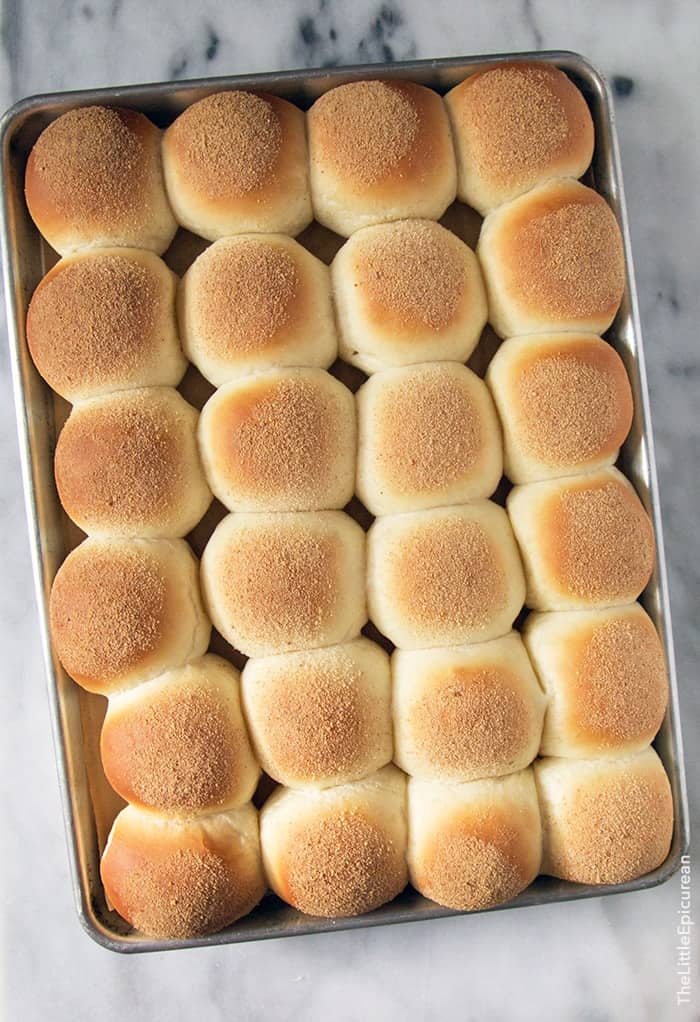 No, I think it's the delicious and aromatic end result that calms my nerves. A kitchen filled with the scent of freshly baked bread is pretty hard to beat.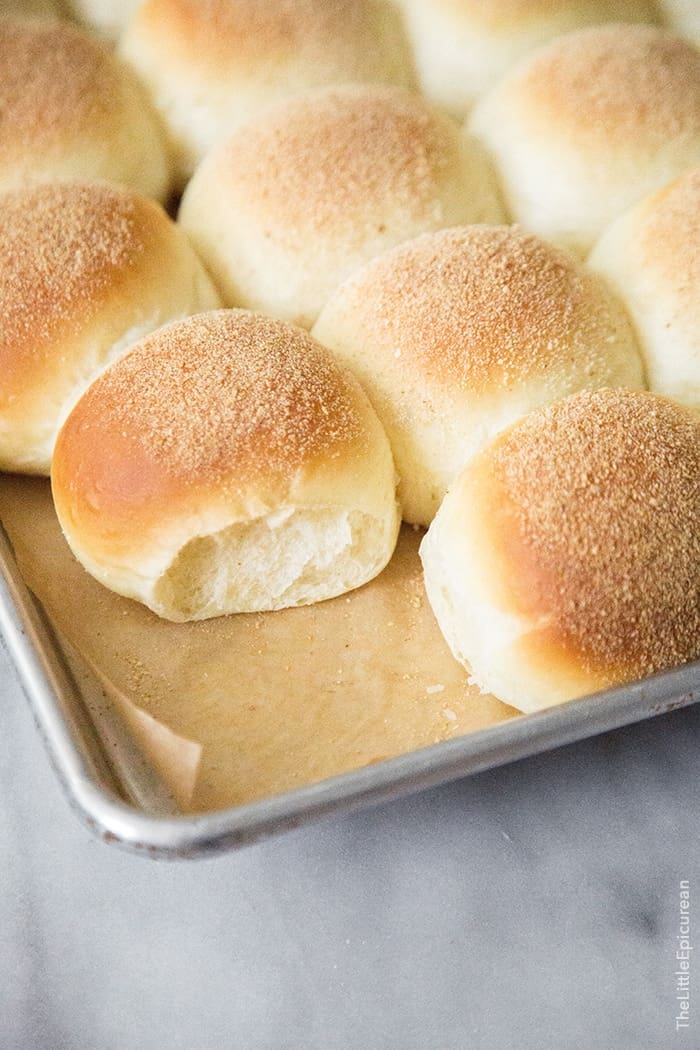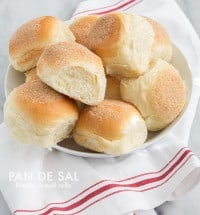 Pandesal (Filipino Bread Rolls)
Ingredients
2 1/4

teaspoon

active dry yeast

1 1/4

cup

whole milk, warmed to 100-105 degrees F

3

cups

all-purpose flour

1 1/2

cups

bread flour

1 1/2

teaspoon

fine sea salt

3

Tablespoons

unsalted butter, room temperature

1/3

cup

granulated sugar

2

large eggs, lightly whisked

breadcrumbs, as needed
Instructions
Dissolve yeast in warm milk. Add 2 teaspoons of sugar. Stir to combine. Let stand for 5-10 minutes until yeast has activated and mixture is foamy.

2. In a large bowl, whisk together all-purpose flour, bread flour, and salt. Set aside.

3. Pour yeast mixture into the bowl of a stand mixer fitted with a hook attachment. Add remaining sugar, butter, and lightly whisked eggs.

4. With the mixer running on low speed, add the flour mixture in three additions. Once all the flour has been added, increase speed to medium. Continue to knead until dough comes together to form a smooth ball.

5. Remove from mixing bowl and transfer to a lightly oiled bowl. Cover with plastic wrap and let dough rise at room temperature for 1 hour. Punch dough down and divide into 24 equal parts.

6. Roll dough into balls and dip the top of the bread roll into breadcrumbs. Place rolls breadcrumb side up on a parchment lined baking sheet. Cover dough with plastic wrap to prevent from drying out. Allow bread rolls to rise for 15-20 minutes, until bread rolls have puffed up.

7. Preheat oven to 350 degrees F. Remove plastic wrap and bake for 20-25 minutes until fragrant and golden brown. Eat bread rolls warm or at room temperature.

THE LITTLE EPICUREAN