Three layers of black sesame cake coated with black sesame buttercream and topped with marshmallow webs. This is ultimate Halloween cake!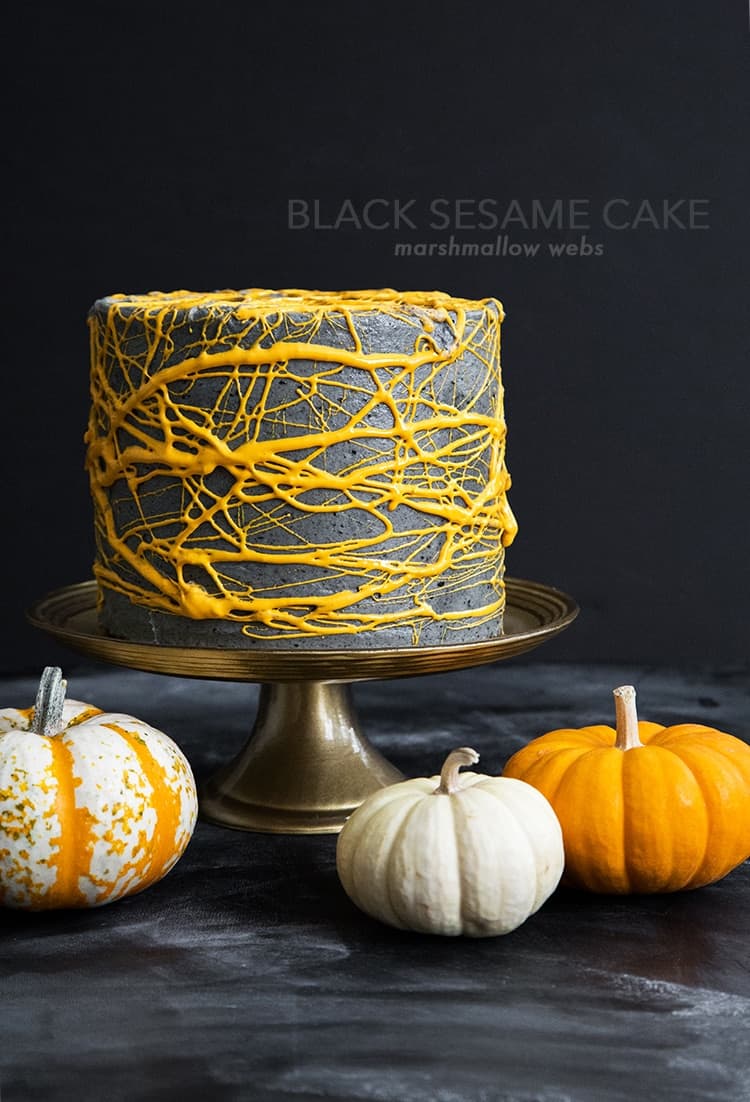 Growing up, Halloween was a big deal at my house. My mom would go all out on Halloween, decorating the house and getting the BEST candies to pass out.
Throughout elementary school, we had the same routine. At the end of September my mom would ask me what I'd like to dress up as. Come October, she would sew together my outfit, gather the perfect accessories and organize our neighborhood trick-or-treat group.
It's been ages since I've asked my mom to make me a costume. Although, I bet once grandchildren are involved, she'll have her sewing machine out as early as August to prepare.
Even though I don't dress up anymore (mainly because Alex refuses to do matching costumes), at least I get to dress up the pups all I want! AND most importantly, I get to make Halloween inspired sweets and treats like this black sesame cake with marshmallow webs.
New twist on black velvet cake
This cake was inspired by the recent Food Network Magazine cover photo. Their feature Halloween cake is carrot cake covered in chocolate frosting and a marshmallow web. I was quite intrigued by the web, so I put my own spin on it.
At first I thought about making a "black" velvet cake. Good thing, I didn't have black food coloring. As I searched through my pantry, I came across black sesame and this cake was born.
This recipe makes three 6-inch cake layers. I have a photo of the black sesame flour/powder I used in my black sesame shortbread post. If this black sesame cake seems too daunting, here's an easier black sesame cupcake with matcha frosting.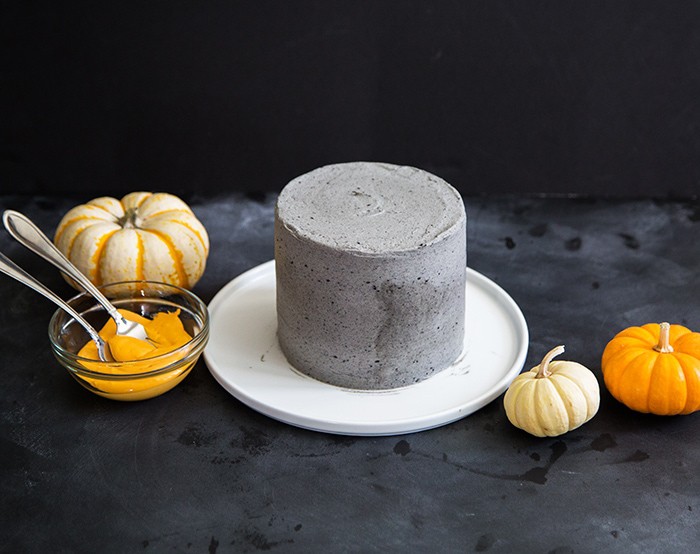 Fill, stack, and frost the cake as usual. Let it chill in the fridge for about 20 minutes to allow the frosting to set and harden before you decorate it with the marshmallow webs.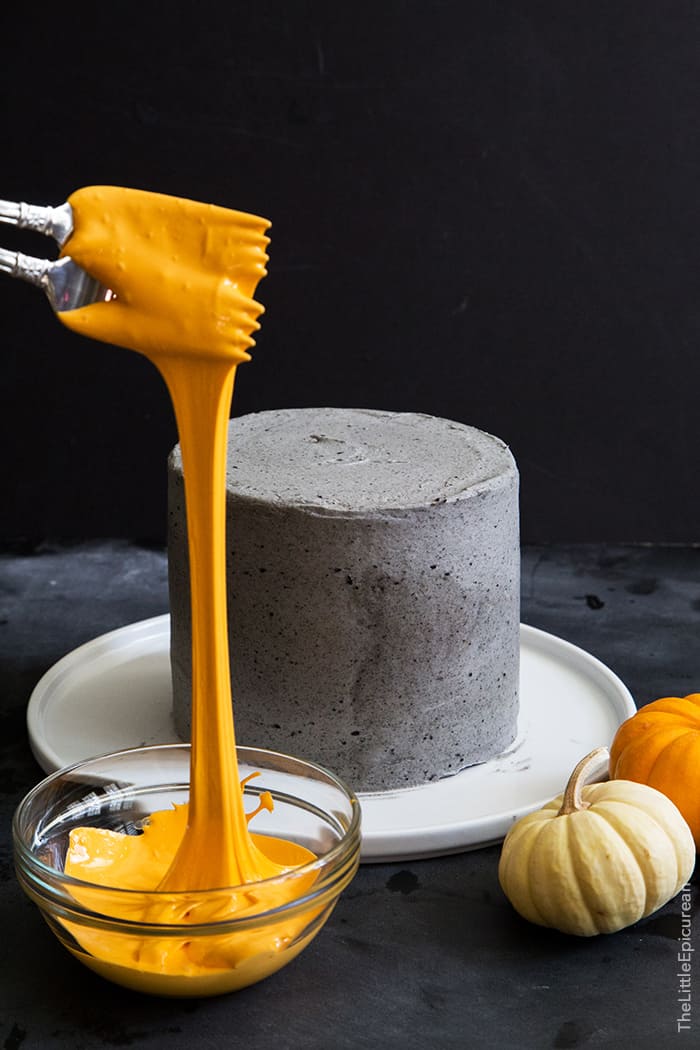 Marshmallow Webs
This marshmallow web goop is super easy to make. Simply heat the marshmallows in the microwave.
You end up with this shiny, glossy, and super stringy goop. (It's my new favorite thing and I want to cover all sorts of cakes with it! Thanks, Food Network Magazine!)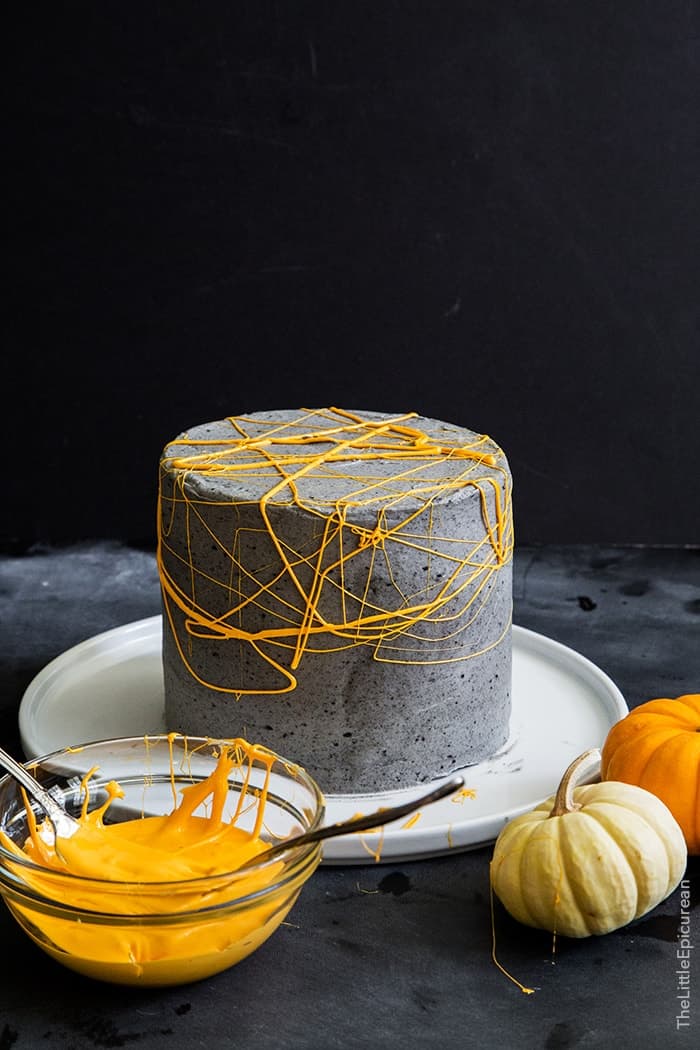 The marshmallow webs sort of look like silly string. You can add as much or as little as you want on the cake. I should have stopped here for an artistic minimal look- but I went a little overboard as shown in the photo below.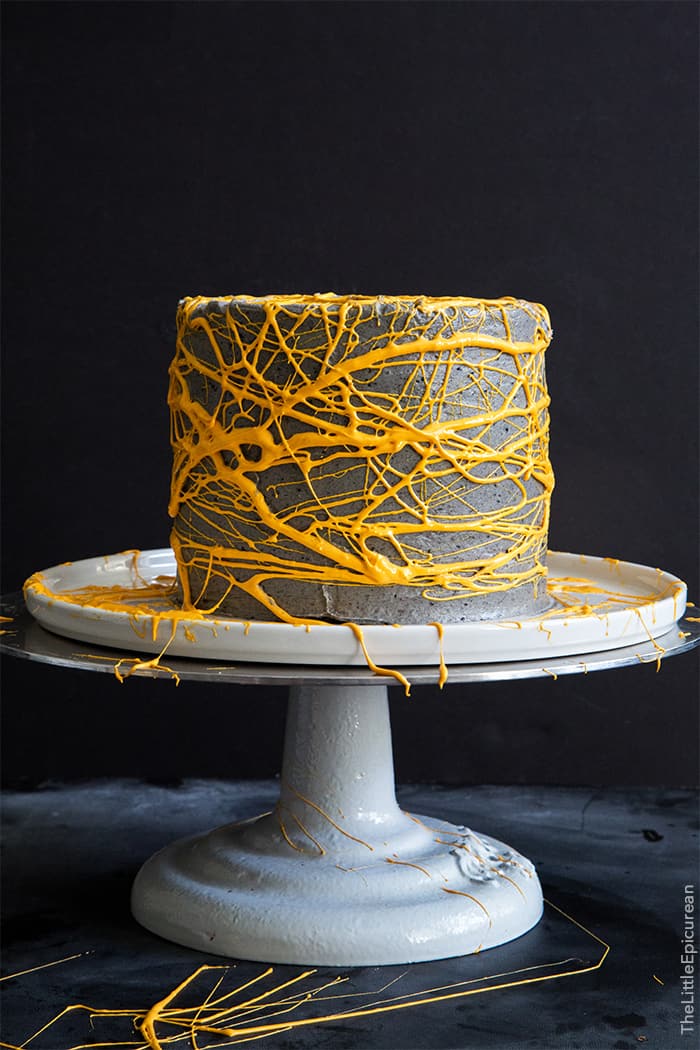 As you can see, this marshmallow web goop stuff can get pretty messy. If you're not careful, it'll end up everywhere… on your camera buttons, in your hair, all over the table, on the floor, on your phone!
It's best to work on a surface you can easily wash.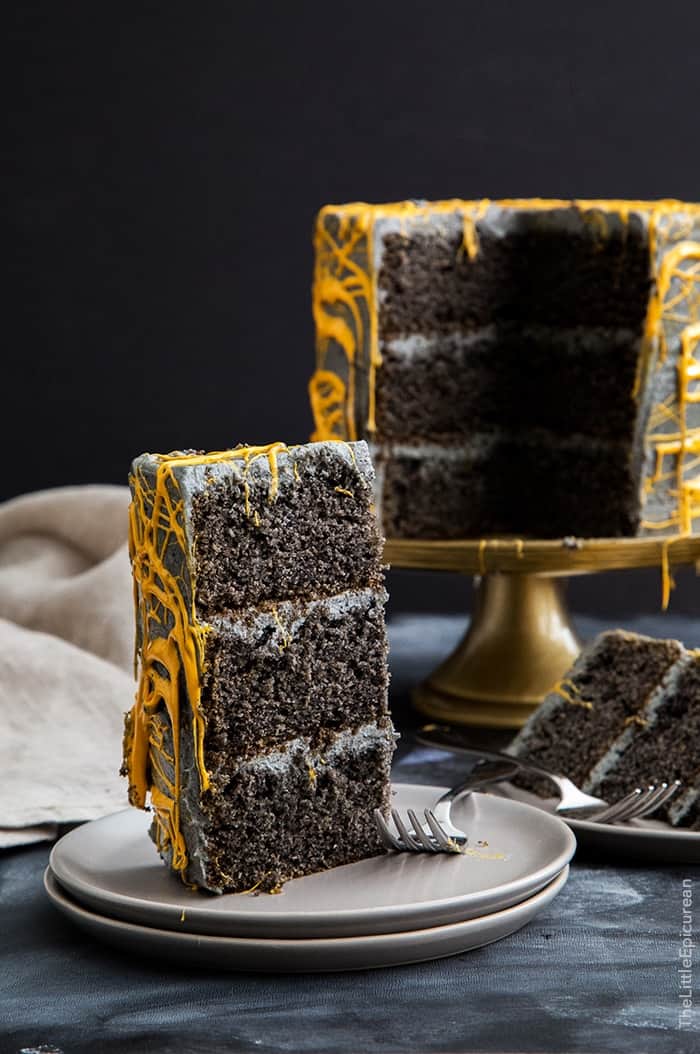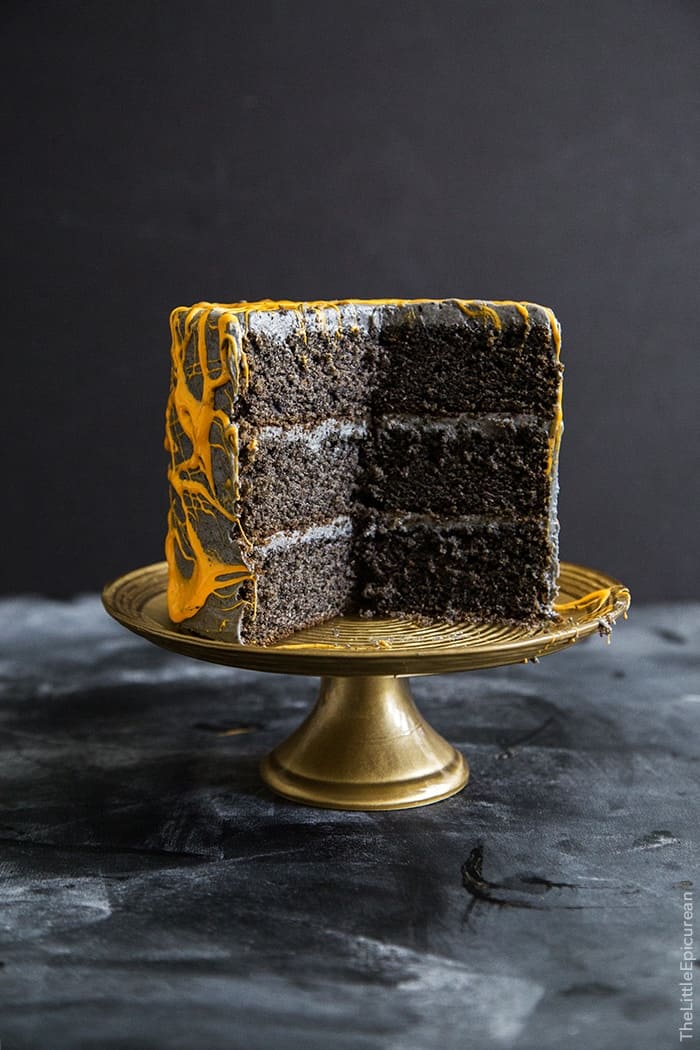 Black Sesame Cake
If you've never had black sesame desserts- it tastes quite similar to peanuts. It's very toasty and nutty in flavor. The cake isn't that sweet, neither is the frosting.
The sugary marshmallows really help to balance out the flavors in this cake. Alex couldn't get enough of it. Two thumbs up means it's definitely a cake I'll repeat for future Halloweens to come!
Black Sesame Cake with Marshmallow Webs
Yield: 6-inch cake
Ingredients
Black Sesame Cake:
1/3

cup

sesame paste* (recipe follows)

2

cups

all-purpose flour

3/4

cup

black sesame flour (or powder)

2

teaspoon

baking powder

1/2

teaspoon

baking soda

1/2

teaspoon

fine sea salt

10

Tablespoons

(6 oz) unsalted butter, room temp

1 1/4

cup

granulated sugar

2

large eggs, room temp

1

teaspoon

vanilla extract

1 1/4

cup

whole milk, room temp
Black Sesame Frosting:
1

cup

(8 oz) unsalted butter, room temp

4

oz

cream cheese, room temp

2

Tablespoon

black sesame paste*

2

Tablespoon

black sesame flour (or powder)

2 1/3

cup

confectioners' sugar

pinch fine sea salt
Black Sesame Paste: (Makes enough for cake & frosting)
1/2

cup

black sesame seeds

1/4

cup

honey

1/4

cup

light corn syrup
Marshmallow Web:
10

large marshmallows, or more as needed

orange food gel coloring, as needed
Instructions
Black Sesame Cake:
Preheat oven to 350 degrees F. Line three 6-inch round cake pans with parchment paper. Lightly grease pans and set aside.

Whisk together flour, black sesame flour, baking powder, baking soda, and salt. Set aside.

In the bowl of a stand mixer fitted with a paddle attachment, beat butter. Add sugar and mix until smooth. Scrape down bowl as needed. Add eggs, vanilla, and black sesame paste. Mix until incorporated.

In three additions, alternate adding dry mixture and milk to batter. Mix on low speed. Scrape down bowl occasionally to make sure all ingredients are fully incorporated.

Divide batter among prepared cake pans. Bake for 30-35 minutes until toothpick inserted in center of cake comes out clean. Allow to cool in pan for 5 minutes before unmolding. Place cake on wire rack and allow to cool to room temperature.

Black Sesame Frosting:
In the bowl of stand mixer fitted with a paddle attachment, cream together butter and cream cheese until smooth. Add black sesame paste, black sesame flour, and powdered sugar. Mix on low speed. Scrape down bowl as needed to ensure thorough mixing.

Black Sesame Paste:
Pulse black sesame seeds in a food processor. Process until almost all the seeds have been ground into a powder. Add honey and corn syrup. Continue to process until thick paste is achieved.

Marshmallow Web:
Place marshmallows in a microwave safe bowl. Microwave for 30 seconds until marshmallows have puffed. Stir until smooth and thick. (Mixture will be very HOT!) Add a few drops orange food gel coloring. Mix together and add additional coloring as desired.

Use two forks to pull out about a tablespoon of marshmallow mixture. Stretch and pull into strands and gently drape over the top and sides of frosted cake.