Persimmon rum bundt cake with brown butter glaze. This autumn dessert is perfect for Thanksgiving and holiday gatherings.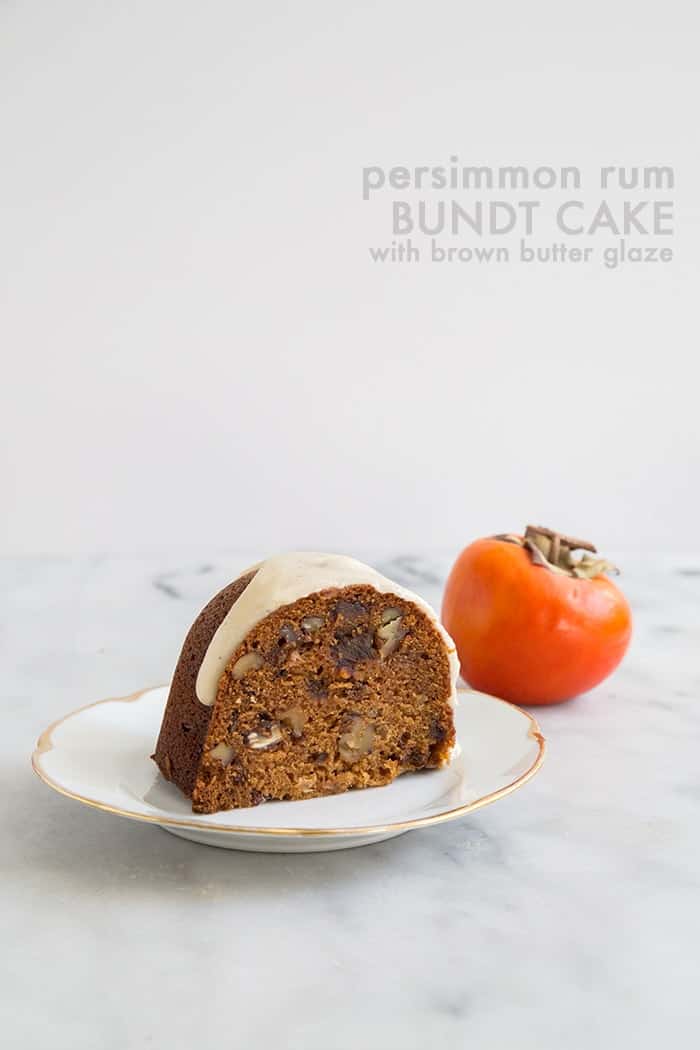 It's that time of the year again. Persimmons have taken over my kitchen!
My parents' persimmon trees are bearing more fruit than ever this year. They has been asking neighbors, family, and friends to come over and take as much persimmon as they can.
I've been documenting the tubs full of persimmon we've been harvesting each week on Snapchat.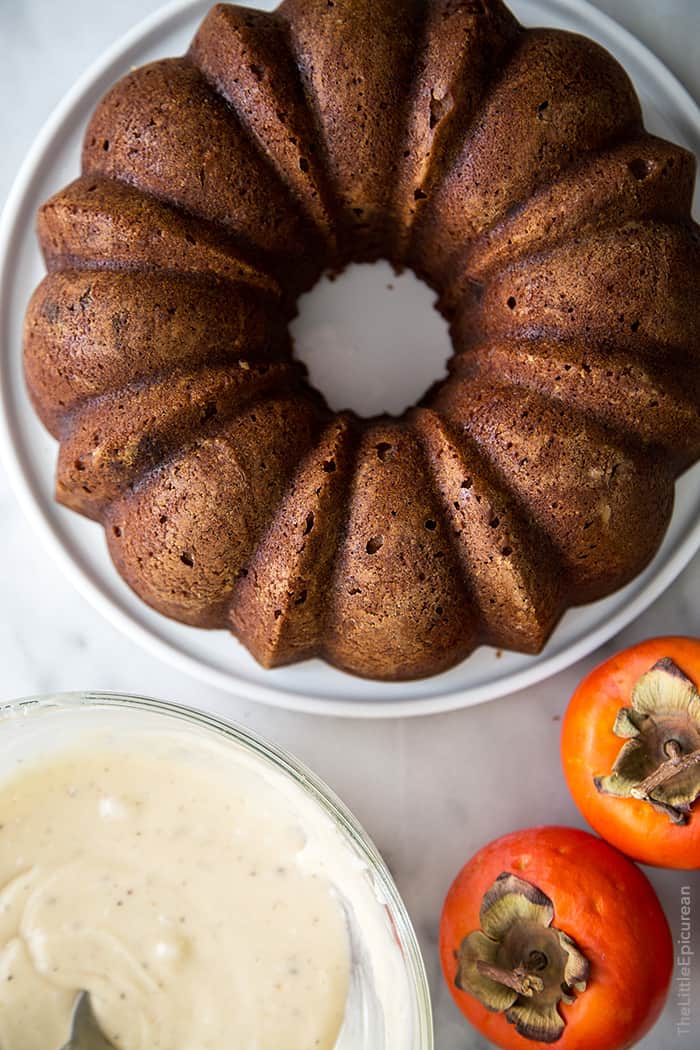 Persimmon Rum Bundt Cake
What do to with all that persimmon? Make a cake, of course!
I used a combination of hachiya and fuyu persimmon to make this super moist persimmon rum bundt cake.
(Read up about the differences between hachiya and fuyu in the persimmon tarts with maple cinnamon cream cheese post.)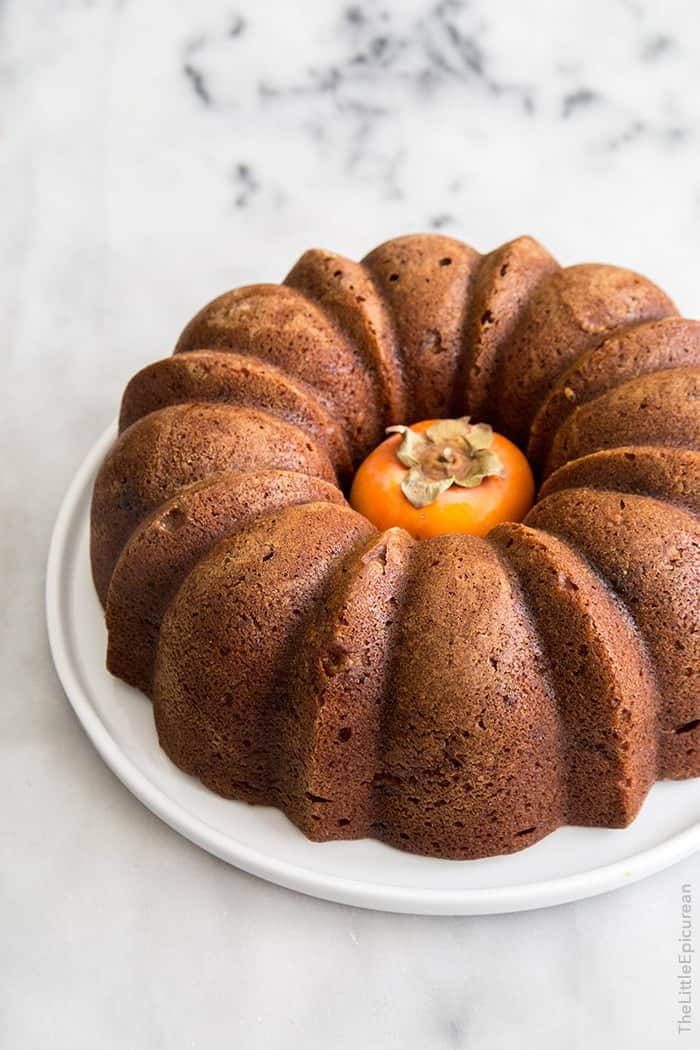 Have you seen the movie My Big Fat Greek Wedding? I can't say bundt cake without thinking of that movie.
There is this one scene where the America mother brings the Greek mother a bundt cake. The Greek mother says, "There's a hole in this cake…"
She's confused by the hole and precedes to fill the open space in the cake with a potted plant. It cracks me up every time.
In honor of the movie, I've filled the hole of this bundt cake with a persimmon!
Unmolding Bundt Cake:
I've made quite a few bundt cakes over the years, but I still hold my breathe whenever it comes time to unmolding the cake.
No matter how well you grease the pan, you never know if the cake will come out of the pan in one clean sweep.
I've learned to let the cake cool in the pan for about 15 minutes to allow the cake to slightly shrink away from the edges. The cool time also lets the cake set up and stiffen a little bit.
NEVER unmold a cake directly out of the oven. It will only end in disaster.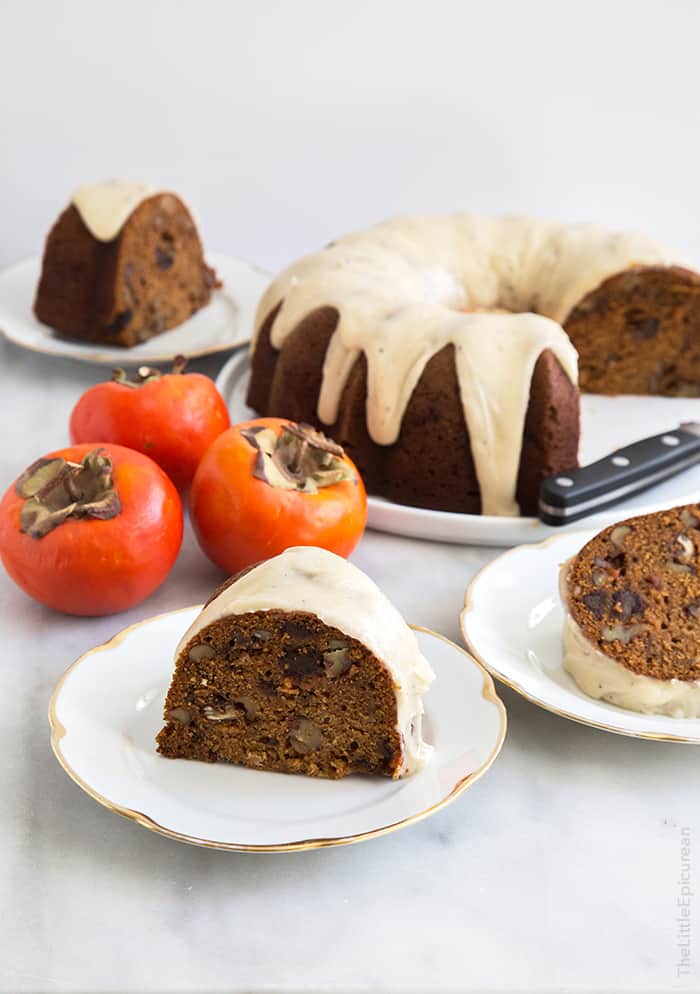 New to persimmon? This bundt cake is the perfect introduction!
This persimmon bundt cake is a perfect introduction to this autumn fruit. The flavor of persimmon puree is not very strong. I can best describe it as a lightly flavored maple pear.
It simply lends moisture to baked goods the same way zucchini does.
For added texture, I mixed in some toasted walnuts and chopped dried dates.
The rich, decadent, and nutty brown butter glaze is the finishing touch that complements the light flavors of the persimmon rum bundt cake.
Enjoy this for breakfast, afternoon tea, or for an anytime snack. It's a comforting slice of autumn that I look forward to each year!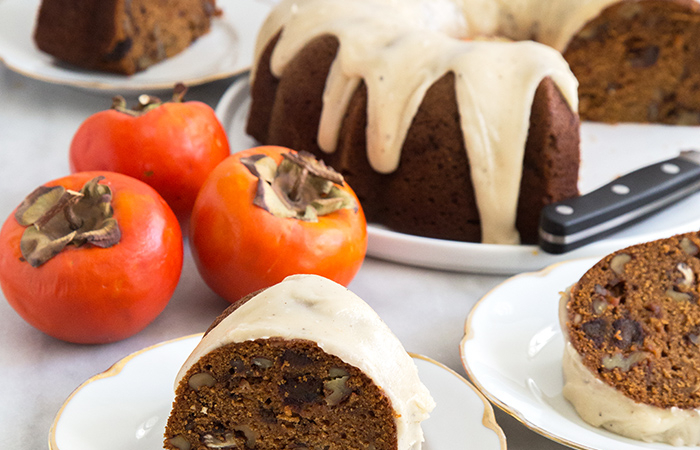 Persimmon Rum Bundt Cake
Persimmon rum bundt cake with brown butter glaze. This autumn dessert is perfect for Thanksgiving and holiday gatherings!Yield: 12-cup bundt cake
Ingredients
455

grams

(3 ½ cup) all-purpose flour

1

teaspoon

ground cinnamon

1

teaspoon

baking soda

½

teaspoon

baking powder

1 ½

teaspoon

kosher salt

226

grams

(1 cup) unsalted butter,

melted and cooled

160

grams

(3/4 cup) dark brown sugar,

packed

150

grams

(3/4 cup) granulated sugar

4

large eggs,

room temp

3

Tablespoons

dark rum

(optional)

2

cups

persimmon puree*

120

grams

(2 cups) toasted walnuts,

roughly chopped

150

grams

(1 cup) dried dates,

roughly chopped
Brown Butter Glaze:
113

grams

(1/2 cup) unsalted butter

285

grams

(2 ½ cup) confectioners' sugar,

sifted

¼

teaspoon

kosher salt

1

teaspoon

pure vanilla extract

3

Tablespoon

milk,

or more depending on desired thickness
Instructions
Bundt Cake:
Preheat oven to 350°F. Grease and flour 12-cup bundt pan. Tap out excess flour. Set aside.

In a large bowl, whisk together flour, cinnamon, baking soda, baking powder, and salt. Set aside.

In the bowl of a stand mixer fitted with a paddle attachment (or using a hand mixer), mix together butter, brown sugar, and sugar. Add eggs and mix until combined.

Add about 1/3 of dry flour mixture. Mix on low speed. Add rum and half of persimmon puree. Mix and add another 1/3 of flour mixture.  Add remaining puree. Toss dried dates in remaining flour. Add flour and dates to batter. Stir together until there are no longer and dry streaks of flour.

Add walnuts and fold until thoroughly distributed.

Pour batter into prepared bundt pan. Bake for 55-60 minutes until toothpick inserted in center of cake comes out clean. Let cake cool in pan for 10-15 minutes. Invert cake onto a wire rack and cool to room temperature.
Brown Butter Glaze:
In sauce pot, melt butter over medium heat. Once the butter has melted, continue to cook. Swirl pot occasionally. Mixture will bubble and foam as it cooks. Continue to cook until butter smells fragrant and nutty. The milk solids in the melted butter will turn rich brown in color. Remove from heat and pour into a heat-safe bowl. All brown butter to cool for 20-30 minutes before use.

Add cooled butter, powdered sugar, salt, vanilla and milk in a medium bowl. Stir until mixture is smooth. Glaze should be slightly thick but pourable in consistency. If desired, add additional milk 1/2 Tbsp at a time until desired consistency is achieved. Pour glaze over cooled bundt cake.
Notes
Persimmon Notes:
For both fuyu and hachiya persimmon, wait for the fruit to be very ripe and soft. Peel skin, discard seeds, and scoop out soft insides. When persimmons are super soft, there is no need to process the fruit. 
Want More Persimmon Recipes
Try this persimmon cranberry pie! It is topped with a sweet and crunchy pecan crumble.
These persimmon tarts are a fun autumn dessert. It's full of texture and different flavors to keep your palate entertained.
A new spin on the classic shortcake! This coconut persimmon shortcake is stacked with ripe Fuyu persimmon, coconut whipped cream, and maple syrup.