This Rosemary Lemon Cake has three layers of lemon cake filled with lemon curd, coated with rosemary infused buttercream, and topped with candied pecans.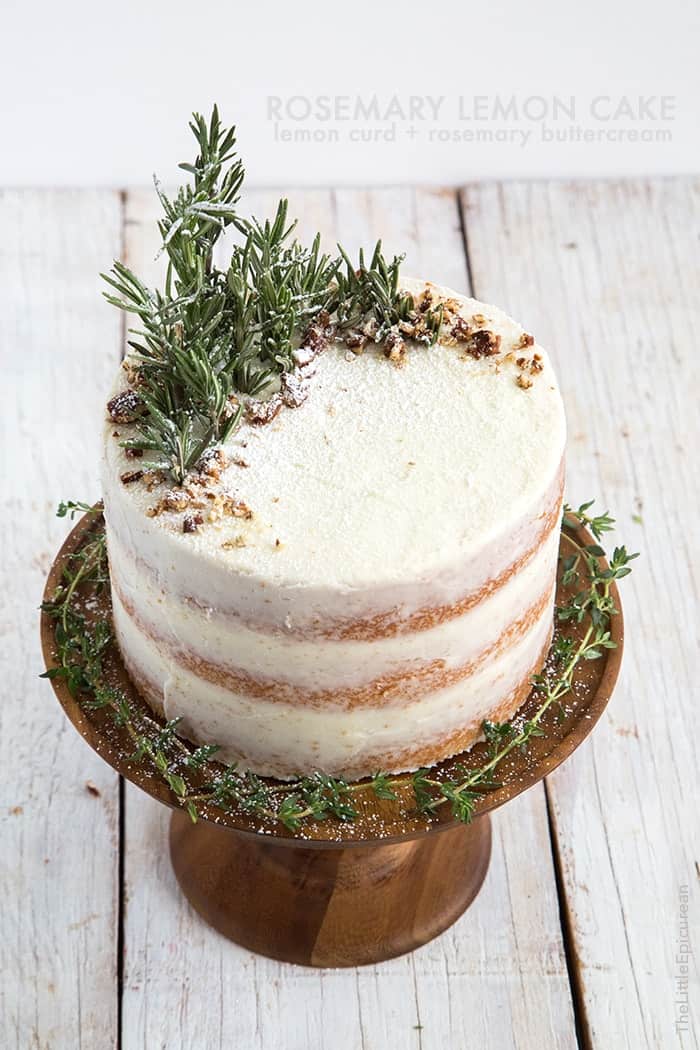 I really can't thank Alex enough for all he does for me. These have been the most stressful, trying, and emotional weeks I have ever endured. Yet, throughout this time, Alex has been so thoughtful, accommodating, and extremely comforting.
He dries my tears, brings me dinner, and he lets me watch all my favorite movies (The Notebook, The Parent Trap, My Best Friend's Wedding, 13 going on 30, etc) without any complaints or snarky comments.
Rosemary Lemon Cake
One can only say thank you so many times until it begins to lose meaning. That's when cake comes in. Three layers of lemon cake filled with lemon curd and rosemary buttercream.
Alex loves, loves, LOVES lemon desserts. Think lemon meringue pie, lemon bars, lemon ricotta pancakes. I, on the other hand, prefer lemon in savory applications like rosemary lemon roasted chicken or grilled lemon herb pork chops.
Since relationships are built on compromise, I'm learning to tolerate lemon desserts for Alex. I normally won't touch lemon curd, but I added it in this cake just for him.
How to assemble rosemary lemon cake: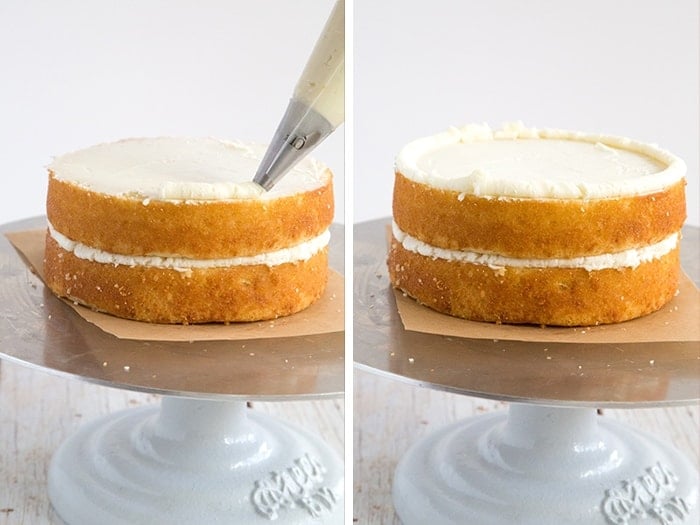 This recipe makes three 6-inch lemon cake rounds. The cake is flavored with lemon juice and lemon zest, absolutely no lemon extract or any fake lemon stuff.
Rosemary Buttercream:
The buttercream is made with rosemary infused butter. Melted a cup of unsalted butter with three rosemary sprigs. Allow the mixture to steep for about an hour or so, until the butter cooled to room temperature.
Finally, strain out the rosemary and seasoned the butter with quite a bit of salt.
Lemon Curd:
To assemble the cake, start with one lemon cake round. Spread a very thin layer of rosemary buttercream on top of the cake. Then pipe a small border of rosemary buttercream along the perimeter of the cake round. This will serve as a barrier when you filled the cake with lemon curd.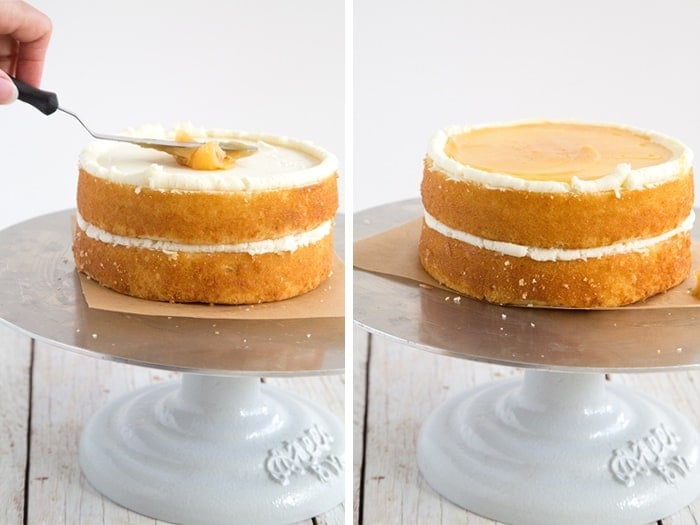 I used store-bought lemon curd from Trader Joe's. (It's the good stuff imported from England.)
Carefully spread a layer of lemon curd within the buttercream boundaries. Do this for the first two layers of the cake. The final (third) top layer will not have lemon curd.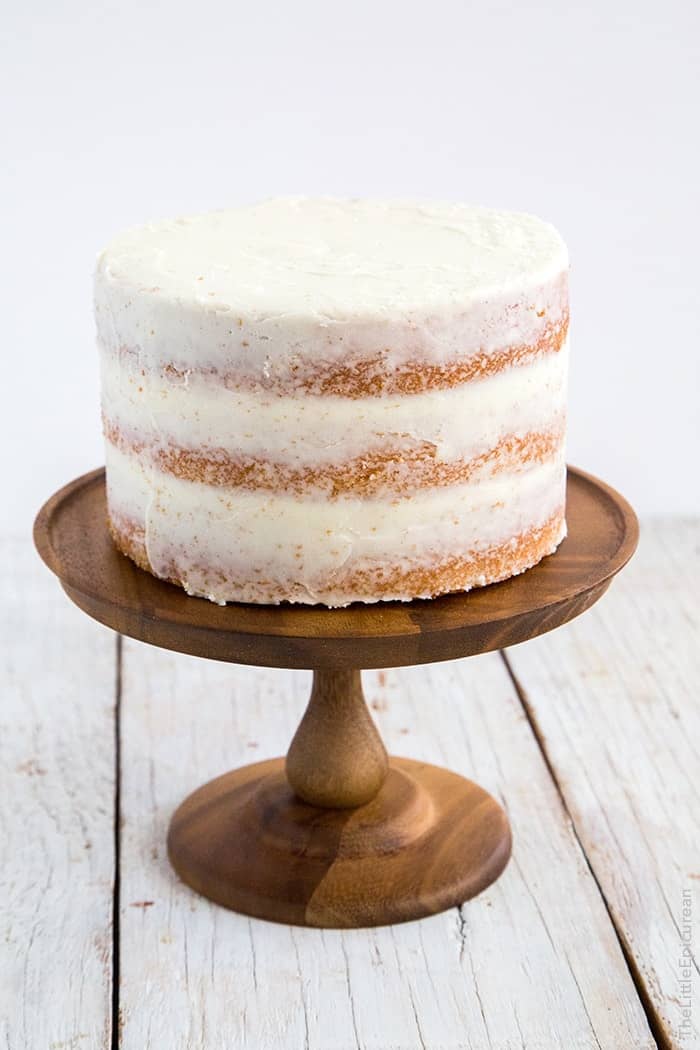 Frosting the Cake:
Once the cake has been filled, frost the outside of the cake with the remaining rosemary buttercream.
If you decide to lightly coat the cake (like shown above), you will have plenty of leftover rosemary buttercream to use in other baking adventures.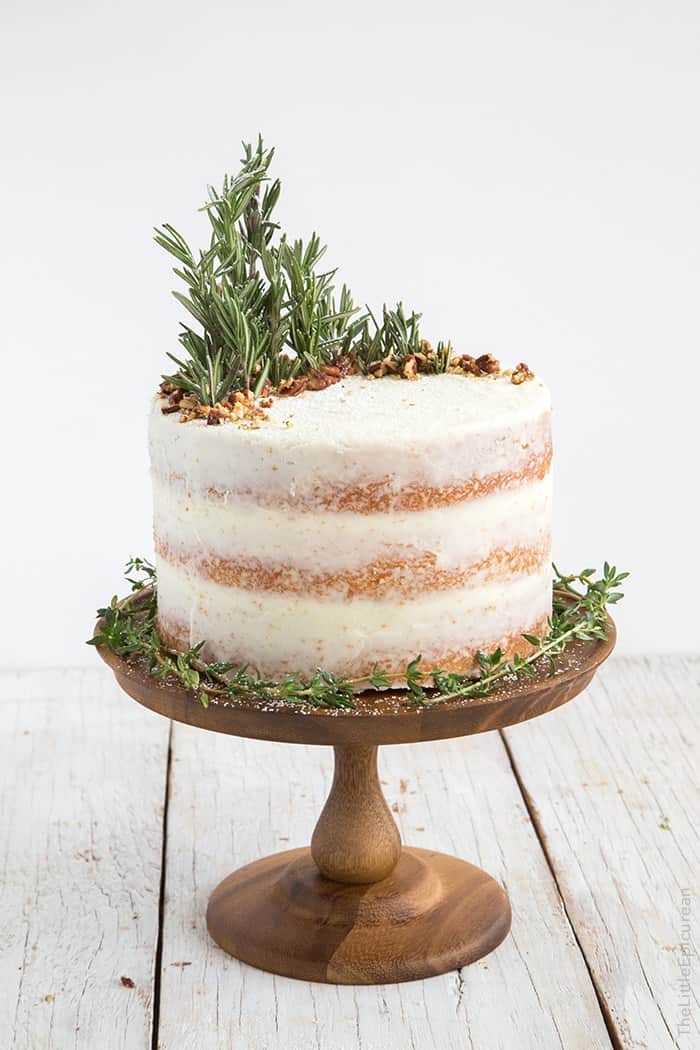 Additional Cake Decor and Toppings:
I decorated the finished lemon cake with fresh sprigs of rosemary (to resemble pine trees) and crumbled candied pecans (to mimic soil). And since it's the holidays, I dusted some powdered sugar on top for a lovely "snow" effect.
The base of the rosemary lemon cake is adorned with lemon thyme. Although I didn't use lemon thyme in the recipe, I thought it added a nice earthy feel to the cake.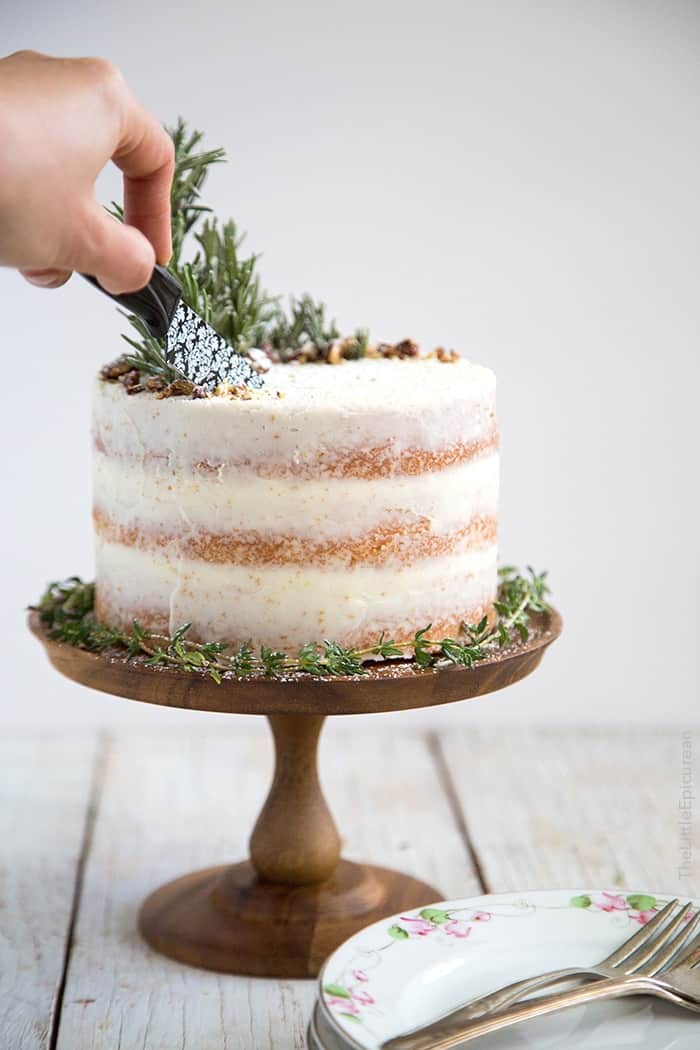 I dread cutting into the cake. You spend so much time making it pretty, only to destroy it.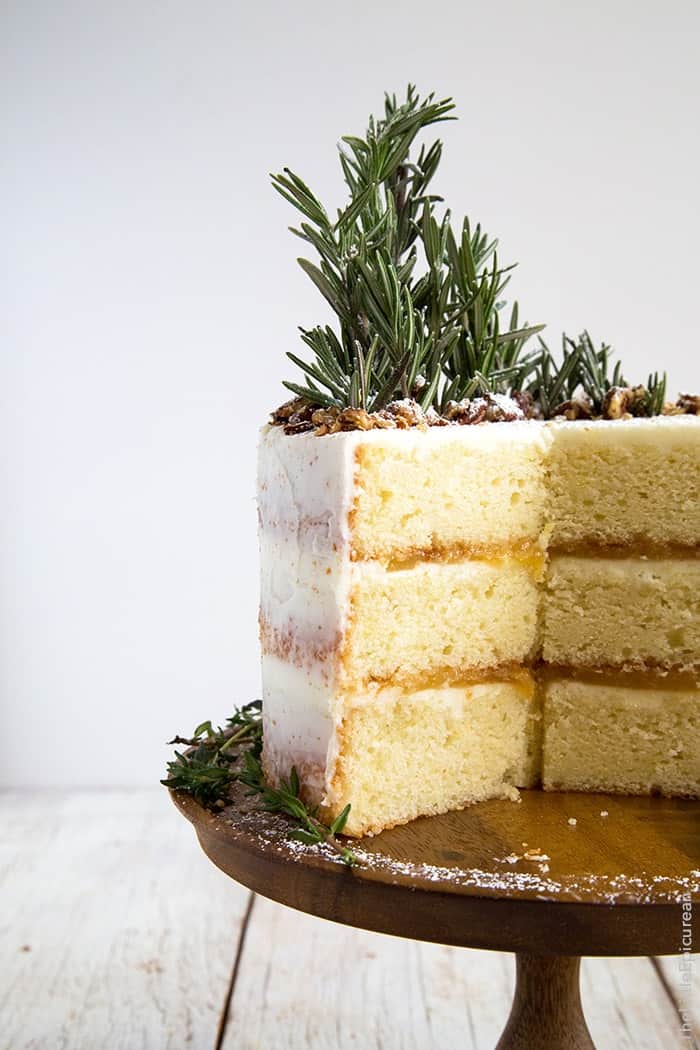 But once you slice into it, you see all the beautiful and delicious layers hidden inside.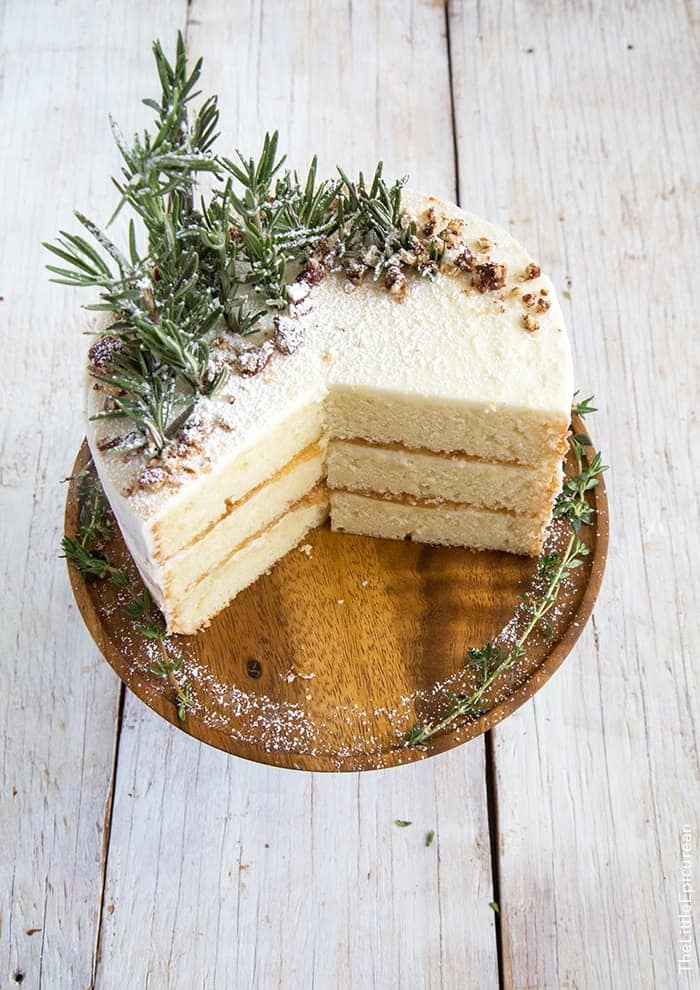 Sweet-Savory Cake Pairing:
I'm proud to say that I'm honestly starting to enjoy lemon desserts. The use of lemon juice and lemon zest in the batter produces a very fresh tasting cake.
The store-bought lemon curd I used tastes smooth and clean. (Absolutely none of that eggy, sulfuric taste I associate with lemon curd!)
And the rosemary buttercream is now one of my absolute favorites. It's sweet-savory pairing that works really well together.
Rosemary Lemon Cake with Lemon Curd Filling and Rosemary Buttercream
Yield: 6-inch cake
Ingredients
Lemon Cake:
2 1/4

cups

all-purpose flour

1

teaspoons

baking powder

1

teaspoons

baking soda

1/2

teaspoon

fine sea salt

3/4

cup

unsalted butter, softened, room temperature

1 1/4

cup

granulated sugar

3

large eggs, room temperature

1/3

cup

sour cream, room temperature

2/3

cup

whole milk, room temperature

5

Tablespoons

fresh squeezed lemon juice

1

Tablespoons

finely grated lemon zest

store-bought, high-quality lemon curd, as needed
Rosemary Buttercream:
1

cup

unsalted butter

3-4

sprigs of fresh rosemary

3 1/4

cups

powdered sugar, sifted

1/2

teaspoon

fine sea salt

1

Tablespoon

heavy cream, or milk
Instructions
Lemon Cake:
Preheat oven to 350 degrees F. Line three 6-inch cake round pans with parchment paper. Lightly grease and set aside.

In a large bowl, whisk together flour, baking powder, baking soda, and salt. Set aside.

In the bowl of a stand mixer fitted with a paddle attachment, cream butter. Add sugar and whip until smooth. Add eggs and continue to mix on medium speed until incorporated. Incorporate sour cream and mix. Scrape down bowl as needed to ensure thorough mixing.

Add flour mixture in three additions, alternating with milk. Begin and finish with flour mixture. Add lemon juice and lemon zest and mix until well incorporated.

Divide batter evenly among the three prepared cake pans. Level batter using a mini offset spatula, or the back of spoon. Bake for 35-40 minutes until a toothpick inserted in center of cake comes out clean. Let cake cool in pan for 5 minutes, then run a mini offset spatula around the cake and unmold. Let cake cool to room temperature on wire rack.
Rosemary Buttercream:
In a heavy bottomed sauce pot, add butter and rosemary. Melt over medium high heat and bring to a boil. Allow to boil for 1 minutes. Remove from heat and allow to cool. Allow rosemary to steep for 60-90 minutes until butter is cool to the touch. Strain out rosemary and keep butter chilled in the fridge until ready to use.


Let chilled rosemary infused butter soften at room temperature before use. Using a hand held mixer or a stand mixer fitted with a paddle attachment, cream butter. Add confectioners' sugar, salt, and cream. Mix until buttercream is smooth. If buttercream is too soft, add additional confectioners' sugar 1 Tbsp at a time until desired consistency is achieved.
Assembly:
Fit a decorating bag (piping bag) with a small round tip. Fill the bag with about 1/2 cup of buttercream. Set aside.

If necessary, level cake layers. Place one cake round on a cake turntable. Spread a thin layer of buttercream on cake using a small offset spatula. Using the filled piping bag, pipe a small border of rosemary buttercream along the perimeter of the cake round. This will serve as a barrier when you filled the cake with lemon curd.

Add enough lemon curd to fill the buttercream boundaries. Place second cake layer on top. Repeat filling cake layer with buttercream and lemon curd. Place the final third layer on top. This layer will not have lemon curd

Spread buttercream around the cake to create a "crumb coat" layer to seal in any crumbs. Chill cake in the fridge for 15-20 minutes to set frosting. If desired, generously coat the chilled cake with additional buttercream. Chill cake if not serving immediately. Decorate cake with fresh rosemary sprigs and crushed candied pecans. Dust top of the cake with sifted powdered sugar. Let cake sit at room temperature for at least 30 minutes before serving to allow cake to soften.
Notes
Lemon cake can be baked ahead of time. Allow to cool to room temperature before wrapping in plastic wrap. Can be stored in the freezer and used at a later time. Simply allow cake to defrost at room temperature before use.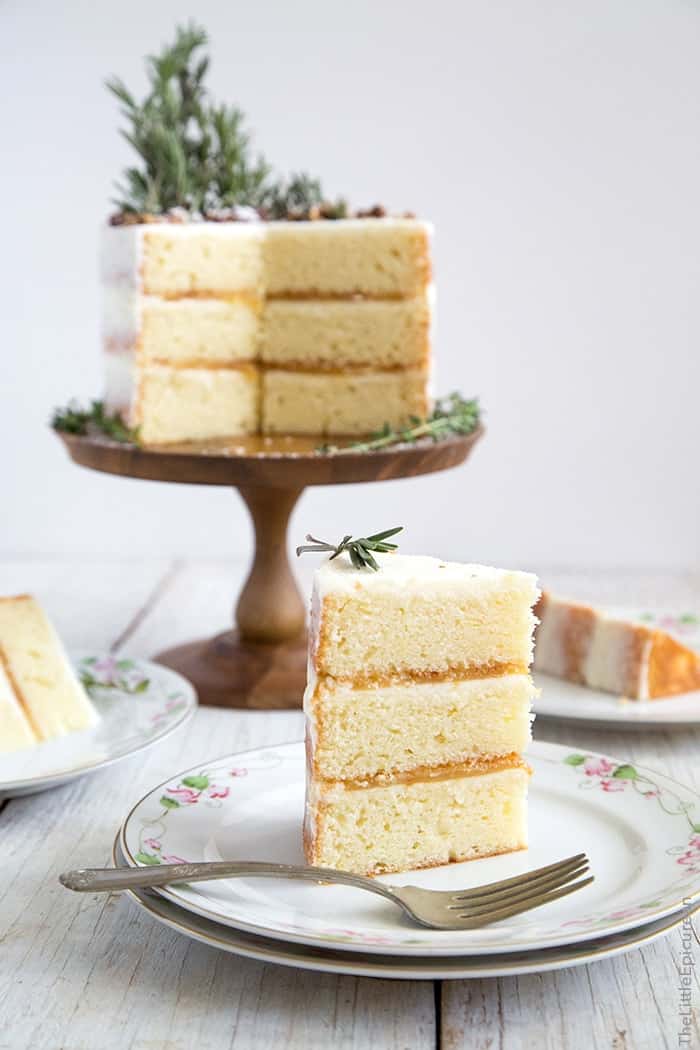 Remember my obsession with plates? Here's another one from my growing collection. These delicate, hand-painted plates were made in England. They belonged to my great-grandmother. She received it as a wedding gift in 1896 (meaning these plates are over 100 years old!) My mom brought them back from the Philippines a few years ago. I have treasured them ever since.