This no bake pear cheesecake is made with a gingersnap crust and topped with cinnamon sugar pears. It's perfect for sharing during the holidays!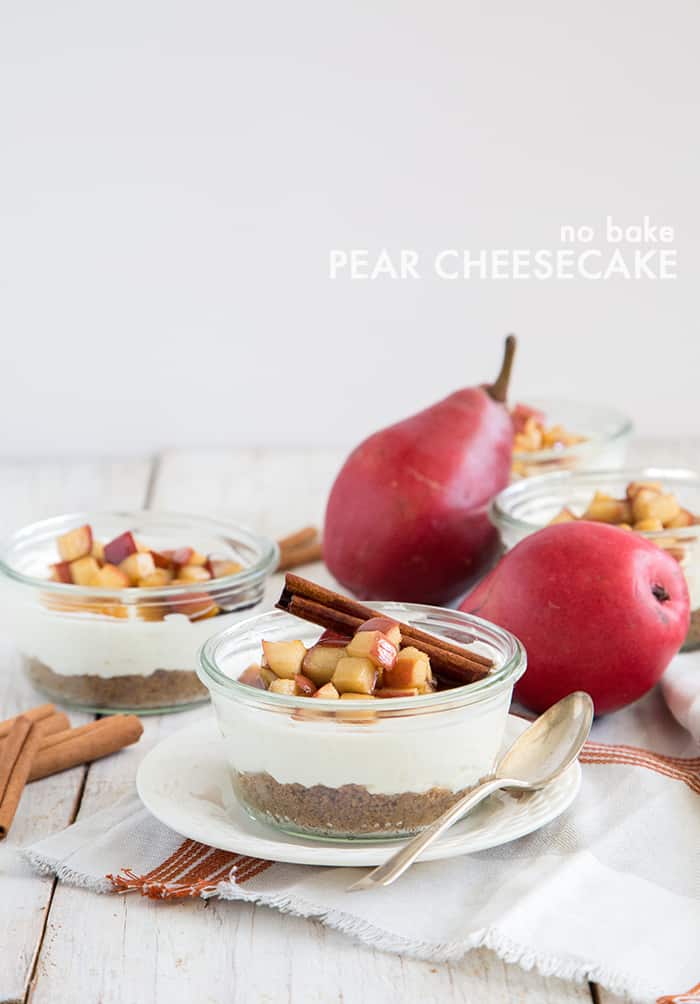 No Bake Pear Cheesecake
Pear season is here! Thanks to the abundance and variety of pears available during this time of year, December is National Pear Month. I am working with USA Pears to showcase this delicious and versatile fruit.
Cheesecake is a family favorite during the holidays. However, cheesecake is often time consuming and a bit labor intensive when you bake it the traditional way in a water bath.
This no-bake pear cheesecake takes out much of the hassle, leaving you more time to enjoy the holidays with loved ones.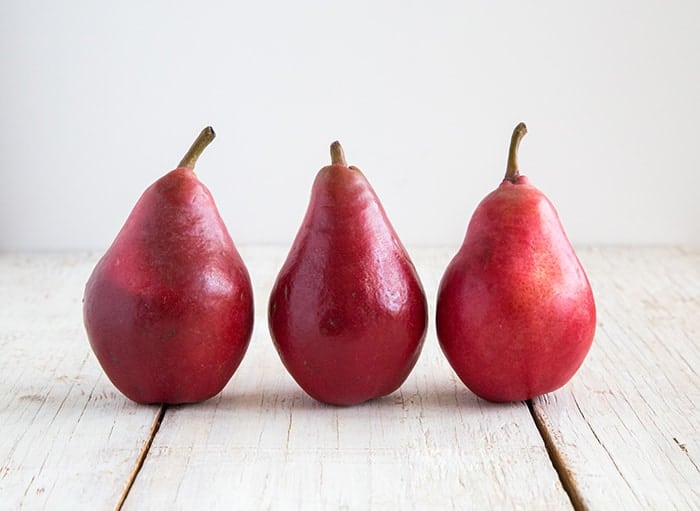 Starkrimson Pears
For this cheesecake, I'm using Starkrimson pears. Starkrimson are known for their distinct red color, their namesake. These pears are very juicy and delicately sweet.
Unlike many other fruits, pears do not ripen on the tree. They're harvested when mature and likely to ripen by the time you purchase them at the store.
How do you know when a pear is ripe?
Check the neck. Gently press the stem end part of the fruit. If it yields to gentle pressure, you've got yourself a winner.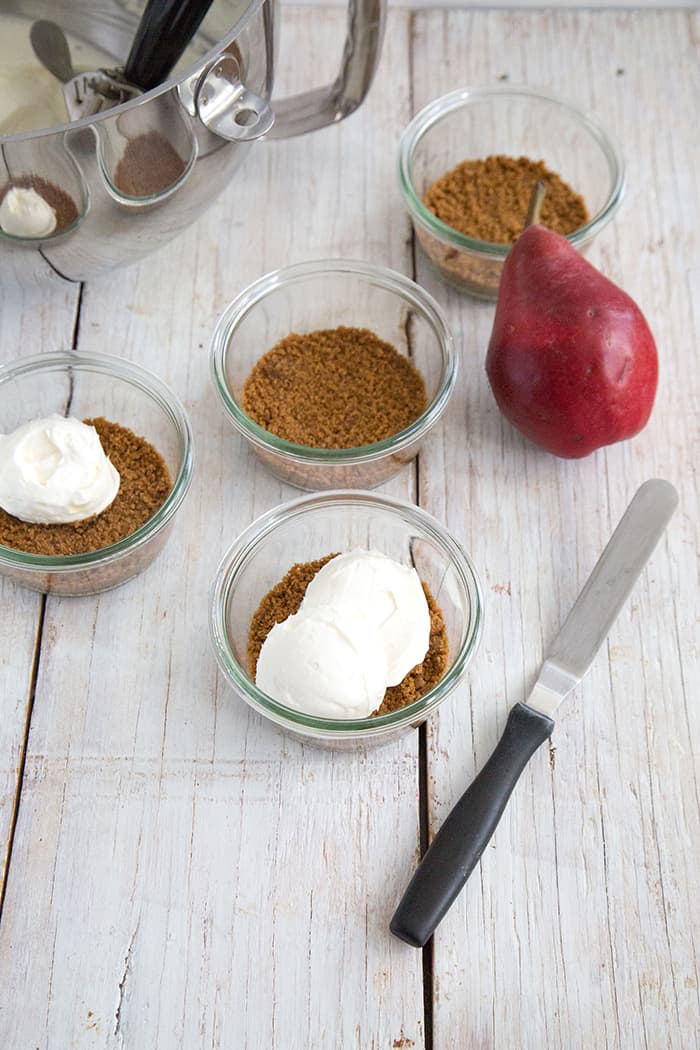 I used gingersnap cookies to create the crust. It's a nice flavorful crunch that works perfectly with the creamy cheesecake and the sweet pear.
The cheesecake batter is simply a mixture of cream cheese, sour cream, powdered sugar, and a touch of heavy cream. It's a decadent treat that pairs lovely with the mildly sweet Starkrimson.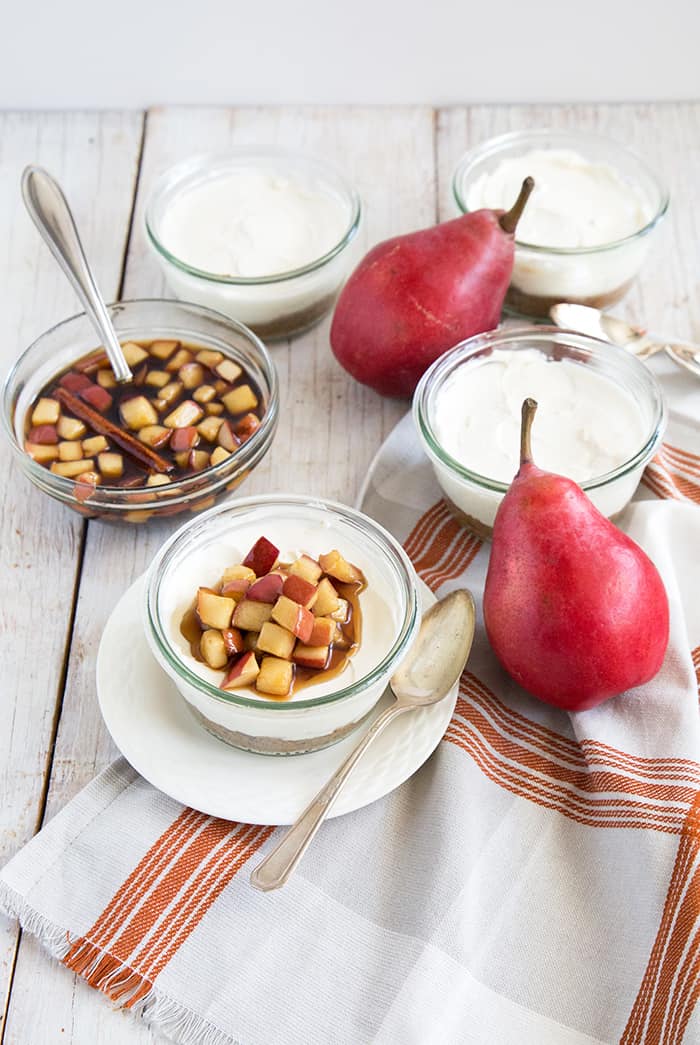 I left the beautiful red skin of the pear intact. The pears are gently cooked in a brown sugar syrup infused with cinnamon. It adds a nice warm, aromatic touch to the delicate fruit.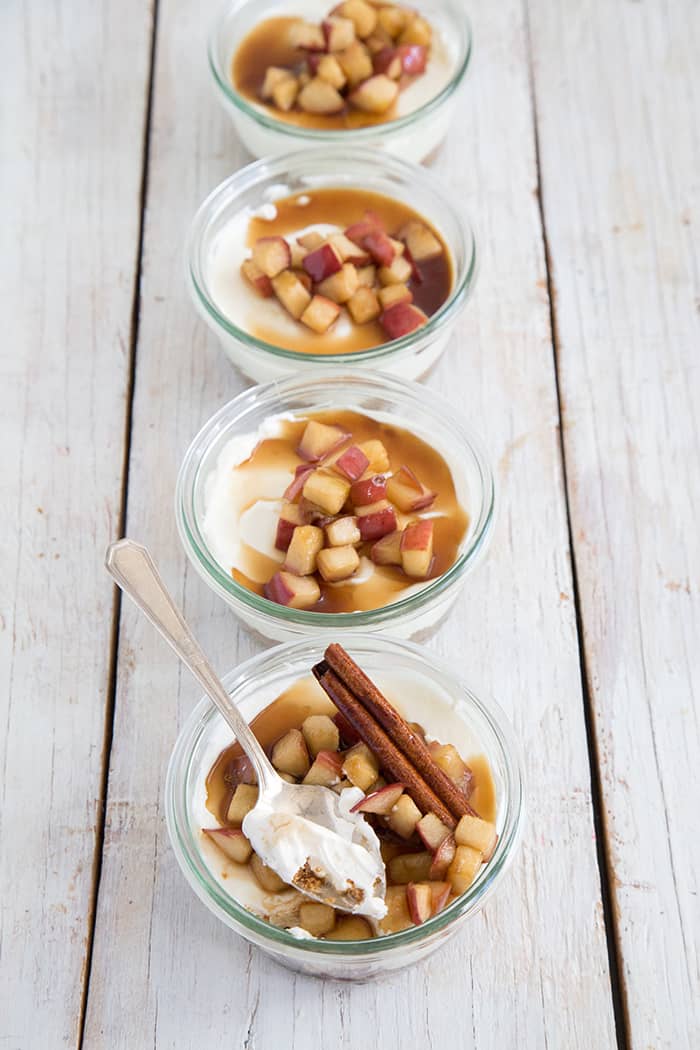 Interested in more pear recipes? Try these favorites: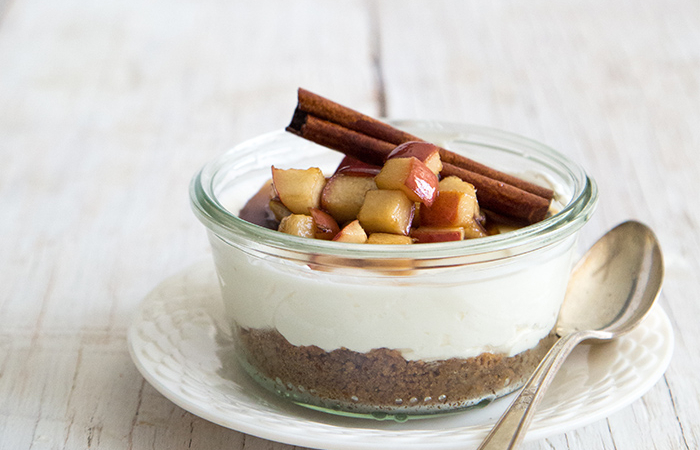 No Bake Pear Cheesecake
Yield: makes four 12.5 oz jars
Ingredients
Cheesecake:
1 1/2

cups

crushed gingersnap cookies

6

Tbsp

unsalted butter,

melted, slightly cooled

12

oz

cream cheese,

room temp

1/3

cup

sour cream,

or creme fraiche

3/4

cup

confectioners' sugar

1/2

cup

heavy cream
Instructions
Pulse gingersnap cookies in a food processor until ground. Combine with melted butter until moistened. Divide among four serving containers* and press cookie crumbs to the bottom to form the crust. Set aside.

In the bowl of a stand mixer fitted with a paddle attachment, beat cream cheese until smooth. Add sour cream and mix until incorporated. Scrape down bowl as needed to ensure thorough mixing. Add confectioners's sugar and heavy cream. Mix on low speed until mixture is smooth.

Divide cheesecake batter among prepared serving containers. Use a mini offset spatula, or the back of a spoon, to level cheesecake batter. Cover and store in fridge for at least 30 minutes, up to overnight.

Meanwhile, place chopped pears in a heavy bottomed sauce pot. Add water, brown sugar, and optional cinnamon stick. Set over medium heat and cook until sugar has melted. Stir often to ensure sugar does not burn at the bottom of the pot. Once sugar has melted, remove from heat. Set aside until cheesecake is chilled.

Spoon pears and syrup over chilled cheesecakes. Serve immediately.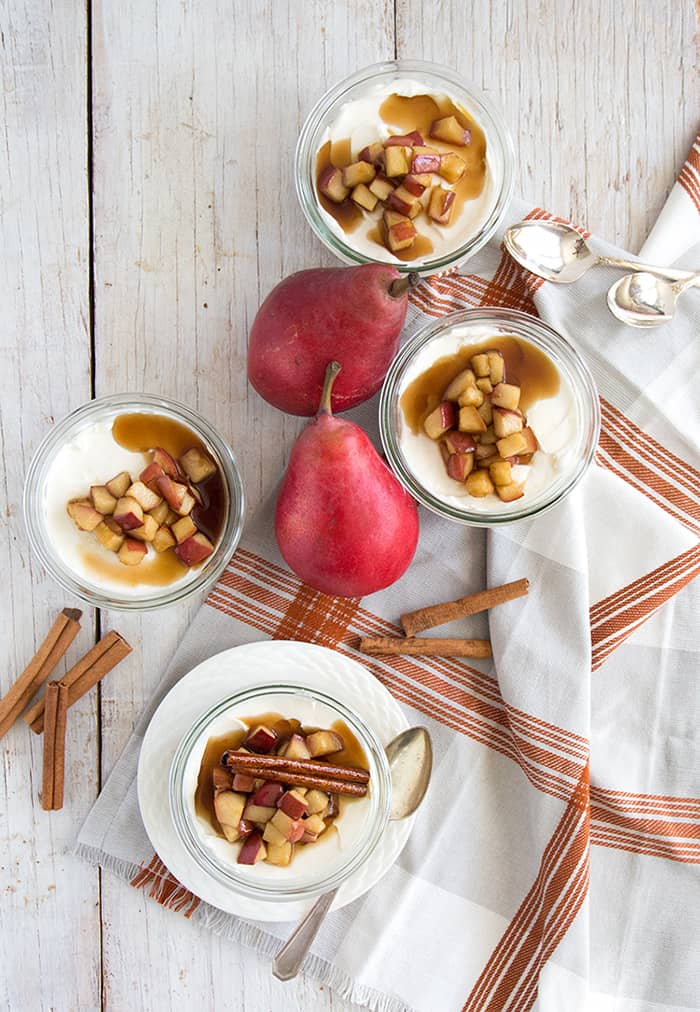 Find more pear inspiration on Twitter and Instagram searching the hashtag #SnackOnPears and #PEARfectpairings
Disclosure: Special thanks to USA Pears for sponsoring this post!