Pear rice pudding is a sweet, creamy, and luscious dessert perfect for the holidays. It's perfect for sharing, snacking, and easy to make for a large group.
National Pear Month is in full swing! I'm working with USA Pears to highlight this wonderful holiday fruit.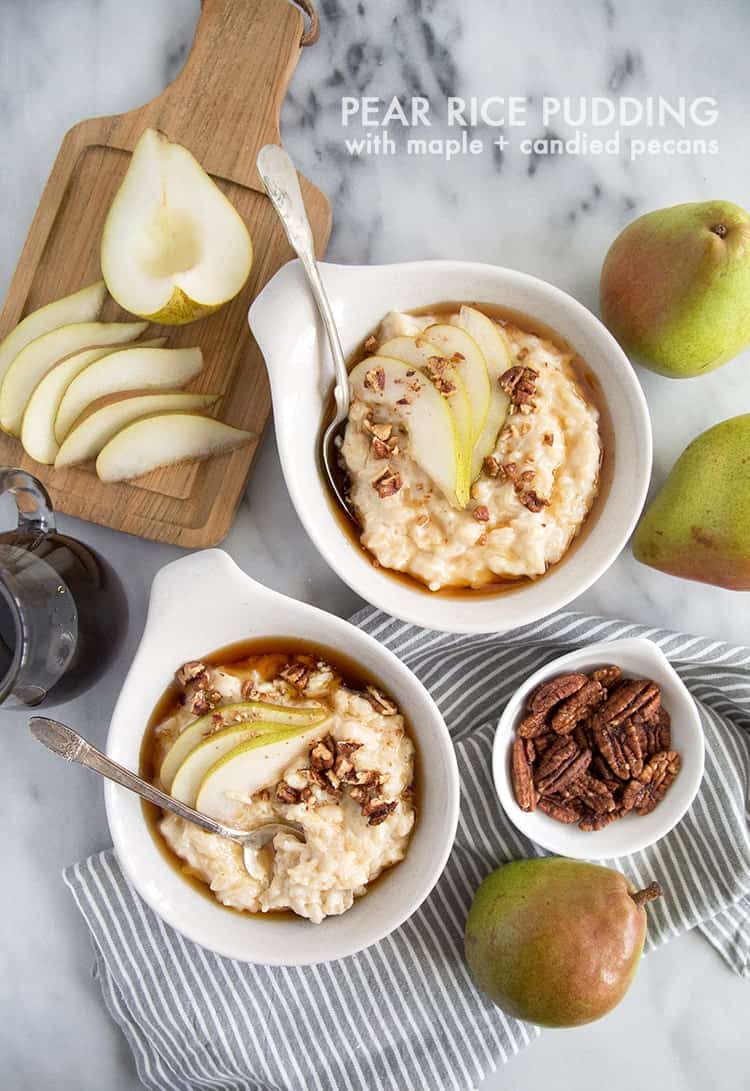 Rice Pudding with Pear
Rice pudding is perfect for sharing during the holidays. It's a comforting bowl of carbs that everyone can enjoy! Plus, it's a gluten-free treat that pairs deliciously with pears!
This pear rice pudding can be served warm or chilled, depending on your preference. While it's technically a dessert, you can totally enjoy it for breakfast (especially when you serve it with fresh fruit).
Although it is a simple recipe with few ingredients, this is a dish that evokes such warm and happy memories for me.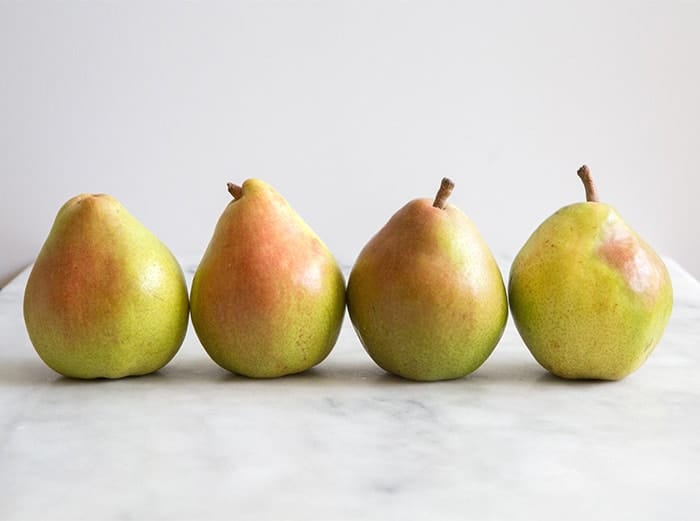 Comice Pears
I've paired this rice pudding with Comice pears. Comice are among the sweetest and juiciest of the pear varieties. It's one of my favorites because when ripe, these pears are so creamy and flavorful. They're the perfect pears to enjoy raw.
How to check a pear for ripeness?
As I've mentioned in the Starkrimson pear cheesecake post, the best way to test a pear's ripeness is by checking its neck. The coloring of pears is not a good indicator of its ripeness.
Gently press the neck of the pear. If it yields to gentle pressure, it's ready to eat.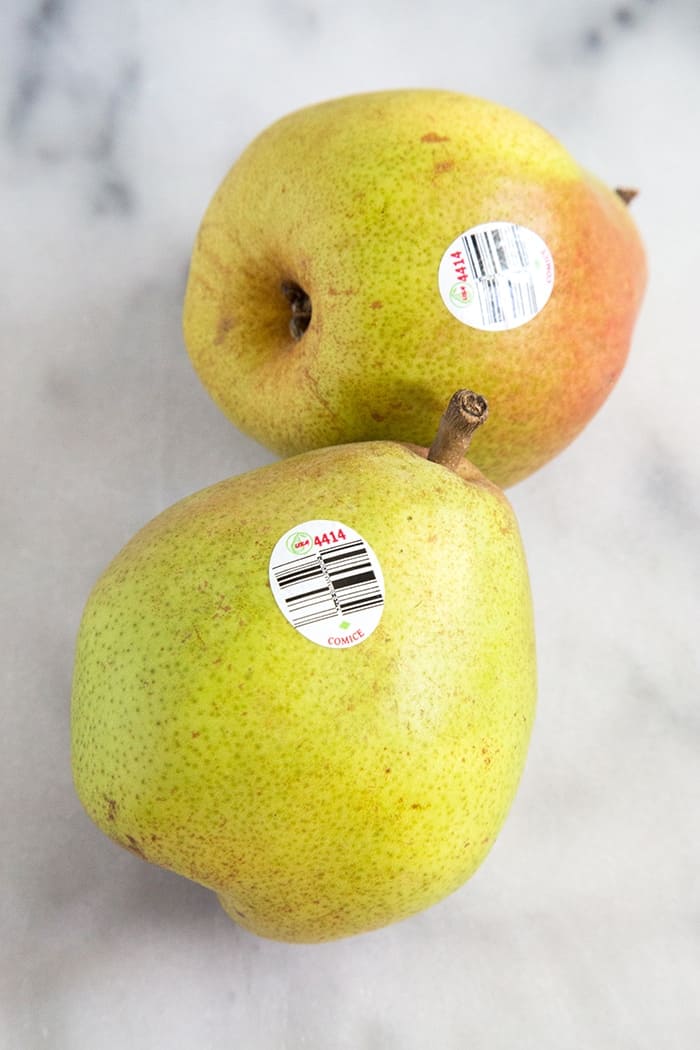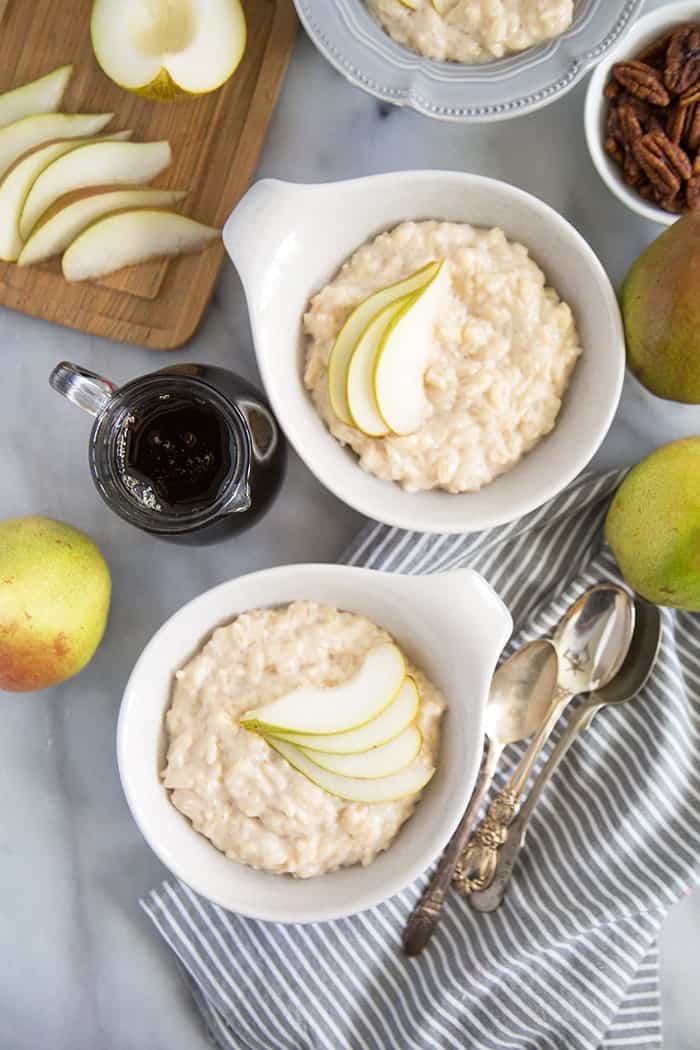 The United States is the world's third largest pear producing country after China and Argentina. USA Pears represents 1,600 pear growers of Oregon and Washington. Together, these states produce about 84% of the fresh pears grown in the US.
I'm sure you've seen this fruit sticker before. Be sure to check it out to see where your pear comes from, as well as what variety it is.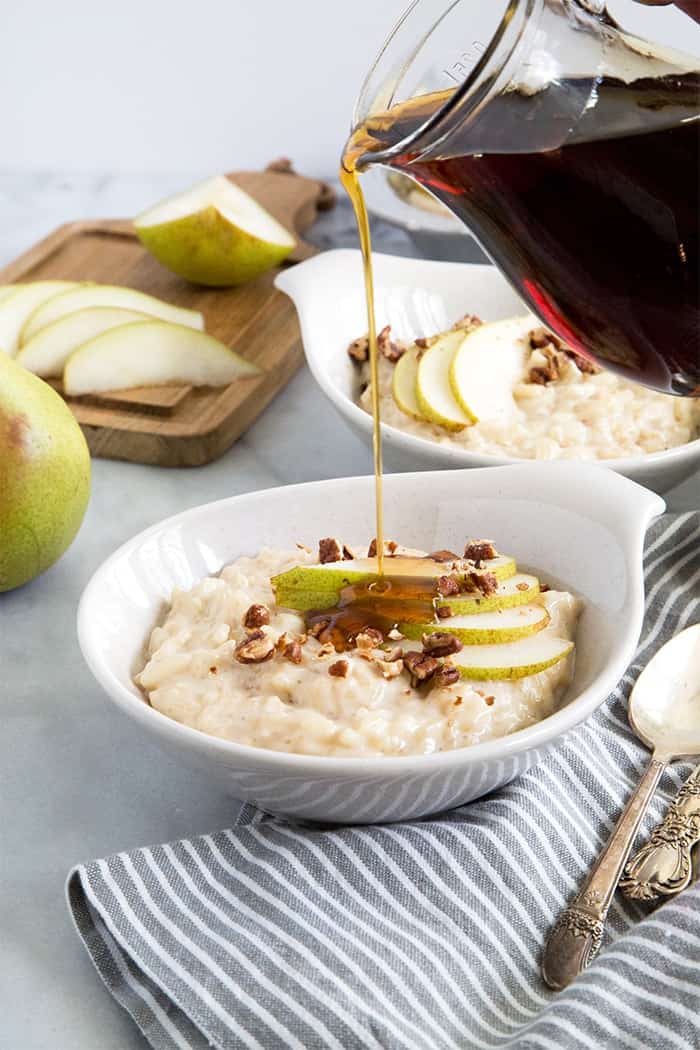 Customize Rice Pudding
There are countless ways to enjoy rice pudding. It's a blank canvas for all sorts of spices, toppings, and sauces.
While cooking the rice, I infused it with a mixture of cinnamon, star anise, and ginger. It creates a very warm yet delicate flavor. You can use all three spices, or stick to your favorite.
Right before serving, I gently folded freshly chopped pears into the rice pudding. The chunks of pears adds an extra creaminess.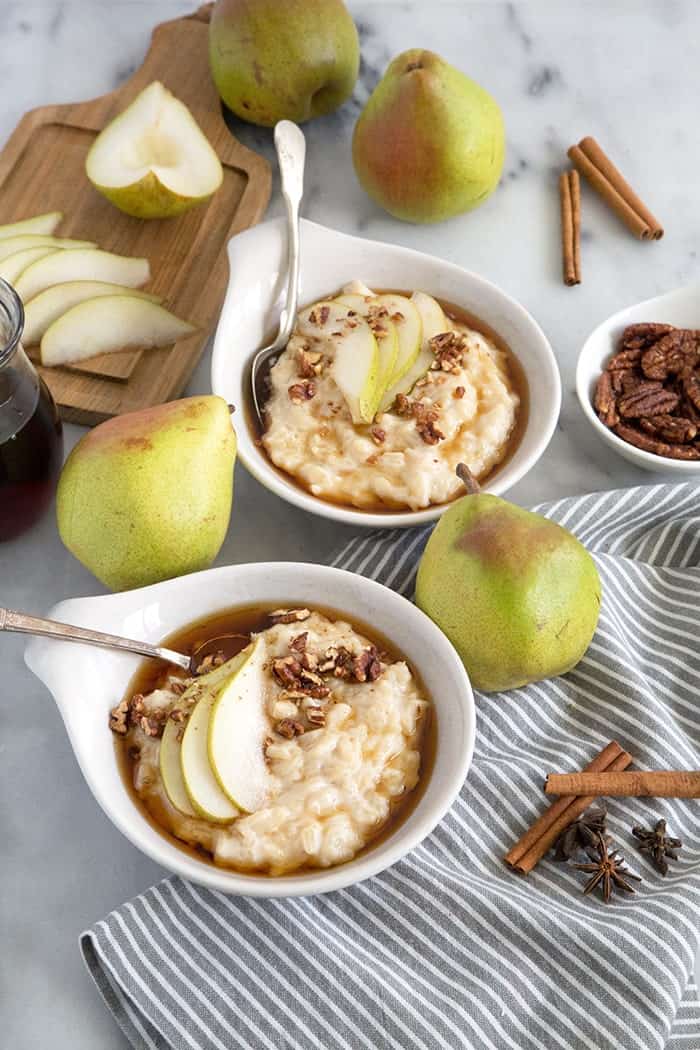 Because I love to enjoy Comice pears raw, I also added sliced pears on top.
For a touch of sweetness, I like to drizzle on maple syrup right before serving. The addition of crushed candied pecans adds a very pleasant finishing crunch.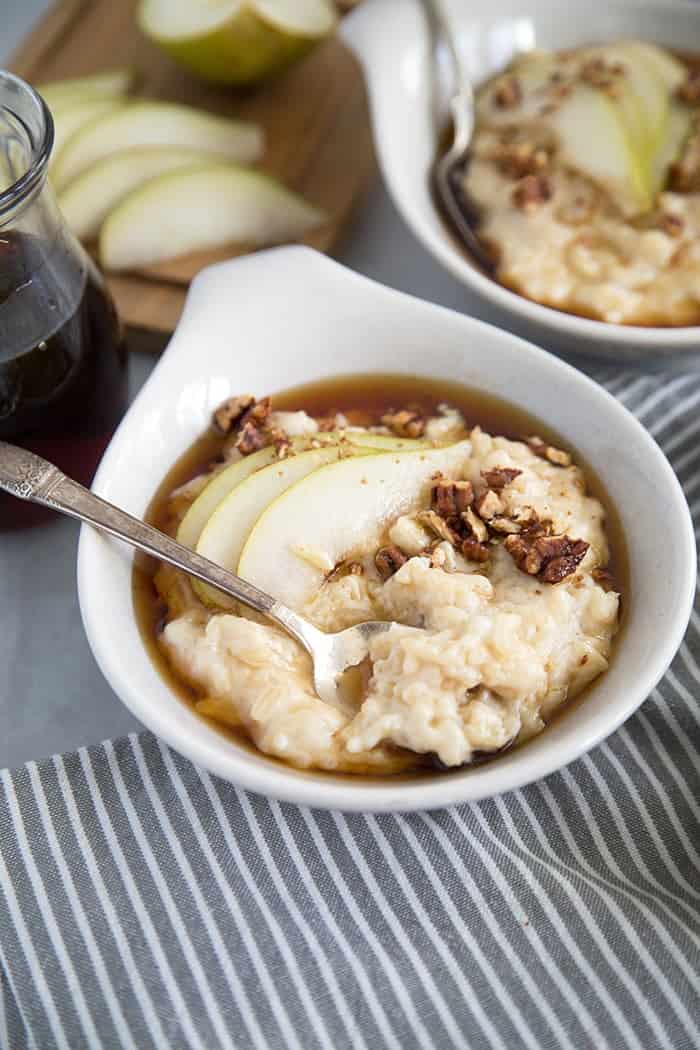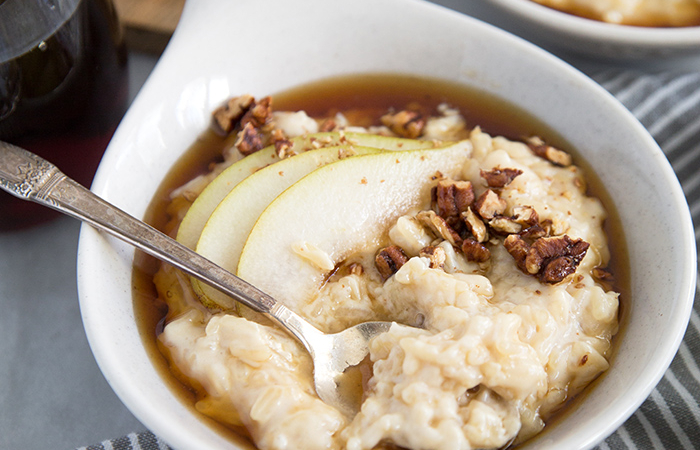 Pear Rice Pudding with Maple and Candied Pecans
Ingredients
1

cup

Jasmine rice,

or similar long-grain white rice

5

cups

whole milk

spice of choice (cinnamon stick, star anise, ginger)

1/3

cup

dark maple syrup

1/4

cup

dark brown sugar,

packed

1/2

tsp

fine sea salt

2

USA Pears Comice variety,

(1 chopped into bite sized pieces, 1 thinly sliced)

candied pecans,

as needed

additional maple syrup,

as needed
Instructions
In large heavy bottomed sauce pot, add rice and 4 cups of milk. Stir to combine. Set over medium-high heat and bring to a boil. Add spice of choice or combination of spices. Reduce heat to low and cover pot. Set timer for 15 minutes and allow rice to cook.

Meanwhile, wash and core Comice pears. Chop one pear into small bite size pieces and set aside. Thinly slice other pear to serve as garnish for finished rice pudding.


Remove lid and stir rice to ensure it does not stick to the bottom of the pot. Stir contents often and cook for another 10 minutes until mixture is thick and creamy. Add remaining cup of milk, maple syrup, brown sugar and sea salt. Stir to combine and continue to cook on low heat for another 5 minutes until all the sugar has dissolved. Strain and discard used spices.

Add in served chopped pears and stir to combine. Serve immediately. Garnish with sliced pears, crushed candied pecans, and a drizzle of maple syrup.

Notes
Serve rice pudding warm. If desired, store in the fridge to chill. Cold rice pudding will be very thick and may need additional water or milk to thin out.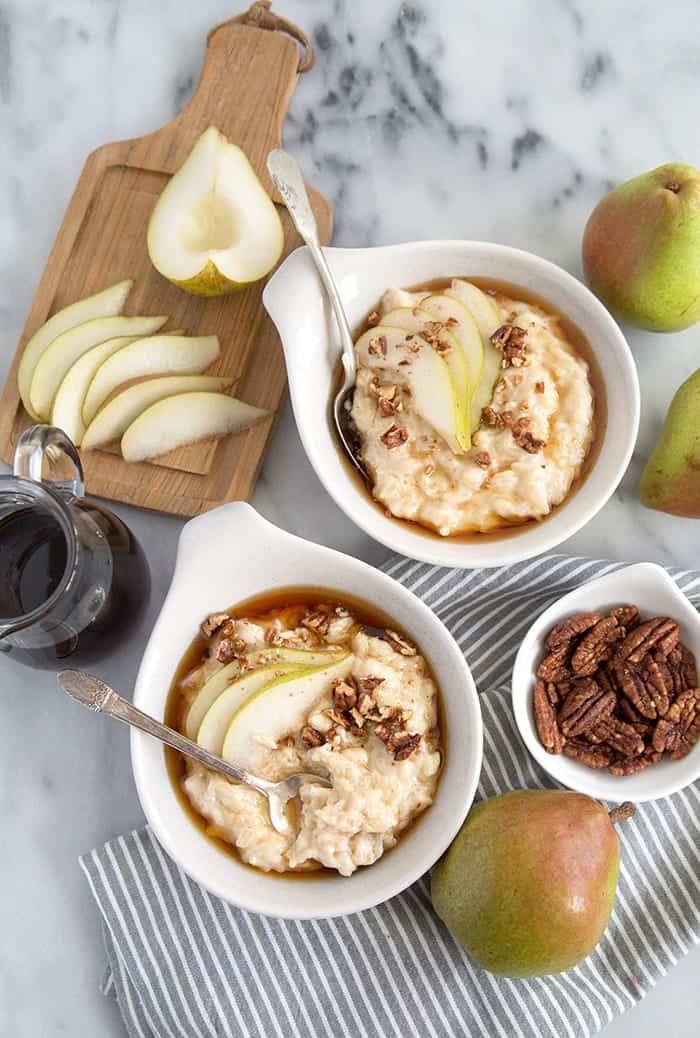 To learn more about the ten pear varieties available during this season, visit USAPears.org. You can also find more pear recipes and ideas on USA Pear's Facebook and Pinterest.
Disclosure: Special thanks to USA Pears for sponsoring this post!