These sugar cookies are dipped in melted chocolate and topped with crushed peppermint candy canes. These soft chewy cookies are perfect for ice cream sandwiches!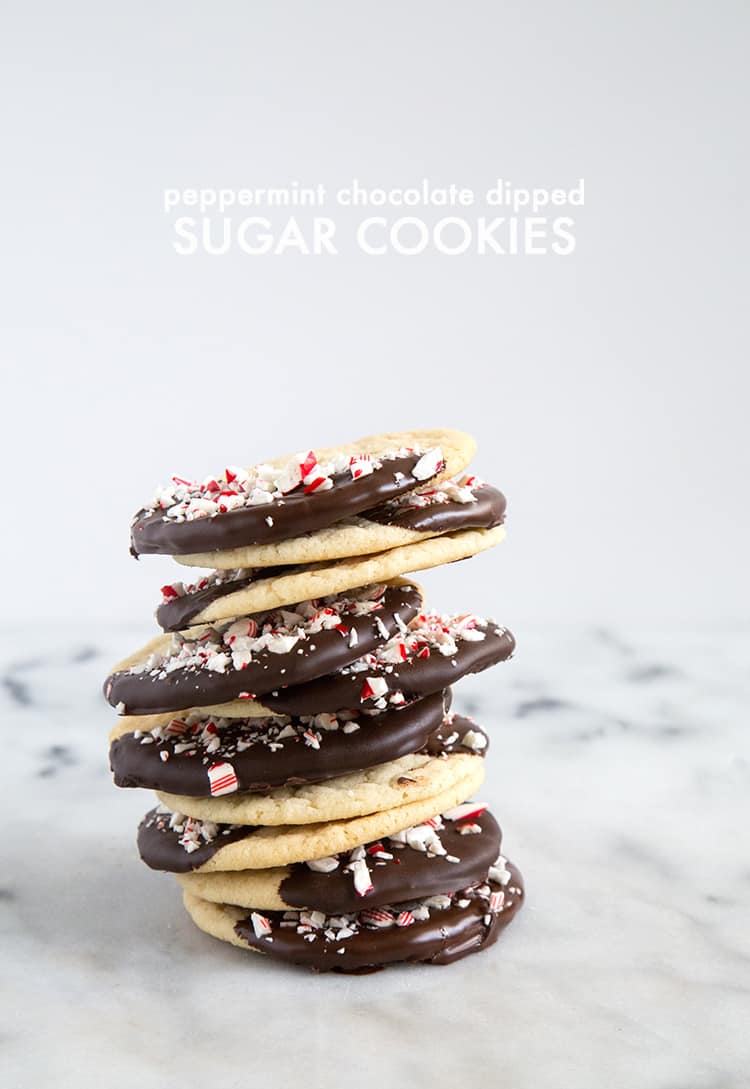 The holidays were so easy as a kid. You had a few weeks off from school. You didn't have to worry about buying any presents. Any gifts you did give, were handmade or very inexpensive.
The only people you had to give presents to were your parents and siblings (but even then, your parents helped out). You show up to all the holiday parties wearing the outfit your mother laid out for you.
No worries, no stress, you just cruise and relax into the new year.
If only it stayed that simple forever. The older you get, the more responsibilities you earn. This year, I helped out my mom by taking care of her entire Christmas shopping list.
I thought shopping for my nieces and nephews would be a breeze. I know what kids like. I was a kid not too long ago. NOPE.
I am confused by the sheer amount of toys available to kids nowadays. Alex and I spent hours reading reviews for different toys and games. There are way too many Lego sets to choose from, too many action figures to name, too many toys that require batteries. Is it age appropriate? Will their parents approve? Will it cause a mess? Will their brothers/sisters get jealous? I don't know how parents do it. Buying presents for children is difficult.
I'm still (many) years away from even planning on having children. (Sorry, Mom.) Right now, I'm better suited for cookie making. That's what I'm best at during the holidays: creating sweets and desserts for everyone within reach.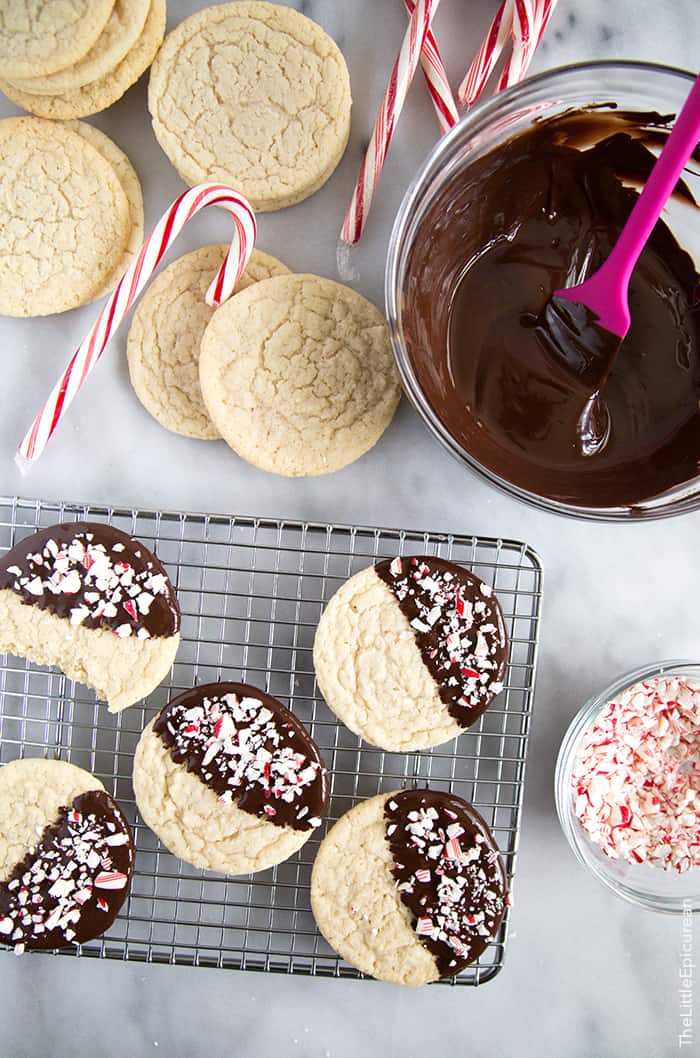 Sugar cookies are the most versatile cookie ever. They're synonymous with pretty much every holiday. Heart sugar cookies for Valentine's Day, bunnies and eggs for Easter, pine trees and ornaments for Christmas.
These are the sugar cookies for people who don't want to deal with cookie cutters and punching out shapes. These are simple drop cookies. To make them festive and fancy, I dipped them in dark chocolate and sprinkled on crushed candy canes.
Now, that's easy.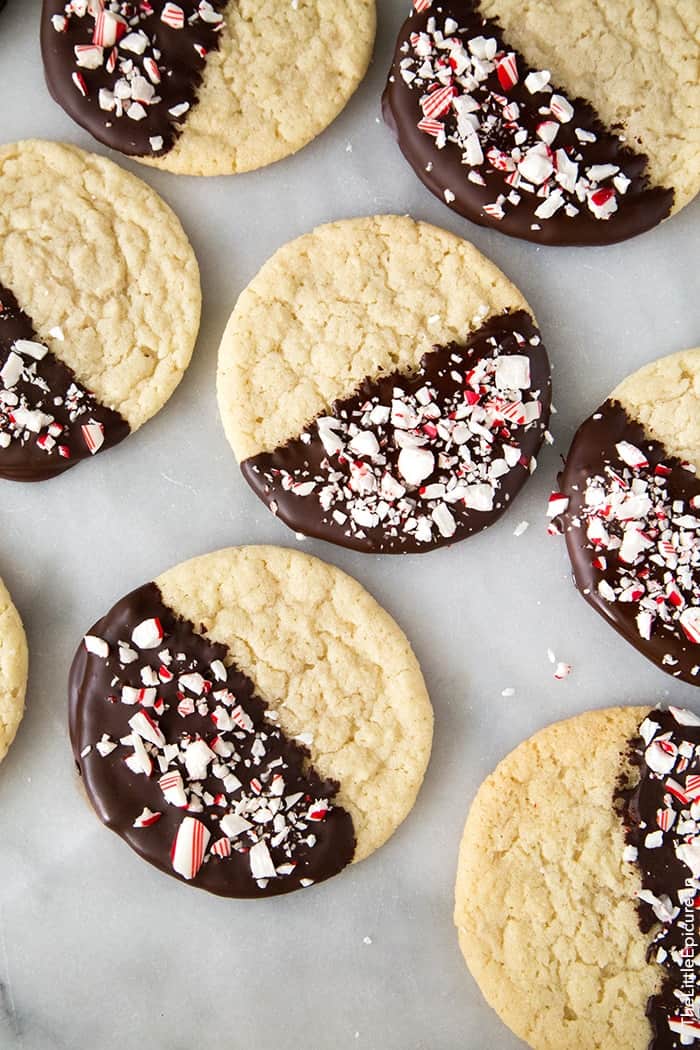 P.S. These peppermint chocolate sugar cookies make for delicious ice cream sandwiches!
Peppermint Chocolate Dipped Sugar Cookies
Yield: about 2 dozen
Ingredients
10

Tablespoons

unsalted butter, room temperature

1 1/4

cup

granulated sugar

1

large egg

1

teaspoon

pure vanilla extract

1 3/4

cup

all-purpose flour

1

teaspoon

baking soda

1/2

teaspoon

fine sea salt
Toppings:
1

cup

dark chocolate, roughly chopped

crushed candy canes or peppermints, as needed
Instructions
Preheat oven to 350 degree F.

In large bowl, beat together butter and sugar with an electric mixer on medium speed until creamy. Add egg and vanilla and mix until combined.

In another bowl, whisk together flour, baking soda, and salt. Add to butter mixture. Mix on low speed until thoroughly combined.

Use 1-1/2 inch (diameter) cookie scoop to portion out balls of dough. Place cookie balls about 2-inches apart on a parchment lined baking sheet.

Bake for 10-12 minutes until the edges of the cookie are set. Allow to cool on baking sheet for 3 minutes and then transfer to a wire rack to cool to room temperature.
Assembly:
Gently melt chopped chocolate over a double boiler. Stir until smooth. Remove from heat and allow to cool slightly. Dip room temperature cookies in melted chocolate, immediately sprinkle with crushed candy canes and allow to set up on a wire rack. Allow chocolate to set before eating.