This Lemon Meringue Cake features three layers of lemon buttermilk cake filled with lemon curd and frosted with lemon buttercream.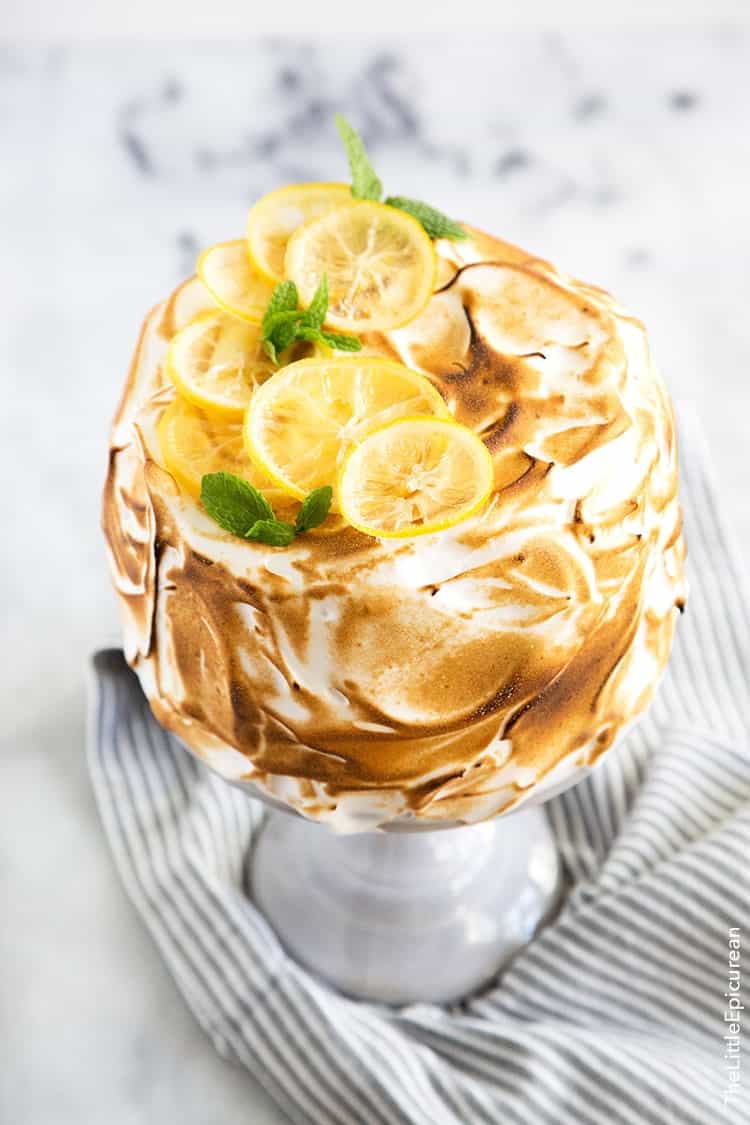 Bad things happen. No matter how good, kind, holy, or perfect you are, bad things can happen to you. Instead of dwelling and wallowing in self pity, pick yourself up and make cake. That seems to work for me.
Take all the sour fruits life throws at you and turn it into something sweet and edible like this Lemon Meringue Cake.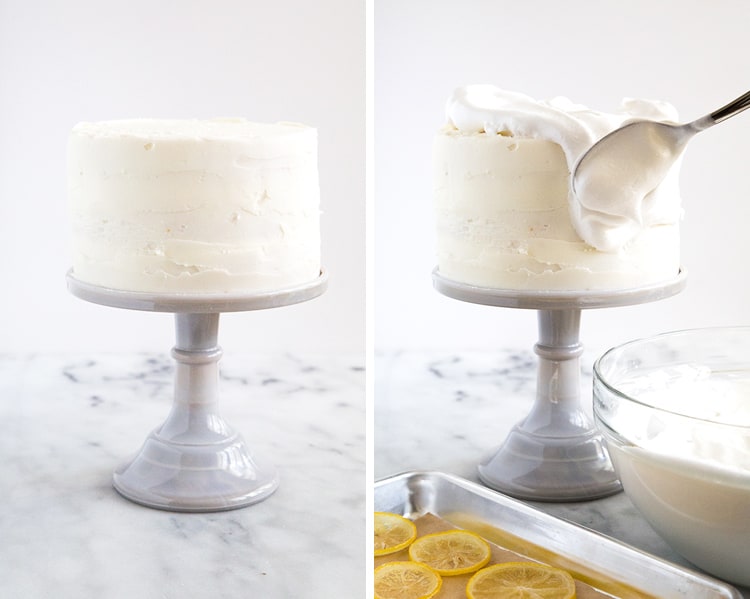 Lemon Meringue Cake
This lovely dessert is made up of three thick layers of lemon buttermilk cake. To prevent the cake from drying out, I lightly soaked it with a boozy lemon syrup during assembly.
The cake layers are filled with lemon curd (store bought, because I'm a little nervous of making it myself). And then the cake is frosted with a simple buttercream flavored with quality lemon extract.
But, it's the toasted meringue and the candied lemons that truly makes this lemon cake shine.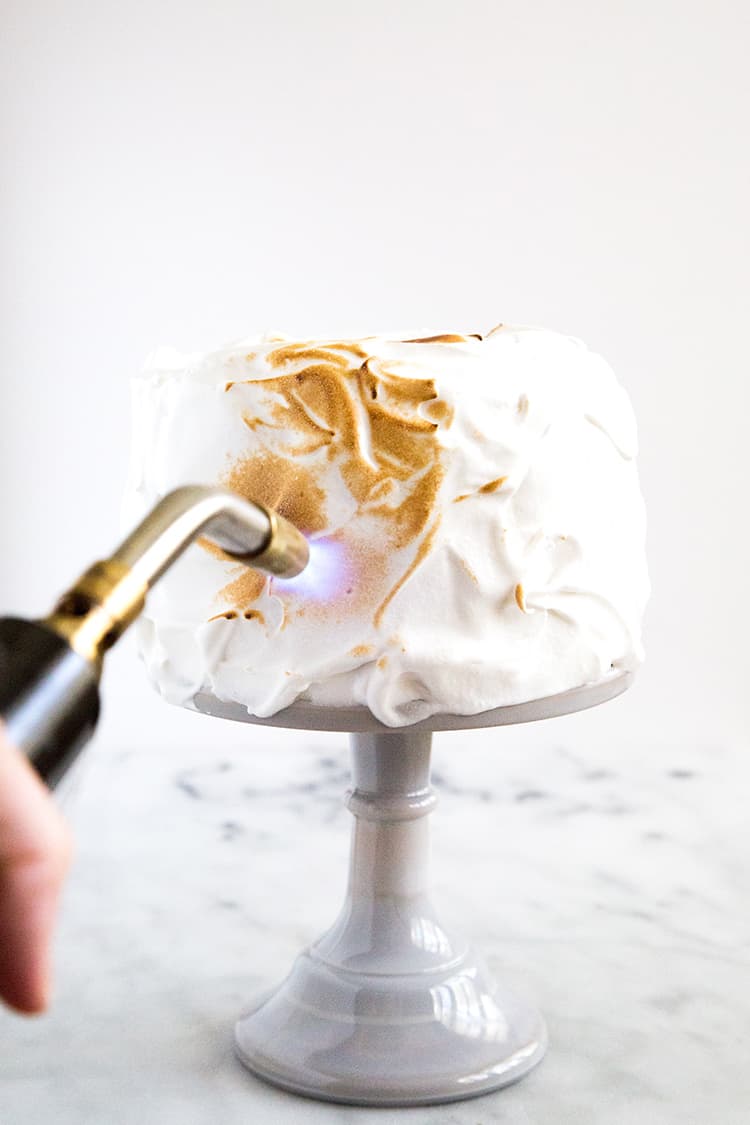 As unpleasant as it may sound, some foods (and relationships) are better burned. Meringue is sweet on it's own. Add a little heat and the toasted exterior adds a new world of flavors.
No longer is the meringue simply sweet, it becomes complex and delectable. The same can be said for many relationships. Relationships are tested in hot waters during times of anger, despair, deceit, etc. Sometimes they fail horribly, other times they rise from the flames.
Anyway, any reason for me to bring out my kitchen torch, is reason enough to brûlée.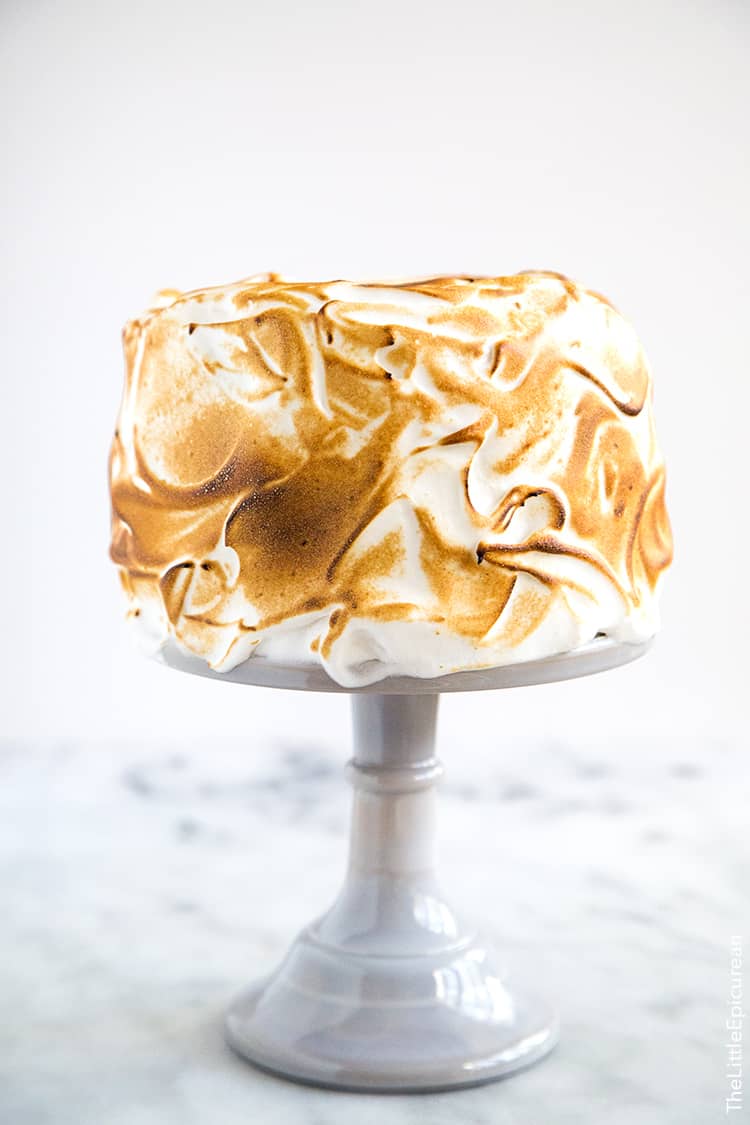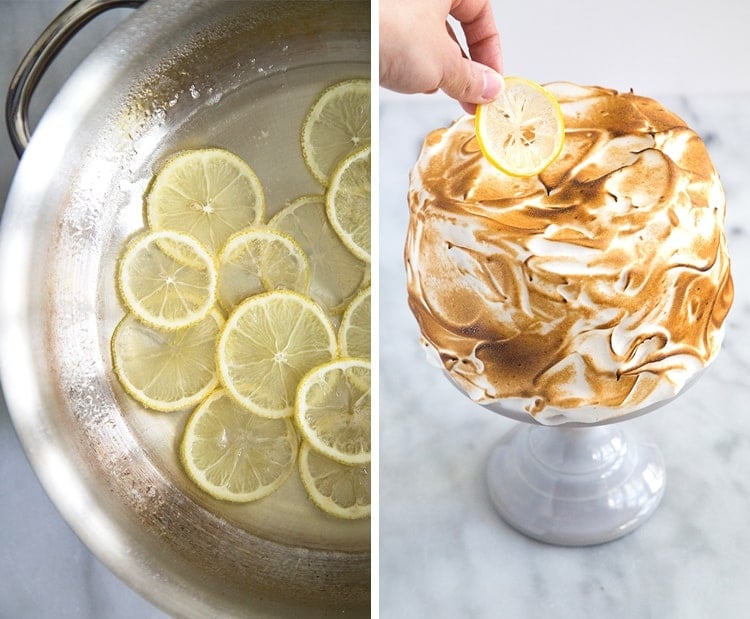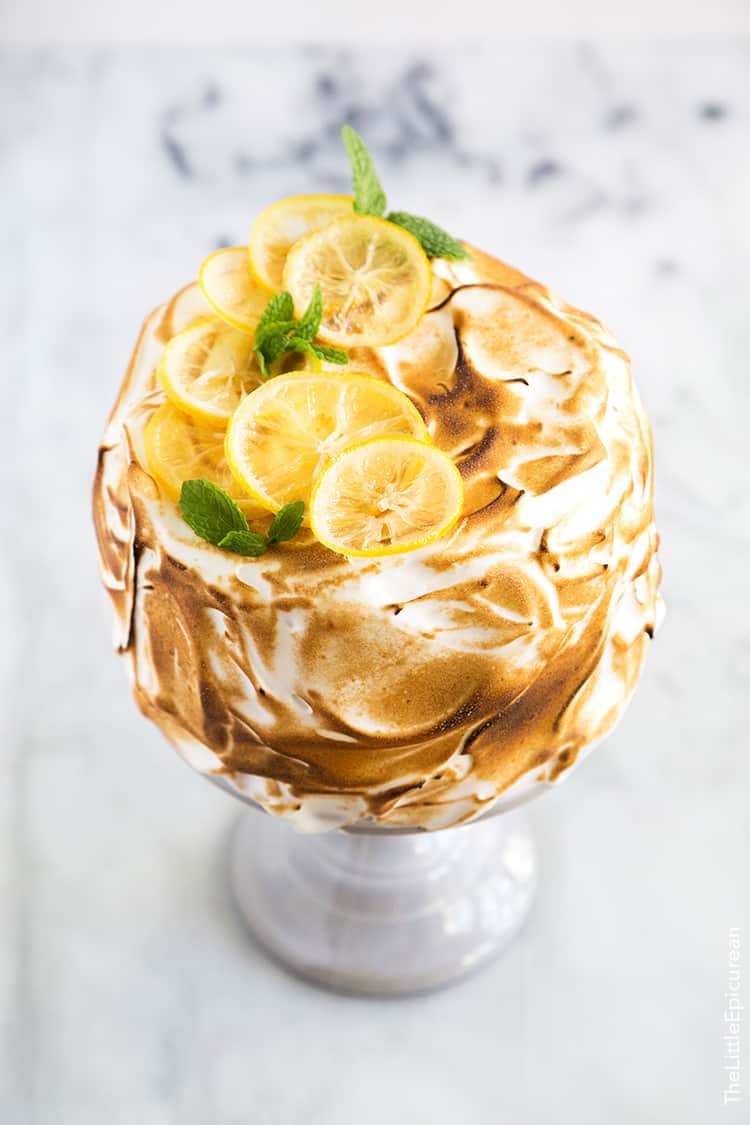 While this cake is pretty to look at, it needs to be eaten immediately. It's definitely not one of those cakes that you can display all night on the dessert table. Once you frost it with meringue, the clock starts ticking and it's time to eat!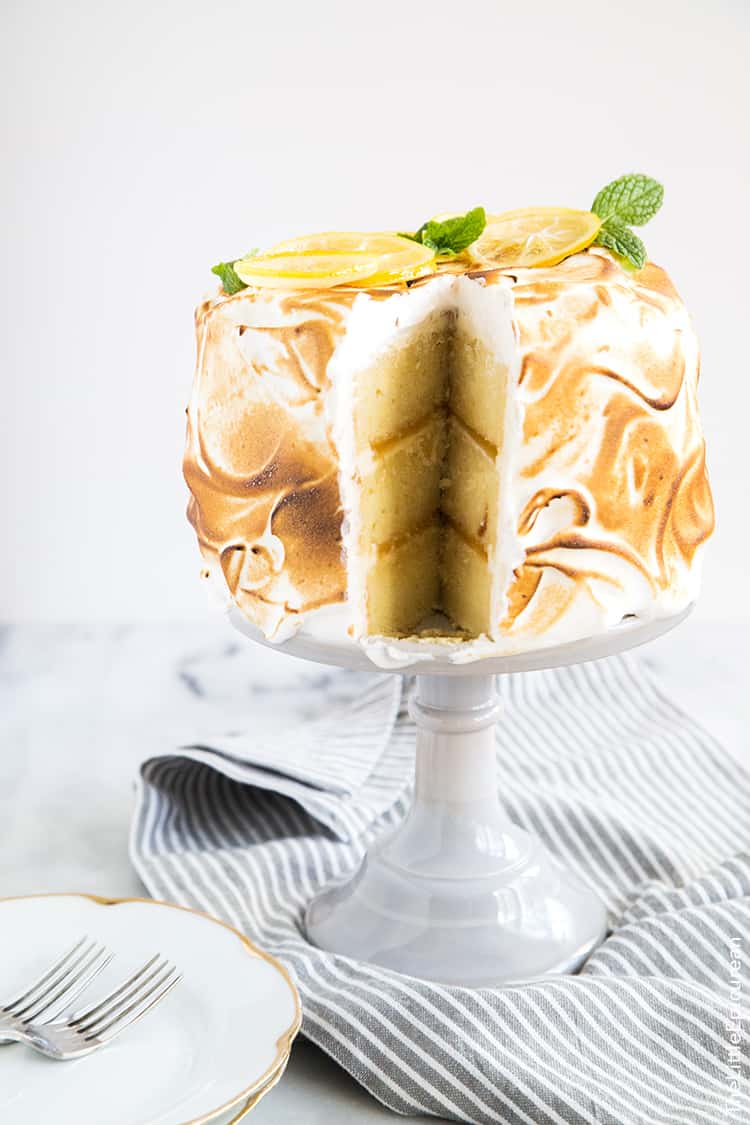 A Lemon Dessert for non-lemon fans:
Believe it or not, I used to hate lemon desserts. I found lemon baked goods tasted eggy or acidic. I couldn't shake off that metallic flavor I associated with lemon curd. Luckily, over the years (especially thanks to Alex), I've come to appreciate all things lemon.
Once in a while I'll stumble upon a terribly eggy lemon bar, but other times I'm surprised by the most amazing lemon cheesecake. Some things take time. Some things require patience.
This lemon meringue cake is the perfect bite to ease into lemon flavored sweets. Give it a try!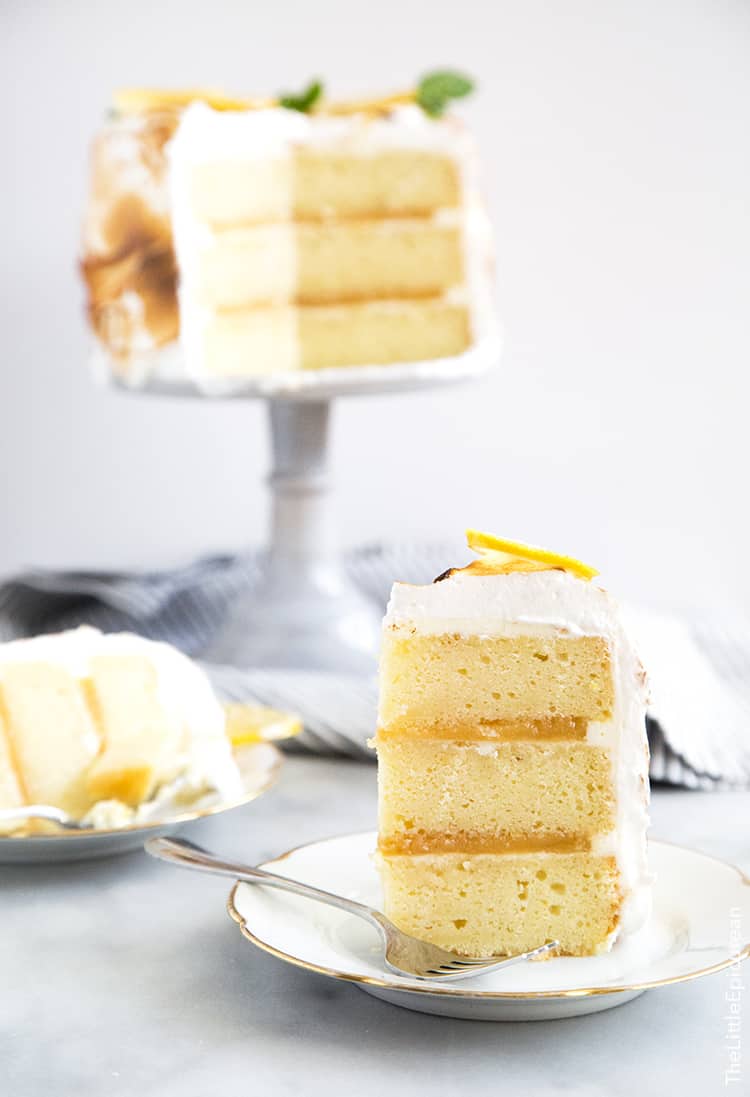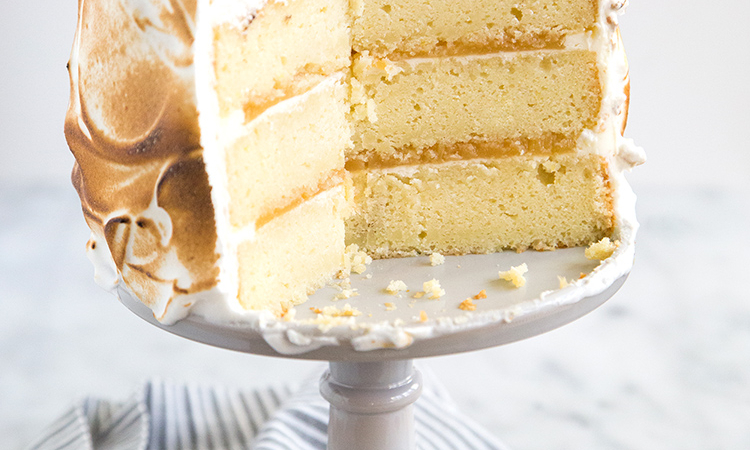 Lemon Meringue Cake
Three layers of lemon buttermilk cake filled with lemon curd and frosted with lemon buttercream. Assembled cake is coated with meringue and toasted. Top with candied lemons for the finishing touch!
Yield: 6-inch cake
Ingredients
Lemon Buttermilk Cake:
2 ⅔

cup

all-purpose flour

½

teaspoon

baking soda

¼

teaspoon

kosher salt

1

cup

unsalted butter,

room temp

1 ½

cup

granulated sugar

1

Tablespoon

finely grated lemon zest

4

large eggs,

room temp

1 ¼

cup

whole milk,

room temp

5

Tablespoon

fresh squeezed lemon juice
Lemon Buttercream:
1

cup

unsalted butter,

room temp

3

cups

powdered sugar

¼

teaspoon

kosher salt

1 ½

teaspoon

pure lemon extract

lemon curd,

store-bought or homemade, as needed
Candied lemon Slices:*
1

cup

granulated sugar

¾

cup

water

2

Tablespoon

fresh squeezed lemon juice

2

lemons
Boozy Lemon Soaking Syrup:
⅓

cup

reserved candied lemon syrup

1

oz

Grand Marnier,

or other orange/citrus liqueur
Meringue:
1

cup

granulated sugar

⅓

cup

water

4

large egg whites,

room temp

pinch

cream of tartar

½

teaspoon

vanilla extract

pinch

kosher salt
Instructions
Lemon Buttermilk Cake:
Preheat oven to 350° F. Line three 6-inch round cake pans with parchment paper. Lightly grease and set aside.

In a large bowl, whisk together flour, baking soda, and salt. Set aside.


In the bowl of a stand mixer fitted with a paddle attachment, cream butter. Add sugar and lemon zest whip until smooth. Add eggs and continue to mix on medium speed until incorporated. Scrape down bowl as needed to ensure thorough mixing.


Mix milk and lemon juice together. Set aside. Add flour mixture in three additions, alternating with sour milk mixture. Begin and finish with flour mixture. Mix until well incorporated.


Divide batter evenly among the three prepared cake pans. Level batter using a mini offset spatula, or the back of a spoon. Bake for 35-40 minutes until a toothpick inserted in center of cake comes out clean. Let cake cool in pan for 5 minutes, then run a mini offset spatula around the cake and unmold. Let cake cool to room temperature on wire rack.

Lemon Buttercream:
Using a handheld mixer or a stand mixer fitted with a paddle attachment, cream butter. Add confectioners' sugar, salt, and lemon extract. Mix until smooth. Set aside.

Candied Lemon Slices:
Thinly slice lemon and discard any seeds.

In a heavy bottomed skillet, combine sugar, water, and lemon juice. Set over medium heat and cook until sugar has dissolved. Add lemon slices and arrange in a single layer. Reduce heat to a simmer and allow lemon slices to cook until rinds are soft, about 8 minutes. Turn lemon slices occasionally for even cooking.


Gently remove candied lemon slices from pan and place on a parchment lined tray to cool. Allow to cool to room temperature. Keep chilled in fridge until ready to use. Reserve lemon sugar syrup.

Boozy Lemon Soaking Syrup:
Combined reserved lemon syrup syrup with orange liqueur of choice. Alternatively, you can also use vodka or rum. Apply to cake layers using pastry brush.
Meringue:
In a small sauce pot, combine sugar and water. Set over medium-high heat and cook to 238°F.

Meanwhile, in the bowl of a stand mixer fitted with a whisk attachment, beat egg whites and cream of tartar on low speed. Once mixture is foamy, increase speed slightly and whisk to soft peaks. By this time, the sugar syrup should have reached its desired temperature. With the mixer running on medium speed, slowly pour in the hot sugar syrup.


Once all the sugar syrup has been added, increase speed and beat until shiny, stiff peaks. Add vanilla and salt and whisk until incorporated.


Use immediately and spoon meringue over frosted cake. (See assembly below)

Assembly:
Fit a decorating bag (piping bag) with a small round tip. Fill the bag with about ½ cup of buttercream. Set aside.

In necessary, level cake layers. Place one cake round on a cake turntable. Using a pastry brush, lightly soak cake layer with boozy lemon soaking syrup.

Spread a thin layer of buttercream on cake using a small offset spatula. Using the filled piping bag, pipe a small border of buttercream along the perimeter of the cake round. This will serve as a barrier when you add lemon curd.


Add enough lemon curd to filled the buttercream boundaries. Spread lemon curd into an even layer. Place second cake layer on top. Repeat adding soaking syrup, filling cake layer with buttercream and lemon curd. Place the final third layer on top. This layer will not be filled with lemon curd.


Spread buttercream around the cake to create a "crumb coat" layer to seal in any crumbs. Chill cake in the fridge for 15-20 minutes to set frosting. Add another coat of buttercream and chill for another 15 minutes. Spoon meringue over chilled cake. Lightly brown meringue using a kitchen torch. Add candied lemon slices and fresh mint, if desired. Serve immediately.