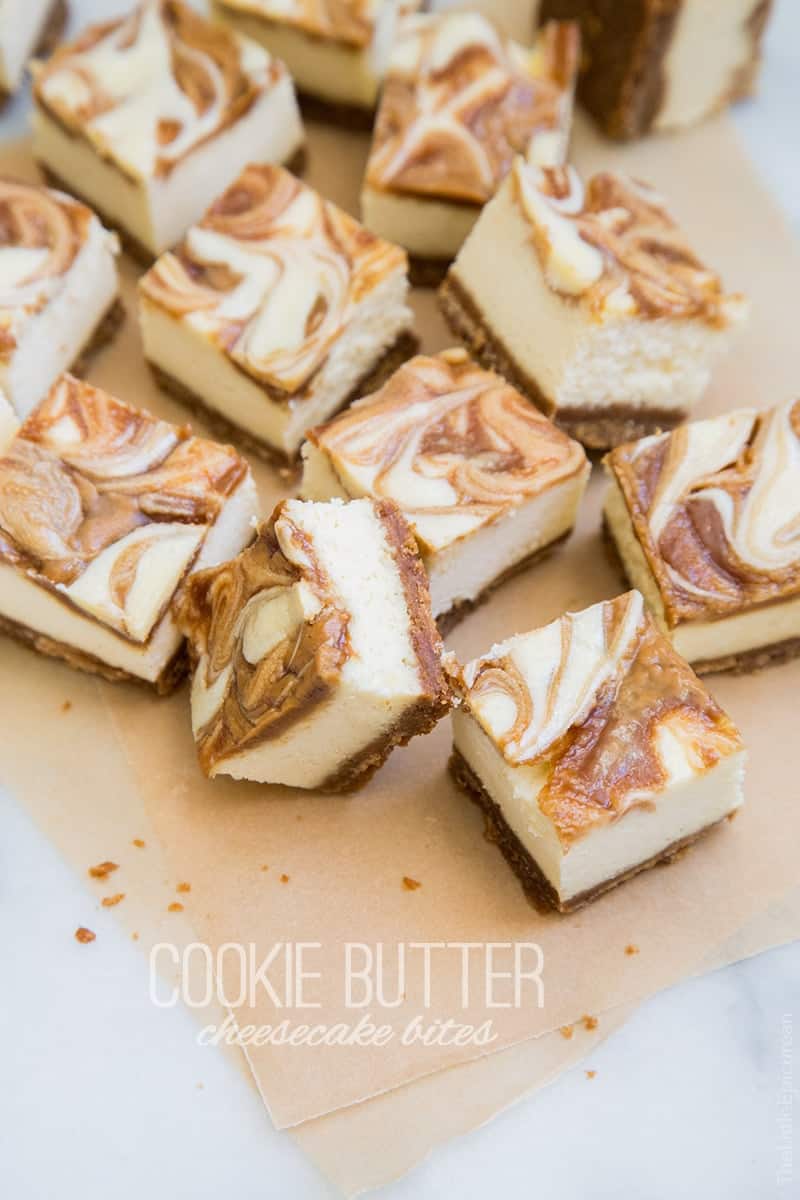 Trader Joe's is one of my happy places. Be it cheese, wine, or a bouquet of flowers, TJ's has what I need. But more importantly, TJ's always has Speculoos Cookie Butter in stock.
Cookie butter should really come with a warning label because it is DANGEROUS stuff. You start off by spreading a little on your morning toast. A few days later you're eating tablespoons out of the jar at midnight.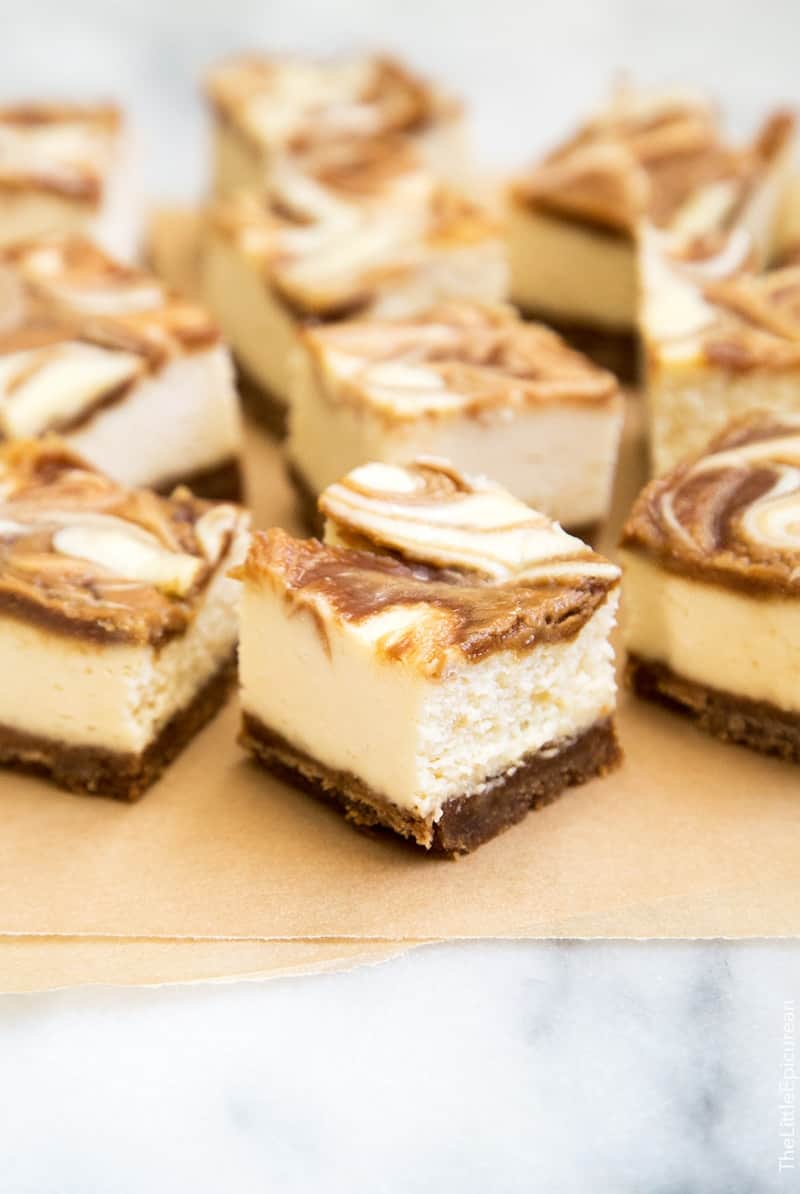 While shopping at TJ's, I try really hard to bypass the freeze aisle. I get too tempted by all the desserts and quick fix frozen dinners. A few weeks ago, I HAD to stop by the freeze section to stock up on some frozen fruits for my morning green smoothies and out of the corner of my eye I spotted it. Speculoos Cookie Butter Cheesecake Bites.
I may have gulped a little when I read the label. I stood there shocked for a minute in awe of this genius dessert. Sure, I could have just bought a box, but where's the fun in that? I quickly went home and told Alex about the unicorn I saw.
Since my pantry is well stocked with cookie butter, I set to work on replicating this cookie butter cheesecake. Even if it may seem like a hassle, I'd rather make it myself. This way, in the end, if my efforts are successful I have no problem rewarding myself with a slice or two. (Actually, it's not a reward. It's a RIGHT.)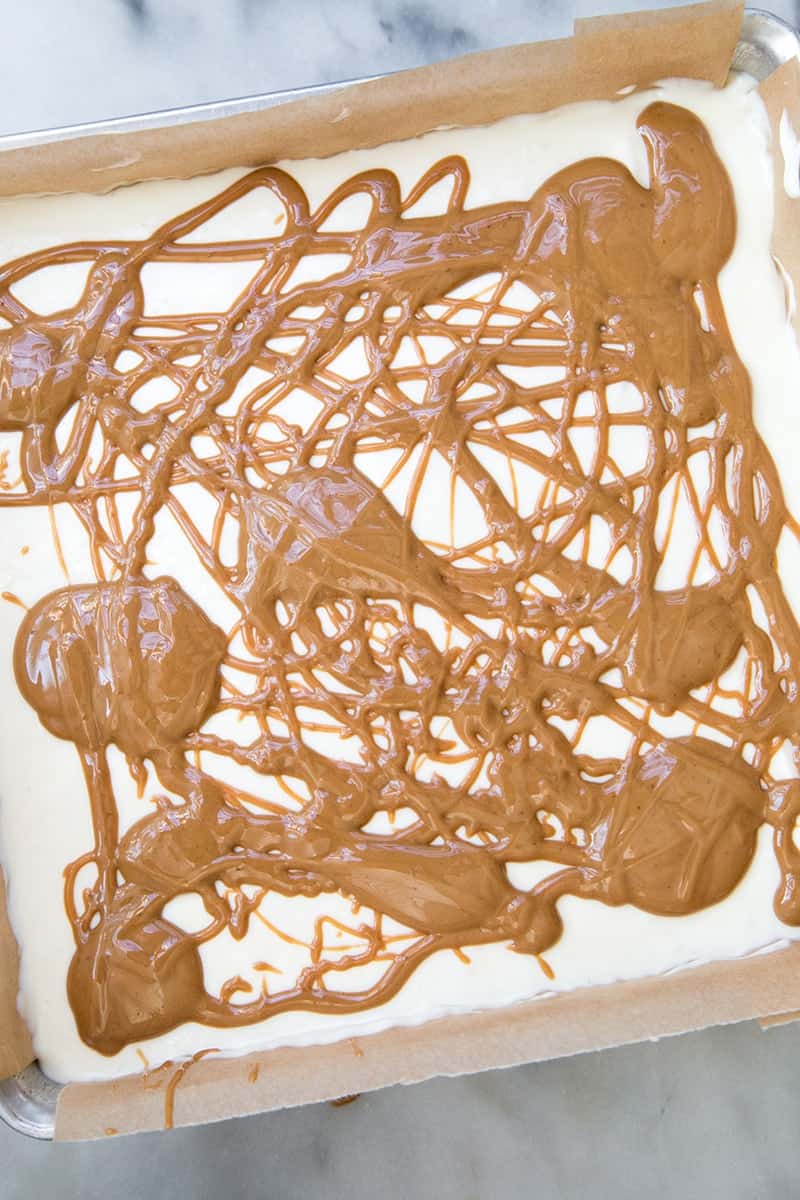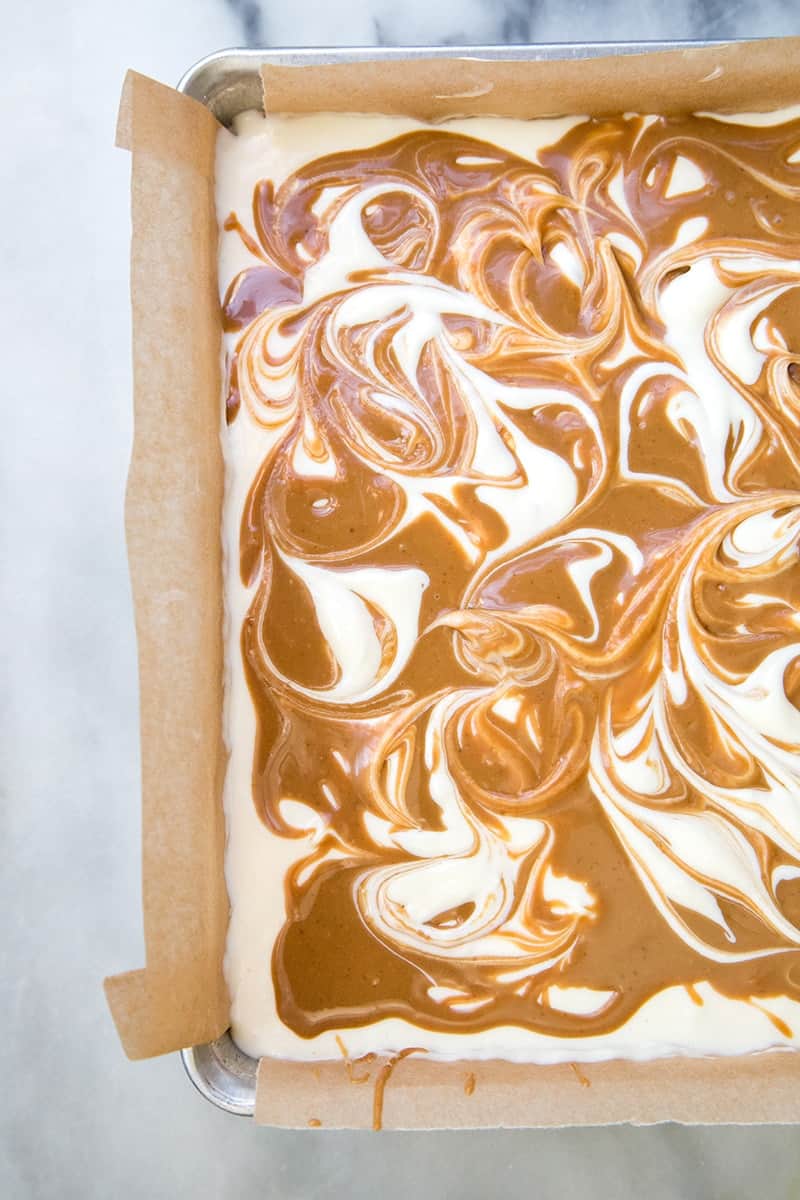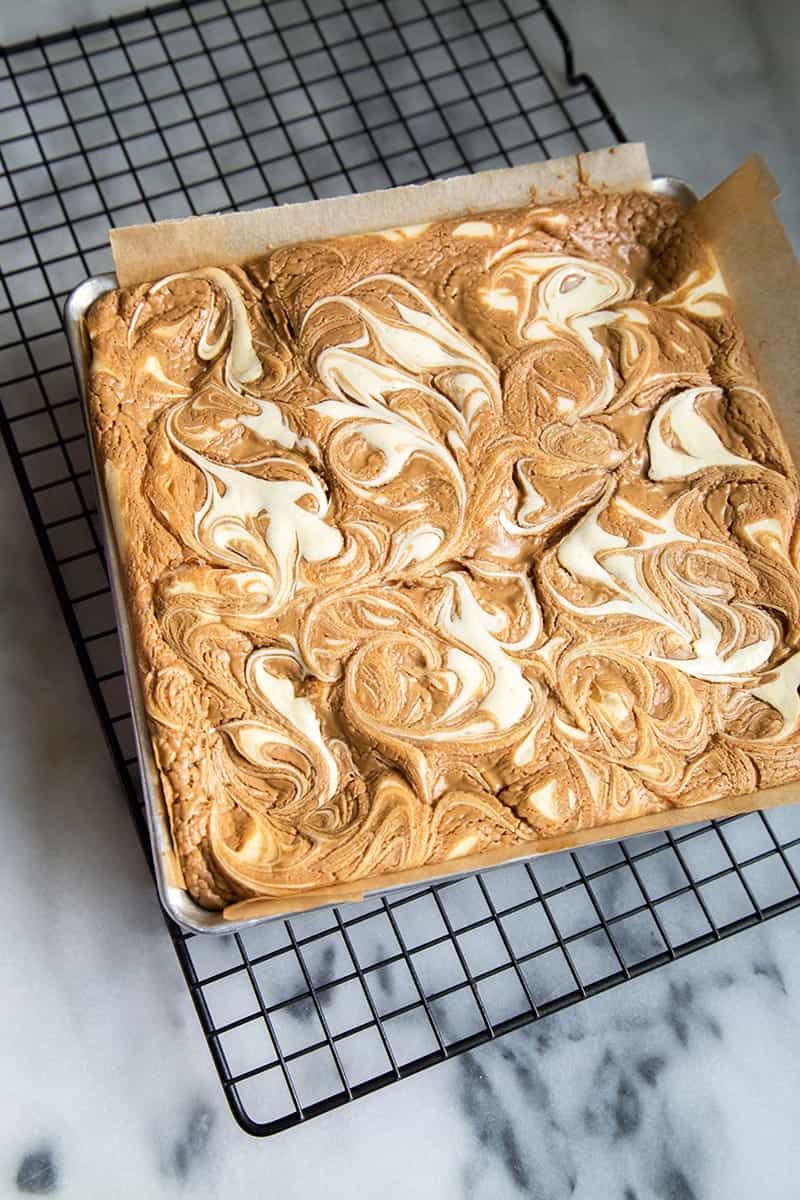 During baking, the cheesecake may puff up a bit. Don't worry. It will settle back down. Also to note after baking, the swirl top may look dry and crackled. Once the cheesecake has cooled to room temperature, let the cheesecake rest in the fridge overnight. The following morning, it will look like the photo below. The swirl top will regain it's moisture and be absolutely PERFECT.
The hardest part about this cookie butter cheesecake isn't making it. It's not even waiting for it to cool. The most difficult part is not devouring the entire tray in one sitting. That is why you must slice it into small bite sized pieces!
Cookie Butter Cheesecake Bites
Ingredients:
Cookie Crust:
5 oz Speculoos Cookies (16 cookies), or Biscoff cookies
2.2 oz graham crackers (4 full sheets)
1/4 tsp fine sea salt
6 Tbsp unsalted butter, melted
Cookie Butter Cheesecake Swirl:
16 oz cream cheese, softened, room temperature
3 Tbsp sour cream
3/4 cup granulated sugar
2 large eggs, room temperature
1 1/2 tsp pure vanilla extract
1/2 tsp fine sea salt
1/3 cup Speculoos Cookie Butter, or Biscoff European Cookie Spread
Directions:
Preheat oven to 325 degrees F. Line an 8-inch square baking pan with parchment or foil, allowing for an overhang on all four sides. Set aside.

Cookie Crust:

In a food processor, pulse together Speculoos Cookies, graham crackers, and salt until mixture resembles even coarse sand. Transfer to a medium bowl. Add melted butter and mix until combined. Press mixture into the bottom of the prepared baking pan to form the crust. Set aside.
Cookie Butter Cheesecake Swirl: Using an electric mixer, beat cream cheese until smooth. Add sour cream and mix until incorporated. Scrape down bowl as needed to ensure thorough mixing. Add sugar. Mix on low speed until mixture is smooth.
Add eggs one a time on low speed. Add vanilla and salt. Continue to mix on low speed until mixture is smooth. Pour cheesecake batter over cookie crust. Use a mini offset spatula to level cheesecake.
Place cookie butter in a microwave safe bowl. Microwave for 10-15 seconds until cookie butter is fluid. Be careful not to burn cookie butter in the microwave. Drizzle fluid cookie butter over cheesecake batter. Using a knife or a chopstick, swirl together cheesecake batter and cookie butter.
Bake for 45-50 minutes until the center of the cheesecake no longer jiggles and the edges of the cheesecake has slightly pulled away from the pan. Cheesecake may puff slightly in the oven, but will flatten once cooled.
Let cheesecake cool to room temperature in pan. Transfer to fridge and let chill for at least 1 hour, overnight is best. Once cheesecake is chilled throughout, remove from pan by lifting the parchment overhang. Slice cheesecake into bite-sized squares.*
*Note: To achieve clean slices, freeze cheesecake for 30 minutes. Slice with a sharp knife. Be sure to wipe knife clean after each slice. 
Inspired by the Speculoos Cookie Butter Cheesecake Bites from Trader Joe's