Cheesecake bites made with a speculoos cookie crust. The swirl of cookie butter incorporated into the luscious cream cheese filling is pure heaven!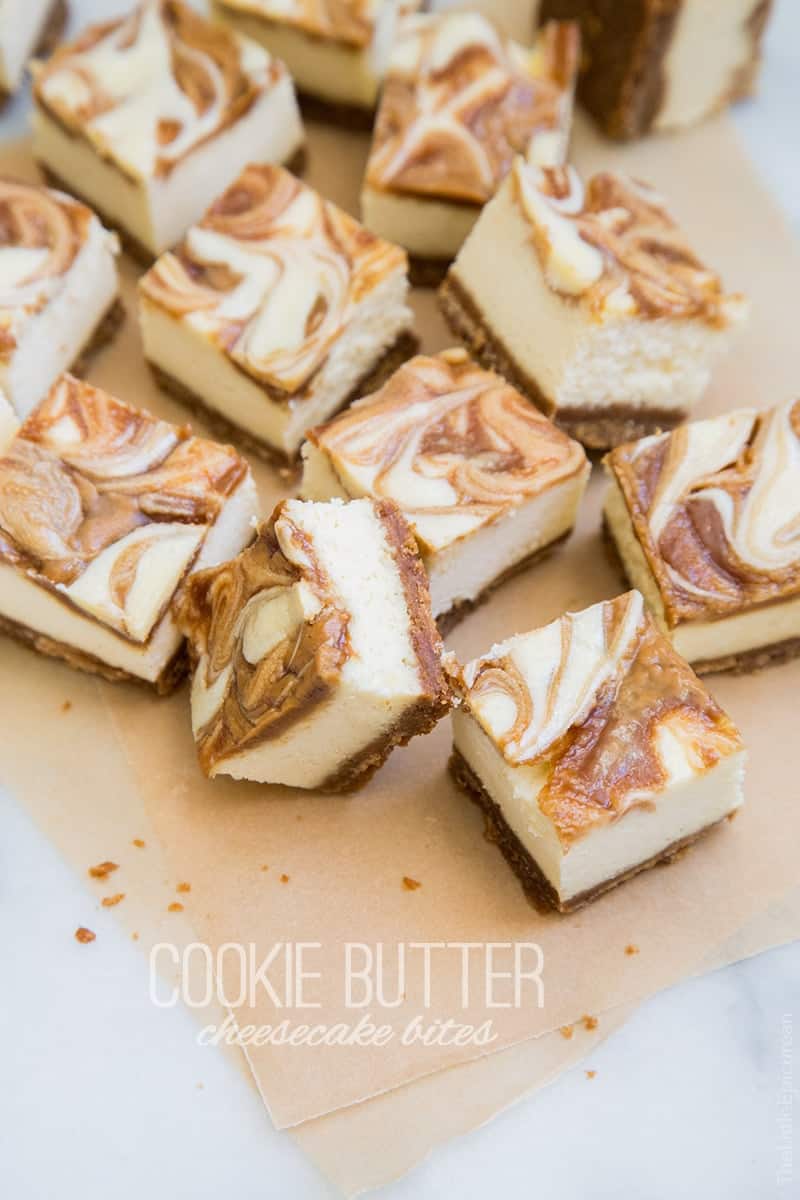 Trader Joe's is one of my happy places. Be it cheese, wine, or a bouquet of flowers, TJ's has what I need.
But more importantly, TJ's always has Speculoos Cookie Butter in stock.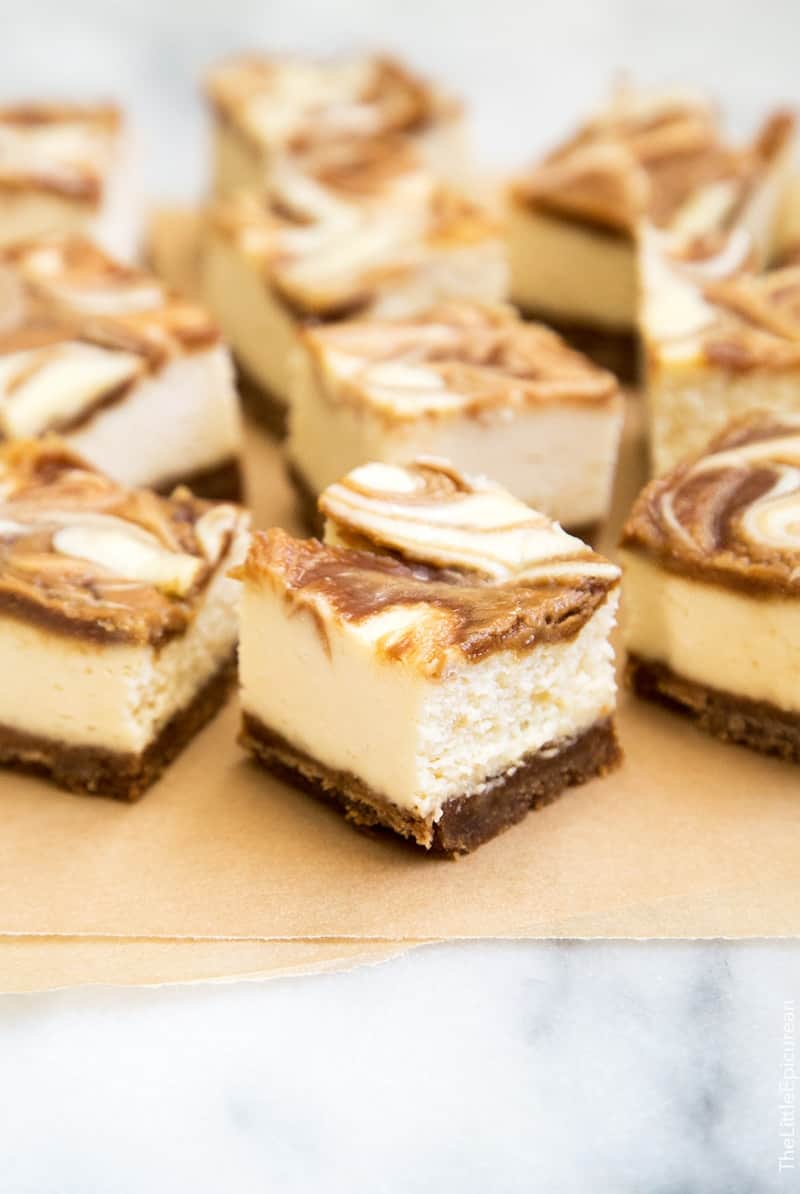 Biscoff Cheesecake with Cookie Crust
I stubbled upon the the Speculoos Cookie Butter Cheesecake Bites at my local Trader Joe's. It was in the freezer section calling my name. (UPDATE: the product is no longer available as of 2022)
Since my pantry is well stocked with cookie butter, I set to work on replicating this cookie butter cheesecake.
Trader Joe's Speculoos cookies are similar to Biscoff Cookies. Butter butter is the same as Biscoff European cookie spread.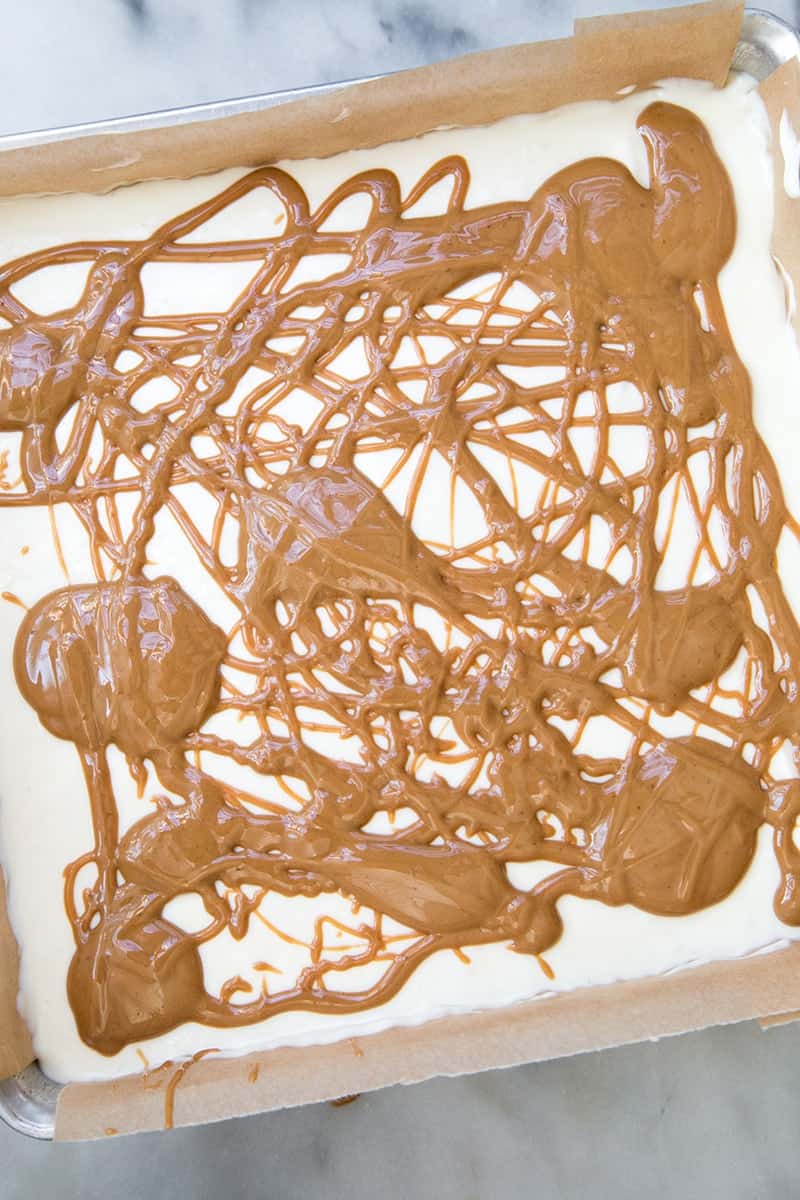 Cookie Butter Cheesecake Components:
Cookie Crust
Cheesecake Filling
Cookie Butter Swirl Topping
Crust is a combination of speculoos cookies (Biscoff cookies) and graham cracker. The mixture of those two creates a well balanced flavor.
Cheesecake filling is a simple mixture of softened cream cheese, sour cream, sugar, and eggs. The great thing about this cheesecake- it doesn't require a water-bath!
Gently heat up the cookie butter until it is smooth, thin, and fluid. Be careful not to burn or overheat the cookie butter.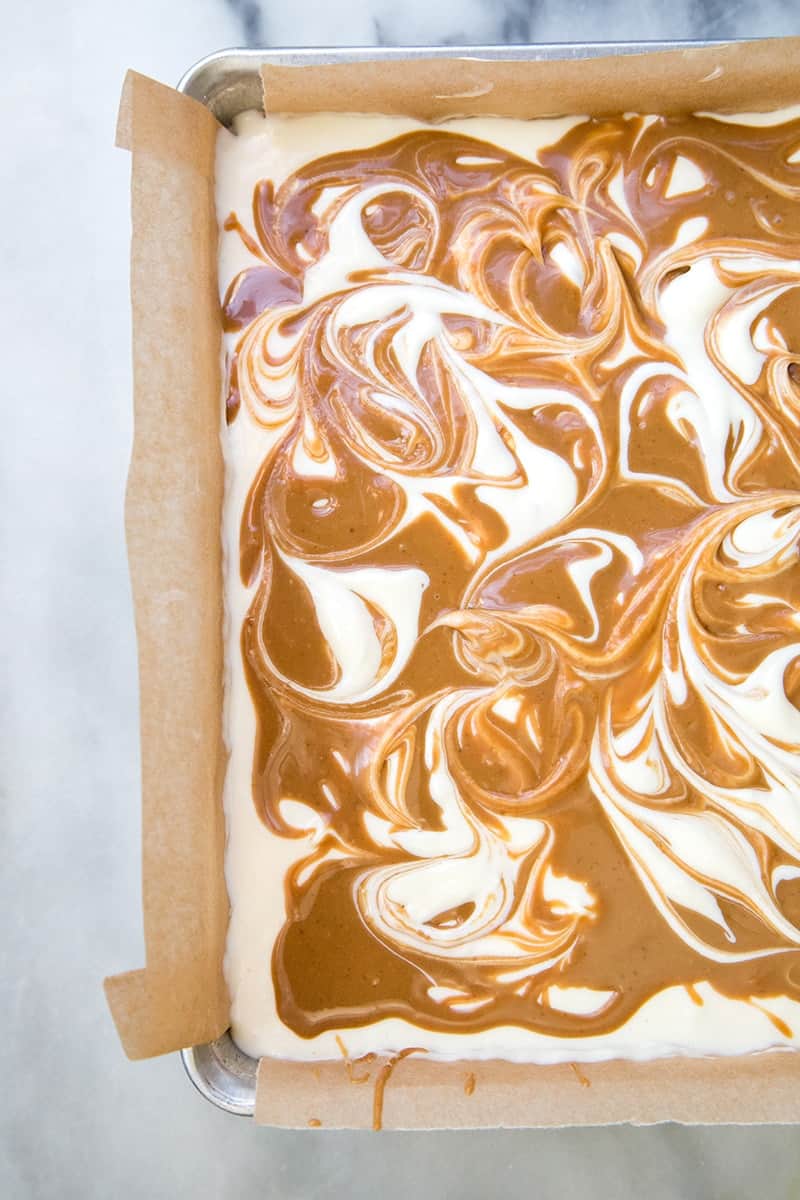 Press cookie curst into the bottom of a parchment lined 8-inch square baking pan. Top with cheesecake filling.
Drizzle loosened cookie butter over cheesecake batter filing. Use a knife or chopstick to swirl together cheesecake batter and cookie butter as shown in the image above.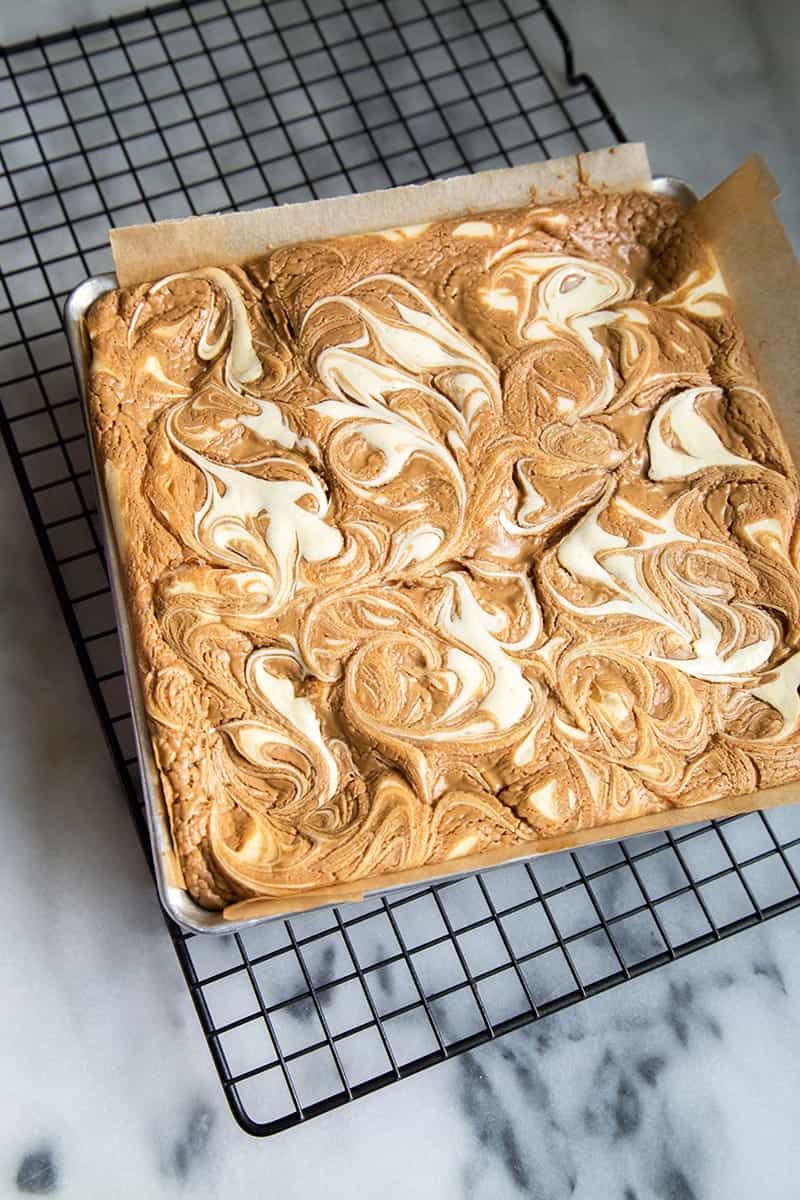 During baking, the cheesecake may puff up a bit. Don't worry. It will settle back down. Also to note after baking, the swirl top may look dry and crackled.
Once the cheesecake has cooled to room temperature, let the cheesecake rest in the fridge overnight. The following morning, it will look like the photo below. The swirl top will regain it's moisture and be absolutely PERFECT.
The hardest part about this cookie butter cheesecake isn't making it. It's not even waiting for it to cool. The most difficult part is not devouring the entire tray in one sitting. That is why you must slice it into small bite sized pieces!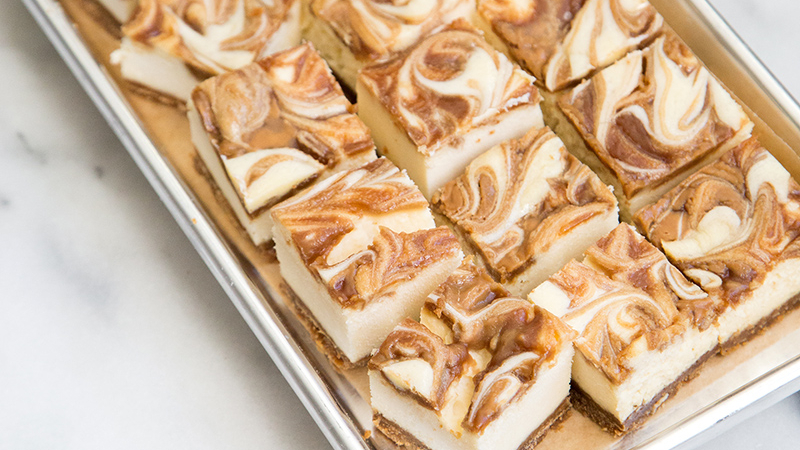 Cookie Butter Cheesecake Bites
These cheesecake bites are made with a speculoos cookie crust. It has a swirl of cookie butter in the luscious cream cheese filling that is pure heaven!Yield: 8-inch square pan
Ingredients
Cookie Crust:
5

oz

Speculoos Cookies

(16 cookies), or Biscoff cookies

2

oz

graham crackers

(4 full sheets)

¼

teaspoon

kosher salt

6

Tablespoon

unsalted butter,

melted
Cookie Butter Cheesecake Swirl:
16

oz

cream cheese,

softened

3

Tablespoons

sour cream

¾

cup

granulated sugar

2

large eggs,

room temp

1 ½

teaspoon

pure vanilla extract

½

teaspoon

kosher salt

⅓

cup

Speculoos cookie butter*
Instructions
Preheat oven to 325°F. Line an 8-inch square baking pan with parchment or foil, allowing for an overhang on all four sides. Set aside.

Cookie Crust: In a food processor, pulse together Speculoos Cookies, graham crackers, and salt until mixture resembles even coarse sand. Transfer to a medium bowl. Add melted butter and mix until combined. Press mixture into the bottom of the prepared baking pan to form the crust. Set aside.

Cookie Butter Cheesecake Swirl: Using an electric mixer, beat cream cheese until smooth. Add sour cream and mix until incorporated. Scrape down bowl as needed to ensure thorough mixing. Add sugar. Mix on low speed until mixture is smooth.

Add eggs one a time on low speed. Add vanilla and salt. Continue to mix on low speed until mixture is smooth. Pour cheesecake batter over cookie crust. Use a mini offset spatula to level cheesecake.

Place cookie butter in a microwave safe bowl. Microwave for 10-15 seconds until cookie butter is fluid. Be careful not to burn cookie butter in the microwave. Drizzle fluid cookie butter over cheesecake batter. Using a knife or a chopstick, swirl together cheesecake batter and cookie butter.

Bake for 45-50 minutes until the center of the cheesecake no longer jiggles and the edges of the cheesecake has slightly pulled away from the pan. Cheesecake may puff slightly in the oven, but will flatten once cooled.

Let cheesecake cool to room temperature in pan. Transfer to fridge and let chill for at least 1 hour, overnight is best. Once cheesecake is chilled throughout, remove from pan by lifting the parchment overhang. Slice cheesecake into bite-sized squares.*

Notes
Speculoos cookies are also known as Biscoff cookies
Cookie butter is also known as Biscoff European cookie spread
To achieve clean slices, freeze cheesecake for 30 minutes. Slice with a sharp knife. Be sure to wipe knife clean after each slice.
Inspired by the 

Speculoos Cookie Butter Cheesecake Bites

 from Trader Joe's
All images and text © The Little Epicurean
More no water bath cheesecake recipes: