Rich and creamy Biscoff cheesecake. This decadent dessert features Biscoff cookie crust and melted cookie butter spread topping.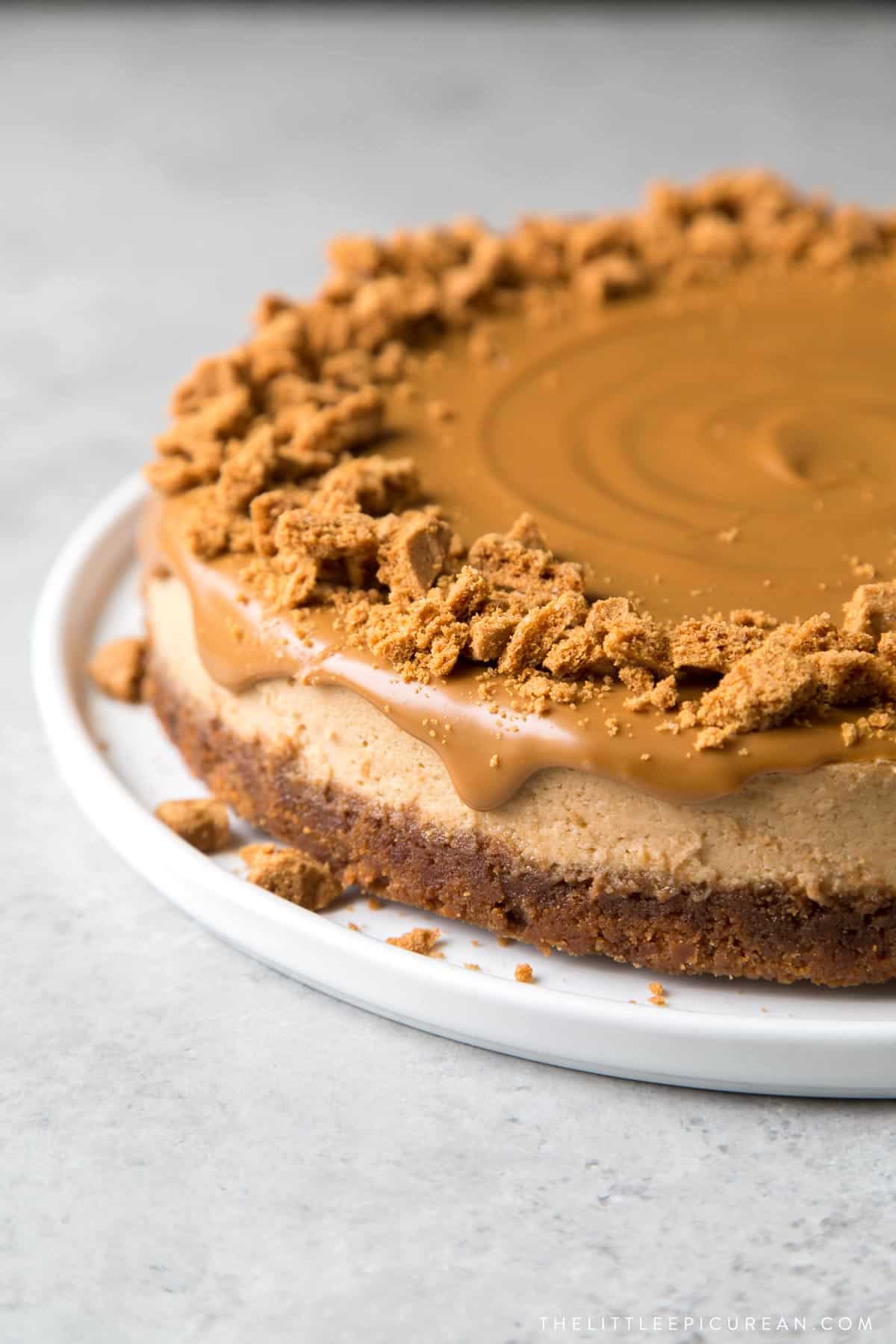 Many years ago, (back in 2016) I shared these cookie butter cheesecake bites.
This new Biscoff Cheesecake recipe is an updated, grander version of those cheesecake bites!
Ingredient Intel
What is Biscoff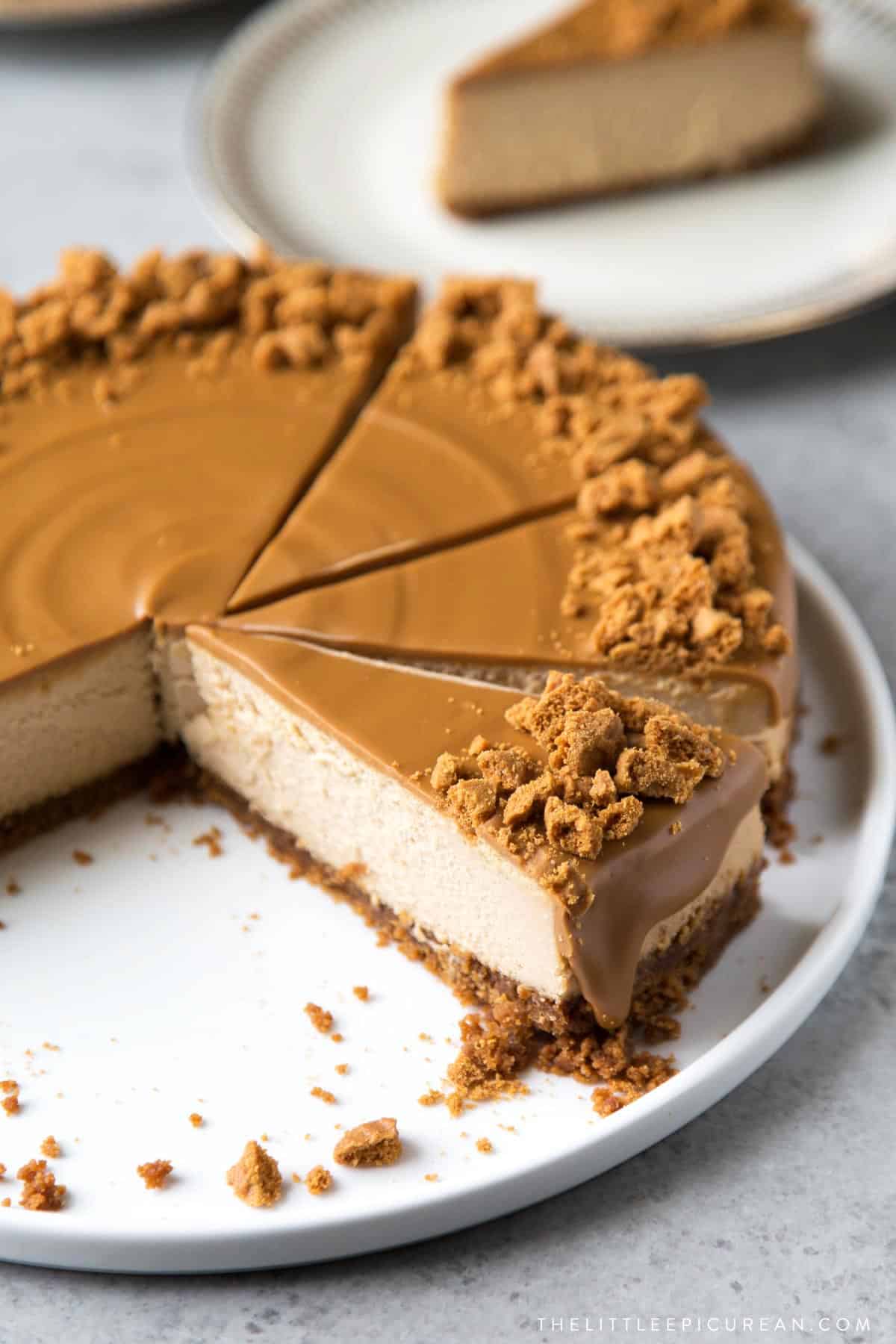 Lotus Biscoff History
According to Lotus Bakeries, the name "Biscoff" was first used in 1986. The name combines the words "biscuit" and "coffee."
"Biscoff" is meant to reflect the taste and nature of the cookie: the crunchy, sweetness of biscuits plus the deep caramelized flavors of coffee.
These tasty biscuit-cookies makes the perfect base for banana cream pies and cheesecakes. It's a far tastier alternative to graham crackers!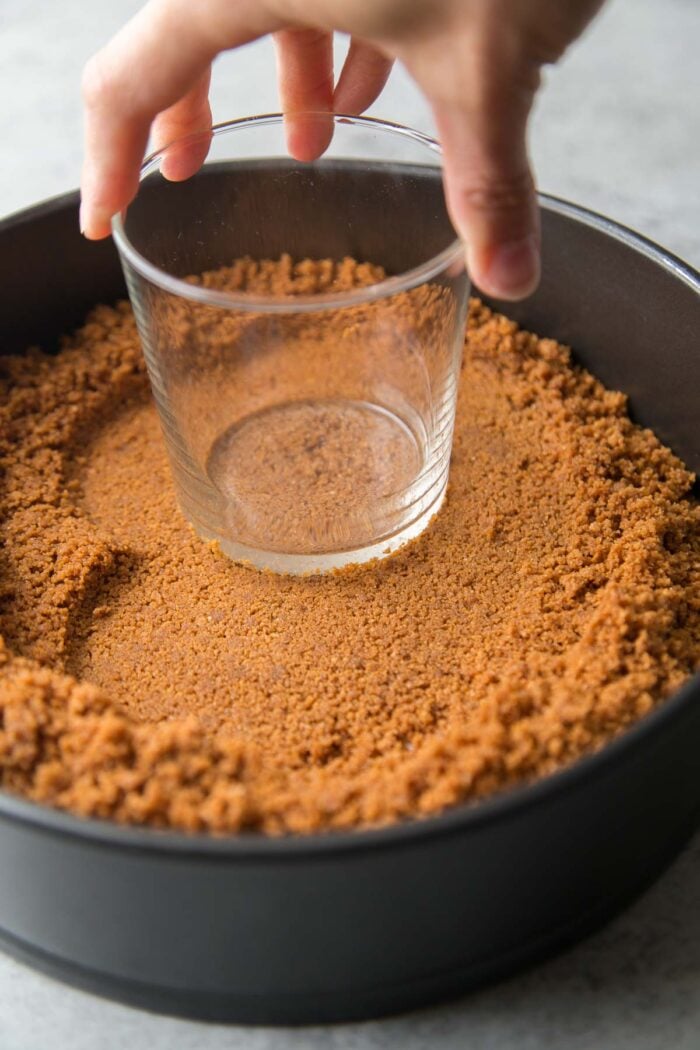 Assembly and Cooking
CRUST: Mix together ground up Biscoff cookies with melted butter. Pack mixture into 9-inch springform pan. Bake for about 8 minutes until crust is set.
WATERBATH: Set foil wrapped springform pan in a large roasting pan.Pour cheesecake batter into prepared springform pan. Pour about 6-8 cups of boiling water into the roasting pan and bake!
COOLING: Turn off oven heat. Crack oven door to slowly let oven and cheesecake cool. Remove and cool cheesecake to room temperature. Transfer to fridge and keep chilled.
TOPPING: Melt Biscoff spread in the microwave until smooth. Pour over chilled cheesecake. Garnish top of cheesecake with crushed Biscoff cookies. Chill in the fridge to set up.
Cooking Terms
What is a water bath?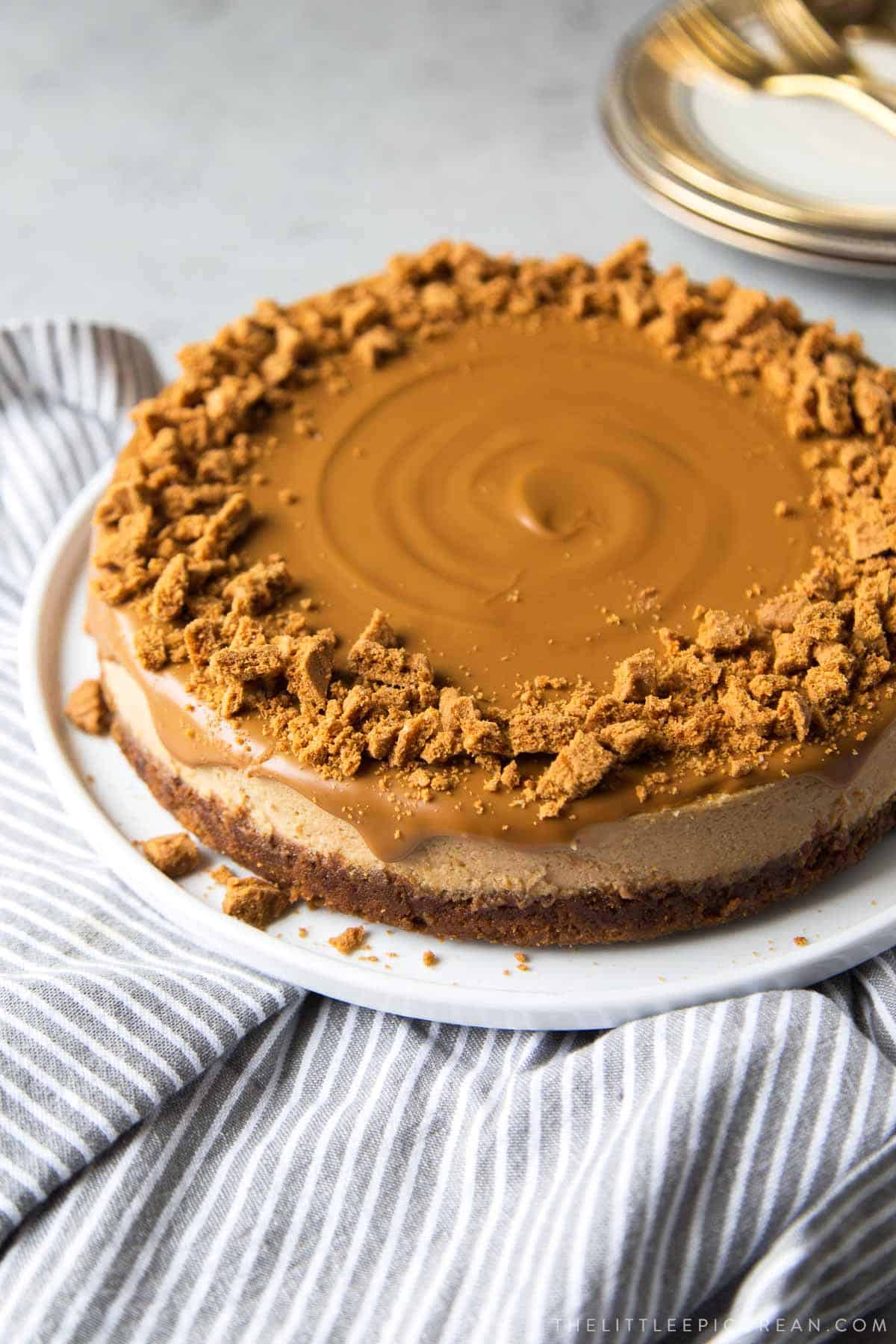 Biscoff Spread versus Cookie Butter
Biscoff refers to the crunchy cookie. Cookie butter is another name for Biscoff spread. It is Biscoff cookie in paste form.
"Cookie butter" is made by crushing and processing speculoos cookies until it forms a smooth, creamy spread.
Biscoff spread is stocked in the same aisle as peanut butter, nut butters, and Nutella. Or, purchase it online: Amazon, Target, or World Market.
NOTE: Biscoff spread is has a creamy consistency at room temperature. It melts into a liquid when heated. And, it hardens when chilled.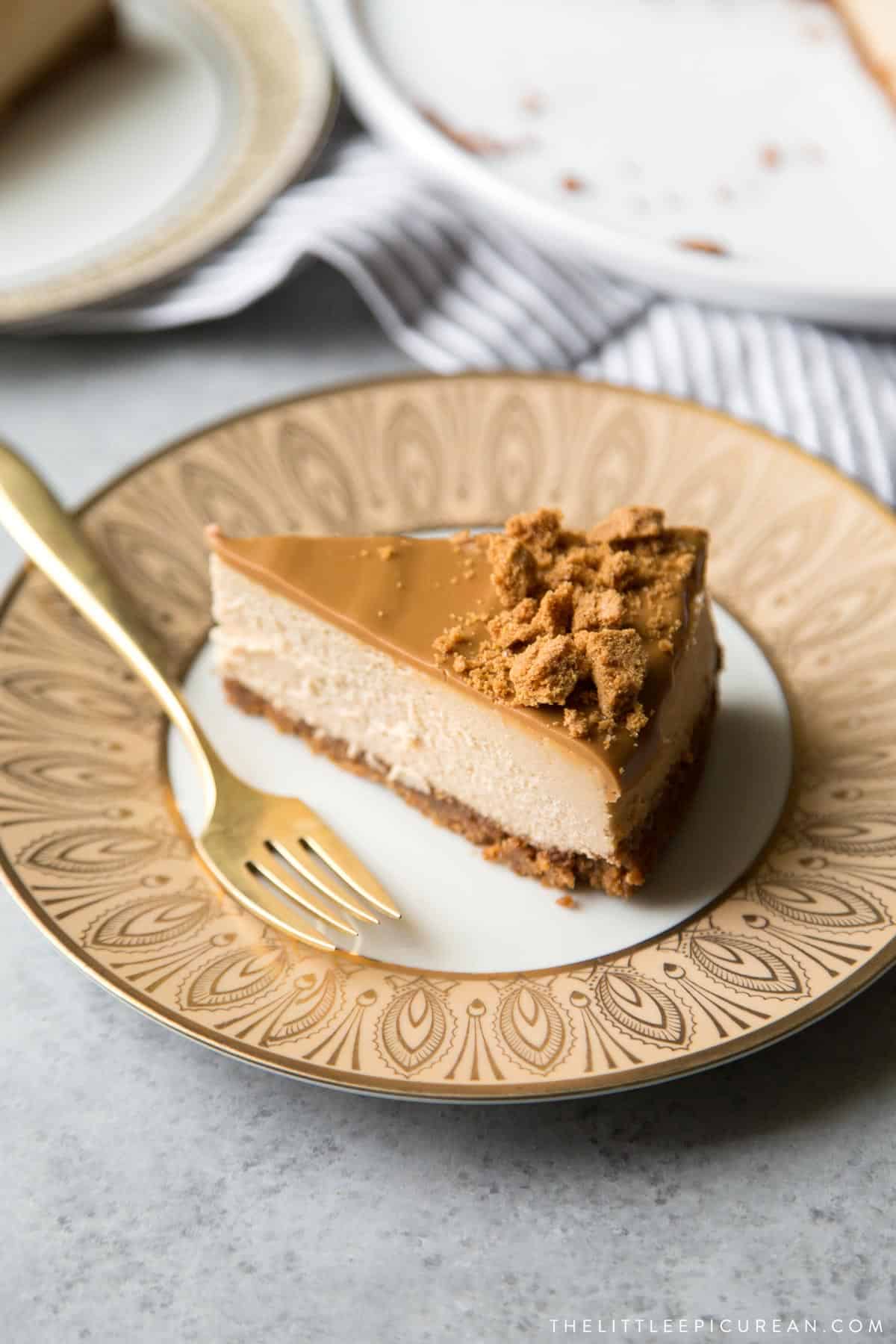 Tips for Making the Perfect Cheesecake
The best cheesecakes are baked "low and slow." They are usually baked in a water bath to prevent overcooking and ensure a silky smooth texture.
Ensure all ingredients are room temperature before mixing! This ensures the batter mixes smooth and creamy.
Line the pan with foil or use a round cake board. This will help unmolding the cheesecake a hundred times easier!
Slowly cool the baked cheesecake. A great cheesecake requires time and patience. However, the effort will be well rewarded.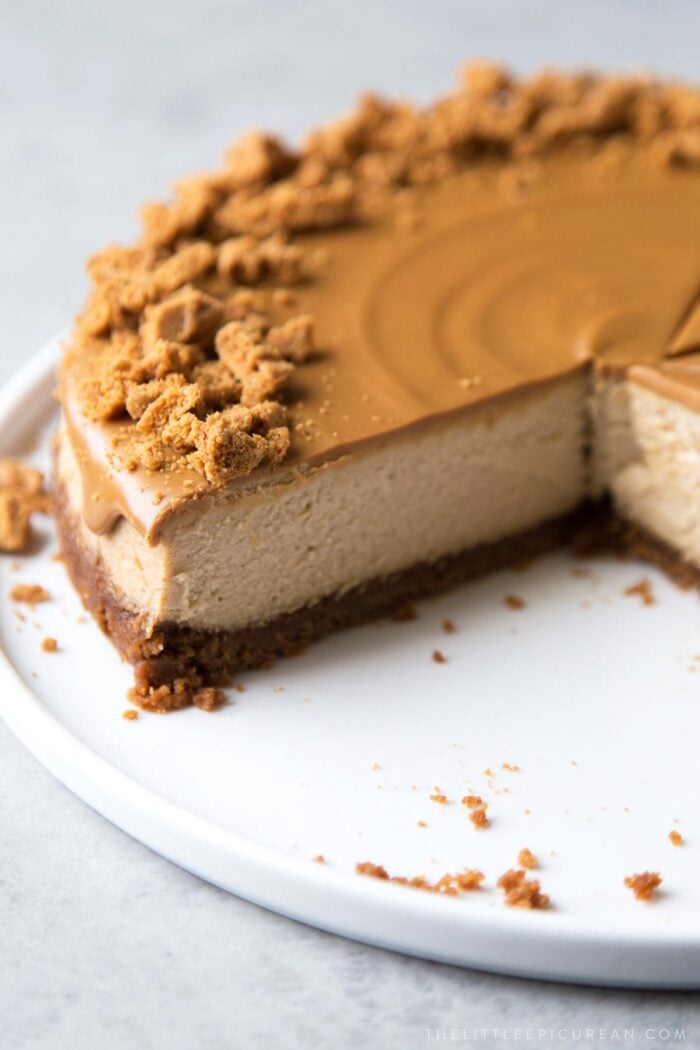 How to prevent cheesecake cracks
There are three main reasons why your cheesecake could have cracks on top.
Oven temperature was too hot. Or, you didn't use a water bath.
Too much air incorporated during mixing. This caused the batter to rise significantly in the oven, followed by a drastic fall after baking.
Sudden changes in temperature during or after baking. (This is usually the main culprit!)
To prevent these three possible problems:
Use an in-oven thermometer (totally worth it for about $5!) to confirm proper oven temps.
Scape down the sides of bowl often while mixing to ensure thorough incorporation of ingredients without over-mixing.
SLOWLY cool cheesecake. This process takes about 2 hours.

Turn off oven. Crack oven door slightly ajar to slowly release hot oven air for about 1 hour. (If door won't stay open, prop it open with a wooden spoon.)
Remove cheesecake from oven and out of cooled water bath. Cool at room temp for about 45 minutes until surface is no longer warm to the touch.
Transfer to fridge and thoroughly chill until ready to serve.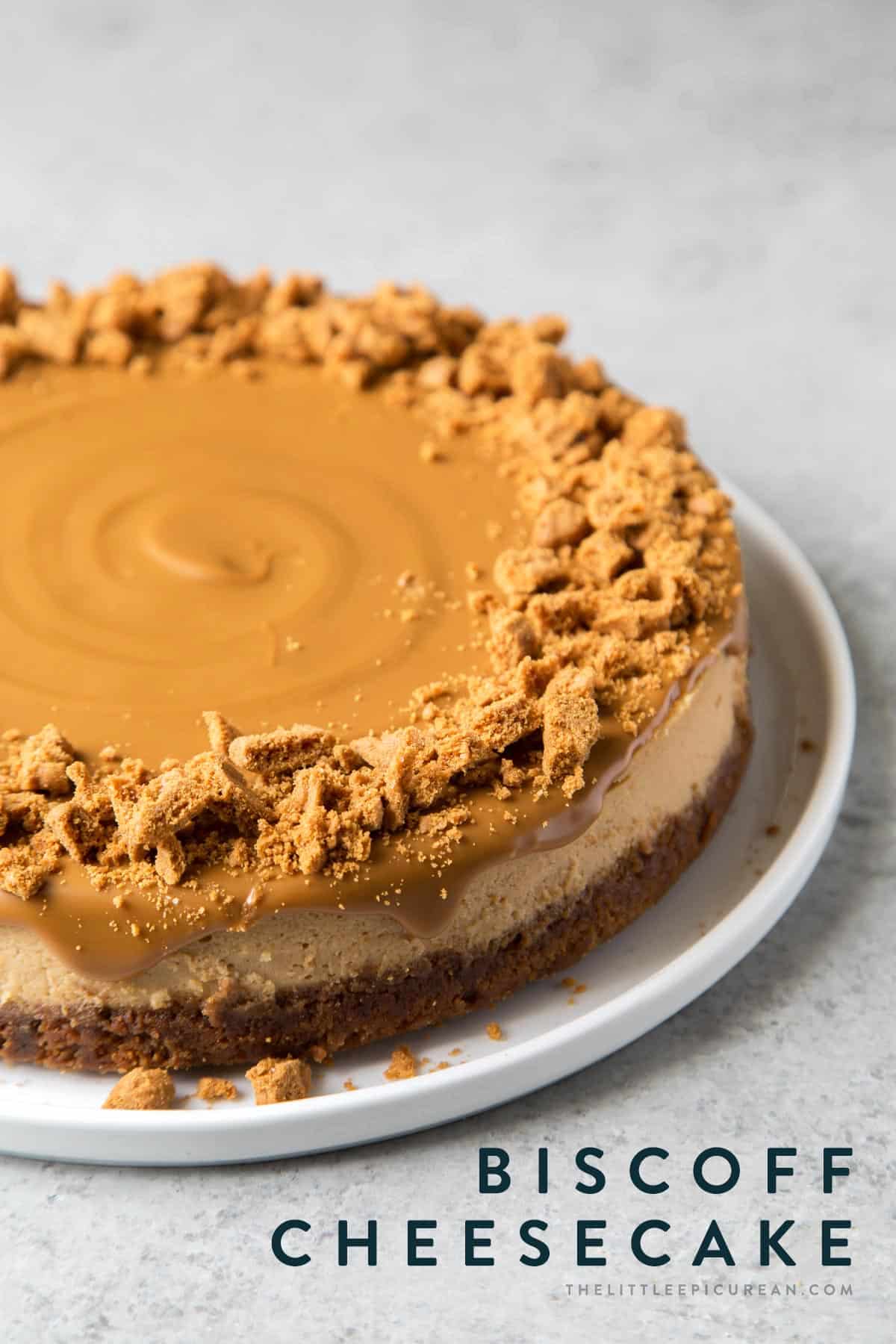 Related Cookie Butter Recipes
Biscoff Cheesecake
Rich and creamy Biscoff cheesecake. This decadent dessert is made with a Biscoff cookie crust and topped with melted cookie butter spread. Yield: 9-inch round
Equipment
food processor

9-inch springform pan

large roasting pan

stand mixer or hand mixer
Ingredients
Biscoff Crust:
32

pieces

Biscoff cookies

(252 g)

5

Tablespoons

unsalted butter

(70 g), melted

¼

teaspoon

kosher salt
Cheesecake Filling:
24

oz

brick-style cream cheese *

(3 x 8-oz packages), room temp

¾

cup

light brown sugar

(150 g), packed

½

teaspoon

kosher salt

¾

cup

Biscoff spread

(180 g)

2

large eggs,

room temp

½

Tablespoon

vanilla extract

½

cup

sour cream

(120 g), room temp

¼

cup

heavy cream

(55 g), room temp
Topping:
½

cup

Biscoff spread

(120 g)

roughly chopped Biscoff cookies,

as needed
Instructions
Crust:
Preheat oven to 350℉.

(Optional) Line bottom of 9-inch springform pan with a 9-inch cake board or foil to ensure easy un-molding and removal of cake.

In a food processor, pulse Biscoff cookies to desired consistency (such as fine ground, roughly ground, or crushed). Stir together ground cookies with salt and melted butter until thoroughly combined.

Transfer mixture into the bottom of prepared springform pan. Use a tamper or flat bottomed cup to pack crust into an even layer to form the crust.

Bake for 8-10 minutes until crust is set. Remove from oven. Cool crust while you prepare filling. Reduce oven temperature to 325℉.
Filling:
In the bowl of a stand mixer fitted with a paddle attachment, beat cream cheese on low speed until smooth, about 5 minutes. Scrape down sides of bowl as needed to ensure thorough mixing.

Add in brown sugar and salt. Mix on medium speed until well incorporated, about 3 minutes. Add in Biscoff cookie butter spread. Mix on medium speed until thoroughly distributed, about 1 minute. Scrape down sides of bowl as needed.

With the mixer running on low speed, add eggs one at a time, ensuring each egg is incorporated before adding the next. Scrape down sides of bowl as needed. Add sour cream, heavy cream, and vanilla extract. Mix on low speed until batter is homogenous and there are no longer any streaks of white.

Wrap cooled springform pan in heavy duty foil. Use enough foil to ensure water cannot seep through the bottom of the springform pan. (To be safe, you may want to add two or three layers of foil.) Set aside.

Bring about 6-8 cups of water to a boil (you may need more water depending on the size of your roasting pan).

Pour cheesecake filling into the foiled wrapped springform pan. Use a mini offset spatula or the back of a spoon to spread filling into an even layer. Place pan the center of a large roasting pan.

Transfer roasting pan to the center rack of 325℉ oven. Pour boiling water into roasting pan until about 1 ½-inch of springform pan is submerged in water.

Bake cheesecake for 60 minutes.

Turn off oven heat. Crack oven door slightly ajar to slowly let the oven and cheesecake cool for 45-60 minutes. (If oven door will not stay open, prop the door open with a wooden spoon.)

Remove roasting pan from oven. Remove cheesecake springform pan from water bath. Let cheesecake sit at room temperature for about 30 minutes until completely cooled. Once cooled, keep chilled in the fridge until ready to serve.
Topping:
Place Biscoff cookie butter spread in a microwave safe bowl or cup. Microwave for 10 second intervals until smooth and melted.

Pour melted spread over chilled cheesecake. Use the a mini offset spatula or the back of a spoon to evenly distribute spread over the cheesecake. Garnish edges of covered cheesecake with crushed Biscoff cookies. Chill in the fridge for 15 minutes to set up.
Notes
Ingredients:
Use full-fat cream cheesecake for the best texture. Reduced fat or low fat cream cheese has extra water/moisture that will affect the final product.
Storage and Leftovers: Store cheesecake in an airtight container in the fridge for up to 4 days. Overtime, the cheesecake slices will try out.
For extended storage: tightly wrap individual cheesecake slices in plastic wrap. Store in the freezer for up 3 months. Defrost overnight in the fridge or for a few hours at room temperature.