Four layers of banana cake filled with tahini buttercream and enrobed in dark chocolate. This tahini chocolate banana cake is in honor of my late father's 72nd birthday.
As you read this post, I am on a plane en route to Japan. YES. JAPAN! It's been 9 years since the last time I was in Japan. I spent my last semester of undergrad studying in Tokyo. To say I had an amazing, life changing, magical time would be an understatement.
I'll be spending a week in Nagoya and the neighboring beautiful countrysides, followed by a super quick two day stint in Tokyo (mainly to relive and reminisce about my college years and also stock up on Kit-Kats, face products, and cute stationary/pens).
Naturally this trip will involve LOTS of food and drinks. Follow along on Snapchat (username: LittleEpicurean) and Instagram to see what I'm up to!
Now, back to this cake.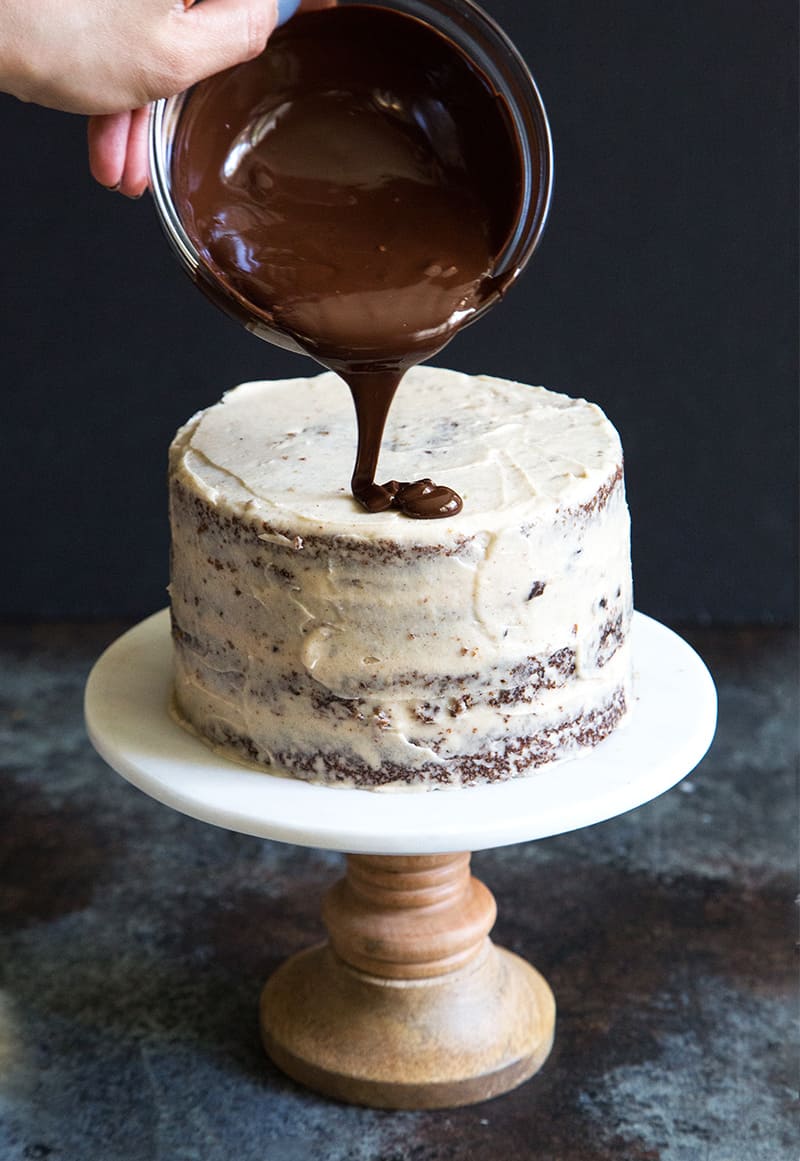 Tahini Chocolate Banana Cake:
Tahini (sesame seed paste) is having a moment in my kitchen. I am obsessed with it. Tahini is very nutty, quite bitter, and super savory. It's mainly used in Middle Eastern and Mediterranean cooking, primarily for savory foods. Think hummus and baba ghanoush.
I've had a jar of tahini sitting in my pantry staring at me for the past two weeks. Finally I took the plunge and used it in cookies.
These tahini chocolate chunk cookies are INSANE and delicious. Success from the cookies, led to the tahini buttercream in this cake.
For as long as I can remember, I've always made my dad something for his birthday: crayon drawn greeting cards, keychains made with beads, hand-painted cookie jars.
As my interest in baking flourished, I made him cinnamon rolls, banana cake, and ice cream for his birthdays.
This year is no different. I'm still going to celebrate and honor his life. Ever the adventurous eater, my dad would have LOVED this cake.
He probably wouldn't have guessed the tahini part or the even the banana cake for that matter, but he would have devoured it and asked for a second slice.
As he got older, all desserts just tasted "sweet." He didn't bother distinguishing the flavors, rather he simply enjoyed everything without questioning it.
That's how he pretty much treated life as well. Instead of knit-picking every tiny detail (like OCD me), towards the end of his life, he just let everything be.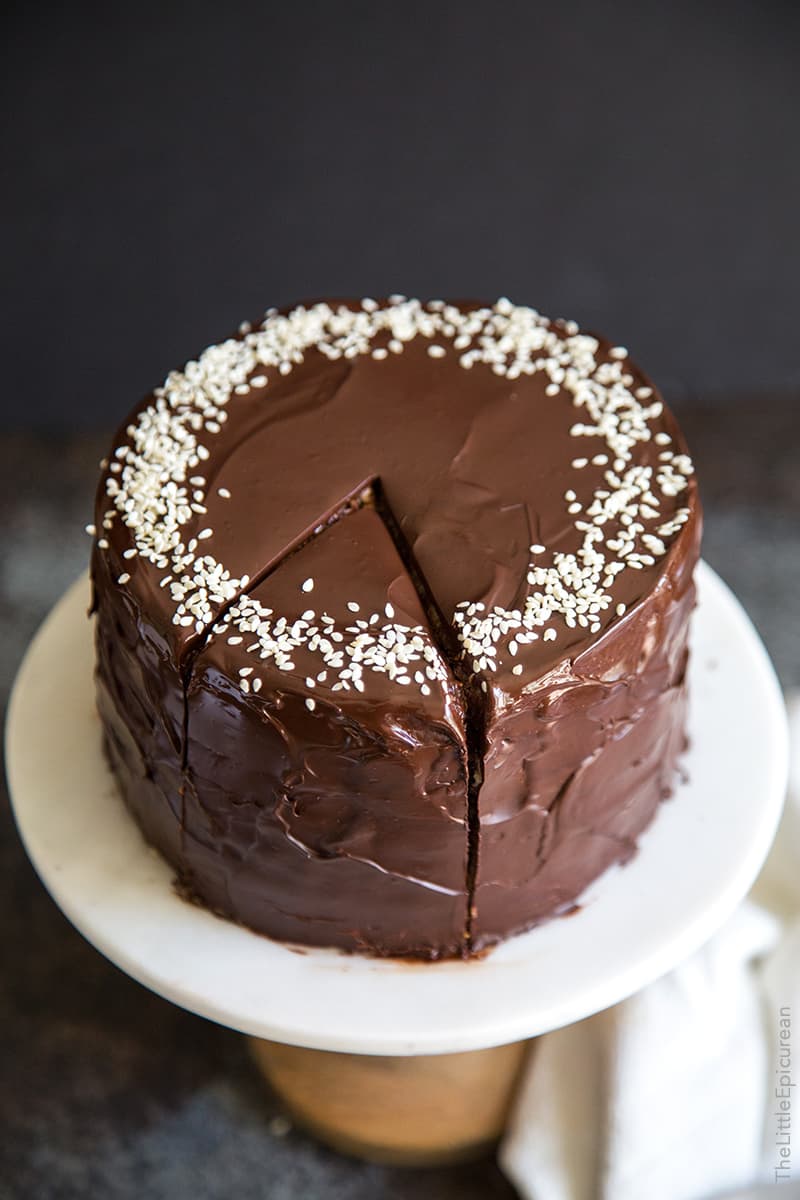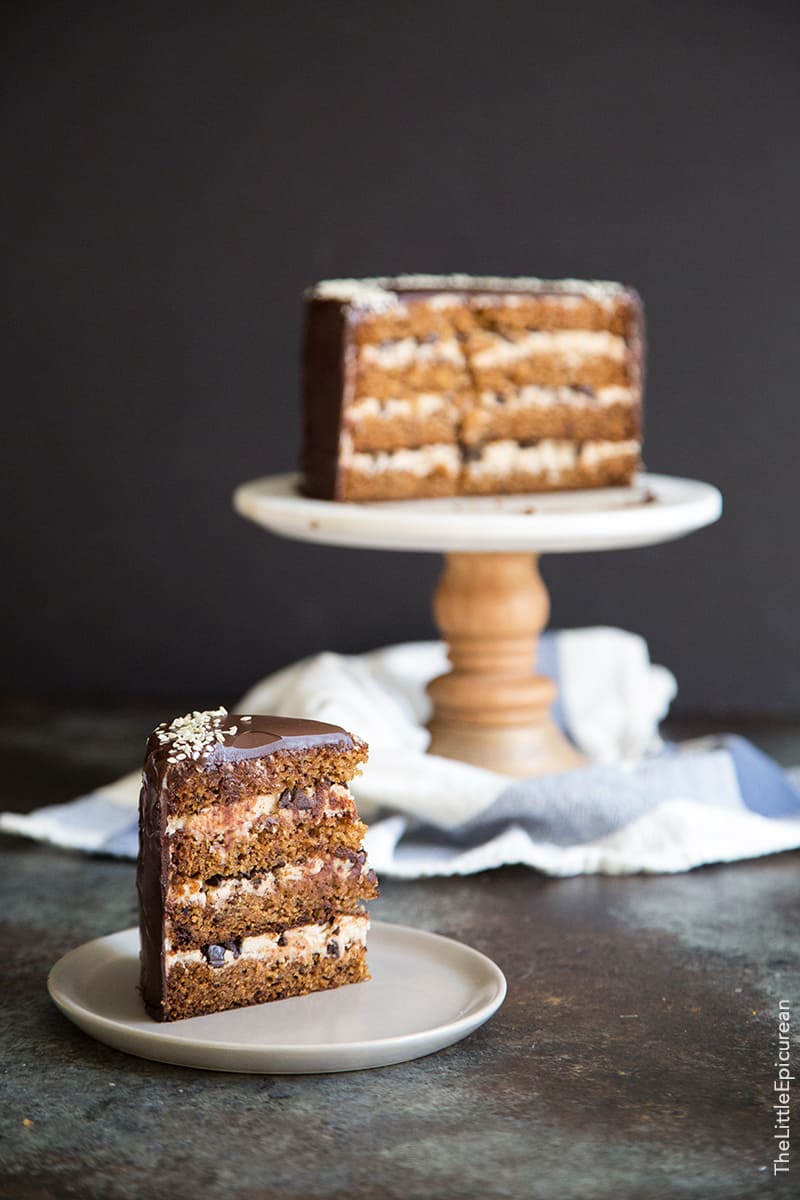 Though it's been almost 5 months, it often feels like it just happened yesterday. Once in a while (especially at nights), my heart still aches and my eyes still swell up when I remember the little things.
And sometimes, when my phone rings a part of me still hopes that it's him at the other end of the line calling to tell me that a package was delivered for me at their house.
Despite the occasional lingering sadness, a big part of me is also relieved and grateful. I'm thankful that he passed away peacefully. I'm thankful that he wasn't in any pain.
More than anything, I feel so blessed and so unbelievably lucky to have been by his side when he took his last breath.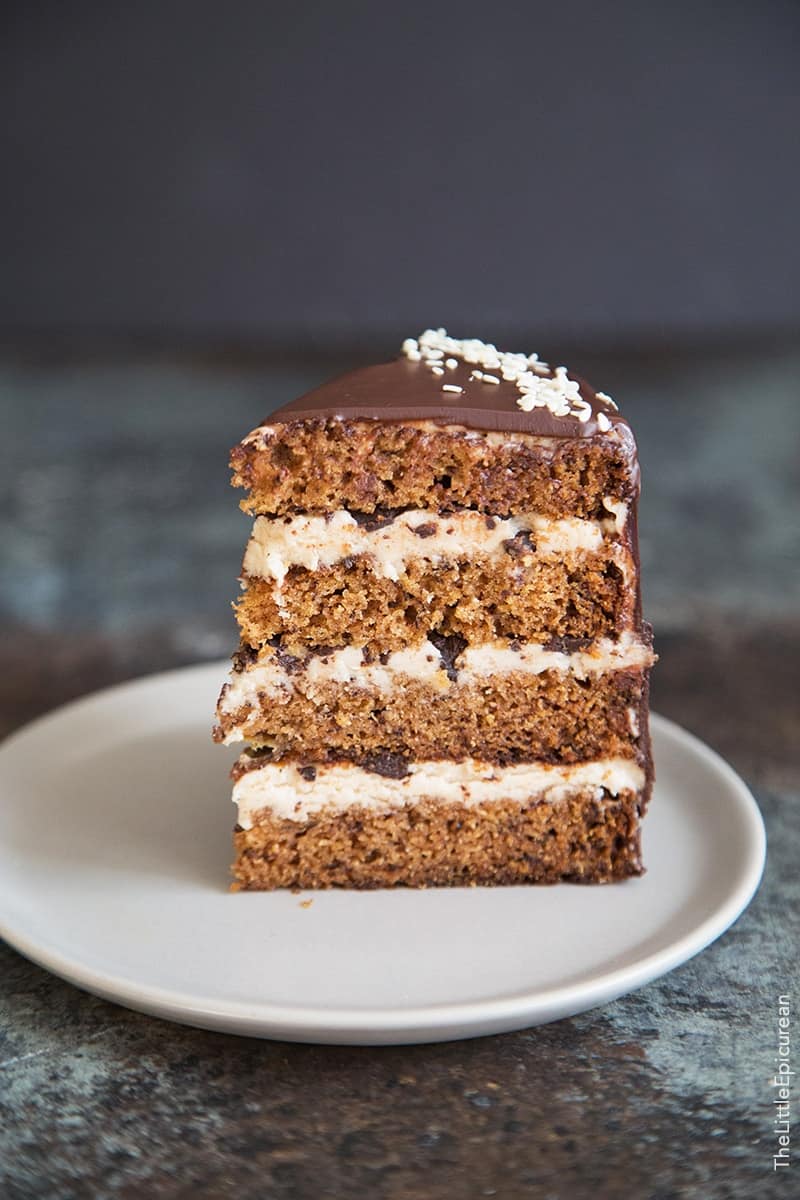 What this cake means to me:
This tahini chocolate banana cake symbolizes everything my dad was. On the outside, it seems like a regular chocolate cake. But when you cut a slice, you're immediately wowed by the different layers and textures inside.
And when when you take a bite and finally taste the combination of all the flavors, you can't help but smile and dig in for another.
On the outside, my dad was plain. He liked to wear the same clothes (despite the fact that his closet was overflowing with new outfits my mom had picked out for him).
It was always a polo shirt (or the occasional button down shirt) tucked into a pair of jeans. From the outside, he blend right into a crowd.
But once he allowed you to see a glimpse of the inside, you knew right away that he was far from ordinary.
Sweet banana cake coated with rich and exotic tahini buttercream and studded with chocolate chunks. It's a mixture of familiar and unknown. This tahini chocolate banana cake is comfortable yet exciting.
He was many things before I was born. He was a son, a brother, a husband. While I can never attest to those years before me, I can only vouch for him as my dad.
I'll never know the man that my mom knew before they had children, or the son that my grandmother knew when he was growing up.
I knew him as simply as my father, and to me, he was the best.
Happy birthday, Papa!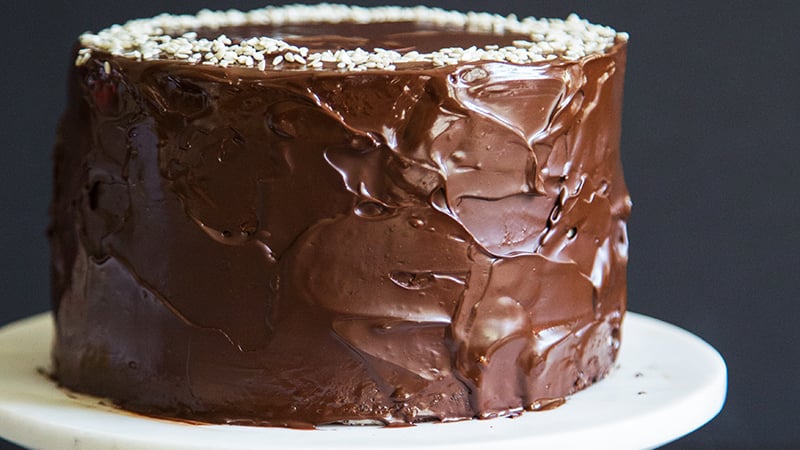 Tahini Chocolate Banana Cake
Yield: 6-inch cake
Ingredients
Banana Cake:
1 ½

cups

all-purpose flour

1 ½

teaspoon

ground cinnamon

1

teaspoon

baking powder

½

teaspoon

baking soda

½

teaspoon

fine sea salt

½

cup

unsalted butter, room temp

½

cup

granulated sugar

½

cup

light brown sugar, packed

2

large eggs, room temp

2

ripe bananas, mashed

⅓

cup

milk, room temp
Tahini Buttercream:
½

cup

unsalted butter, room temp

½

cup

tahini

2

cups

confectioners' sugar

½

teaspoon

ground cinnamon

½

teaspoon

vanilla extract

pinch fine sea salt

½

cup

roughly chopped chocolate chunks
Chocolate Coating:
4

oz

dark chocolate, melted, slightly cooled

white sesame seeds, to decorate
Instructions
Banana Cake:
Preheat oven to 350 degrees F. Grease two 6-inch round cake pans. Line with parchment paper. Set aside.

Whisk together flour, cinnamon, baking powder, baking soda, and salt. baking. Set aside.

In the bowl of a stand mixer fitted with a paddle attachment, cream butter. Add sugar and brown sugar and mix until combined. Scrape down bowl as needed to ensure thorough mixing.

Add eggs one at a time. Follow with the mashed bananas. Continue to mix until incorporated.

Alternate adding the flour mixing and milk. Start and end with the flour in three additions. Scrape down bowl as needed. Mix until just combined.

Divide batter evenly between the two prepared cake pans. Bake for 30-45 minutes until toothpick inserted in the center of cake comes out clean. Let cool in pan for a few minutes before unmolding and transferring to wire rack. Allow to cool to room temperature before slicing layers.

Tahini Buttercream:
In the bowl of a stand mixer fitted with a paddle attachment cream together butter and tahini. Scrape down bowl as needed to ensure thorough mixing. Add confectioners' sugar, cinnamon, vanilla, and salt. Mix until buttercream is thick and smooth.*

Assembly:
Split each banana cake into two equal layers. You should end up with four layers total.

Place one layer of cake on cake board or serving plate. With an offset spatula slather a layer of tahini buttercream. Sprinkle chocolate chunks over buttercream. Top with second cake layer. Repeat adding buttercream and chocolate chunks. Continue to repeat until last layer of cake is on top.

Coat the top and sides of the cake with remaining tahini buttercream. Allow cake to chill in the fridge for 10-15 minutes to set up buttercream.

Remove from fridge and coat cake with cooled melted chocolate. Garnish the top of the cake with sesame seeds.

Notes
If consistency of buttercream is too thick, add 1 tablespoon of milk at a time until desired consistency is achieved. If buttercream is too thin, add confectioners' sugar 2 tablespoons at a time.