There is no dessert more reminiscent of summer than a pillowy pavlova. This nectarine pavlova is topped with matcha coconut cream, giving this summery treat a tropical vibe.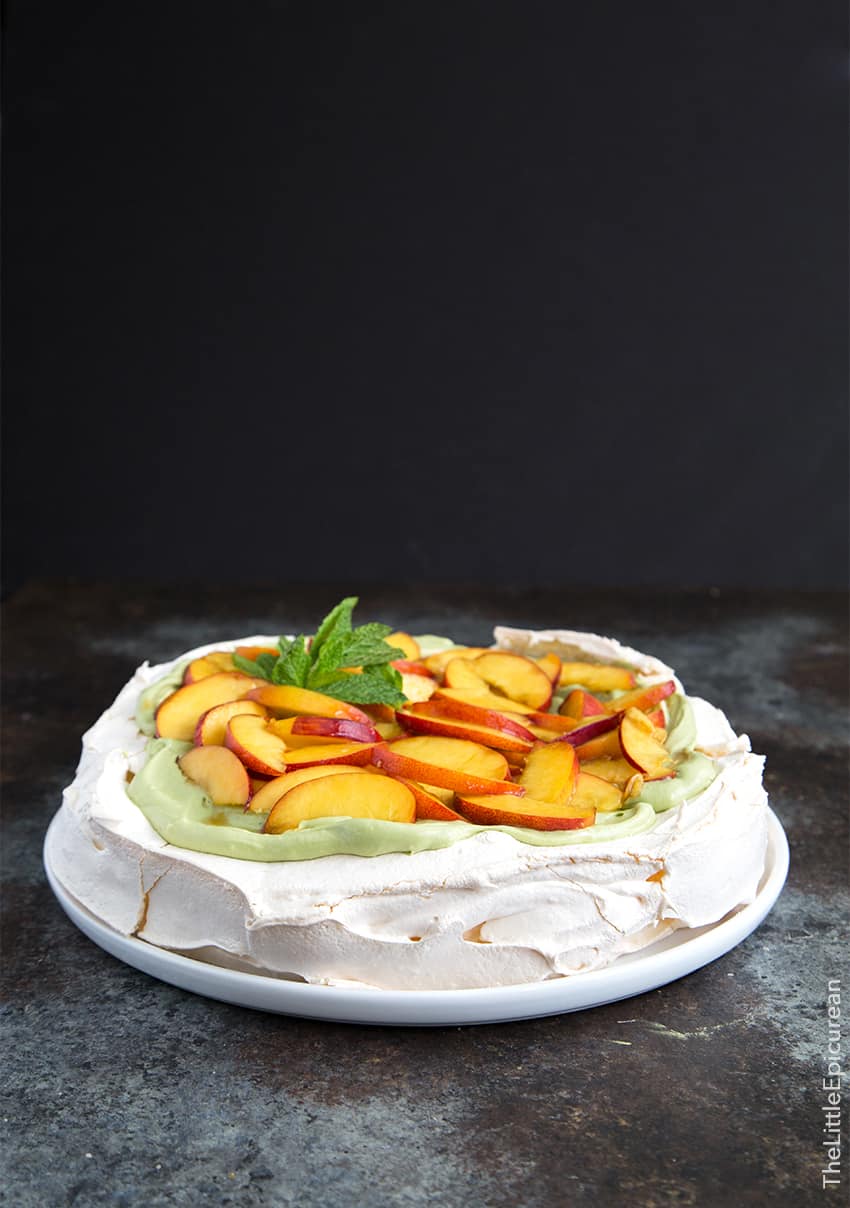 I just returned home from a fun stay in Las Vegas. During the long stretch of the drive on the I-15, you see nothing but desert and blue skies studded with some puffy white clouds.
I usually pack a variety of granola, nuts, and chocolates to keep me awake during the four hour drive. I ate all my snacks too early in the drive and wanted more. I kept looking up at the clouds thinking about how they reminded of pavlovas.
Imagine if clouds tasted like meringue. How fun (and delicious) would sky diving be?!
With summer on the horizon and nothing but blue skies in the forecast, it's time for a pavlova party!
This matcha nectarine pavlova is the kind of dessert you shouldn't enjoy alone. It's the kind of dessert that asks for a party.
Invite your friends, invite your neighbors, make friends with strangers, and pass out spoons/forks/napkins. Once this pavlova is assembled, you gotta eat, eat, eat until time runs out!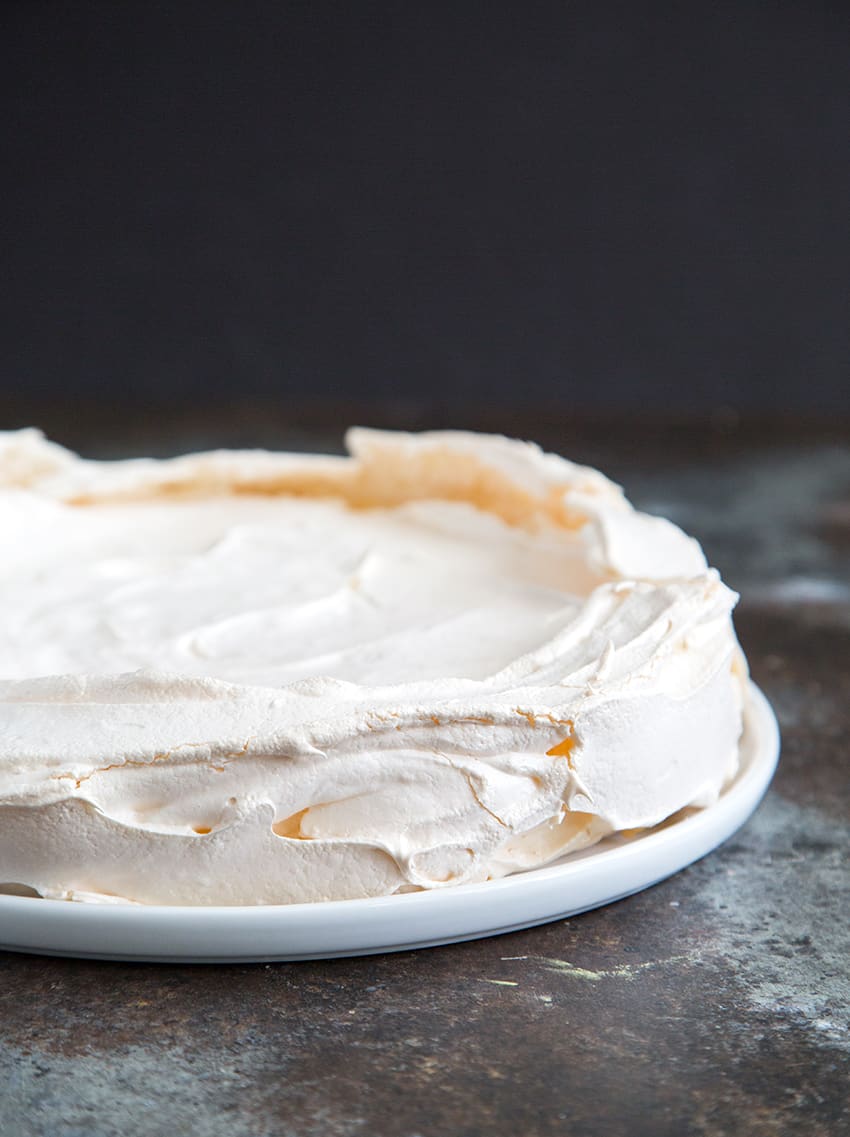 What is a pavlova?
Pavlovas generally consist of a meringue based topped with whipped cream and fresh fruits. The meringue part of the pavlova is quite time consuming to make.
After mixing, it will take about 3 hour to bake and cool…meaning you have to plan accordingly.
This is the kind of dessert that requires preparation. You can make the meringue portion a day in advance and assemble it the following day when you're ready to party.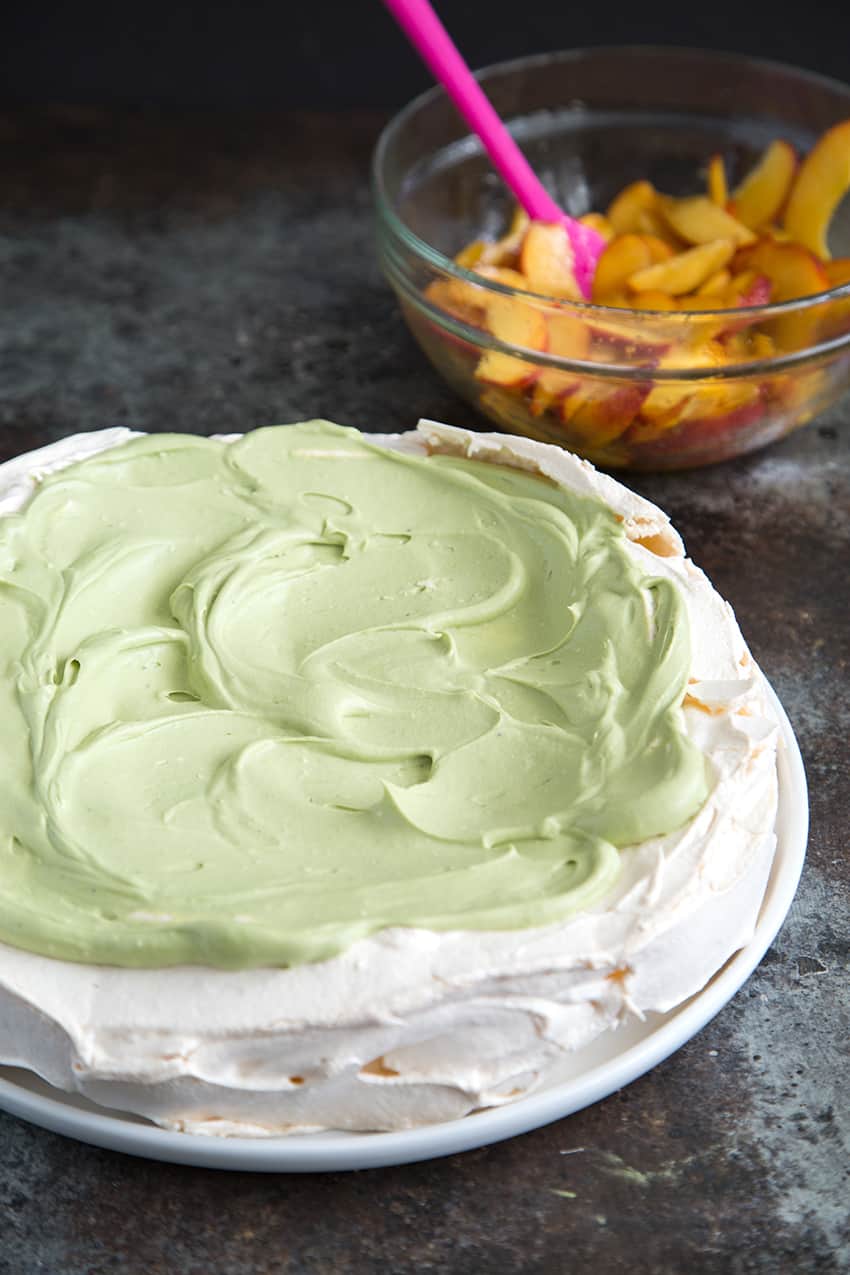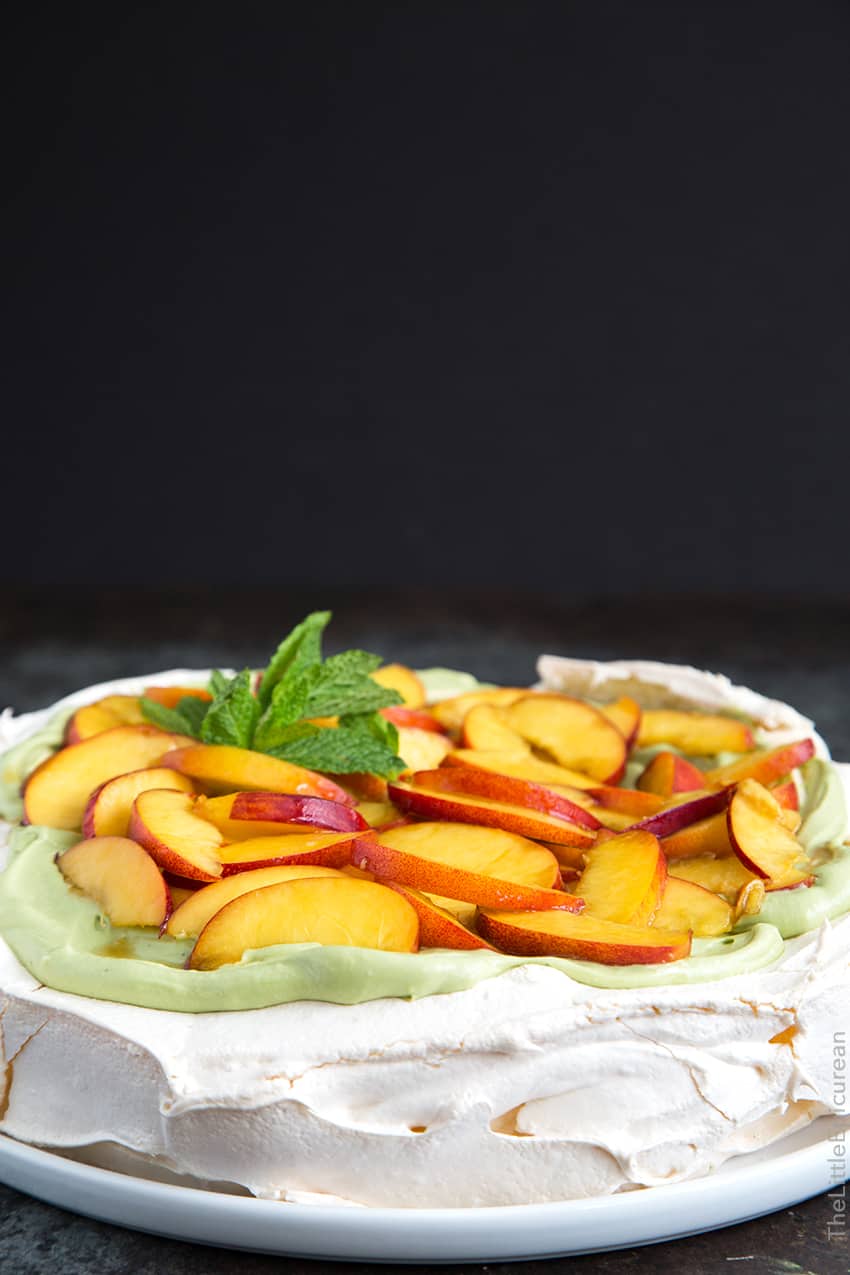 The moment you spread on the whipped topping and add fresh fruits, the countdown begins. You have to immediately start eating. It's only a matter of time until the moisture from the toppings start to seep into the crisp meringue exterior.
I've tried several times last year to make a matcha pavlova. Unfortunately, I failed. Instead of trying to incorporate the into the meringue, this time I added it to the whipped coconut cream topping.
The whipped matcha coconut cream adds the perfect amount of bitter and creaminess to the balance the sweet meringue.
Matcha works wonderfully with strawberries, mango, and raspberries.
Today I learned that it also makes a killer combination with nectarines. Matcha, coconut, and nectarine is destined to become my favorite trio of flavors this summer.
The best part of a pavlova
The inside of a pavlova is what makes this dessert so unique. While the outside retains the crispy, crunchy characteristics of a meringue, the inside of a pavlova is soft, fluffy, and marshmallow like.
I've always though of the pavlova as a magical dessert. How can such a complex, intricate dessert be made with just a few simple ingredients (egg whites, sugar, cream of tartar)? Magic!
Matcha Nectarine Pavlova
Yield: 9-inch pavlova
Ingredients
Pavlova:
6

large egg whites, room temp

1/8

teaspoon

cream of tartar

pinch fine sea salt

1 1/2

cups

granulated sugar

1

teaspoon

fresh squeezed lemon juice

1/2

teaspoon

vanilla extract

2 1/2

teaspoon

cornstarch, sifted
Matcha Coconut Whipped Cream:
14

oz

canned coconut cream

1/3

cup

powdered sugar, sifted

1

teaspoon

matcha powder, sifted

4

nectarines, pitted, sliced thin

2

Tablespoons

brown sugar, packed

1

teaspoon

fresh squeezed lemon juice

pinch fine sea salt
Instructions
Pavlova:
Preheat oven to 250 degrees F. Draw a 9-inch circle on parchment paper. Place parchment paper ink-side down on baking sheet. Set aside.

In the bowl of a stand mixer fitted with a whisk attachment, combine egg whites, cream of tartar, and salt. Mix on low speed until frothy like beer. Increase speed to medium and continue to whip to soft peaks.

With the mixer running on medium speed, add sugar 1 tablespoon at a time. Once all the sugar has been added, increase to medium-high speed. Whip until stiff peaks. Scrape bowl as needed to ensure thorough mixing. Add lemon juice and vanilla. Mix until combined. Add in sifted cornstarch. Fold in using a sturdy spatula.

Spoon meringue onto prepared parchment paper. Using the back of a spoon to spread meringue, slightly building up the edges of the circle. Bake for 90 minutes, undisturbed. Do not open the oven door during baking.

Turn off oven and allow meringue to sit in the oven for another hour undisturbed. Remove from oven and allow to cool to room temperature on wire rack.

Matcha Coconut Whipped Cream and Assembly:
Chill canned coconut cream in the fridge for at least 6 hours, overnight or longer is best. When removing canned coconut cream from fridge, do not shake or agitate.

Before whipping coconut cream, place a large mixing bowl in the fridge or freezer until chilled.

Open canned coconut cream and scoop out hardened cream, leaving any liquid at the bottom of the can. Discard liquid, or chill and use later for smoothies, coffee, etc. Place coconut cream in chilled bowl.

Using a handheld mixer, whip coconut cream until smooth. Add sifted powdered sugar and matcha powder. Continue to mix until incorporated. Keep chill until ready to use.

In a medium bowl, toss together nectarine slices, brown sugar, lemon juice, and pinch of salt.

Spread matcha coconut whipped cream over cooled pavlova. Spoon nectarines on top. Serve and enjoy immediately.