Two popular flavor swirled together for a delicious sweet bread. This rich and decadent peanut butter chocolate chip twisted swirl bread is meant to be shared!
Peanut butter and chocolate. It's a combination I enjoy more than peanut butter and jelly!
Creamy peanut butter paired with chunks of bittersweet chocolate is a delicious pairing. Spread that over fluffy bread and you've got yourself one heck of an afternoon snack.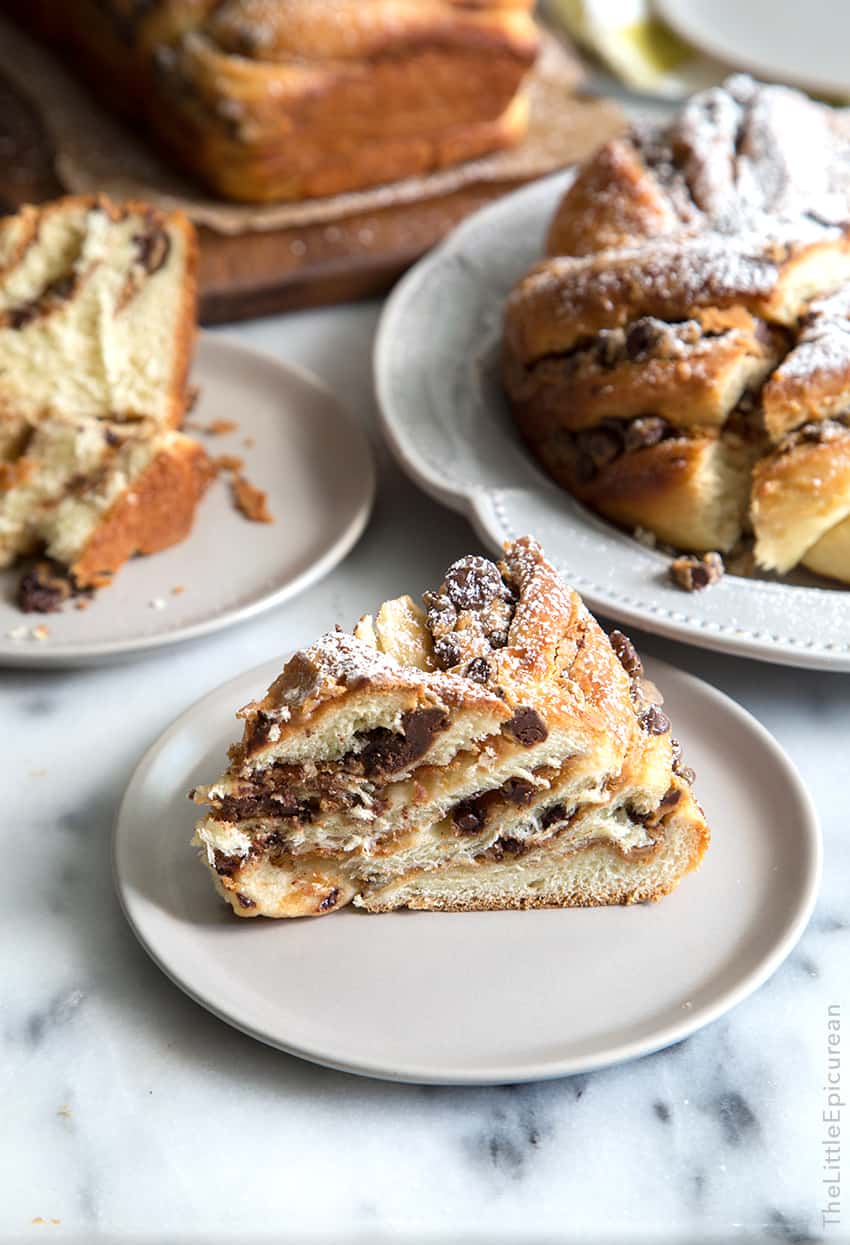 Peanut Butter Chocolate Chip Bread
The blog has several variations on swirl breads: Berry Nutella, Rum Raisin Cinnamon, and Cinnamon Raisin.
There is something beautiful in the way the filling is evenly distributed through the dough in braided breads. You get the perfect amount of filling and bread with each bite.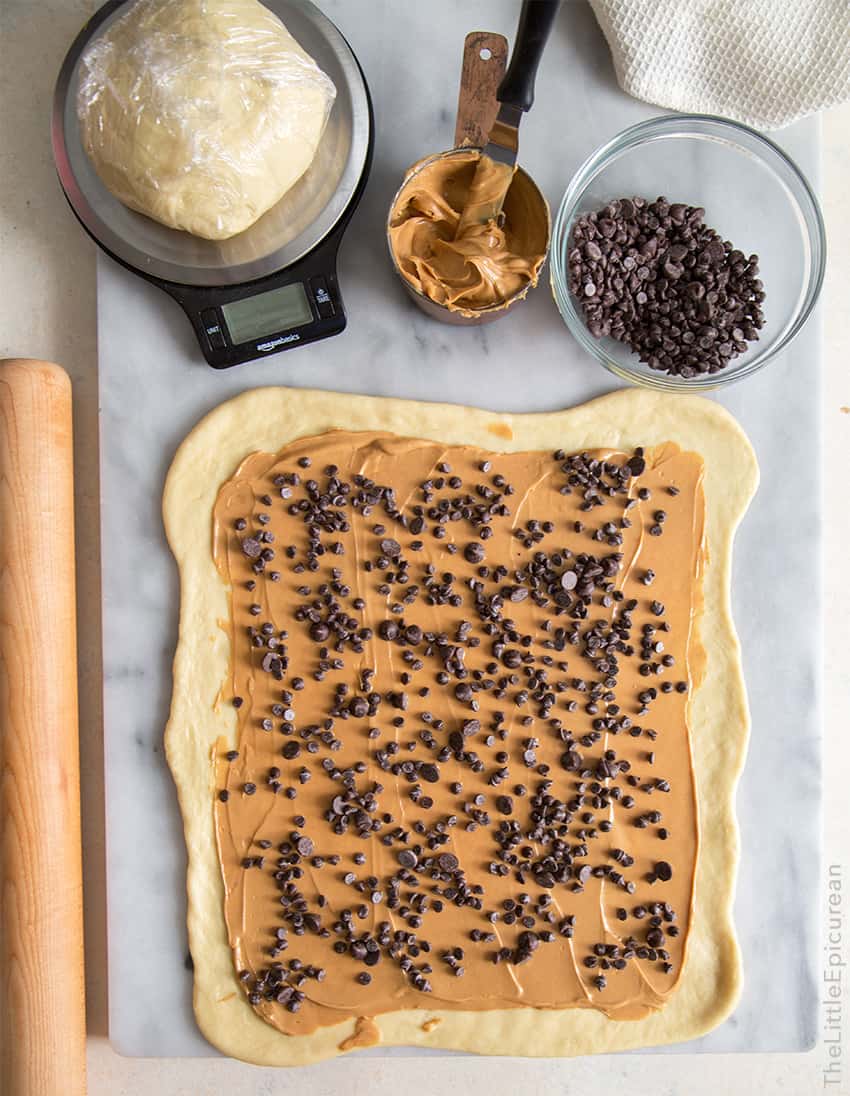 I used regular smooth peanut butter for this recipe- the shelf stable kind that doesn't require stirring.
When it comes to baking I stay away from the more "natural" peanut butter because I've had disasters with the peanut butter separating in the oven.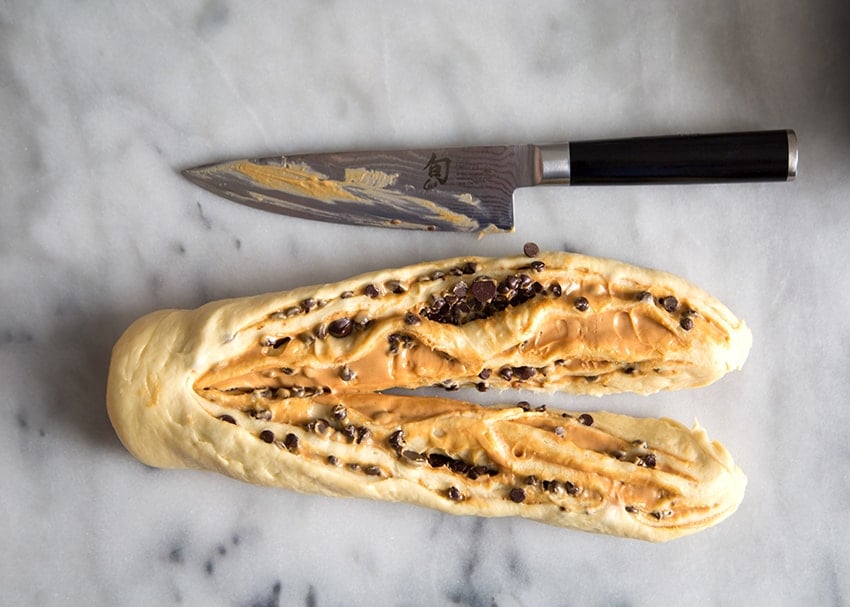 I used a mixture of mini chocolate chips and regular sized chocolate chips. You can use one or a mixture.
Chopped chocolate chunks are another great option!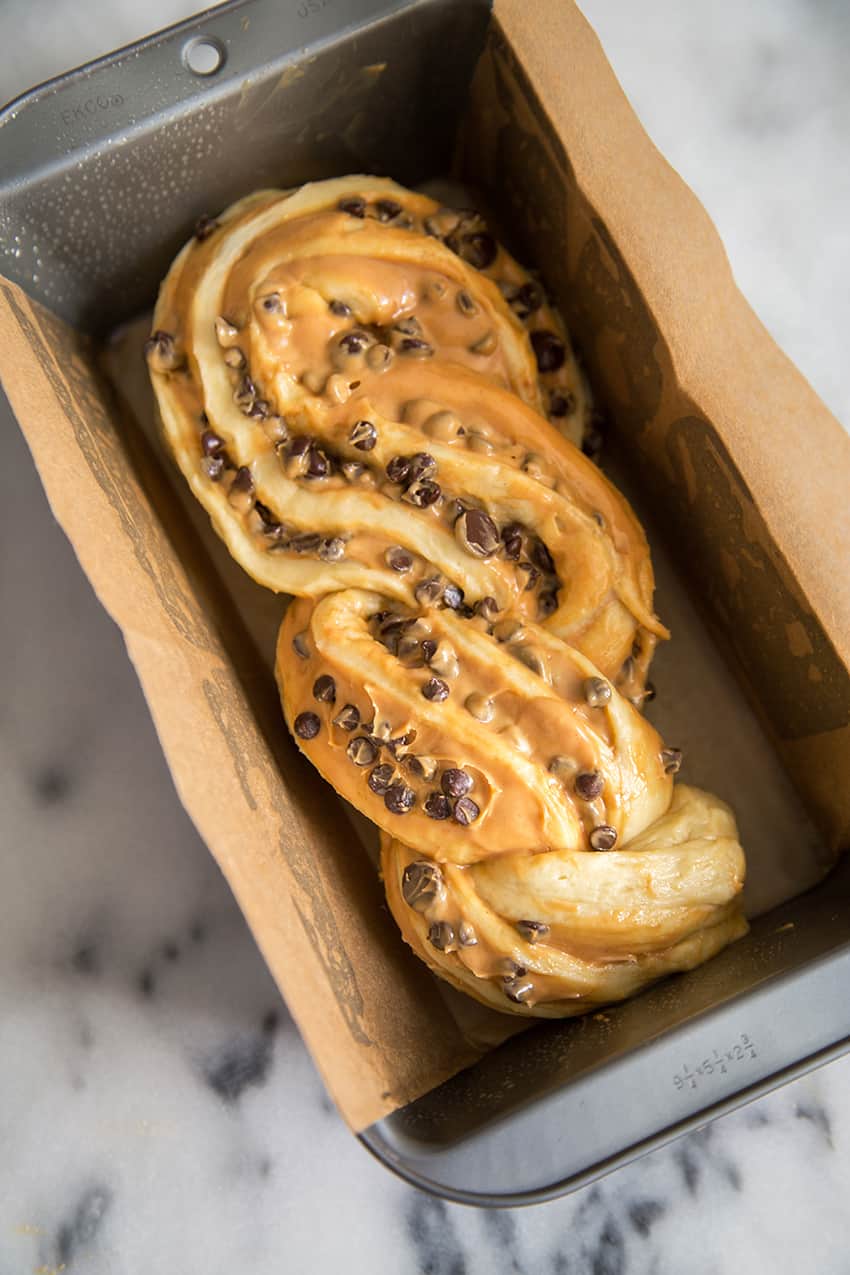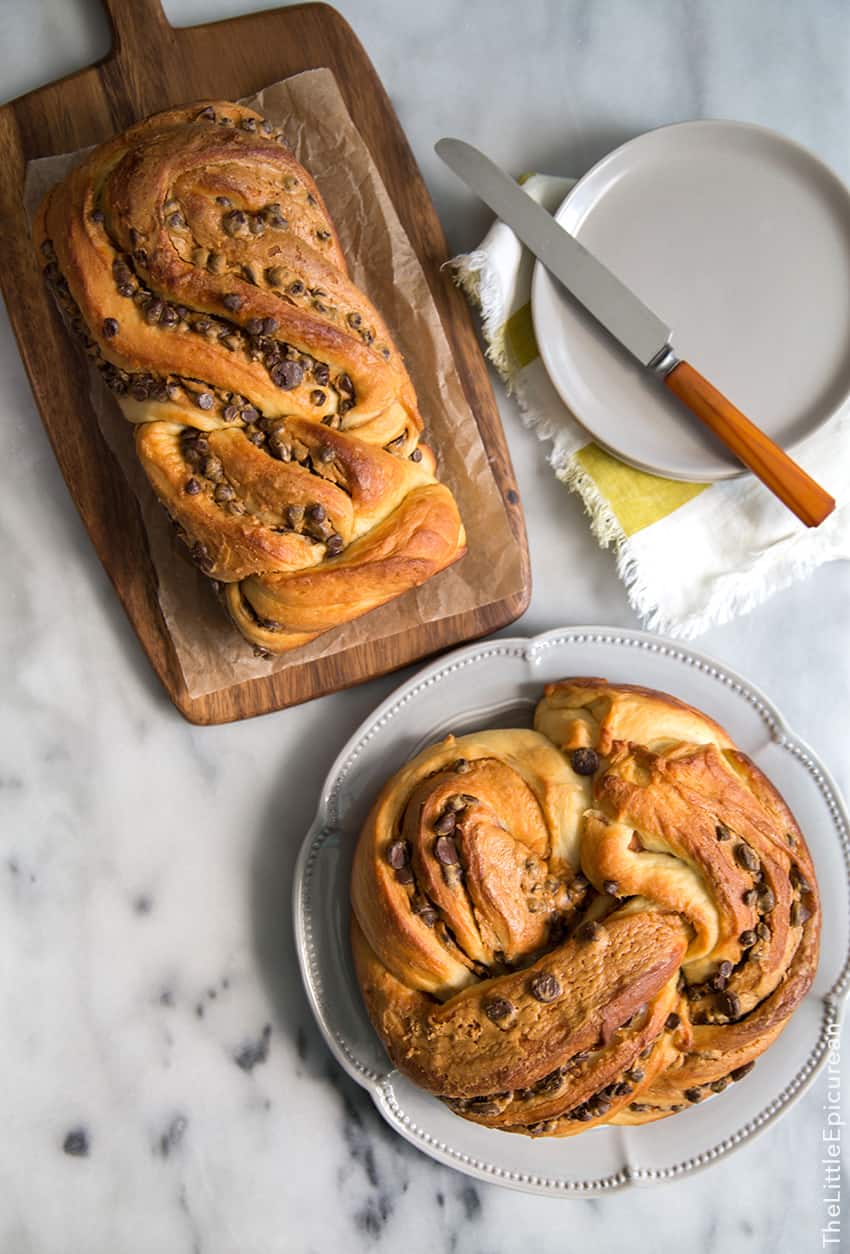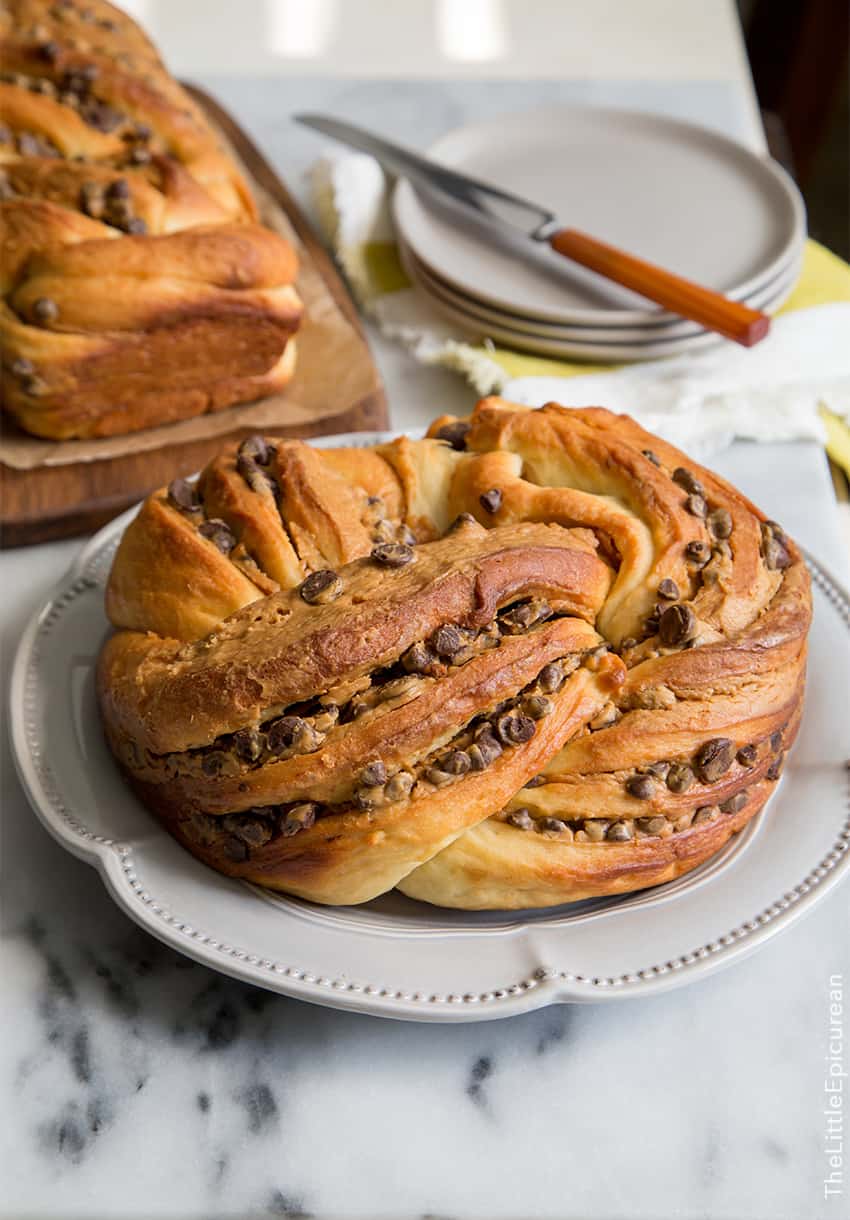 The baked peanut butter with the little melted bits of chocolate tastes amazing. I imagine it's what a warmed up Reese's peanut butter cup would taste like if it was smash on a soft pillowy piece of bread.
For the finishing touch, I dusted a little powdered sugar over the cooled bread.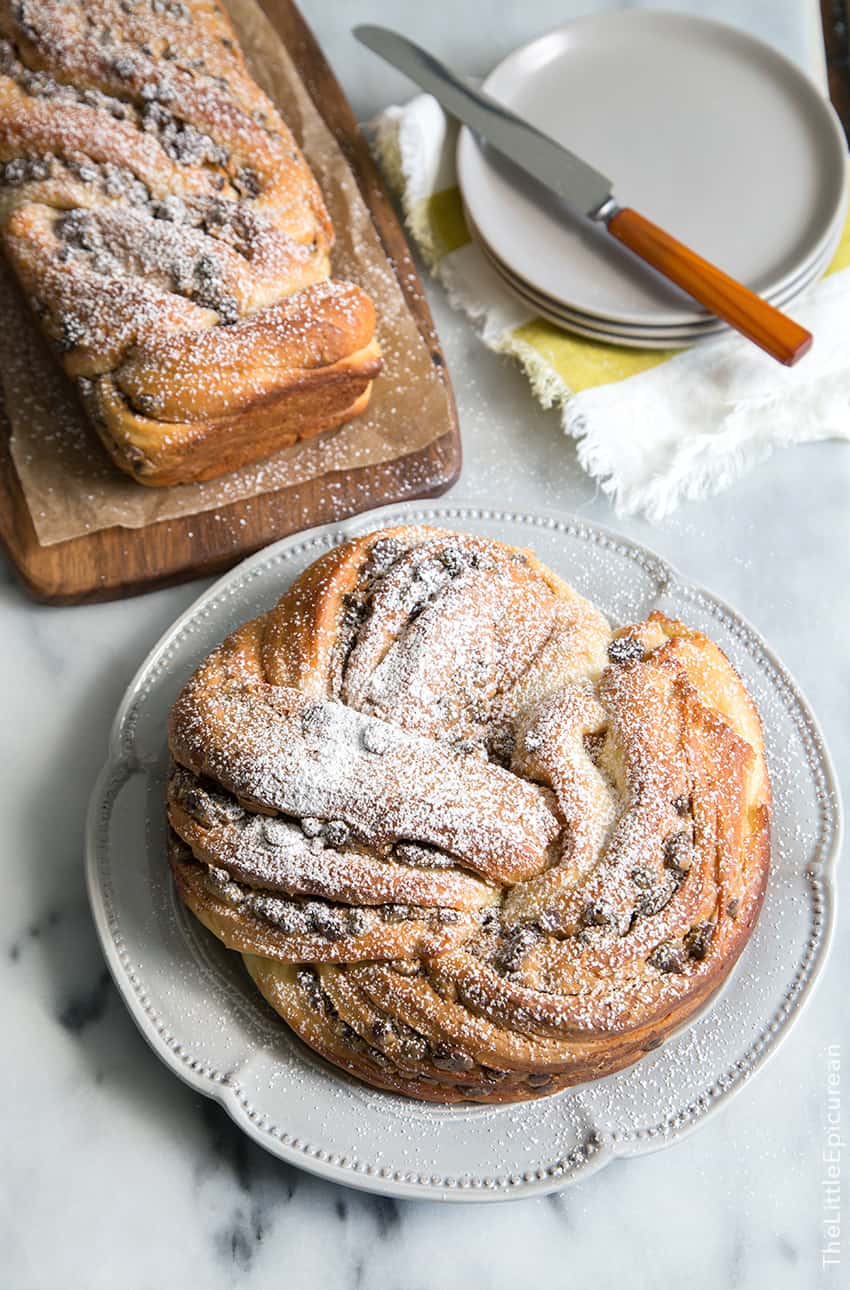 Overall, I'm very satisfied with this peanut butter chocolate chip twisted swirl bread. It thoroughly exceed my expectations. Asides from eating slices on its own, it's perfect for bread pudding and French toast.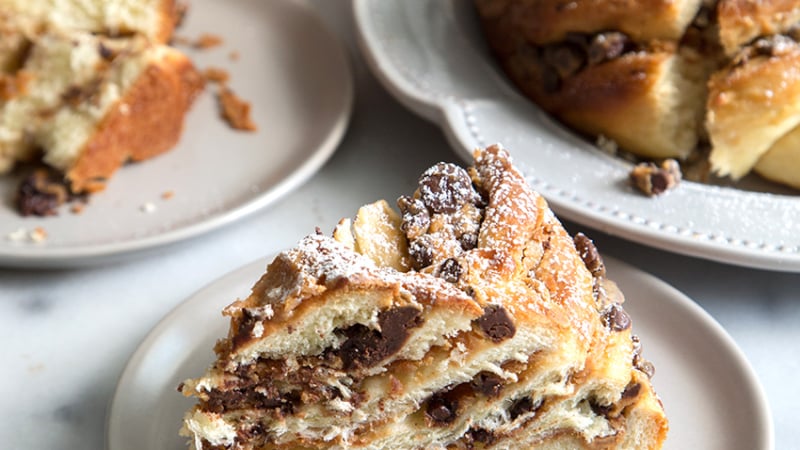 Peanut Butter Chocolate Chip Twisted Swirl Bread
Yield: two 9×5-inch loaves
Ingredients
½

cup

warm water, about 95 degrees F

2 ¼

teaspoon

dry active yeast

1

teaspoon

granulated sugar

⅓

cup

whole milk yogurt

2

large eggs, room temp

2

teaspoon

fine sea salt

¼

cup

granulated sugar

4 ¼

cup

all-purpose flour

8

Tablespoon

unsalted butter, room temp

1

cup

smooth peanut butter*

1

cup

semi-sweet chocolate chips
Instructions
Sprinkle yeast over warm water. Add teaspoon of sugar and stir to combine. Let sit for 5 minutes to allow mixture to bubble and activate.

In the bowl of a stand mixer fitted with a paddle attachment, combine dissolved yeast mixture, yogurt, eggs, salt, and remaining ¼ cup sugar. One combined add 3 cups of flour, 1 cup at a time. Remove paddle attachment and switch to a dough hook attachment.

Add butter in three additions with the mixer running on medium. Add remaining flour. Continue to knead until dough is smooth and cleans the sides of the bowl. If too is too sticky, add flour one tablespoon spoon at a time (up to 3 tablespoons).

Transfer dough to a lightly greased bowl. Cover bowl with plastic wrap and let sit at room temperature for 60-90 minutes until dough has doubled in volume.

Punch down dough. Divide dough into two equal portions. Cover one dough with plastic wrap. Transfer the other dough to a lightly floured work surface. Roll to a 16 x 12-inch rectangle.


Spread ½ cup peanut butter evenly over dough, leaving a ¼-inch border around all the sides. Sprinkle ½ cup of chocolate chips over the peanut butter. Gently press chocolate chips into the dough. Roll dough into a tight log, starting with the long side. Slice the log down the middle lengthwise. Twist the two halves of the dough over each other, making sure the cut is facing up. Tuck the ends of the dough into itself. Repeat with remaining dough.

Place twisted dough into a greased 9×5-inch loaf pan. (Alternatively, you can also use an 8 or 9-inch round cake pan. Simply connect the ends of the twisted dough to create a round shape.) Cover dough with plastic wrap and let bread rise for 45 minutes to 1 hour until the bread has reached the top of the pan.


Meanwhile preheat oven to 350 degrees F. Remove plastic wrap and bake for 35-40 minutes until the internal temperature of the bread hits 185 degrees F.

Let bread sit in pan for 5 minutes before running a knife or offset spatula around the edges to loosen from the pan. Let cool before slicing.

Notes
It is best to use homogenous peanut butter like Skippy or Jif. Natural peanut butters that require refrigeration or stirring before use, will not yield the same results.
All images and text © The Little Epicurean