While this chocolate babka is packed with chocolate flavor, it is not very sweet. The combination of chopped dark chocolate mixed with unsweetened cocoa powder results with a full rich profile.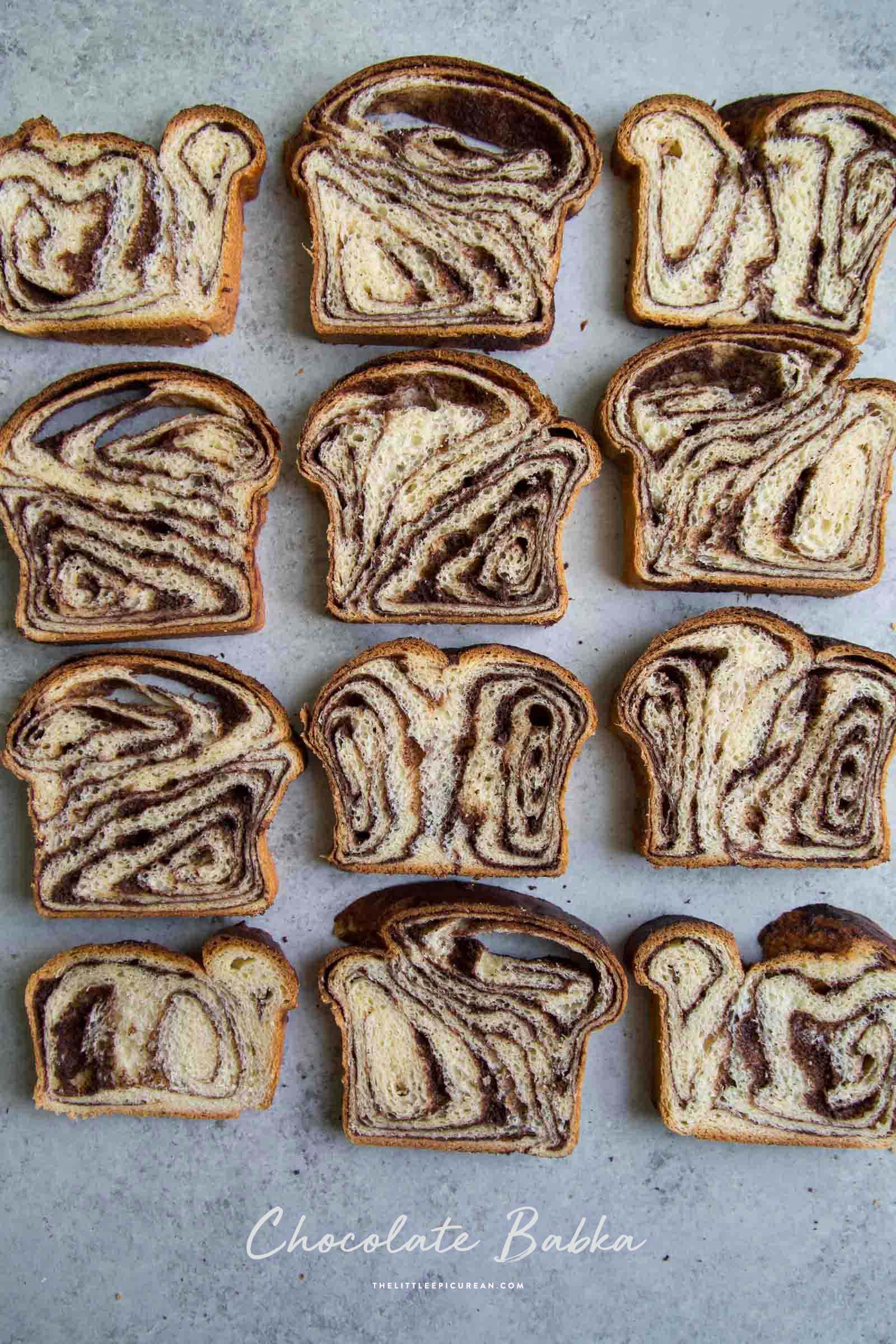 It's the most wonderful time of the year! Giveaway season! I am beyond excited to share this giveaway with you.
Last month I partnered with Wolf Gourmet to giveaway one of their powerful high speed blenders (and I made cacao hazelnut milk!). Today I have something even more thrilling… the Wolf Gourmet Countertop Oven!
I've been eyeing this countertop oven. I dream of having a double wall oven, or even better, a double side by side oven with 6 burners, a French top, and a wall mounted pot-filler.
As I've mentioned before I daydream about my ideal kitchen the way some people fantasize about retirements and what not.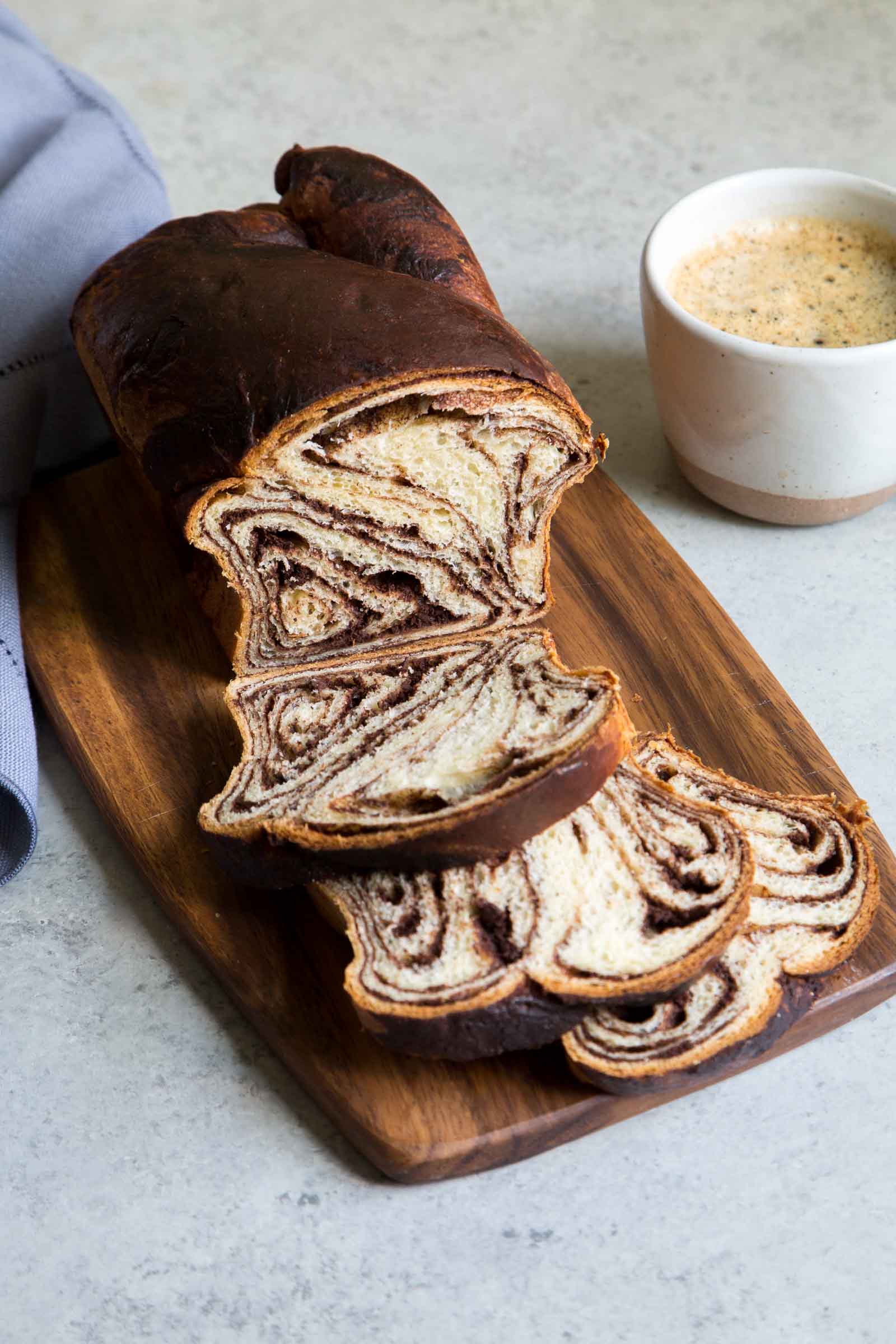 Chocolate Babka Bread
I christened my new countertop oven by making this chocolate babka. Bread making is my favorite. I find it to be relaxing, therapeutic, and rewarding.
During the cooler months as the temperatures starts to dip, finding a draft-free warm place for my breads to rise can become a challenge. I usually let my breads proof in the garage, the warmest place in our house.
The only problem with that- I tend to forget about it. Out of sight, out of mind.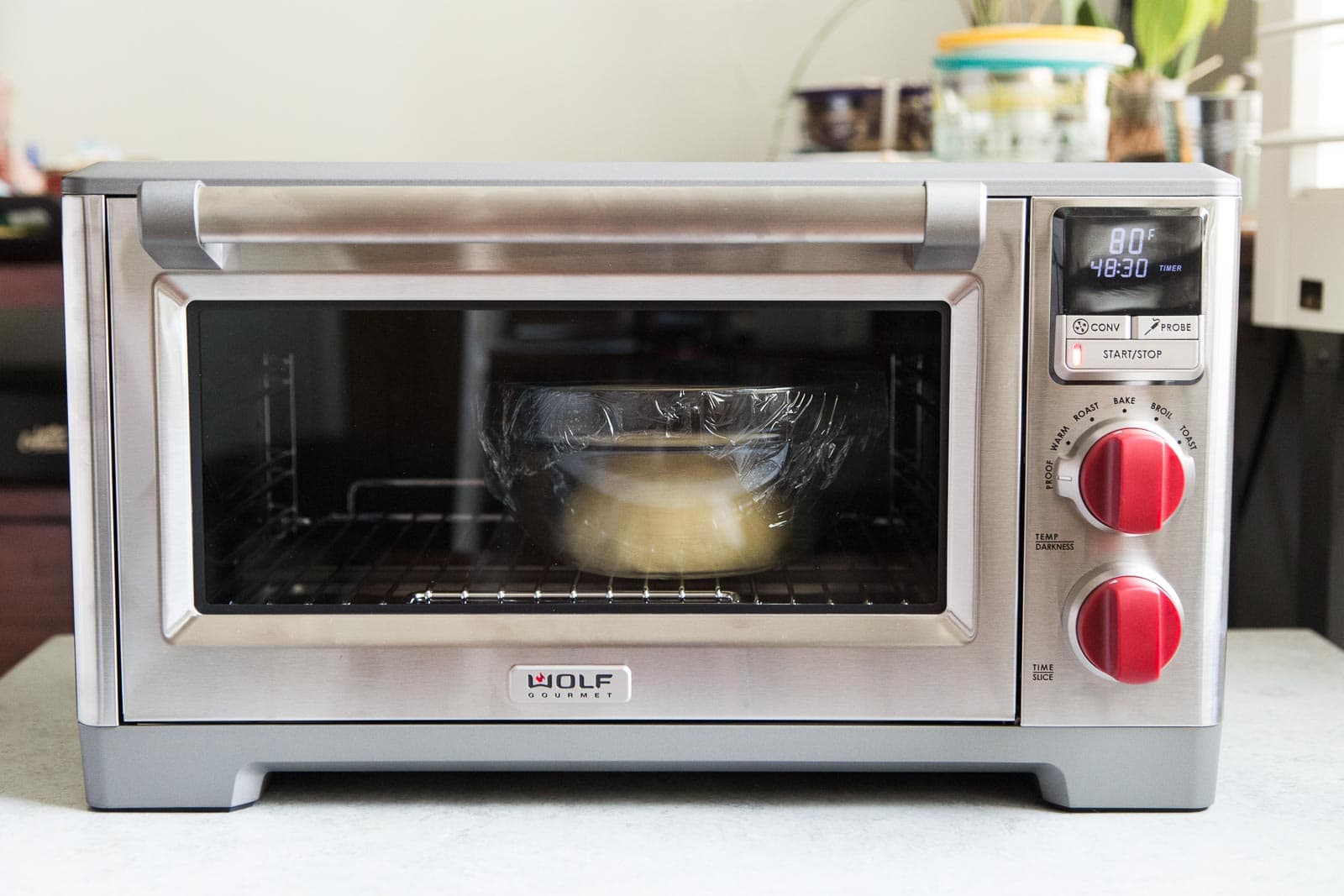 No need to use my garage anymore. This Wolf Gourmet Countertop Oven has a proof setting!
At a constant 80 degrees F, it provides the perfect setting for happy doughs. Best of all, it has a built in timer to let you know when it's time to check on your dough.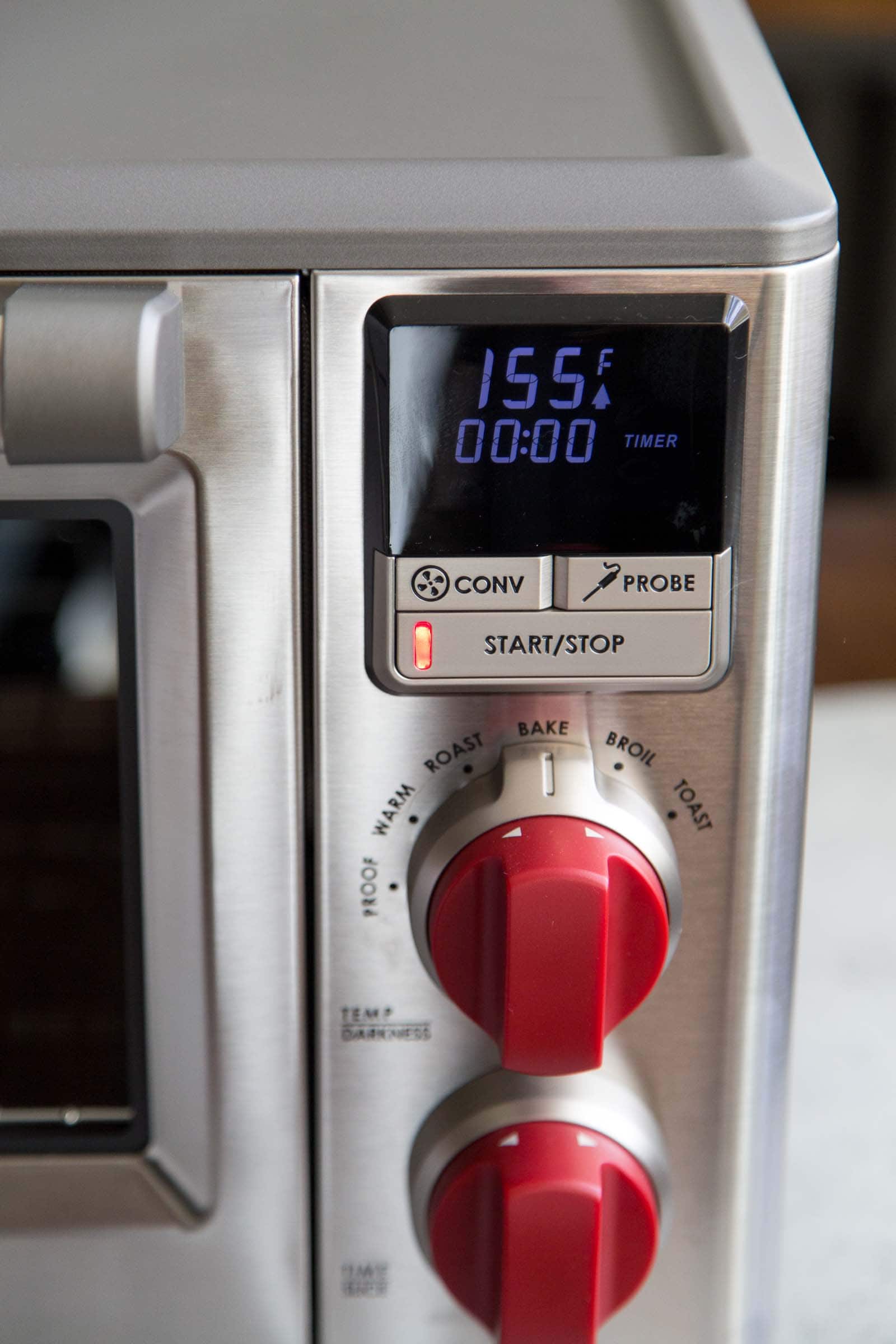 Wolf Gourmet Countertop Oven
Though petite and sized for a countertop, a standard 12 cavity muffin tin or quarter-sheet pan can fit inside. There are six cooking modes to select from: proof, warm, roast, bake, broil, and toast.
And because of it's petite frame, this countertop oven heats up fast. Once you select your temperature setting, you can view the display to indicate when your oven is at your desired temperature.
I really enjoyed using this countertop oven. I have yet to experiment with the roast setting (and use the included probe thermometer), but I'm looking forward to roasting chicken soon.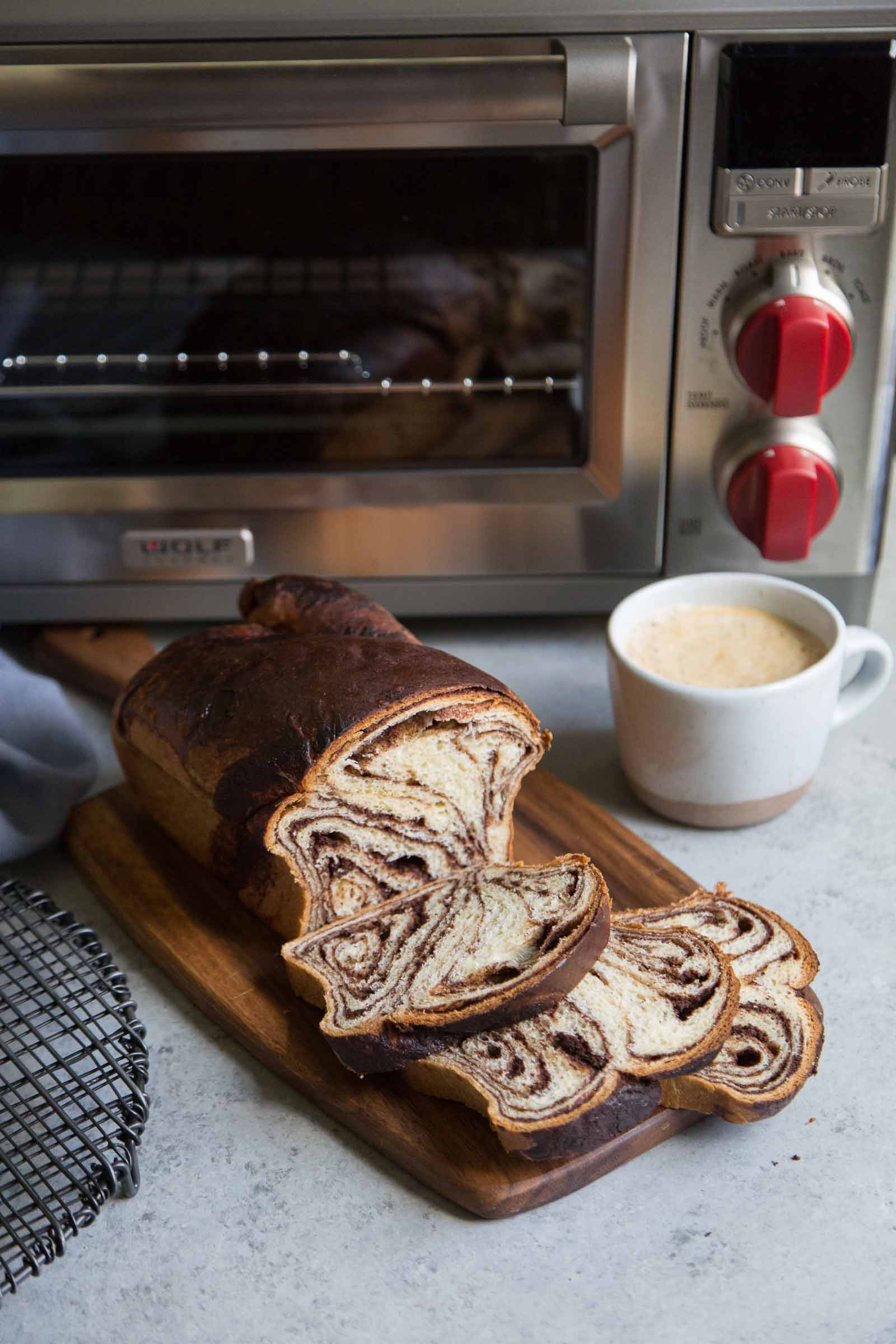 Alex and I devoured this loaf of chocolate babka in record time. I usually share most of what I bake with family and friends. Not this one.
As soon as it was cool enough to slice, we began snacking on it. It's not very sweet, but it is packed with chocolate flavor.
The combination of chopped dark chocolate mixed with unsweetened cocoa powder results with a full rich profile.
The bread tastes great at room temperature and even more delightful when it's lightly toasted and served with a giant mug of hot chocolate or a hot latte.
I foresee many babka variations to come!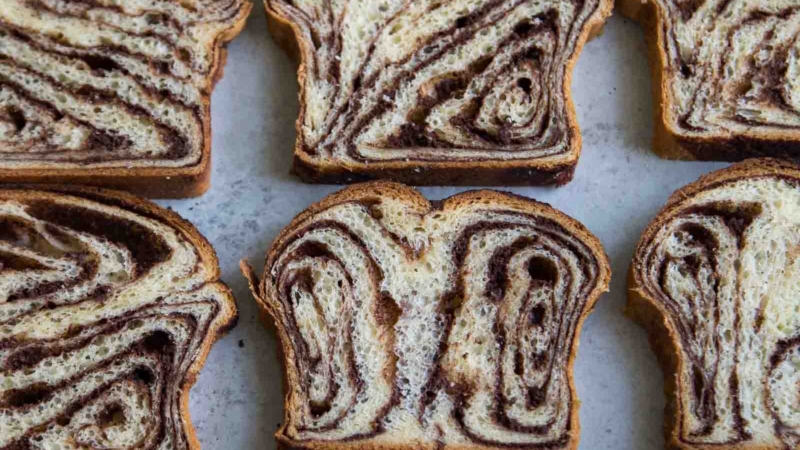 Chocolate Babka
While this chocolate babka is packed with chocolate flavor, it is not very sweet. The combination of chopped dark chocolate mixed with unsweetened cocoa powder results with a full rich profile.
Yield: one 8.5 x 4.5-inch loaf
Ingredients
Dough:
2 ¼

cups

(11 oz) all-purpose flour

1 ½

teaspoons

instant yeast*

½

teaspoon

kosher salt

½

cup

(4 oz) whole milk, room temperature

¼

cup

(1.75 oz) granulated sugar

2

large egg yolks, room temperature

1

teaspoon

vanilla extract

8

Tablespoons

(4 oz) unsalted butter, softened*
Chocolate Filling:
2

oz

bittersweet or dark chocolate, chopped

4

Tablespoons

(2 oz) unsalted butter

3

Tablespoons

unsweetened cocoa powder

pinch kosher salt

¼

cup

(1 oz) powdered sugar

1

large egg white
Egg Wash:
1

large

egg, room temperature

1

Tablespoon

water

pinch

kosher salt
Instructions
DOUGH: In the bowl of stand mixer, whisk together flour, instant yeast, and salt. Set aside. In another bowl, whisk together milk, sugar, yolks, and vanilla until sugar has dissolved.

Attach dough hook to stand mixer. Mixing on low speed, slowly add liquids to mixing bowl. Mix for one minute until dough starts to come together. Scrape down bowl as needed. Before the dough has fully formed, with the mixer running, add softened butter one tablespoon at a time. Increase speed to medium and continue to knead for 8-10 minutes until dough is smooth and does not stick to the sides of the bowl.

Form dough into a ball and place in a large greased bowl. Cover with plastic wrap and let rest at room temperature for 90-120 minutes until double in size. (Allow to rise at proof setting in Wolf Gourmet countertop oven, about 90 minutes.) Punch down risen dough. Recover with plastic wrap and let chill in the fridge for 30 minutes until dough is cold.

FILLING: Place chocolate, butter, and cocoa powder in a medium microwave safe bowl. Microwave for 30-45 seconds at 50 percent powder. Stir until smooth and melted. Add sugar and stir until combined. Let cool to room temperature. Whisk in egg white until mixture is shiny and glossy. Reserve one tablespoon of filling for later use.

Roll chilled dough on a lightly floured work surface. Press and roll into a 18 x 14-inch rectangle, with the long end parallel to you. Spread filling all over rolled dough, leaving a ½-inch boarder around the edges. 

Roll dough away from you into a tight cylinder. Pinch seams closed. With the roll seam side up, spread the reserved one tablespoon filling over seam. Fold roll on top of itself, allowing the filling to sandwich. Pinch ends to seal.

With your hands on both sides of the roll, gently twist to form double figure eight. Place twisted roll in a greased loaf pan, pressing dough to fill the edges of the pan. Loosely cover with plastic wrap and let rise until dough is level with the lip of the loaf pan, about 90 minutes at room temperature. (Allow to rise at proof setting in Wolf Gourmet countertop oven, about 60 minutes.)

EGG WASH: Whisk together egg, water, and salt until well combined.

BAKE: Preheat oven to 350°F. Lightly brush the top of risen dough with egg wash. Bake for 40-45 minutes, rotating loaf midway through baking. Bake until the top of bread is deep golden brown and the internal temperature of bread registers at least 190°F.  Allow bread in cool in pan for 15 minutes before unmolding. Remove bread from pan and allow to cool to room temperature on wire rack. Allow bread to completely cool before slicing. 
Notes
RECIPE adapted from America's Test Kitchen Bread Illustrated 
If using DRY ACTIVE YEAST (instead of instant yeast): dissolve 2 teaspoon dry active yeast in warm milk (105-110 degrees F) along with 1 teaspoon of granulated sugar. Let mixture sit for 5-7 minutes until foamy and fragrant. Whisk in remaining sugar, room temperature yolks, and vanilla until sugar has dissolved. Add to stand mixture with flour and salt. Proceed with listed instructions. 
Since this is a small amount of dough, you will have to scrape the bowl often to ensure thorough mixing. Do not add additional flour. Simply scrape sticky dough from mixing bowl and continue to knead until dough comes together. 
Now the fun part… win a wolf gourmet countertop oven!
There are two ways to enter this giveaway:
Leave a comment with what you're most excited to bake or cook this holiday season
Tag a friend on this Instagram post.
Fine Print: To participate, you must be 18 years or older and reside in the 50 United States. No P.O. box addresses. Giveaway ends Monday, December 4, 2017 at 11:59 PM PST.
One winner will be chosen at random and notified via email or DM the morning of December 5. Winner will have 24 hours to respond before another random winner be will chosen.
Disclosure: I have partnered with Wolf Gourmet for this giveaway. Wolf Gourmet has generously provided me with the countertop oven for my own personal use and they will send one to the winner. As always, all opinions expressed here are my own.