These honey orange pecan mini rolls take only 10 minutes to bake. They're just like your favorite cinnamon rolls, except cuter and smaller!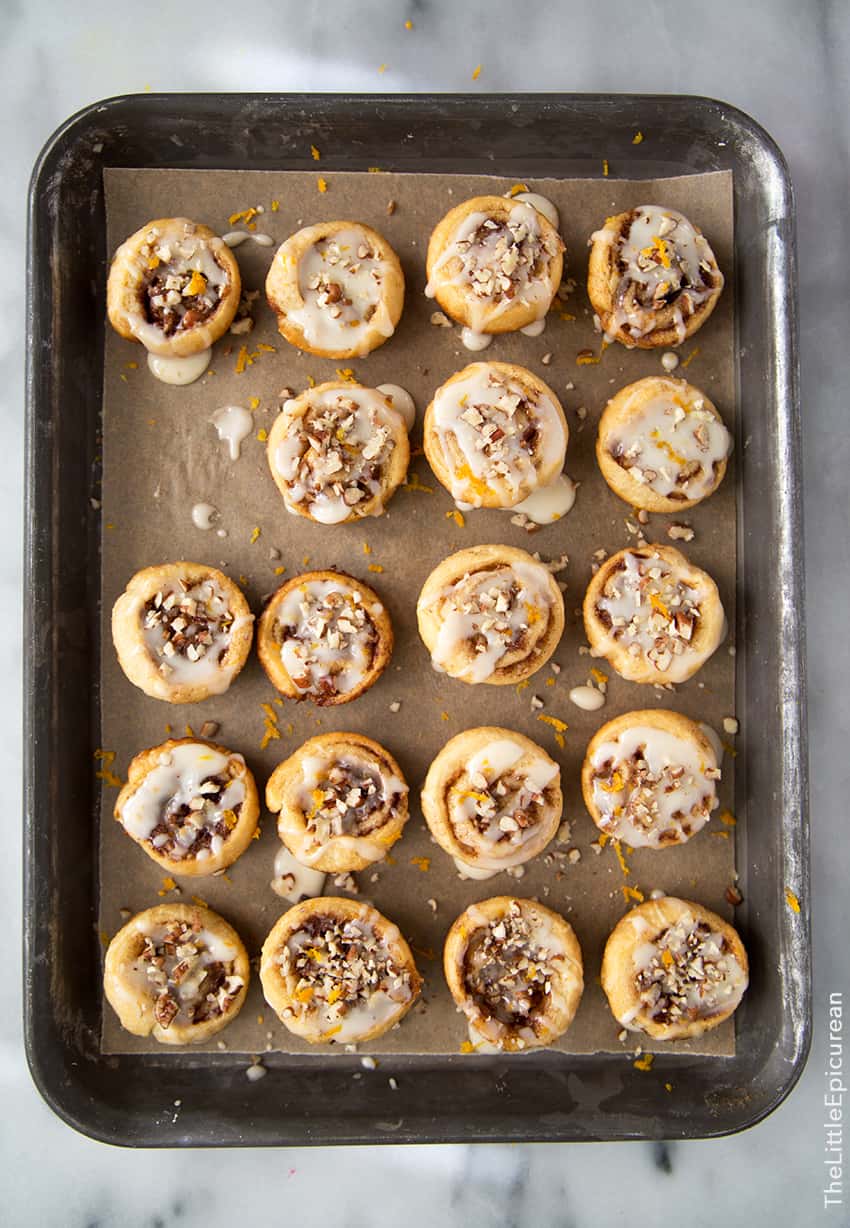 Truth be told. I've never had refrigerated crescent rolls. Alex talks about them all time. Whenever we pass them in the refrigerated section of the grocery store, he'll mention we should grab a pack and wrap them around hot dogs. I never listen. I'll usually go home and make dough from scratch.
(I did however, take his advice regarding the hot dog situation. I made these jalapeño cheddar hot dog buns and they were spicy and fantastic.)
Today, I'm trying something new. I'm stepping out of my comfort zone and tackling refrigerated crescent dough…
Who knew in less than half an hour, I could have warm fresh from oven honey orange pecan mini rolls? I'm now a believer. My mind is racing thinking of all the things I can make with crescent dough. It's an ultimate time saver!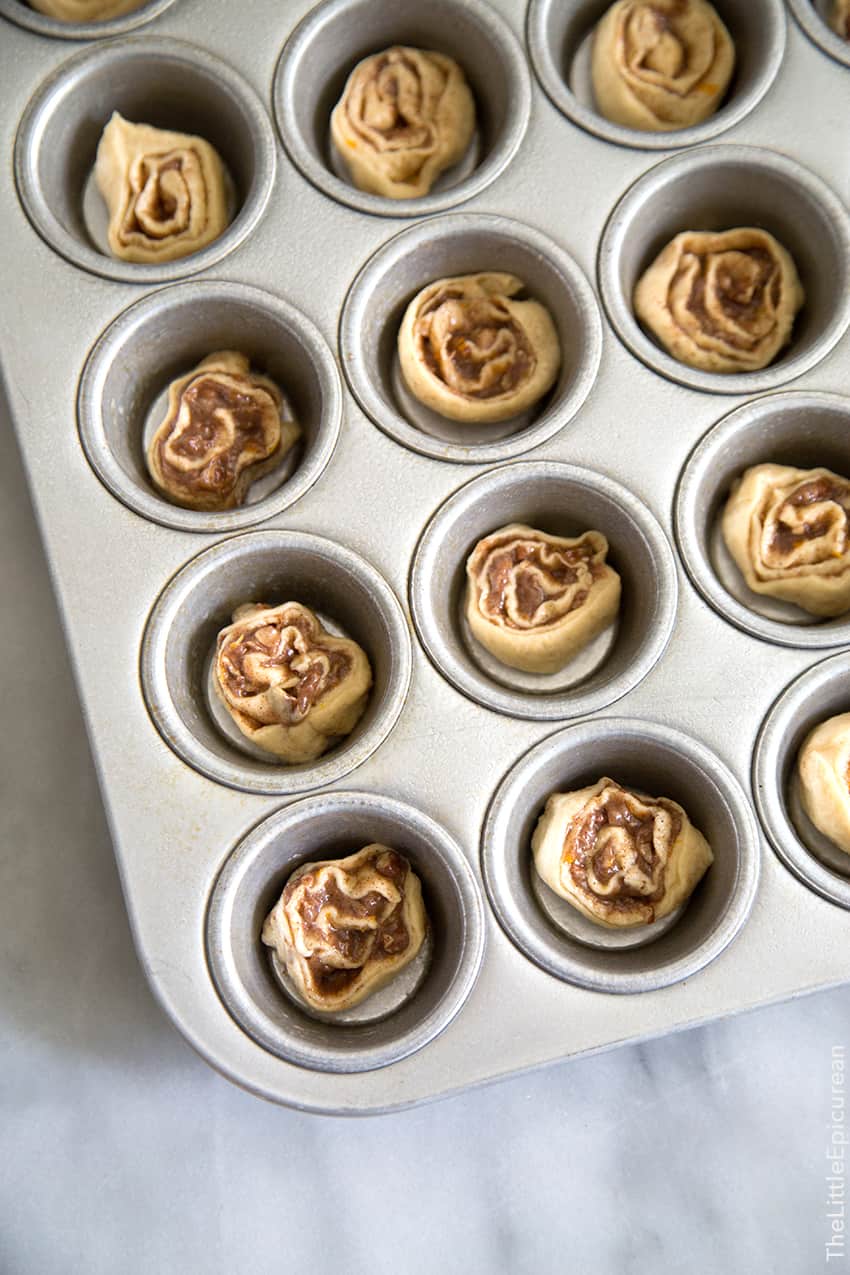 Honey Orange Pecan Mini Rolls
The key to these mini rolls is the mini muffin pan.
The dough is a very pliable and flimsy. When you slice the rolled up log into 24 portions, you'll end up with some wonky pieces like the ones photographed above. Do not fret.
Gently place them into the greased mini muffin pan. While they bake, the rolls will spread out to fill the diameter of the muffin cavity. You'll still end up with perfectly round mini rolls.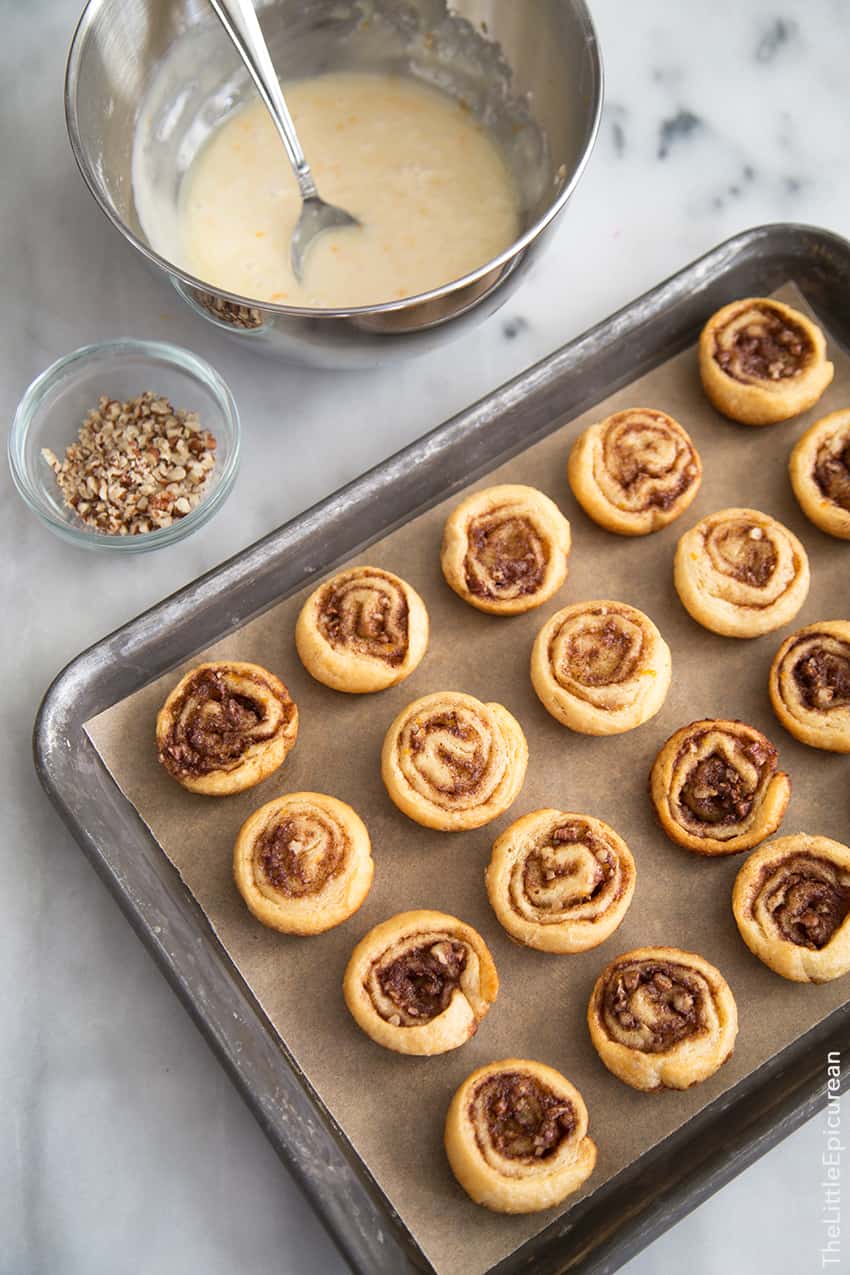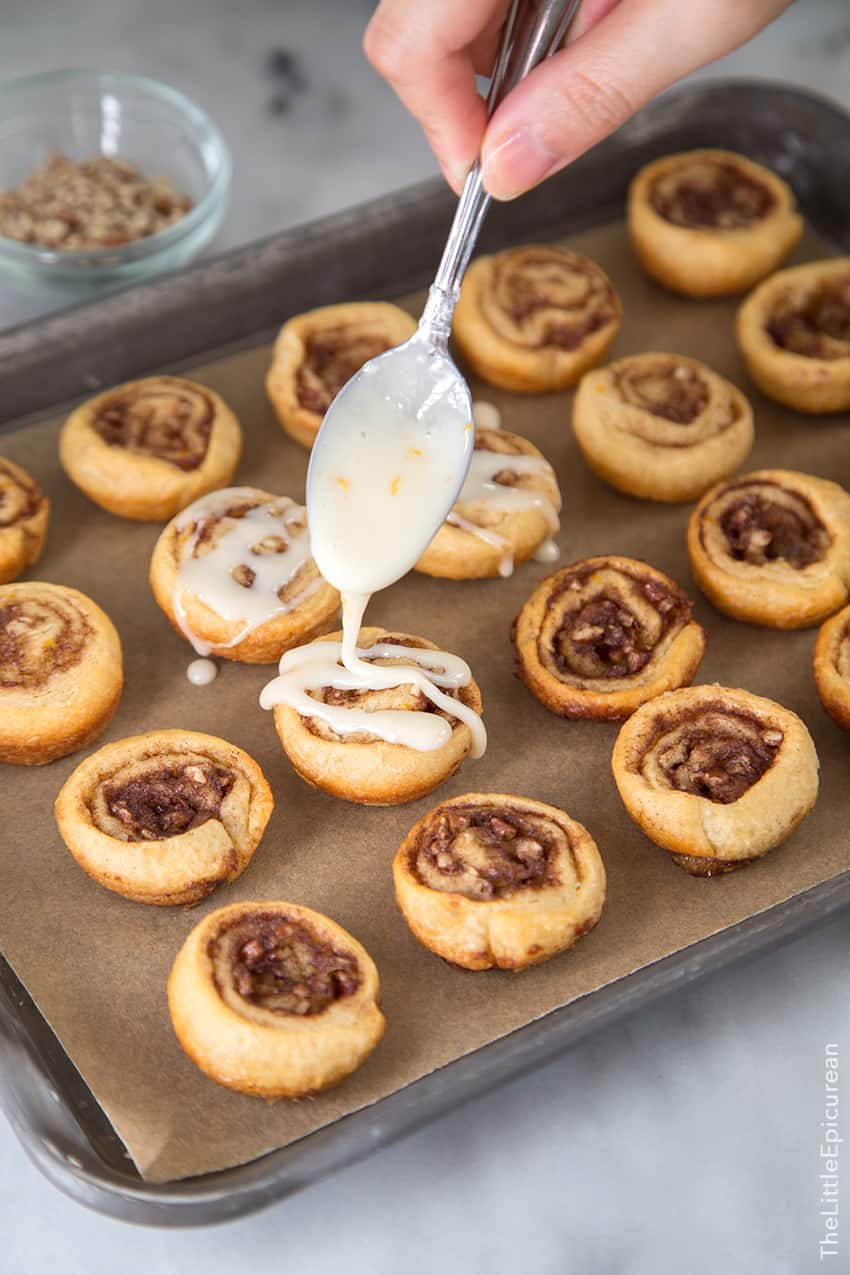 Immediately after baking, remove the rolls from the muffin tin to prevent them from getting soggy. While the rolls are still warm, drizzle on some orange honey glaze and sprinkle on additional chopped pecans.
SO EASY. It only takes 10 minutes to bake. If you have multiple mini muffins pans you can bake dozens and dozens at a time.
These little bite sized portions are perfect for parties and gatherings. During the holidays, instead of sweet fillings, think basil pesto filling, ham and cheese, etc.
I'm sharing the recipe for these mini rolls over at BHG's Delish Dish blog. Come on over!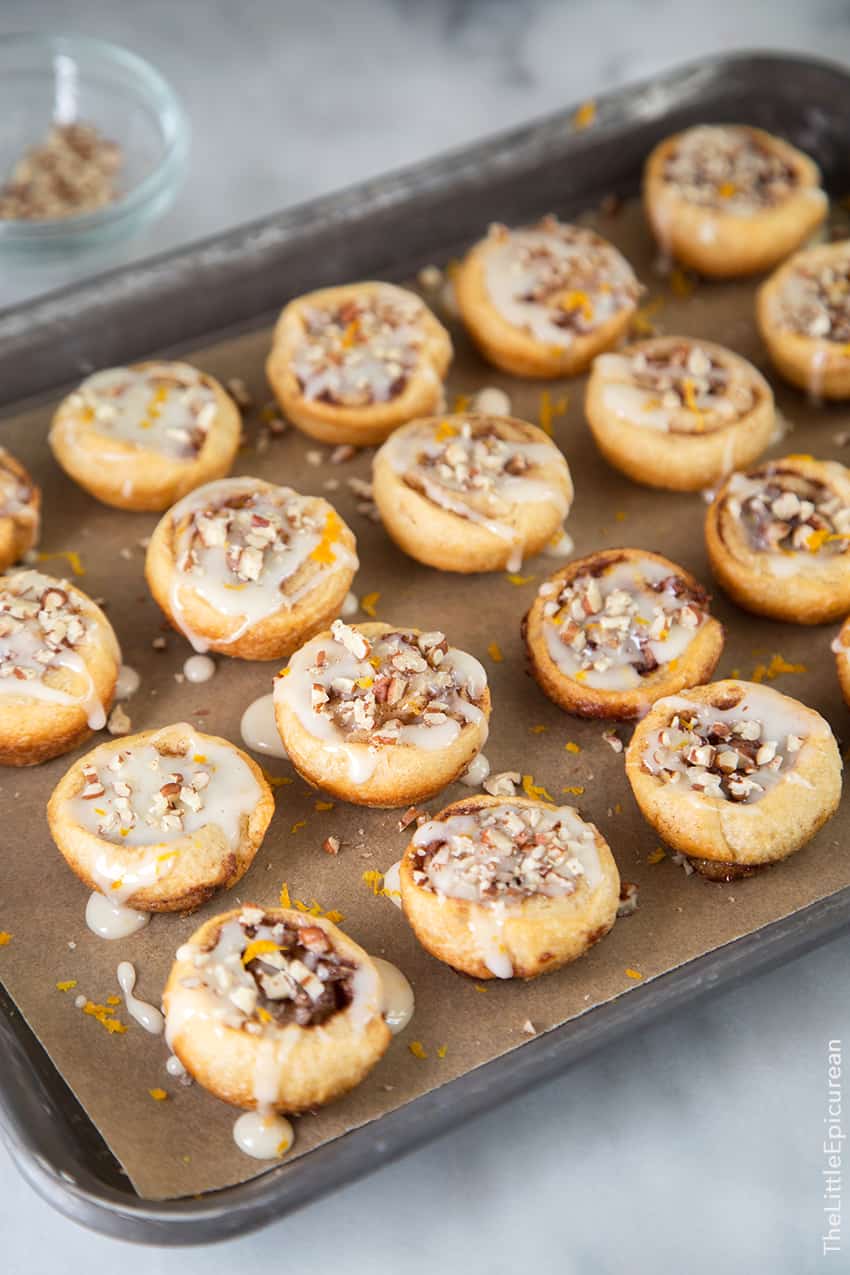 Honey Orange Pecan Mini Rolls
Ingredients
1/4

cup

finely chopped toasted pecans

2

Tablespoon

unsalted butter,

softened

2

Tablespoon

honey

1/2

teaspoon

finely grated orange zest

1

teaspoon

ground cinnamon

1

- 8oz package refrigerated crescent dough
Honey Orange Icing:
1

cup

powdered sugar

2

Tablespoon

honey

1

Tablespoon

milk

1/2

teaspoon

finely grated orange zest
Instructions
Preheat oven to 375 degrees F. Grease mini muffin tin with cooking spray and set aside.

Reserve 2 tablespoon of pecans. To make filling: In a small bowl, mix together remaining pecans, butter, honey, and cinnamon. Set aside.

Unroll dough and cut into two equal rectangles. Spread filling over dough. Starting form long side, roll up dough into a log. Pinch seams closed.

Slice each log into 12 equal portions. Place each portion into individual mini tin cavity. Bake for 8-10 minutes until golden brown. Cool in tin for about 3 minutes.

Remove from tin. Place on serving plate and drizzle with icing. Top with reserved pecans.
Honey Icing:
Whisk together powdered sugar, honey, milk, and orange zest until smooth.