This raspberry black sesame cake is perfect for novice cake makers. (It does not require any frosting skills!) This cake combines sweet raspberry jam with nutty black sesame. It's a cake that can be enjoyed all year long.
The other day, I open the mailbox to find that one of my letters had been opened. The sticker that kept the envelope sealed was savagely ripped off. It was a sweet and thoughtful birthday card.
Of course when it came time to thanking the sender, I come to find that there was supposed to be a gift card inside. Luckily, we were able to call the store to void the gift card. When the thief tries to use the card, it'll have a zero balance. (Justice.)
It irks me the lengths people go to steal. I remember growing up and receiving CASH in the mail along with my birthday greeting cards from aunts and uncles. No problem. The envelopes were always delivered in one piece, unopened. These days, I'm so apprehensive about sending anything by snail mail (unless it's certified with a tracking number).
Since I was so ticked off about this mail situation, I baked myself a cake. (Because whenever I'm feeling anything, be it happy/sad/annoyed/nervous/etc, I bake a cake to calm down.)
While I'm bummed about the mail, at least one delicious thing came out of it.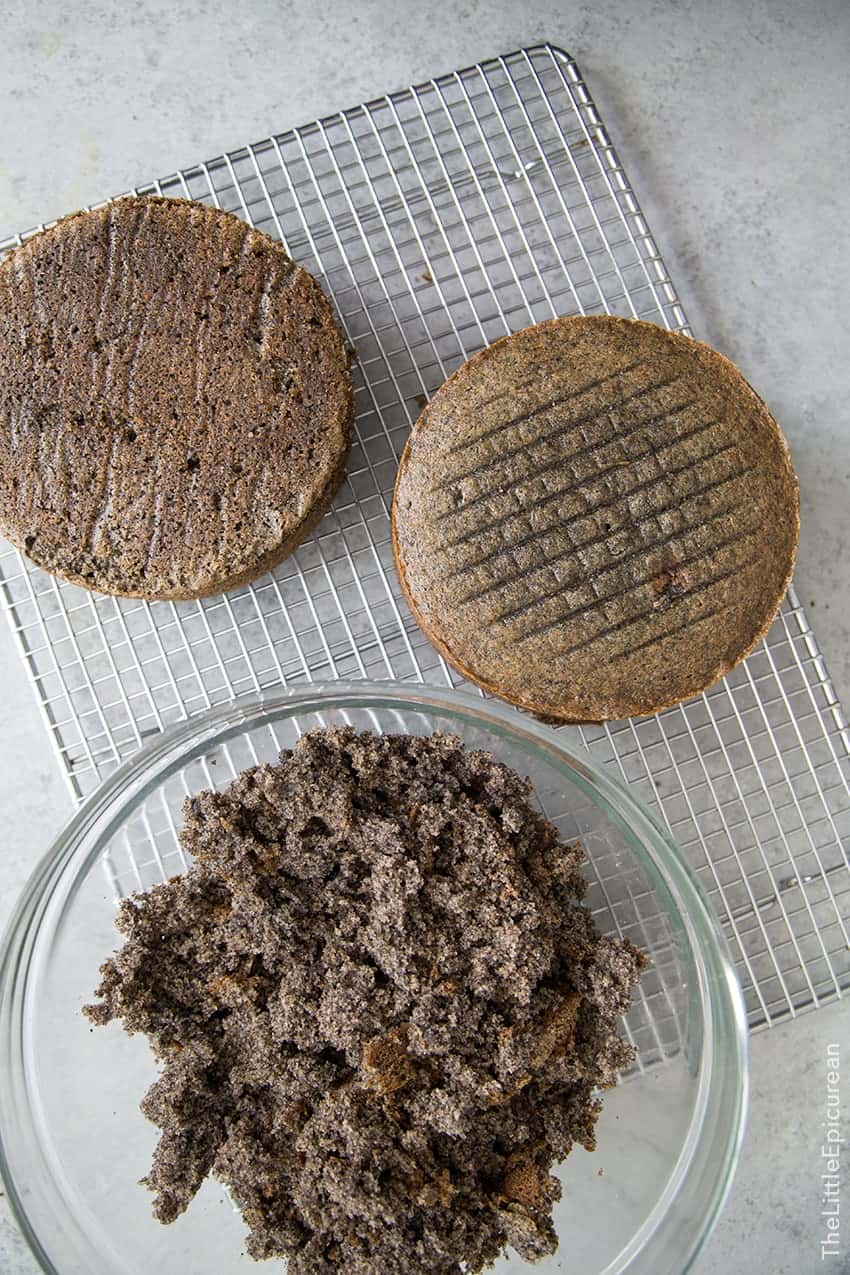 Raspberry Black Sesame Cake
Even though I've made hundreds of cakes, sometimes things don't pan out as expected. And that's okay.
Baking may be a science, but it relies heavily on patience. After years of baking, I'm still learning to master said patience. Sometimes I get carried away and I move way too fast. I was so eager to make and build this black sesame cake, that I damaged one of the cake layers as I was popping it out of the cake pan.
No problem. Asides from practicing patience, baking also requires you to go with the punches. You have to be able to adapt, think on your toes, and be ready for an alternative plan.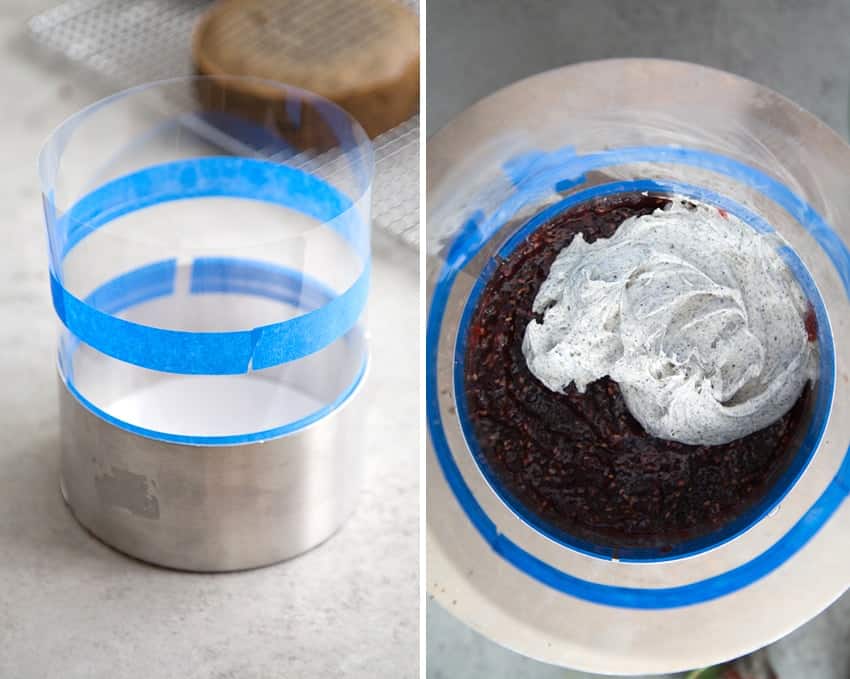 How assemble this "naked style" cake:
I first shared this technique back in 2013 when I had a mini disaster with a batch of raspberry almond muffins. It all turned out okay because I ended up with this raspberry almond layer cake. I'm doing the same thing with this raspberry black sesame cake.
I used a 6-inch cake ring mold and lined it with acetate strips. (Depending on the width of your acetate, you may have to tape it together like shown above.)
Instead of using whole cake layers, crumble it up into scrapes. (Yes, it sounds crazy. Trust me. It'll work out.) Place the crumbles pieces inside the ring mold and press it together. Spread a layer of raspberry jam on top.
Follow it up with a layer of black sesame cream cheese frosting. Repeat until you've used up all three layers of cake. Let the cake chill in the fridge for at least an hour to set up. I suggest letting it chill overnight.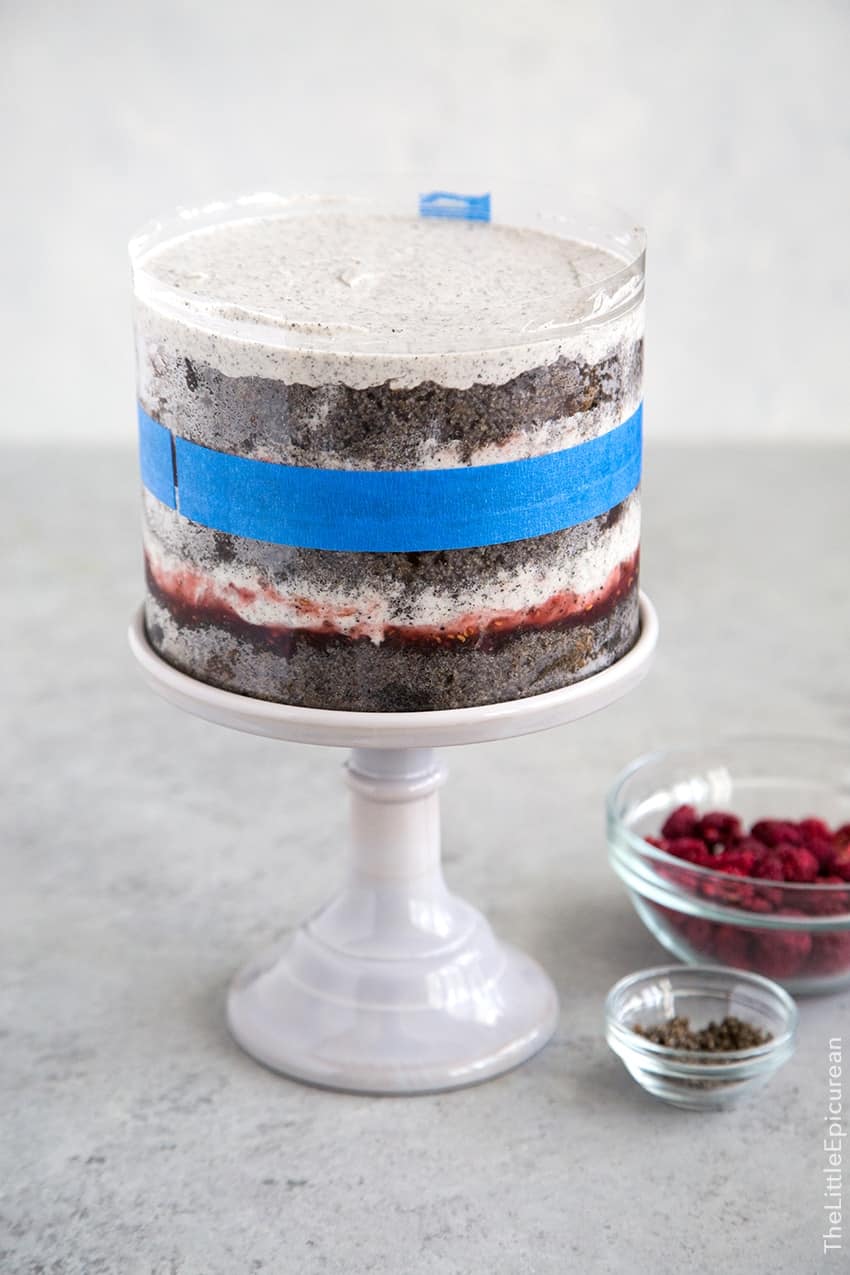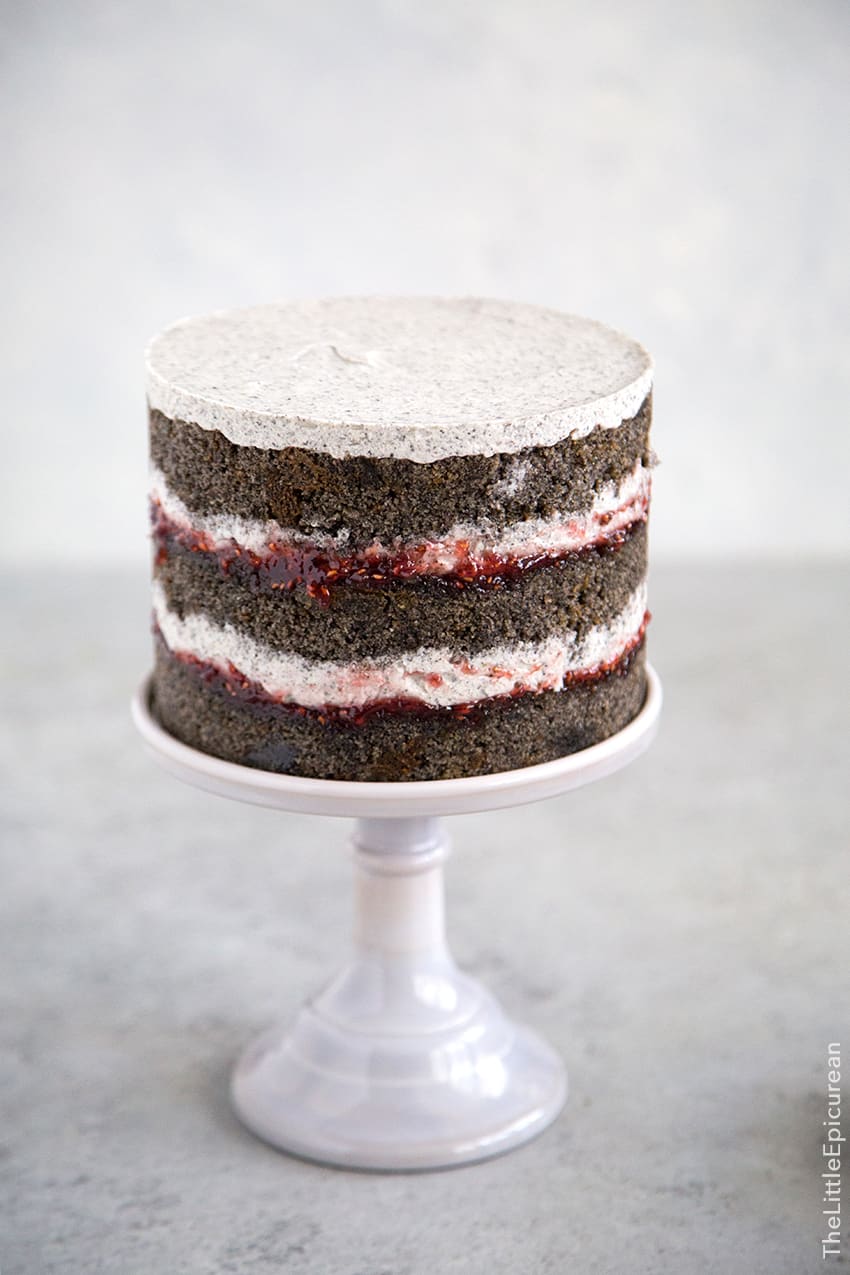 Slide the cake ring mold off and gently peel off the acetate strip. I love, love, love the look of these unfrosted, naked cakes. I love being able to see the different layers.
Best of all, these kind of cakes require no frosting skills!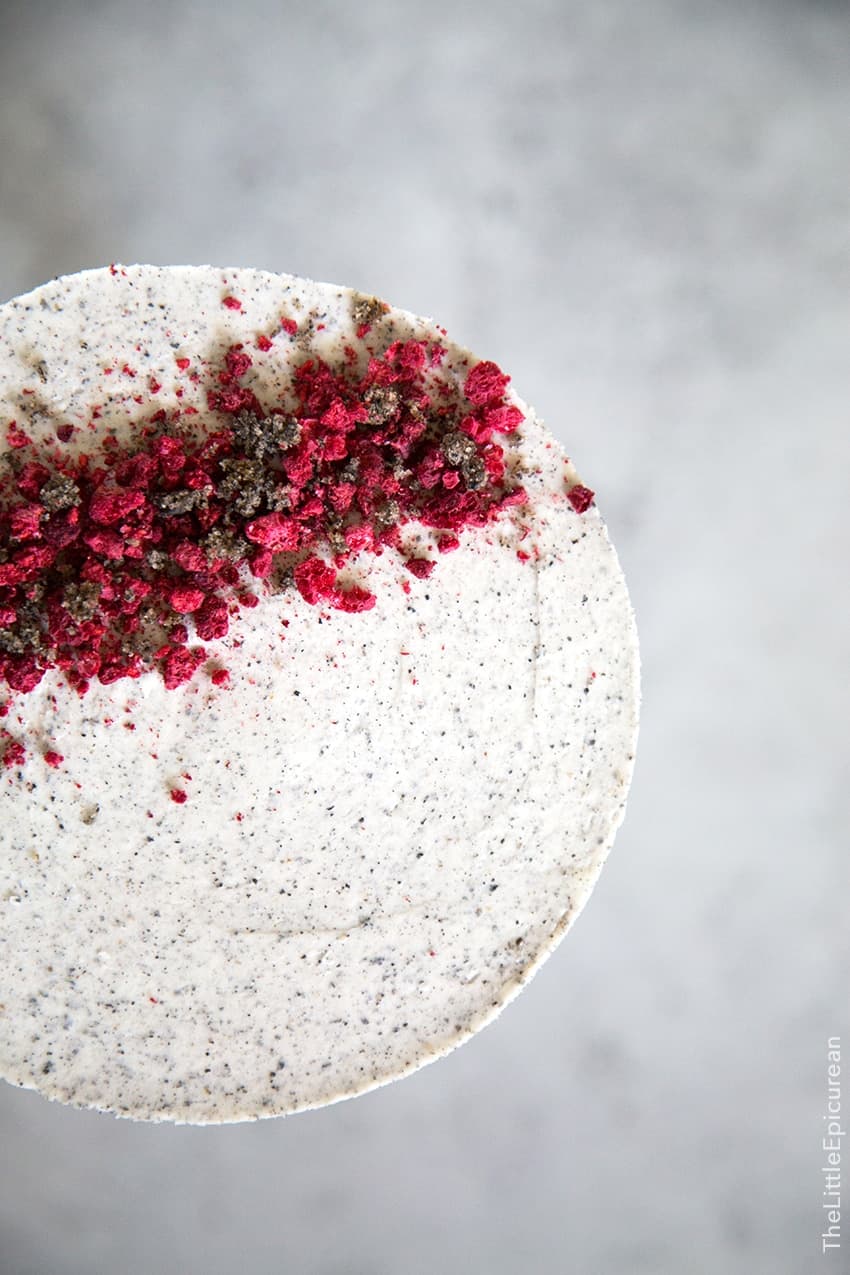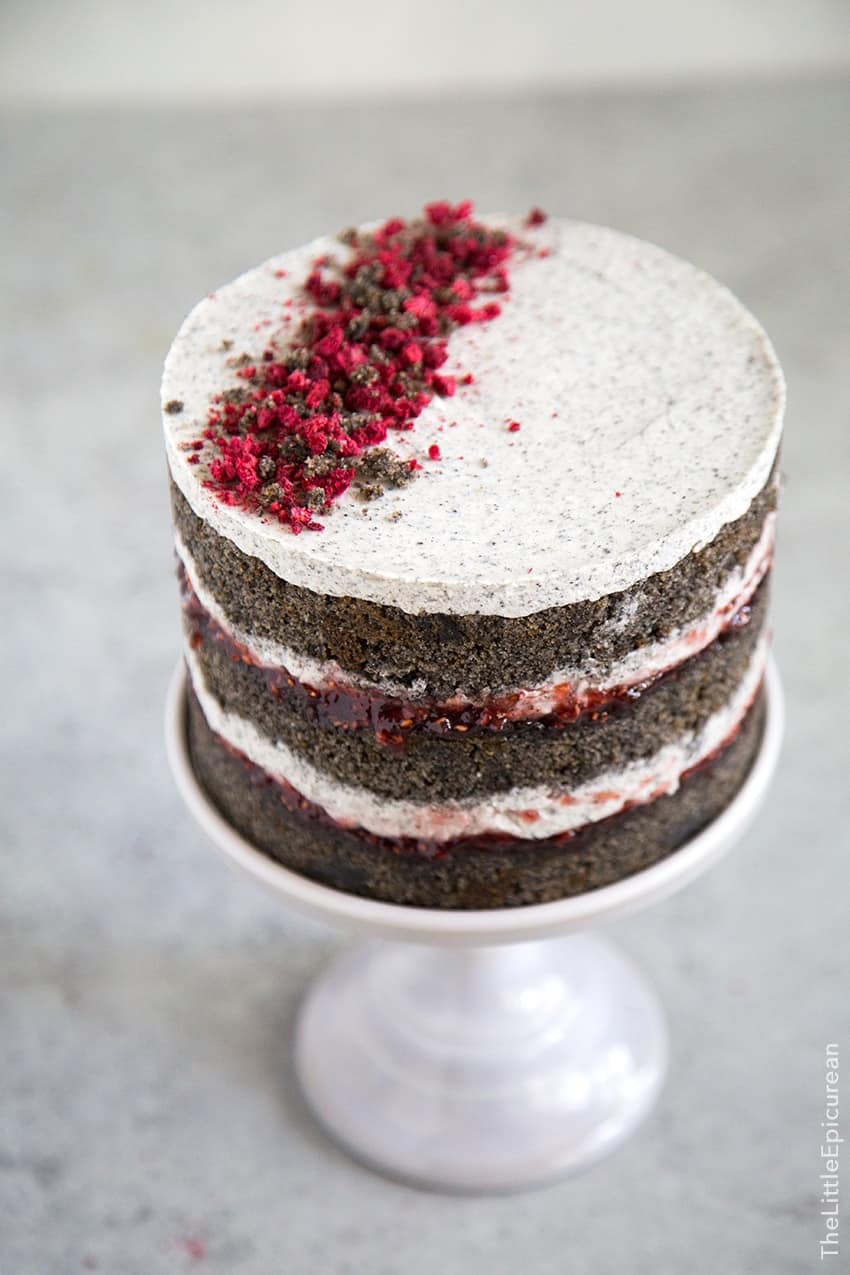 I decorated the top with the cake with leftover black sesame cake crumbs and some crushed freeze dried raspberries. I'm really obsessed with this minimalist look right now.
It's clean, simple, and modern.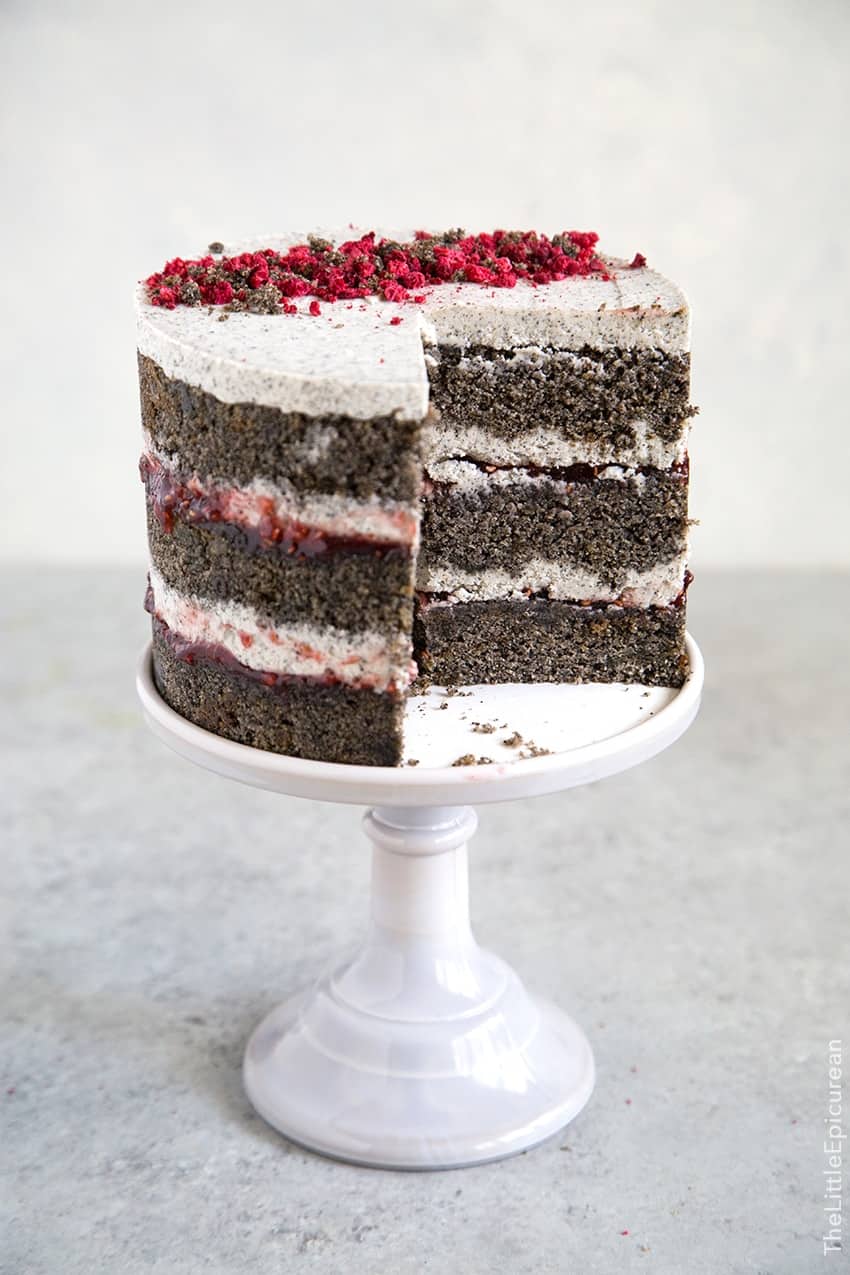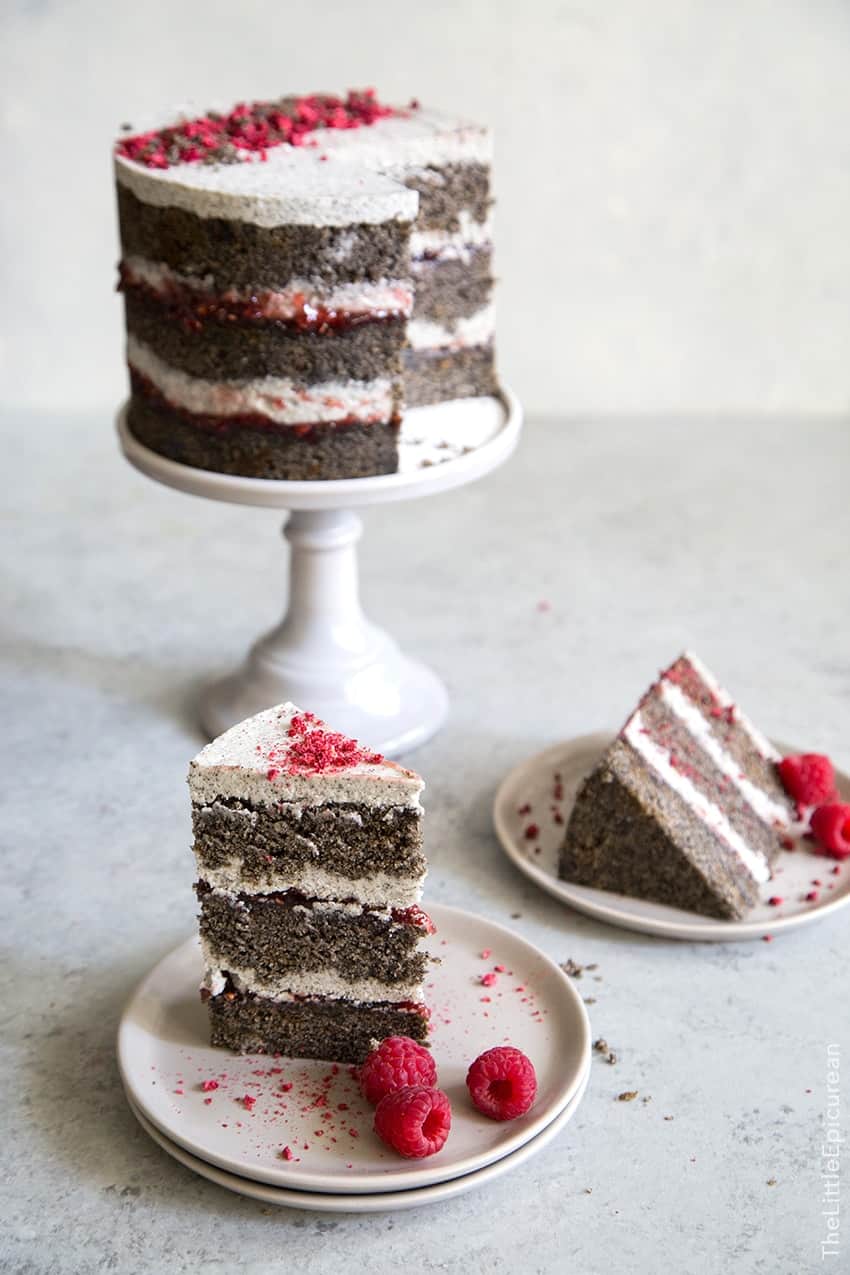 The inside of the cake reminds of me of Humboldt Fog cheese. (You know, the cheese with that delicious layer of ash.)
If you've never had black sesame desserts, you're definitely missing out. Black sesame imparts a very nutty flavor without the use of any nuts. It's great for those with nut allergies.
More black sesame desserts:
I've made a handful of other black sesame treats in case you're not ready to tackle a full on cake. How about matcha black sesame rolls, black sesame shortbread with hibiscus glaze, or black sesame cupcakes?
Does this black sesame cake sound familiar? It's the same recipe I used to make this Halloween Black Sesame Cake with marshmallow spider webs. I was going to wait until October to make another dark/spooky type cake, but heck- I'm still learning to deal with my patience.
I was inspired to make this raspberry black sesame cake after Sarah of Snixy Kitchen posted her coconut black sesame ice cream with strawberry swirl.
Raspberry Black Sesame Cake
Yield: 6-inch cake
Ingredients
Black Sesame Cake:
1/3

cup

black sesame paste* (recipe follows)

2

cups

all-purpose flour

3/4

cup

black sesame flour/powder

2

teaspoon

baking powder

1/2

teaspoon

baking soda

1/2

teaspoon

fine sea salt

10

Tablespoons

(6 oz) unsalted butter, room temp

1 1/4

cup

granulated sugar

2

large eggs, room temp

1

teaspoon

vanilla extract

1 1/4

cup

whole milk, room temp
Black Sesame Cream Cheese Frosting:
1

cup

(8 oz) unsalted butter, room temp

4

oz

cream cheese, room temp

1

Tablespoon

black sesame paste*

2

Tablespoons

black sesame flour/powder

2 1/3

cup

confectioners' sugar

pinch of fine sea salt
Black Sesame Paste (makes enough for cake & frosting):
1/2

cup

black sesame seeds

1/4

cup

honey

1/4

cup

light corn syrup
Other Components:
1/2

cup

raspberry jam

freeze dried raspberries, as needed to garnish

fresh raspberries, to garnish
Instructions
Black Sesame Cake:
Preheat oven to 350 degrees F. Line three 6-inch round cake pans with parchment paper. Lightly grease pans and set aside.

Whisk together flour, baking sesame flour, baking powder, baking soda, and salt. Set aside.

In the bowl of a stand mixer fitted with a paddle attachment, beat butter. Add sugar and mix until smooth. Scrape down bowl as needed. Add eggs, vanilla, and black sesame paste. Mix until incorporated. Scrape down bowl as needed.

In three additions, alternate adding dry mixture and milk. Mix on low speed. Scrape down bowl occasionally to ensure all ingredients are fully incorporated.

Divide batter among prepared cake pans. Bake for 30-35 minutes until toothpick inserted in center of cake comes out clean. Allow to cool in pan for 5 minutes before unmolding. Place cake on wire rack and allow to cool to room temperature.

Black Sesame Cream Cheese Frosting:
In the bowl of a stand mixer fitted with a paddle attachment, cream together butter and cream cheese until smooth. Add black sesame paste, black sesame flour, powdered sugar, and salt. Mix on low speed. Scrape down bowl as needed to ensure thorough mixing.
Black Sesame Paste:
Pulse black sesame seeds in a food processor. Process until almost all the seeds have been ground into a powder. Add honey and corn syrup. Continue to process until thick paste is achieved.

Assembly:
Place 6-inch cake ring mold and place it over a cake board. Cut acetate strip to line the inside of the cake ring. If necessary tape together acetates to fit height of cake.

Working with the cake layers one a time, crumble the cake layer into scraps. Take the scrapes to make the first layer of the cake inside the ring. Using the palm of your hand or the bottom of a drinking glass, push the scraps together into a flat and even layer.

Spread 1/4 cup raspberry jam in an even layer over cake. Spread about 1/2 cup of black sesame frosting over the jam.

Add another layer of cake scraps. Repeat the process from first layer. Add the third layer of cake and cover with remaining 1/2 cup frosting.

Let cake chill in the fridge for at least one hour (overnight is best). Gently remove cake ring mold and peel off the acetate strip while cake is cold. Garnish cake with crumbled freeze dried raspberries and any additional black sesame cake crumbs. Allow to cake to sit for 10 minutes to soften before serving.

Notes
For the black sesame paste, you can substitute black sesame flour/powder instead of seeds. This may slightly change the darkness of your paste.
Black sesame flour/powder can be found at Asian supermarkets. It is usually stocked with the baking, tea, or breakfast products.
All images and text ©The Little Epicurean