This surprise bloody cake will definitely shock your Halloween guests! It's a four layer vanilla cake with Swiss buttercream and raspberry coulis.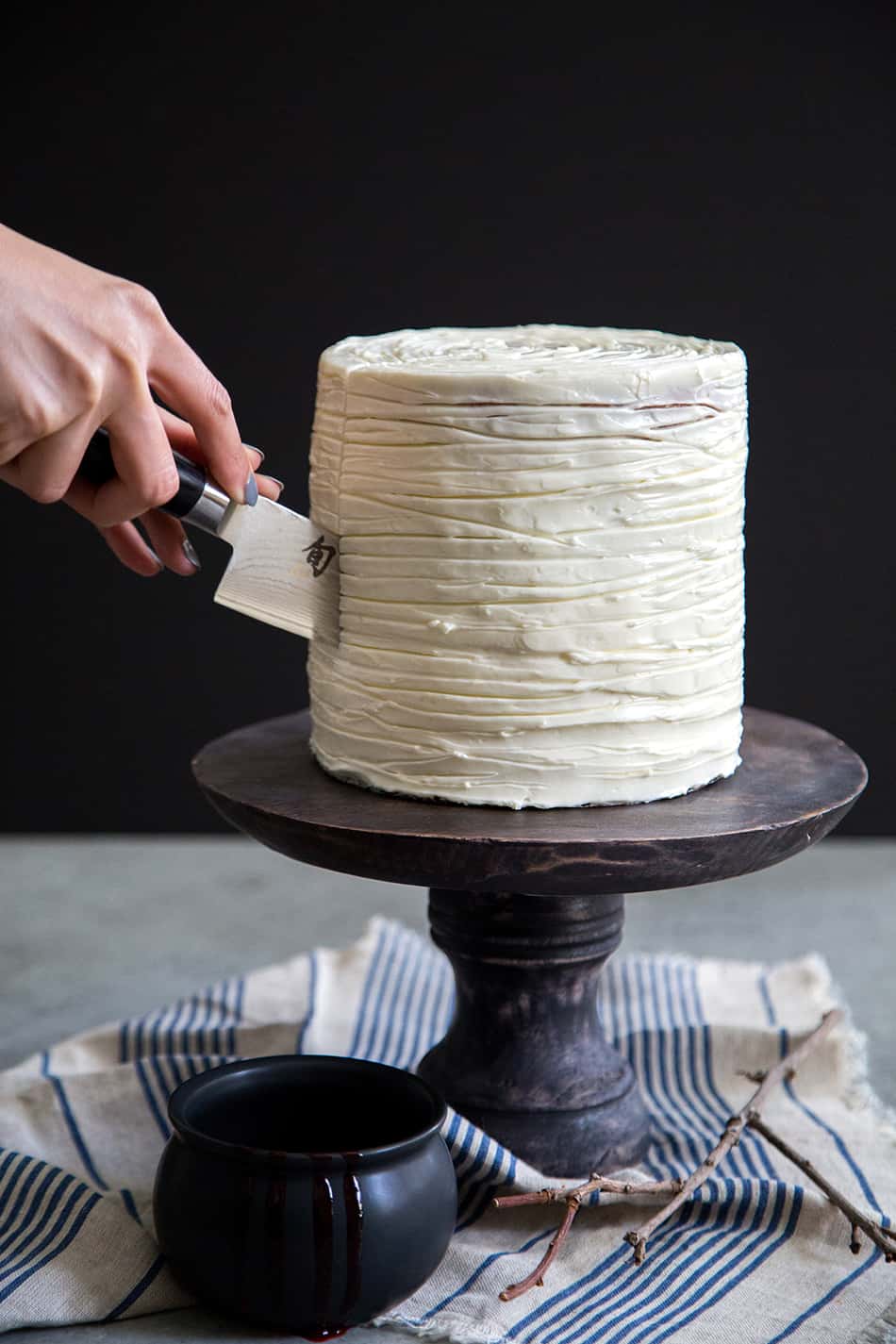 I don't handle surprises very well. No surprise parties, no deviating from the itinerary, nothing out of the ordinary, please. When it comes to Halloween tricks, I am the absolute worst person to play a gag on.
I don't like things jumping to scare me. I don't want fake spiders falling from above. Please hide the creepy clowns, zombies, and everything else that comes out at night.
Maybe I am the perfect person to scare. I'm a sure thing when it comes to getting scared. I will scream. I will jump. I will give you the reaction that you are looking for.
However, I will also get angry. It's likely that I might cry. And after my breathing returns to normal, I will hate you and I won't share any of my Halloween cakes, candies, and cocktails with you, including this surprise bloody cake.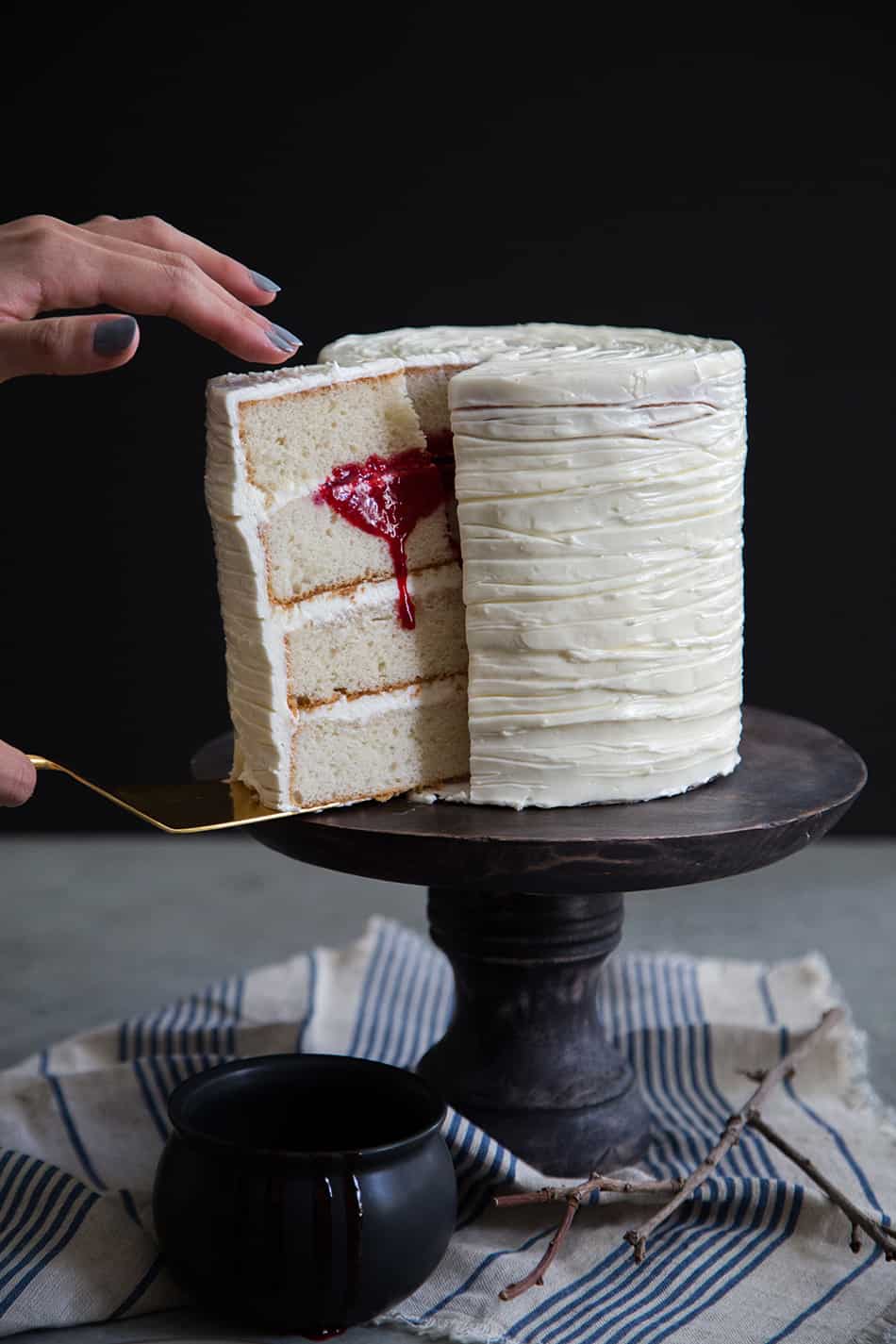 Surprise Bloody Cake
This surprise bloody cake is the extent of surprises I can handle. From the outside it looks like an unassuming cake. But once you slice into it, BLOOD!
Raspberry coulis gushes out and drips all over the inside of the cake.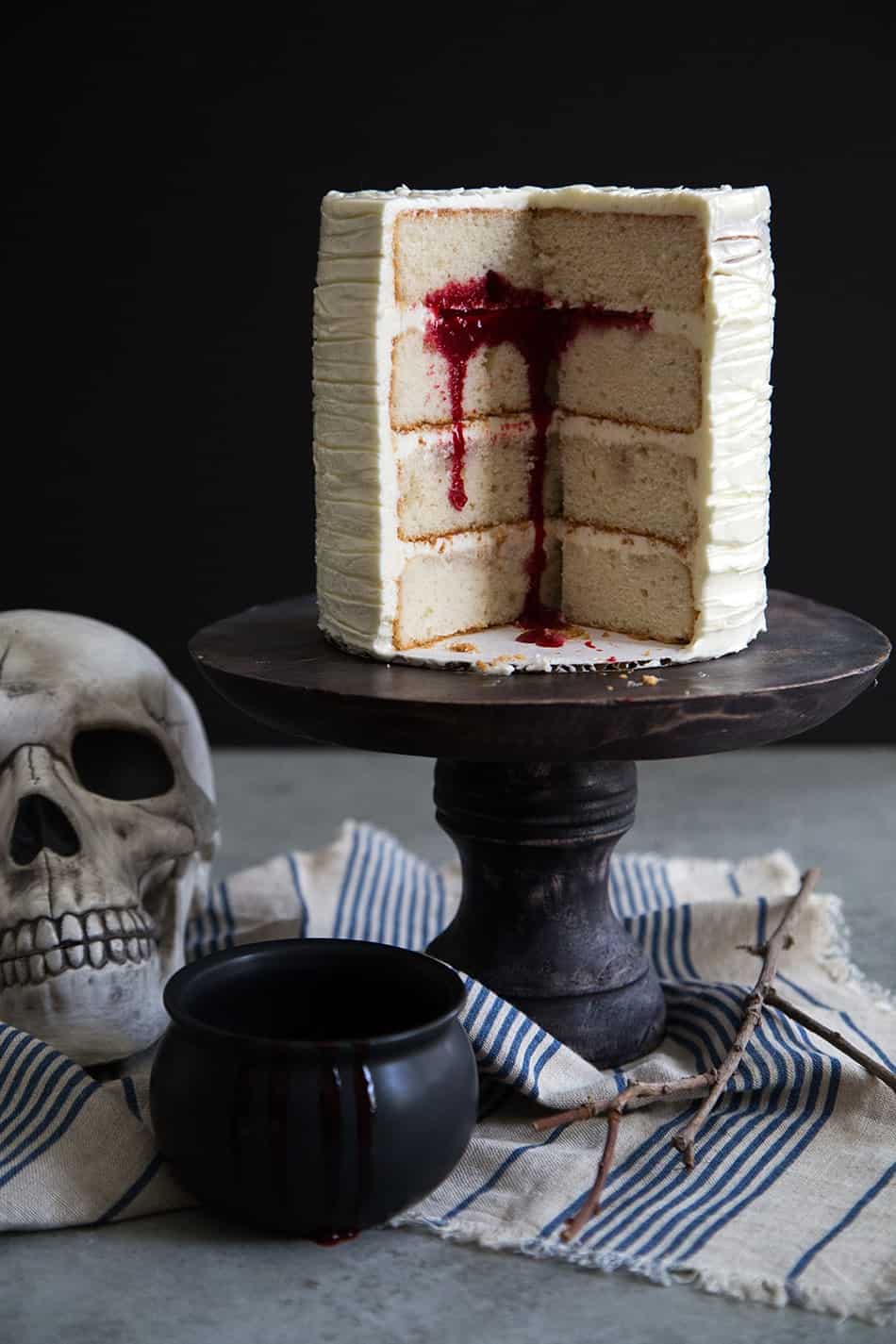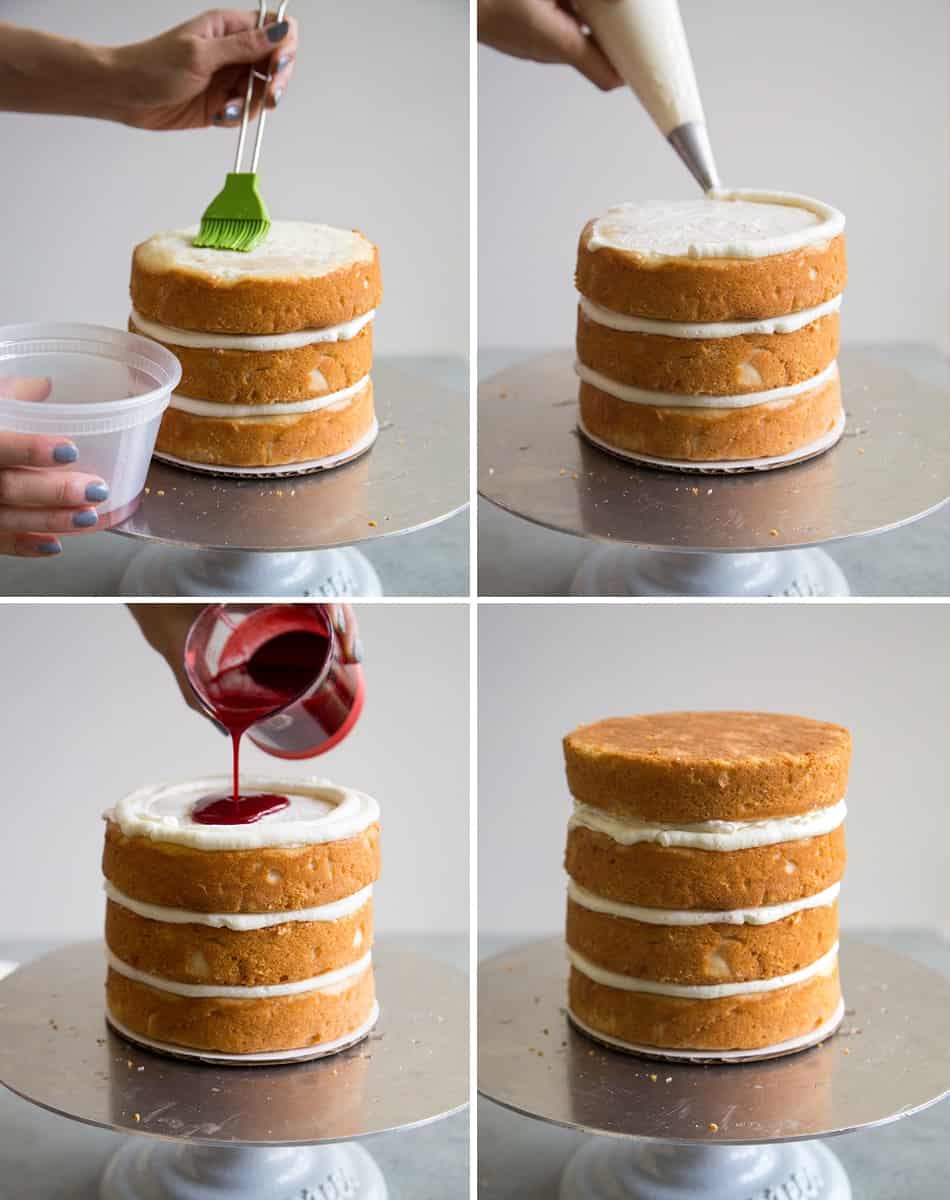 How to assemble surprise bloody cake:
I used the vanilla cake from this strawberry vanilla cake from last year. It's a flavorful cake that is fairly dense and sturdy- making it perfect for stacking.
Each vanilla cake layer is brushed with a boozy raspberry simple syrup to keep the cake soft and moist. I spiked the simple syrup with Chambord (raspberry liqueur).
The third layer of cake contains the surprise blood! I made a quick raspberry coulis to mimic blood.
What is coulis?
"Coulis" is simply a fancy French word that means strained fruit puree. It is deceptively simple to make and it can elevate any dessert. It's perfect for topping ice cream, lava cake, cheesecake, panna cotta, etc.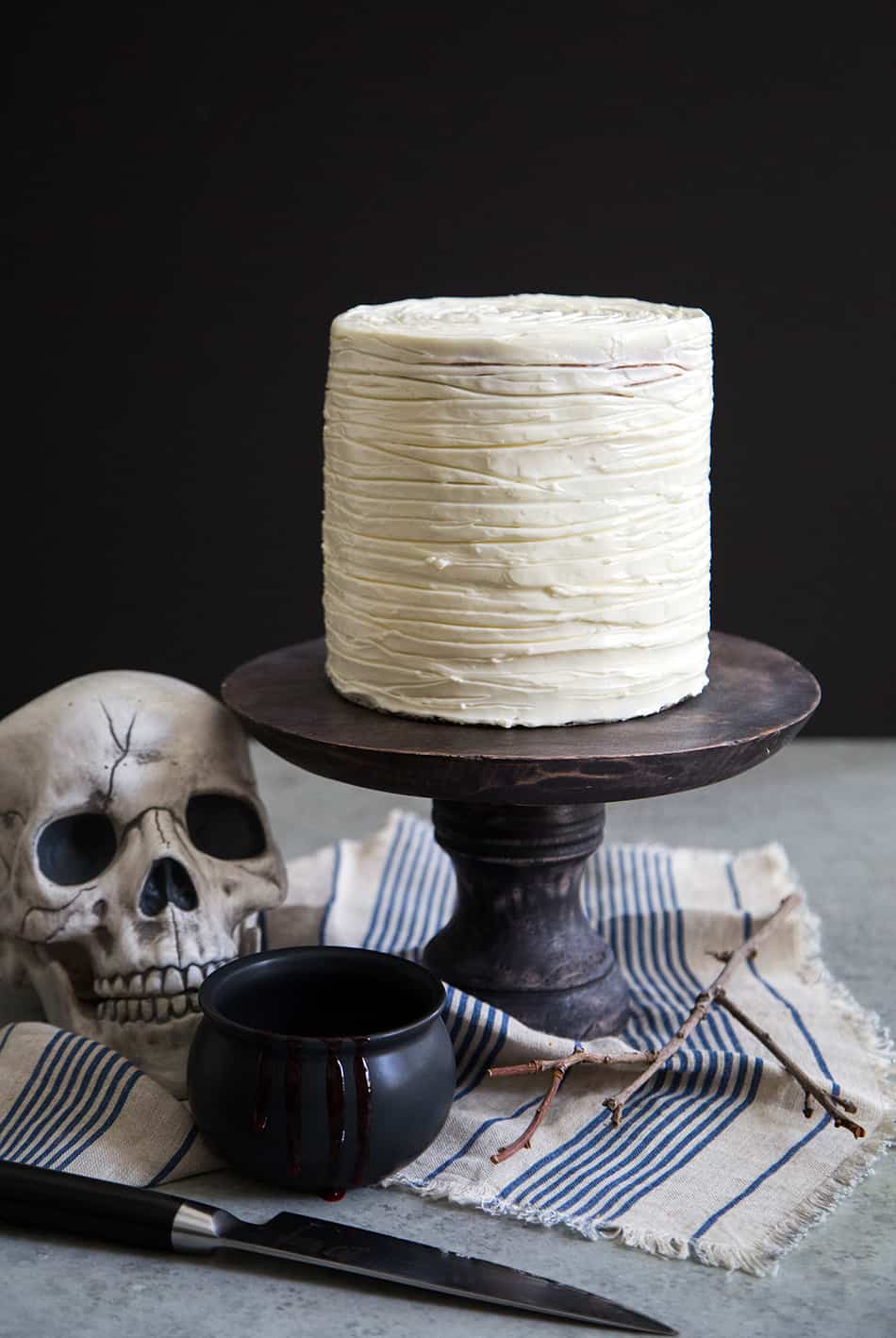 Here's to a happy Halloween without any tricks, scares, and/or pranks. Let's just all be nice to each other and hand out lots and lots of treats. I know the chances are slim… but hey, I can hope!
Surprise Bloody Cake
This surprise bloody cake will definitely shock your Halloween guests! It's a four layer vanilla cake with Swiss buttercream and raspberry coulis.
Yield: four layer 6-inch cake
Ingredients
Vanilla Cake:
3

cups

(370 grams) cake flour

4

teaspoon

baking powder

1

teaspoon

fine sea salt

1

cup

whole milk

2

teaspoon

vanilla extract, or vanilla paste

12

Tablespoons

unsalted butter, room temp

6

large egg whites, room temp

1 1/2

cup

(312 grams) granulated sugar
Swiss Buttercream:
6

large egg whites

1 1/2

cups

(312 grams) granulated sugar

2

cups

(1 pound/16 oz) unsalted butter, cut into tablespoons, softened

pinch of fine sea salt
Raspberry Coulis:
12

oz

package frozen raspberries

5

Tablespoons

granulated sugar

2

teaspoon

fresh squeezed lemon juice

1

teaspoon

finely grated lemon zest
Raspberry Simple Syrup:
3

Tablespoons

simple syrup (see notes)

1

Tablespoon

raspberry liqueur (like Chambord)
Instructions
Vanilla Cake:
Preheat oven to 350 degrees F. Butter and lightly flour four 6-inch cake pans. Line bottom with parchment paper and set aside.

Sift together cake flour, baking powder, and salt. Set aside. In another bowl, whisk together milk, egg whites, and vanilla. Set aside.

In the bowl of a stand mixer, beat butter until smooth. Add sugar and mix until combined. Scrape down bowl as needed to ensure even mixing.

Add 1/3 of the dry ingredients. Mix on low speed while adding 1/2 of the liquid ingredients. Add another 1/3 of dry, follow with remaining liquid ingredients, and end with remaining dry ingredients. Mix until batter is evenly combined.

Divide batter among prepared cake pans. Bake 30-35 minutes until toothpick inserted in center of cake comes out clean. Let cake cool in pan for 5 minutes before unmolding. Allow cake to cool to room temperature on wire racks.

Once cake is cool, use a serrated knife to level off cake layers if necessary.

Swiss Buttercream:
In the bowl of stand mixer, whisk together egg whites and sugar. Place bowl over a pot of simmering water to create a double boiler. Make sure simmering water does not touch the bottom of the bowl. Whisk sugar egg mixture until it reaches a temperature of 160 degrees F.

Alternatively, if you don't have a thermometer, heat until all the sugar has melted. You can test this by dipped your pointer finger into the warm mixture and rubbing it against your thumb. The mixture should be smooth. You should not be able to feel the granules of sugar.

Return bowl to the stand mixer. With the whisk attachment, beat mixture at medium speed until it has cooled to room temperature. Reduce speed to low and add butter one tablespoon at a time. Once all the butter has been incorporated, add pinch of salt. Increase speed to medium-high and continue to beat until buttercream is light and fluffy.

Raspberry Coulis:
In a medium sauce pot, add frozen raspberries, sugar, lemon juice, and lemon zest. Cook over medium heat until sugar has melted, raspberries have thawed, and mixture has slightly thickened. Stir occasionally to prevent raspberry sauce from burning along the sides of the pot. Remove from heat. Strain out raspberry seeds. Keep raspberry coulis (sauce) in the fridge until ready to use.

Raspberry Simple Syrup:
Mix together simple syrup and raspberry liqueur. Set aside until ready to assemble cake

Assembly:
Place one cake layer on a serving platter or cake turntable. Generously brush raspberry simple syrup over cake. Spread a thin layer of buttercream on cake. Place another cake layer and repeat adding simple syrup and buttercream.


Place third cake layer on top. Brush with simple syrup. Spread a very thin layer of buttercream on cake. Using a piping bag fitted with a small round tip to pipe a buttercream border along the edges of the cake. Gently pour raspberry coulis into the piped ring of buttercream. Reserve remaining raspberry coulis for serving.

Spread a very thin layer of buttercream over the last cake layer. Invert cake layer and place frosted side on top of cake to cover raspberry coulis.


Spread a layer of buttercream around the sides of the cake to seal in the crumbs (crumb coat). Place int he fridge and allow to chill for 15 minutes to set the buttercream. Add another thin layer of buttercream. While the turntable to rotating, use a toothpick to drag lines around the cake. Keep cake stored in the fridge until ready to serve. Allow cake to come to room temperature before serving.

Once you slice into cake, the raspberry coulis will ooze out. Serve cake slices with reserved raspberry coulis.

Notes
Simple Syrup

: Bring to a boil equal parts water and sugar. Remove from heat and allow to cool. Keep chilled. Store covered in fridge for up to 2 weeks.
All images and text ©The Little Epicurean