Homemade microwave popcorn is quick, easy, and super customizable! All you need is a paper bag, popcorn kernels, and a microwave.
I hate movie theater popcorn. It's often too buttery, too salty, or worse- served at room temperature.
Let's not even get into how much my local theater charges for a small ($6!). But I'm only human. And I still succumb to movie theater popcorn about once or twice a year.
I can't help it. I'm a snacker. And I love popcorn. When I'm at home and it's Netflix/HBO Go/movie night, I want a bowl of popcorn to enjoy with my ice cold beer/glass of wine/mug of tea.
And at home, homemade microwave popcorn is easier than deciding what movie/tv series to watch. I kid you not.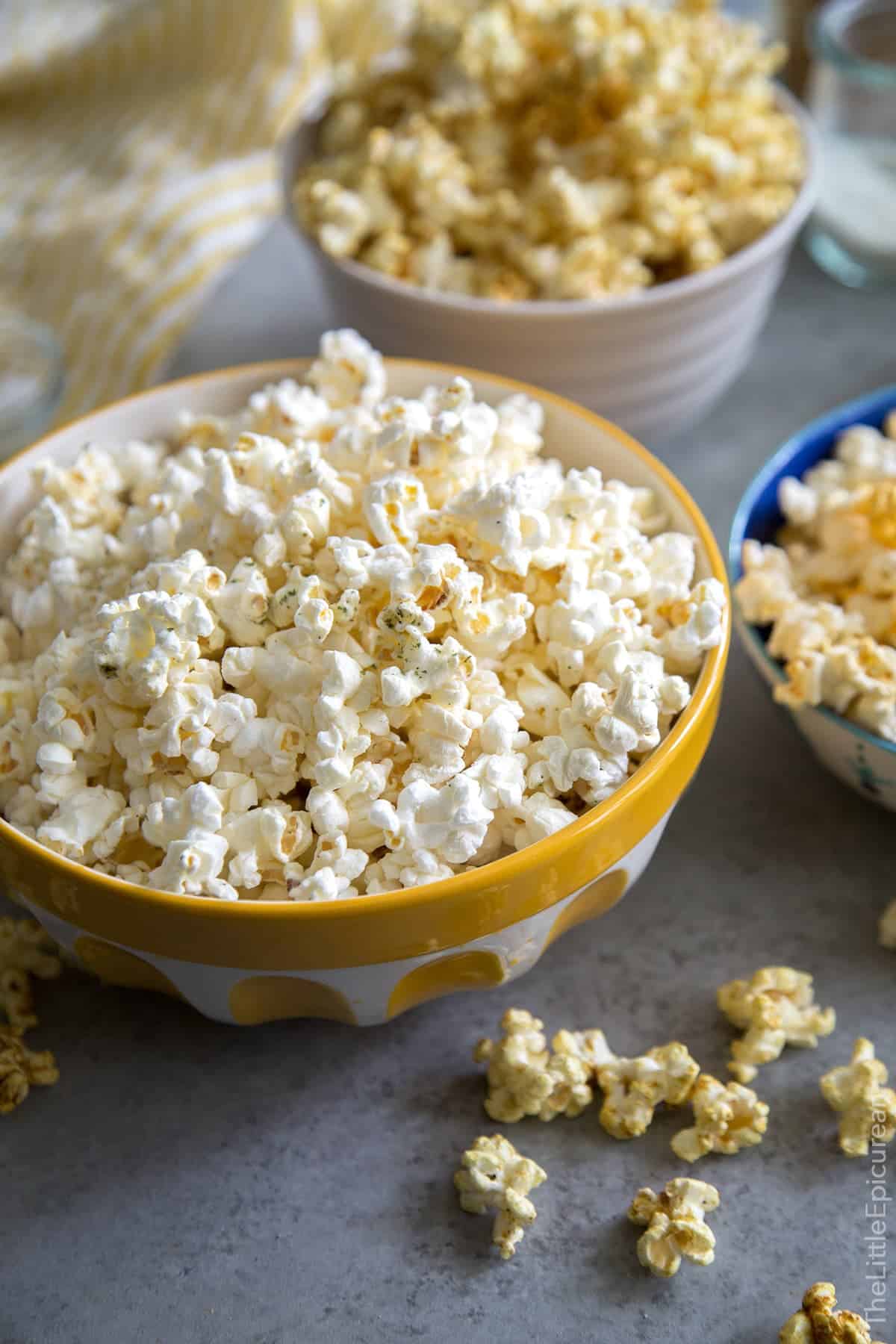 Growing up, I consumed tons and tons of that packaged, plastic wrapped super buttery microwave popcorn.
Obviously, this was before anyone mentioned anything about all the chemicals found in microwave popcorn. It was the good ol' 80s and 90s when bigger was better and easiest was best.
My eyes were opened sometime in middle school when a science teacher showed us how to make stove top popcorn. The following year, another teacher showed us how to make popcorn in a brown paper bag.
My. mind. was. blown.
And then best part of homemade popcorn- you can flavor it with all sorts of tastiness. My personal favorite: RANCH POPCORN (photographed above).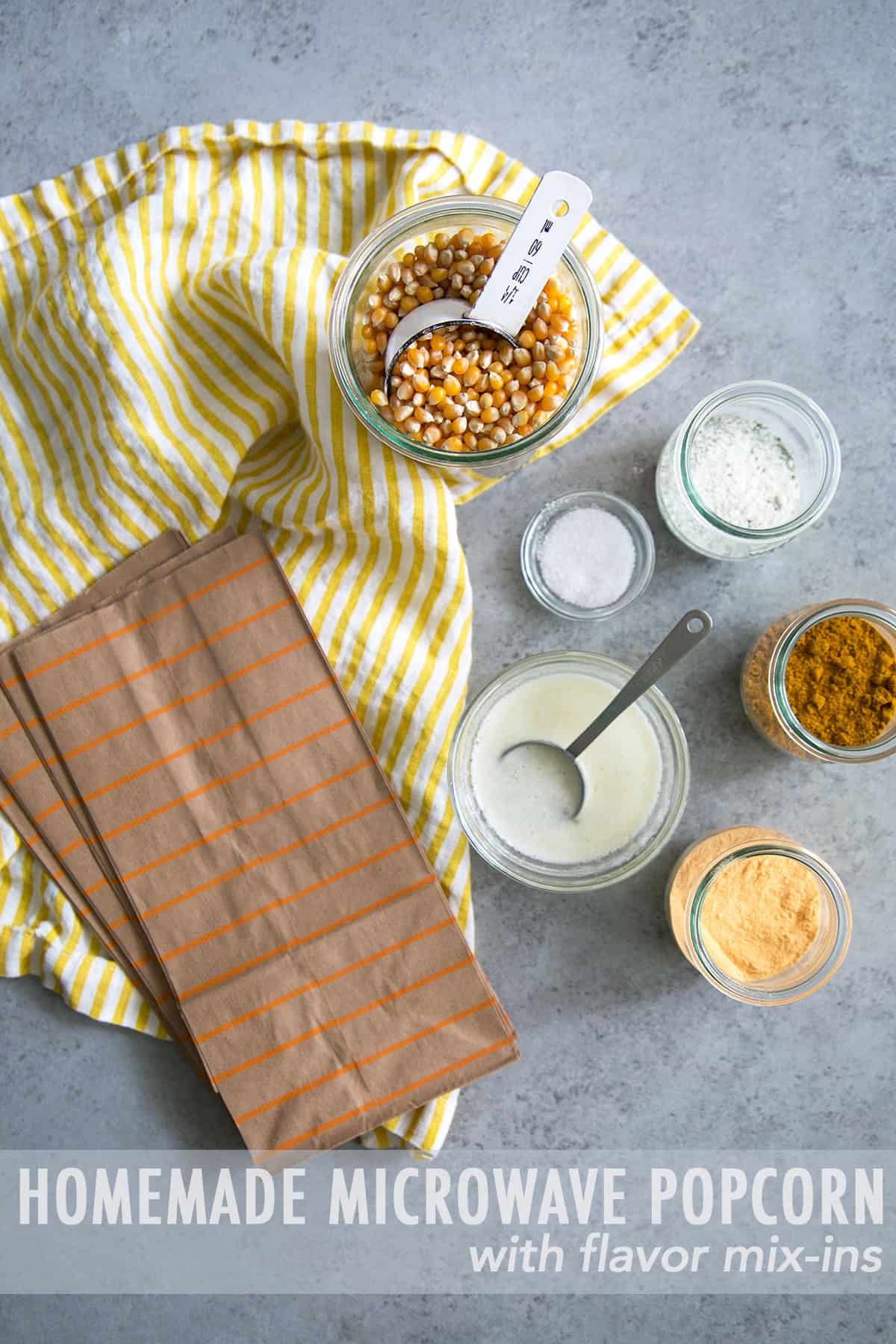 How to make homemade microwave popcorn:
Beyond a working microwave, all you need is a brown paper bag (the one I'm using is 4 x 5 x 10.5 inches, use this size or larger). No special tools or fancy equipment is necessary.
Popcorn kernels are widely available at supermarkets. They come in all sorts of varieties: organic, yellow popcorn, white popcorn, rainbow popcorn.
You can pop your popcorn and enjoy as is, OR you can flavor it to your heart's content.
Popcorn Flavor Mix-Ins:
Melted butter, melted coconut oil, sea salt, lava rock salt, curry powder, ranch powder, mac and cheese powder, furikake, miso powder. Possibilities are endless.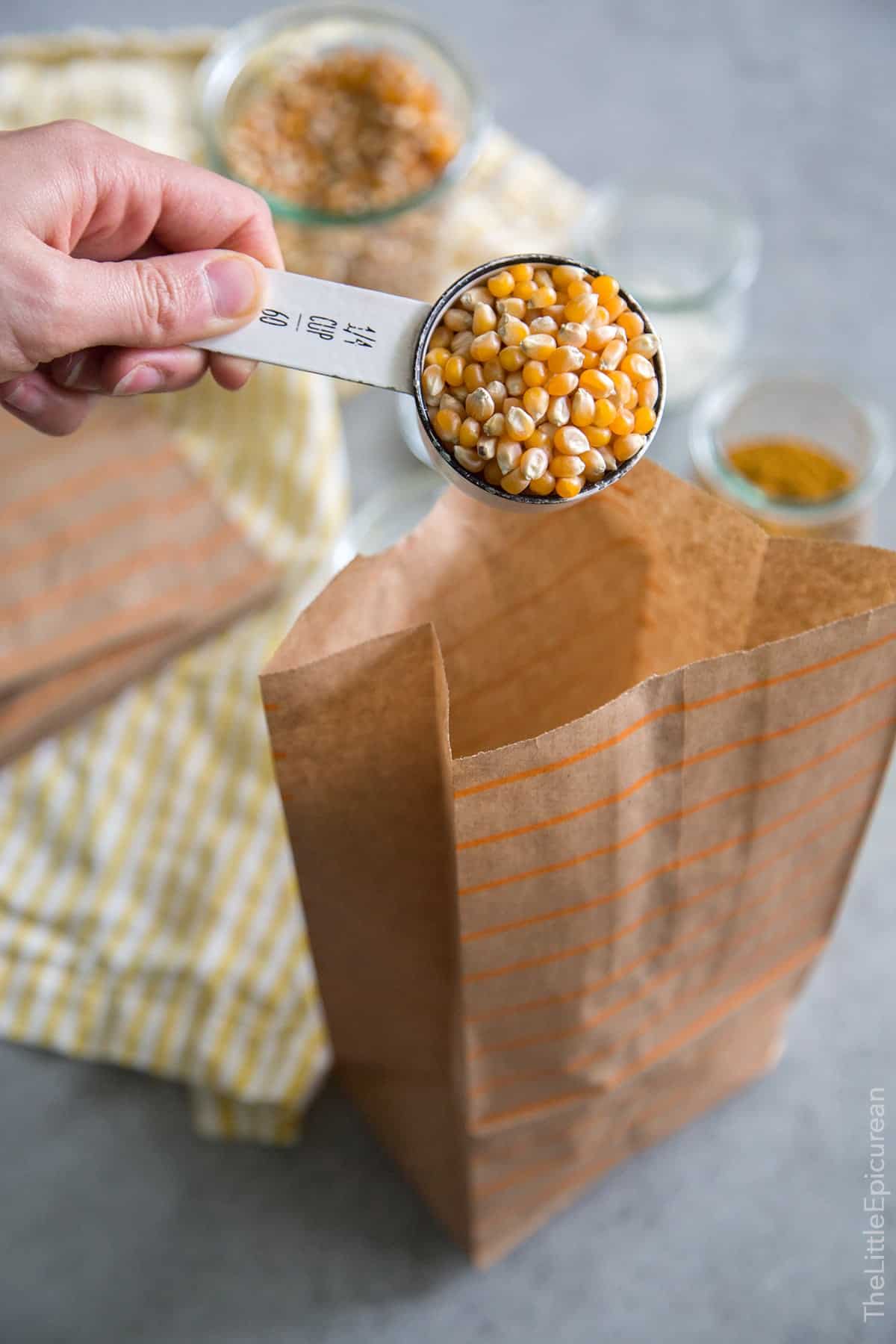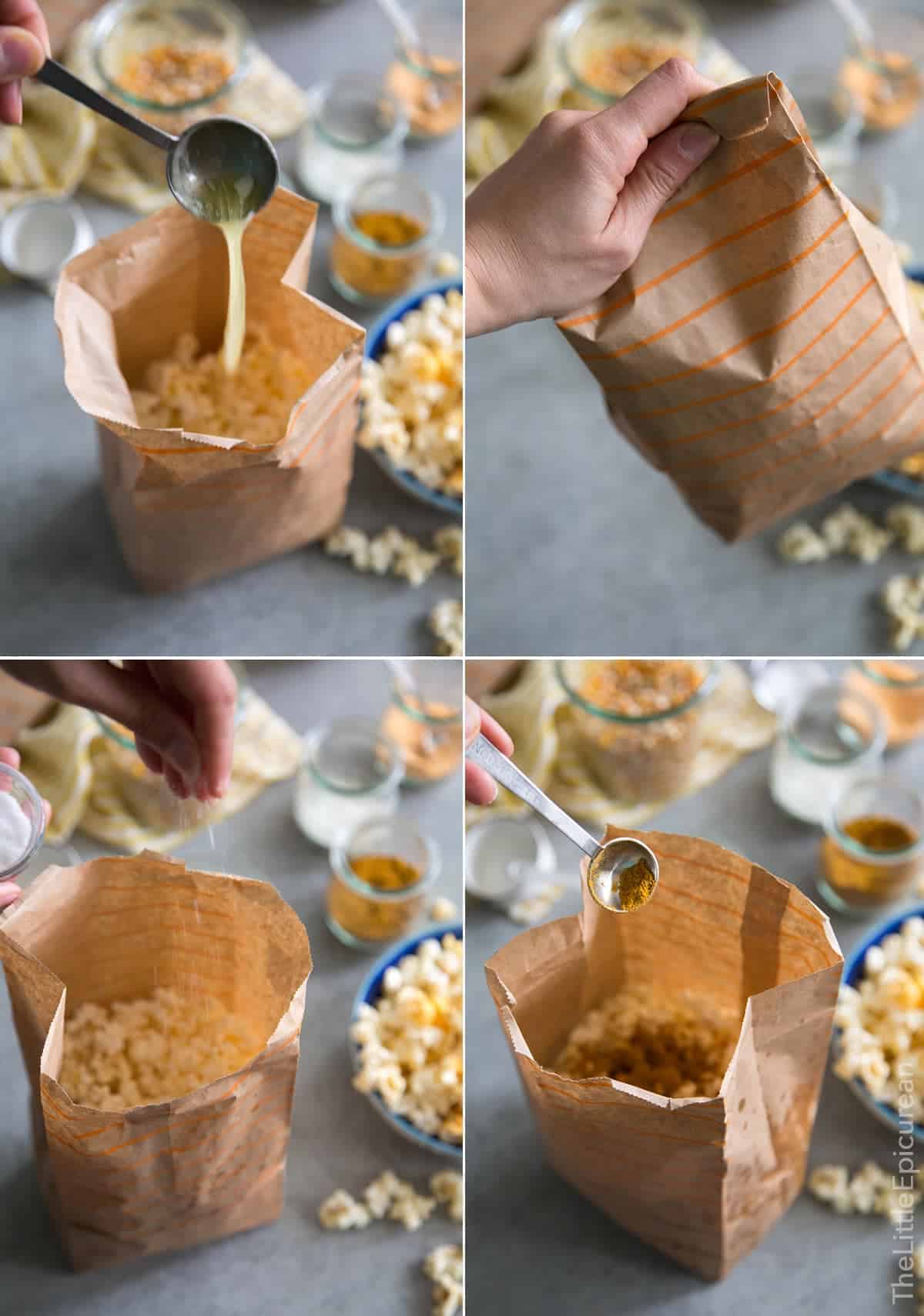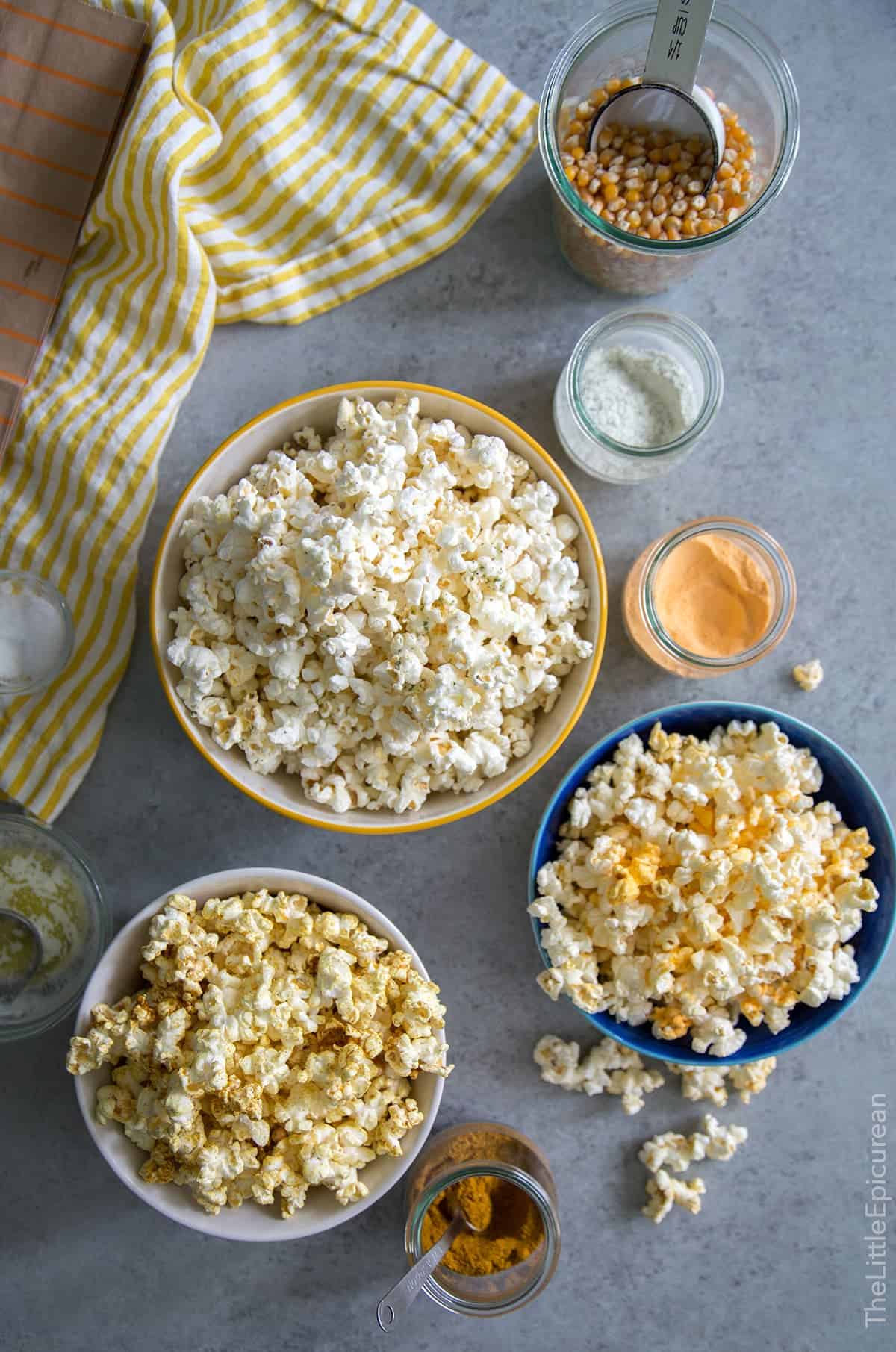 Los Angeles is expecting a set of three storms. That means it's time to stay in.
Whether you want to cozy up with a book or catch up on movies, a bowl of homemade microwave popcorn is a few minutes away!
What to do with excess popcorn? Here are some ideas: peanut butter chocolate cake with caramel popcorn, peppermint bark caramel popcorn, or movie night ice cream!
Homemade Microwave Popcorn with Flavor Mix-Ins
Yield: about 4 cups cooked popcorn
Ingredients
1/4

cup

popcorn kernels

2

Tablespoons

melted unsalted butter*

fine sea salt, to taste

1-3

teaspoons

flavoring of choice, adjust according to taste
Flavor Mix-Ins:
ranch powder

curry powder

mac and cheese powder

salt and black pepper

grated Parmesan cheese
Instructions
Place popcorn kernels in brown paper bag*. Fold over 1/2-inch top of bag over twice to seal. Place bag upright in microwave.

Depending on the wattage of your microwave, cook popcorn for 90 seconds to 3 minutes. Cook until there are 2 second gaps between pops. (NOTE: For reference, I have an 1100 W microwave and it took 90 seconds for my popcorn bag). *


Allow popcorn bag to cool for 30 seconds before opening. Some kernels may continue to pop after removal from microwave.


Unfold paper bag. Drizzle 1 to 2 Tablespoons of melted butter. Shake bag to distribute butter. Add a pinch of salt to season. Add 1 to 3 teaspoons of desired flavor powder. Shake bag to distribute flavorings. Pour popcorn into serving bowl and enjoy immediately.

Recipe Notes
You can also use olive oil or melted coconut oil in place of butter.
The dimensions of the brown paper bag I used are ( L x W x H): 4 x 5 x 10.5 inches. Use this size or larger.
Cook popcorn until there are 2 second gaps between pops. Some kernels will not pop. Do not cook until there are no longer any popping sounds. At this point, the popcorn will likely be burned. It is better to err on the side of caution and end up with less popcorn. 
All images and text ©The Little Epicurean