Take all your favorite movie night snacks and turn it into ice cream! Movie night ice cream consists of butter popcorn ice cream with chocolates, candies and peanuts.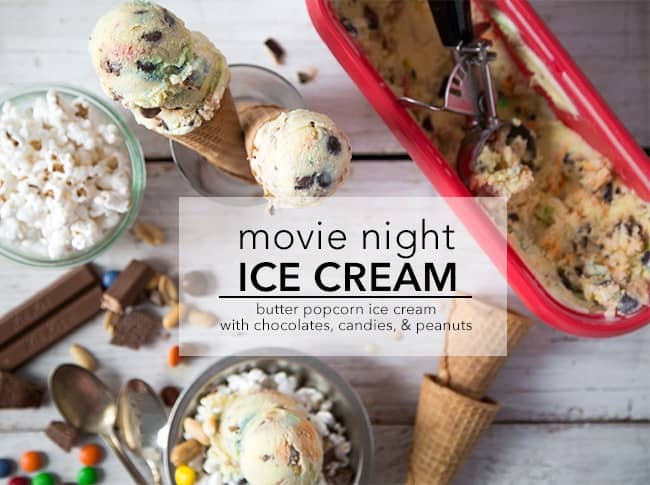 My dad is the hardest person to shop for.  (I guess I take after him in that department.)  Over the years, my brother and I have racked our brains trying come up with the perfect Father's Day present.
What could you possibly give the man that has given you everything?
Sure, I could get him clothes or gadgets or new tools, but eventually he'd forget about them and they'd get lost in the some closet.  One thing my dad never forgets: foods.
Sometimes, he'll call me by my brother's name or forget where he placed his hat, but he always remembers where he ate that steak/dumpling/noodle soup/fried chicken.
And then I thought, duh… why not make him his own unique ice cream flavor!  And so this awesome movie night ice cream was created.
My dad and I have a lot in common.  Asides from our appreciation of math, our love for animals, and our obsession with desserts, we share a love for movies.
My dad took me to see my first movie in theaters.  It was 1990 and I was 5 years old.  One day after lunch, my dad told me he was going to take me on a little trip.  My only question: is my little brother also invited?
Nope.  I don't know what it is about sibling rivalry, but I had this constant need to one-up my brother (even at that age).
We went to see Home Alone.  (In my opinion, one of the greatest movies of all time!  I still watch it at least four times each year.)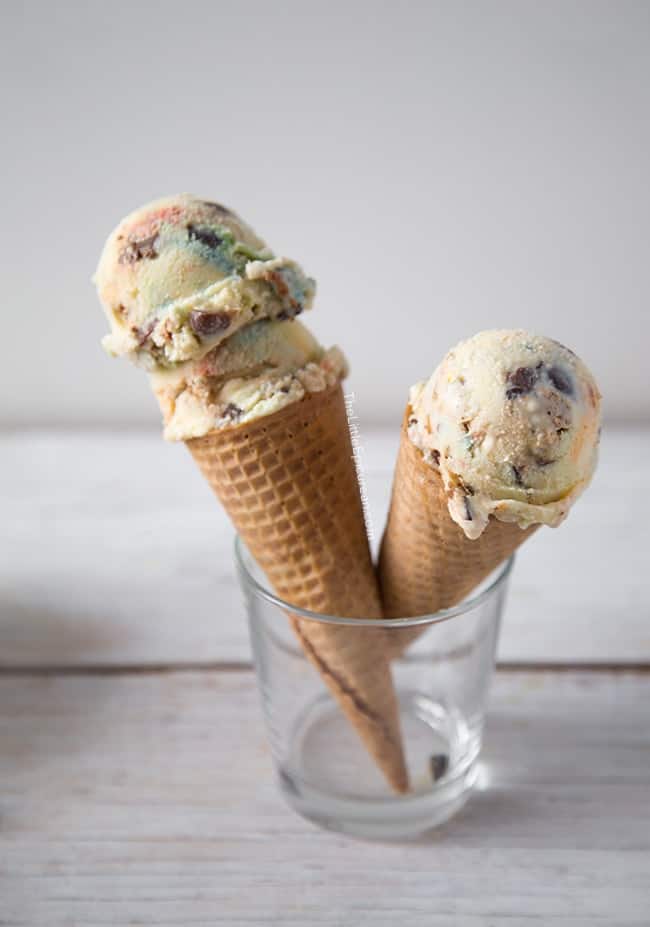 We arrived to the theater just in time.  This was my first time in a theater so I had no idea what to expect.  As soon as we handed over our tickets, I was bombarded by the encompassing smell of freshly popped butter popcorn.
The bright lights of the concession stand was so alluring and inviting.  As my dad walked towards the popcorn, I quickly followed.  He said I could order whatever I wanted.  Score!  I opted for the largest bucket of popcorn they had.
By the time we entered the theater, the only seats available were in the front row.  Mind you, this was before stadium seating.  We took our seats and the movie began.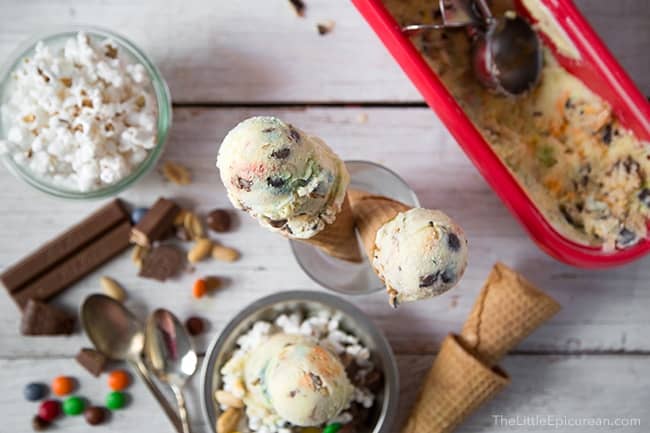 Nowadays, we don't really go to the theaters together anymore.  (Although he does make the occasional trip if it's a violent and over-the-top action movie.)
With Netflix and movie streaming, we watch everything at home- which makes this movie night ice cream even better!
Happy Father's Day, Papa!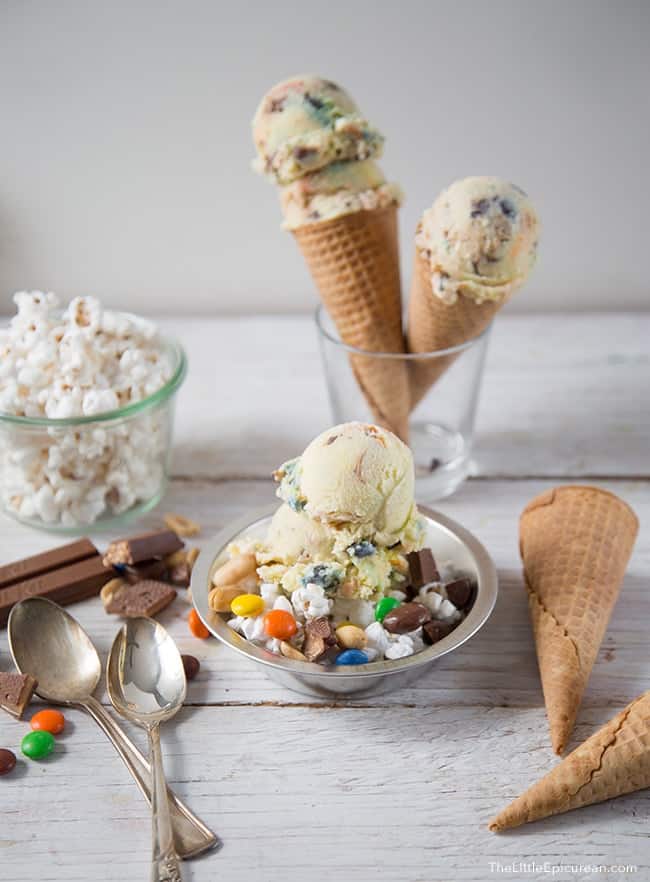 This special movie night ice cream takes all the flavors of movie night and packs it into an uber delicious ice cream.
To make butter popcorn ice cream, simply steep freshly popped popcorn in the heated milk-cream mixture.  Let it steep for about 20-30 minutes, then strain out the popcorn and go about your regular ice cream making procedures.
Once the ice cream has reached a soft serve consistency in the ice cream maker, add in your favorite chocolates, candies or nuts.
This technique of steeping works for just about any spice, herb, or flavor you'd like to incorporate into your ice cream!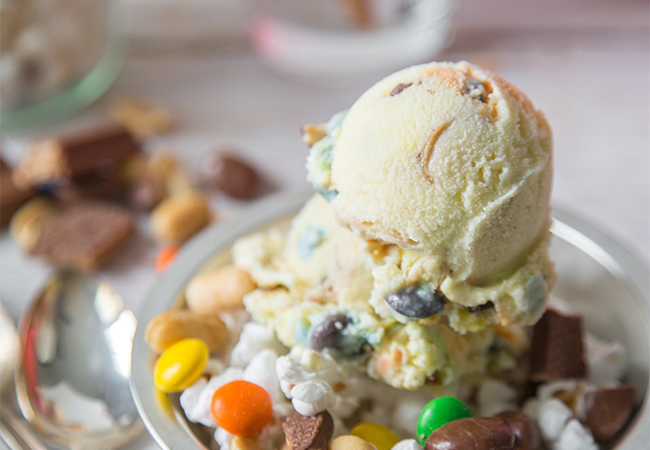 Movie Night Ice Cream
Take all your favorite movie night snacks and turn it into a decadent ice cream! Butter popcorn ice cream with chocolates, candies, and peanuts.Yield: about 1 quart
Ingredients
Butter Popcorn Ice Cream:
2

cups

whole milk

1

cup

heavy cream

1/2

cup

+ 2 Tablespoon granulated sugar, divided

1 1/2

cup

freshly popped butter popcorn

7

large egg yolks

large pinch of fine sea salt
Mix-ins:
Kit Kat bar, chopped

M&Ms

Milk Duds, chopped

Salted peanuts

Heath Bar, chopped
Instructions
In a medium pot, bring milk, cream and 2 tablespoons sugar to a boil. Once mixture has come to a boil, remove from heat. Add popcorn and stir. Cover pot and let steep for 20 minutes.

Strain mixture and discard popcorn. Place pot over medium heat and bring to a boil, once again.


Meanwhile, in a large bowl, whisk together egg yolks and remaining 1/2 cup of sugar. Once milk begins to boil, lower heat.


Temper hot milk into sugar yolk mixture. Slowly add hot milk into yolks about 1/4 cup at a time, whisking to distribute heat. Continue to add milk into the yolk. Once all the milk has been added, transfer everything back into the pot.


Stir over medium-low heat until mixture reaches nappe consistency, or 180 degrees F on a kitchen thermometer. Let sit at 180-185 degrees F for 3 minutes to pasteurize eggs.


Transfer mixture to an airtight container and let mature in the fridge overnight.


Freeze mixture in ice cream maker according to your unit's instructions. Once the volume has increased by half and mixture has reached a soft serve consistency, add in about a hand full of each desired mix-ins.


Transfer ice cream to an airtight container and let rest in the freezer for at least 30 minutes before serving.

Notes
I used about a handful of each mix-in.  Feel free to add as much or as little of the mix-ins as you'd like.  Pick and choose your favorite candies and chocolates to mix in.