These Rum Raisin Cinnamon Twisted Rolls are yeasted dough filled with rum soaked raisins and buttery cinnamon sugar.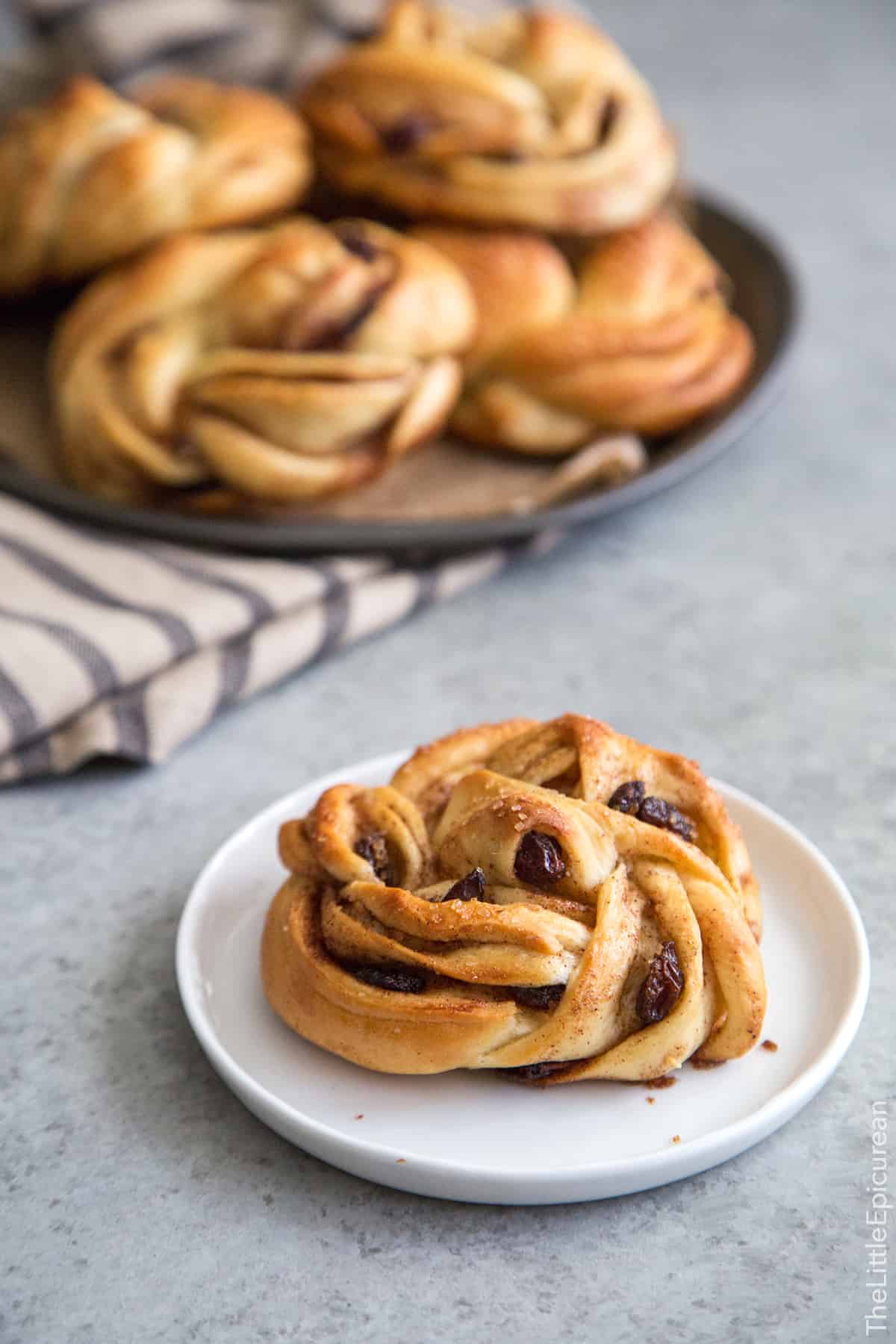 It may not be the healthiest of breakfast foods, but cinnamon rolls (of any kind) are among my favorite ways to start the day.
I simply cannot resist the intoxicating aroma of buttery cinnamon sugar baked into bread. This rum raisin cinnamon twisted roll is no exception.
Rum Raisin Cinnamon Knots
Yes, rum raisins are totally suitable before noon. If mimosa and bloody Mary are invited to brunch, I see no reason why rum raisins can't be on the guest list as well.
These rum raisins are not your ordinary rum soaked raisins. I soaked these raisins in dark rum for 5 days. YES. That's over 100 hours of rum time. And you know? They're absolutely, insanely delicious.
I intentionally did not glaze these rolls. Surprisingly, 5 day rum soaked raisins are unbelievably sweet (boozy, yet sweet). I couldn't bear to cover up the raisins. They deserve to be put on display.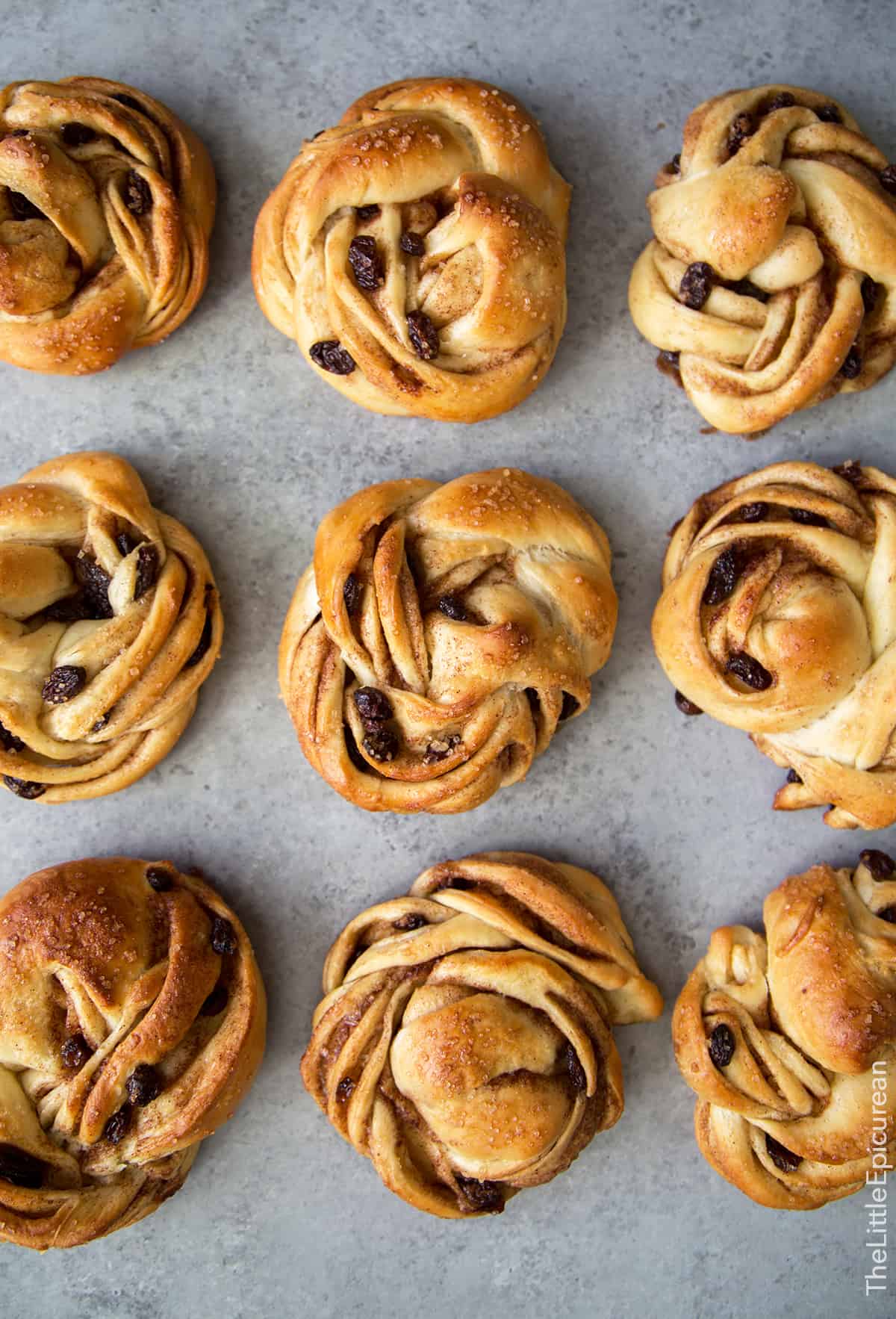 Without any glaze, these rum raisin cinnamon twisted rolls are easy to stack, transport, and share with others. While these rolls are best enjoyed the day they're baked, they last for a few days.
Keep them stored in an airtight container. Reheat them gently in a toaster over, or pop in the microwave with a glass of water (to keep the dough from drying out) for about 30 seconds.
Be prepared for quite a few twisted rolls and braided buns in the upcoming months. I am loving this method of rolling dough. And, I'm going to make as many rolls and buns as needed to get better at assembling uniform looking bread pieces.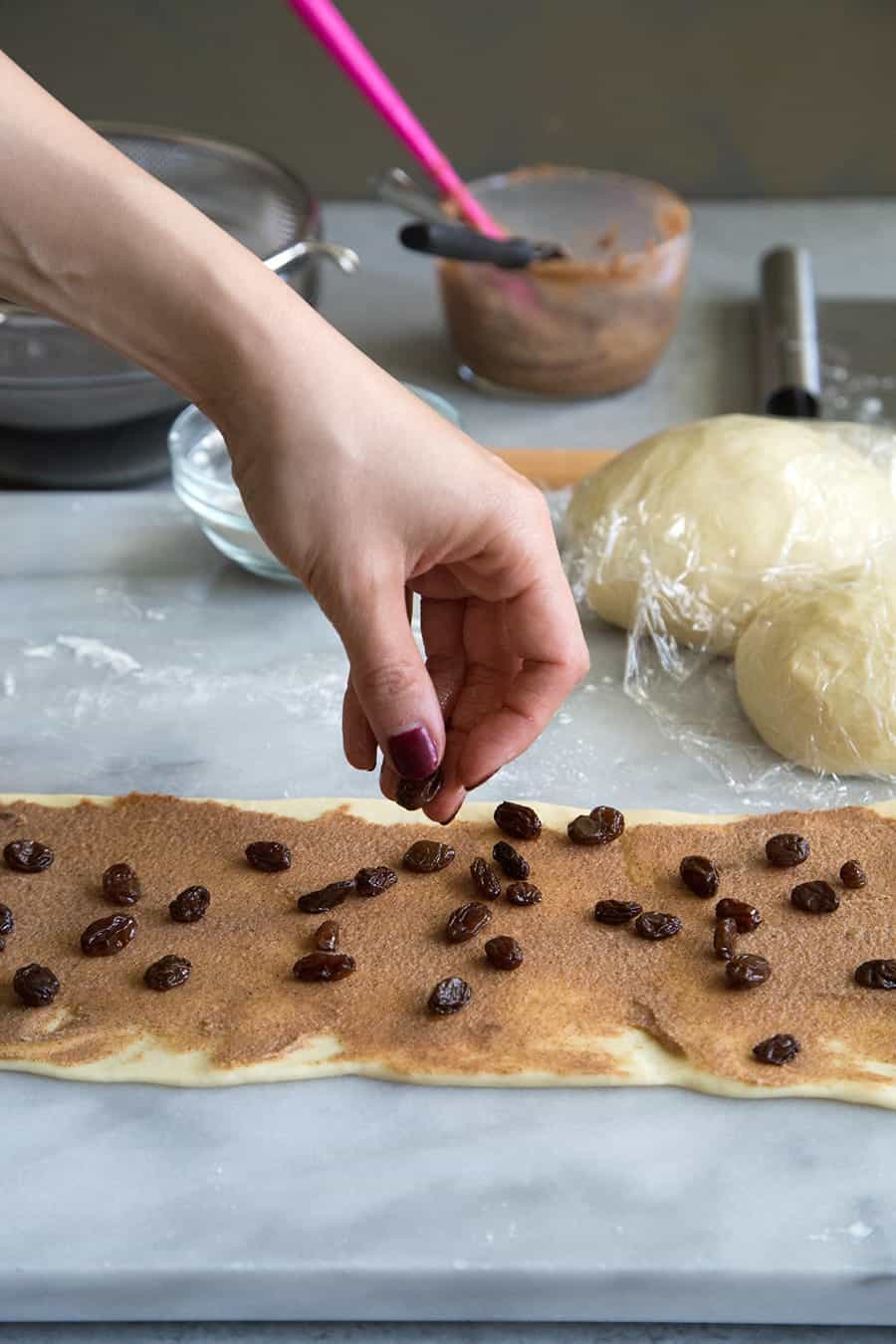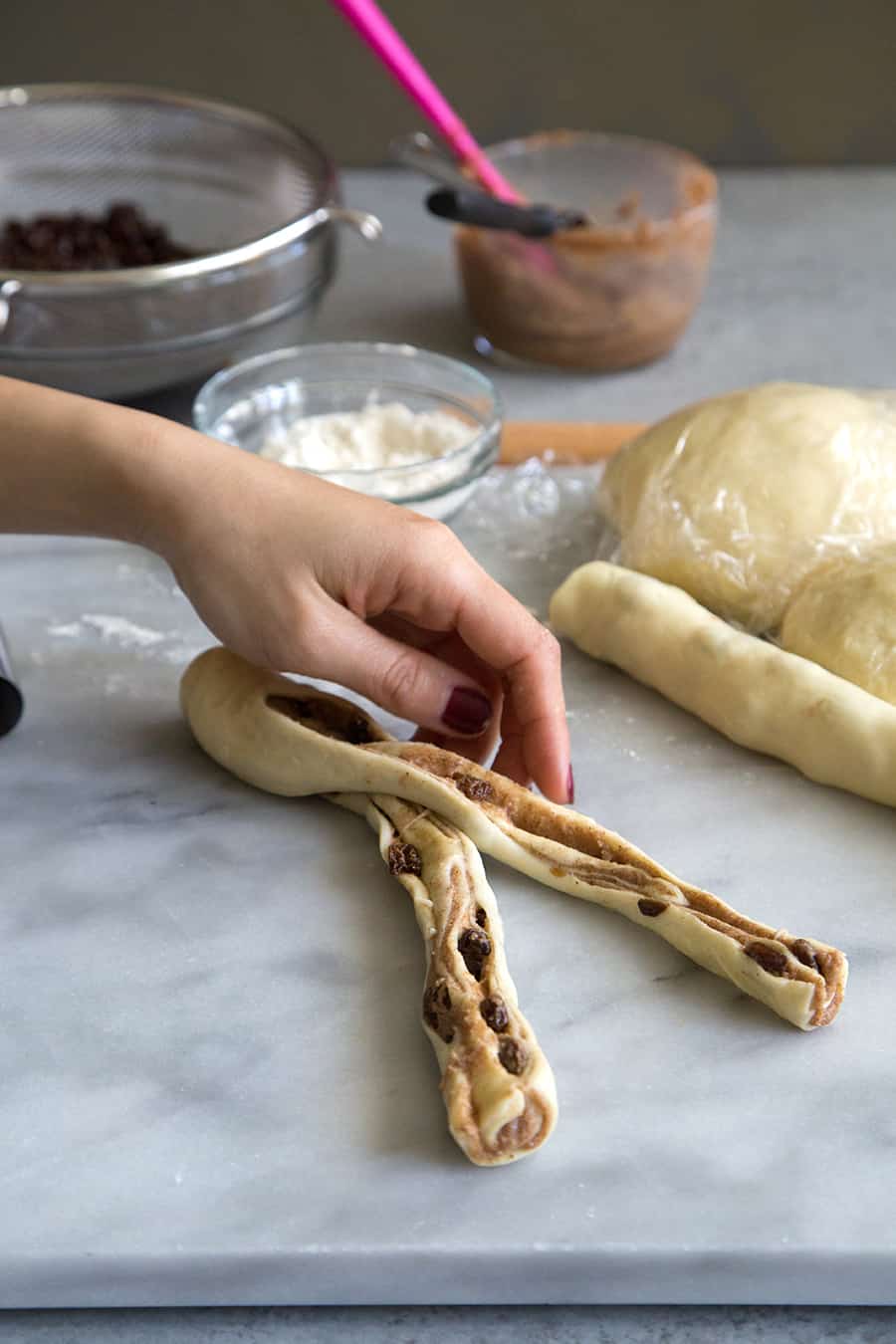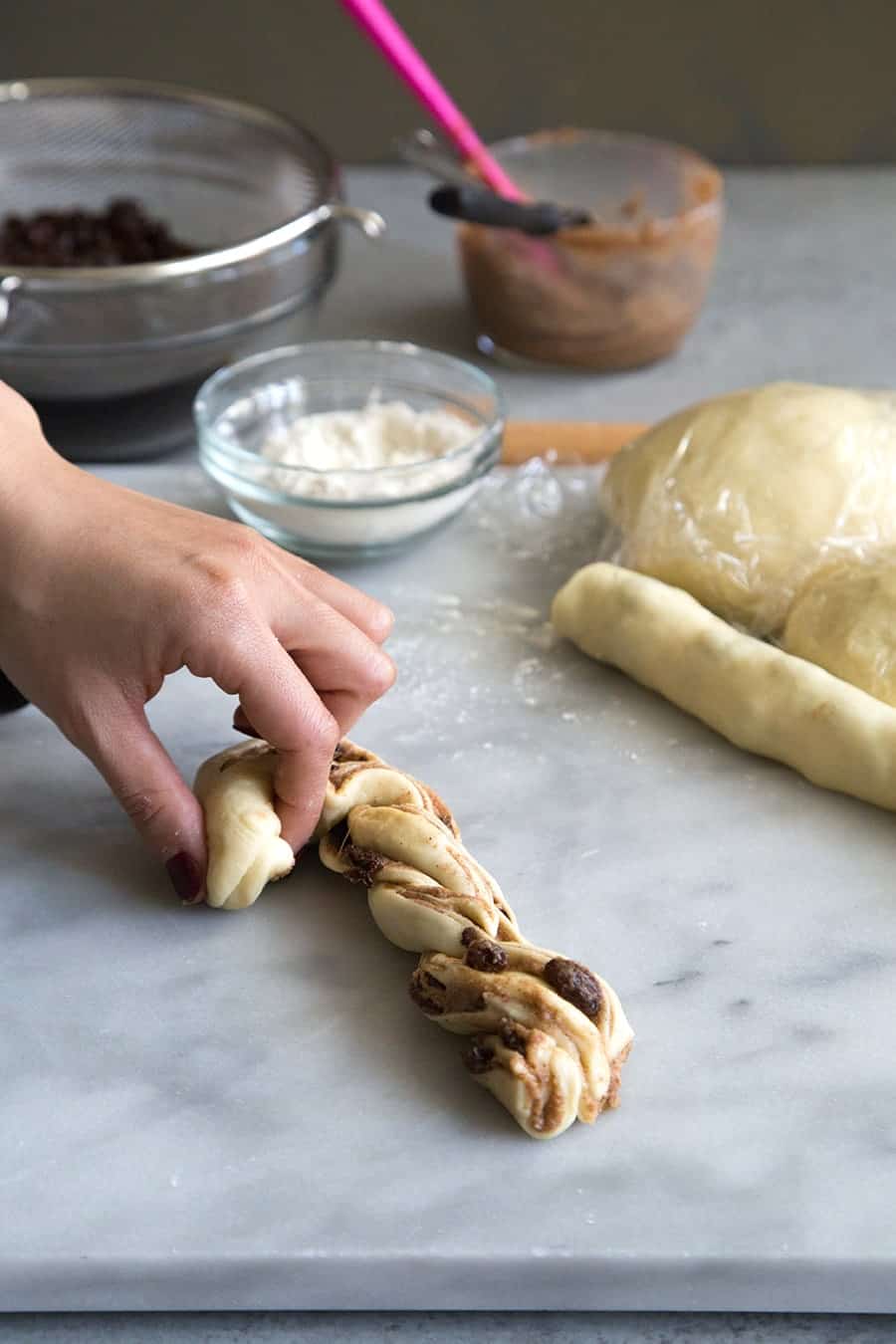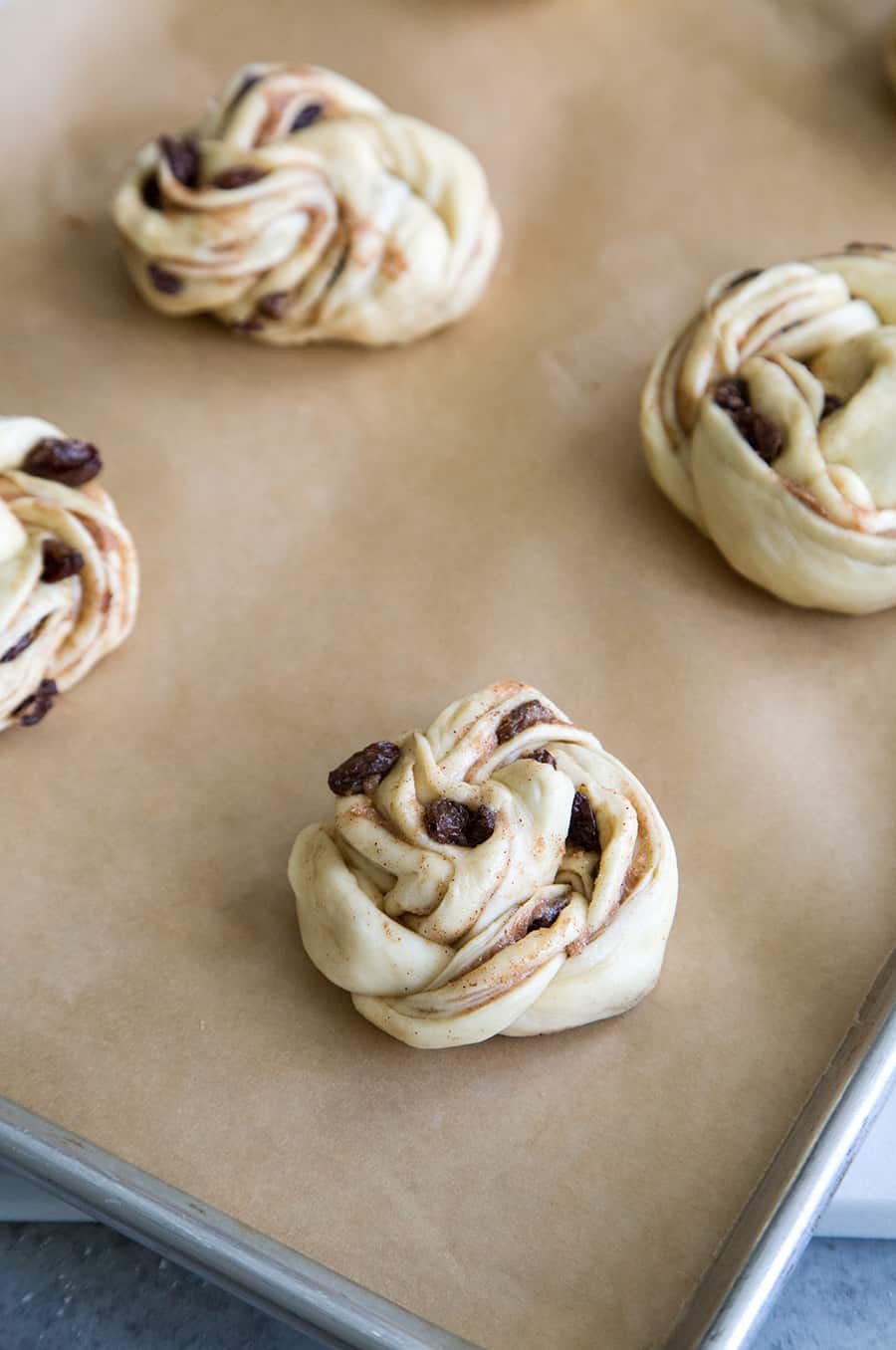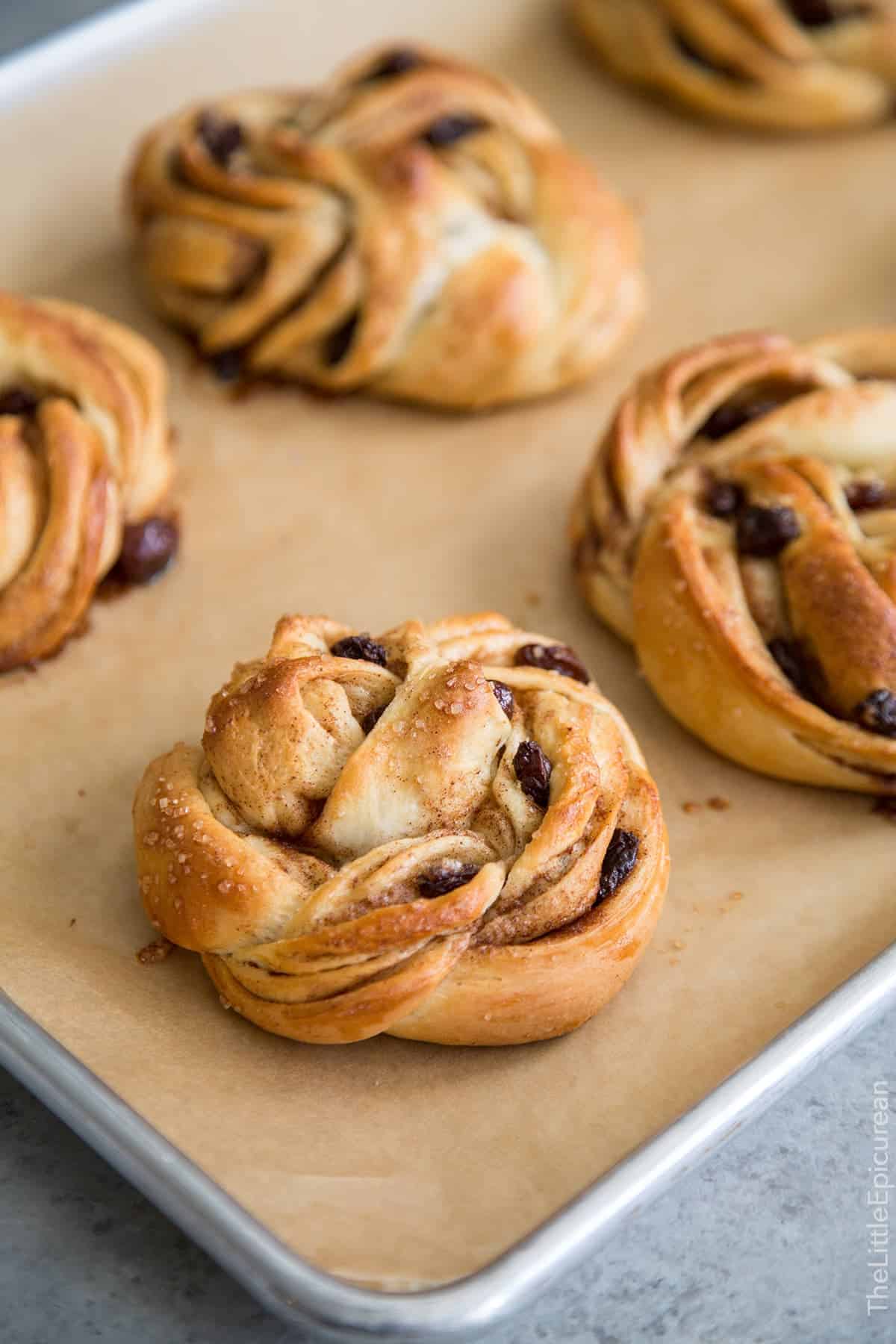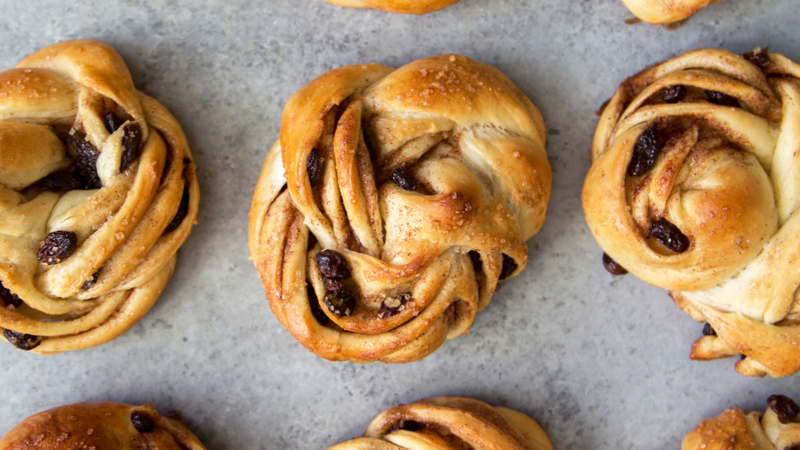 Rum Raisin Cinnamon Twisted Rolls
Yeasted dough filled with rum soaked raisins and buttery cinnamon soft. These soft bread rolls are soft and flavorful! Yield: one dozen rolls
Ingredients
Rum Raisin:
1

cup

raisins

1/2

cup

dark rum

1

Tablespoon

Licor 43*, optional
Dough:
1/4

cup

warm water, 110 degrees F

2 1/4

teaspoon

(7 grams) active dry yeast

1/4

cup

+ 1 Tablespoon granulated sugar

1

cup

whole milk, room temp

1

large egg

1

large egg yolk (reserve egg white)

1/2

teaspoon

fine sea salt

4 1/2

cups

(600 grams) all-purpose flour

6

Tablespoons

unsalted butter, softened, room temp
Filling:
6

Tablespoons

unsalted butter, softened, room temp

1/3

cup

granulated sugar

1/3

cup

brown sugar, packed

1

Tablespoon

ground cinnamon
Topping:
reserved egg white

turbinado sugar, for sprinkling, as needed
Instructions
Rum Raisin:

Combine raisins, dark rum, and optional Licor 43. Cover and allow mixture to steep for 3 to 5 days. Strain raisins. Reserve rum syrup for other uses, or discard.

Dough: In a small bowl, combine warm water, yeast, and 1 tablespoon sugar. Let sit for 5 minutes to allow yeast to bubble and activate.


In the bowl of a stand mixer (or large mixing bowl), whisk together remaining 1/4 cup sugar, milk, egg, egg yolk, and salt. Add yeast mixture and whisk until incorporated.


Using a dough hook attachment, add in half of the flour. Mix on low speed while adding the softened butter one tablespoon at a time. Once all the butter has been added, add the remaining flour to the mixing bowl. Continue to knead on low speed until dough comes together. Instead speed to medium and knead until dough clears the sides of the bowl.


Transfer dough to a large greased bowl. Cover with plastic wrap. Allow dough to rest for 2 hours. During this time the dough will double in volume.


Filling: In a medium bowl, mix together softened butter, sugar, brown sugar, and cinnamon until smooth. Set aside.


Assembly: Preheat oven to 350 degrees F. Remove plastic wrap and punch dough risen dough.Divide dough into 6 equal parts. Keep dough covered with plastic wrap to prevent dough from drying out. Working with one portion of dough, roll dough into an 18 x 4-inch rectangle. Spread about 2 tablespoons of filling over dough. Sprinkle about 2 tablespoons of rum raisins over dough. Cut the rectangle into two 9 x 4-inch rectangles.

Starting from the long side, roll dough. Pinch seams shut. Using a sharp knife, cut through the dough lengthwise, keeping one end of the dough attached (as shown in photo above).

Twist the two sides so they both face upward. Twist dough over itself to braid the two sides together. Pinch the end of the braid together. Starting the uncut portion of the dough, roll dough on itself and tuck the end under the center of the roll. Transfer to a parchment lined baking sheet, spacing rolls about 2-inch apart. Repeat with remaining dough portions.

Topping: In a small bowl, whisk together reserved egg white and 1 teaspoon of water. Brush assembled rolls with egg wash mixture. Generously sprinkle turbinado sugar over rolls.

Bake rolls for 20-22 minutes until golden brown in color. Serve warm.

Notes
While these rolls are best enjoyed the day they're baked, they last for a few days. Keep them stored in an airtight container. Reheat them gently in a toaster over, or pop in the microwave with a glass of water (to keep the dough from drying out) for about 30 seconds.
Licor 43 is vanilla flavored Spanish liqueur
inspired by braided cinnamon buns from 

Family Circle

, January 2017
All images and text ©The Little Epicurean