Black pepper cheddar beer bread: these soft and fluffy bread rolls are perfect for making little sandwiches.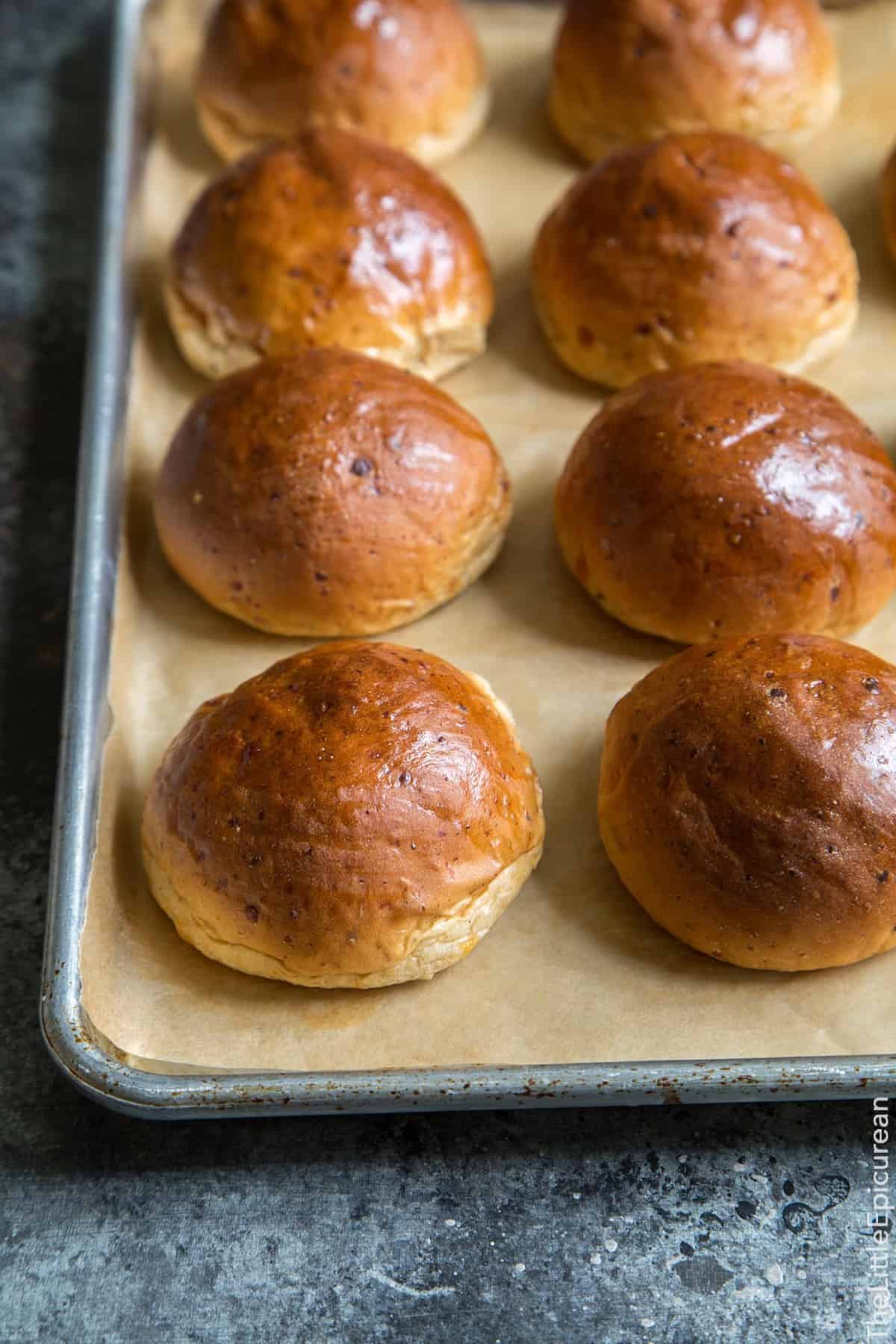 Do you remember the Super Bowl a couple weeks ago? Yeah, I don't either. I just recall Alex screaming in defeat at the last few seconds of the game and something about the Patriots winning. I also remember being in awe of Lady Gaga during the halftime show.
I just don't get football. No matter how many times people explain the intricacies of the game, I'm just lost. Most of the time, I have no idea where the heck the football is. I just see a bunch of big guys running and crashing into each other. Each time someone is tackled I cringe and hope they're not injured. That being said, I LOVE baseball. (See baseball cap cake I made Alex!) That's the kind of sport I enjoy watching. Basketball is okay, but I'm too jealous of how tall the players are (because I'm barely 5 feet tall). Hockey is fun, but it makes me nervous and anxious. Let's not even talk about how awfully boring I find golf.
Anyway, we had a hefty amount of leftover beer and cheese from our Super Bowl feast. The following day, I took those leftovers and started experimenting in the kitchen.  And voilà, this black pepper cheddar beer was created (among a handful of other beer recipes I'll be sharing over the next few weeks).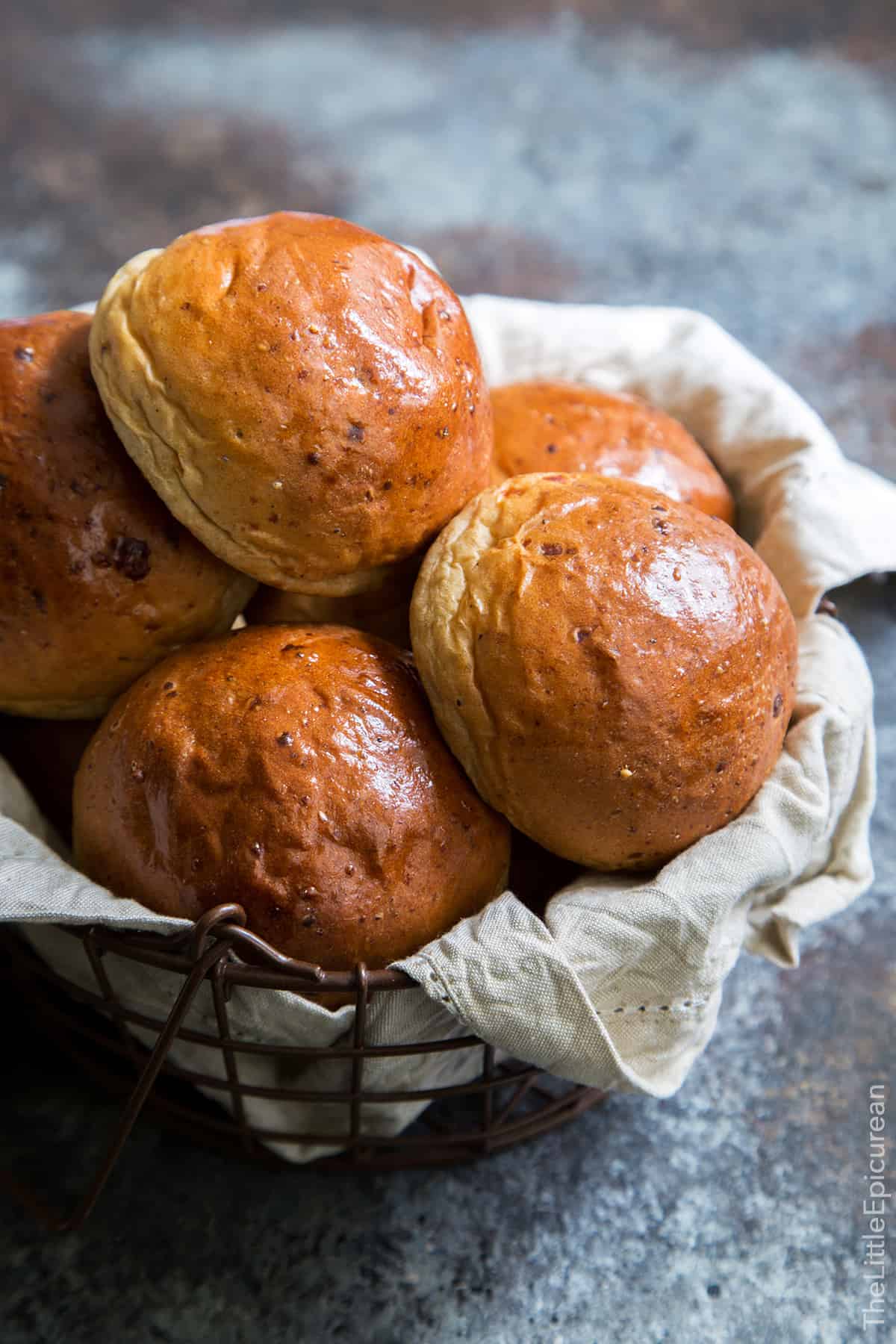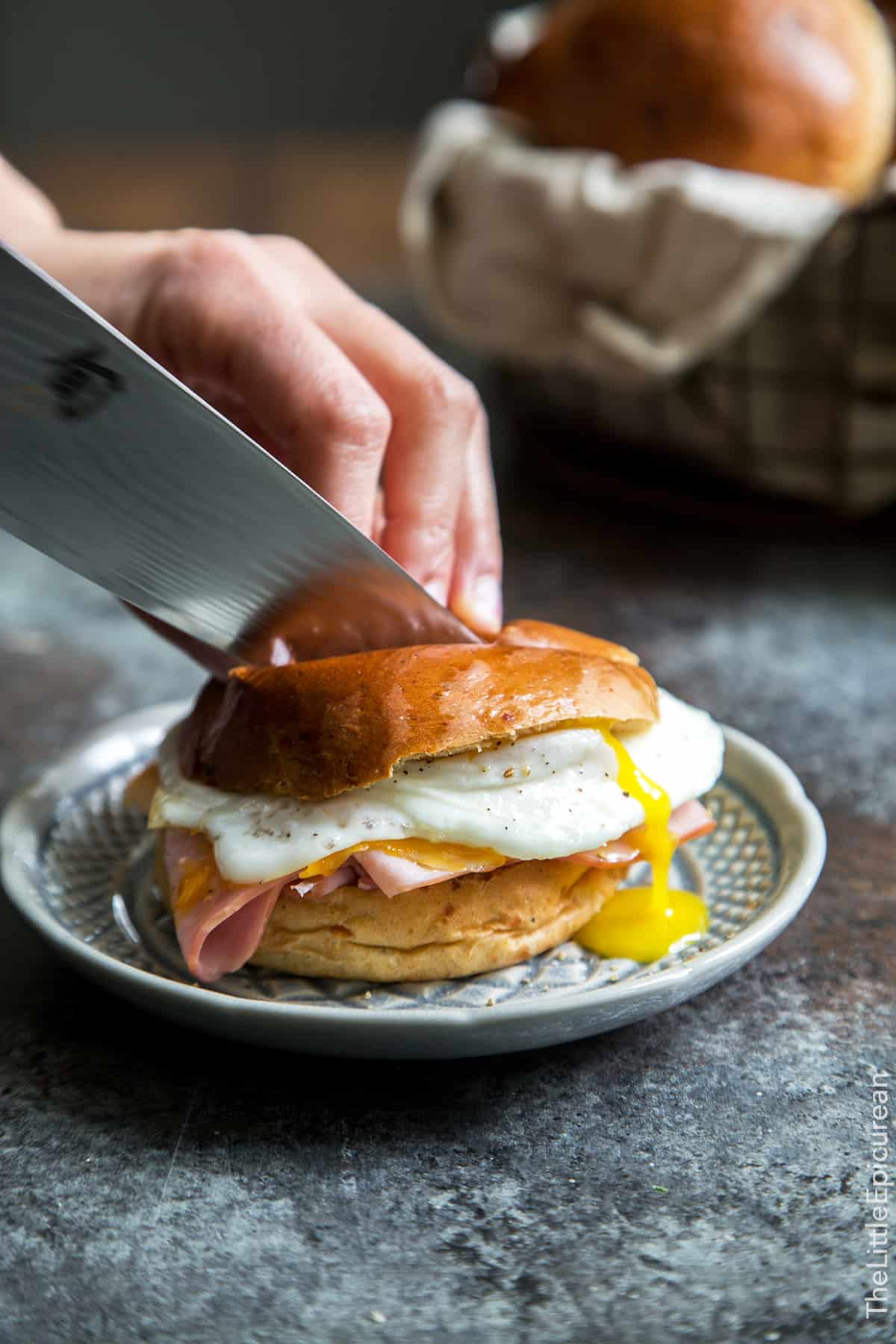 This bread is ideal for making little sandwiches, especially breakfast sandwiches because it's the perfect size for a fried egg! (Case in point: this ham, cheddar, and fried egg sammie I'm slicing into above.)
I love the combination of beer and cheese, especially stouts with cheddar. I used Guinness and sharp cheddar to flavor the dough. To add an extra ump, I added quite a bit of freshly cracked black pepper. The stout, cheddar, and black pepper meld together to create this mysteriously attractive flavor that keeps me coming back for more. I'm serious. If you don't tell people the flavors of the bread, they'll take bite after bite after bite, trying to figure out what that tasty concoction is made of.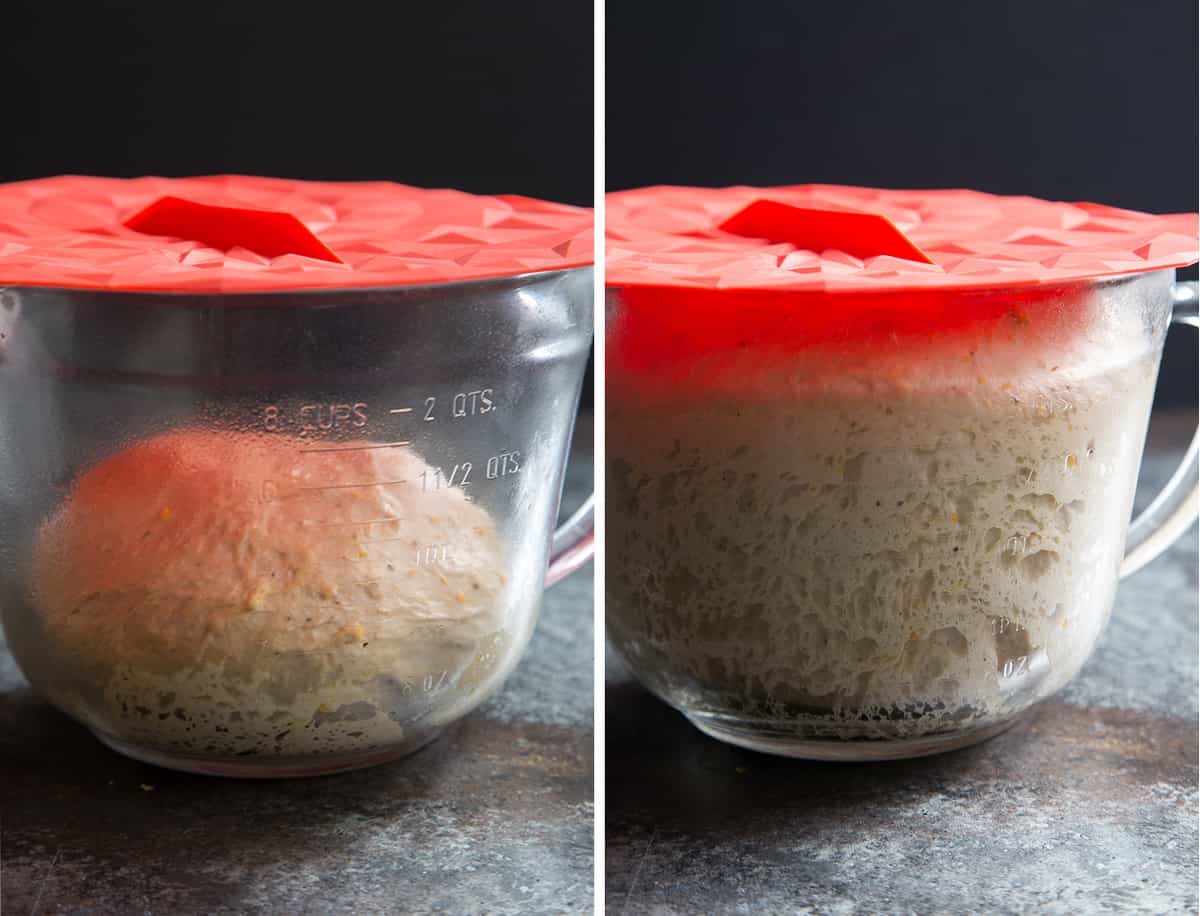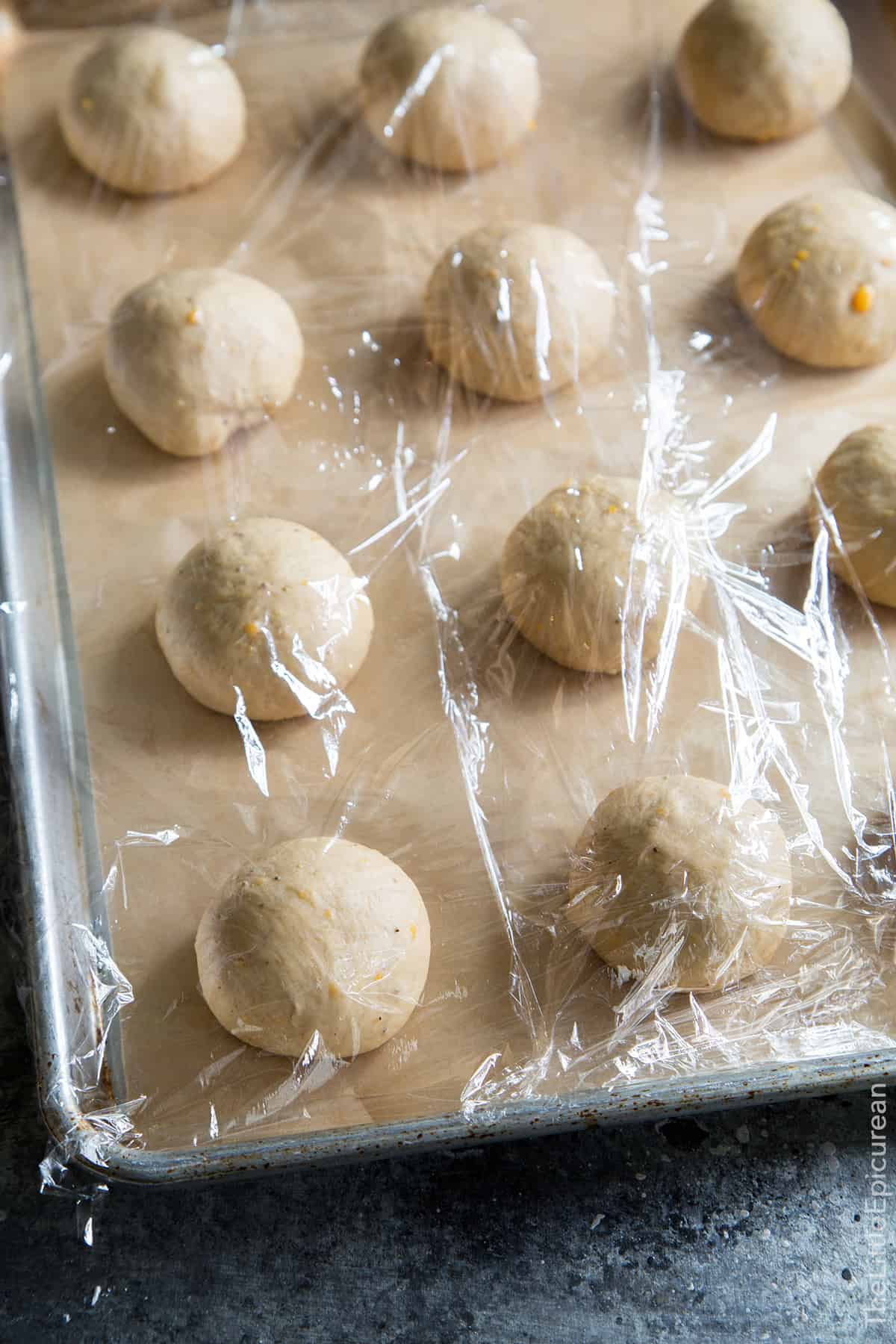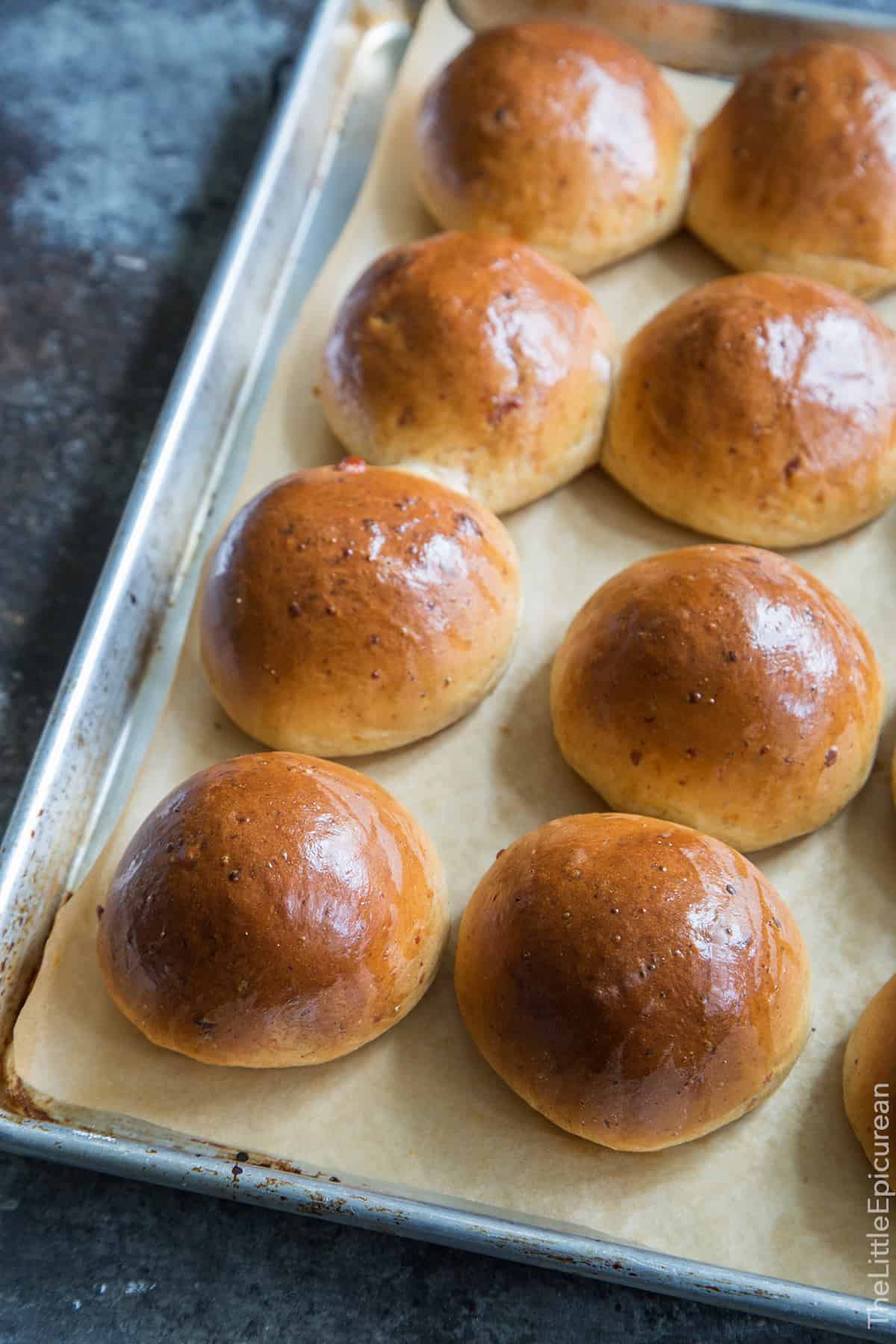 Use a large baking sheet (at least 18 x 13-inches) if you don't want the bread rolls to fuse together.  You can also split the rolls between two smaller baking sheets. These black pepper cheddar beer bread rolls bake up soft and fluffy. They're delicious warm, fresh from the oven. The flavors become even more pronounced when you eat them at room temperature.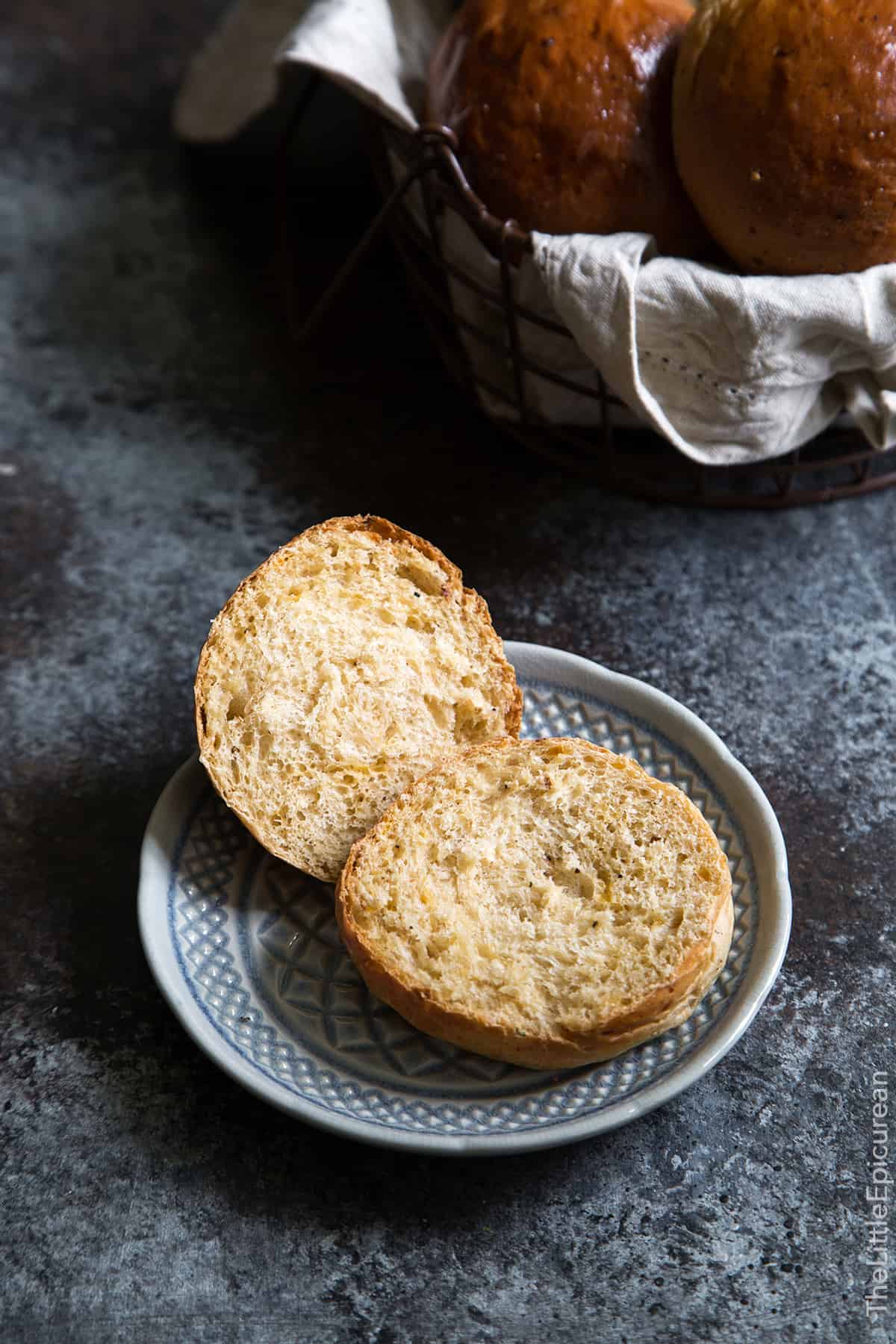 Black Pepper Cheddar Beer Bread
Ingredients:
1 Tbsp (9 g) active dry yeast
2 tsp granulated sugar
1/2 cup warm water, 110 degrees F
2/3 cup dry stout beer (like Guinness), room temperature
2 Tbsp (27 g) dark brown sugar, packed
2 Tbsp (28 g) melted unsalted butter
3 1/2 cups (420 g) unbleached bread flour (I suggest King Arthur Flour)
1 tsp fine sea salt
2 tsp ground black pepper
1 1/2 cups (4.5 oz/130 g) shredded cheddar cheese (if possible, use the larger holes on a cheese grater)
Egg Wash (see notes)
Directions:
Dissolve yeast and sugar in warm water. Let sit for 5-7 minutes until mixture is foamy and yeast is activated. Pour mixture into the bowl of a stand mixer. Add beer, brown sugar, and melted butter. Whisk to combine.
In a large bowl, whisk together flour, salt, and pepper. Attach dough hook to stand mixer. Add half of flour mixture to mixing bowl. Mix on low speed until dough starts to come together. Add remaining flour along with the shredded cheese. Continue to mix on low speed until dough forms into a ball.
Increase speed to medium and knead bread for 3 minutes until dough is smooth and no longer sticks to the sides of the bowl.
Transfer dough to a lightly greased large bowl. Cover and let dough rest for 45 minutes until dough has doubled in volume. Punch dough down. Divide dough into 12 equal parts. (It is best to use a scale to divide dough by weight.)
Roll portioned dough into balls. Place on a parchment lined baking sheet (18 x 13-inch). Cover with plastic wrap. Let dough rest for 30 minutes to rise.
Preheat oven to 350 degrees F. Remove plastic wrap. Using a pastry brush, lightly brush egg wash over the bread rolls. Bake for 30 minutes, rotating baking sheet after 15 minutes. Bake until rolls are rich golden brown on top and the internal temperature of the bread registers at least 190 degrees F. Allow rolls to slightly cool before serving. Serve bread warm or at room temperature.
Notes:
To make egg wash:

whisk together one large egg, 1 tsp water, and a pinch of salt.
Keep cooled bread in a plastic bag (or bread box/container) for up to three days. Otherwise, tightly wrap any remaining rolls and keep frozen for up to 1 month.
To make a breakfast sandwich: horizontally slice bread roll in half and lightly toast. Add a few slices of ham and thick slice of cheese on bottom bun. Set bottom bun under broiler/toaster for a few seconds until cheese has melted. Add fried egg. Season with a little salt and pepper. Place top bun over egg and ENJOY!
Special Equipment: