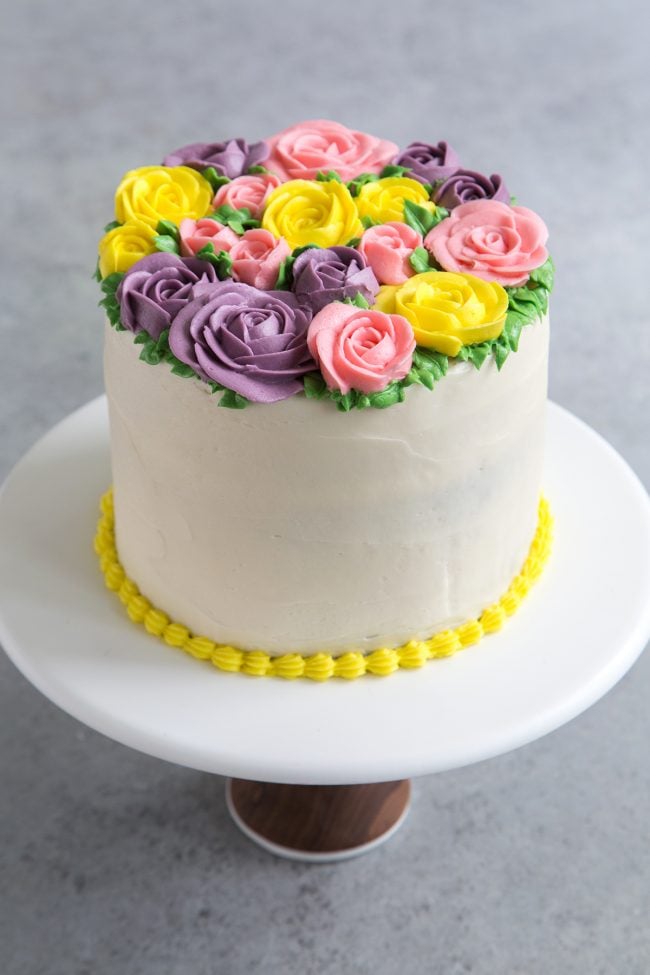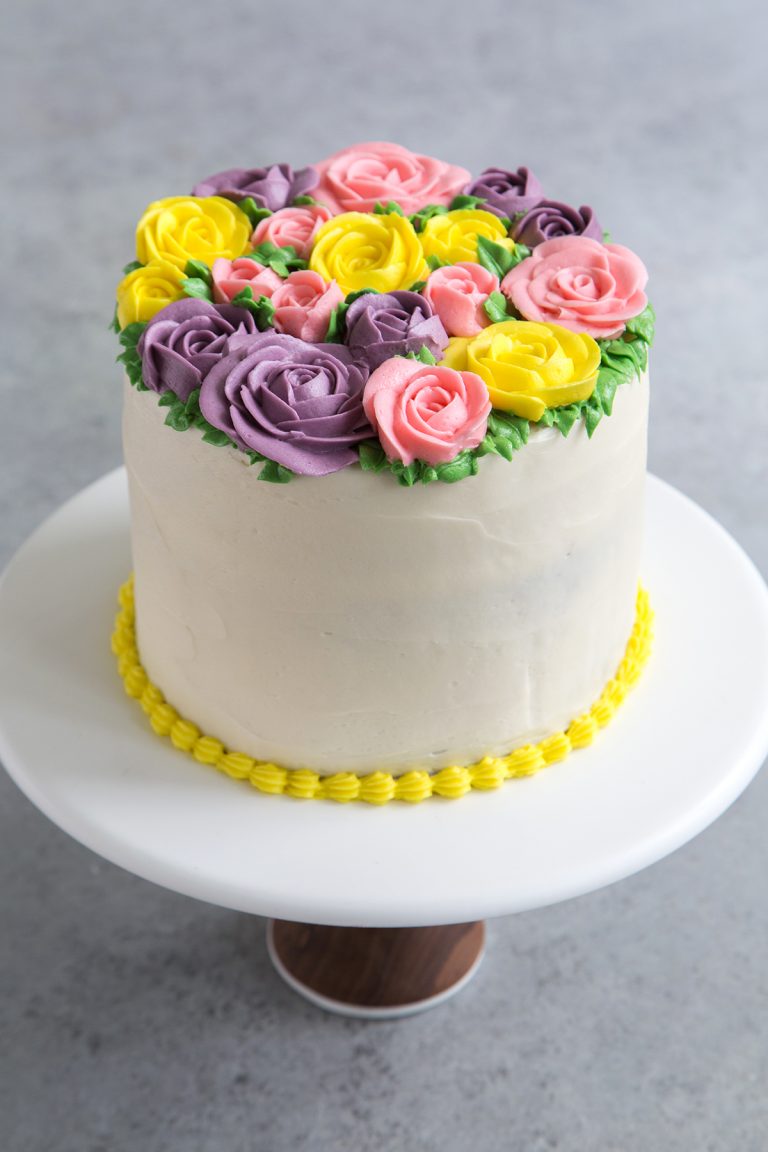 A bouquet of flowers is great. They're beautiful, they smell lovely, and it's such a sweet gesture when you are gifted one. Unfortunately, you can't eat it. I have a solution. With this buttercream flowers cake, you can have your flowers and eat it, too!
Whether you're celebrating Mother's Day, birthday, retirement, new baby, or surviving Mondays, a cake is always a good idea. When it comes to a labor intensive cake like this, feel free to use a boxed cake mix. No judgement here. We all do it. Even after culinary school (and the hundreds of cakes I've made over the years), I have no problem with cake mix. If it makes you feel better, you can easily doctor up cake mixes to make it your own. Just don't use canned frosting. That stuff is disgusting. Whipping up a batch of American buttercream is ridiculously easy.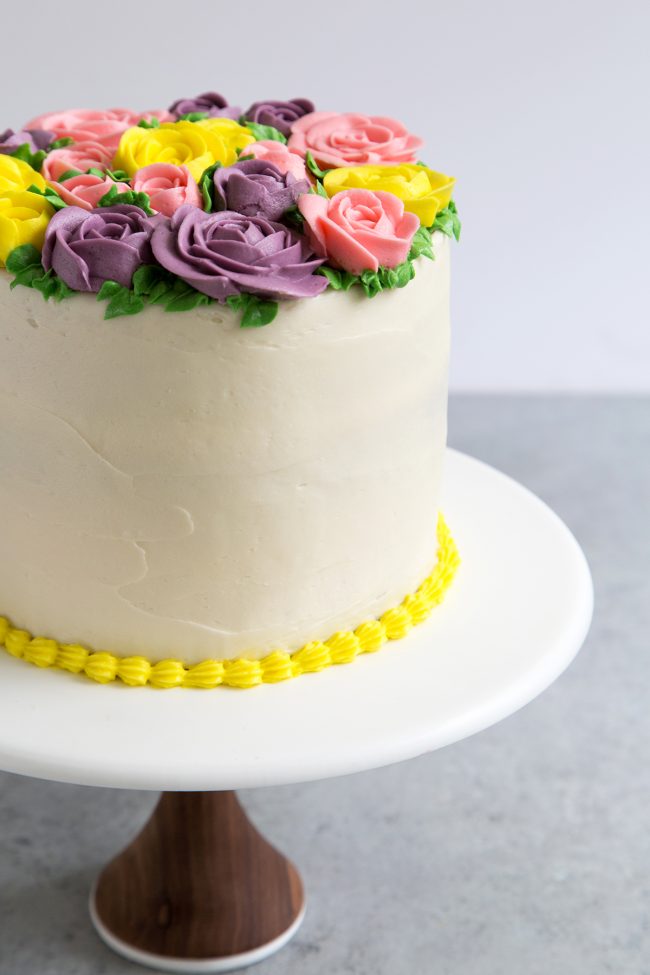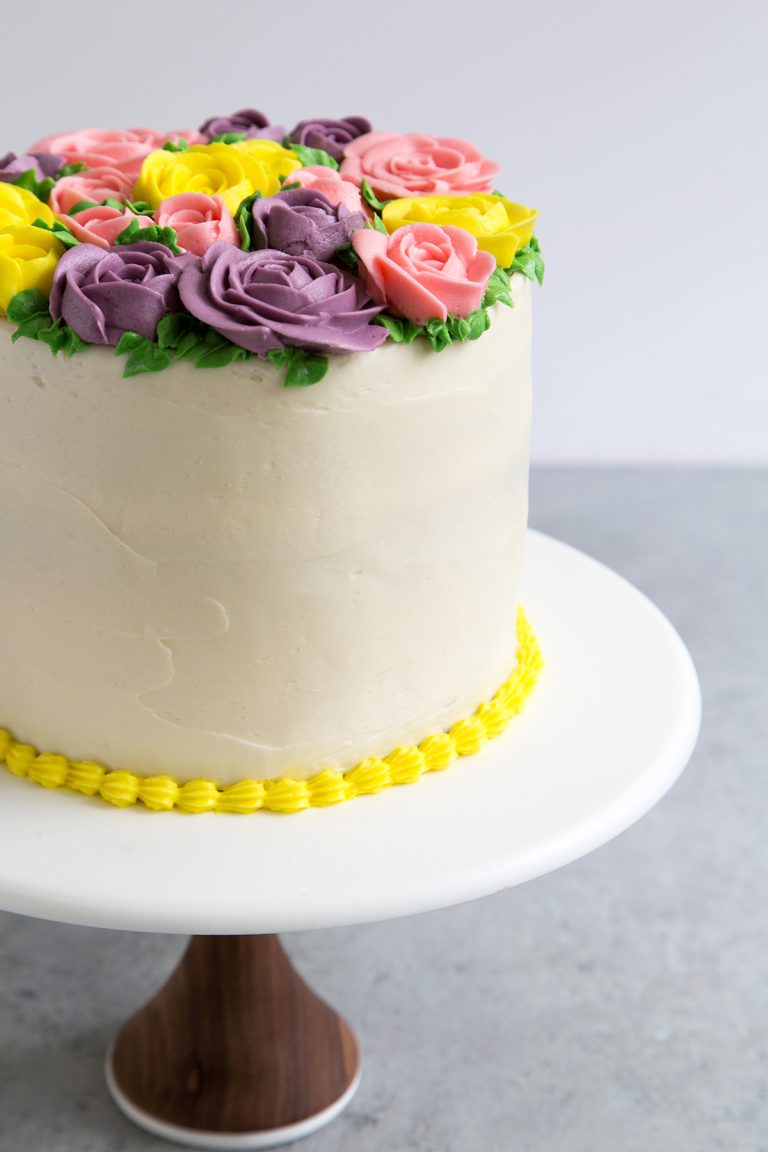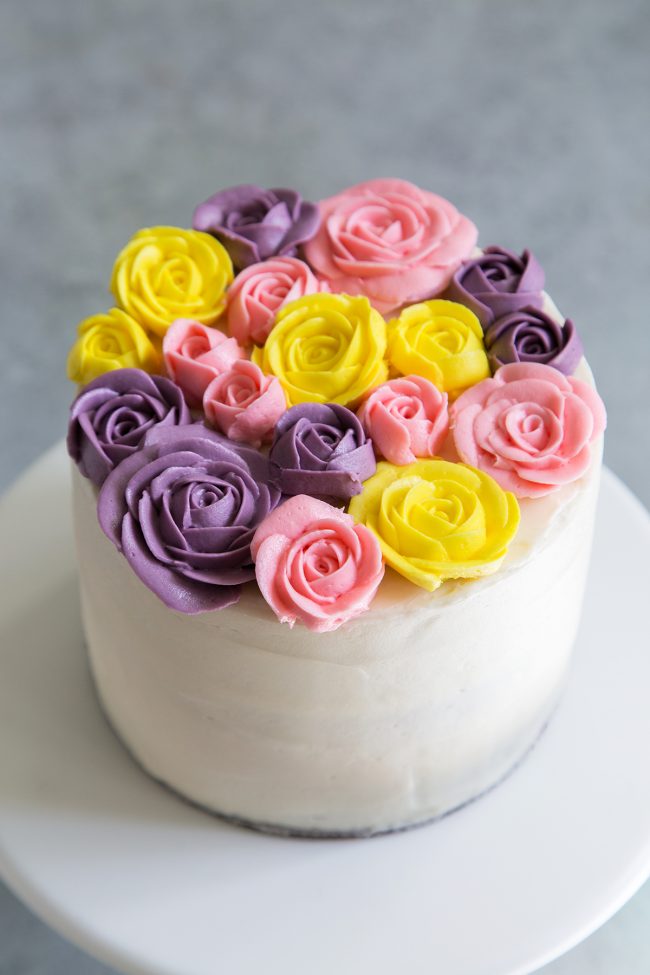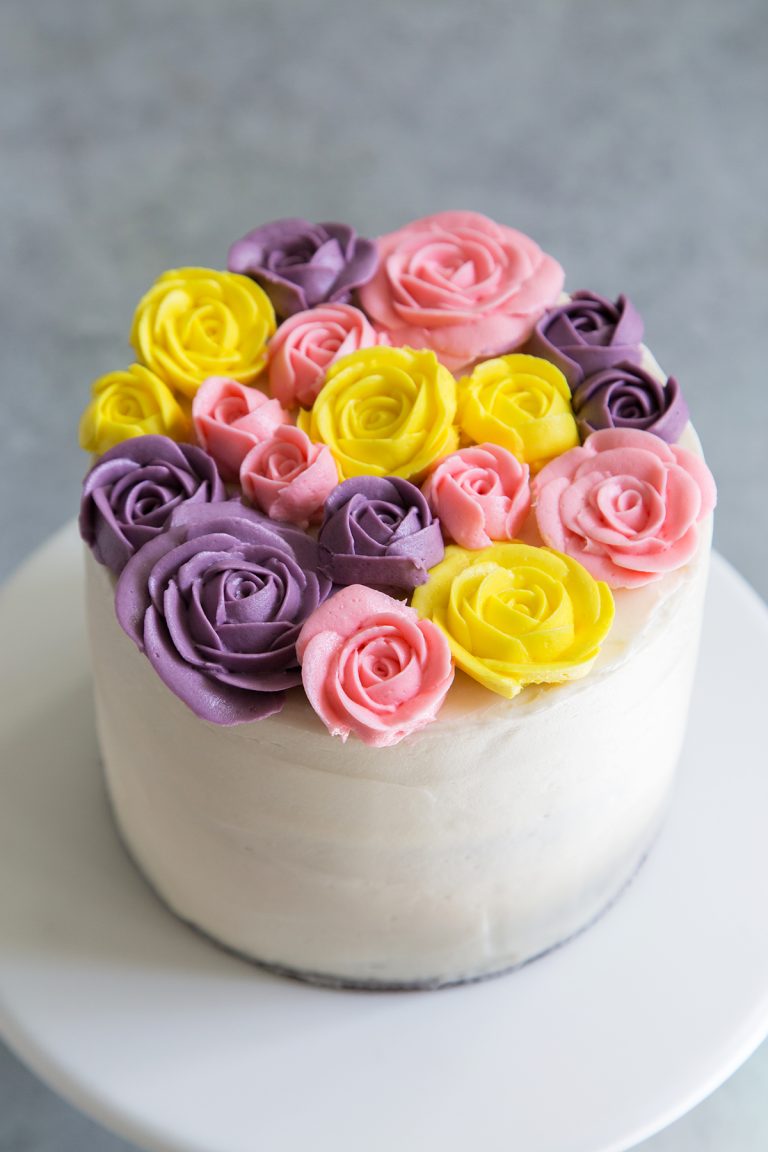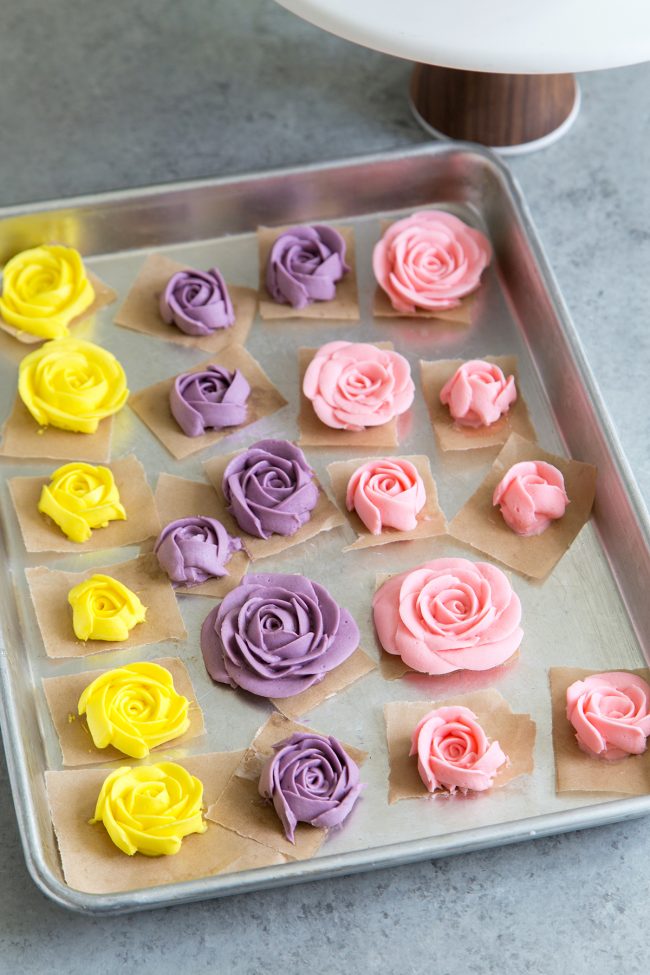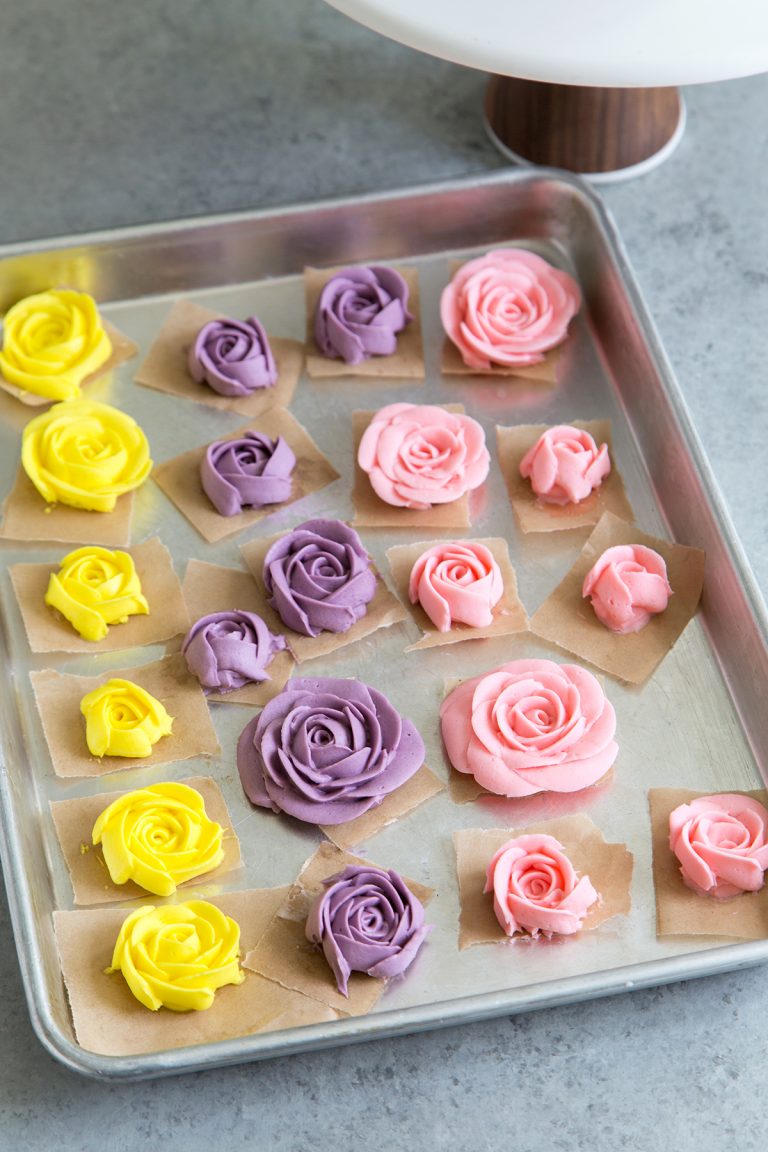 This starts off just like any standard cake. I used my go-to chocolate cake recipe and paired it with a super simple American buttercream. I colored the buttercream using Americolor soft gel paste. I used a #104 piping tip for the flowers and #67 piping tip for the leaves. The key to decorating with buttercream flowers is preparation. In the beginning, piping flowers can be very frustrating and time consuming. It gets easier with practice. Make sure you work in a relatively cool area. Hot hands and warm ambient temperature will make working with buttercream a bit more difficult.
Pipe the flowers on little individual parchment (or wax paper) squares. Let the buttercream flowers chill in the fridge or freezer until you are ready to decorate the cake. By chilling the buttercream flowers, they will be a lot easier to work with and a lot less fragile. You'll be able to pick them up with your fingers or use an offset spatula to set them on top of the frosted cake.
I am terrible at explaining how to pipe these flowers. I also need more practice because I have no idea whether I am making a rose, closed peony, or ranunculus. I definitely need to brush up my skills before attempting to create a video or tutorial. In there meantime, here are some tutorials that I find very helpful: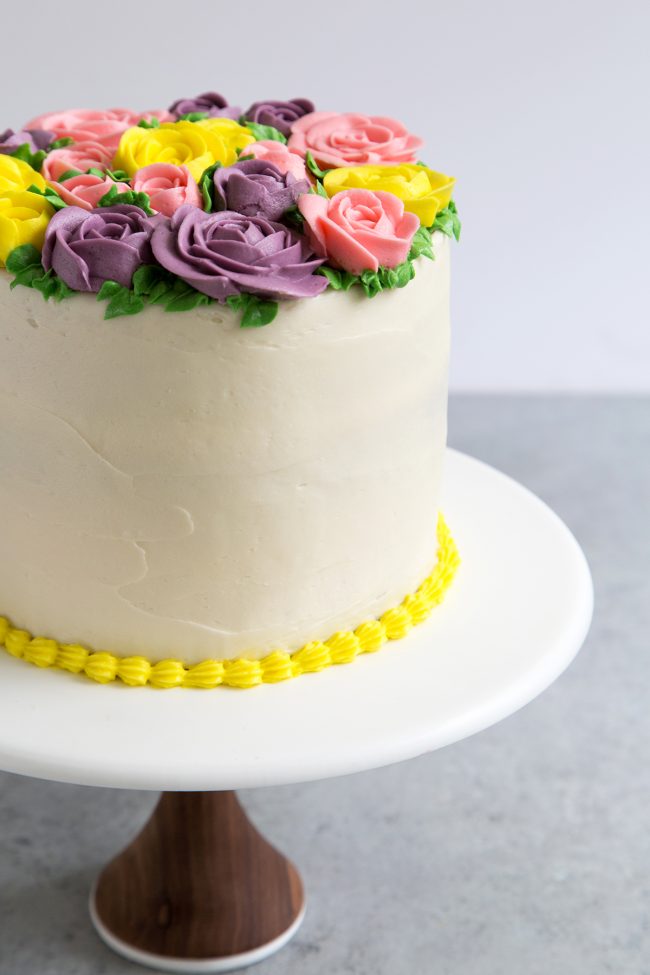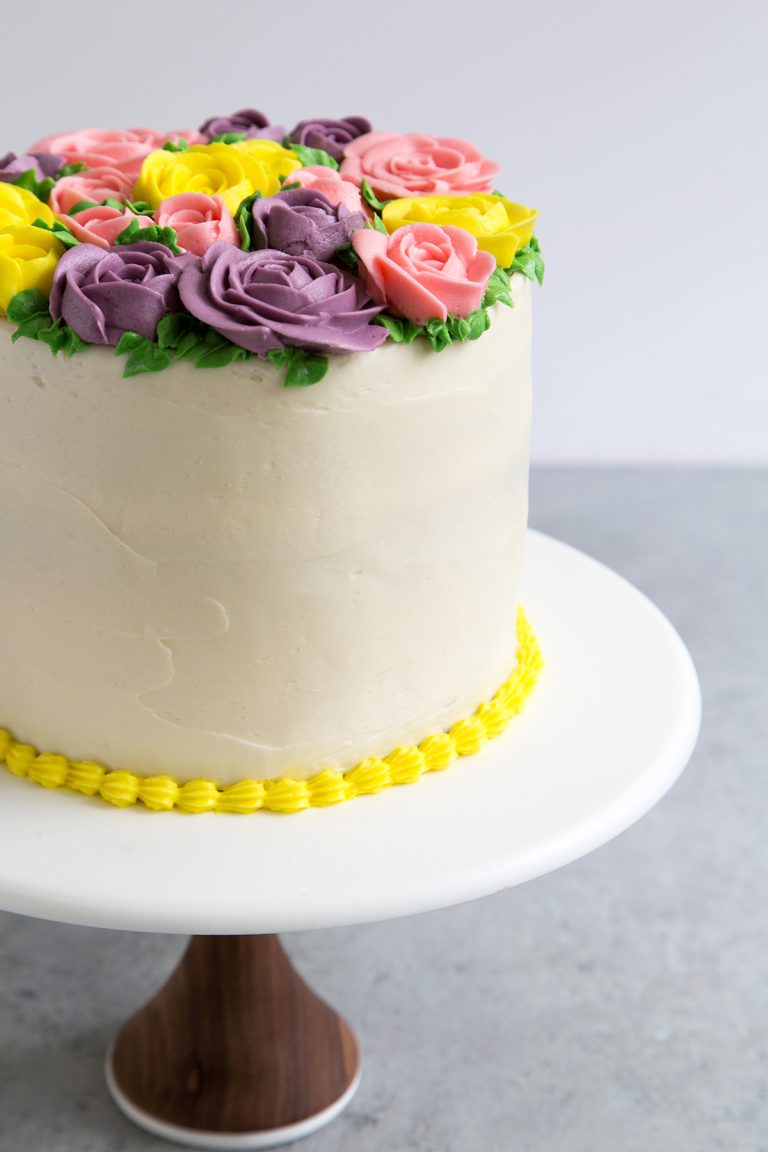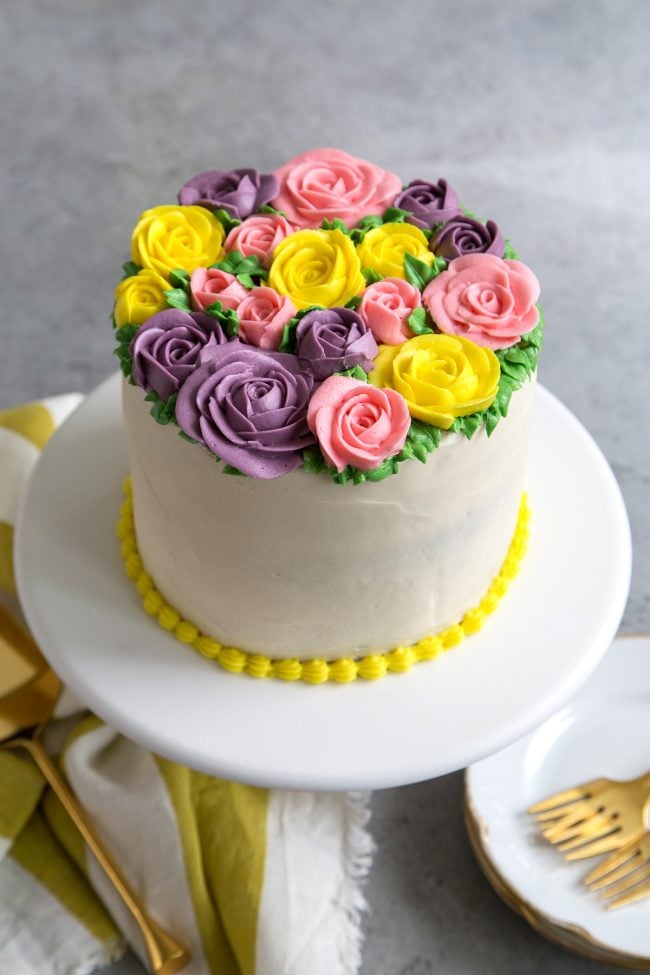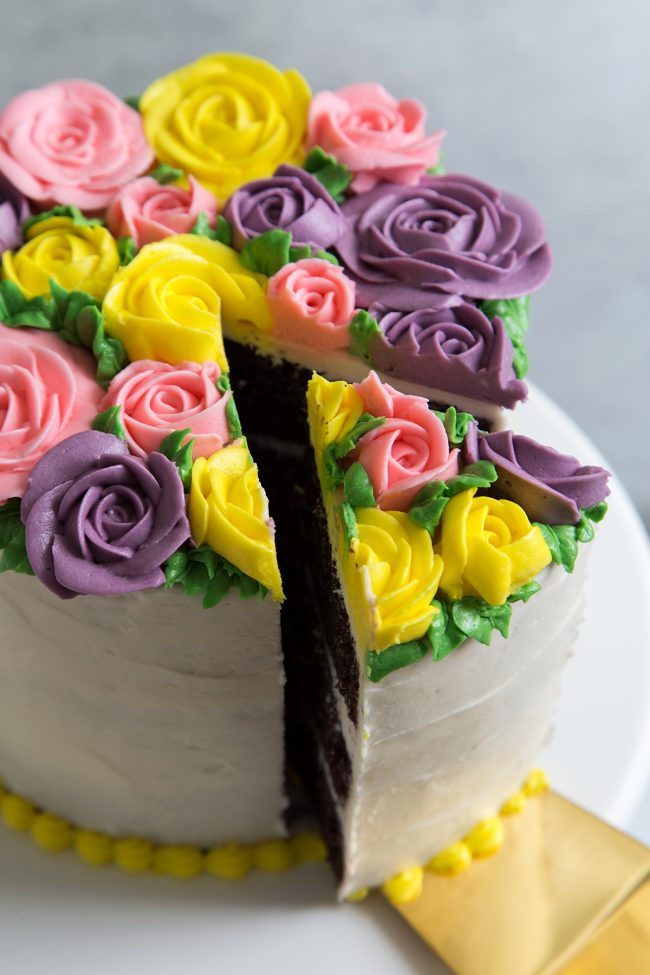 Buttercream Flowers Cake
Ingredients:
Chocolate Cake:
2 cups all-purpose flour
1/2 cup unsweetened cocoa powder
1 Tbsp instant espresso powder
1 tsp baking powder
1 tsp baking soda
1 tsp fine sea salt
1/2 cup coconut oil, melted
1 1/4 cup granulated sugar
2 large eggs, room temperature
1 tsp vanilla extract
2/3 cup whole milk, room temperature
1 cup sour cream, room temperature
American Buttercream:
1 1/2 cups unsalted butter
7 cups sifted powdered sugar
1 1/2 tsp vanilla extract
2 pinches of fine sea salt
2 Tbsp milk
food gel colors, as needed
Directions:
Chocolate Cake:
Preheat oven to 350 degrees F. Line three 6-inch round cake pans with parchment paper. Lightly grease and set aside.
Whisk together flour, cocoa powder, espresso powder, baking powder, baking soda, and salt. Set aside.
In the bowl of a stand mixer fitted with a paddle attachment, mix together coconut oil, sugar, eggs and vanilla until combined. On low speed, alternate adding the dry flour mixture and milk. Add about 1/3 of flour mixture, followed with half of the milk. Add another 1/3 of flour, following by remaining half of milk. Scrape down bowl as needed to ensure thorough mixing. Add sour cream and remaining flour. Mix until combined and there are no longer and dry streaks of flour.
Divide batter among prepared cake pans. Level batter. Bake for 25-28 minutes until toothpick inserted in center of cake comes out clean. Allow cake to cool in pan for 5 minutes before unmolding. Allow cakes to cool to room temperature on wire rack.
American Buttercream:
In the bowl of stand mixer fitted with paddle attachment (or using a hand mixer), cream together butter, powdered sugar, vanilla, and salt. Beat until smooth. Add milk to adjust consistency.