These dairy free chocolate strawberry muffins are made with coconut oil and almond milk.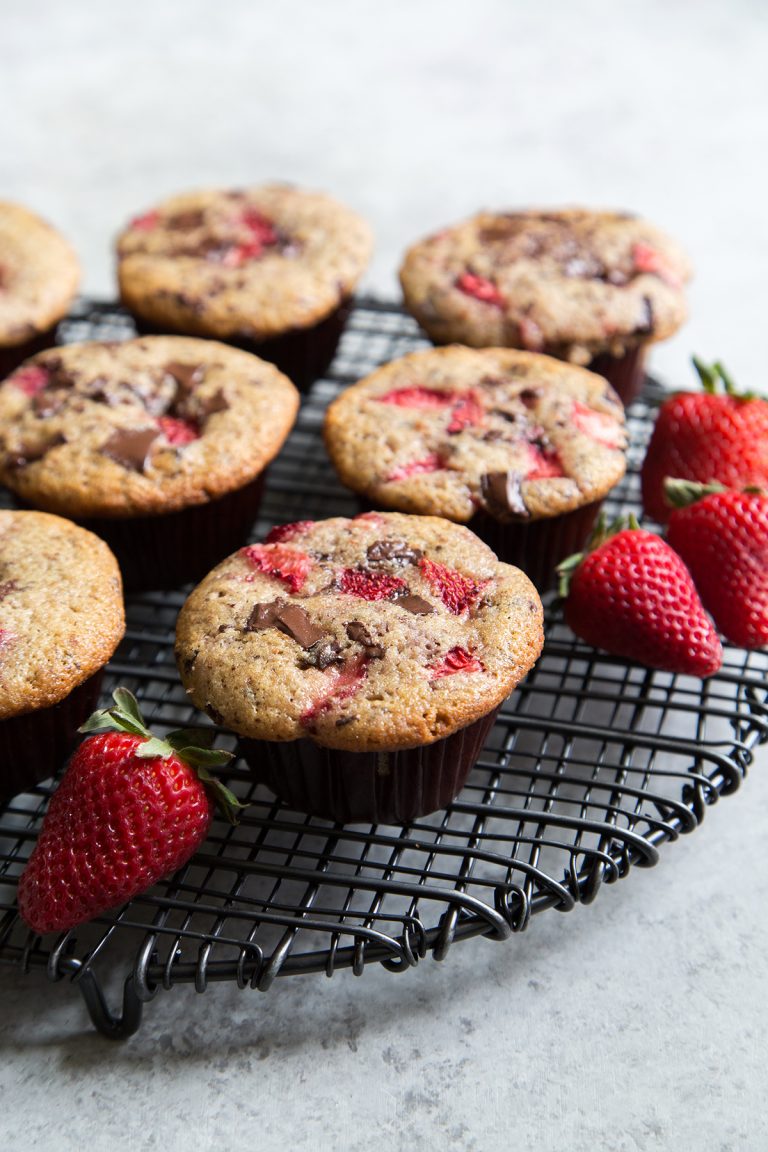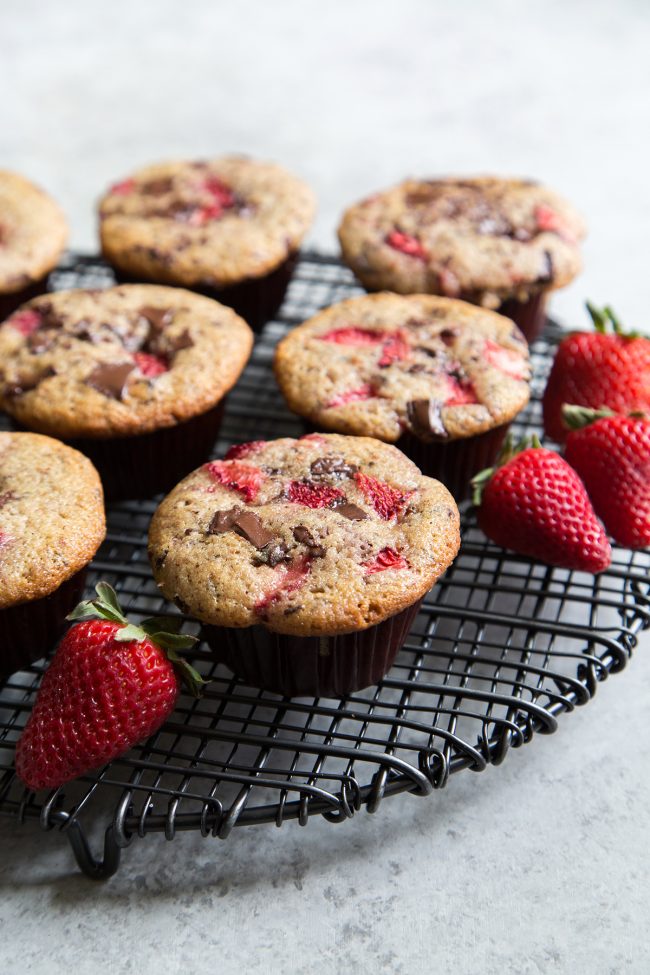 Strawberry season has arrived in Southern California. Each spring I look forward to driving up to Oxnard and loading up on fresh picked California grown strawberries. At the peak of strawberry season, you can smell the sweetness in the air on the drive up. It's intoxicating.
This marks the first in a dozen or so strawberry recipes I'll be sharing this season. I'm super excited to share these muffins with you. These breakfast muffins are bursting at the seams with dark chocolate chunks and fresh strawberries.
I may have gone a little overboard with the amount of chocolate and strawberry in each serving. There's nothing worse than getting a muffin with a measly amount of it mix-ins. I want it to be filled to the brim with the exciting stuff. When it comes to muffins, I say more is better.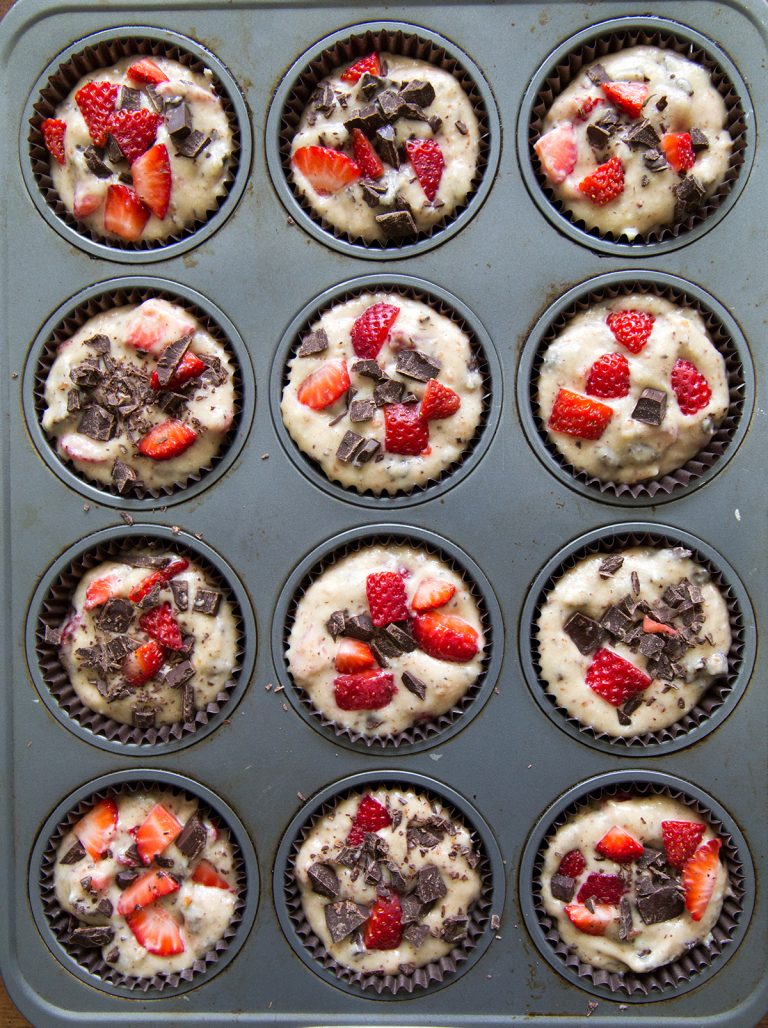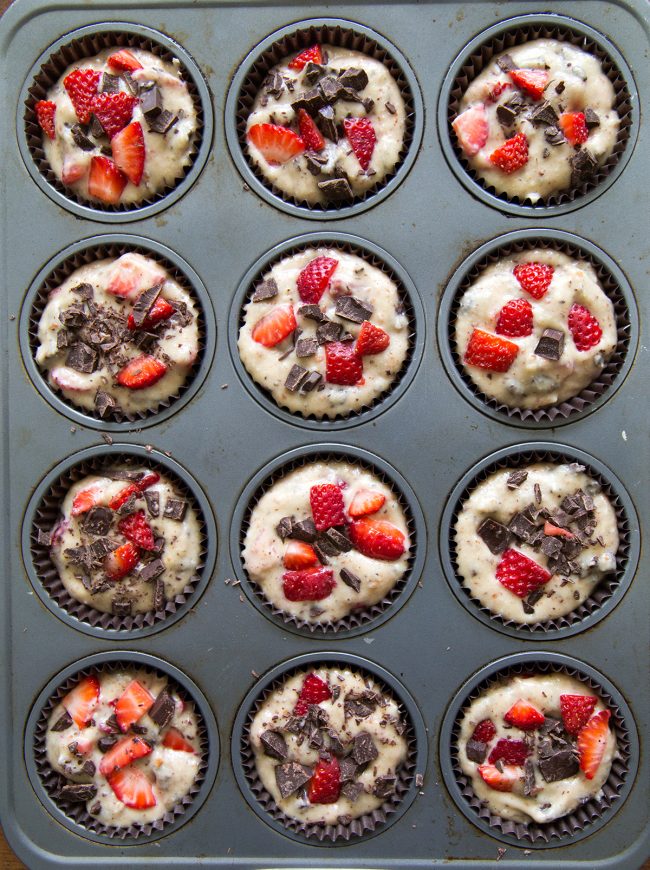 Chocolate Strawberry Muffins
These chocolate strawberry muffins are dairy free! That's a first for me. I've been experimenting with nut milks and I've fallen madly in love with homemade almond milk. I've been making my own almond milk weekly. As a result, I have a ton of almond meal (almond pulp) leftover.
Rather than throw it out, it's great for adding additional texture to baked goods. In place of almond pulp, you can substitute in almond flour, whole wheat flour, or additional all-purpose flour.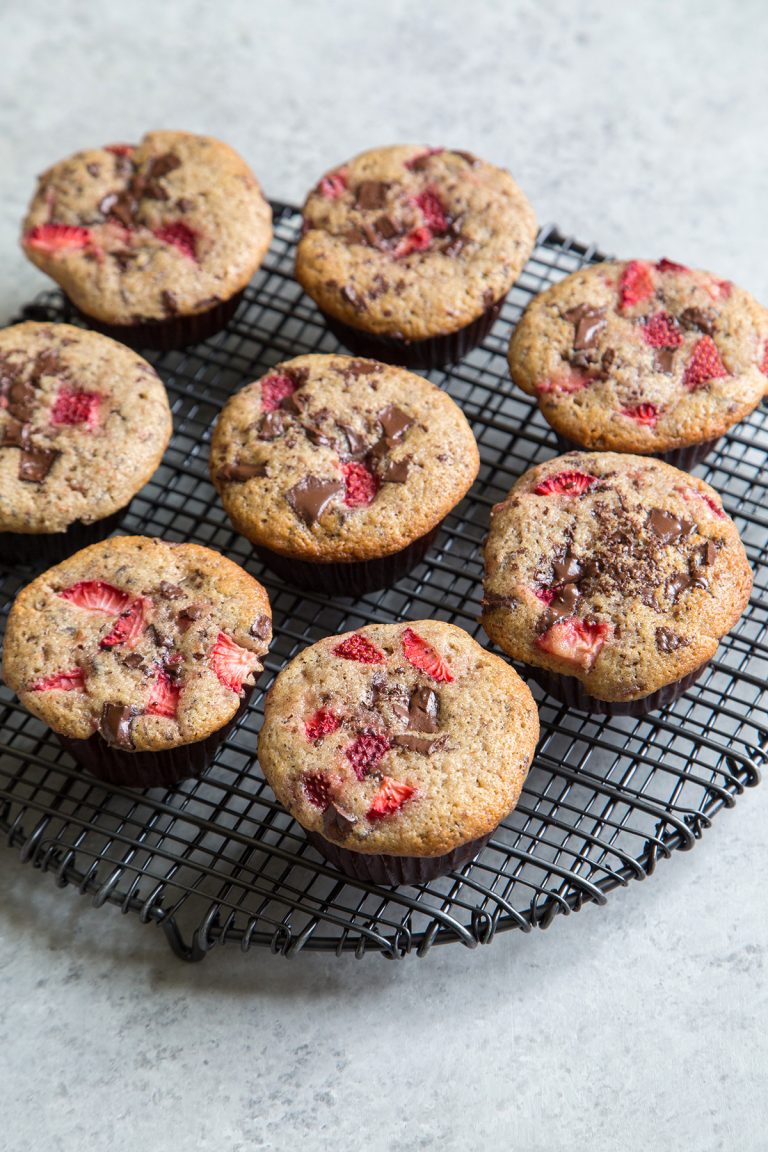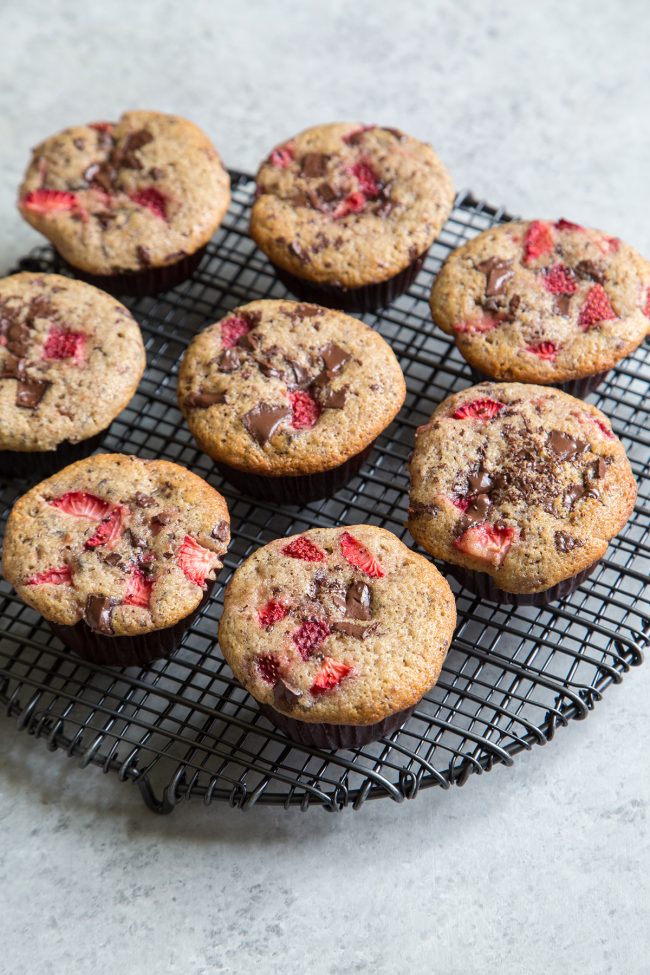 Coconut Oil vs Butter:
Since this recipe uses coconut oil instead of butter, these muffins stay soft and moist. Coconut oil melts at a relatively low temperature (around 76 degrees F), whereas butter melts at a much higher temperature (around 90 degrees F).
Immediately out of the oven, these muffins will be very delicate and crumbly. Allow the muffins to cool in the pan for about 10 minutes before transferring to a wire rack to cool to room temperature. The muffins will stiffen up and regain their structure as it cools.
Chocolate Strawberry Muffins
Yield: 12 muffins
Ingredients
1/3

cup

coconut oil, melted

2/3

cup

granulated sugar

2

large eggs, room temperature

1 1/2

teaspoon

vanilla extract

2/3

cup

unsweetened almond milk*

1/2

cup

packed almond meal (pulp), or almond flour*

1 1/2

cup

all-purpose flour

1 1/2

teaspoon

baking powder

1/2

teaspoon

baking soda

1

teaspoon

fine sea salt

1

cup

dark chocolate chunks

1 1/2

cup

fresh strawberry chunks
Instructions
Preheat oven to 350 degrees F. Line muffin tin with paper liners or generously coat with nonstick spray. Set aside.

In a large bowl, mix together melted coconut oil and sugar until smooth. Add eggs, vanilla, and almond milk. Stir until thoroughly combined. Fold in almond meal.

In a separate bowl, whisk together all-purpose flour, baking powder, baking soda, and salt. Add to large mixing bowl and stir to combine. Before flour is completed mixed in, add chocolate chunks and strawberries. Fold until mix-ins are thoroughly distributed and there are no longer any dry streaks of flour in the batter.

Divide batter among prepared 12-cavity muffin tin. Bake for 30 minutes, rotating muffin tin midway through baking. Allow muffins to cool in pan for 10-15 minutes before transferring to wire rack to cool completely. Hot muffins will be very delicate and crumbly. Muffins will regain strength and structure as it cools. Enjoy warm or at room temperature. Store muffins at room temperature for immediate consumption, or keep in the fridge for longer storage.
Notes
I used homemade almond milk using 

this recipe

. Store-bought almond milk, soy milk, or regular cow's milk also work.
Almond pulp (almond meal) refers to the leftover ground almonds used in almond milk making. Substitute almond flour, whole wheat flour, or additional all-purpose flour.
All images and text ©The Little Epicurean