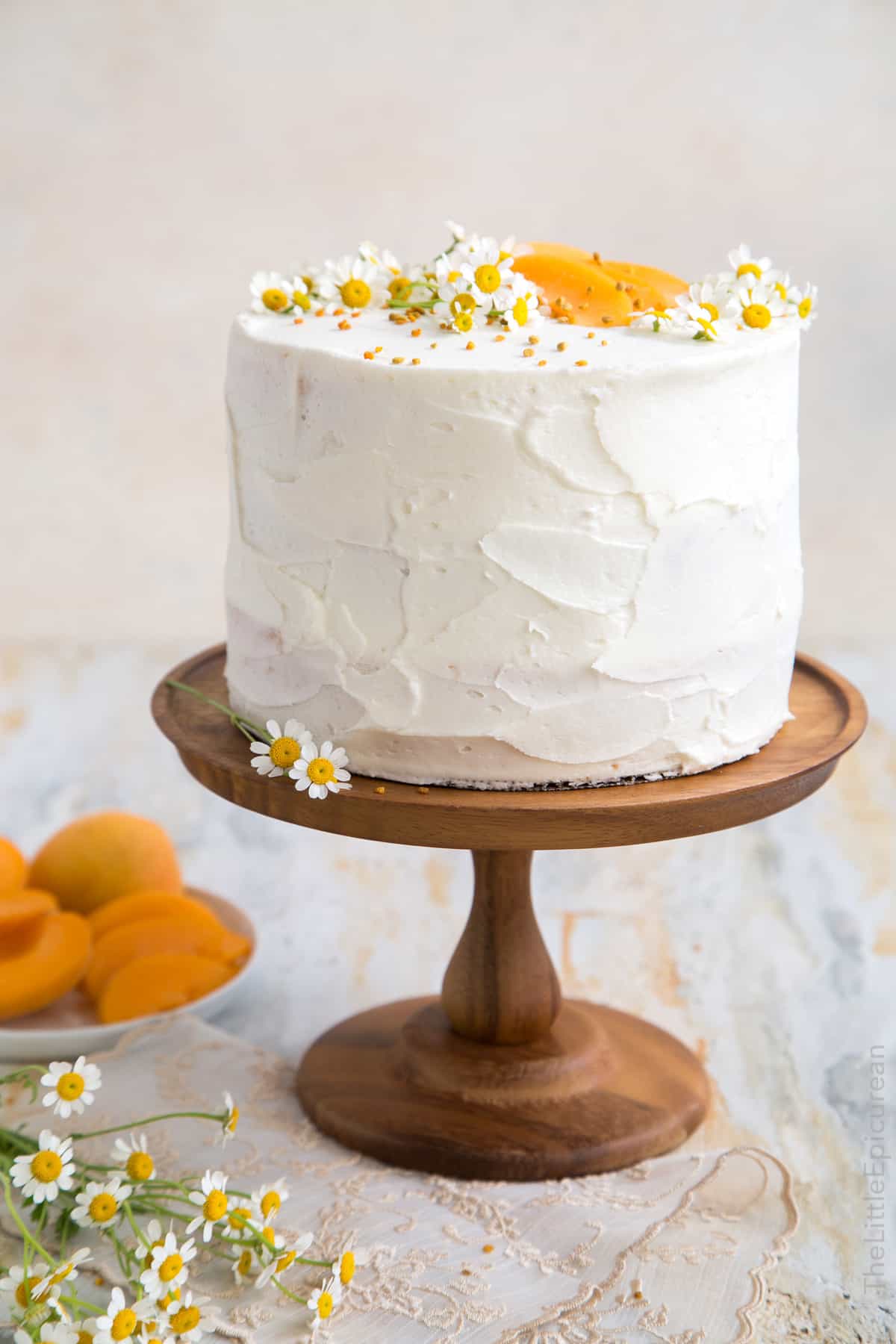 In my teens and early 20's I was obsessed with The Book of Questions. It's a collection of open ended questions meant to spark conversation, provoke discussion, and inspire thought. I used it often to get to know new friends and acquaintances. With old friends, we used it to learn even more about each other.
I enjoyed this period of my life. We weren't glued to the screen. People still called on the phone simply to talk. Texting wasn't the norm, especially because unlimited texting plans were ridiculously expensive at this time. I can't remember if Google Maps existed yet, but MapQuest did and it was unreliable. I had to carry around a spiral bound street map guide of Los Angeles County just in case I got lost. (Do you remember Thomas Guide?!)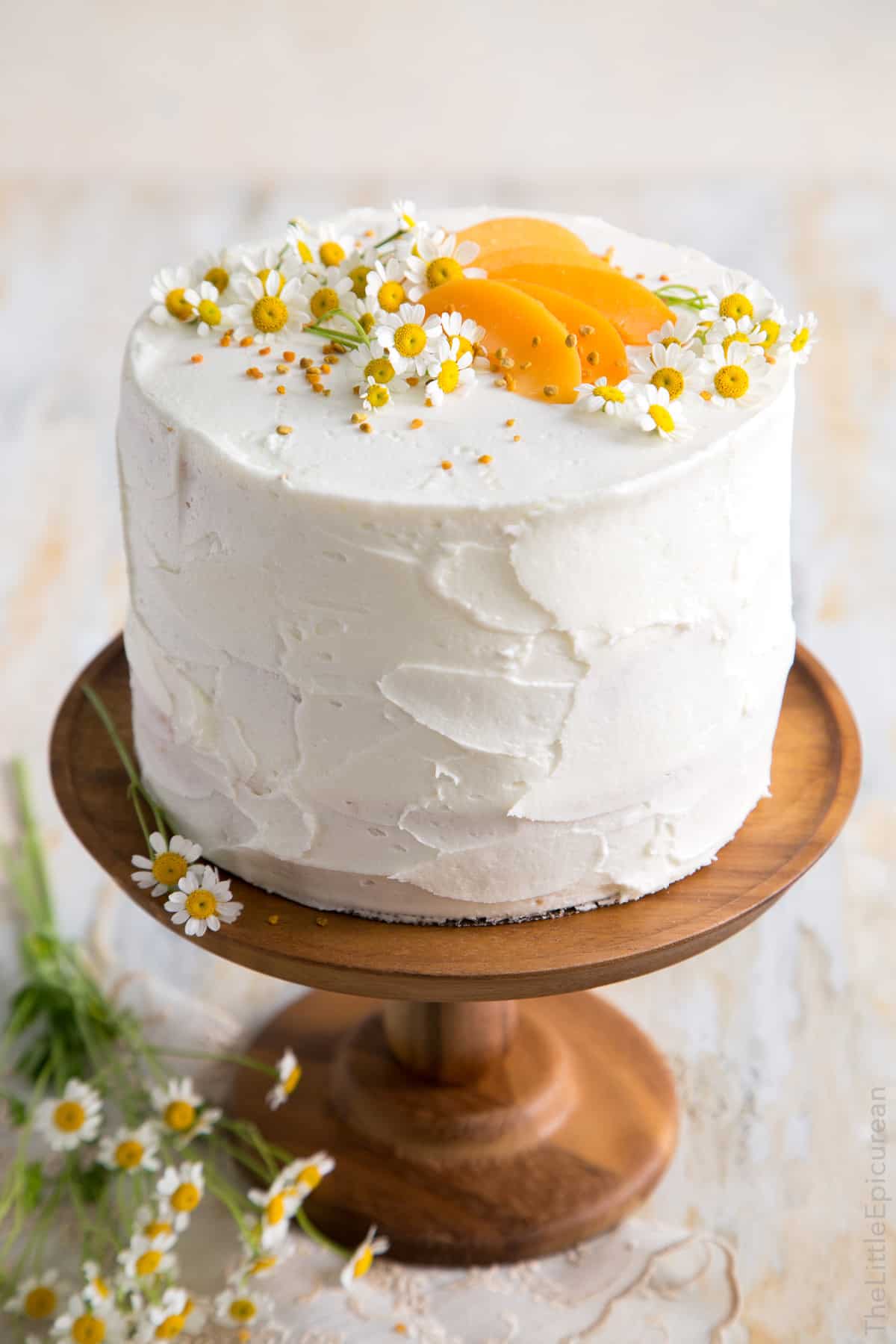 Anyway, back to The Book of Questions. I loved it because it made me unsure of myself. It challenged me and forced me to consider all the possibilities. That's how I feel about making cakes. For me, cakes are a never-ending learning process. I love how it pushes me to keep exploring new flavors, new combinations, and new techniques.
I share the good cakes on the blog. I can't even tell you how many cake failures I've had. Ones that were too salty, too sweet, too eggy, tasted like concrete, tasted like dirt.
This apricot chamomile cake is a winner. I'm not the biggest fan of chamomile tea. Often times, chamomile can have that medicine-like smelling/tasting quality. But paired with apricot preserves, it's easier to appreciate the sweet, floral characteristics of chamomile. (Plus, the boozy soaking syrup helps.)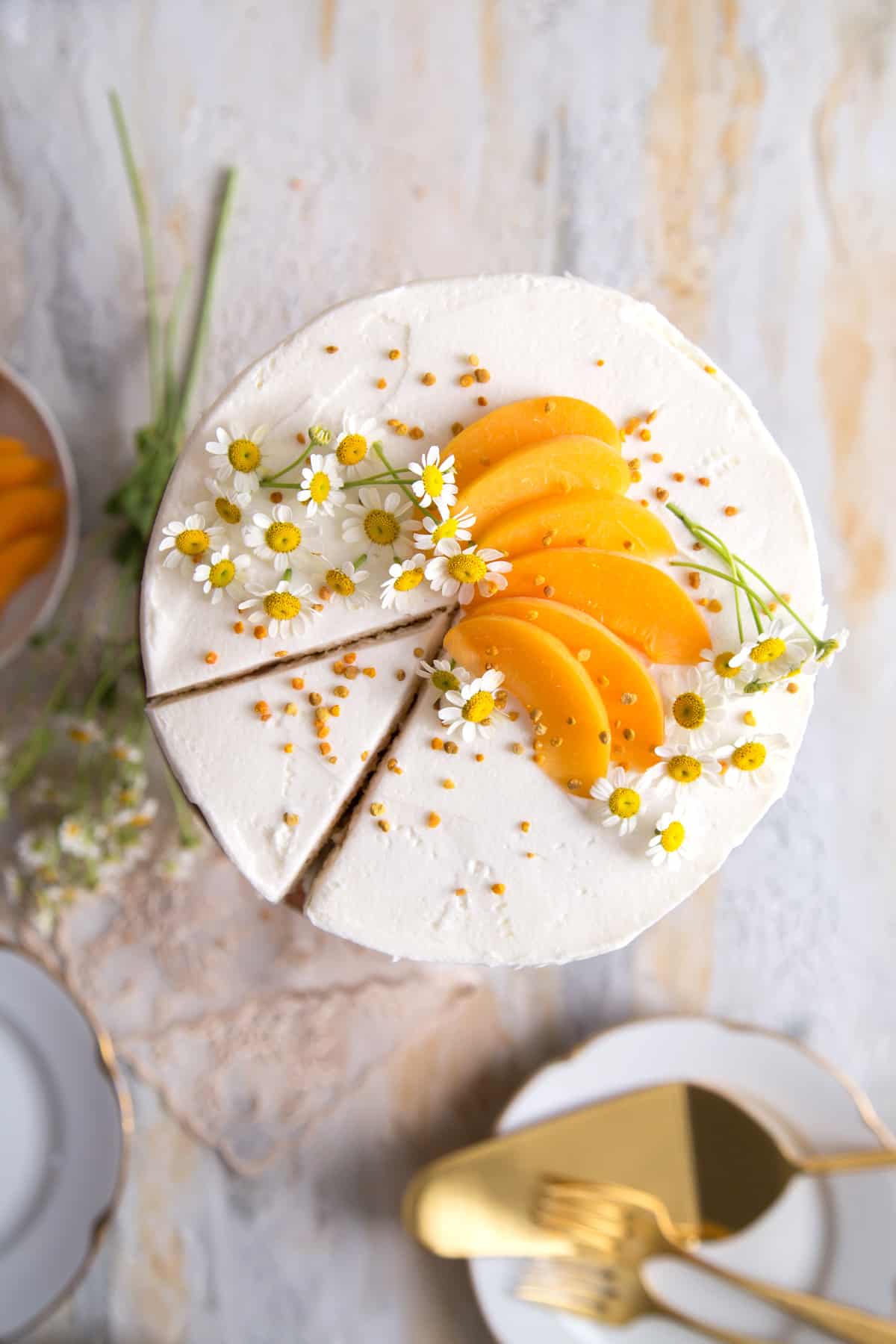 The white cake is lightly flavored with chamomile. I infused chamomile in the milk used for the cake batter. While it's not strongly flavored, you get hints of it and you can definitely smell in the cake.
I applied a very thin layer of apricot preserves between the cake layers. I didn't want the sweetness of the apricot to overpower the subtleness of chamomile. I suggest serving this with fresh apricot slices on the side.
The cake is minimally frosted with a sweet chamomile buttercream (flavored with chamomile simple syrup- which is amazingly delicious on it's own. Perfect for sweetening iced teas!). On top, I lightly sprinkled on some bee pollen for a pop of earthy flavor. All together, the flavors really work! I am super pleased with this apricot chamomile cake and I'm eager to keep exploring.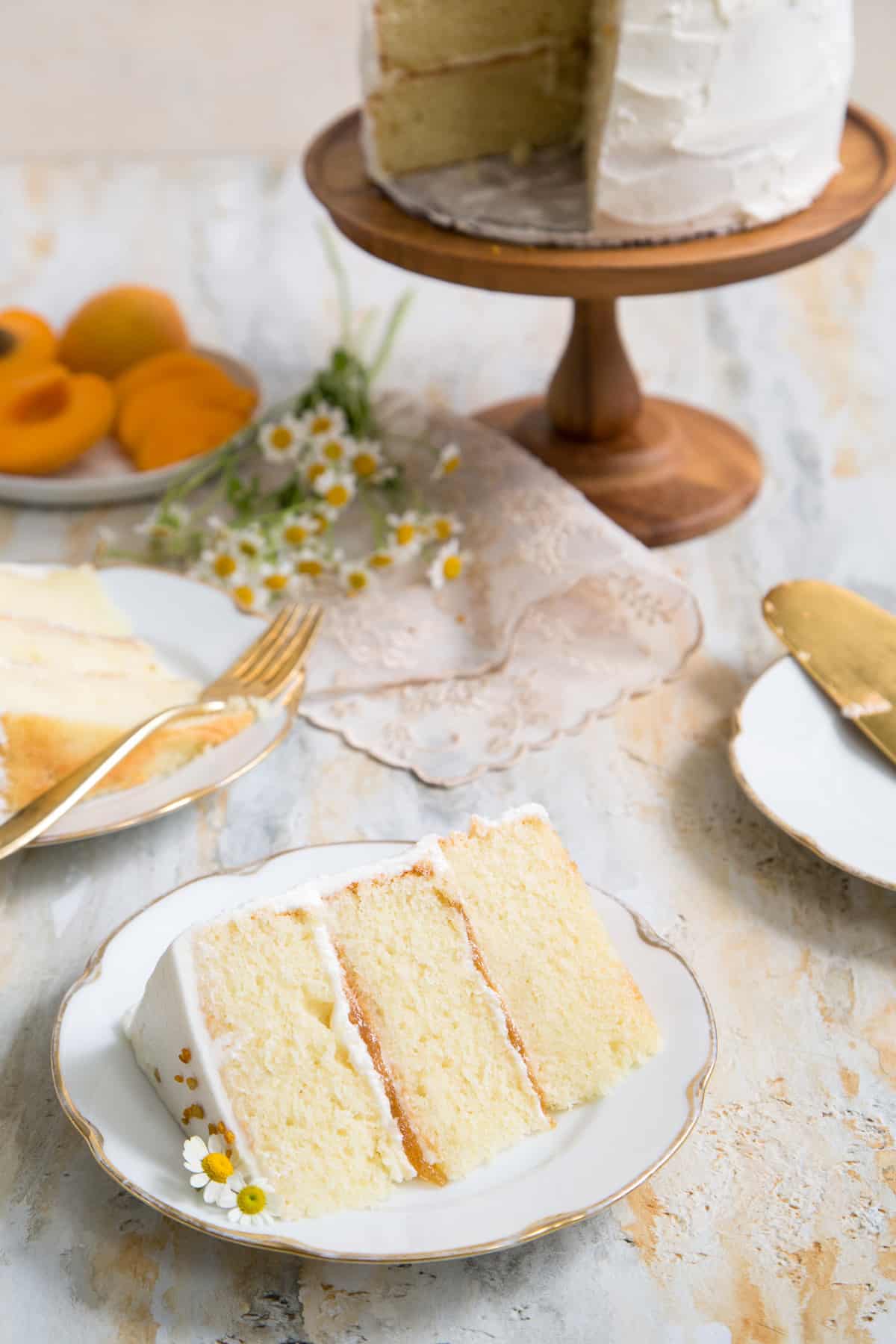 Apricot Chamomile Cake
Ingredients:
Chamomile Cake:
3/4 cup milk
2 Tablespoons dried chamomile (or about 4 chamomile tea bags)
2 1/2 cups cake flour
1 1/4 cup granulated sugar
2 teaspoons baking powder
1/2 teaspoon fine sea salt
1 cup unsalted butter, cut into tablespoons, softened but still cool to the touch
3 large eggs
1 large egg white
1 teaspoon pure vanilla extract
1/4 cup apricot preserves or jam*
Chamomile Simple Syrup:
2 Tablespoons dried chamomile
1/2 cup granulated sugar
1/2 cup water
Soaking Syrup:
1/4 cup chamomile simple syrup
2 Tbsp white rum
Chamomile Buttercream:
1 cup unsalted butter, softened
3 cups powdered sugar, sifted
pinch fine sea salt
1 Tbsp chamomile simple syrup
Directions:
Chamomile Cake:
Bring milk to a simmer and remove from heat. Add tea and allow to steep for 30 minutes. Strain out tea.
Preheat oven to 350 degrees F. Grease and flour three 6-inch round cake pans. Line with parchment paper and set aside.
In the bowl of a stand mixer, whisk together 2 cups flour (reserve remaining 1/2 cup), sugar, baking powder, and sat. Using a paddle attachment, run mixer on low speed. With the mixing running, add butter in three additions. Continue to mix on low speed until mixture is crumbly.
In another bowl, combined infused milk, egg, egg white, and vanilla. Add half of liquid to mixing bowl. Mix on medium speed until incorporated. Add remaining half of liquid and mix until batter is thoroughly combined. Scrape down bowl as needed to ensure thorough mixing. The batter may look curdled. Add remaining 1/2 cup flour and mix until batter comes together.
Evenly distribute batter among prepared cake pans. Bake for 30-35 minutes until toothpick inserted in center of cake comes out clean. Allow cake to cool in pan for 10-15 minutes. Run an offset spatula along the sides of the cake pan to loosen cake. Invert cake onto a wire rack and allow to cool to room temperature.
Chamomile Syrup:
Combine dried chamomile, sugar, and water in a sauce pot. Bring to a boil until sugar has dissolved. Remove from heat and allow mixture to steep for 30 minutes. Strain out chamomile. Cool to room temperature and keep stored in the fridge until ready to use.
Soaking Syrup:
Combine 1/4 cup chamomile syrup with 2 tablespoons white rum before assembling cake.
Chamomile Buttercream:
In the bowl of a stand mixer fitted with a paddle attachment(or using a hand mixer), cream butter until smooth. Add powdered sugar and mix until incorporated. Scrape down bowl as needed. Add pinch of salt and chamomile syrup. Mix until thoroughly combined.
Assembly:
Place one cake round on cake board (or serving plate). Brush cake layer with soaking syrup. Spread a thin layer of buttercream over cake layer. Pipe a border of buttercream along the perimeter of cake layer. Spread a thin layer of apricot preserves (about 2 tablespoons) within the buttercream border. Carefully spread a thin layer of buttercream over preserves.
Top with second cake round and repeat steps.
Top with third cake round. Brush cake layer with soaking syrup. Spread buttercream over the top of cake. Spread buttercream around the exterior of cake to seal in any crumbs. Chill in the fridge for 10-15 minutes to set up. Add another thin coat of buttercream all over the cake.
Keep cake chilled until ready to serve. Allow cake to sit at room temperature for at least 30 minutes before serving to soften. Decorate cake with bee pollen, fresh apricot slices and organic, pesticide-free chamomile flowers, if desired.
NOTES:
I used reduced sugar apricot preserves from Trader Joe's. It's not as sweet as traditional preserves/jam.
Be sure to use organic, pesticide-free chamomile flowers to decorate the cake.
Omit white rum in soaking syrup, if desired.