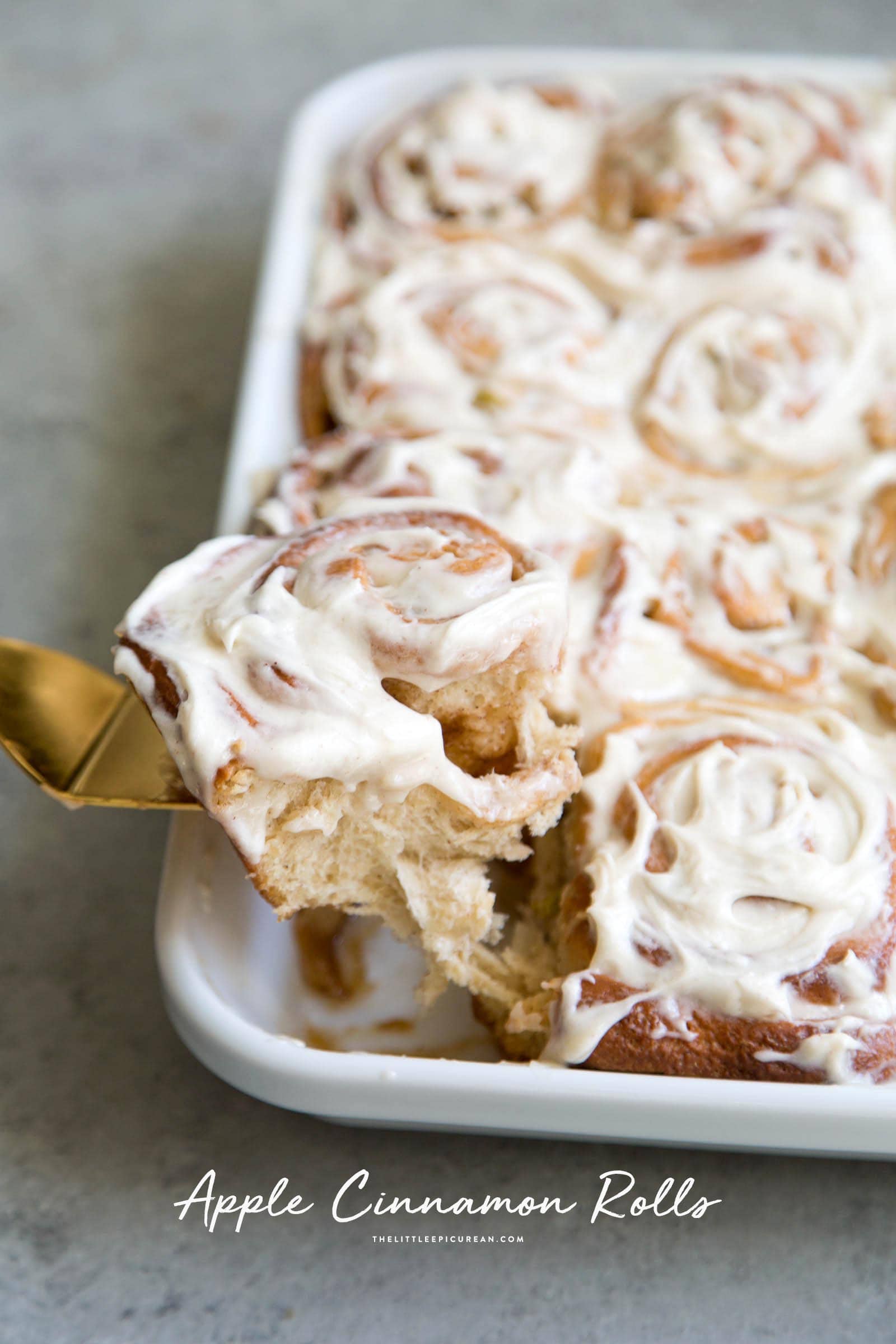 I used to love the holidays, but this part of the year has become difficult for me. The second anniversary of my dad's passing is a few days away. Two years later and I'm still a bit heartbroken. I've been through denial, anger, depression. You name all the stages of grief and I've experienced it. Therefore according to textbook definition, I should be "normal" by now. Nope. A chunk of my heart still hasn't fully healed and I still miss my papa like crazy. Every time I eat something extraordinarily delicious, a part of me wants to save him a piece, hoping to share it with him later.  My dad was like a mirror for me. I saw in him all the good that I wanted to see reflected in myself. Needless to say, I was a daddy's girl.
My dad loved cinnamon rolls. I made him some for every holiday, occasion, celebration, milestone, etc. These simple classic cinnamon rolls were his favorite. Over the years, I've made all sorts of different variations. Here's another one to add to the list: apple cinnamon rolls with spiced cream cheese frosting!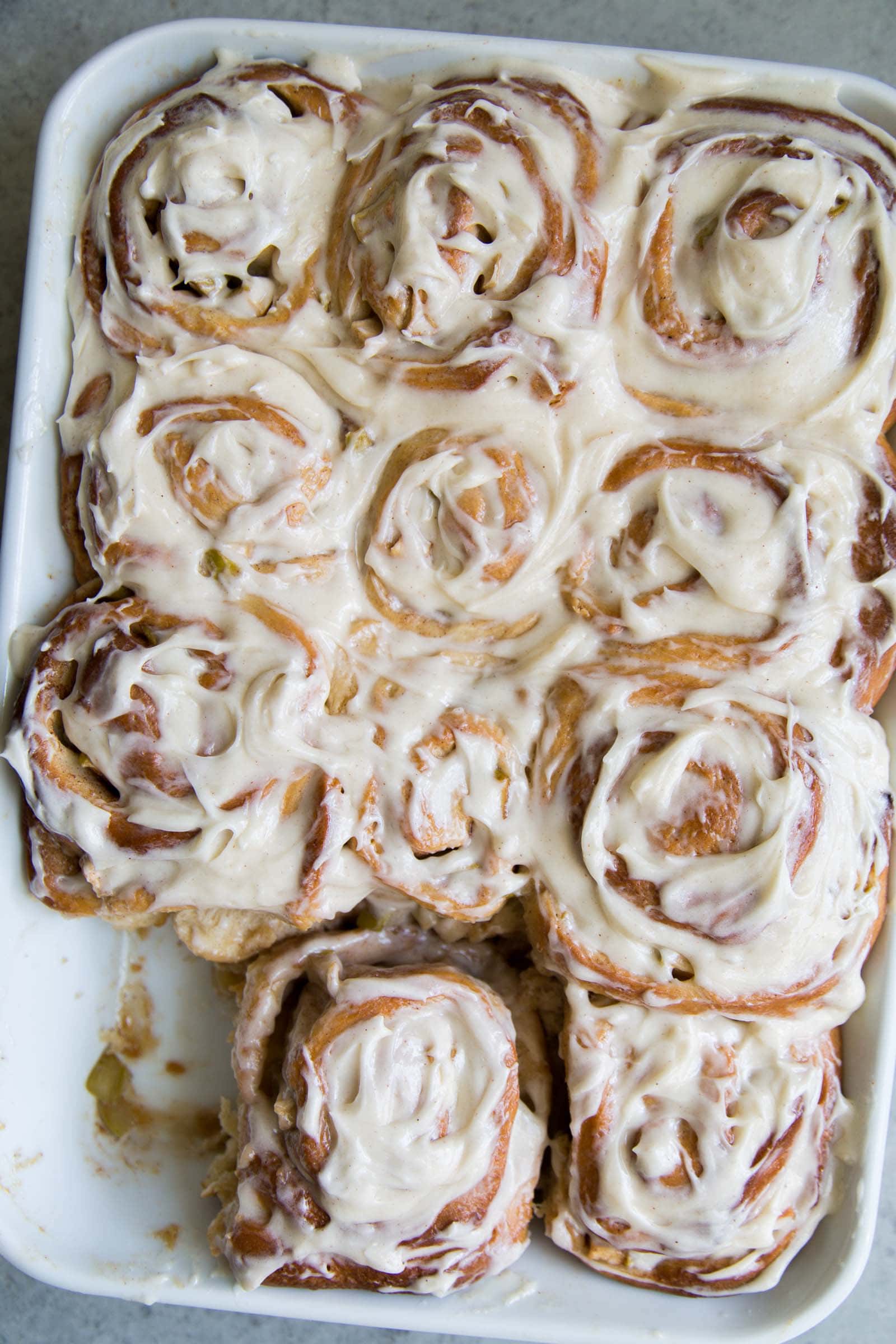 The dough for these apple cinnamon rolls are special. They're made with apple cider. Most dough recipes use water, milk, or a mixture of the two. Instead of water, I used apple cider. It adds just a hint of sweetness and flavor. If you have the chance, try to use fresh pressed apple cider; the good stuff you can buy at apple orchards during this time of the year. (If you live in Southern California, check out Snow-Line Orchards!) Don't use sparkling apple cider, that's different. In a pinch, apple juice also works, but you'll end up with a sweeter dough.
I used chopped Granny Smith apples for the filling. I've tried this recipe with other apples, but they don't hold up as well. The durability and tartness of the Granny Smith works well with the brown sugar and cinnamon filling. I left the skin on the apples as it adds more texture and flavor.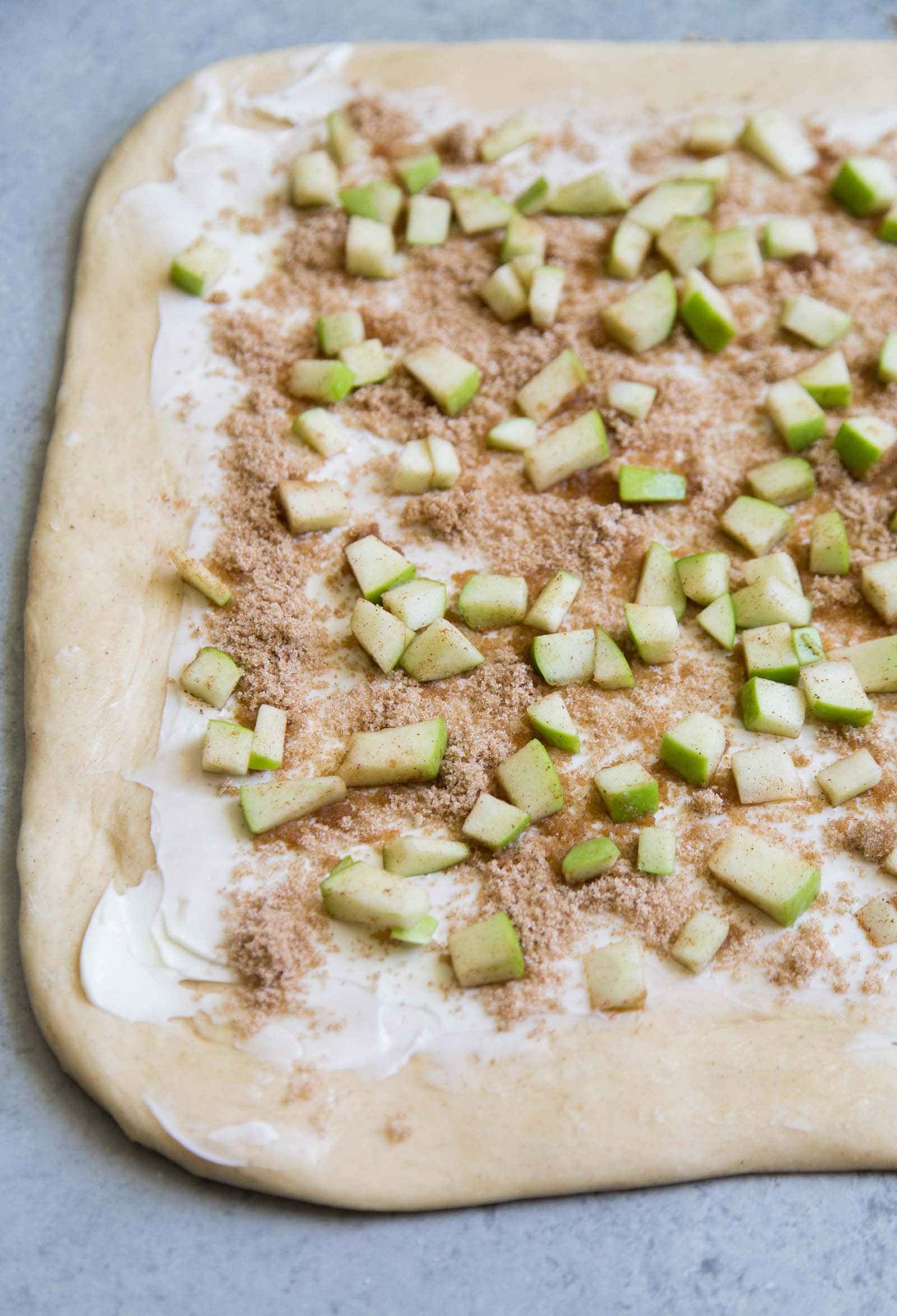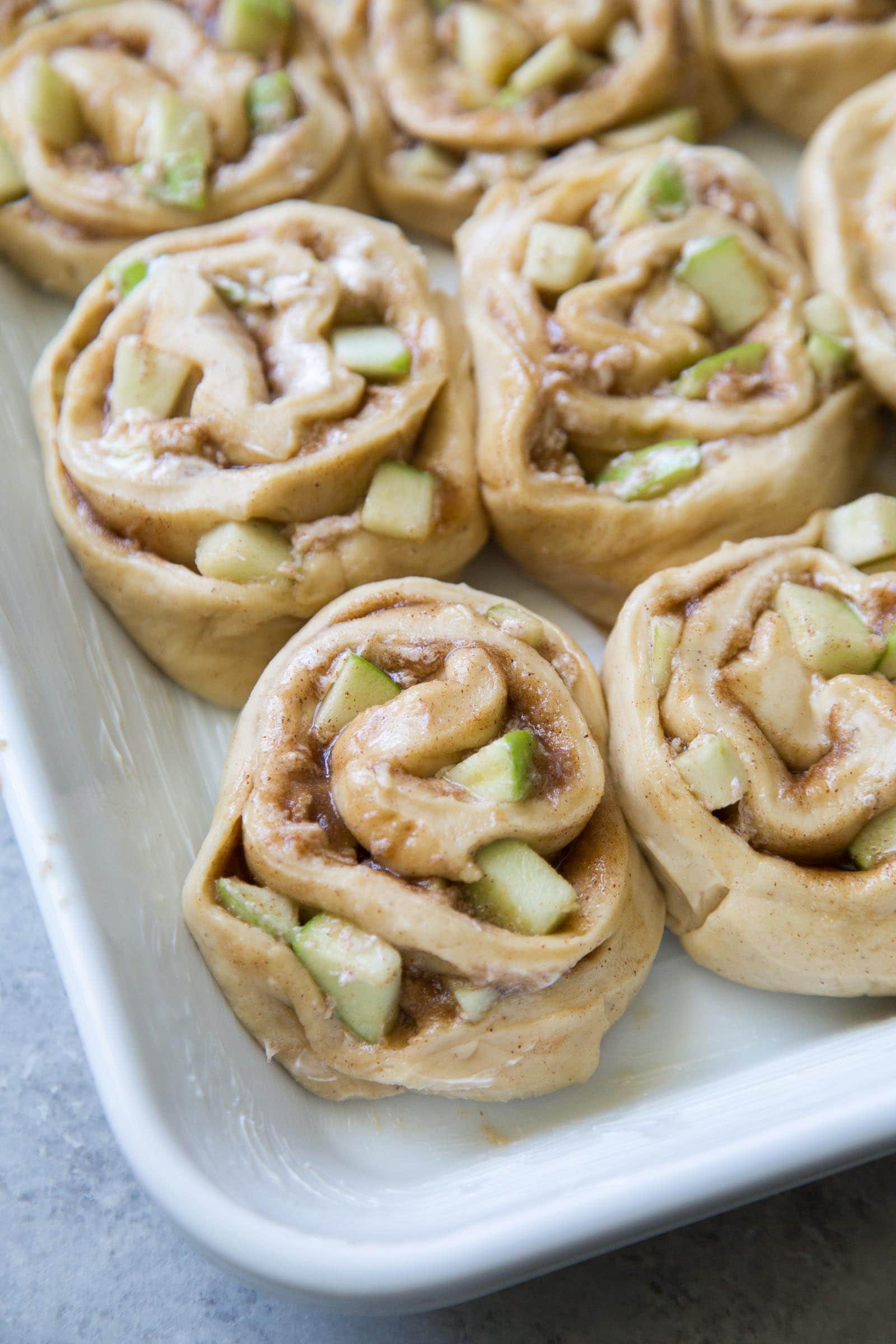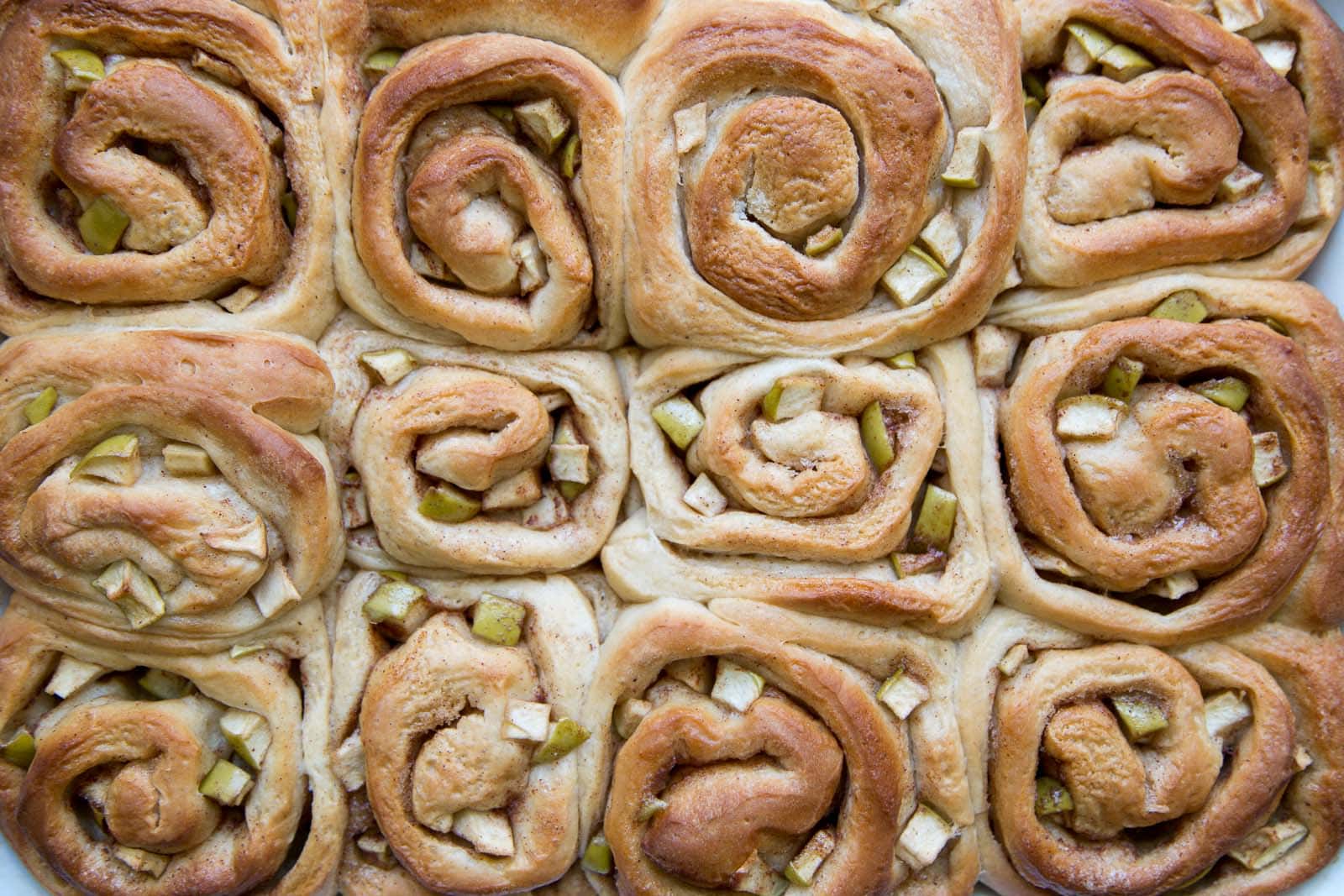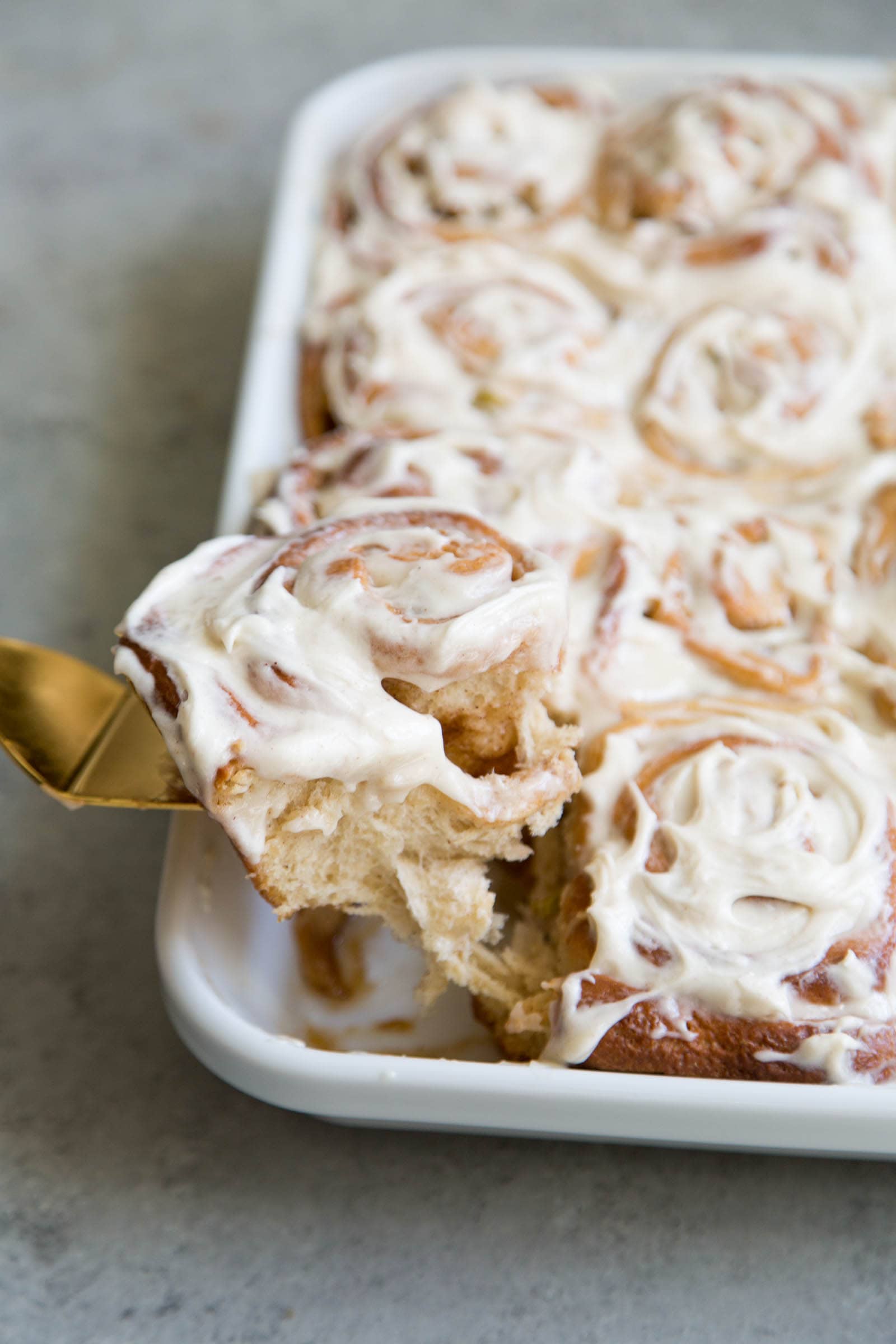 While I love all the recipes that I share on this site, these apple cinnamon rolls are on a league of their own. They're definitely on my top 5 favorite recipes list. My husband and I devoured half the pan in two days. I sent the other half to my mother-in-law and she loved them, as well!
I've enjoyed these apple cinnamon rolls fresh from oven, cooled to room temperature, and even cold straight from the fridge- and they're delicious no matter how you eat them! I'm certain my dad would have loved these!
Apple Cinnamon Rolls
Ingredients
Dough:
1/2

cup

apple cider, warmed up to 110 degrees F

2 1/4

teaspoon

dry active yeast

1

teaspoon

granulated sugar

1/2

cup

milk, room temperature

1

large egg, room temperature

1

large egg yolk, room temperature

1/4

cup

light brown sugar, packed

4

cups

all-purpose flour

1

teaspoon

fine sea salt

1/4

teaspoon

ground nutmeg

3/4

teaspoon

ground cinnamon

6

Tablespoon

unsalted butter, softened
Apple Filling:
2

cups

chopped Granny Smith apples

3

Tablespoons

apple cider

pinch fine sea salt

1/2

teaspoon

ground cinnamon

1/3

cup

light brown sugar

2

Tablespoons

granulated sugar

1

teaspoon

ground cinnamon

1/3

cup

unsalted butter, softened to mayonnaise-like consistency
Cream Cheese Frosting:
4

oz

cream cheese

1/4

cup

unsalted butter

1 1/2

cup

powdered sugar

1/4

teaspoon

ground cinnamon

2-3

teaspoons

reserved apple filling liquid
Instructions
Dough: In the bowl of a stand mixer, combine warm apple cider, yeast, and sugar. Let sit for 5-7 minutes to allow mixture to bubble and activate. Whisk in milk, egg, egg yolk, and brown sugar. Attach dough hook to stand mixer.

In a large bowl, whisk together flour, salt, nutmeg, and cinnamon. Add 1/3 of flour mixture to mixing bowl. Mix on low speed until flour is incorporated. Add another 1/3 of flour mixture. Continue to knead on low speed adding softened butter one tablespoons at a time. Add remaining flour mixture and knead until dough is smooth and cleans the sides of the bowls.

Transfer dough to a lightly greased large bowl. Cover with plastic wrap and let dough rest at room temperature for about an hour, until dough has doubled in volume.

Apple Filling: Meanwhile, combine chopped apples with apple cider, salt, and ground cinnamon. Set aside while you roll out dough. In a small bowl, combine brown sugar, sugar, and cinnamon.

Punch down risen dough. Transfer to a lightly floured work surface. Roll dough into a 20 x 14-inch rectangle. Spread softened butter over dough. Sprinkle brown sugar cinnamon mixture over dough.

Strain chopped apples from liquid mixture. Set aside and save liquid mixture. Distribute chopped apples over dough. Roll dough into a tight log, starting at the longer side Slice the log into 12 equal parts and place into a lightly greased 9 x 12-inch baking pan. Cover pan with plastic wrap and let rolls rest for 30-45 minutes at room temperature. Rolls should rise to the top of the baking pan.

Preheat oven to 350 degrees F. Remove plastic wrap and bake rolls for 30-35 minutes until golden brown on top and the internal temperature of the rolls registers at least 185 degrees F. Allow rolls to cool for 5-10 minute before covering with frosting.

Cream Cheese Frosting: Beat together cream cheese and butter until smooth. Add powdered sugar, cinnamon, and reserved apple filling liquid. Add additional apple liquid, to taste or to achieve desired frosting consistency. Mix until smooth. Spread over warm apple cinnamon rolls.
Recipe Notes
Dough can be prepared ahead of time and stored in the fridge overnight. Follow steps up to placing cut rolls in greased pan. Cover with plastic wrap and chill in the fridge to slow down yeast. Before baking, allow rolls to sit at room temperature for 30 minutes or so to reactivate yeast.