An autumn version of the traditional pavlova. Chocolate pavlova is a delicious and delicate dessert that is easy to customize to your liking.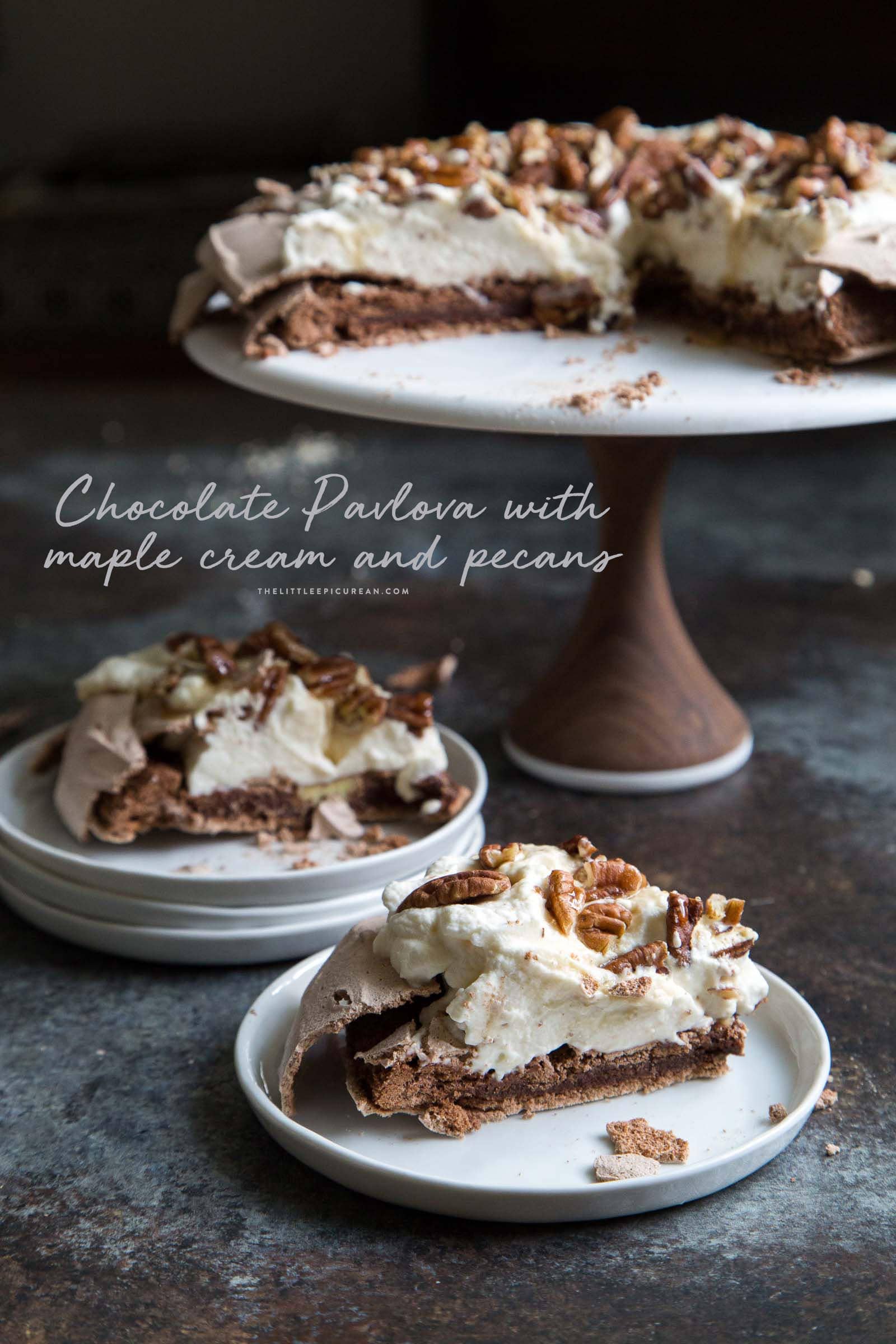 Chocolate Pavolva
If at first you don't succeed, try, try, and try again. I have a love/hate relationship with pavlova.
Over the years, I've made pavlovas countless times. (See my matcha nectarine pavlova!)
Sometimes I fail, sometimes I succeed. Along the way, I've learned a lot of do's and don'ts. I made this chocolate pavlova three times successfully. That's a feat and a miracle.
What is Pavlova?
Pavlova is a delicious and delicate dessert that simply requires a handful of ingredients. It is a meringue based dessert named after the Russian ballerina Anna Pavlova.
It's a mound of meringue that is baked until dry and crisp on the outside, but remains soft and marshmallow like on the inside. It is usually topped with whipped cream and berries.
This is my autumn take on the classic pavlova. The chocolate pavlova is topped with maple sweetened whipped cream and a generous serving of toasted pecans.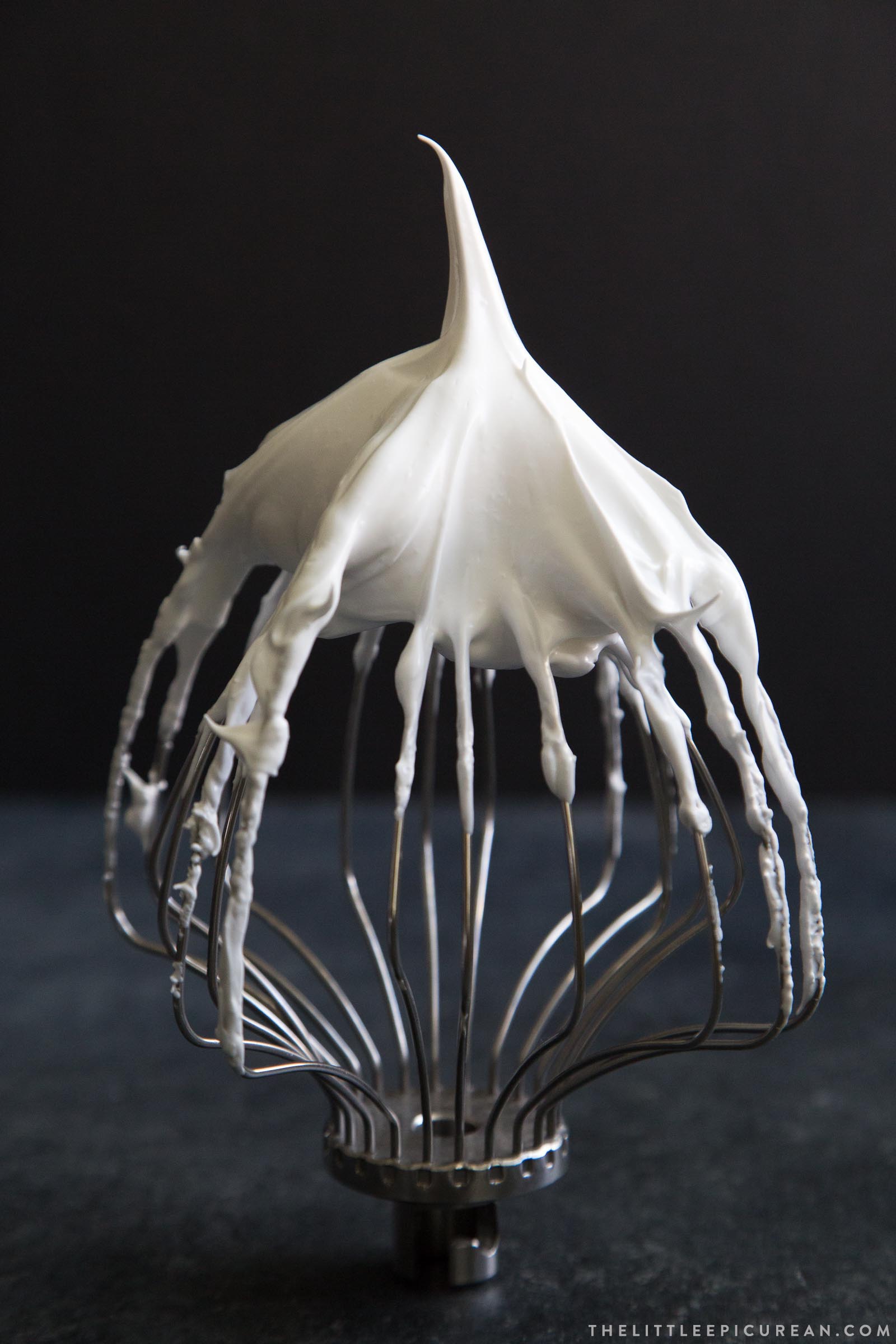 Egg Whites In Meringue Desserts
Egg whites are the most important part of a successful pavlova (any pretty much any meringue based dessert).
Make sure the egg whites are free from any traces of egg yolks, oils, or any other contaminants.
Eggs are easiest to separate when cold. Once the egg whites have been separated, it's best to let it warm to room temperature.
Room temperature egg whites whip better and stronger. The egg whites are beat to stiff peaks and then sugar is gradually added.
Once all the sugar is in the mixture, continue beating to stiff peaks like photographed above.
The meringue should be stiff, glossy, and thick. You should be able to invert the bowl of meringue upside down without it falling out.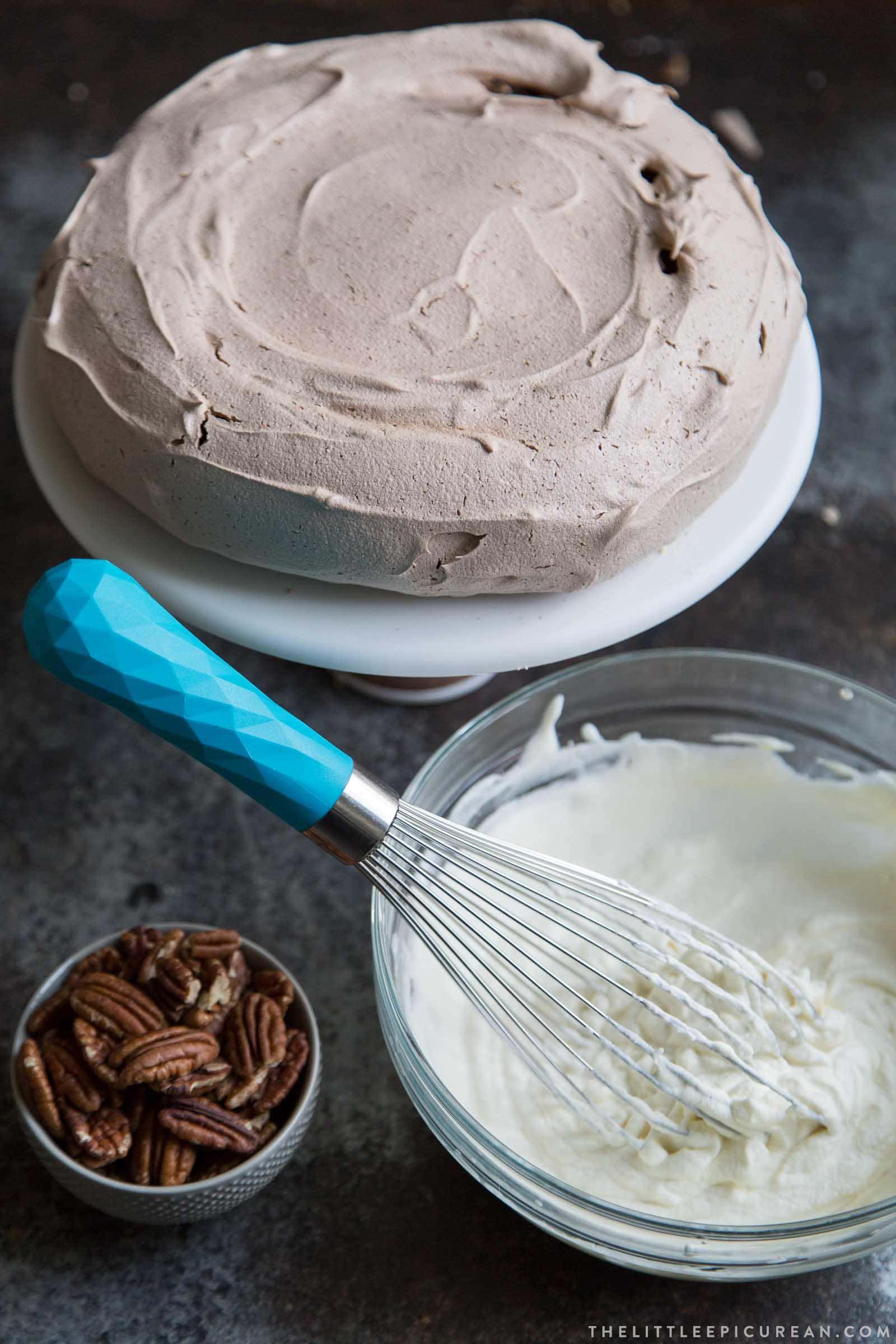 Fresh Whipped Cream
Nothing beats fresh whipped cream. Stay away from the whipped cream (or whipped topping) sold in cans and tubs.
You simply need a whisk (I love this new whisk from GIR which you can support on Kickstarter right now!) and chilled heavy cream.
Even if I use an electric hand mixer to make whipped cream, I like to finish it with a regular whisk to ensure the whipped cream isn't over whipped.
You don't want over whipped whipped cream. It'll still taste good, but it'll be a little rough and curdled instead of soft and creamy.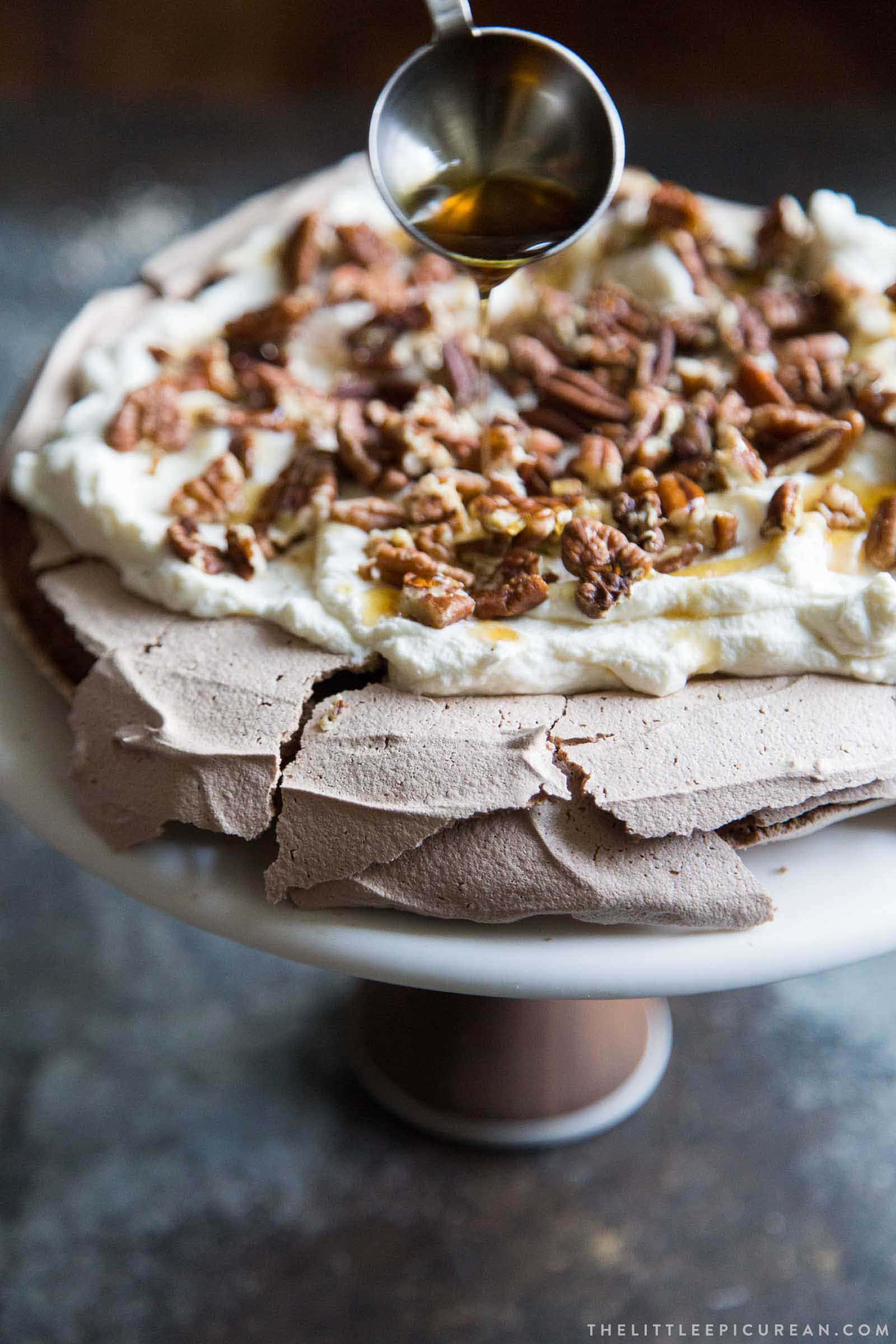 Traditional pavlova vs Chocolate version
Traditional pavlovas will be fluffier and pillowy on the inside. The trace amount of fat in the unsweetened cocoa powder limited the fluffiness. It does however contribute a whole lot of flavor.
This chocolate pavlova tastes like a brownie (without all the added richness of the butter and whole eggs).
Topped with the maple sweetened whipped cream and toasted pecans, this chocolate pavlova is perfect with a cup of warm tea or coffee.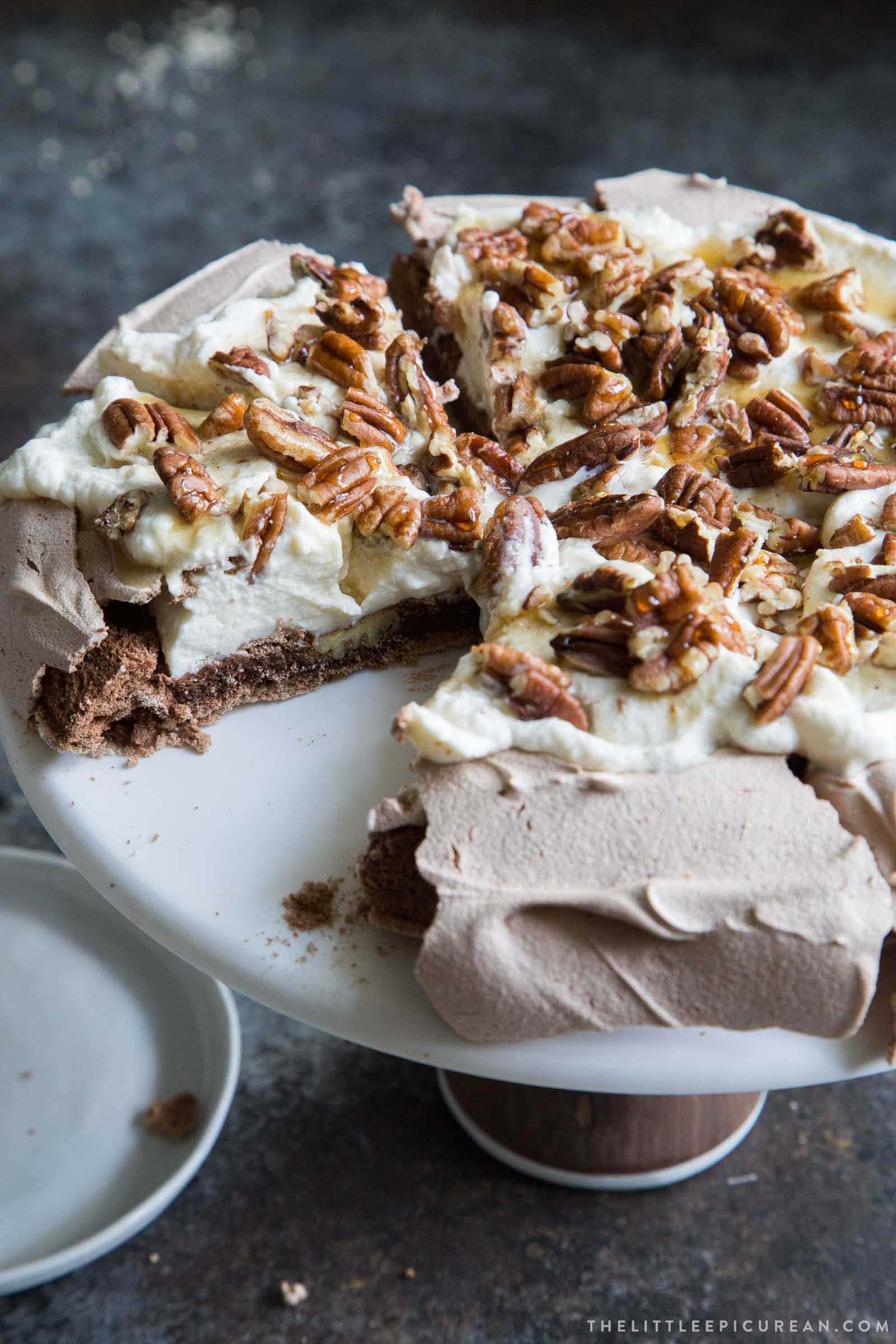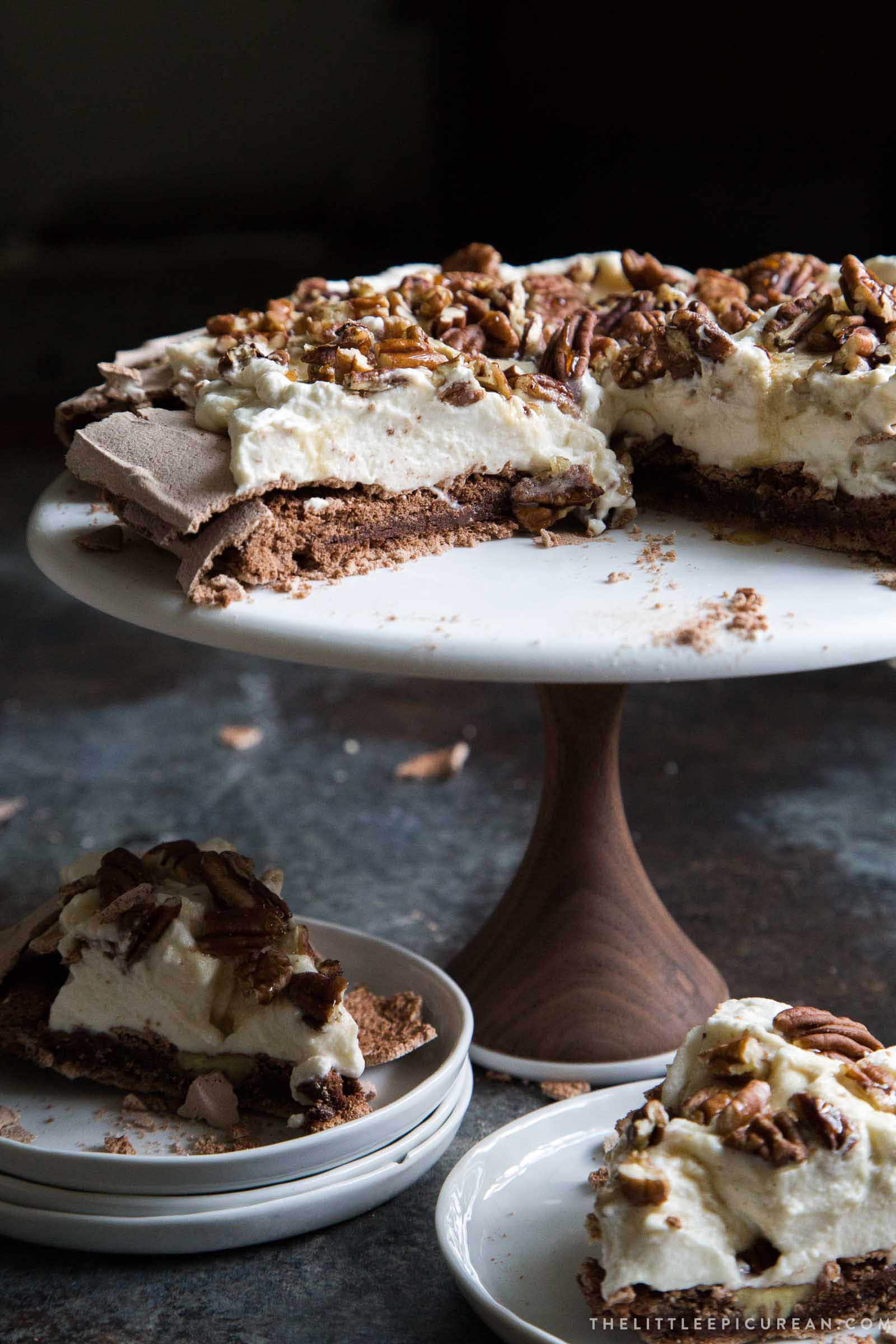 Don't worry if the pavlova cracks or falls apart. Simply break up the pavlova and serve it as a layered parfait or Eton Mess. It will still taste delicious.
Bake Ahead of Time
This chocolate pavlova can be made up to two days in advance. Store it at room temperature and simply top it with whipped cream right before serving.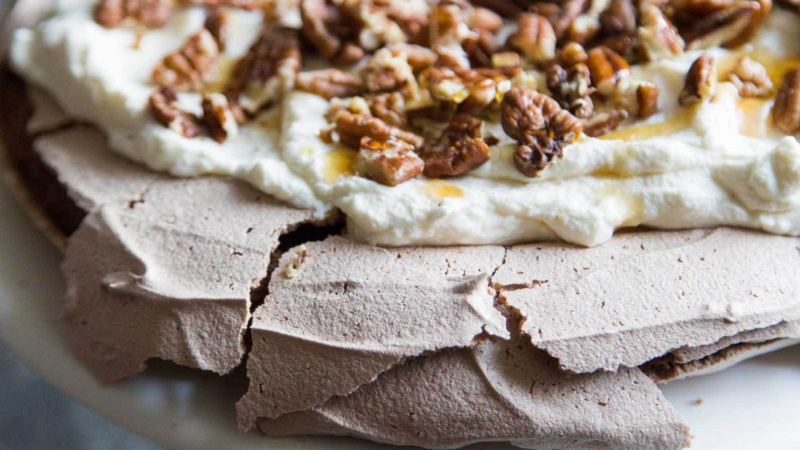 Chocolate Pavlova with maple cream and pecans
An autumn version of the traditional pavlova. Chocolate pavlova is a delicious and delicate dessert that is easy to customize to your liking.Yield: 8-inch round cake
Ingredients
Chocolate Pavlova:
4

large egg whites,

room temperature*

1

cup

granulated sugar

3

Tablespoons

unsweetened cocoa powder,

sifted

1

teaspoon

cornstarch, sifted

1

teaspoon

distilled white vinegar
Maple Whipped Cream:
1

cup

heavy cream,

chilled

3

Tablespoons

dark maple syrup,

cold

pinch of kosher salt
Topping:
toasted pecans,

roughly chopped or whole

additional maple syrup for drizzling
Instructions
Chocolate Pavlova:
Preheat oven to 300°F. Line baking sheet with parchment paper. Trace 7-inch cake round on another piece of parchment paper. Cut out 9-inch square around traced circle. Place trace-side down on lined baking sheet. Set aside.

In the bowl of a stand mixer fitted with a whisk attachment, beat egg whites at medium speed until stiff peaks. Add sugar one tablespoon at a time. Once all the sugar has been added, increased speed to medium-high. Continue to beat until stiff peaks. At this point, meringue should be thick and glossy.

Add cocoa powder, cornstarch, and vinegar. Fold in using a large spatula until there are no longer any streaks of cocoa powder. Dollop meringue on prepared baking sheet. Use a spoon or mini spatula to distribute meringue into a round mound, using the traced circle as guidelines. The cooked meringue will expand slightly out of traced circle.

Bake 65-70 minutes. Do not open the oven during baking. After 60 minutes, open oven to check that meringue is dry on the outside. Turn off oven and allow to cool in oven for an hour. After one hour, prop oven door open using a wooden spoon and allow to cool for another 30-45 minutes.
Maple Whipped Cream:
Pour chilled heavy cream and maple syrup into a cold mixing bowl. Use an electric hand mixer to whip cream to soft peaks. Switch to a whisk and continue beating cream to medium stiff peaks. Fold in pinch of salt. Use immediately or store in the fridge.
Assembly:
Once pavlova has completed cooled, remove parchment square from lined baking sheet. Gently peel parchment from pavlova and place directly on serving plate.

Just before serving, top pavlova with maple whipped cream. The top of the pavlova will crack and fall from the weight of the cream. Sprinkle toasted pecans on top and drizzle additional maple syrup, if desired. Serve immediately.
Notes
Make sure egg whites are free from any traces of yolks, oils, or other contaminants.
Cold eggs are easier to separate than room temperature eggs.
Room temperature egg whites will whip stronger.
Gradually add sugar one tablespoon at a time to ensure even incorporation and a stronger meringue.
Do not open oven during the 60 minute baking time. Allow pavlova to completely cool. 
If the pavlova cracks and breaks, turn it into an Eton Mess or parfait.