This caramel pecan bark only requires a handful of ingredients.It's a rich, decadent, buttery treat that I love to share during the holiday season.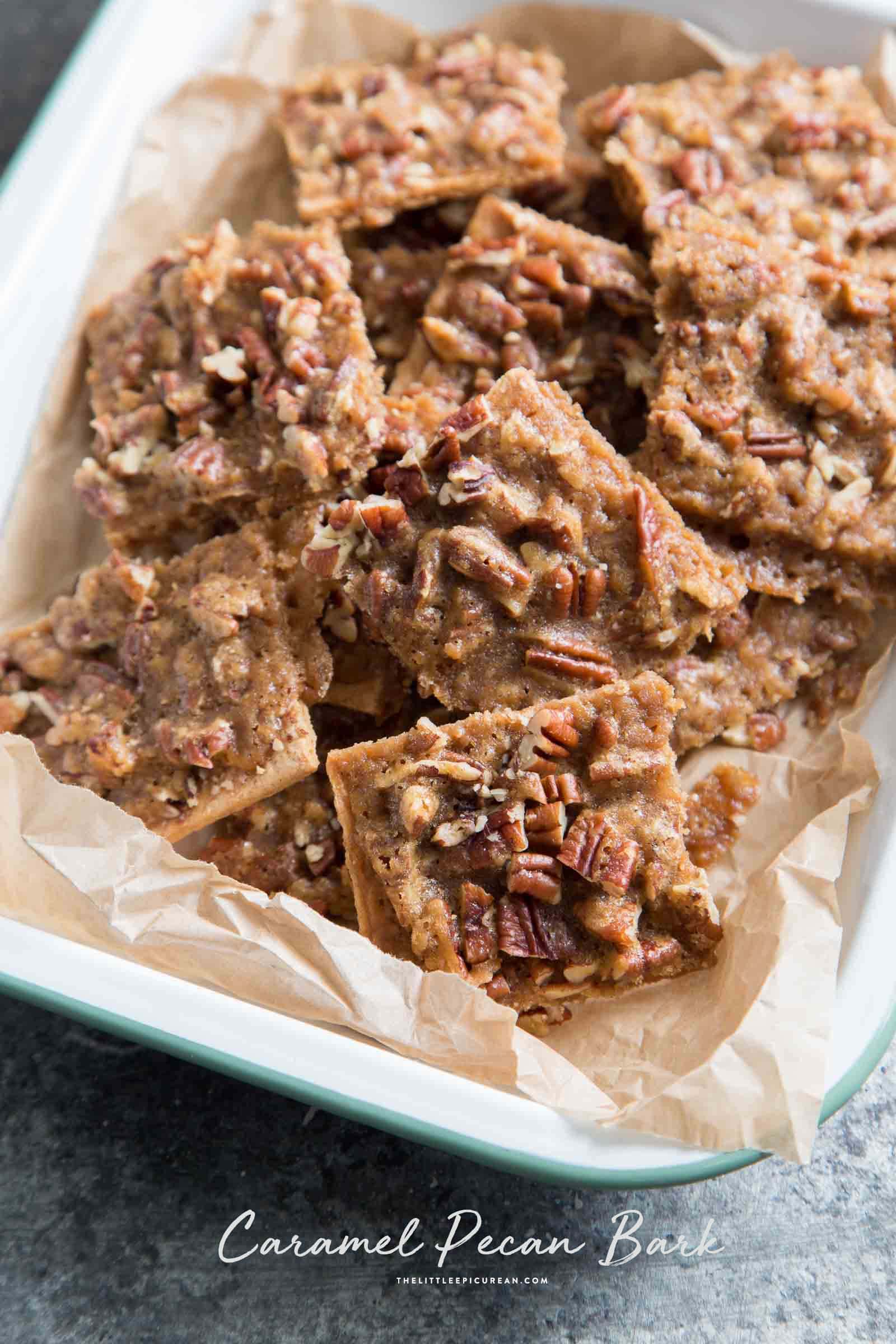 This was the IT dessert when I was in elementary school.
If Instagram had been around in the early 90s, some variation of this caramel pecan bark would be on every parents' feed. At least, that would have been at the case in the suburban town (30 miles east of Downtown LA) where I grew up.
I'm not sure if the original recipe was featured in a popular magazine at the time, or whether it spread from PTA meetings or the sort. All I knew was that this caramel pecan bark was a big part of my elementary school diet.
Other things I devoured during this time in my life: French bread pizza, pop tarts, and bagel bites! (All of which I have happily made sophisticated, classier versions of!)
Homemade Caramel Pecan Bark
It's been years since the last time I indulged in one of these decadent squares. I recently made a batch for my in-laws' Thanksgiving dinner and everyone LOVED it.
I conveniently placed a plateful of the pecan bark on the kitchen island in the early afternoon as everyone was busy cooking up the feast.
Because these little caramel pecan bark squares are so easy and convenient to nibble on, each person that passed the plate picked one up… and returned over and over until dinner was served.
I am guilty of spoiling a few appetites.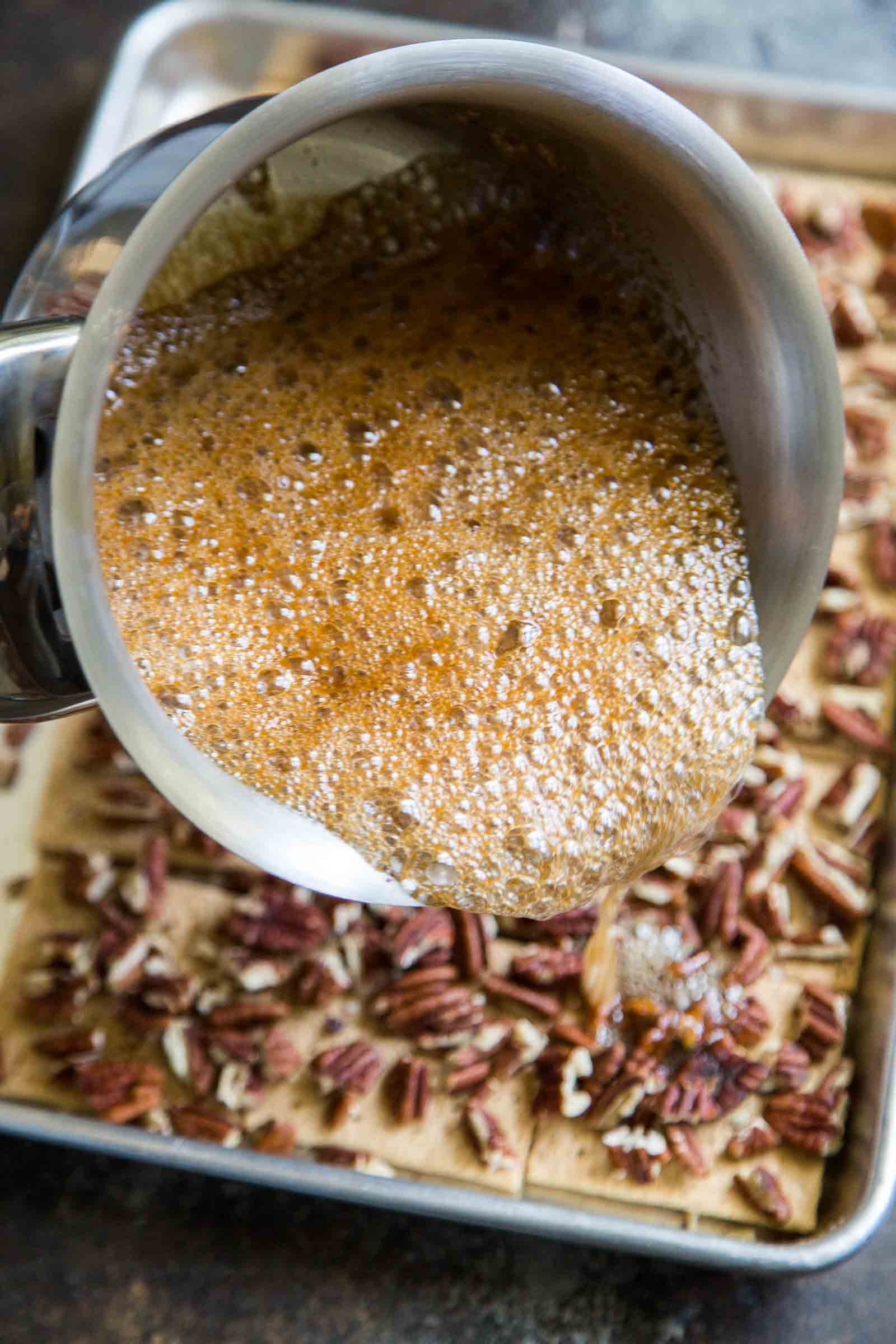 There are countless variations of this simple treat, but three things remain the same: 1) crunchy bottom, 2) pecans, and 3) sweet caramel-toffee like coating. I prefer graham crackers for the base, but Ritz crackers and Saltines are also excellent choices.
Overachievers can opt to make a shortbread cookie crust bottom. Hedonists can use a brownie bottom (a variation I plan to make for Christmas!).
What makes these caramel pecan bark different from the rest? Toasted pecans!
During elementary school I tried my fair share of these treats. As I got older, I perfectly my own version. The key to making the BEST version requires pre-toasting the pecans. Flavors are transported through oil.
Nuts are packed with oil. Toasting the pecans allows those oils to release, resulting in more flavor. This is the same for all nuts. The extra step of toasting the nuts (whether it's to be used in cookies, batters, etc) makes all the difference.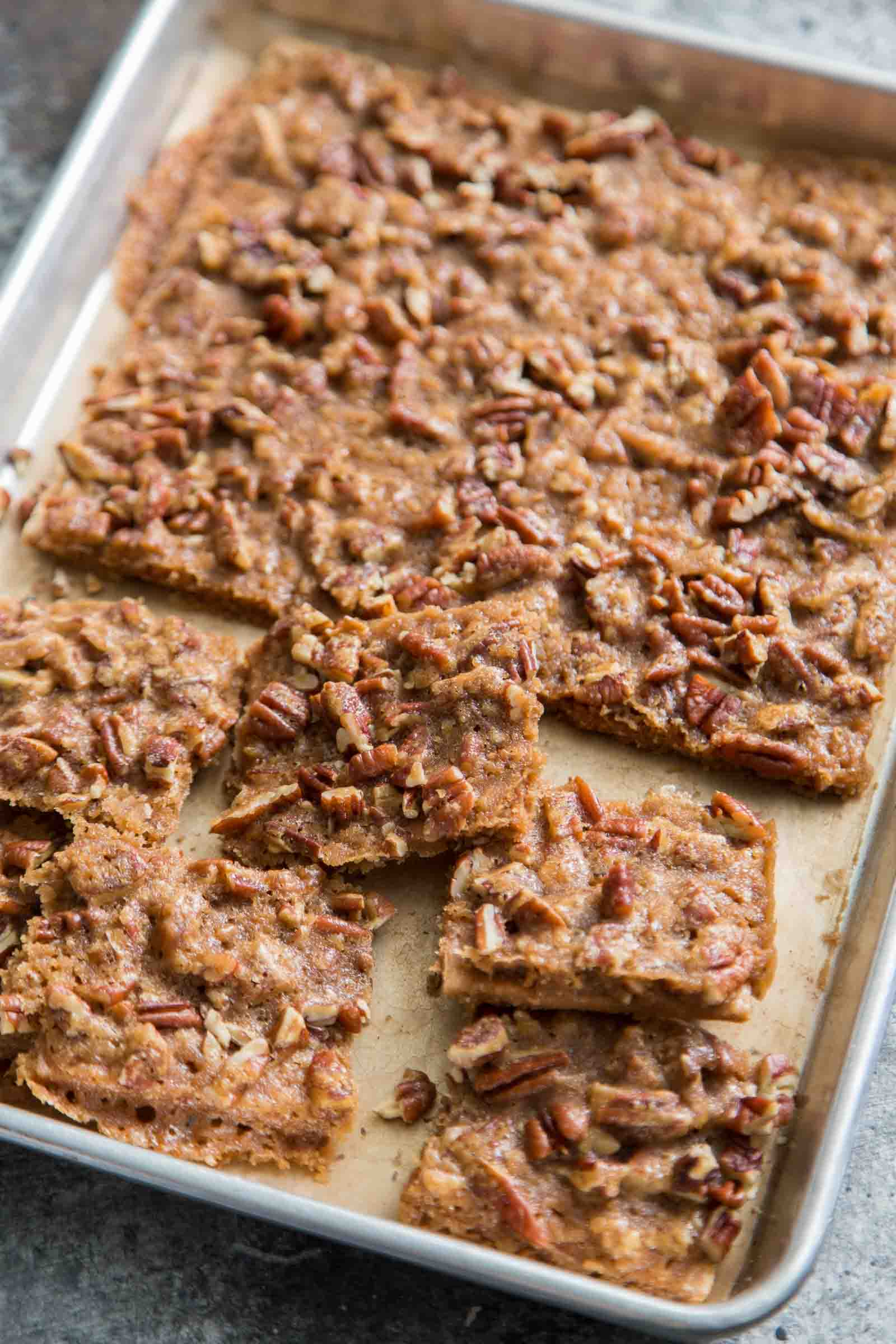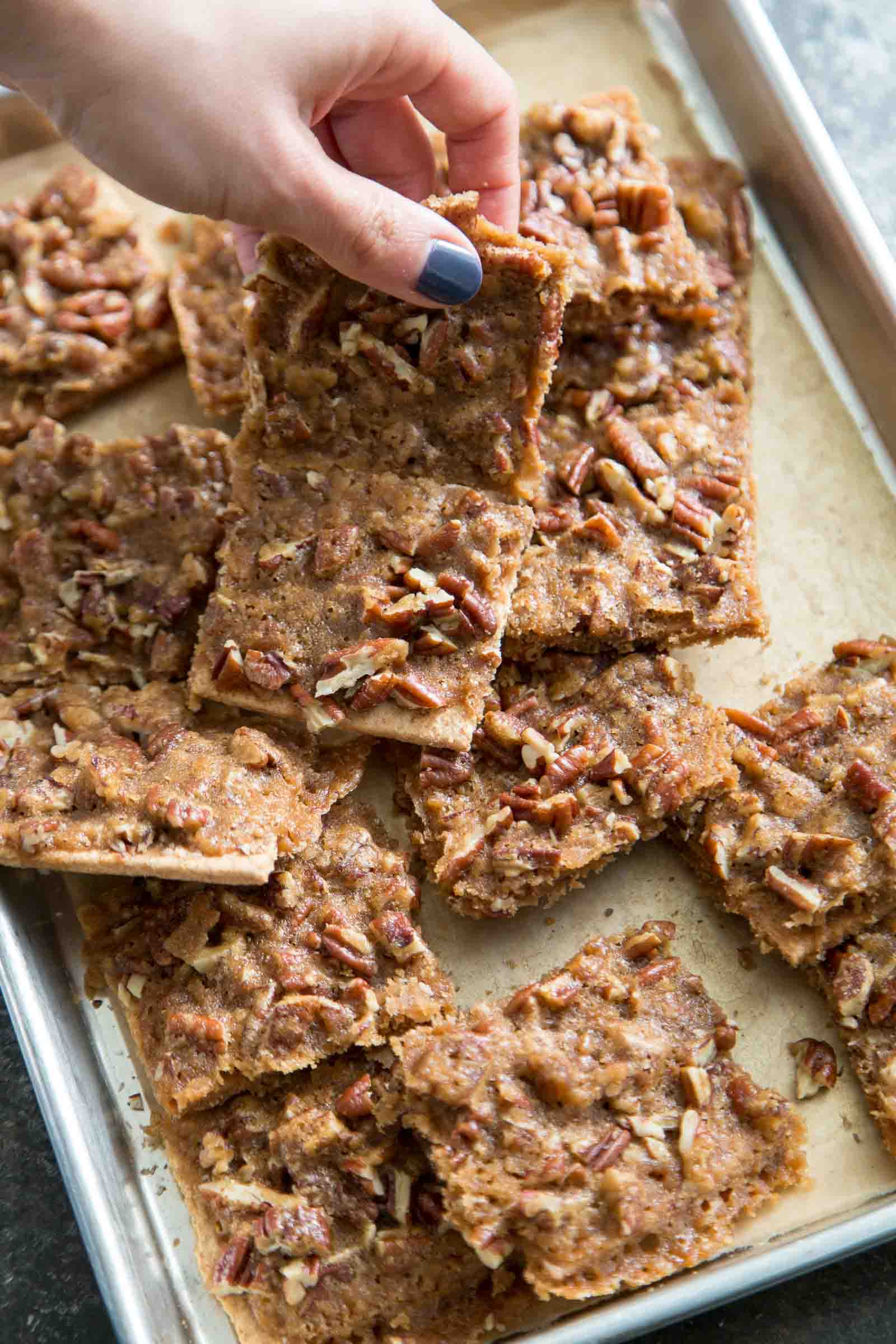 These caramel pecan bark squares are rich, buttery, and decadent. I limit myself to one piece, otherwise I might eat the entire tray.
I've made this recipe 50+ times over the last two decades. For consistent results, it's best to use a candy thermometer when cooking the sugar mixture. Be careful when pouring the hot liquid over the graham crackers.
While it may be super tempting to start eating these squares immediately after baking, you must practice patience. It needs time to cool down and harden.
You will be rewarded with sweet crunchy buttery goodness with a hint of salt. These make for fabulous edible holiday treats.
They stay fresh for about a week stored in an airtight container at room temperature… however, I doubt they will last that long!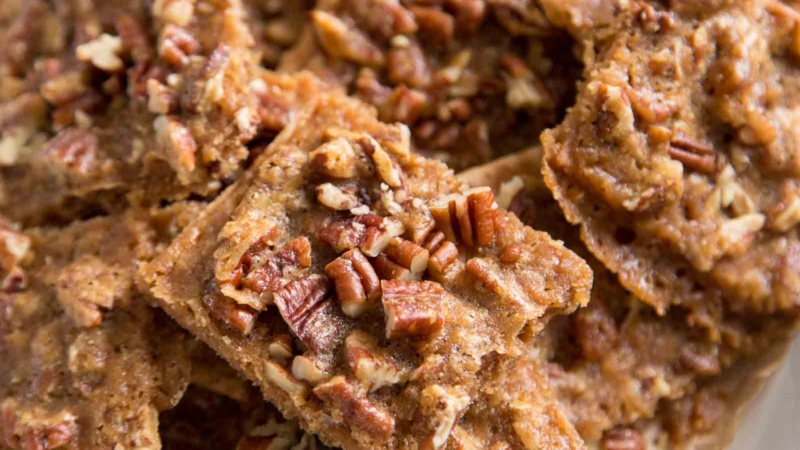 Caramel Pecan Bark
This caramel pecan bark only requires a handful of ingredients.It's a rich, decadent, buttery treat perfect for sharing during the holiday season!
Yield: 15 squares 
Ingredients
15

graham cracker squares

1

cup

(125 grams) toasted pecans, roughly chopped*

1/2

cup

(115 grams) unsalted butter

1/2

cup

(108 grams) light brown sugar, packed

1/4- 1/2

teaspoon

fine sea salt*

1

teaspoon

vanilla extract
Instructions
Preheat oven to 350° F Place graham cracker squares on parchment paper lined 13x9-inch baking sheet. Distribute pecans evenly over graham crackers.

In a heavy bottomed sauce pot, add butter and brown sugar. Set over medium heat to melt mixture together. Bring to a boil and continue to cook until mixture reaches soft ball stage (235° F–240° F), about 3 minutes. Remove from heat and add salt. Stir to combine. Allow mixture to cool for 45 seconds before stirring in vanilla extract. Mixture will be very hot and will bubble.

Pour hot sugar mixture over pecan topped graham crackers, distributing the liquid mixture evenly. Bake for 10-12 minutes until caramel mixture has thickened. Allow to cool in pan for 1-2 hours at room temperature. The caramel will crisp and set during this time. Once bark has completely cooled, break into original squares.

Store in an airtight container at room temperature for up to 5 days.
Notes
Toasting Pecans:
Place pecans on sheet tray.  Toast pecans in a 350° F oven for 8-10 minutes until lightly browned and aromatic. Pecans will be soft straight from the oven. Allow to cool to room temperature before chopping. 
Salt: 
Adjust salt to your liking. Omit salt if you are using Ritz crackers or Saltines in place of graham crackers.
I use and recommend this candy thermometer