Homemade chocolate marshmallow topped with mini chocolate chips.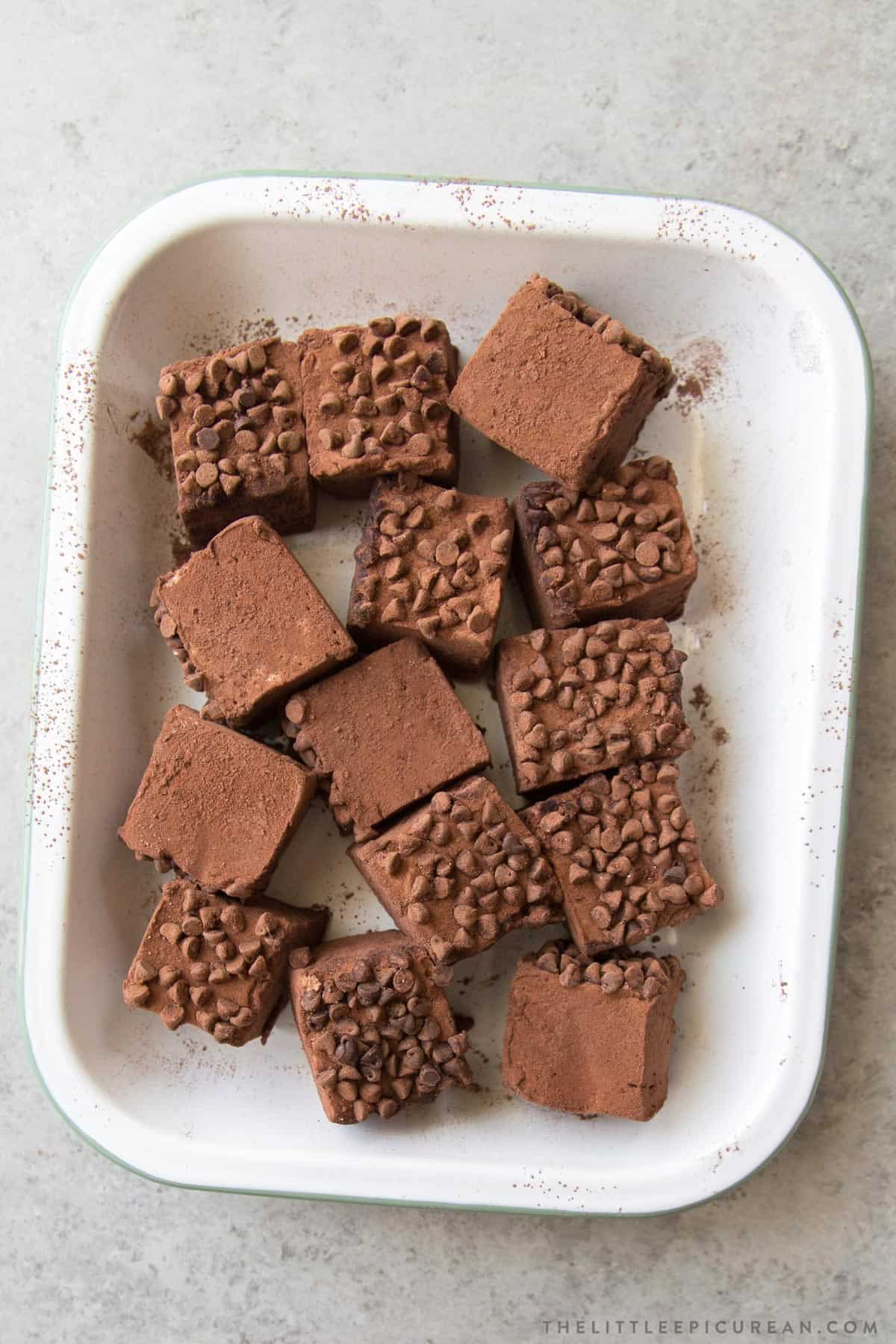 These fluffy and flavorful marshmallows make decadent chocolate s'mores and are the perfect topping for luxurious hot chocolate!
Homemade marshmallows are delicious.
But, homemade chocolate marshmallow are even better!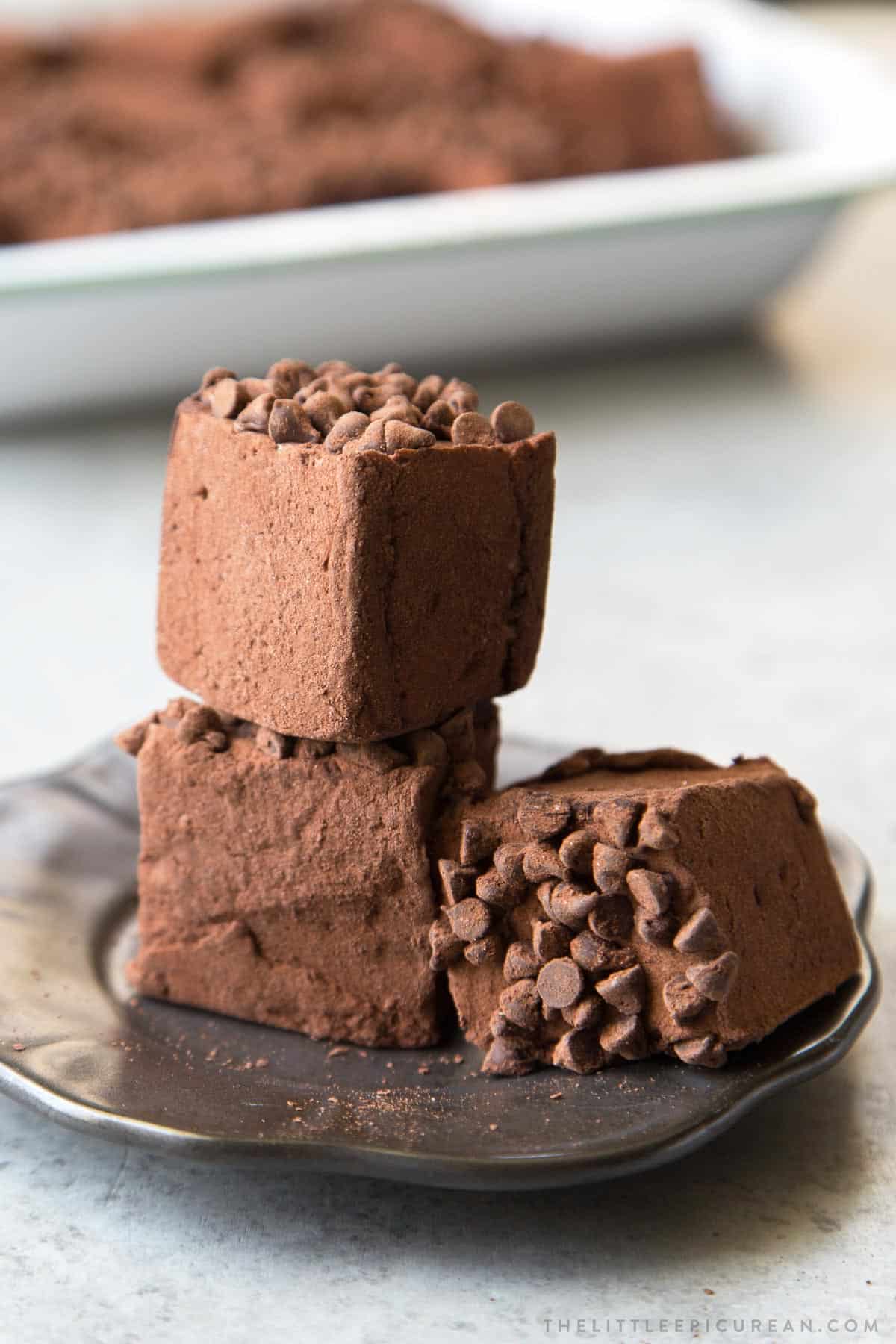 I've search far and wide for flavorful chocolate marshmallows.
This chocolate chip marshmallow comes close to a winner, but it just doesn't taste as vibrant and crisp as fresh homemade marshmallows.
Homemade Chocolate Marshmallows
Cooked cocoa powder is the key to delicious, rich chocolate tasting chocolate marshmallows.
I learned about this cocoa powder technique from Melissa Weller's A Good Bake. (I highly recommend this cookbook if you love the science of baking!)
Cooking the cocoa powder with the sugar syrup is something Melissa picked up while working under James Beard award-winning pastry chef, Gina DePalma of Babbo. It was a technique used to make their intensely flavored chocolate sorbetto.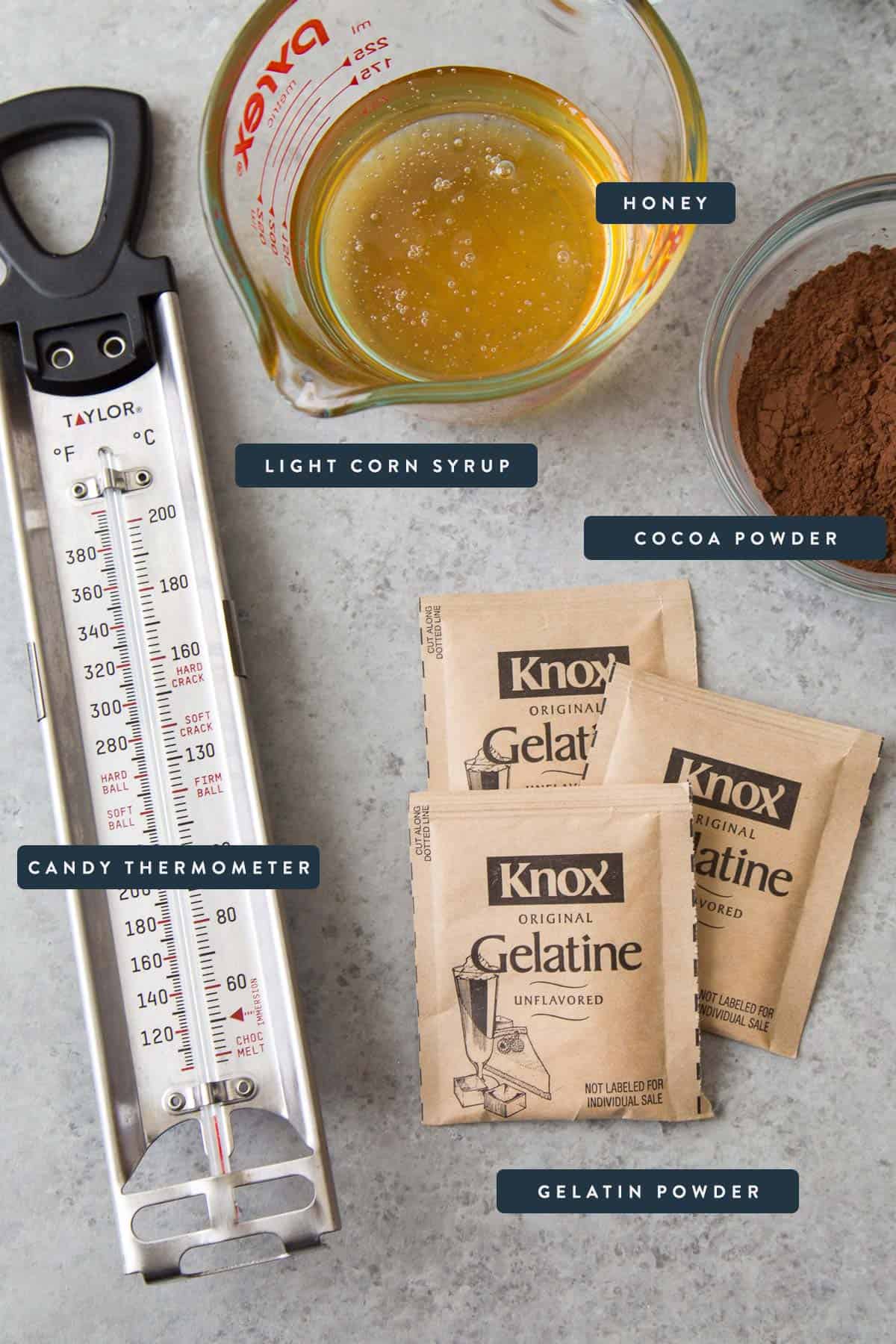 Key Tools and Ingredients
There's no around this. You absolutely need a candy thermometer to make homemade marshmallows.
First key ingredient is light corn syrup. Forget all the misnomers you've heard about corn syrup.
The light corn syrup purchased at the supermarket is not the same ingredient as the super controversial high fructose corn syrup.
Light corn syrup prevents crystallization in sweet treats like marshmallows, ice cream, and pecan pies.
Second is gelatin powder. Gelatin is available in powder form or sheet leaf form.
Knox unflavored gelatin powder is the most commonly available for purchase at supermarkets and grocery stores.
Ingredient Intel
What is Gelatin?
Unsweetened cocoa powder is the third and final key ingredient. There are two basic types of cocoa powder: natural and Dutch-process.
For this recipe, I highly recommend using Dutch-process cocoa. I tested this recipe using Ghirardelli unsweetened Dutch process cocoa. It's affordable (about $5 for an 8 oz package) and widely available.
If you want the absolute best flavor, splurge on Valrhona (about $15 for 8 oz package).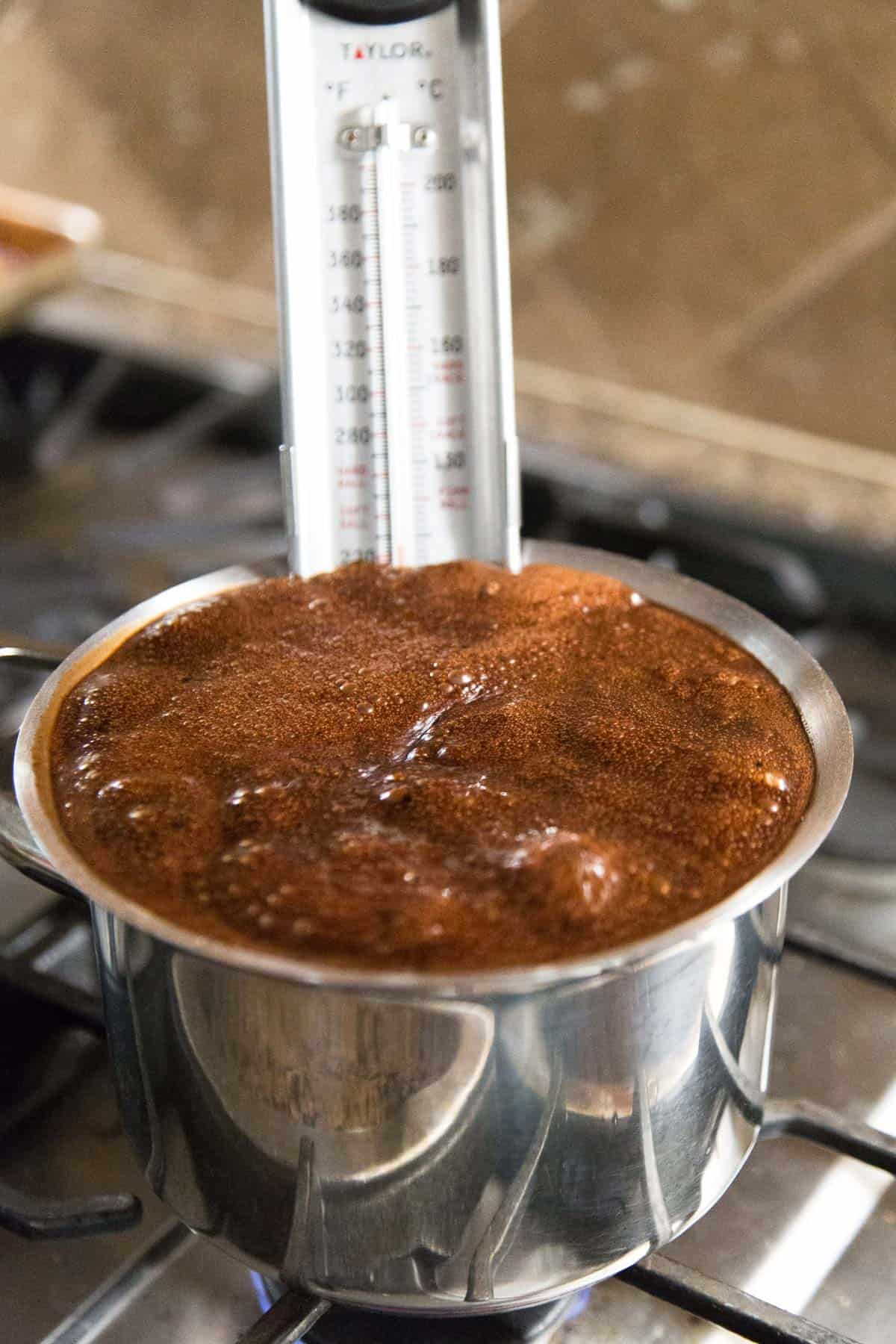 Cooking Sugar
Cooking sugar requires patience. This process cannot be rushed.
A candy thermometer (or any kind of kitchen thermometer) is the most important tool when making homemade marshmallows.
The sugar mixture will bubble and rise as it cooks. Use a medium to large size pot (at least 3 quart or 12 cups) to prevent the hot sugar mixture from boiling over.
Stages of Whipping Chocolate Marshmallows
Mixture will be dark brown in color. Whip on low speed until mixture forms bubbles, about 30 seconds.
Gradually increase to high speed. More bubbles will form and the mixture will start to pale in color.
The bubbles will start to disappear. Mixture will start to turn light brown.
Whip mixture to medium peaks. At this point, the mixture will be pale brown in color, fluffy, and slightly warm to the touch.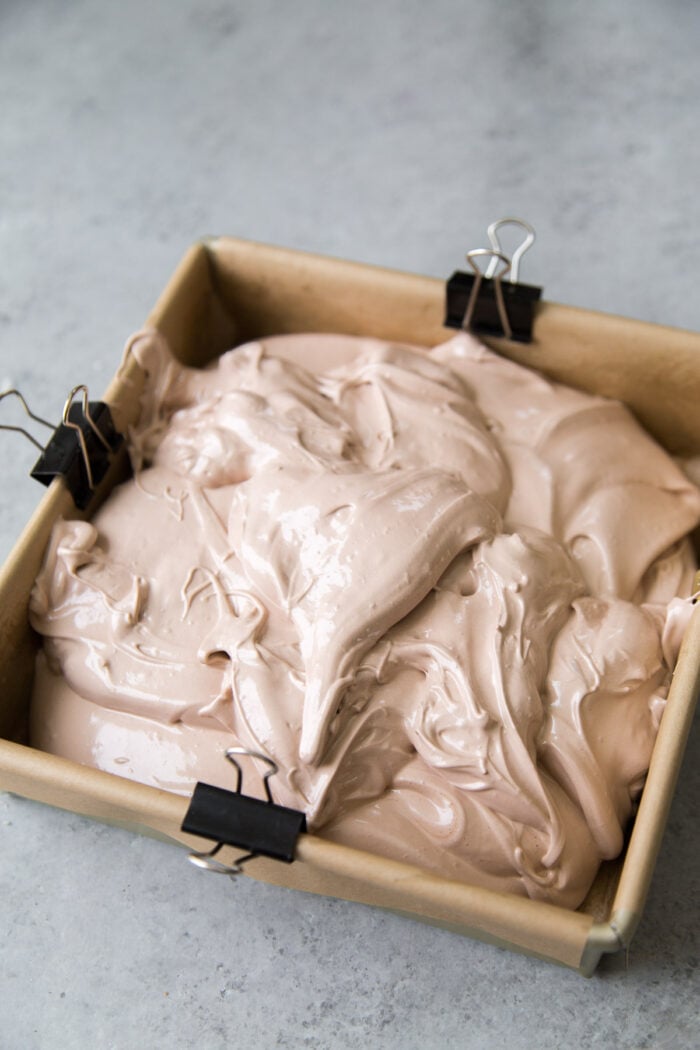 Medium peaks hold their shape. The tips of the peaks curl slightly when lifted up. It's the stage between soft peaks and stiff peaks.
The mixture will be very sticky! Work quickly and use an oiled mini offset spatula to help scrape off the marshmallow mixture from the whisk attachment.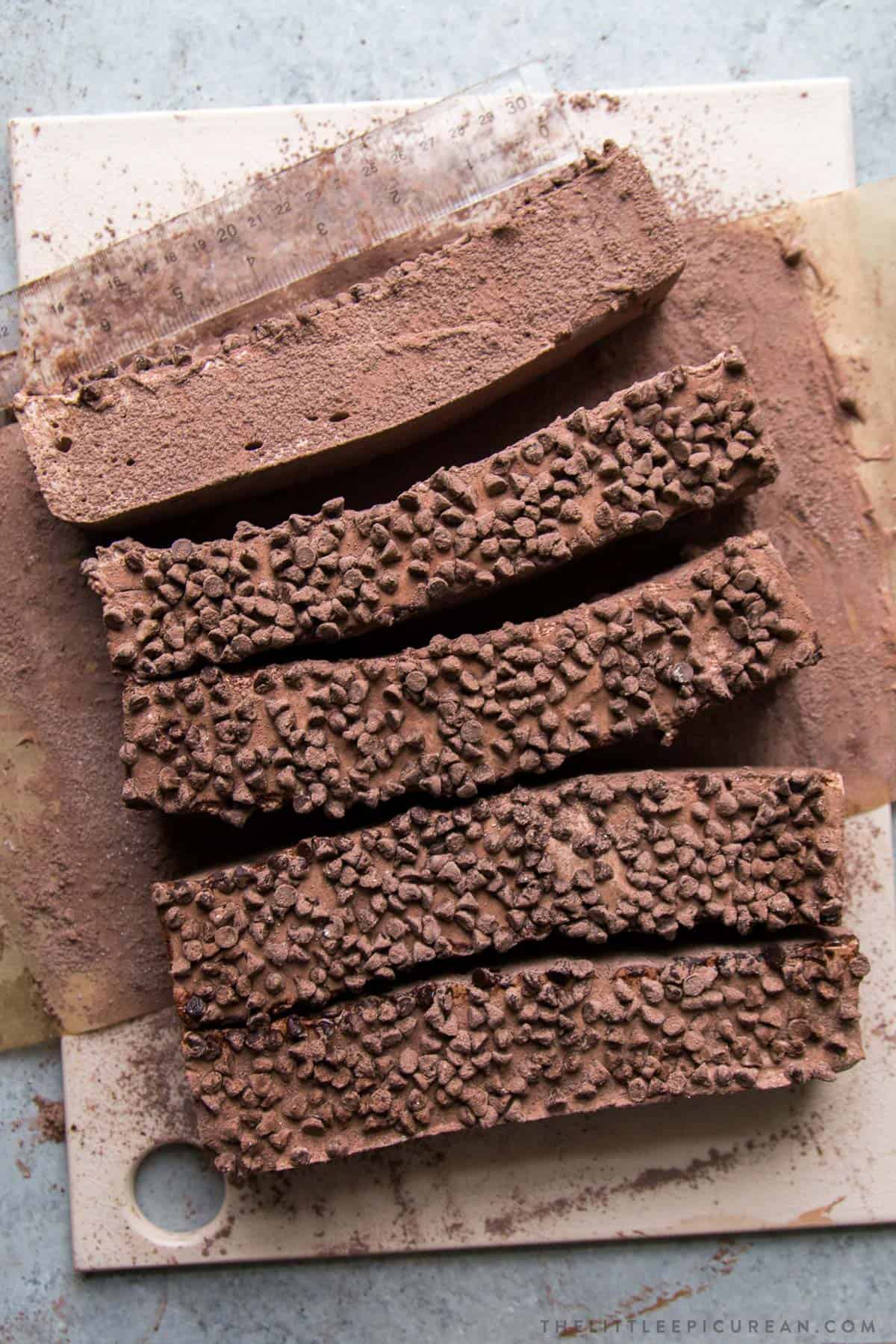 Quick Set Marshmallows (Less than 30 minutes!)
Most recipes will advise you to let the marshmallows sit at room temperature for several hours, usually overnight.
This recipe (like my original vanilla marshmallows) is different! Spread the marshmallow mixture into a greased container. Then, place the marshmallows uncovered in the freezer for about 30 minutes.
That's it! The marshmallows are ready to be sliced and cut in half and hour!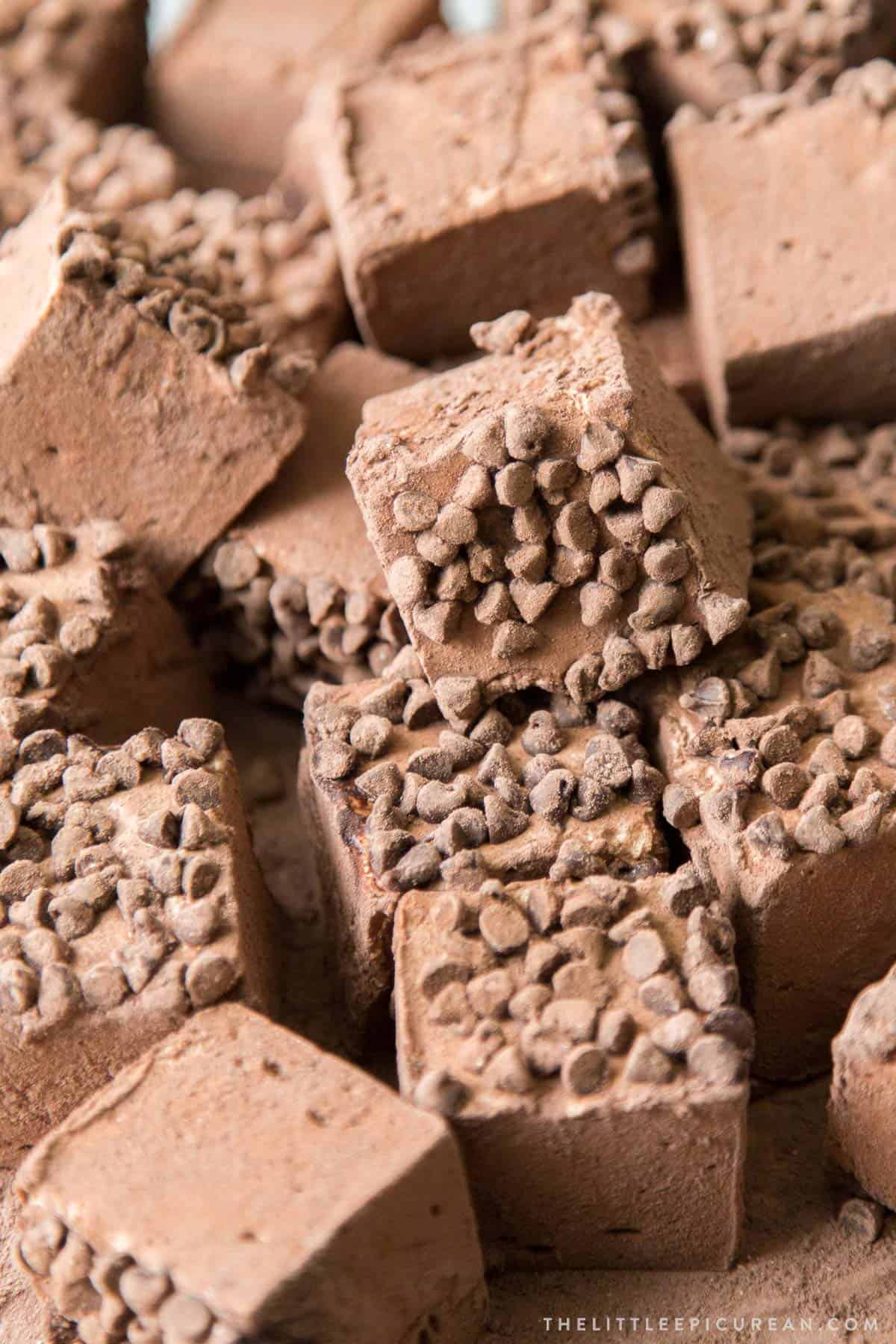 Tips for Slicing and Cutting Homemade Marshmallows
Neutral or flavorless oil
Sharp knife or scissors
Powdered sugar mixture
Use a neutral flavored oil such as avocado oil, grape seed oil, or rice bran oil. Brush this oil all over your knife or scissors.
The oiled knife or oiled scissors will have a much easier time cutting through the sticky marshmallow. Reapply oil as needed.
Once the marshmallow has been cut, immediately dust cocoa-powdered sugar all over to seal up the exposed parts.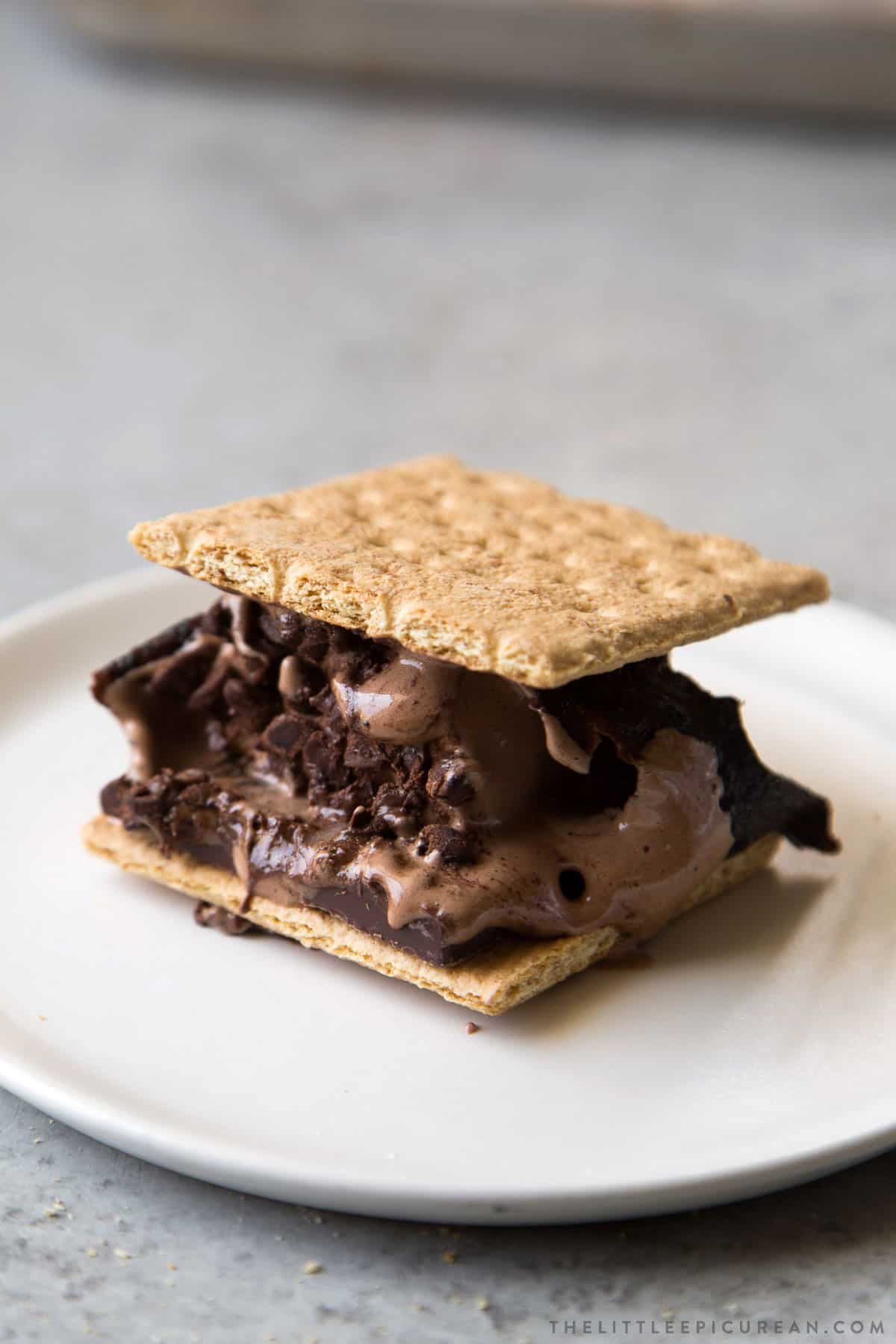 Ready to take chocolate marshmallow to the next level?!
Related Chocolate Recipes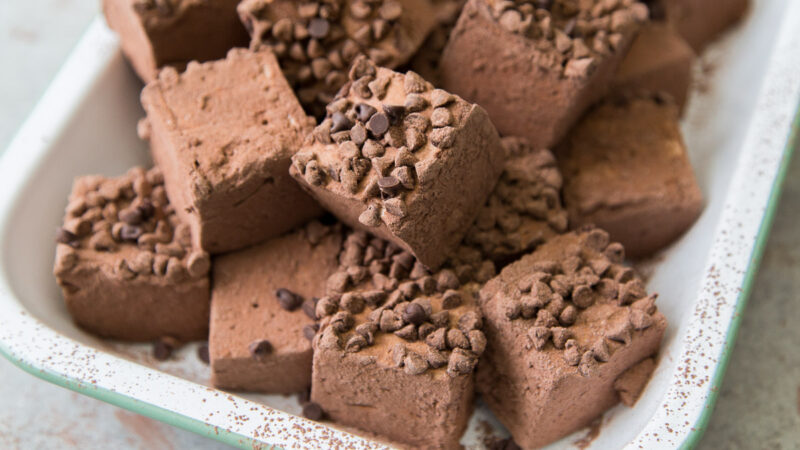 Chocolate Marshmallow
Mini chocolate chip topped chocolate marshmallow. These fluffy and flavorful marshmallows make decadent chocolate s'mores and are the perfect topping for luxurious hot chocolate! Yield: 8-inch square pan
Servings:
25
squares (depending on desired size)
Equipment
8-inch square pan

stand mixer with whisk attachment

medium saucepot at least 3 quarts/12 cups capacity

candy thermometer
Ingredients
1

cup

cold water

(230 g), divided

2 ¼

cup

granulated sugar

(450 g)

½

cup

unsweetened Dutch-process cocoa powder

(45 g)

½

cup

light corn syrup

(155 g)

2

Tablespoon

honey

(40 g)

½

teaspoon

kosher salt

22

grams

(3 packets) unflavored gelatin powder

, about 6 ½ teaspoon
Topping:
½

cup

mini chocolate chips

optional

¼

cup

cocoa powder

(20 g)

2

Tablespoon

confectioners' sugar

(15 g)
Instructions
Cut out two 8×16-inch parchment paper rectangles. Brush neutral flavored oil all over an 8-inch square baking pan. Line the baking pan with the two parchments crossing over each other. Use small binder clips to hold parchment overhand over each side of the baking pan. Brush oil all over parchment paper. Set aside.

In a heavy bottomed sauce pot, combine sugar, cocoa powder, corn syrup, honey, salt, and ½ cup water. Stir to combine. Set over high heat and bring to a boil.

Attach a candy thermometer to the sauce pot. Once mixture is boiling, do not stir or agitate the mixture. Cook mixture to soft ball stage, 240℉.

Pour the hot liquid into the bowl of a stand mixer. Let sit undisturbed for 8 minutes, until liquid has cooled to 200-210℉.

Meanwhile, sprinkle gelatin over remaining ½ cup cold water. Stir together. Let gelatin bloom*, about 3-5 minutes. Microwave bloomed gelatin for 15 second intervals at half power until melted. (Takes about 30-45 seconds to melt.)

Add liquid gelatin to the cooled sugar mixture. Attach mixing bowl to stand mixer fitted with a whisk attachment.

Whip on low speed until mixture forms bubbles, about 45 seconds. Gradually increase speed to high speed. Whup mixture to medium peaks*, about 10-12 minutes. The mixture will be fluffy in texture and slightly warm to the touch. Mixture will very sticky and tacky.

Use an oiled spatula to transfer marshmallow mixture to the prepared parchment lined baking pan. Spread mixture into an even layer using an oiled mini offset spatula.

Optional Topping: sprinkle mini chocolate chips all over the surface of marshmallow.

Chill in the freezer uncovered for 30-45 minutes until cold.

Topping: Combine cocoa powder and confectioners' sugar.

Dust sifted cocoa-sugar all over surface of the chilled marshmallow. Remove marshmallow from the pan by lifting from the parchment paper overhang.

Peel off the parchment paper from the sides of the marshmallows. Dust exposed areas with cocoa-sugar mixture.

Use an oil greased knife to slice marshmallows into desired portions. Coat the exposed surfaces of the marshmallows with cocoa-sugar to prevent sticking. Enjoy immediately, or store in an airtight container for up to one week.
Notes
* 
Bloom gelatin
: To bloom, mix the gelatin powder with cool water. Let the mixture sit for about 5 minutes. The powder will plump up as it absorbs the liquid. Then, gently heat the bloomed gelatin until it dissolves into a liquid. At this point, the liquid gelatin may be mixed with the remaining ingredients.
* Medium peaks hold their shape and the tips of the peaks curl slightly when lifted up. It's the stage between soft peaks and stiff peaks. 
Ingredients:
Cocoa powder: highly recommend using Dutch-process cocoa. Two brands I like: Ghirardelli and Valrhona. Dutch-process cocoa has been treated with an alkali to neutralize the natural acidity of cocoa making it richer and darker in color and less bitter in flavor. 
Corn syrup: use LIGHT corn syrup with or without vanilla flavor. 
Gelatin: this recipe uses unflavored powdered gelatin. Find this ingredient in the baking aisle alongside Jell-o and pudding products. 
Mini chocolate chips are better for this application that standard size chocolate chips.
This recipe was created using Diamond Crystal Kosher Salt. Diamond Crystal is far less salty than Morton Kosher Salt. Lessen amount of salt if using table salt or sea salt.
Neutral flavored oils include grape seed oil, avocado oil, rice bran oil, vegetable oil
Storage & Leftovers: Keep marshmallows in an airtight container for up to a week. After a week, the marshmallows will start to harden and lose their fluffy consistency.