Instead of maple syrup, these crispy buttermilk waffles are topped with ginger blueberry sauce.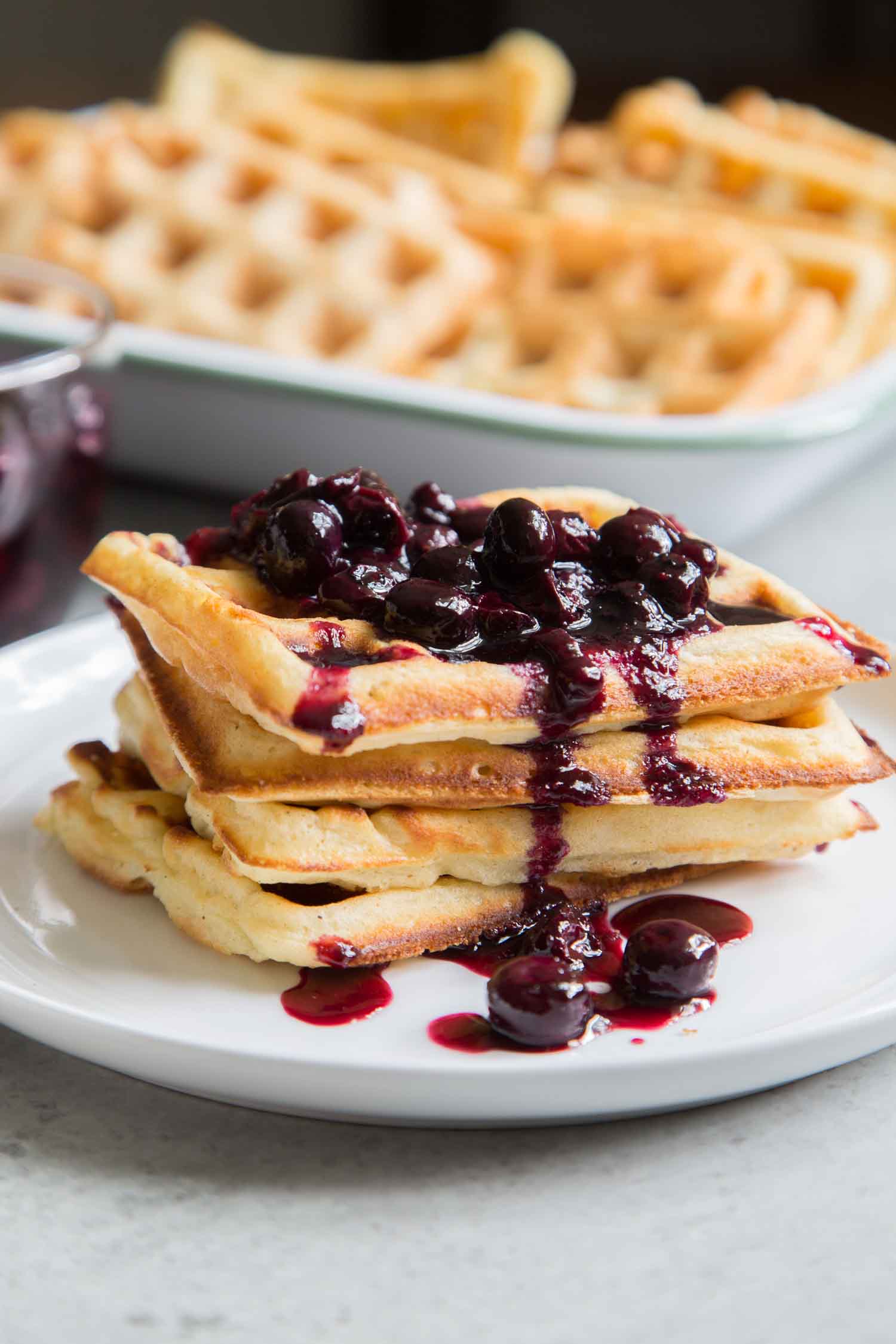 Forget the flowers. All I want for Valentine's morning (and really every morning) is a hot breakfast.
What better way to show someone you care than with a stack of crispy buttermilk waffles topped with ginger blueberry sauce?!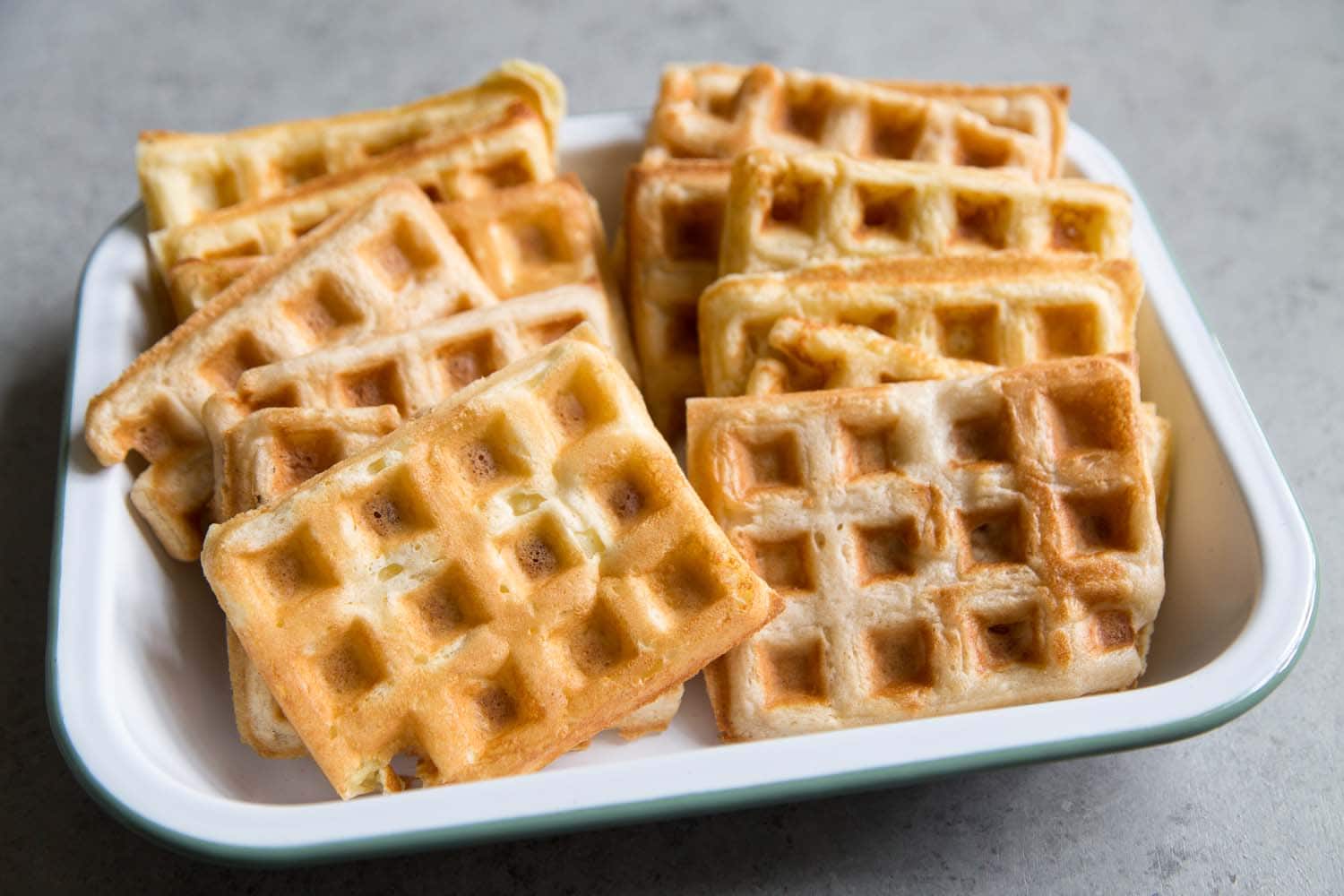 Crispy Buttermilk Waffles
I'm team crispy waffles all the way. The crispier the better! There are various types of waffles out there: Belgian waffles, yeast waffles, liège waffles, Hong Kong egg waffles, and on and on.
These are your classic buttermilk waffles. They are simply sweetened with a touch of sugar, while most of the flavor comes from the complexities of the buttermilk.
I slightly adapted this buttermilk waffle recipe from Simply Recipes. I used a combination of buttermilk and milk to achieve the crispier waffle.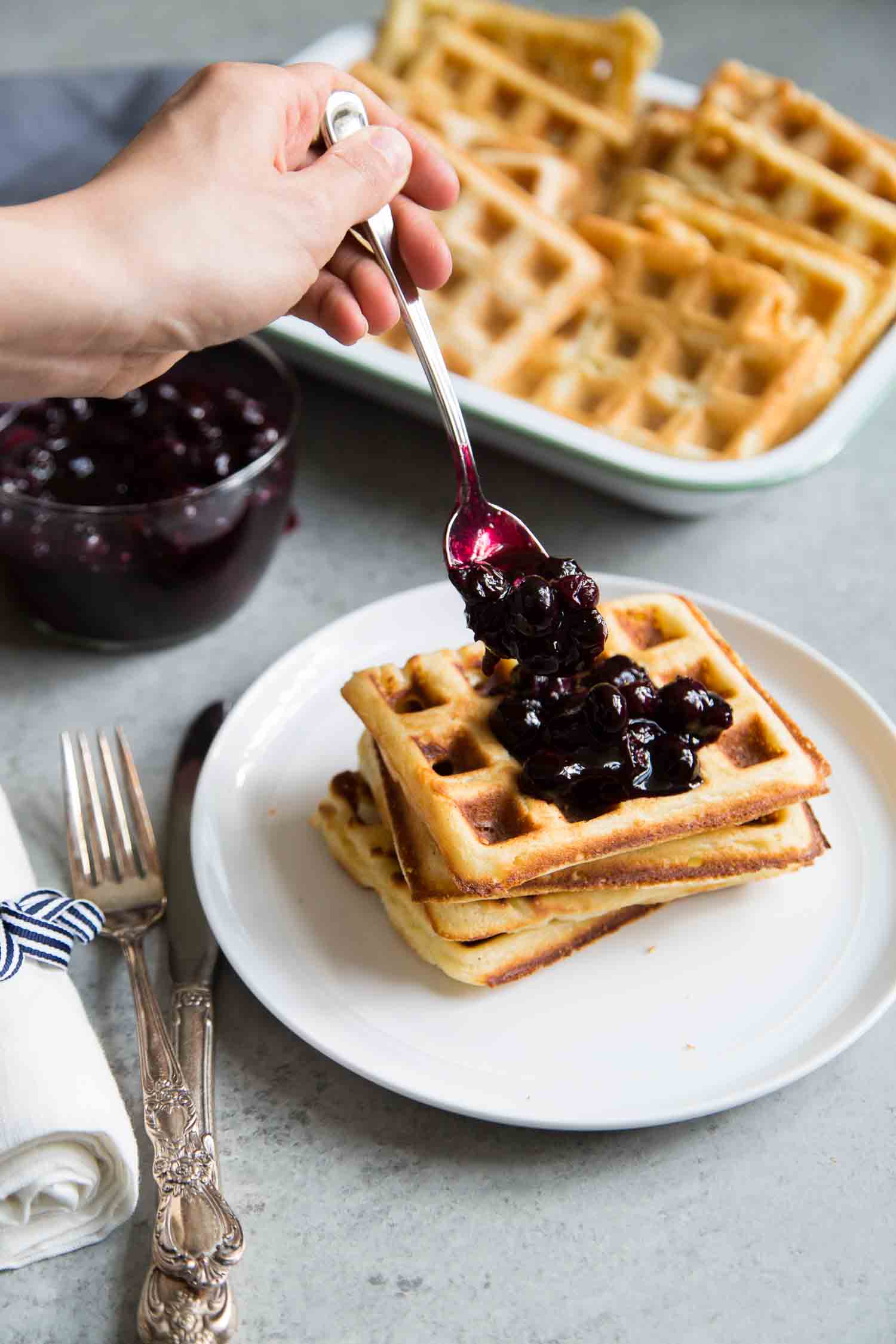 But the real show stopper here is the ginger blueberry sauce. It's a versatile sauce that you'll want to top on all sorts of breakfast treats.
It's great with yogurt or oatmeal. You could also spread it on top of buttered toast (or peanut buttered toast) instead of jam.
As for dessert, this ginger blueberry sauce is fantastic over ice cream, cheesecake, or yellow cake.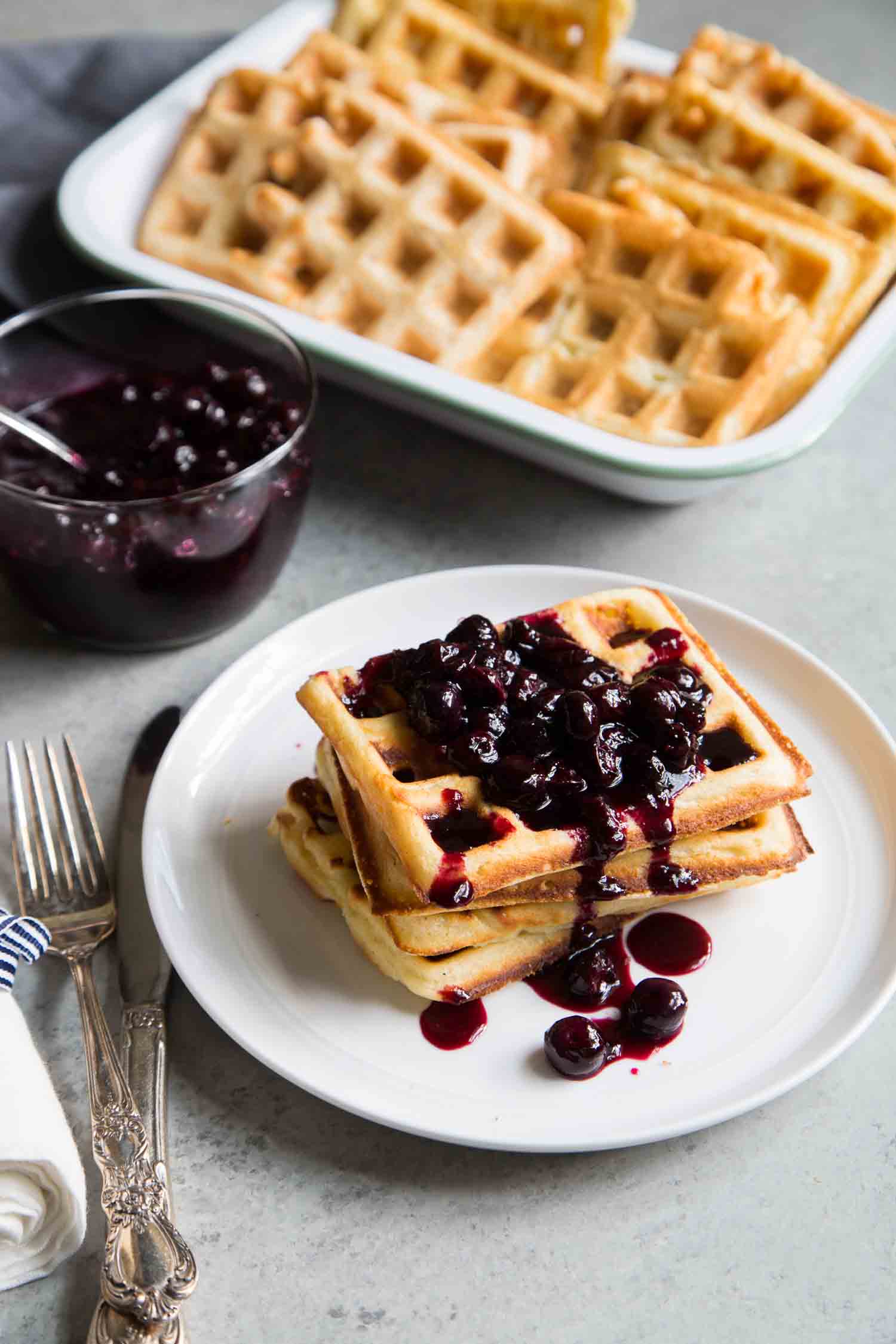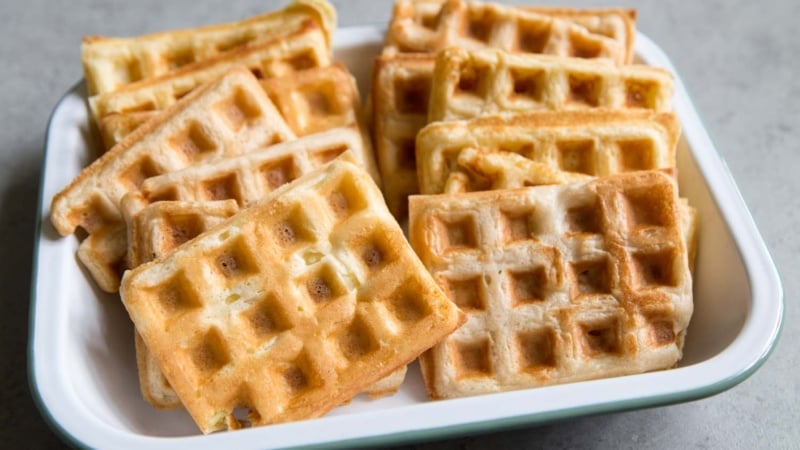 Crispy Buttermilk Waffles and Ginger Blueberry Sauce
Instead of maple syrup, these crispy buttermilk waffles are topped with ginger blueberry sauce.Yield: 16 waffles (vary according to waffle maker size) and about 2 cups sauce
Ingredients
Ginger Blueberry Sauce:
2

cups

fresh blueberries, rinsed and pat dry

1-inch knob ginger, peeled, sliced into disks

2

Tablespoons

water

2

Tablespoons

maple syrup

1 ½

teaspoon

lemon juice
Buttermilk Waffles:
2

cups

all-purpose flour

2

Tablespoons

granulated sugar

2

teaspoons

baking powder

½

teaspoon

baking soda

½

teaspoon

kosher salt

1 ½

cups

reduced-fat buttermilk

½

cup

whole milk

2

large eggs

¼

cup

unsalted butter, melted and cooled

additional melted butter, to brush waffle iron
Instructions
Ginger Blueberry Sauce:
Add blueberries, ginger, water, and maple syrup to a heavy bottomed sauce pot. Bring to a simmer and cook for about 5 minutes until sauce has thicken some about ⅔ of the blueberries are still intact. Remove from heat. Add lemon juice and stir to combine. Let cool while you prepare waffles. Before serving, discard ginger.
Buttermilk Waffles:
Preheat oven to 250°F. Set metal cooling rack over baking sheet. Set aside.

In a large bowl, whisk together flour, sugar, baking powder, baking soda, and salt. In another bowl, whisk together well shaken buttermilk, milk, eggs, and melted butter.

Slowly add wet ingredients to dry ingredients in three additions. Use a spatula to combine ingredients together. Mix until there are no longer any dry streaks of flour. Do not be alarmed if batter is a little lumpy.

Cover waffle batter with kitchen towel or plastic wrap and let sit for 5-8 minutes while you preheat waffle iron. Waffle iron temperature or setting will vary based on your machine.*

Once waffle iron is hot, lightly brushed the top and bottom with melted butter. Scoop batter size based of your waffle iron manufacturer's instructions. This will range from ⅓ cup for single waffle to 1 ¼ cup for a 4-set waffle. 

Use a fork or tongs to gently transfer cooked waffles to prepared baking sheet. Keep in preheated oven for 5-10 minutes until waffles are crisp.*

Repeat with remaining batter. Serve waffles immediately.* Spoon slightly cooled ginger blueberry sauce over waffles and enjoy.
Notes
Store leftover ginger blueberry sauce in an airtight container in the fridge for up to 3 days. 
The cooked waffles will continue to crisp up in the oven. The metal cooling rack will allow heat to circulate around the waffle.
Freezing waffles: Allow leftover waffles to cool to room temperature. Spread out on a single layer in sheet tray and freeze for 10 minutes until chilled. Transfer to airtight container and keep frozen up for up to 3 months. Reheat in toaster (or toaster oven) until warm.
Buttermilk Waffles recipe slightly adapted from Simply Recipes