Have dinner on the table in less than 20 minutes! Spicy garlic shrimp spaghetti simply requires one pot and a handful of ingredients.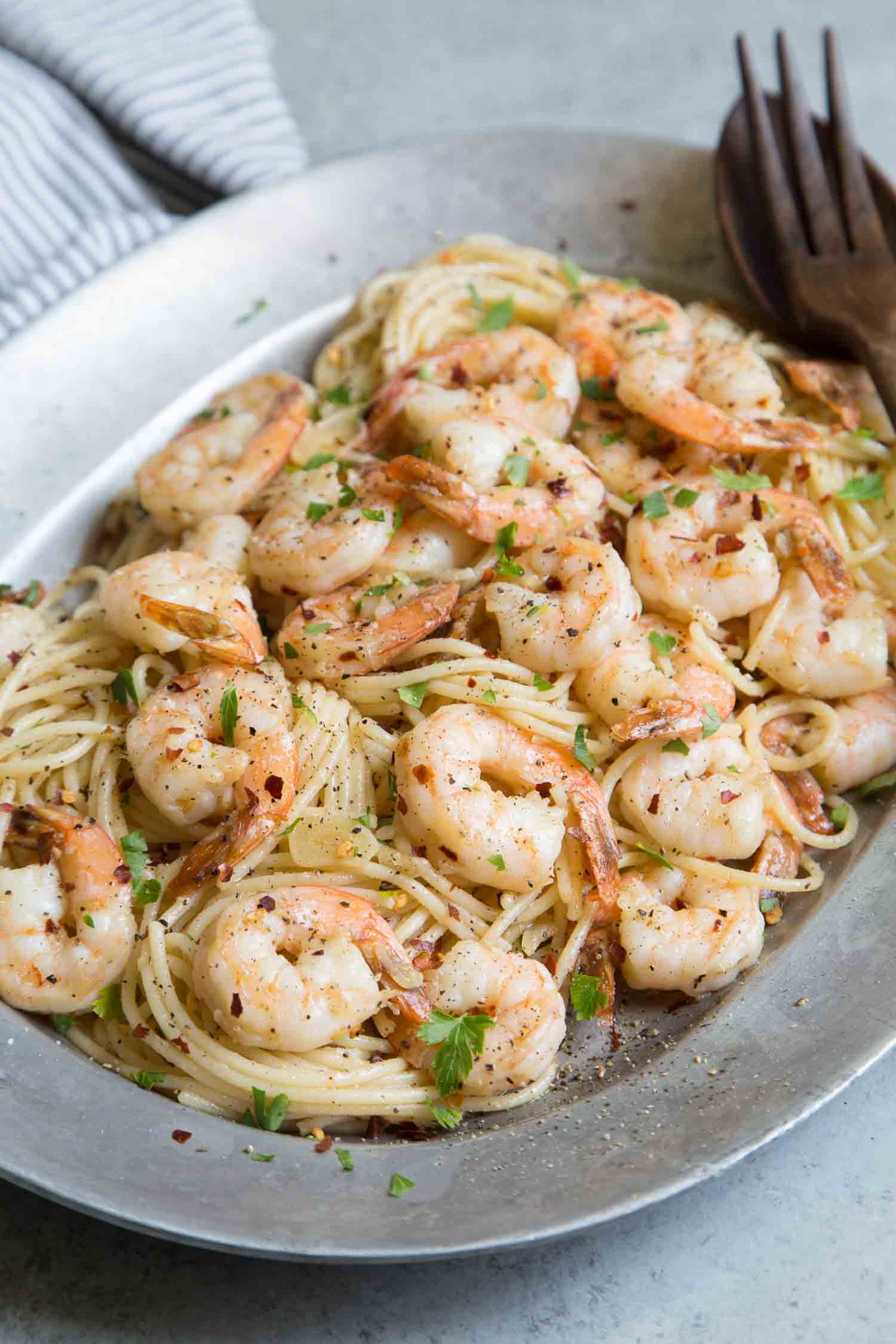 After a long day of work and errands, the last thing anyone wants to do is cook dinner. This is the dinner to make on those nights.
I promise this spicy garlic shrimp spaghetti requires little prep work and minimal clean up.
If you have a deep saute pan similar to this one, you can cook the spaghetti and shrimp in the same pan. (Meaning less dishes to wash!)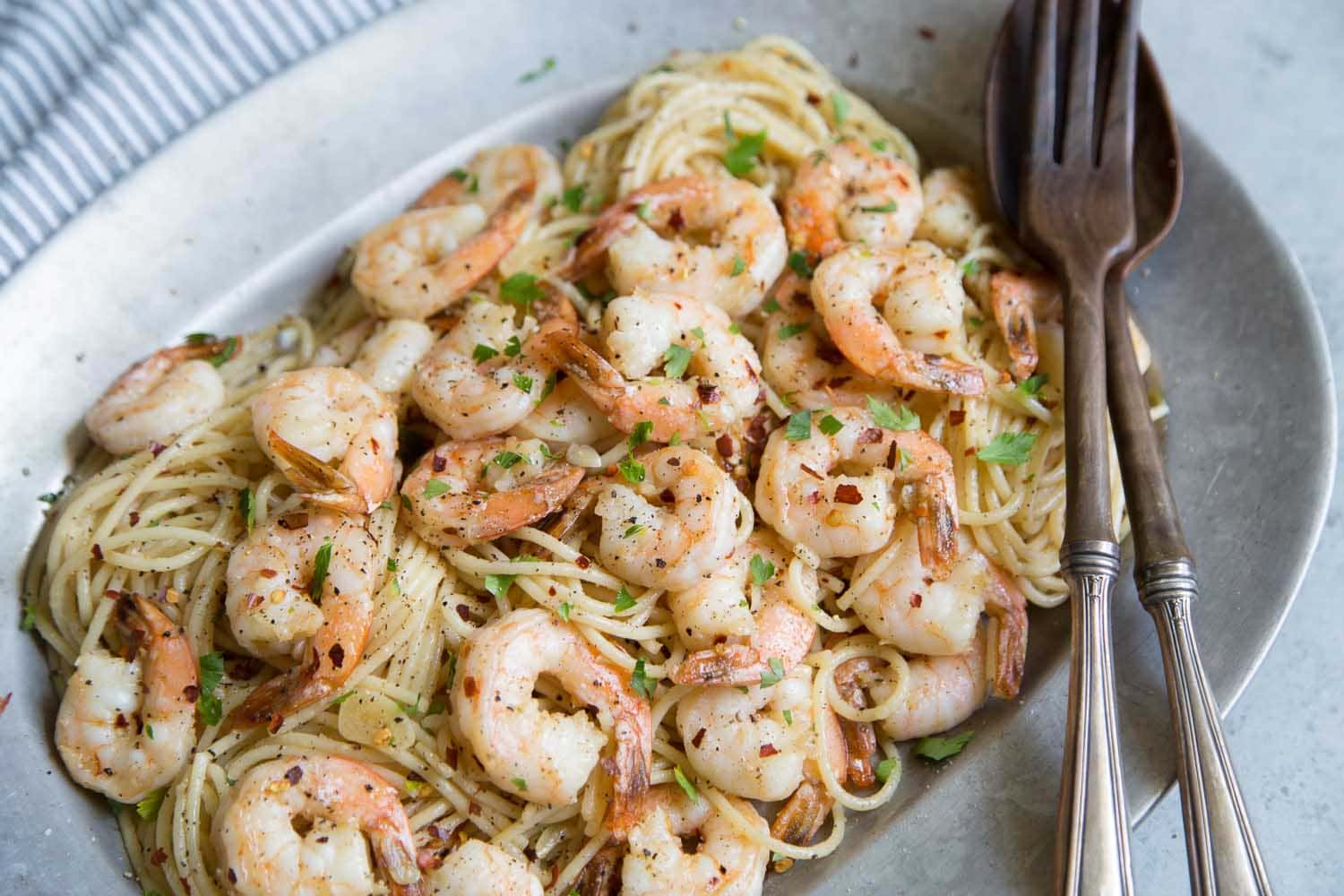 Shrimp Spaghetti
Pasta is a weeknight dinner staple. It's a versatile ingredient that is filling and satisfying.
This recipe uses spaghetti. However, feel free to sub in the pasta of your choice. Angel hair, fettuccine, and fusilli are great options.
This dish is simple. All you need is pasta, shrimp, garlic, and butter.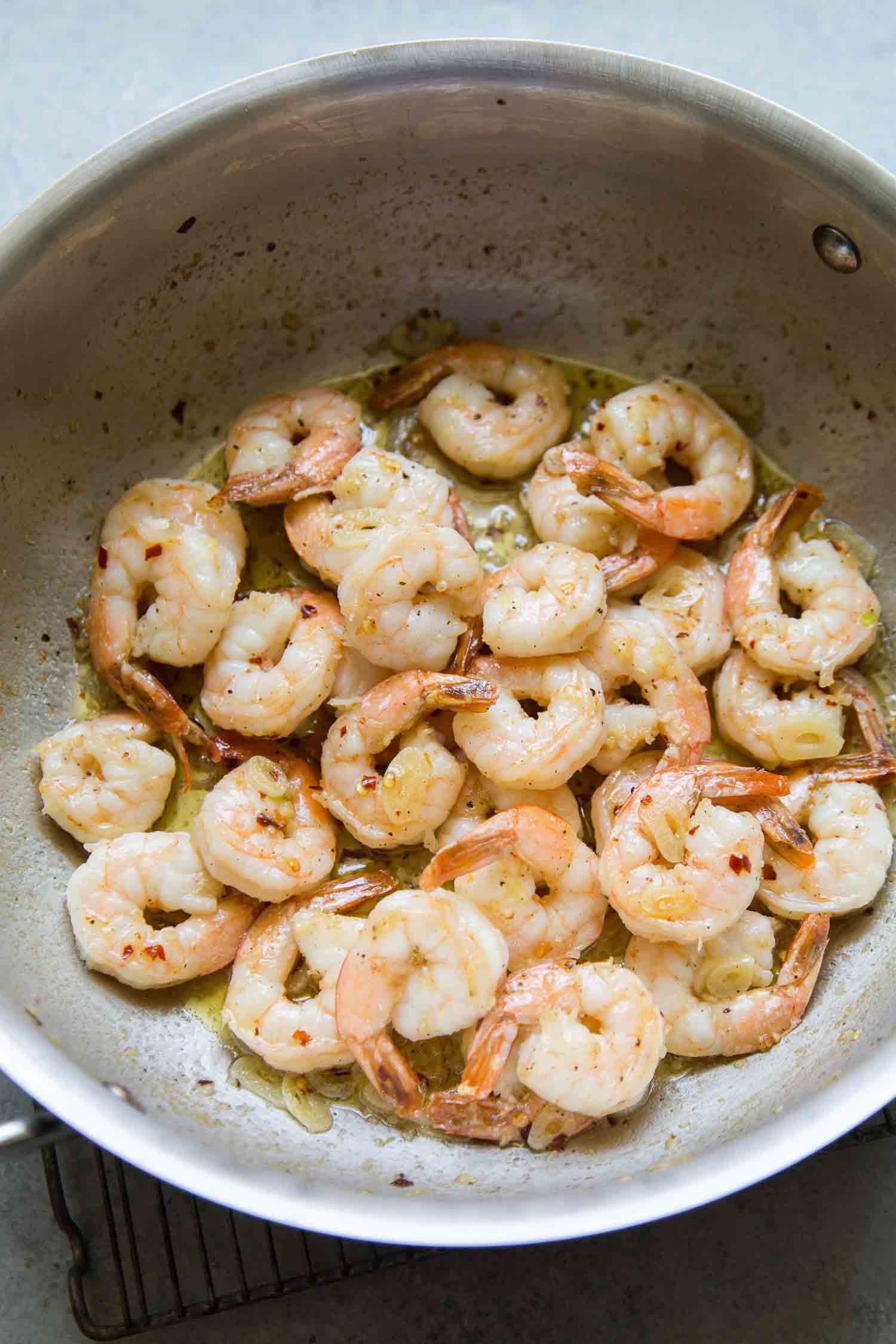 Frequently Asked Questions about Shrimp
Fresh or frozen?
They're all the same. Most "fresh" shrimp sold at markets (even the fancy ones!) have been frozen and thawed. Frozen shrimp is perfectly fine. Defrost it overnight in the fridge and use within 2 days.
Shrimp Size.
Small, large, jumbo, or colossal? Those sizes vary per brand and vendor.
The best way to gauge shrimp size is by it's "Count per Pound" or "U" listed on the packages. ("U" stands for under. Super giant shrimp will be labeled U/12- meaning under 12 pieces per pound.) These numbers are generally used for shrimps without heads.

For this recipe, I used large shrimp (listed as 26/30) or 26-30 pieces per pound. Just remember- the smaller the number per pound, the bigger the size of shrimp. 
Shelled or unpeeled?
When cooking shrimp for a longer period of time, like stews or a seafood boil, it's best to use unpeeled shrimp to get the most flavor.
However, for fast weeknight cooking, I like to use shelled shrimp. Bonus points if the shelled shrimp has also been deveined.
Shrimp cooks very fast!
Raw shrimp will be translucent, grey, and flimsy. Once introduced to heat (or acids in the case of ceviche), the cooked shrimp will quickly turn pink and curl into an O.
Be careful not to overcook shrimp. No one wants to eat tough, rubbery shrimp.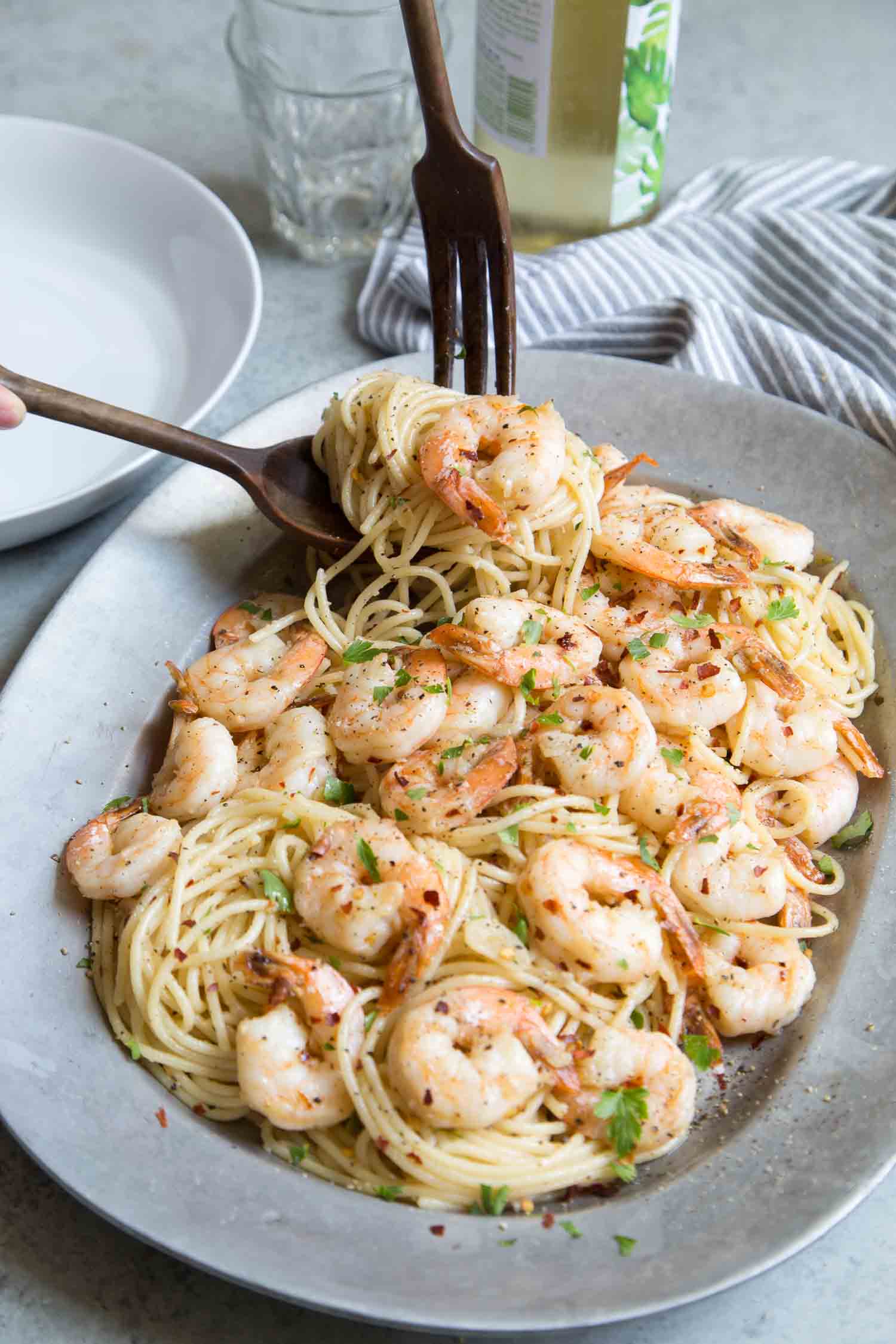 Butter Garlic Shrimp Sauce
When a dish claims to have garlic, I expect a ton of garlic flavor. (I'm Filipino-American. Much of Filipino cuisine is very garlic heavy!)
This recipe uses 10 garlic cloves. That may seem like a lot, but I find it to be the perfect amount.
I like to use the garlic two ways. Some of the garlic is thinly sliced, while the rest is minced using this handy-dandy garlic press. This provides more texture and variety.
I use a combination of olive oil and unsalted butter for the base of the sauce. 
Once the fat is hot, add the red pepper flakes to allow the liquids to absorb that spice. Then add the sliced garlic and minced garlic. Within 30-45 seconds, you should start to smell the aroma of garlic.
Before the garlic starts to brown, add in the shrimp. It takes about 4 minutes to cook the shrimp (about 2 minutes on each side until the shrimp is pink).
Remove the pan from heat. Toss in the cooked pasta, a tablespoon or so of pasta water, and additional seasonings.
That's it. Grab a chilled glass of white wine and enjoy!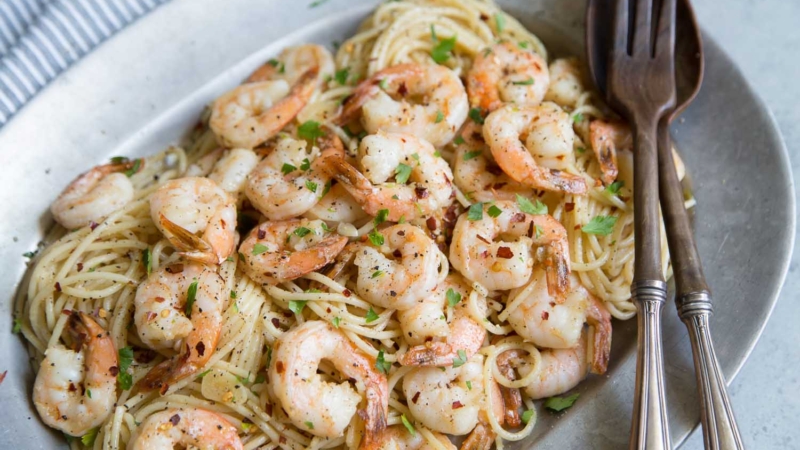 Spicy Garlic Shrimp Spaghetti
Have dinner on the table in less than 20 minutes! Spicy garlic shrimp spaghetti simply requires one pot and a handful of ingredients.
Ingredients
8

oz

spaghetti,

or other pasta of choice

1

pound

large shrimp,

peeled, deveined, tails on

½

teaspoon

kosher salt

¼

teaspoon

freshly ground black pepper

½

teaspoon

granulated sugar

¼

teaspoon

garlic powder,

optional

2

Tablespoon

olive oil

5

Tablespoons

unsalted butter

¼

teaspoon

red pepper flakes,

or more depending on desired level of spice

10

garlic cloves

(4 cloves thinly sliced, 6 cloves minced)
Seasonings:
1

teaspoon

kosher salt

½

teaspoon

freshly ground black pepper

¼

teaspoon

garlic powder,

optional

reserved pasta cooking water

chopped flat leaf parsley,

to garnish
Instructions
Cook spaghetti according to package ingredients. Before draining pasta, save about ½ cup of cooking pasta water. Set aside.

Pat shrimp dry. In a large bowl, toss together shrimp, salt, black pepper, sugar, and garlic powder. Set aside.

Add oil and butter to a large saute pan or sauce pot. Cook over medium heat until butter has melted. Add red pepper flakes and cook for 20 seconds. Stir in garlic and cook for 30-45 seconds until fragrant.

Add in seasoned shrimp. Cook for about 2 minutes on each side until shrimp is pink throughout. Remove from heat. Add cooked spaghetti, seasonings, and about 2 tablespoons of reserved pasta water. Toss together until pasta is well coated. Garnish with chopped parsley. Serve immediately.
Notes
I used large shrimp listed as 26/30, shelled, deveined, with tails on.
If desired, season with additional salt and pepper. For a brighter dish, feel free to add a squeeze of fresh lemon juice.
Leftovers can be stored in an airtight container in the fridge up for up to 2 days.
If using frozen shrimp: make sure to completely THAW the shrimp. Thaw shrimp overnight in the fridge or place them in a colander in the sink and run cold water over shrimp for about 5 minutes.
All images and text © The Little Epicurean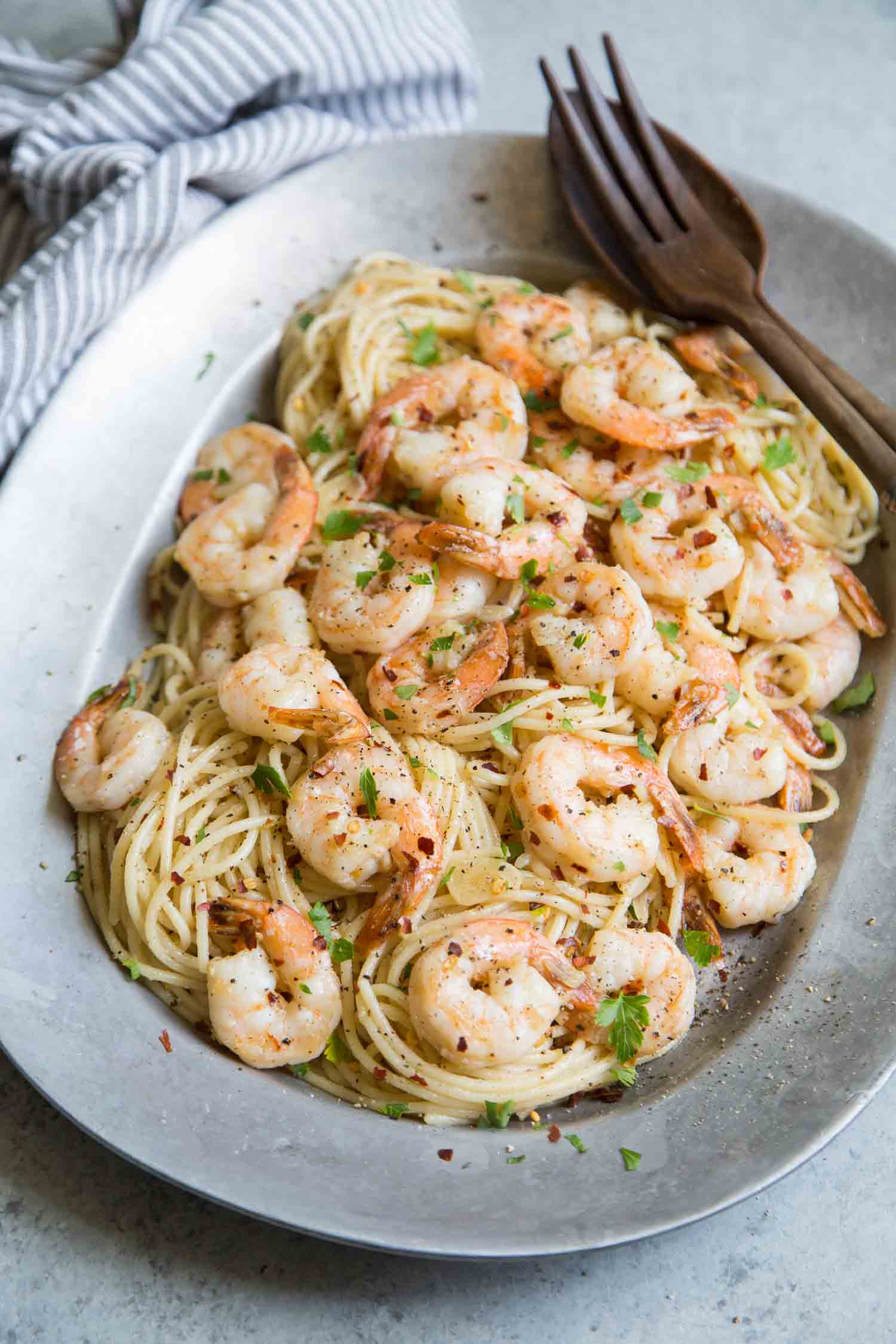 Want more shrimp recipes?