This cheesy baked pasta takes the components of lasagna and makes it into an easier and simpler dish.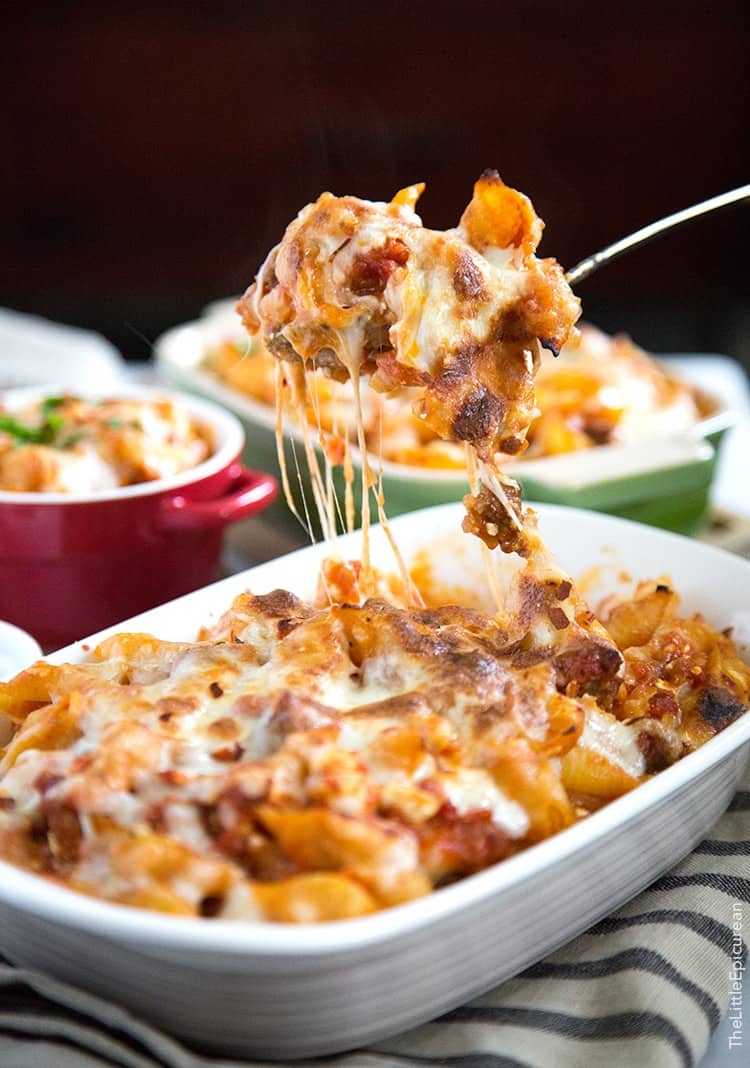 Baked Pasta with Italian Sausage
I could eat lasagna everyday and probably never tire of it.
Thanks to Garfield, I learned about the delicious, cheesy, and satisfying dish that is lasagna.
However, Garfield failed to mention how much work is involved in making lasagna from scratch.  
For the most part, lasagna is way too time consuming for something that I would quickly inhale and devour.
That's why I must introduce you to the lazy man's lasagna- cheesy baked pasta!  
It takes the components of lasagna and whips it into an easier and simpler dish!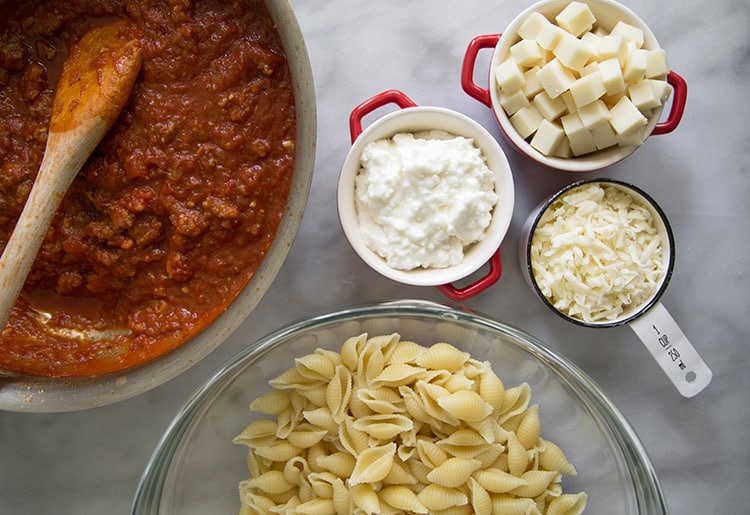 I made the meat sauce using Italian sausage, but you also use ground beef or pork.
While you could use any kind of pasta you'd like: ziti, macaroni, rigatoni, etc.
I chose to use these medium shells.  I find them perfect because little bits of sausage and sauce get trapped inside the shells.
The Secret to Cheesy Baked Pasta
Instead of shredded mozzarella, use mozzarella cubes!  
I learned about this this tip from America's Test Kitchen.
They make their baked ziti using small cubes of mozzarella.  The cheese melts slowly and leaves little pockets of cheesy surprises everywhere.
As a result, you'll get that stringy cheese each time you spoon out a serving.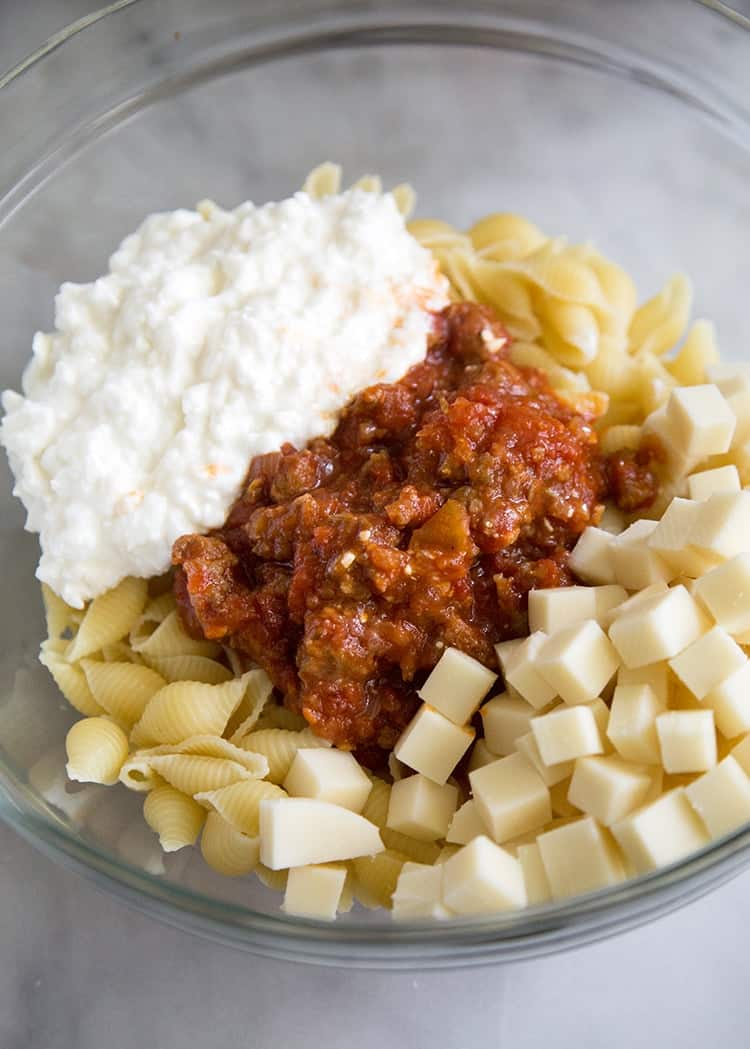 Use Cottage Cheese in place of Ricotta Cheese
Also, in place of ricotta cheese, I swapped in cottage cheese.  
Ricotta cheese tends to dry out in oven, leaving the your pasta sauce a bit grainy.  
The small curds of cottage cheese remains silky and soft during baking.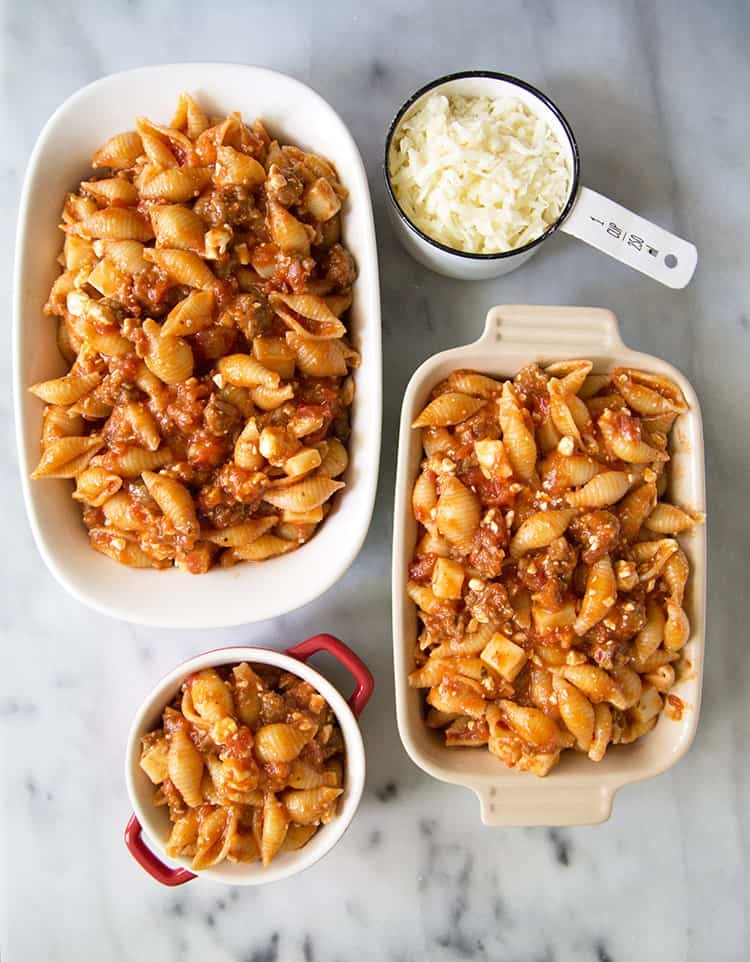 Make Ahead Pasta
This cheesy baked pasta is a great make-ahead meal.  
Plus, it's easy to double or triple the recipe to feed a crowd.
Once you've tossed together the cooked pasta, meat sauce, and cheeses, spread it out onto a casserole dish or any oven safe serving ware.
I like to divide the pasta among several small dishes for portion control.  
Cheesy pasta in meat sauce in not safe around me.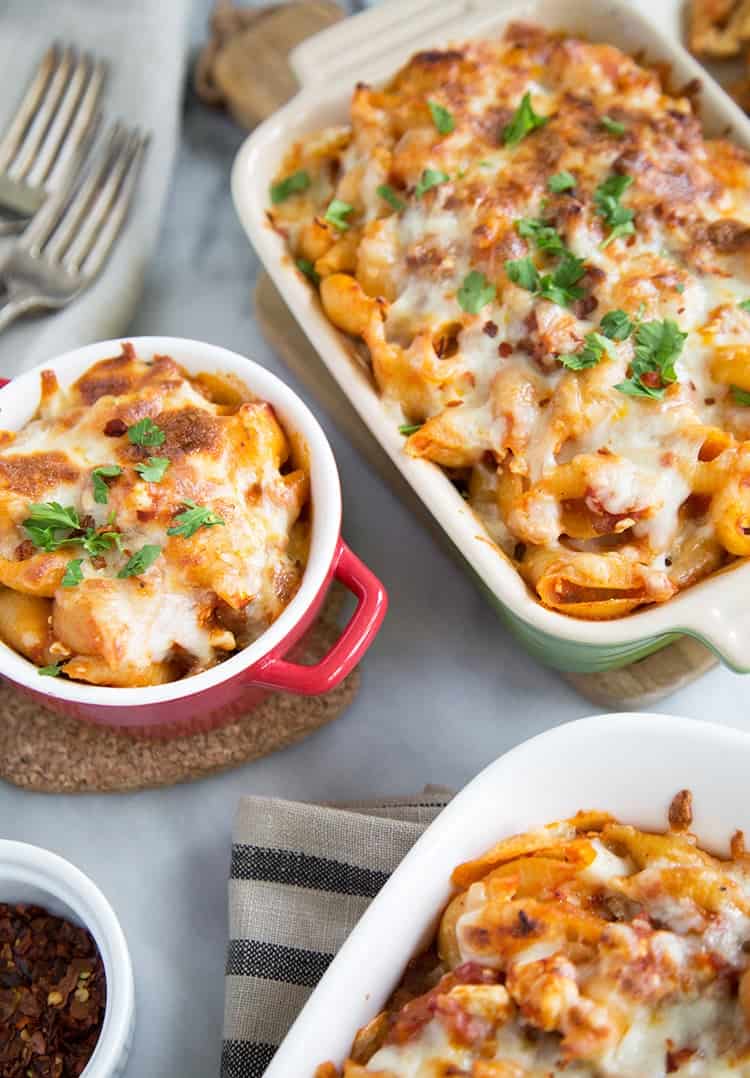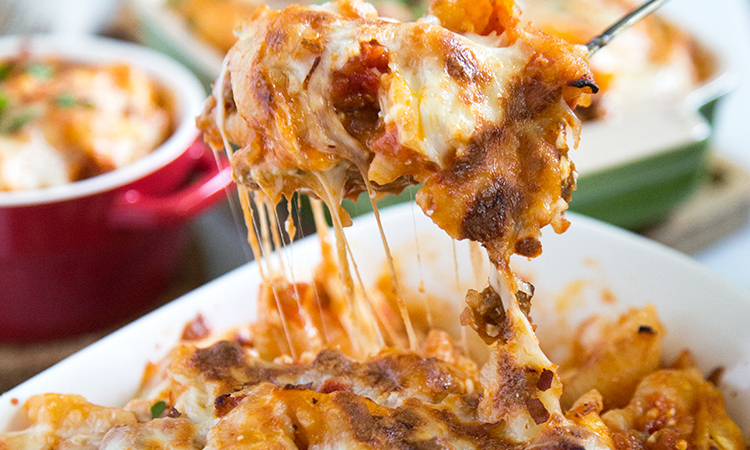 Cheesy Baked Pasta with Italian Sausage
This cheesy baked pasta takes the components of lasagna and makes it into an easier and simpler dish! This is a great make ahead dish that can be doubled or tripled to feed a crowd.
Ingredients
8

oz

medium pasta shells

3

garlic cloves

minced

½

cup

shallots,

(or onions) minced

12

oz

Italian sausage,

removed from casing

28

oz

can crushed tomatoes

1

Tablespoon

tomato paste

1 ½

Tablespoon

granulated sugar

½

teaspoon

kosher salt,

or more to taste

½

teaspoon

freshly ground black pepper,

or more to taste

pinch of red pepper flakes,

optional

¾

cup

low fat (2%) cottage cheese,

small curds

6

oz

mozzarella cheese,

cut into ½-inch cubes

1

cup

shredded mozzarella cheese

chopped Italian parsley,

to garnish
Instructions
Cook pasta to al dente according to pasta package instructions. Drain and let cool.

Heat about 2 tsp of olive oil in a medium pot over medium heat. Add garlic and shallots and cook until shallots have started to soften. Stir often to prevent garlic from burning. Add Italian sausage and cook until browned. As sausage cooks, break into small pieces. Once sausage is cooked, drain off any excess fat (oil).

Add entire can of crushed tomatoes, including any juice. Add tomato paste, sugar, salt, pepper, and red pepper flakes. Stir to combine. Bring to a boil and then reduce to a simmer. Let simmer for 10-15 minutes. Sample sauce and add additional salt or pepper to taste. Let sauce cool for about 15 minutes.

Preheat oven to 350°F. In a large bowl, add cooled pasta, cooled meat sauce, cottage cheese and mozzarella cubes. Toss to combine. Place tossed pasta in casserole dish, or any oven-safe serving ware. Sprinkle shredded mozzarella cheese on top.

Bake for 20 minutes until cheese on top is melted. Set oven to broiler and allow cheese to brown for 30-45 seconds. Remove from oven and let dish stand for 5-8 minutes before serving.
Notes
TO FREEZE: assemble pasta and cheese in a freezer safe container. Cover tightly with plastic wrap store in the freezer for up to one month. Bake as directed.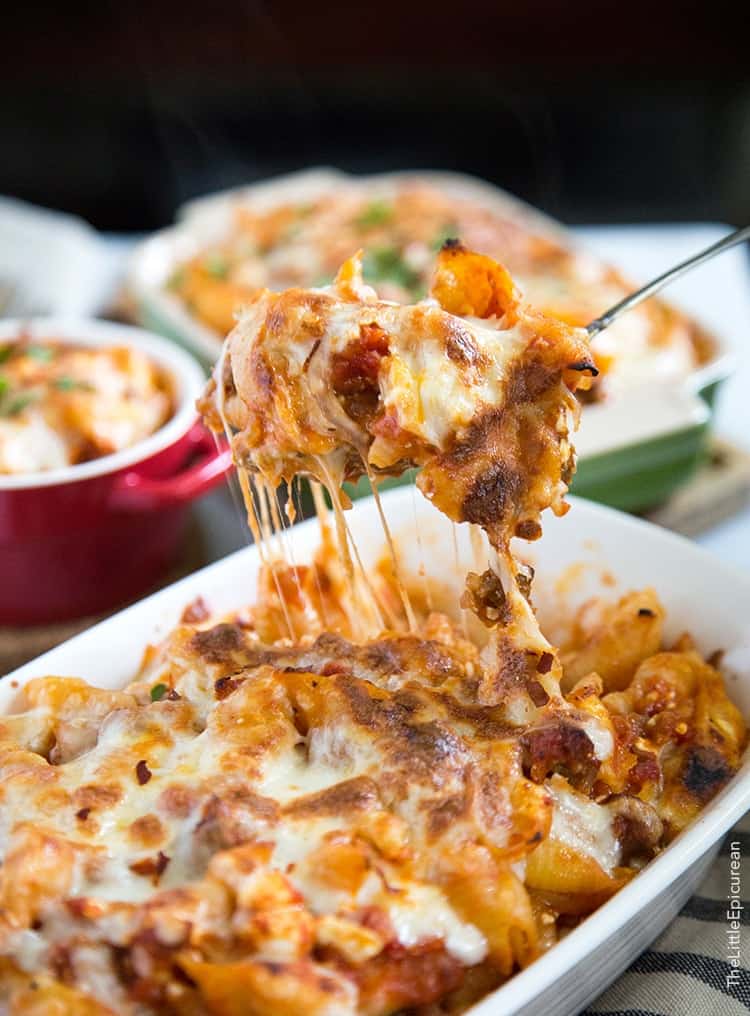 Hungry for more pasta? Try these excellent dinner recipes:
Homemade fettuccine served with bacon and leek cream sauce.
Roasted tomato pasta recipe is a quick and easy meal. The pasta is simply tossed with oven roasted tomatoes and grated parmesan cheese.
This spaghetti carbonara uses a handful of staple ingredients. It is quite possibly the easiest pasta dish to make!