This baked orzo with artichokes recipe comes from The Weeknight Mediterranean Kitchen cookbook. It's a hearty satisfying meal that is super quick and easy to throw together!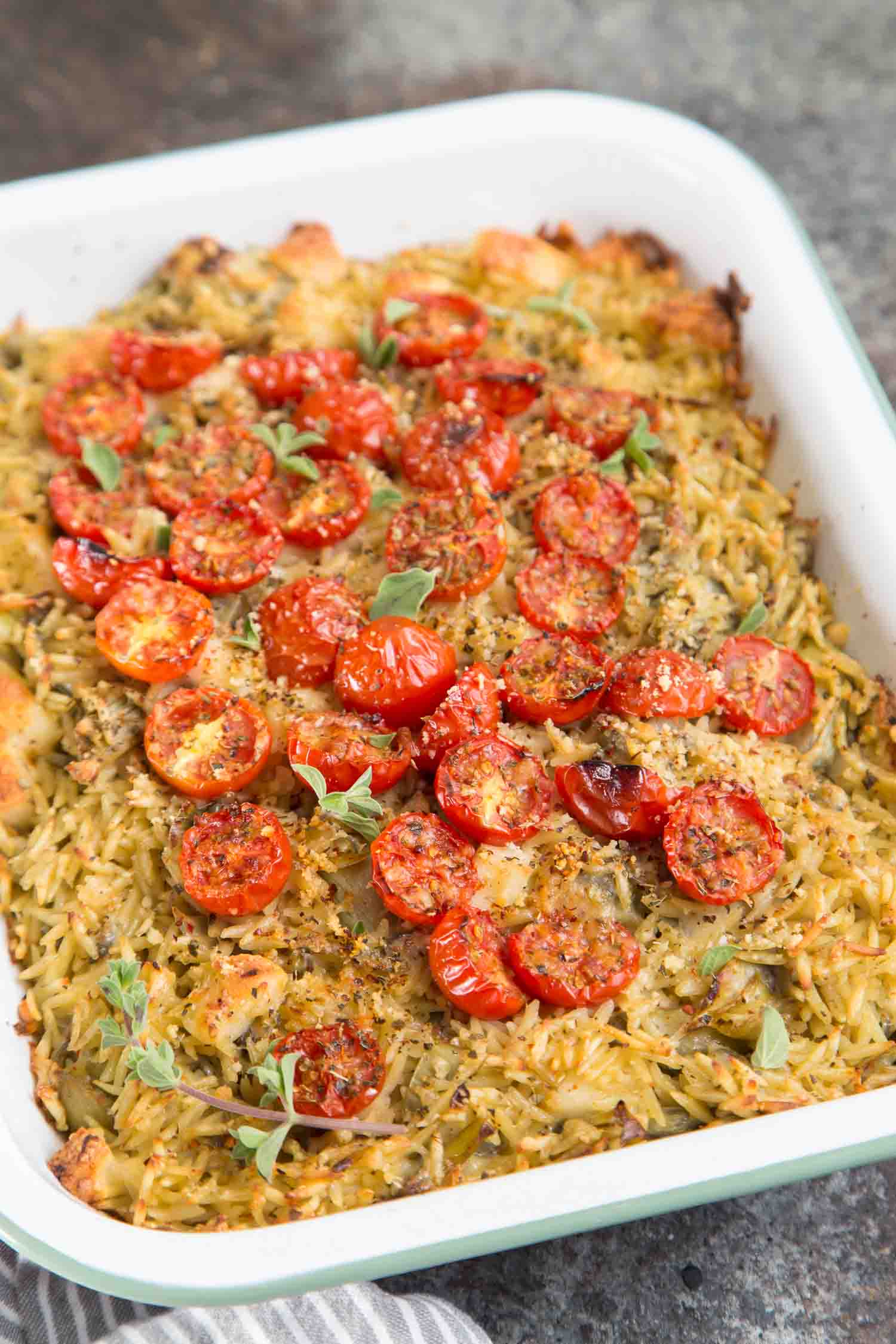 What is Mediterranean cuisine?
It's not as easy to define because the Mediterranean Sea touches numerous countries in Europe and Africa. These countries include: Greece, Italy, Algeria, Morocco, Lebanon, Turkey, Spain. Each country adds their own touch to the cuisine depending on the available ingredients in their region.
But one thing all Mediterranean foods have in common are their use of fresh herbs and bold spices. Think: mint, basil, za'atar, sumac, and paprika.
Commonly used ingredients include: chickpeas (garbanzo beans), sesame seeds (tahini!!), hummus (made by mixing together chickpeas and sesame seeds), grape leaves, olives, lemon, lamb, and pomegranate.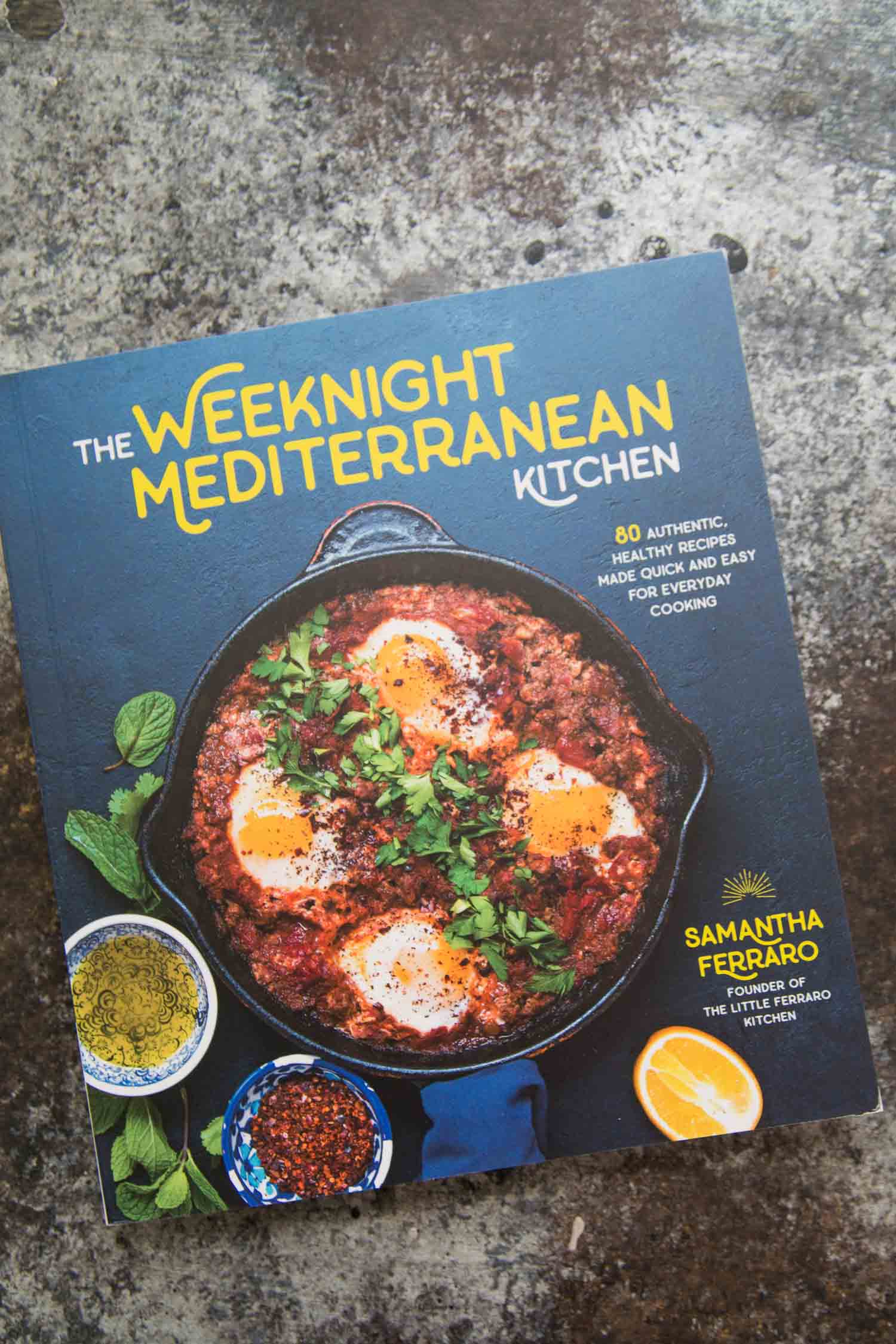 The Weeknight Mediterranean Kitchen
I believe the best way to learn about a culture is through their cuisine. What better to learn the flavors of this cuisine, than through The Weeknight Mediterranean Kitchen!
My friend and fellow food blogger Samantha of The Little Ferraro Kitchen has made a wonderfully informative and beautiful cookbook focusing on authentic, healthy Mediterranean cuisine. With 80 recipes (some dessert and cocktail recipes, too!) to choose from, I had a difficult time choosing just one to share with you.
She has an amazing recipe for Shakshuka with Lamb and Spices (it's the image that graces the cookbook cover!), a tasty looking Persian Rice with Tumeric and Saffron, and mouth-watering Stuffed Eggland with Ground Beef and Tahini.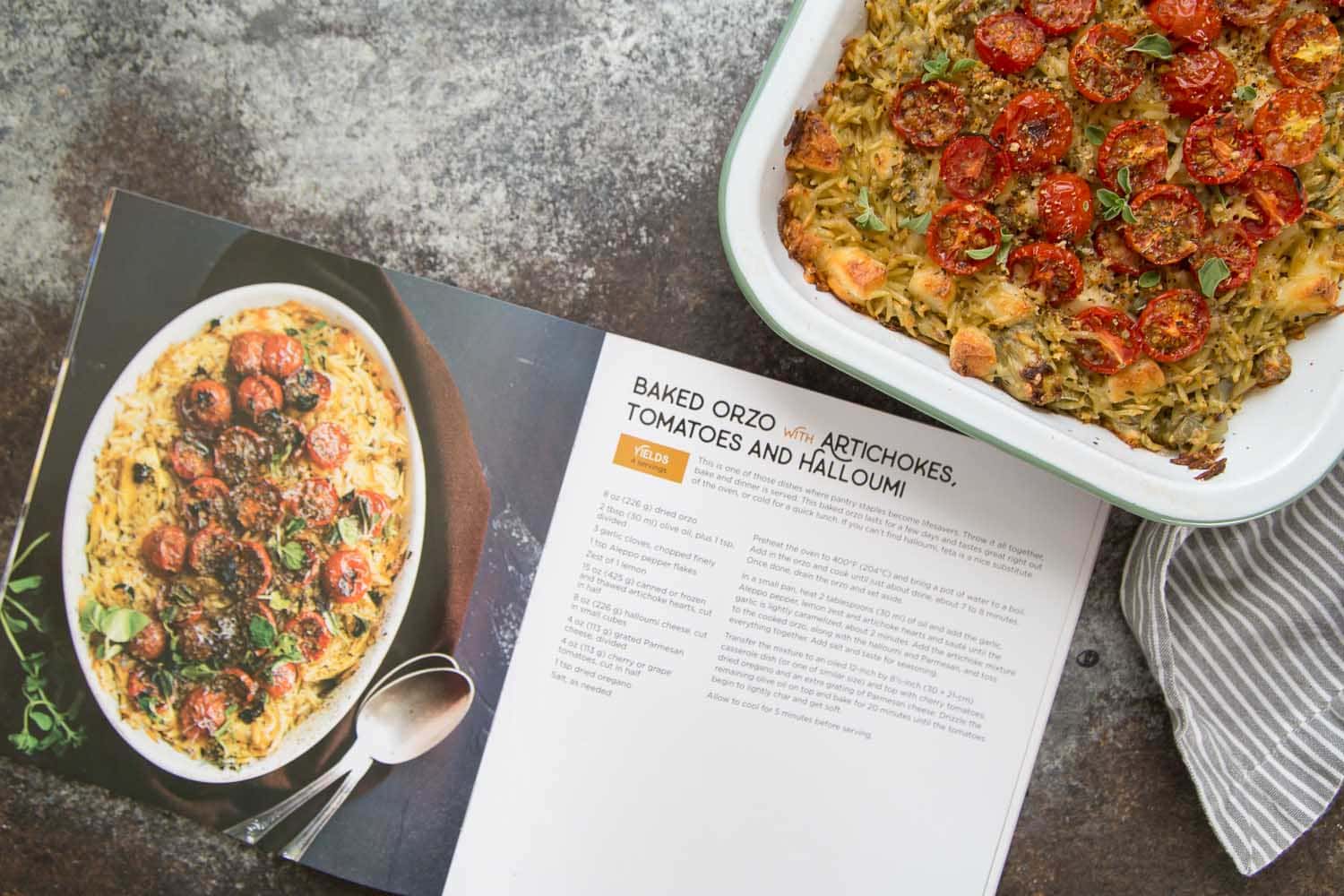 I ended up making the Baked Orzo with Artichokes, Tomatoes and Halloumi.
With summer tomatoes plenty, I couldn't resist making this dish. Best of all, the recipe uses ingredients I already have in my pantry: dried orzo, canned artichokes, garlic, and Parmesan cheese.
The only ingredient I had to search for was halloumi. Halloumi is a semi-hard brined cheese made from a mixture of goat and sheep milk. It has a higher melting point compared to other cheeses, making it great for grilling and frying.  It's DELICIOUS.
I don't normally keep my fridge stocked with this cheese, but that has definitely changed. I'm obsessed.
If you can't find halloumi, you can sub in feta. Feta is a bit saltier, so you may have to adjust your seasoning.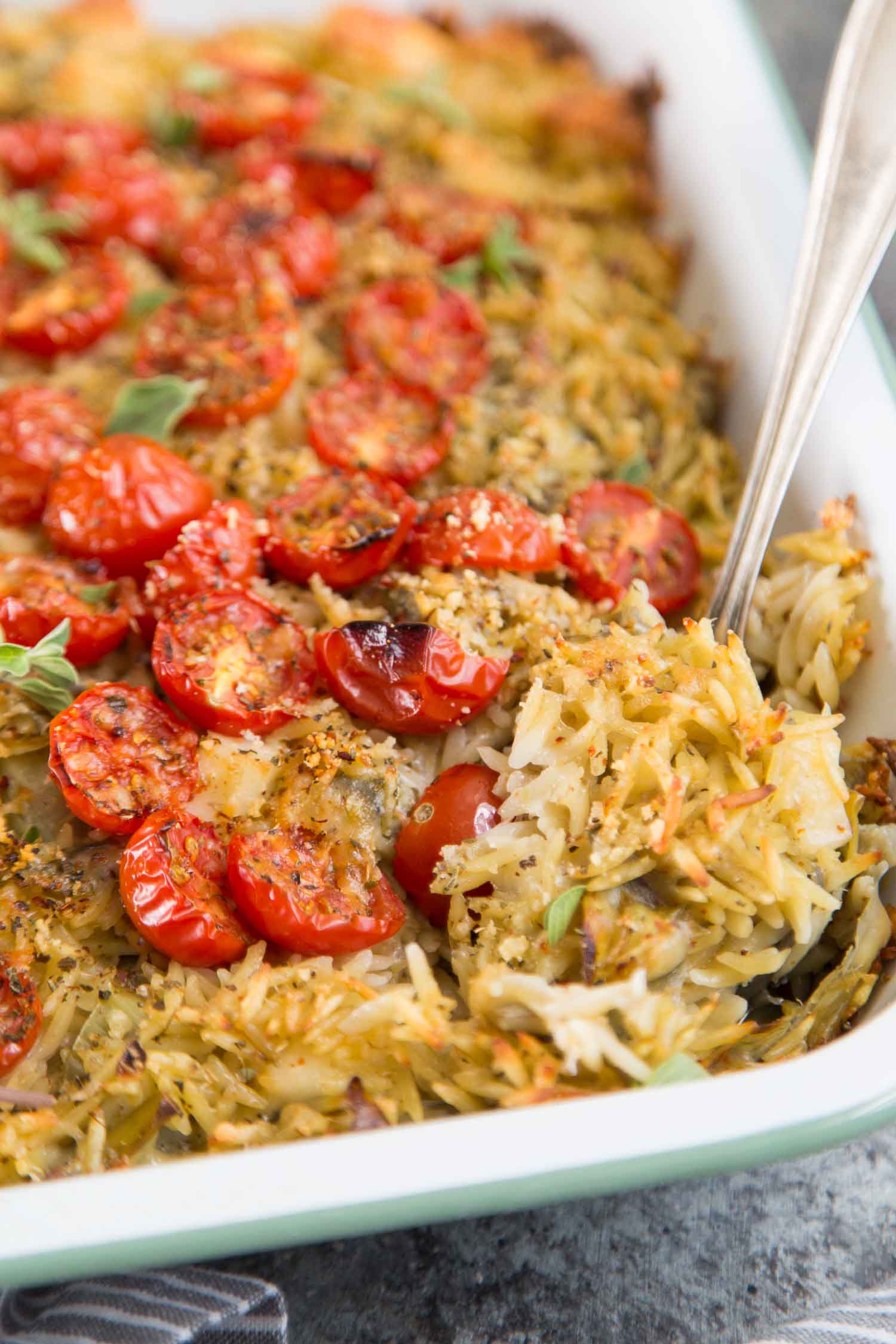 This baked orzo dish was super easy to whip together. You cook the pasta, toss in the other ingredients, and bake it together. That SIMPLE.
The resulting dish is hearty, flavorful, and so satisfying. My favorite bits are the burns edges with the little pockets of melted halloumi.
I highly recommend Sam's cookbook. If you've ever felt intimidated or afraid to venture into new cuisines, now is time to jump in. Sam's approachable, well-explained recipes have me wanting to try all things Mediterranean!
Baked Orzo with Artichokes, Tomatoes, and Halloumi
Ingredients
8

oz

(226 g) dried orzo

2

Tablespoon

(30 ml) olive oil, plus 1 tsp, divided

3

garlic cloves, chopped finely

1

teaspoon

Aleppo pepper flakes

zest of 1 lemon

15

oz

(425 g) canned or frozen and thawed artichoke hearts, cut in half

8

oz

(226 g) halloumi cheese, cut in small cubes

4

oz

(113 g) grated Parmesan cheese, divided

4

oz

(113 g) cherry or grape tomatoes, cut in half

1

teaspoon

dried oregano

salt, as needed
Instructions
Preheat oven to 400 degrees F (204 C) and bring a pot of water to a boil. Add in orzo and cook until just about done, about 7-8 minutes. Once done, drain the orzo and set aside.

In a small pan, heat 2 tablespoons (30 ml) of oil and add the garlic, Aleppo pepper, lemon zest, and artichoke hearts. Saute until the garlic is lightly caramelized, about 2 minutes. Add the artichoke mixture to the cooked orzo, along with the halloumi and Parmesan, and toss everything together. Add salt and taste for seasoning.

Transfer mixture to an oiled 12-inch by 8 1/2-inch (30 x 21-cm) casserole dish (or one of similar size) and top with cherry tomatoes, dried oregano, and an extra grating of Parmesan cheese. Drizzle the remaining olive oil on top and bake for 20 minutes until the tomatoes begin to char and get soft.

Allow to cool for 5 minutes before serving.
Notes
Recipe reprinted with permission from The Weeknight Mediterranean Kitchen (Page Street Publishing, 2018) by Samantha Ferraro
If you can't find halloumi, substitute in feta. Halloumi is not as salty as feta and it can withstand a higher cooking temperature.
Aleppo pepper has a moderate heat level. If you cannot find Aleppo pepper, substitute with 1/2 teaspoon standard red chili flakes. (Red chili flakes pack more heat, but less flavor than Aleppo)
Baked orzo can be enjoyed warm fresh from the oven, or chilled straight from the fridge.