Black pepper gougeres are made with a pâte à choux paste similar to the dough used for profiteroles and éclairs.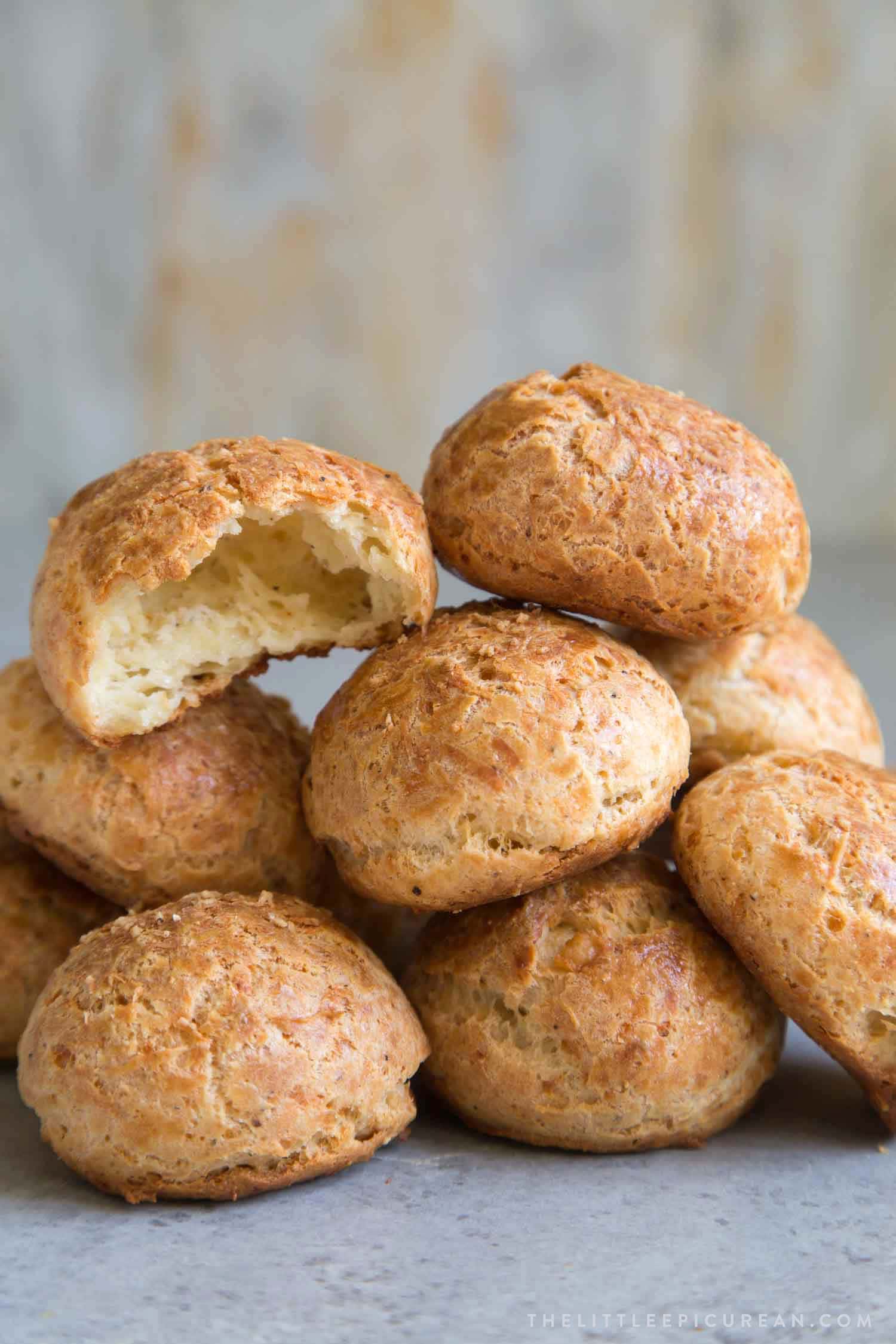 Gougères are these magical little snacks packed with a ton of flavor. My first introduction to these savory bites came in culinary school when I was living up in Napa Valley.
Alex and I would drive two hours to San Francisco and wait in line to get our hands on Tartine's heavenly gougères.
Don't let the name fool you. While these black pepper gougères sound fancy and complicated, they're quite easy to make!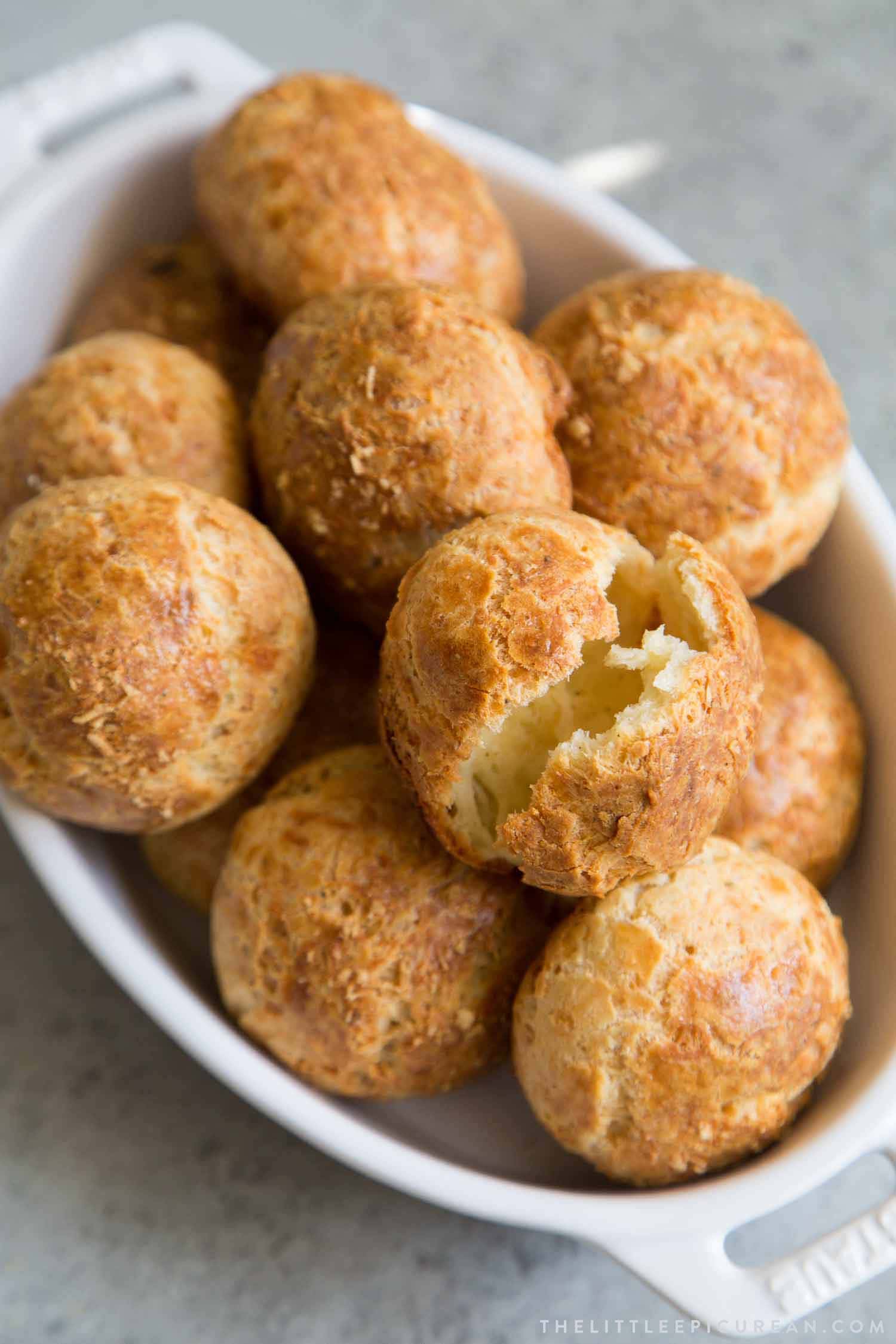 Black Pepper Gougeres
I may be lactose-intolerant, but I love me some cheese (actually A LOT of cheese). In additional to freshly ground black pepper, these black pepper gougeres use Sartori's black pepper BellaVitano cheese.
While this particular cheese helps to highlight the zestiness of black peppercorns, you can use a variety of more commonly available cheeses in its place.
Gougères are traditionally made with shredded or grated Gruyere cheese. Other semi-hard to firm cheeses like Gouda, Edam, or Parmesan also work well.

What is pâte à choux?
Pronounced "pat-ah-shoe," pâte à choux is a French pastry dough that is cooked twice: stove-top and oven baked. It is often called choux paste. The dough is used to make eclairs, profiteroles, and gougeres.
The dough is first created by boiling milk/water, butter, and flour. The mixture will start off lumpy, but with constant stirring the dough will eventually get smoother.
Once the dough forms a cohesive ball that pulls away from the sides of the pot, it is ready for the next step.
At this stage, the dough will be VERY hot. The dough is beat with a paddle in a stand mixer until it has cooled to room temperature. Do not be alarmed when the dough starts to steam. It is just cooling down.
When the dough is at room temperature, the eggs are added one a time. This will loosen up the dough. The dough will break apart and look curdled. Have faith. It will eventually come back together into a smooth, shiny, and thick paste.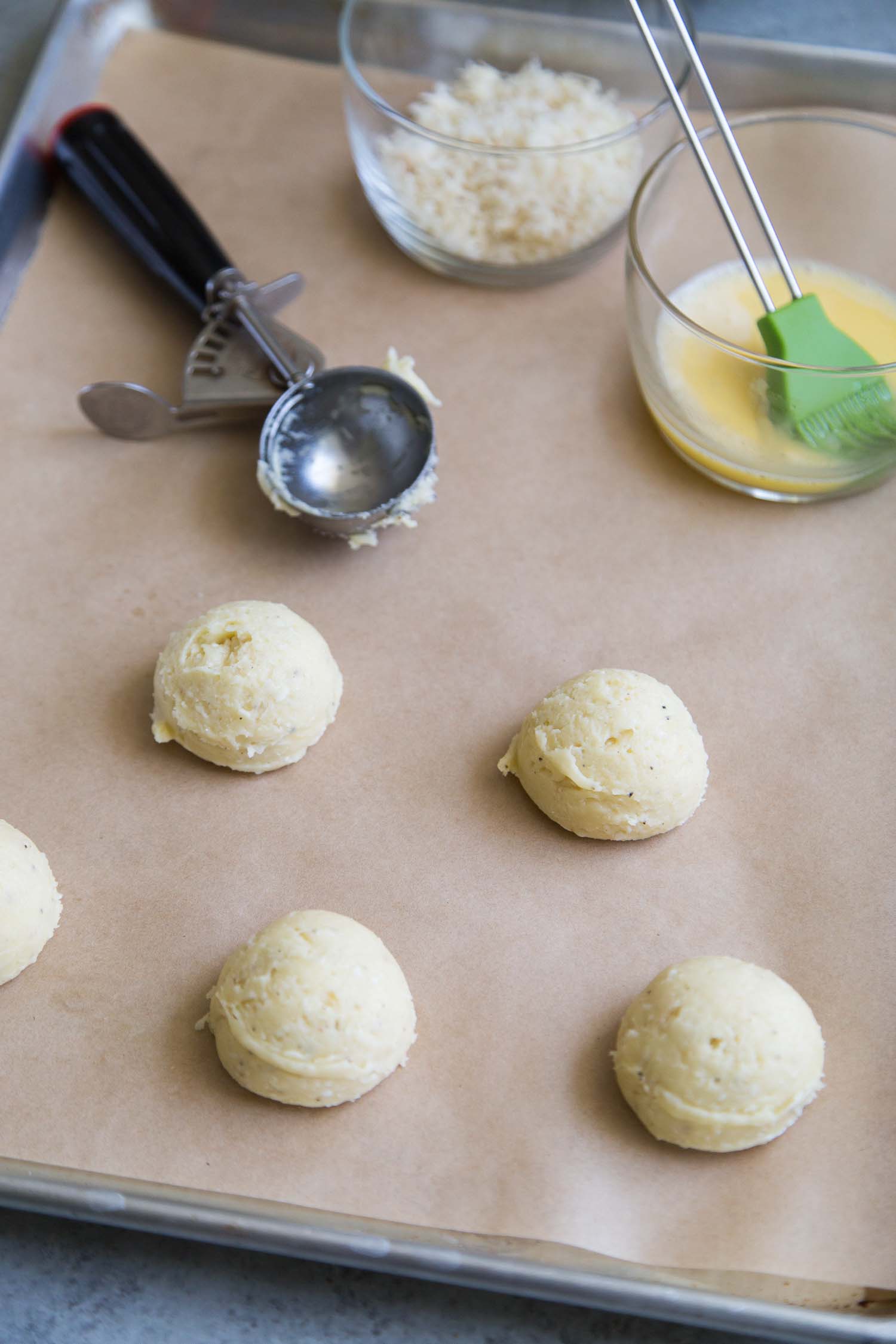 Piping Bag vs Cookie Scoop:
The pâte à choux is traditionally piped into little mounds. Use the directions in this gougeres recipe for the piping method using a 1/2-inch plain round tip.
I prefer to use a size 24 cookie scoop. It lends to more consistent, uniform results.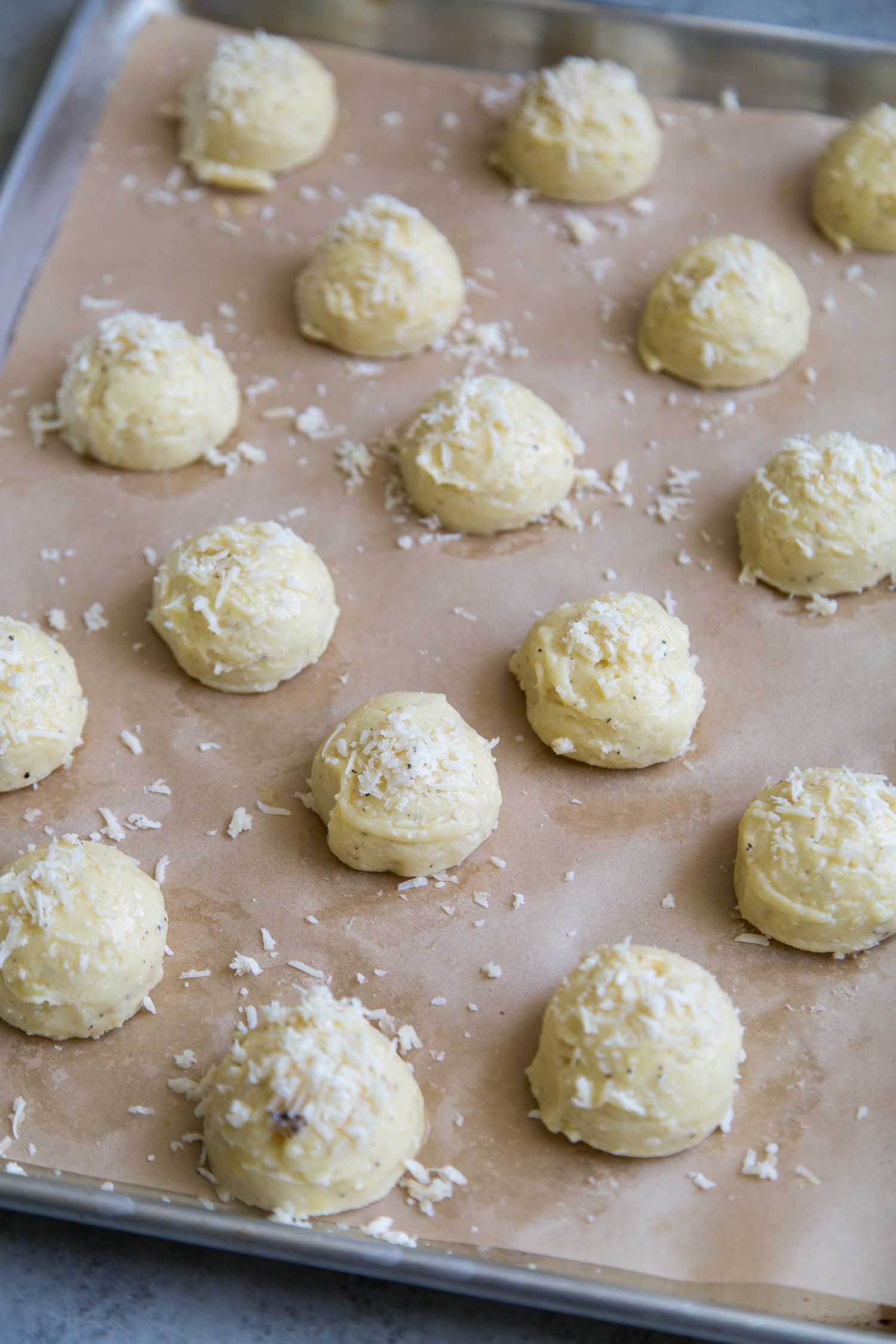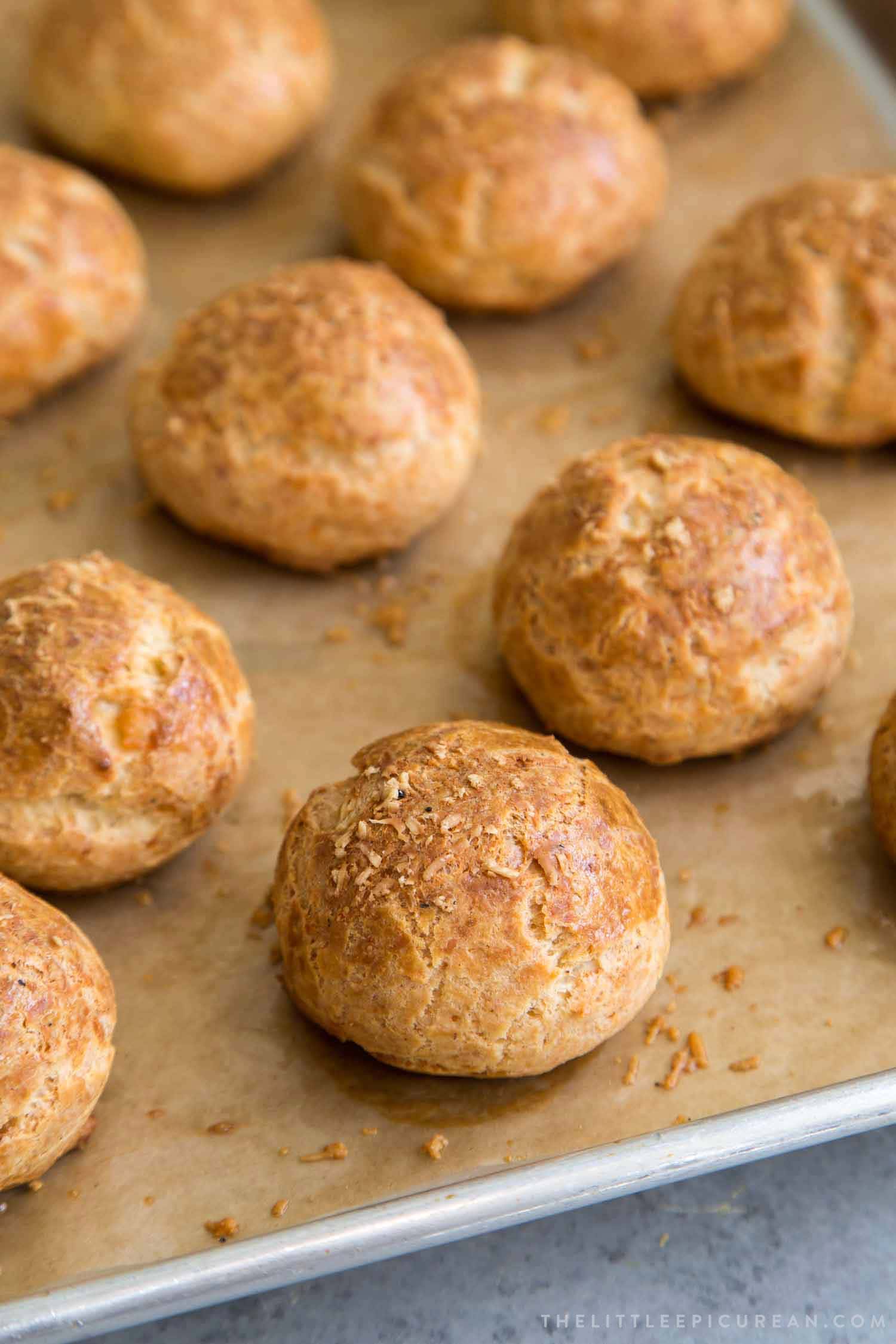 A fresh gougère is slightly crunchy on the outside, yet soft on the inside. It should feel light in weight when you pick it up, like little pillows.
Gougères should have a hollow interior. During baking, the steam created from the moisture in the water from the eggs, butter, and milk in the pâte à choux leavens the pastry. If the baked gougères feel "heavy" in weight, continue bake them until the insides cook and they feel hollow.
These little appetizers are great for cocktail parties, buffet spreads, or simply snacking on the couch!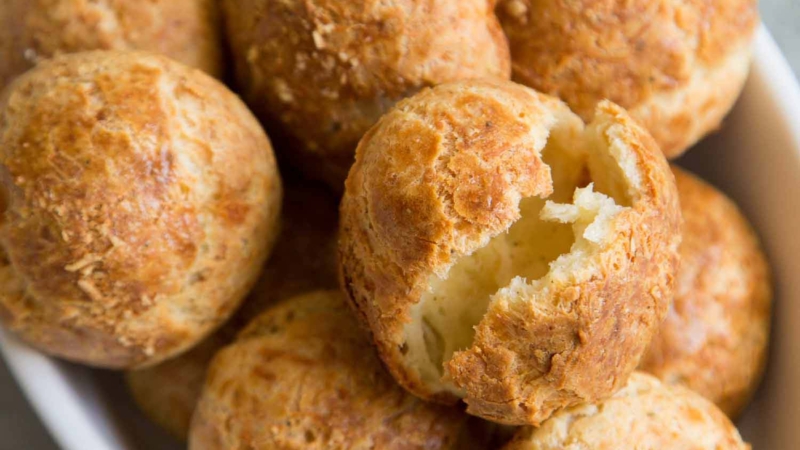 Black Pepper Gougeres
Black pepper gougeres are made with a pâte à choux paste similar to the dough used for profiteroles and éclairs.Yield: 16 gougeres
Ingredients
¾

cup

whole milk

¼

cup

water

10

Tablespoons

(5 oz) unsalted butter

, cut into tablespoons

½

teaspoon

kosher salt

1

cup

(5 oz) bread flour

4

large eggs

2 ½

teaspoon

freshly ground black pepper

1

cup

(4 oz) semi-hard cheese*

, shredded
Egg Wash &Topping:
1

large egg

⅛

teaspoon

fine sea salt

½

teaspoon

water

grated cheese
Instructions
Preheat oven to 350°F. Line baking sheet with parchment paper or reusable silicone mat. Set aside.

In a medium sauce pot, mix together butter, water, milk and salt. Over medium heat, cook until butter melts and mixture has come to a boil. Add flour all at once and begin stirring with a wooden spoon. Continue to stir until dough pulls away from the sides of the pot. At this point the dough should be smooth.


Transfer dough to the bowl of a stand mixer fitted with a paddle attachment. On low speed, add eggs one at time. Make sure egg is fully incorporated before adding the next egg. As you add the eggs, the dough will separate. This is normal. Once all the eggs have been added, as you continue to mix, the dough will come back together. The dough should be shiny, smooth, and quite thick at this point.

Add cheese and black pepper. Fold in with a rubber spatula. Use a size 24 scoop to portion out batter. Space mounds at least 1 ½-inches apart on parchment lined baking sheet. 

Brush each mound with egg wash and top with grated cheese. Bake in preheated oven for 30-35 minutes until the pastries have puffed up and have browned in color. The finished gougere should feel very light in weight for their size. If they feel heavy, put them bake in the oven for a couple of minutes.