Fluffy, flavorful, and oh so cheesy. These cheddar biscuits are overflowing with melted cheese.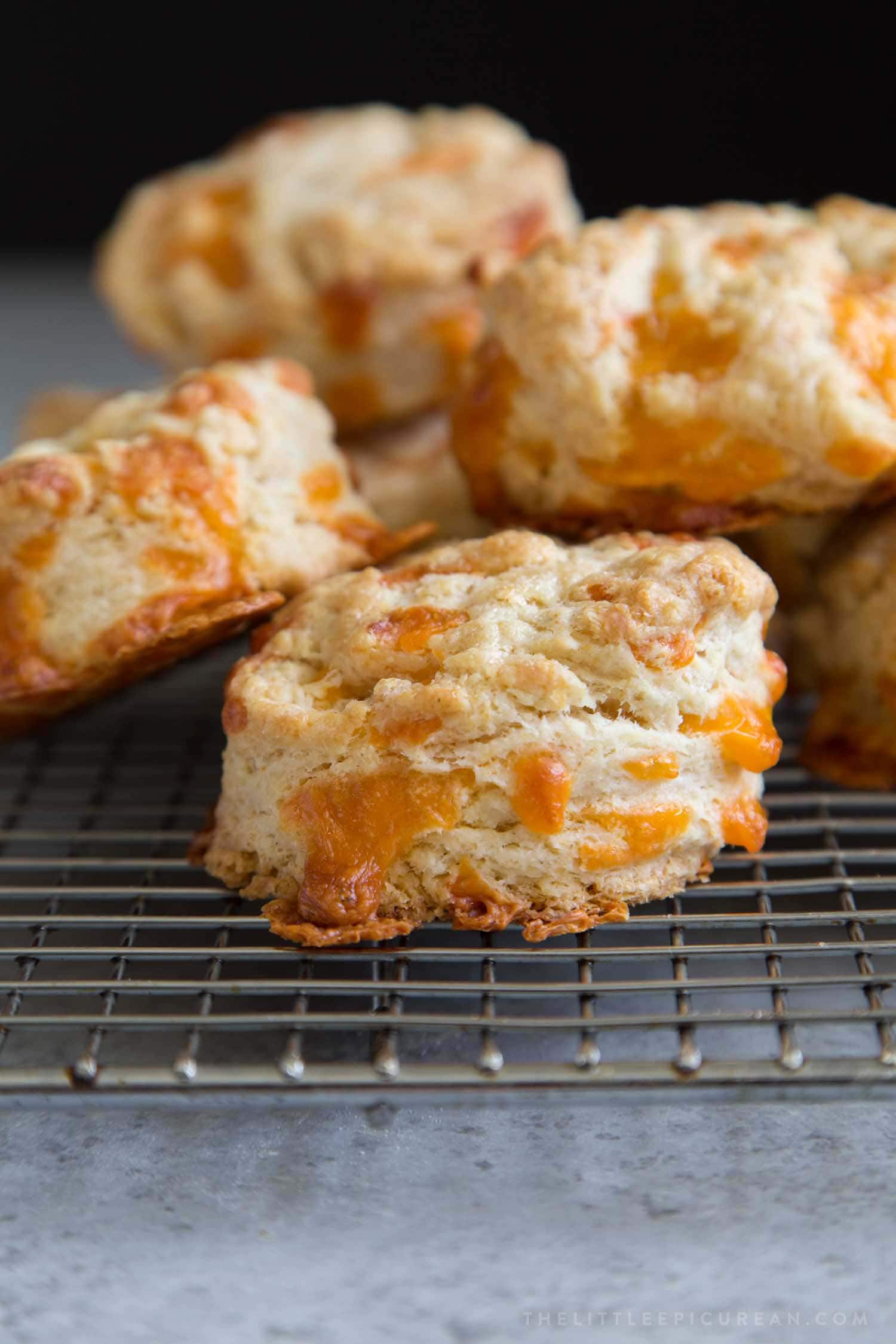 Cheddar Biscuits
I made these delectable cheddar cheese cream biscuits during my early blogging days. I'm revisiting that recipe with even more cheese, more flavor, and better technique.
Instead of using shredded cheese, I chopped up thick cheddar slices into little squares. I used the packaged sliced cheddar cheese usually used for cheeseburgers or sandwiches.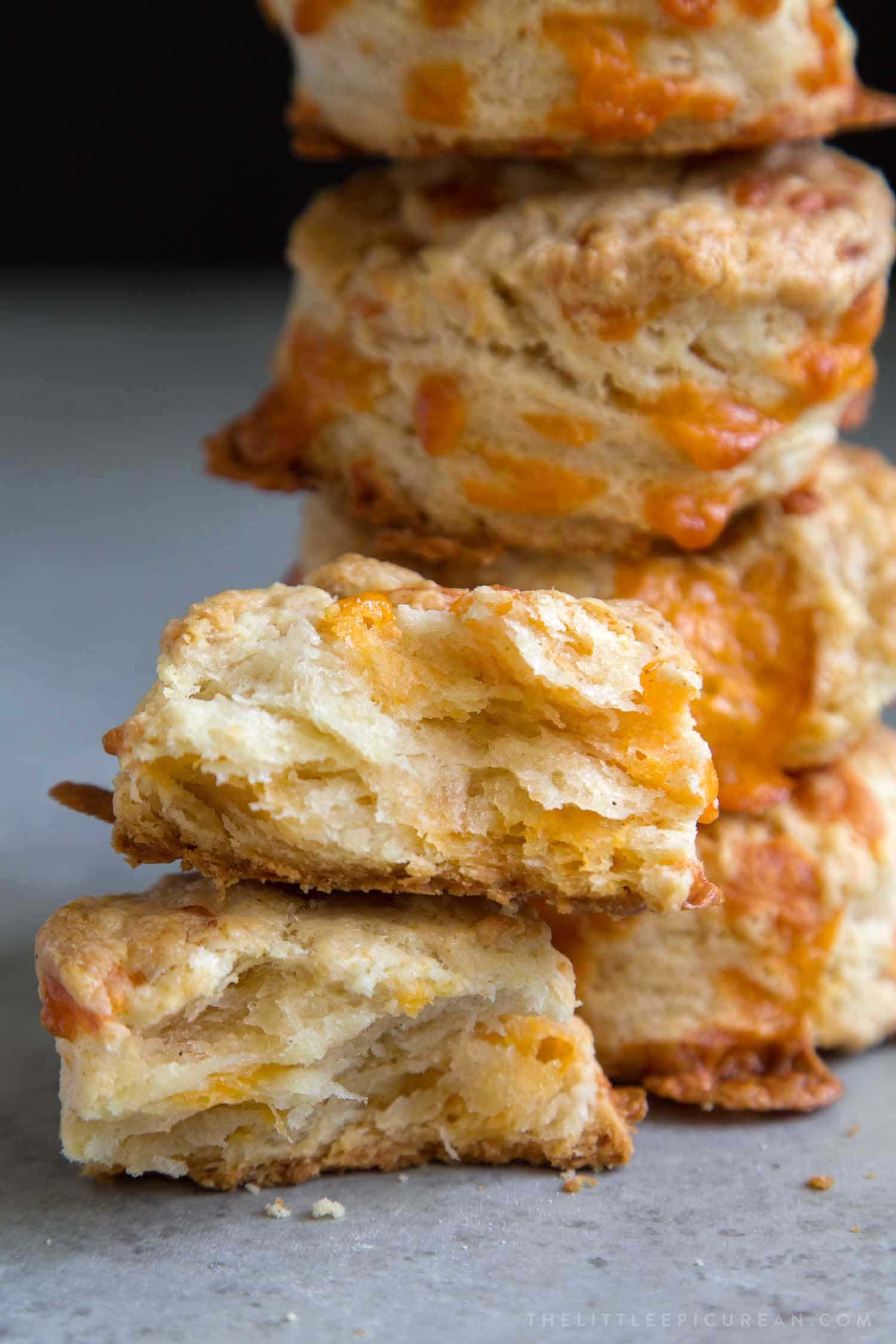 With regular shredded cheese, the cheese bits often gets lost in the dough. By using sliced cheese with more surface area, you're guaranteed more flakey, cheesy layers!
Can you see those layers? Can you see the cheese that melts off the sides and crisps up into cheese crisps? That all translates to ooey gooey deliciousness.
How to mix and knead together cheddar biscuits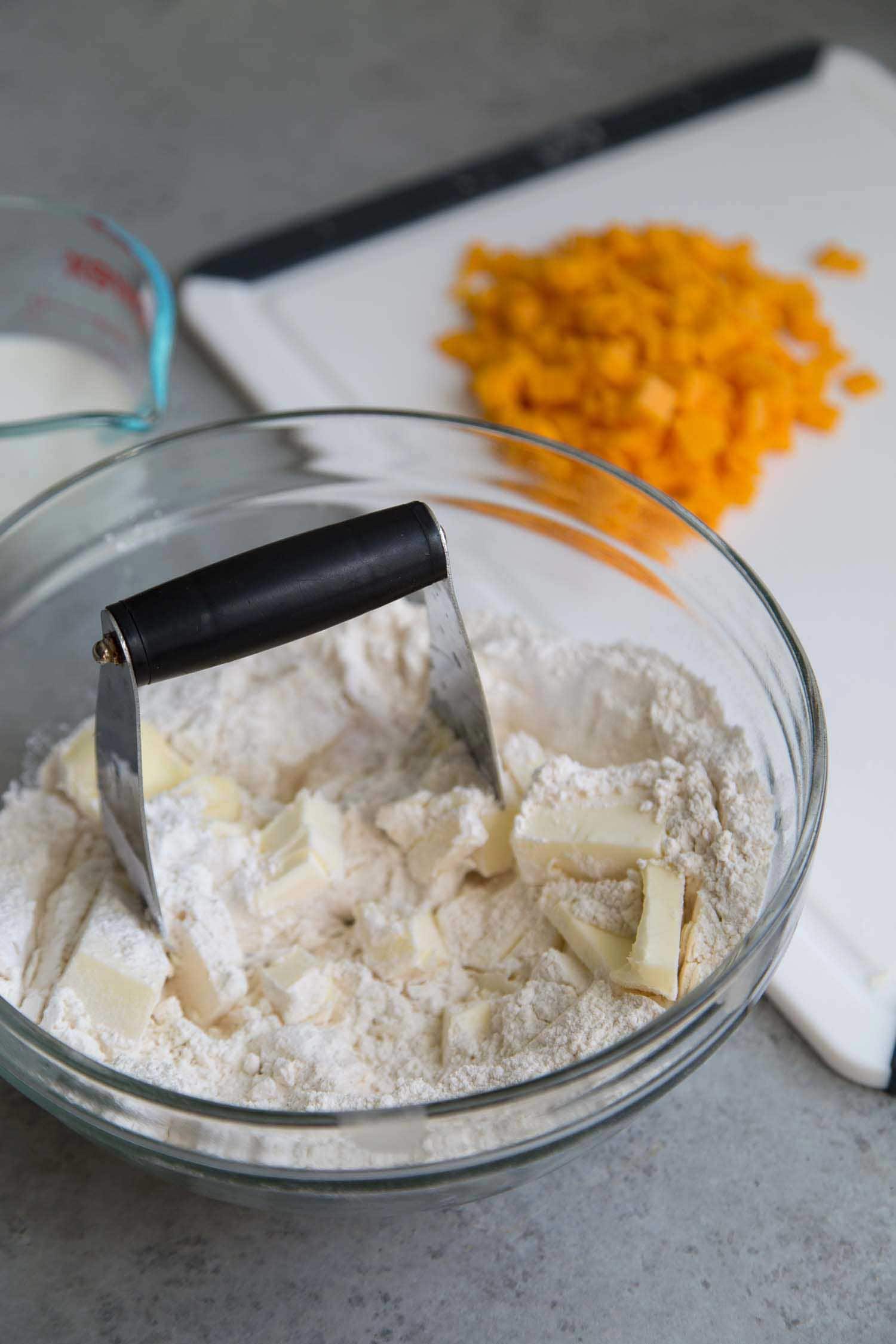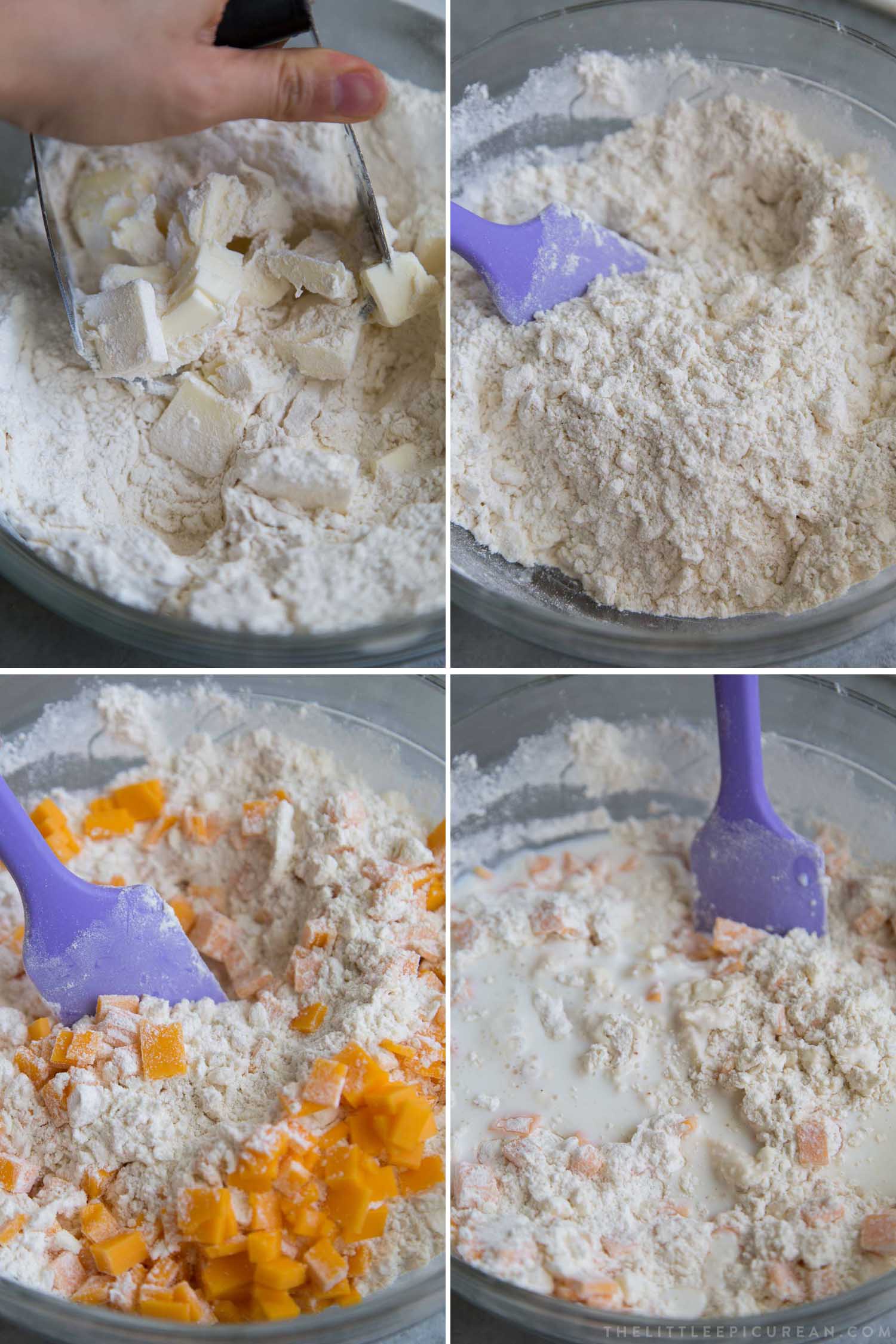 It is important to work with cold ingredients. I cannot emphasize that enough.
Let the flour mixture and sliced butter rest in the freezer for a few minutes before working. Cold butter will not melt during mixing.
The chunks of butter cut into the flour mixture will create the flakey layer associated with biscuits.
Use a pastry blender (pastry cutter) or two forks to cut the butter into the dry mixture until it resembles rough, coarse sand.
Toss in the cheddar cheese and fold to distribute. Pour in the cold milk and fold the mixture together until a "shaggy mess" dough forms.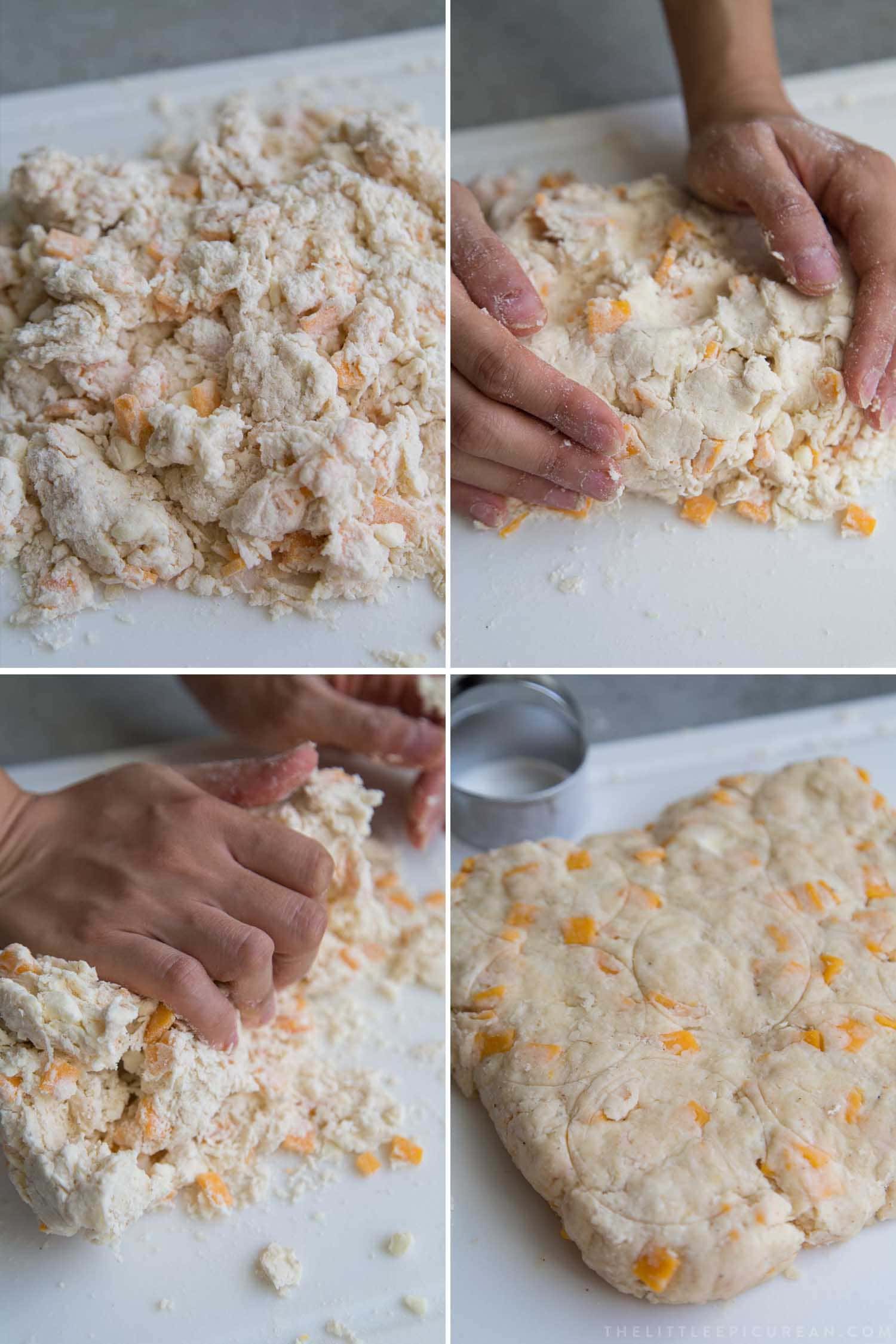 Dump the mixture onto a lightly floured work surface. It doesn't look like a traditional "dough" at this stage.
Gather and push the mixture together. Gently knead until the dough is a cohesive mass. Pat the dough to a rectangle about 1/2-inch thick.
With biscuits (as well as scones and pie dough), you want to handle the dough as little as possible. This is to prevent the butter from melting (due to the heat of your hands) and to avoid the formation of too much gluten. Over worked biscuit dough will be tough and rubbery once baked.
I recommend maximizing the dough space when punching out rounds. Lightly make indentation in the dough to squeeze in as many rounds.
Can you re-roll biscuit dough?
The first roll will have the BEST uniform biscuits. As you re-roll biscuit dough scraps, the quality of the layers will diminish and the fluffiness will decrease. For this recipe, I suggest re-rolling just ONCE.
If you try to re-roll the scraps a second or third time… you'll definitely see a difference. Those biscuits will be a dense and tough.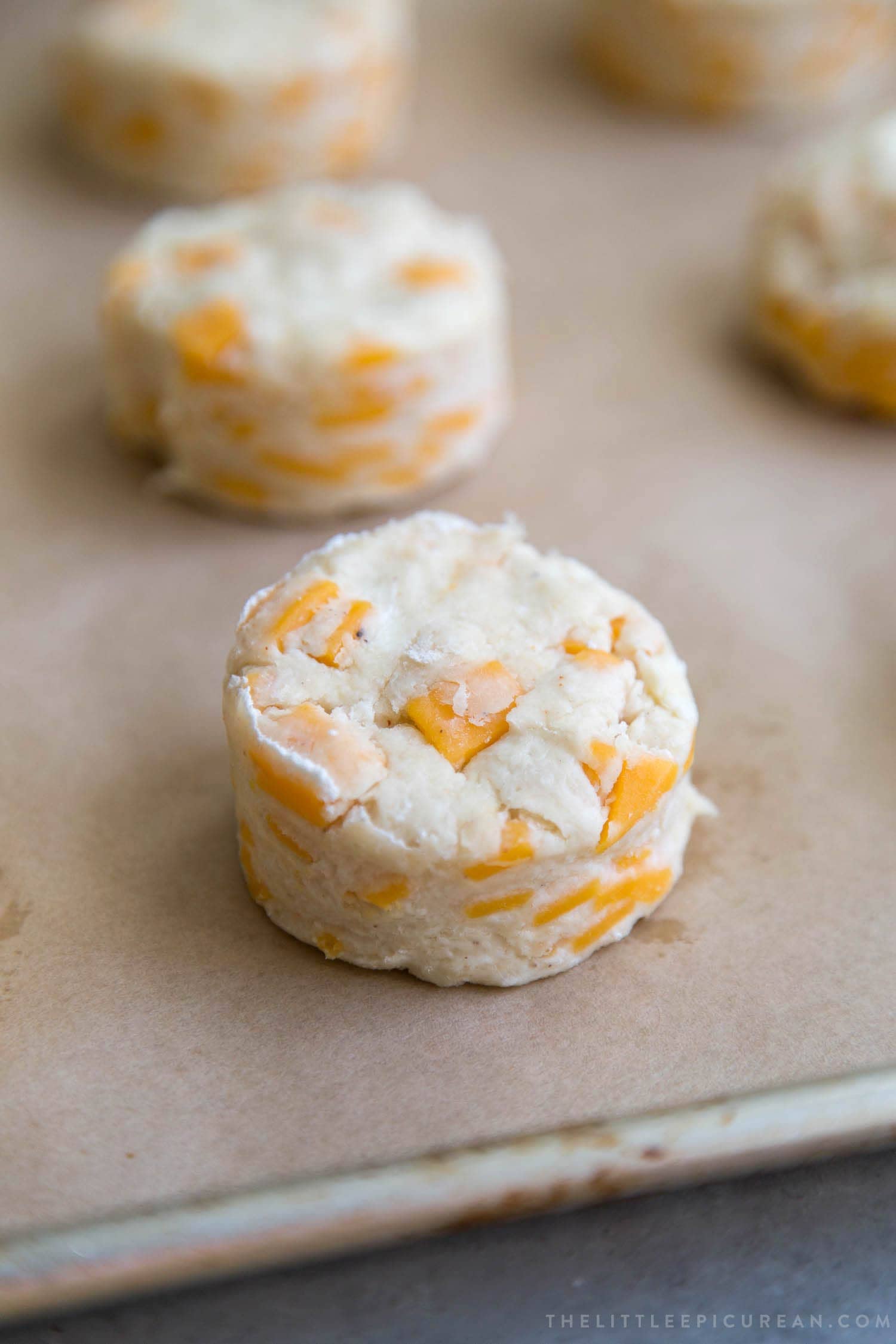 Tips for punching out biscuit rounds:
Do not twist the biscuit cutter!
Flour the biscuit cutter. Punch straight down into the dough and lift the cutter straight up. DO NOT TWIST THE CUTTER. Twisting the cutter "seals" the edges of the dough, preventing the biscuit from rising to its max height.
In an old issue of Cook's Illustrated, they recommend inverting the cut biscuits on the baking sheet to make the biscuits rise higher.
Flour your biscuit cutter!
Dip your biscuit cutter into flour to prevent the dough from sticking. Clean sliced edges will result in a well defined shape and well defined layers.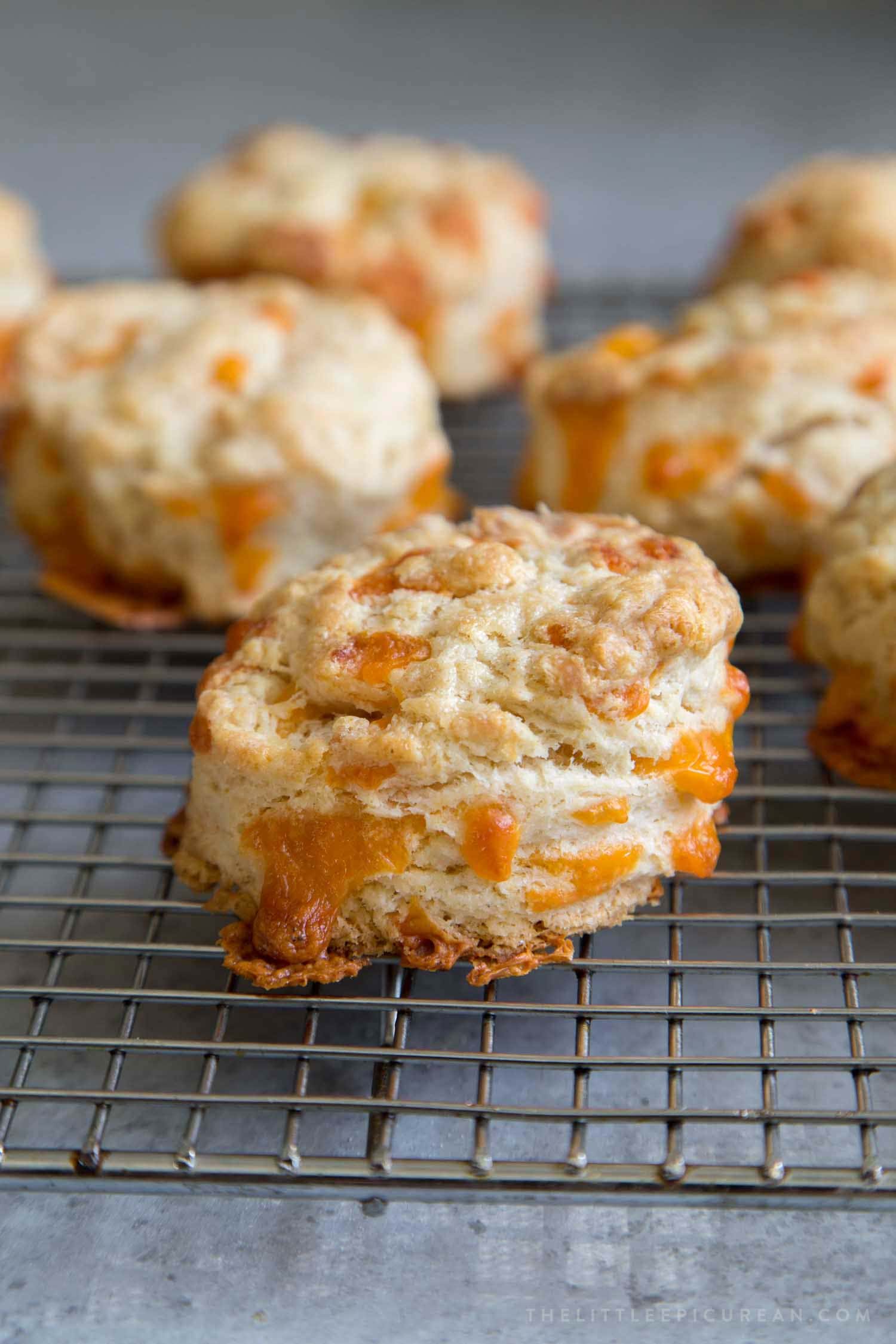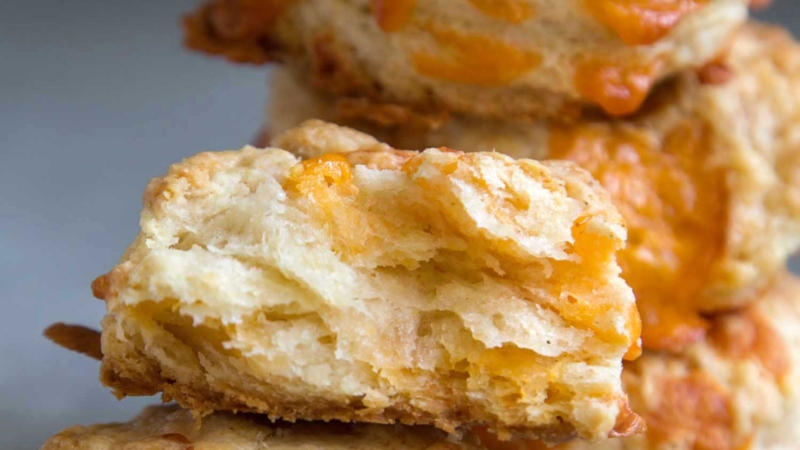 Cheesy Cheddar Biscuits
Fluffy, flavorful, and oh so cheesy. These cheddar biscuits are overflowing with melted cheese. Yield: a dozen 2 ¼-inch biscuits
Ingredients
2 ½

cups

(360 grams/ 12.7 oz) all-purpose flour

2

teaspoon

baking powder

1

teaspoon

fine sea salt

¼

teaspoon

grated nutmeg

⅛

teaspoon

ground cayenne

¾

cup

(170g/6 oz) unsalted butter

, cut into tablespoons

1 ⅓

cup

(142 g/5 oz) cheddar cheese chunks*

, shredded or cubed

¾

cup

whole milk

, cold

1

Tablespoon

heavy cream

, for brushing tops
Instructions
In a large bowl, whisk together flour, baking powder, salt, nutmeg, and cayenne. Toss in butter. Cover bowl and place in the freezer for 5-8 minutes until ingredients are cold.

Preheat oven to 400°F. Line baking sheet with parchment paper or silicone baking mat. Set aside.

Using a pastry blender (or two forks), cut chilled butter into cold dry ingredients until mixture resembles crumbly, coarse sand. Add cheese chunks. Toss to combine. Pour in milk. Using a sturdy spatula, fold mixture together until dough forms into a "shaggy mess."

Dump mixture onto a lightly floured work surface. Gently knead mixture together until dough is a cohesive mass. Pat dough to a rectangle about ½-inch thick. Use a 2 ¼-inch biscuit cutter to punch rounds. Alternatively, use a knife to slice into squares.

Arrange biscuits on prepared baking sheet, spacing them about 2-inches apart. Lightly brush tops of biscuits with heavy cream. If desired, top with additional shredded cheese. Bake for 25-28 minutes biscuits have risen and are golden in color. Transfer to a wire rack and let cool slightly. Serve immediately, warm or at room temperature.
Notes
Store leftovers in an airtight container at room temperature for up to two days. Reheat in the microwave or toaster oven. For longer storage, keep in the fridge for up to 4 days.