Serve up a tall stack of these spiced buttermilk waffles with cranberry maple syrup for holiday guests!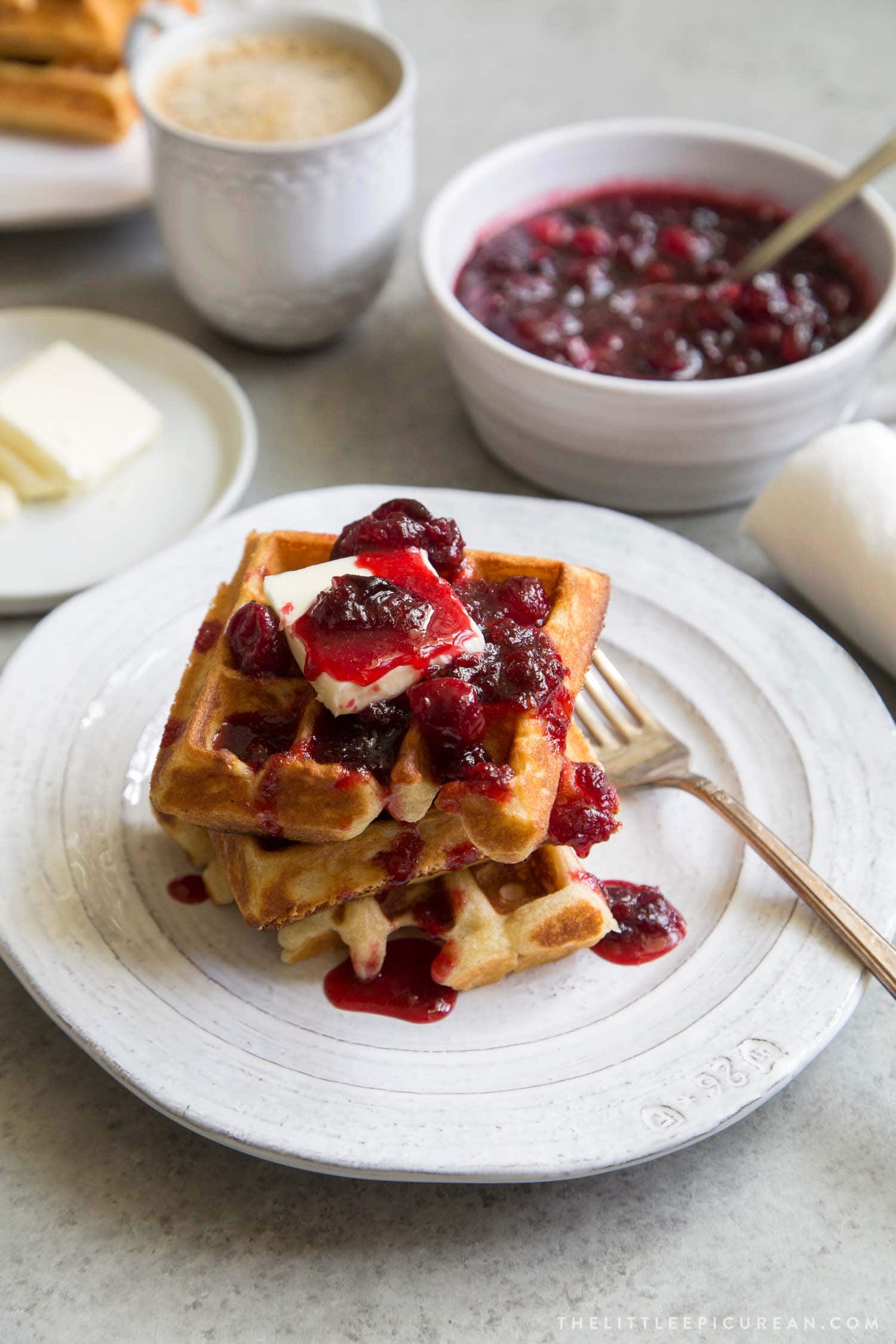 Seasoned with a touch of nutmeg and cinnamon, these waffles are far tastier than your average buttermilk waffles. But the real kicker to these spiced buttermilk waffles is the cranberry maple syrup on top!
Breakfast foods are my favorite. I love that it is perfectly suitable to eat chocolate chip pancakes with maple syrup and whipped cream for breakfast. No one bats an eye if you enjoy pecan sticky buns with coffee bright and early at 7am.
However, can some someone explain to me why a double scoop of peppermint ice cream in a chocolate dipped waffle cone isn't okay for lunch?!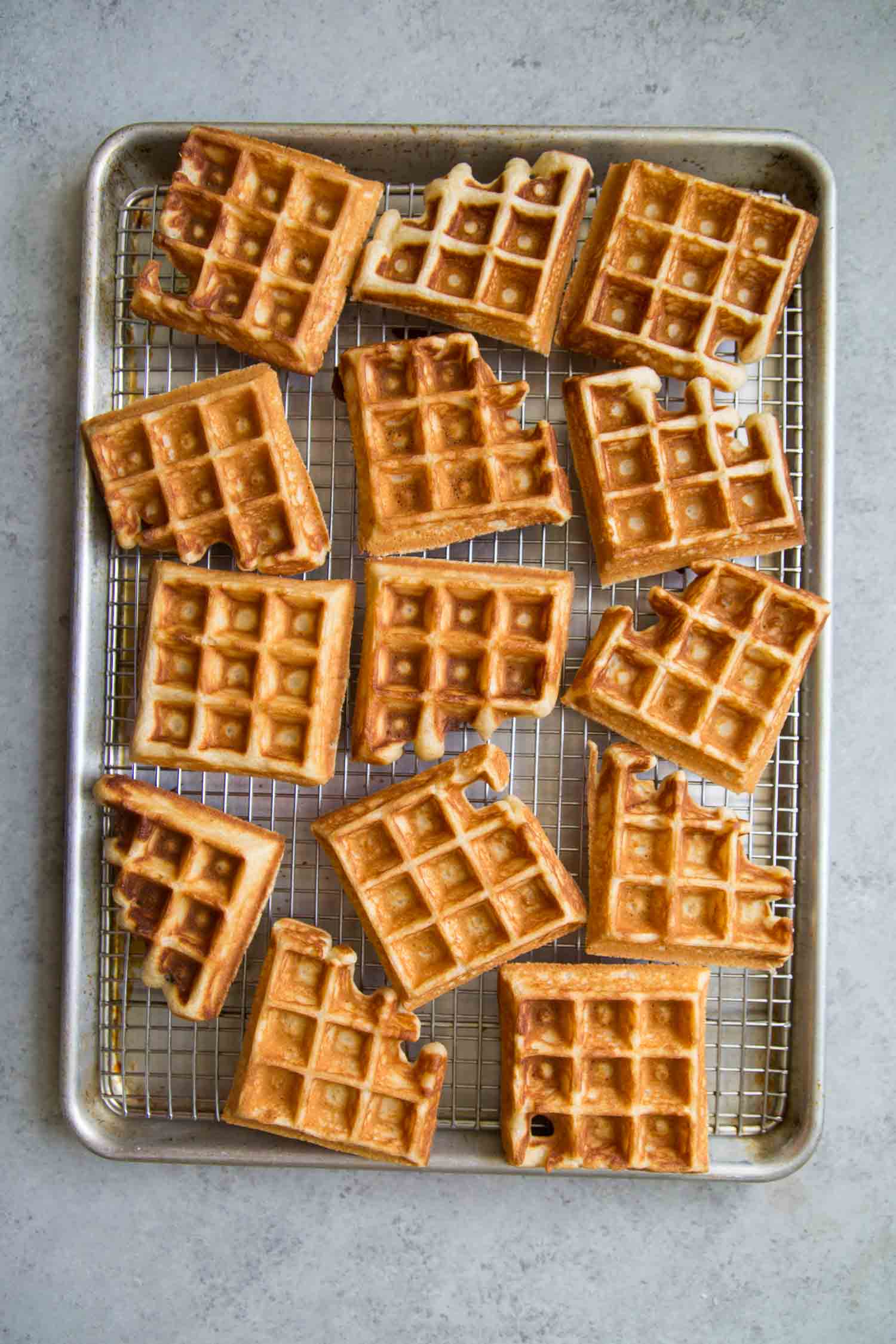 Holiday Buttermilk Waffles
These spiced waffles are suitable for anytime of day. They're also great for any season. Swap out different fruit topping, or simply dress the waffles with classic maple syrup.
Ever since I bought this stovetop Belgian waffle iron, I have become a obsessed with waffle making. Up until recently, I've been using an electric waffle maker. Those days are long gone.
Stovetop cooking (over the fire) is far more consistent than any electric maker I've used. Being able to control and adjust the heat makes a world of a difference!
After the waffles are cooked, it is best to let the waffles sit on a wire rack. This allows for air circulation, meaning crispier waffles.
If you happen to have leftover waffles, simply store in the fridge in an airtight container. Reheat in a toaster oven the following morning until crisp. For longer storage, the cooled waffles can be kept frozen as well. (See recipe notes for details.)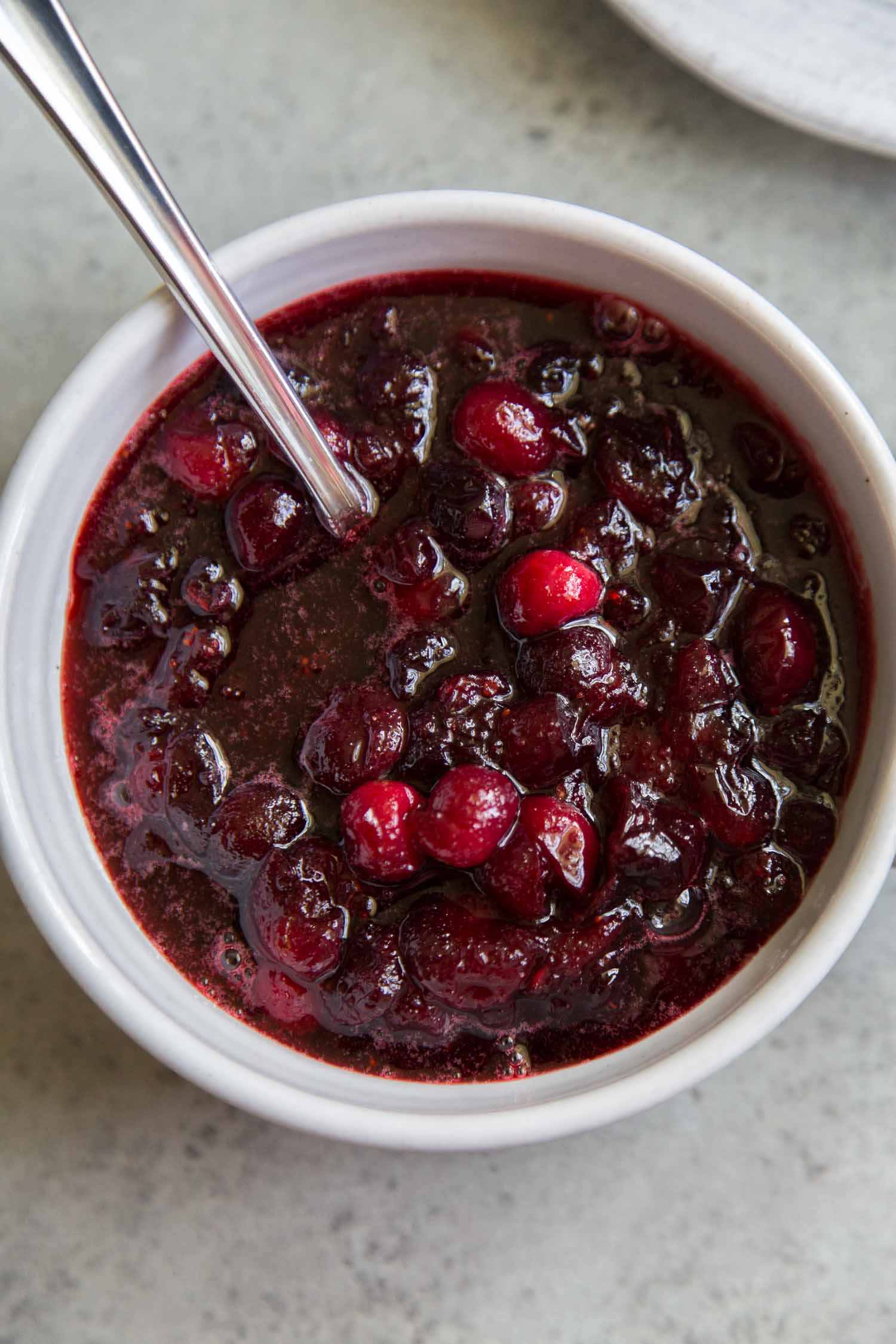 Cranberry Maple Syrup
This cranberry maple syrup may look like the cranberry sauce from Thanksgiving, but I assure you, it's not!
As the name suggests, it's simply a combination of cranberry and maple syrup! Fresh cranberries, maple syrup, and a touch of brown sugar are cooked together until the cranberries are soft.
Asides from waffles, use this syrup to top porridge, oatmeal, yogurt, or French toast!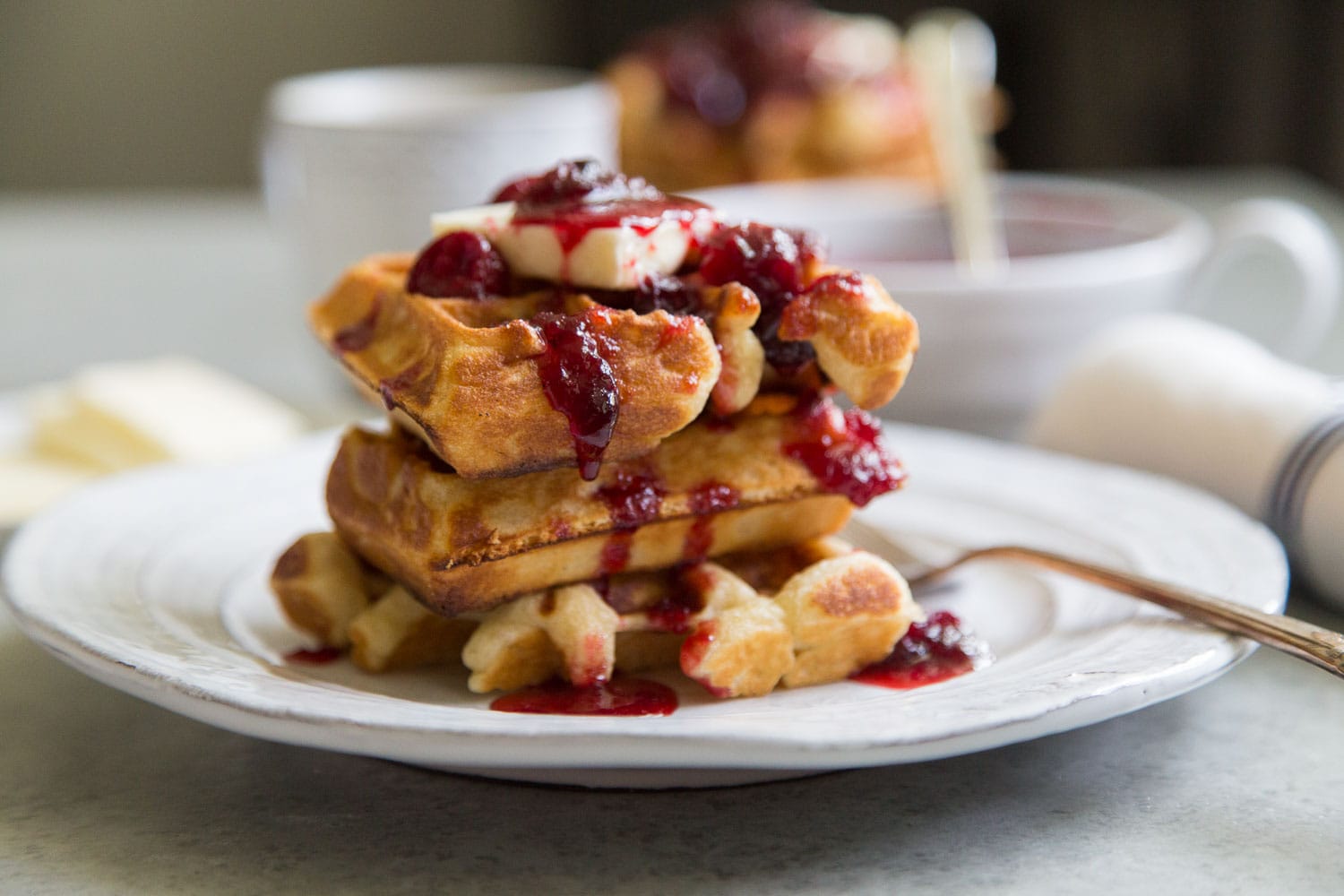 The warmly spiced buttermilk waffles paired with the sweet and tangy cranberry maple syrup is a delicious combination of contrasting textures and flavors.
The waffles are crisp on the outside, yet soft and fluffy on the side. Rather than cook the cranberry maple syrup to a mush, I decided to leave some cranberries whole.
The cranberries are a much welcome tart surprise that keeps me wanting more and more spiced waffles!
If you're ready for more waffles, try these Belgian liege waffles.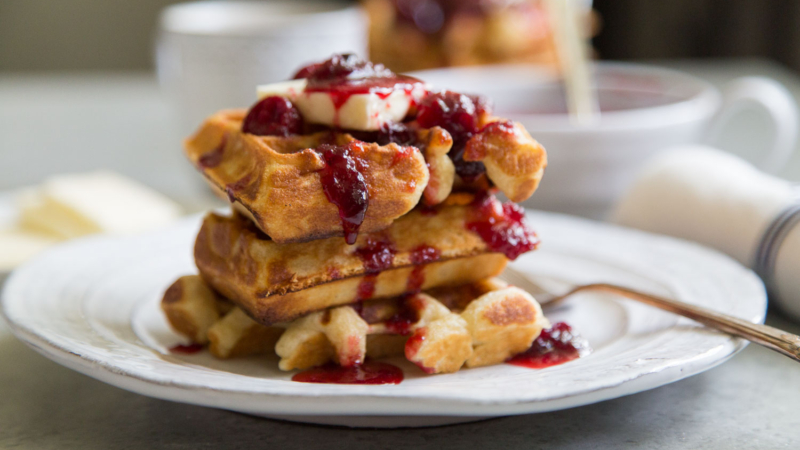 Spiced Buttermilk Waffles with Cranberry Maple Syrup
Yield: 16 waffles (varies according to your waffle maker)
Ingredients
Cranberry Maple Syrup:
1

cup

maple syrup

3 ½

cups

(12 oz) fresh cranberries

¼

cup

light brown sugar,

packed
Spiced Buttermilk Waffles:
2

cups

all-purpose flour

3

Tablespoons

granulated sugar

1

Tablespoon

baking powder

½

teaspoon

fine sea salt

¾

teaspoon

ground cinnamon

¼

teaspoon

ground nutmeg

1 ½

cups

buttermilk

¼

cup

unsalted butter,

melted

¼

cup

grape seed oil,

or other neutral oil

3

large eggs,

separated
Instructions
Cranberry Maple Syrup:
In a small sauce pot, combine maple syrup, cranberries, and brown sugar. Bring mixture to a boil. Stir often. Reduce to a simmer and cook for 6-8 minutes until cranberries have softened. Do not be alarmed; most of the cranberries will pop and burst open.

Remove from heat and allow to cool. Cranberry maple syrup will thicken as it cools. Serve warm, room temperature, or chilled.
Spiced Buttermilk Waffles:
Preheat oven to 250 degrees F. Set metal cooling rack over baking sheet. Set aside.

In a large bowl, whisk together flour, sugar, baking powder, salt, cinnamon, and nutmeg. In another bowl, whisk together well shaken buttermilk, melted butter, oil, and egg yolks until smooth.

Slowly add wet ingredients to dry ingredients in two additions. Use a spatula to combine ingredients together until just combined. The batter will be a little lumpy.

In a clean bowl, whip egg whites to stiff peaks. Add egg whites to batter in three additions. Fold gently to combine. The batter will loosen up as you add egg whites.

Allow batter to rest at room temperature for 5 minutes while you heat waffle iron or waffle maker. Waffle iron temperature or setting with vary based on your machine.*

I use this stovetop waffle iron. Once waffle iron hot, lightly brush the top and bottom of iron with fat of choice (clarified butter, melted butter, or oil). Scoop 1 cup of batter into waffle iron. Cook for 2 minutes on each side over medium-high heat until crisp and golden brown. If needed, cook for another 30-45 seconds on each side.

Transfer cooked waffles to prepared rack and keep warm in preheated oven while you cook remaining batter.

Serve waffles immediately with cranberry maple syrup and salted butter.
Notes
I use this stovetop Belgian waffle iron. 
Scoop batter size according to your waffle iron manufacturer's instructions. This will range from 1/3 cup for single waffle to 1 1/4 cup for a 4-set waffle.
Store leftover cranberry maple syrup in an airtight container in the fridge for up to 4 days.
The cooked waffles will continue to crisp up in the oven. The metal cooling rack will allow heat to circular around the waffle.
Freezing Waffles: Allow leftover waffles to cool to room temperature. Spread out of a single layer in a sheet tray and freeze for 10 minutes until cold. Transfer to airtight container and keep frozen for up to 3 months. Reheat in the toaster (or toaster oven) until warm.