Begin the day with a savory hot breakfast! This overnight miso barley oatmeal features pearl barley and steel cut oats topped with toasted sesame oil.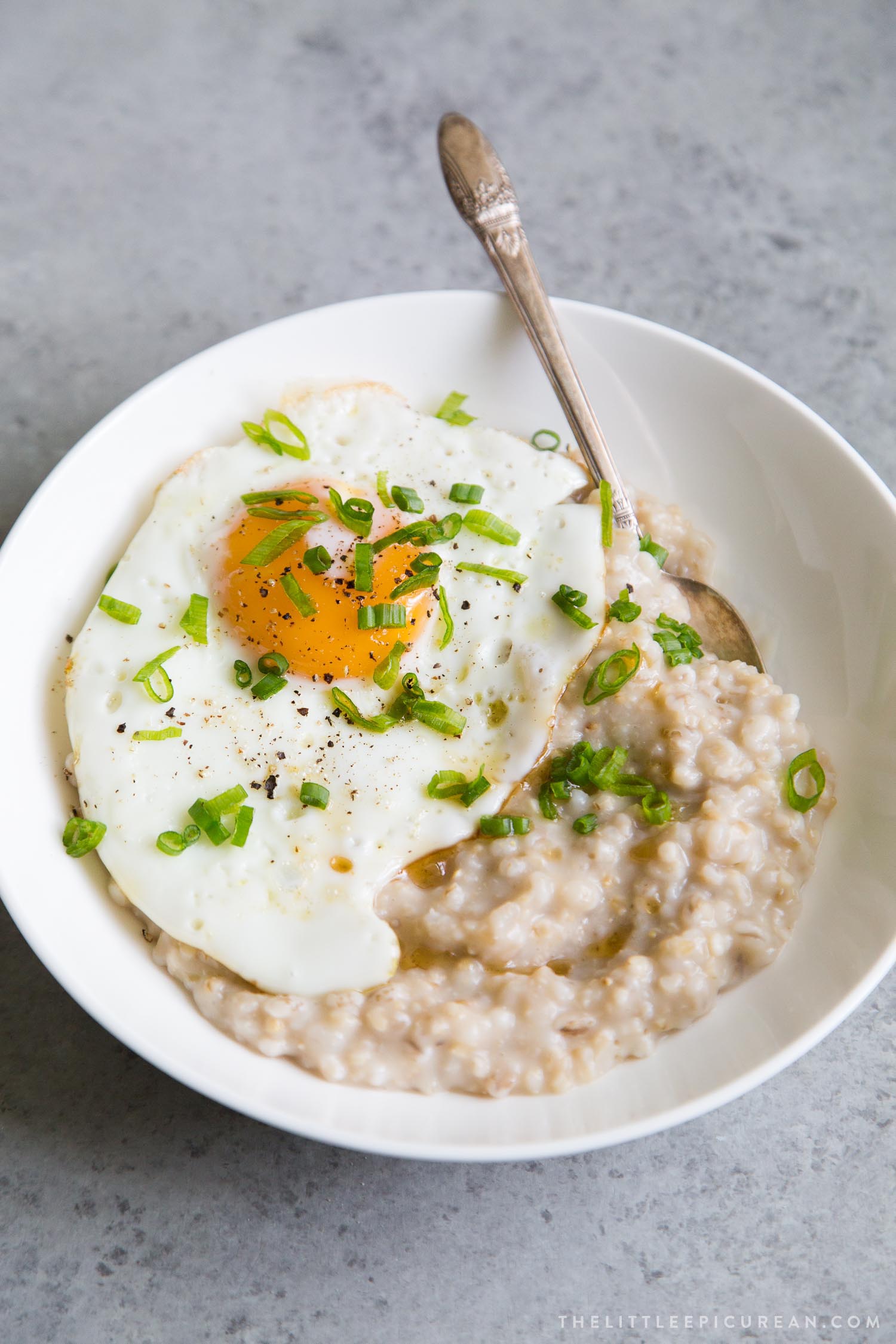 The easiest way to eat healthy in the morning is prepare the night before. Just like picking your outfit before going to bed, why not prep breakfast as well?!
I'm a fan of oatmeal. It's a hearty fiber-rich breakfast that keeps me sated until lunchtime. There's sweet oatmeals like chia oatmeal breakfast bowl, but during the winter months, I want savory bowl of oats.
From December until March, this miso barley oatmeal is in constant rotation at my house.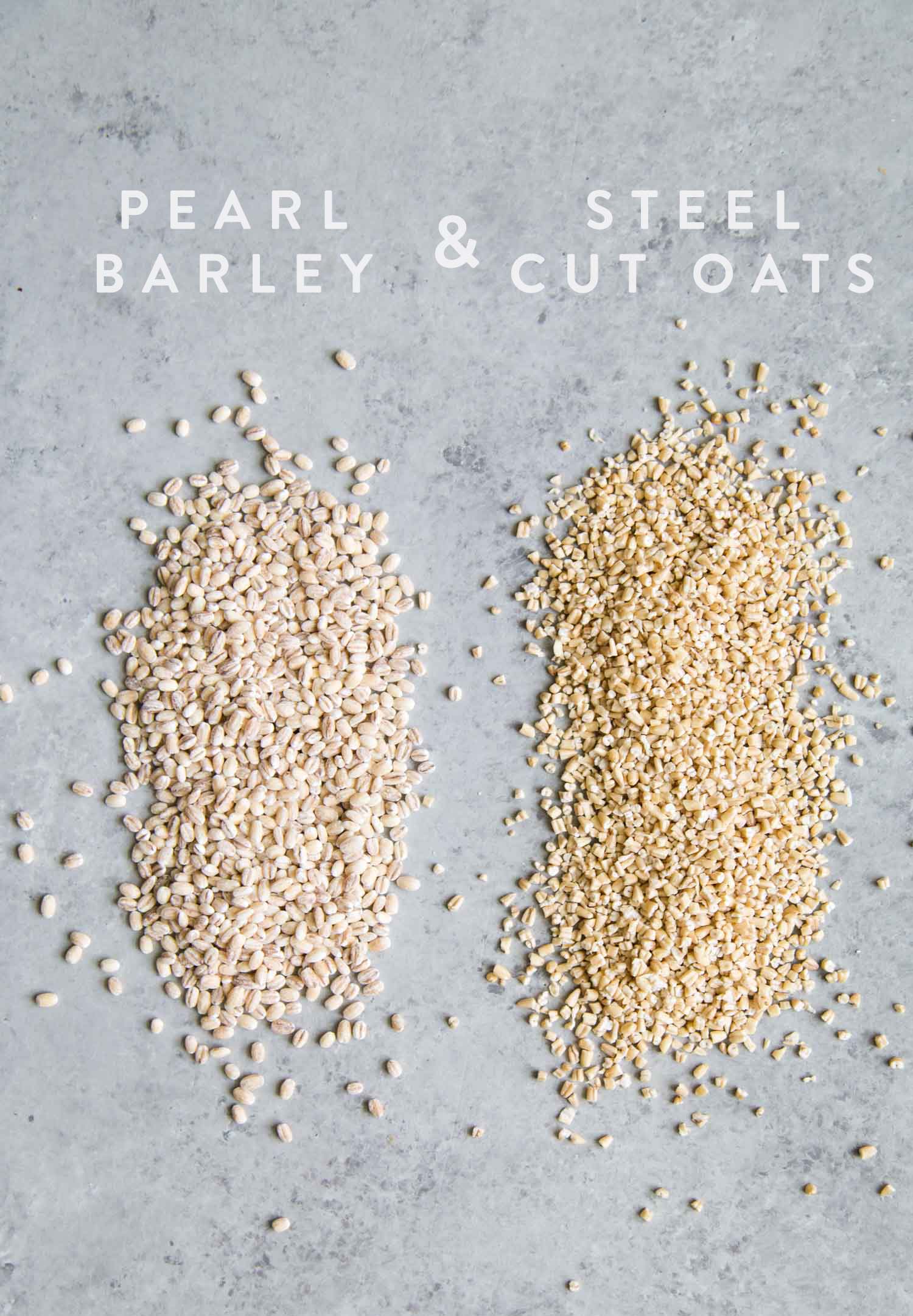 What is barley? Is barley good for you?
Barley is a cereal grain. It is a main component in beer and whiskey. There are various kind of barley: flaked barley, barley flour, hulled barley, and pearl barley.
This recipe uses pearl barley (also labeled as pearled barley). Pearl barley has been hulled and the bran has been removed. It often polished smooth.
Whereas hulled barley still have the bran intact and only the inedible husk is removed.
Obviously, less processed, less refined barley will ofter the most benefits. Regardless, pearl barley is great sour of fiber. And, it's always a plus to add a little more fiber in your diet.
What are steel-cut oats?
Steel cut oats, also known as Irish oatmeal or coarse oatmeal, is less processed than the more popular old fashioned or rolled oats. Steel cut oats are simply whole oats that have been cut into smaller pieces, meaning they've got a ton of nutrients.
As such, steel cut oats take some time to cook, upwards to 40 minutes.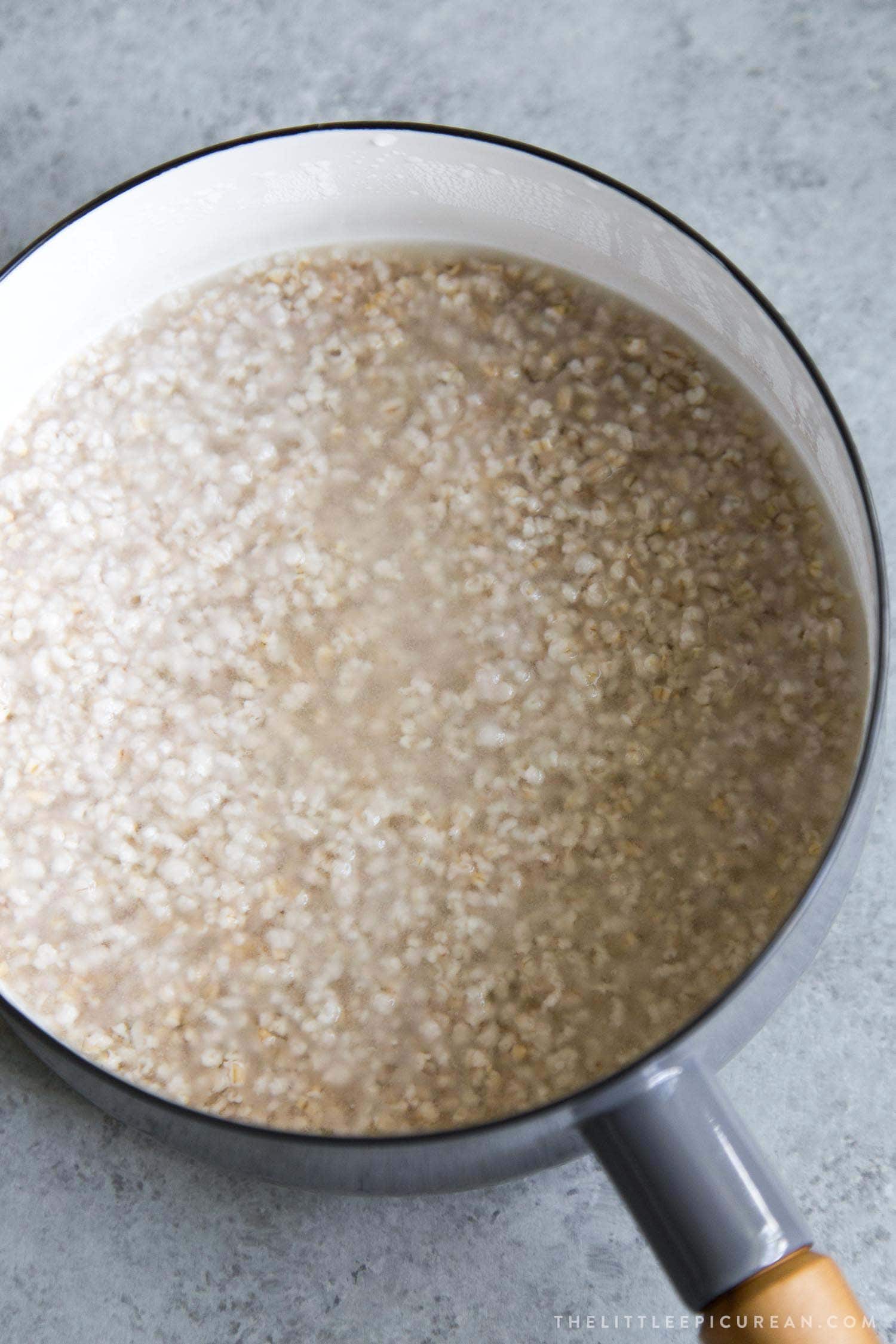 Shortcut to cooking barley and steel-cut oats
Check the cooking instructions on a bag of pearl barley or steel-cut oats.
The basic barley recipe on my bag says to simmer barley in water for one hour. While, stovetop preparation for steel cut oats says to simmer oats for 25-30 minutes.
Here's an overnight method that cuts stovetop cooking time to 5 minutes!
The night before, bring water to a boil. Stir in pearl barley and steel cut oats. Cover the pot, remove from heat, and let it sit covered overnight.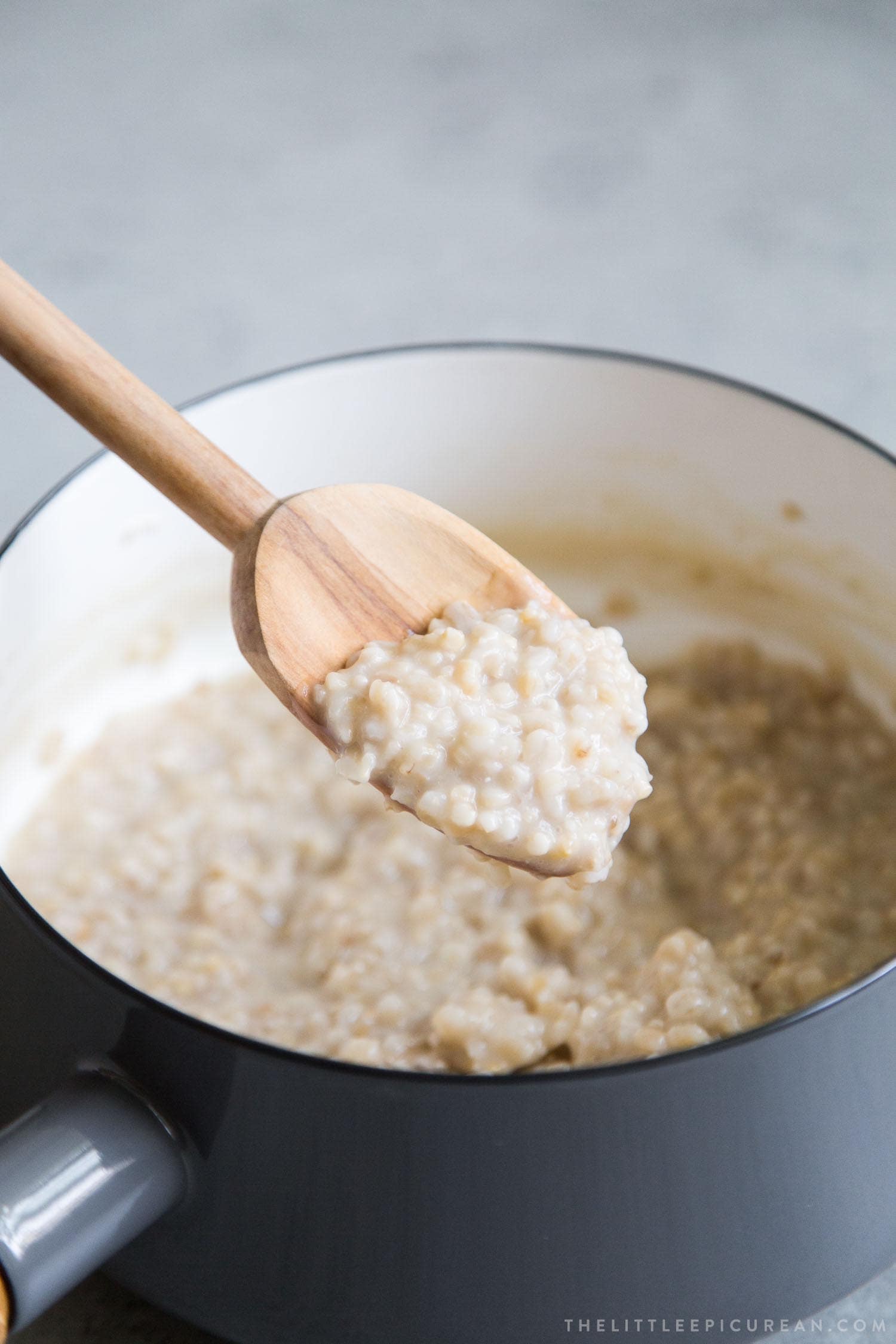 The following morning, the barley and oats will have plumped up and soaked up much of the water. Simply uncover the pot and bring mixture to a boil. Reduce to a simmer and cook for 5 minutes until barley oatmeal is rich and creamy.
As this point, it's time to season and flavor your overnight oatmeal. For this recipe, I added miso paste to give the oatmeal a salty umami kick.
Why add miso paste?
There are many, many varieties of miso. Miso is a fermented blend often made using a mixture of soybean, barley, rice, and wheat. As such, it's a great addition to barley and oats!
I suggest using awase mixed miso or aka red miso. These varieties of miso are saltier and will add much richness to the oatmeal. Shiro white miso is a bit lighter in flavor, and you'll need to add more miso paste to notice it.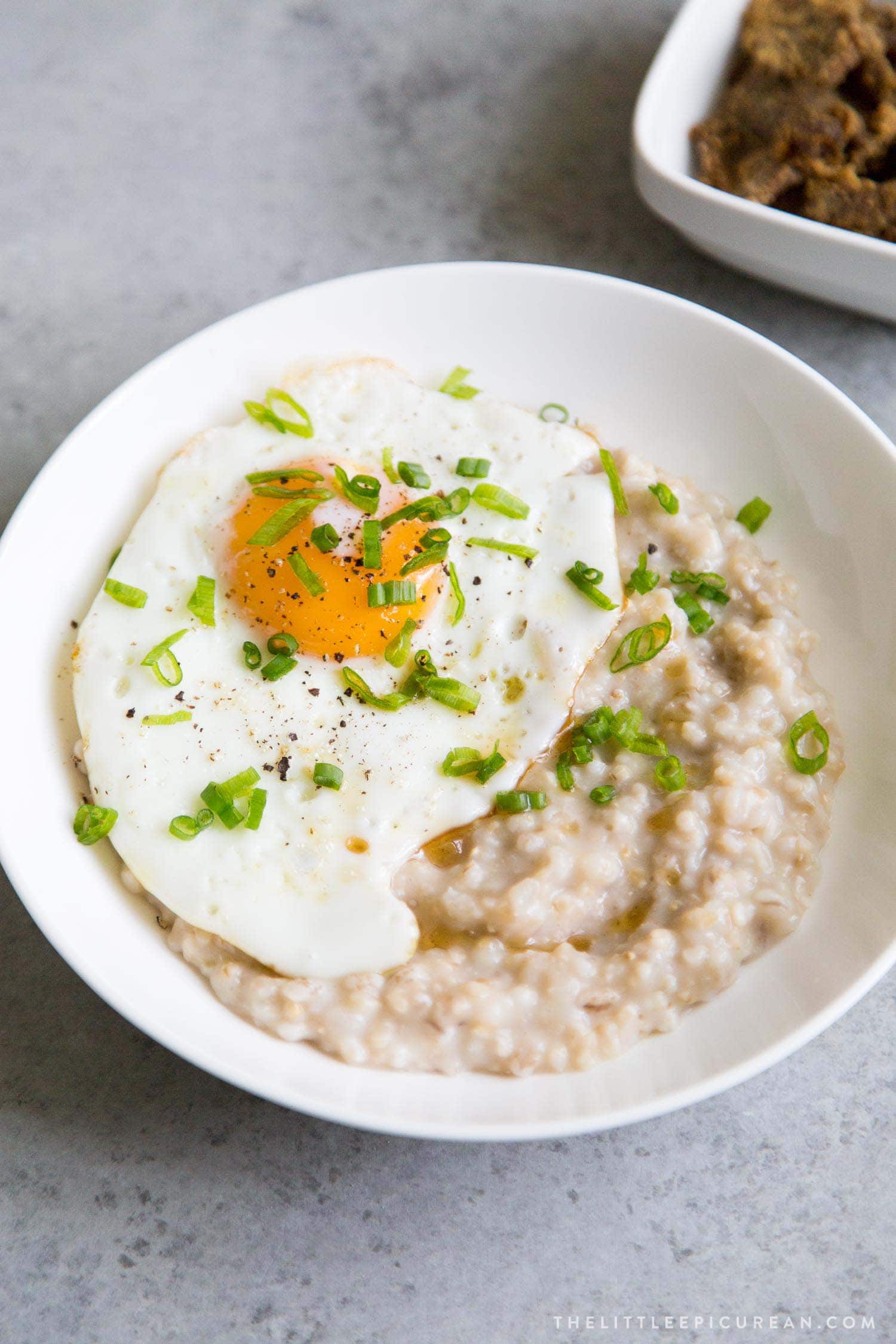 The overnight miso barley oatmeal is a super hearty breakfast or brunch meal. On lazy chilly evenings, this also makes for a quick dinner.
Serve the warm oatmeal with a fried egg, a drizzle of sesame oil, and season to taste with freshly ground black pepper. I like to add chopped up five spice beef jerky or Asian pork floss for more bite. Or sometimes, I like to add kimchi or Japanese pickled veggies into the mix!
Overnight Miso Barley Oatmeal
Ingredients
2

cups

water

1/4

cup

pearl barley

1/4

cup

steel cut oats

1/8

teaspoon

kosher salt

1

Tablespoon

miso paste*

toasted sesame oil,

for drizzling

chopped green onions,

scallions

freshly ground black pepper,

to taste
Instructions
In a heavy bottom saucepot, bring water to a boil. Stir in pearl barely, steel cut oats, and salt. Cover pot and remove from heat. Let pot sit covered at room temperature overnight.

The following morning, set pot over medium heat. Uncover and bring to a boil. Reduce heat to a simmer and cook for 5 minutes, stirring often, until mixture is thick and creamy. If need, add additional water to achieve desired consistency.

Remove from heat. Stir in miso paste until well distributed. Add more miso paste according to taste.

Divide oatmeal between two bowls. Serve immediately with fried egg, a drizzle of toasted sesame oil, chopped green onions, and season with freshly ground black pepper.
Recipe Notes
I recommend aka "red" miso or awase "mixed" miso. Shiro "white" miso is much lighter in flavor and as such, requires more than one tablespoon to be noticeable in oatmeal. 
DO NOT USE "quick cook" steel cut oats. 
Storing leftovers: Transfer any leftover barley oatmeal to an airtight container in the fridge. Will keep for 3 days. Reheat in the microwave. Add additional water to thin out oatmeal, as needed.