Chai Layer Cake features three layers of chai infused cake frosted with vanilla bean Swiss buttercream.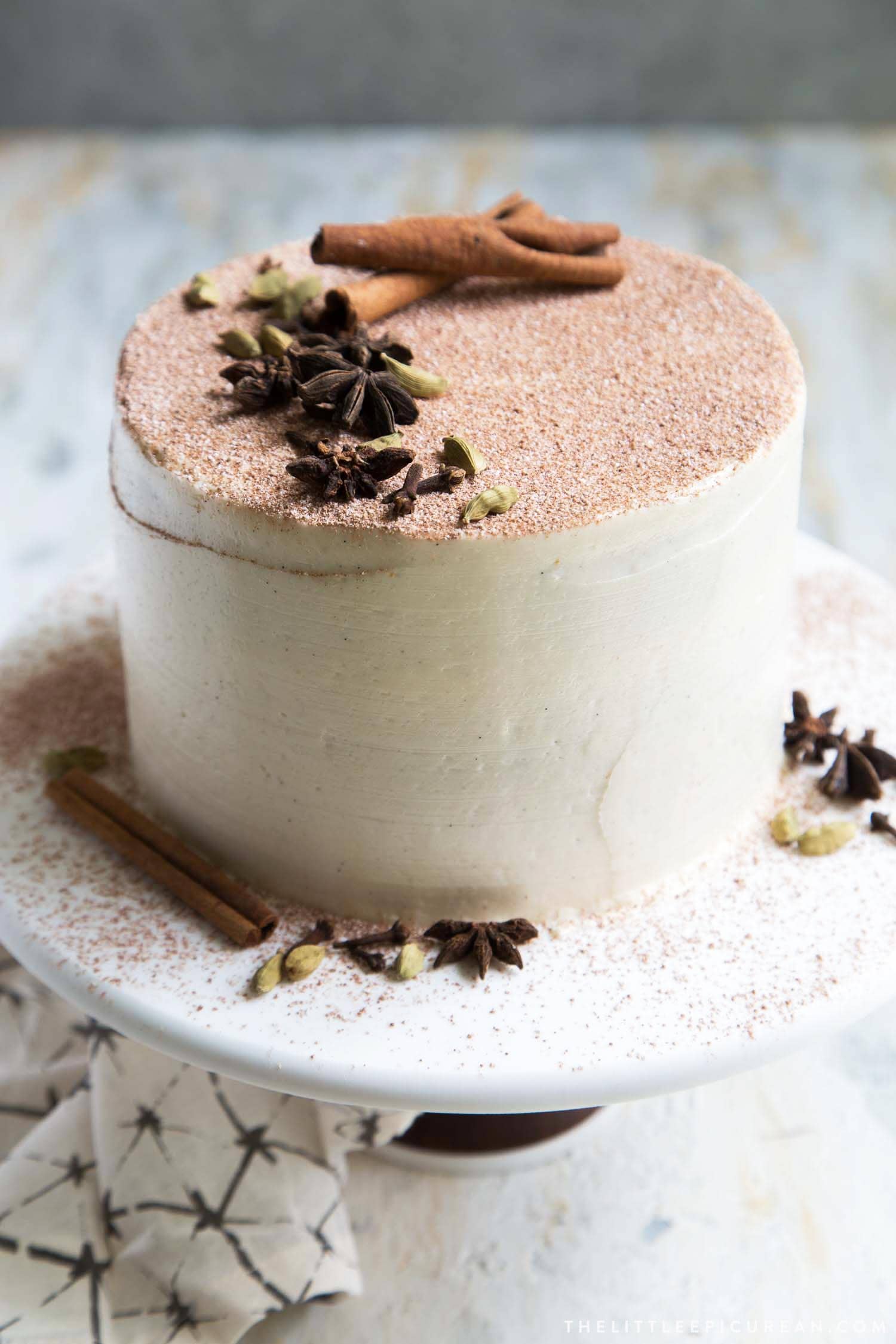 "Chai" is the Hindi word for tea.
Masala chai refers to the blend of black tea, warm spices, and milk that has become very popular in the United States over the last decade.
This is probably thanks to Oprah and her namesake Oprah Cinnamon Chai Latte sold at Starbucks. 
Before I became a coffee drinker, I was obsessed with chai. Here is an ode to my favorite tea in cake form!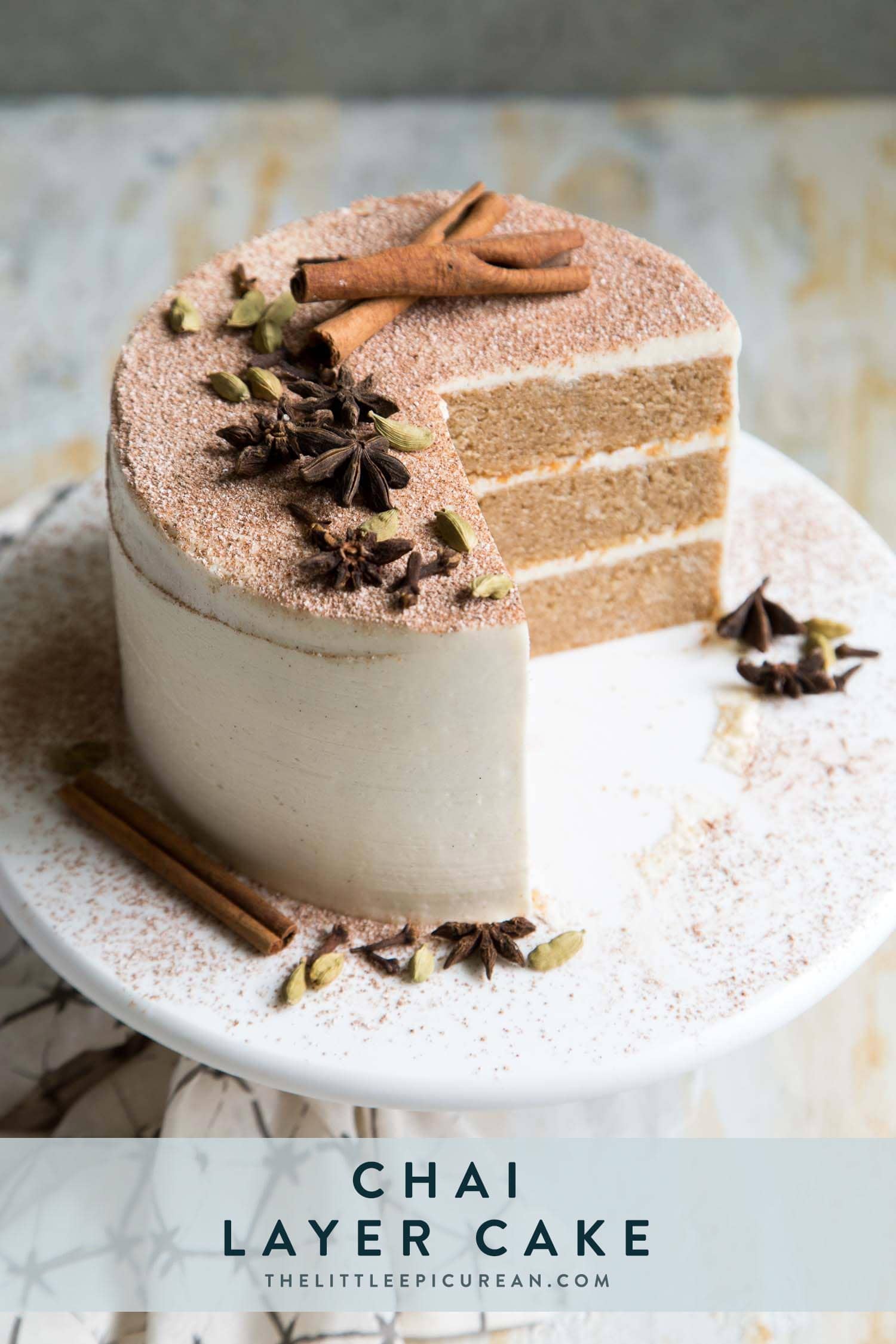 Chai Cake with Vanilla Bean Frosting
There are various versions of chai latte. It's a mixture of black tea with some combination of spices.
Those spices usually include cardamom, ginger, cinnamon, cloves, and star anise. Sometimes, it also includes a dash of black pepper or nutmeg.
This chai layer cake is spiced with cinnamon, ginger, cardamom, and cloves.
But, most of the flavor and fragrance comes from the milk used in the cake batter. The milk is infused with these store-bought chai tea bags.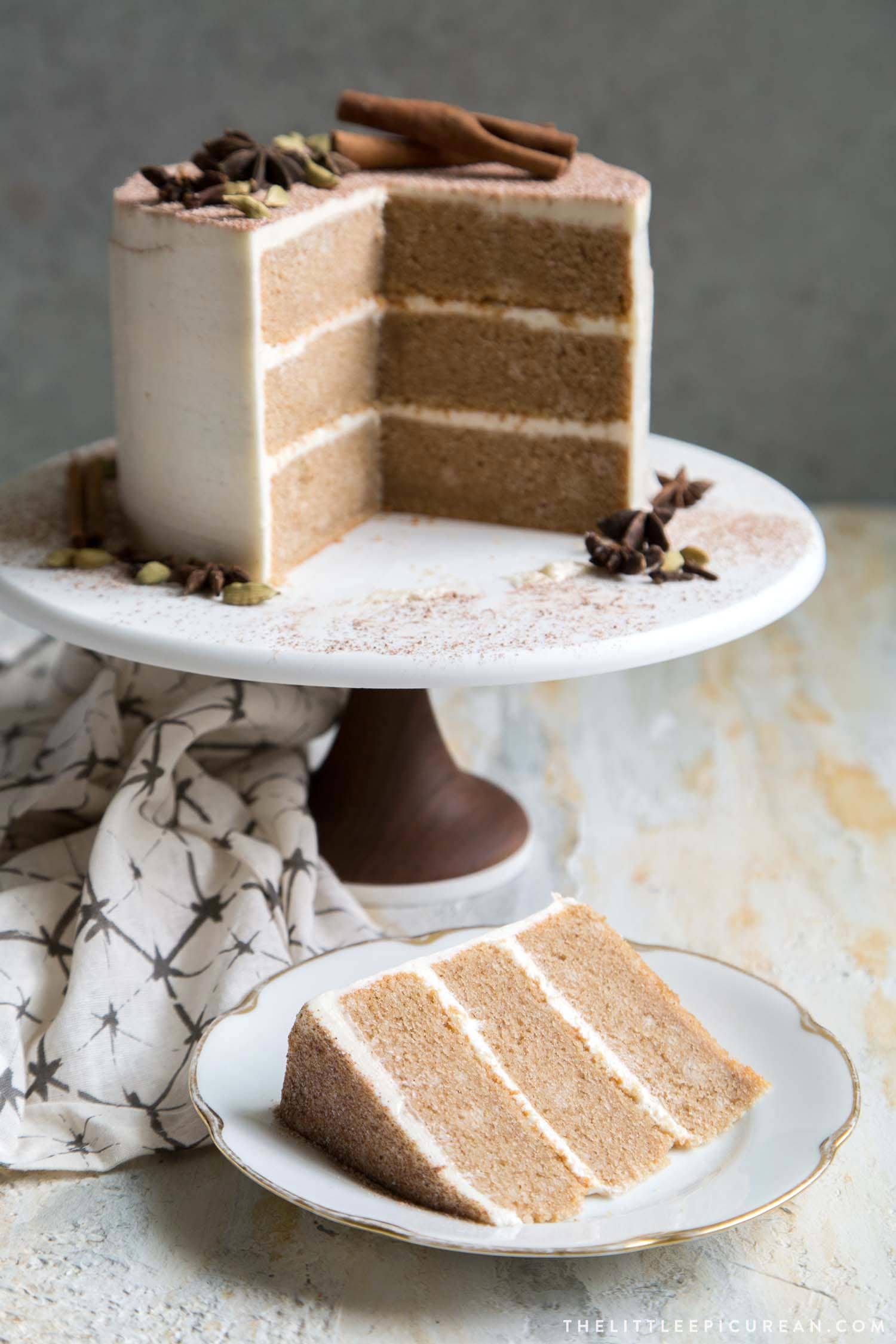 Creaming vs Reverse Creaming Method:
There are several ways to mix together batters. Foaming technique is used for making angel food cake.
Store-bought cake mixes use the "all-in" or one bowl approach in which all the ingredients are simply mixed together all at once.
Cookies and quick breads use the traditional creaming method. It's the most commonly used mixing process.
Butter and sugar are beat together until light and fluffy. Eggs are added. And then, the liquids and dry mixture follow.
Creaming method traps air during mixing, allowing the batter to rise and expand during baking.
This chai layer cake batter is mixed together using reserve creaming.
What is the reverse creaming method?
As the name suggests, reverse creaming is the opposite of traditional creaming. It is also known as the paste method or two-stage creaming method.
In this method, the dry ingredients are first whisked together. Then, butter is added and combined with the dry ingredients until the mixture resembles crumbly, coarse sand.
Eggs and any remaining liquids are then added until the mixture is thick and smooth.
The reverse creaming method produces cakes with little to no air pockets. The baked cake may not rise as high as a creamed method cake batter, but the cake itself is much softer and more tender.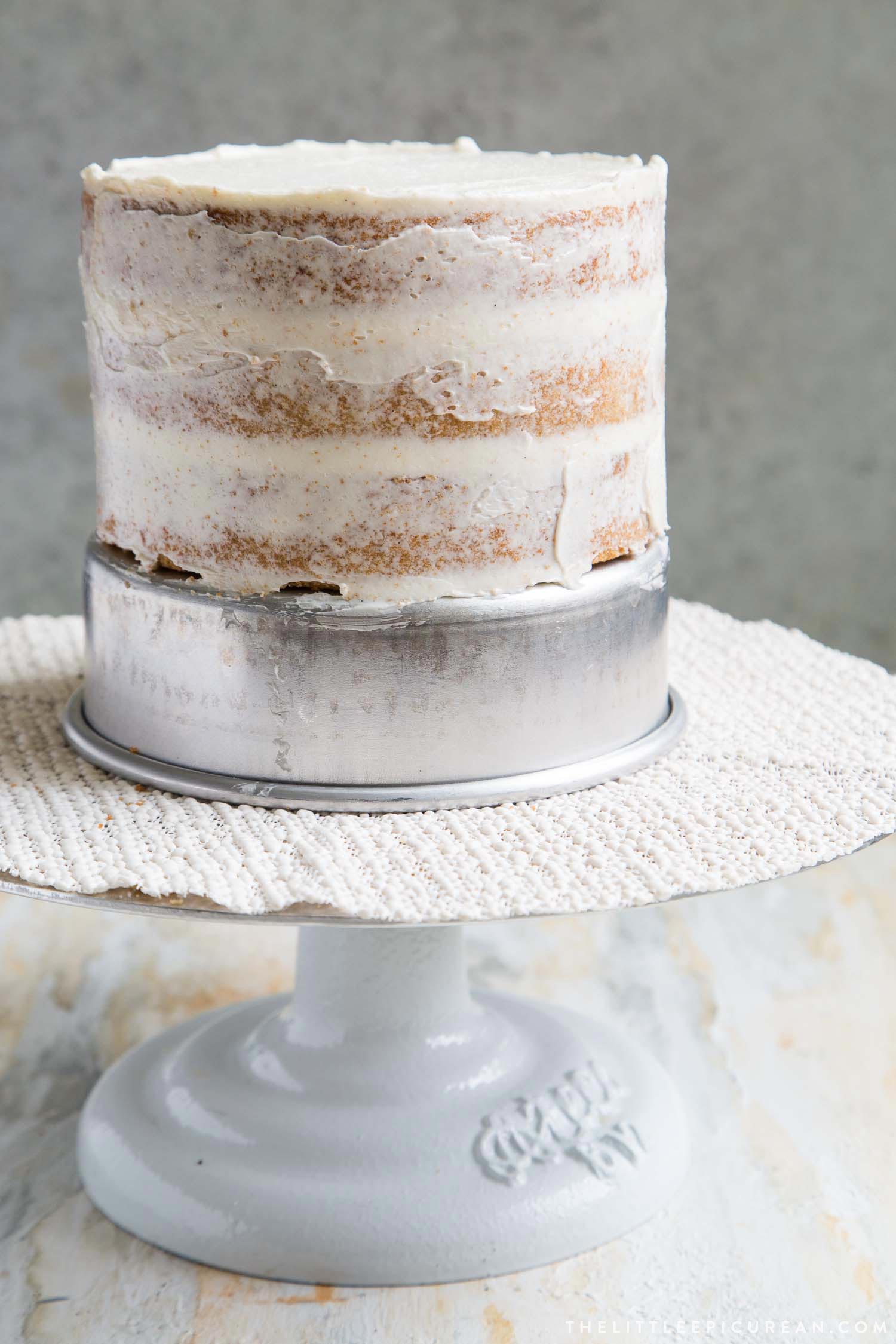 Why crumb coat layer cakes?
A light coating of buttercream seals in any stray or loose cake crumbs.
But more importantly, the crumb coat layer helps to build the foundation of the cake.
After application of the crumb coat layer, the cake is allowed to chill in the fridge and the buttercream hardens a bit. This helps to ensure the structurally integrity of the multi-layer cake.
When it's time to add the second or final coat of buttercream, the cake layers are stable. The cake layers won't wobble or tilt to the side.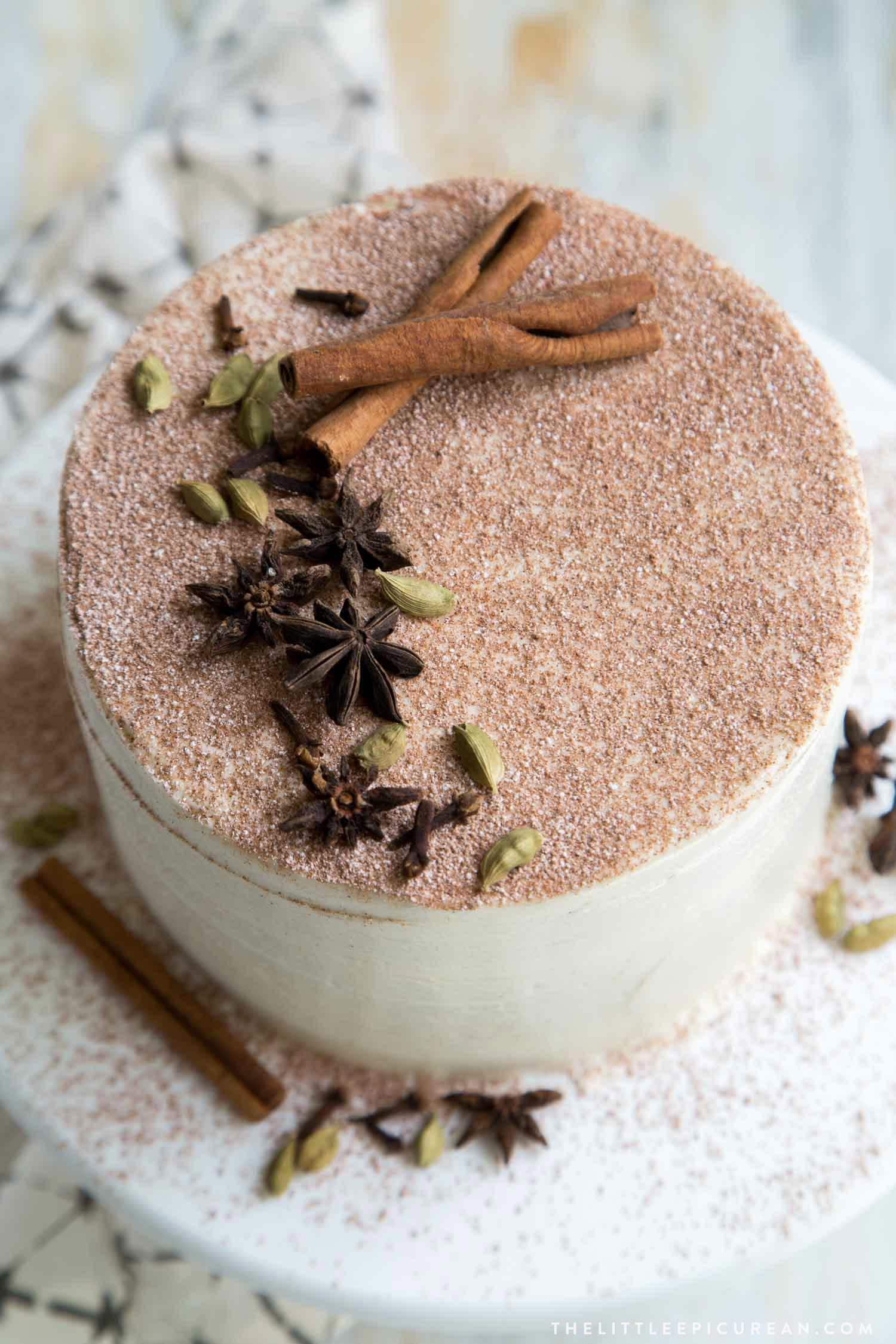 American Buttercream vs Swiss Buttercream
Swiss buttercream requires a bit more work than the standard American buttercream. However, the effort is well worth it for this Chai Layer Cake!
In order to allow the chai flavors to truly shine in this cake, I needed to use a frosting that is light on the palette.
American buttercream is creamed mixture of butter and powdered sugar. It is a bit dense and quite sweet. The texture and sweetness would overpower the chai flavors.
Swiss buttercream is made by melting sugar in egg whites. The mixture is whipped like a meringue and then softened butter is mixed in. The resulting buttercream is light and airy.
Swiss buttercream provides the perfect balance to this delicate chai cake.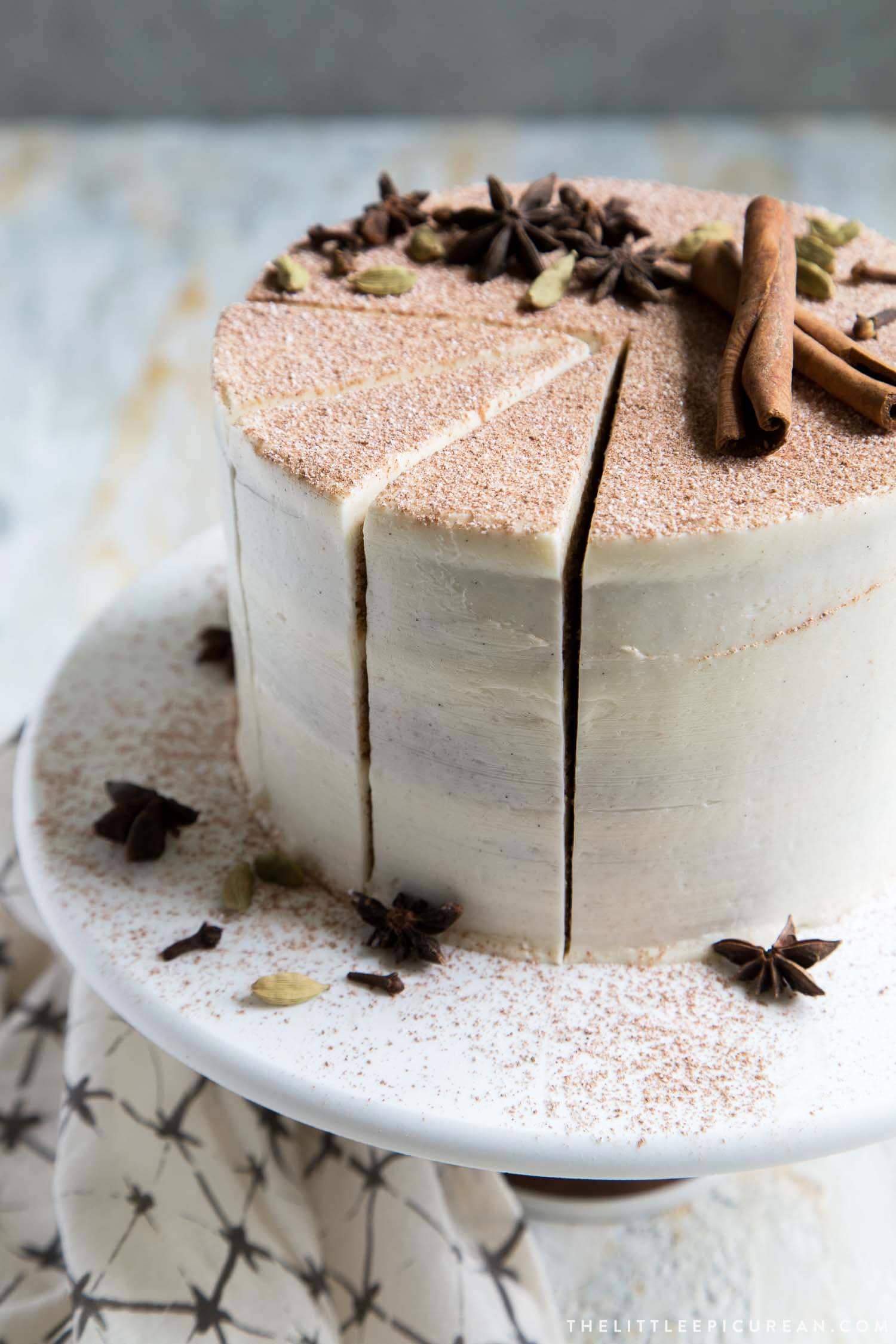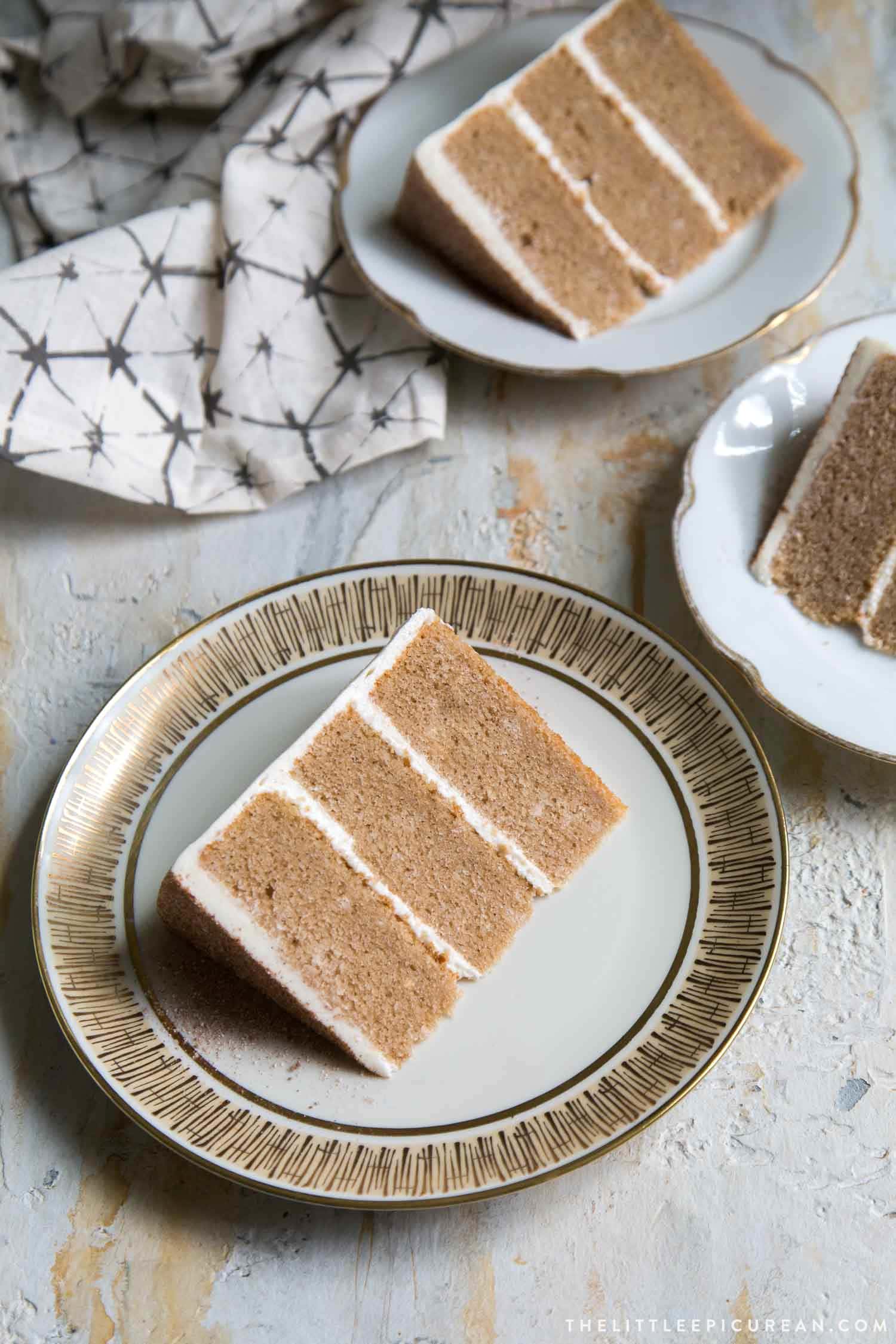 Not a fan of chai spices? The method of steeping tea in milk can be used for other flavors. Try making an earl grey cake or a sweet black milk tea cake!
Make Ahead
Cake Making Over Several Days
NOTE: For even longer prep period, tightly wrap cooled cake in double plastic wrap. Store in the freezer for up to a month. Be sure to freeze cake on a flat level surface. Defrost wrapped cake overnight at room temperature.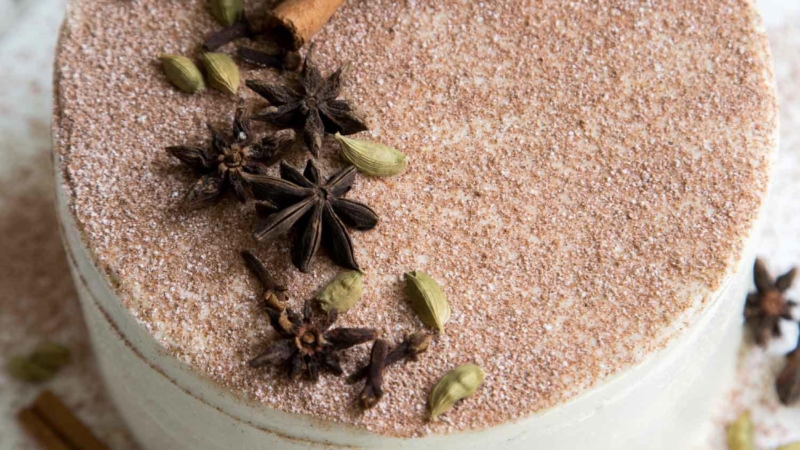 Chai Layer Cake
This Chai Layer Cake features three layers of chai infused cake frosted with vanilla bean Swiss buttercream.
Yield:  three layer 6-inch cake
Ingredients
Chai Cake:
1

cup

whole milk

4

chai tea bags

2 ½

cup

cake flour

1 ¼

cup

granulated sugar

2

teaspoon

baking powder

½

teaspoon

kosher salt

1

teaspoon

ground cinnamon

¼

teaspoon

ground ginger

¼

teaspoon

ground cardamom

¼

teaspoon

ground cloves

1

cup

unsalted butter,

room temp

3

large eggs,

room temp

2

teaspoon

pure vanilla extract
Swiss Buttercream:
½

cup

egg whites

1 ½

cup

granulated sugar

2

cup

unsalted butter,

sliced into tablespoons, room temp

½

teaspoon

kosher salt

½

Tablespoon

vanilla bean paste*
Dusting Powder:
2

Tablespoon

powdered sugar

1

teaspoon

unsweetened cocoa powder

1

teaspoon

ground cinnamon
Instructions
Chai Cake:
Bring milk to a boil and remove from heat. Add tea bags and steep for 30 minutes. Strain out tea. Squeeze out as much liquids from the tea as possible. Discard tea bags. Measure remaining liquid. Add additional milk as necessary until you have 1 cup of liquid. Set aside.

Preheat oven to 350 degrees F. Butter three 6-inch round cake pans. Line with parchment paper and set aside.

In the bowl of stand mixer fitted with paddle attachment, combine 2 cups flour (reserve remaining 1/2 cup flour), sugar, baking powder, salt, cinnamon, ginger, cardamom, and cloves. Add butter in three additions. Continue to mix on low speed until mixture is crumbly like coarse sand.

In another bowl, whisk together tea infused milk, eggs, and vanilla until smooth. Add half of liquid mixture to stand mixing bowl. Mix on medium speed until incorporated. Add remaining liquid mixture and mix until batter is combined. The batter will look curdled. Add reserved 1/2 cup of flour and mix until batter comes together.

Evenly distribute batter among prepared cake pans. Bake for 30-35 minutes until toothpick inserted in center of cake comes out clean. Allow cake to cool in pan for 10-15 minutes. Run an offset spatula along the sides of the cake pan to loosen cake. Invert cake onto a wire rack and allow to cool to room temperature.
Swiss Buttercream:
In the bowl of a stand mixer, whisk together egg whites and sugar. Place bowl over a pot of simmering water to create a bain-marie or double boiler. Make sure the simmering water does not touch the bottom of the bowl. Whisk sugar-egg mixture until it reaches a temperature of 160 degrees F.

Alternatively, if you don't have a thermometer, heat the mixture until all the sugar has melted. Test this by dipping your pointer finger into the mixture and rubbing it against your thumb. The mixture should be smooth. You should not be able to feel the granules of sugar.

Return bowl to the stand mixer. Using the whisk attachment, beat mixture at medium speed until it has cooled to room temperature and meringue has started to from. Reduce speed to low and add butter one tablespoon at a time.

Once all the butter has been incorporated, add salt. Increase speed to medium-high and continue to beat until buttercream is light and fluffy. Add in vanilla bean paste and mix until distributed.
Assembly:
Level cake layers as necessary. Place one cake layer on serving platter or cake turntable. Spread about 1/3 cup of buttercream on cake. Place second cake layer and repeat adding butter. Repeat with third cake layer.

Spread a layer of buttercream around the sides of the cake to seal in the crumbs (crumb coat). Place cake in the fridge and allow to chill for 15 minutes to set the buttercream.

Add another layer of buttercream as desired. Garnish with dusting powder and spices as desired.

Dusting Powder: In a small bowl, whisk together powdered sugar, cocoa powder, and cinnamon. Sift mixture over assembled cake as desired.
Notes
I use vanilla bean paste for a richer vanilla flavor. Also, because I like seeing the little speckles of vanilla bean throughout the buttercream. Substitute high quality vanilla extract if you don't have vanilla paste. 
I used these Tazo Chai Tea Bags