Poached pear puff pastry is the perfect dinner party dessert! It features pears poached in sweet vanilla cinnamon liquid and baked in a flakey puff pastry crust.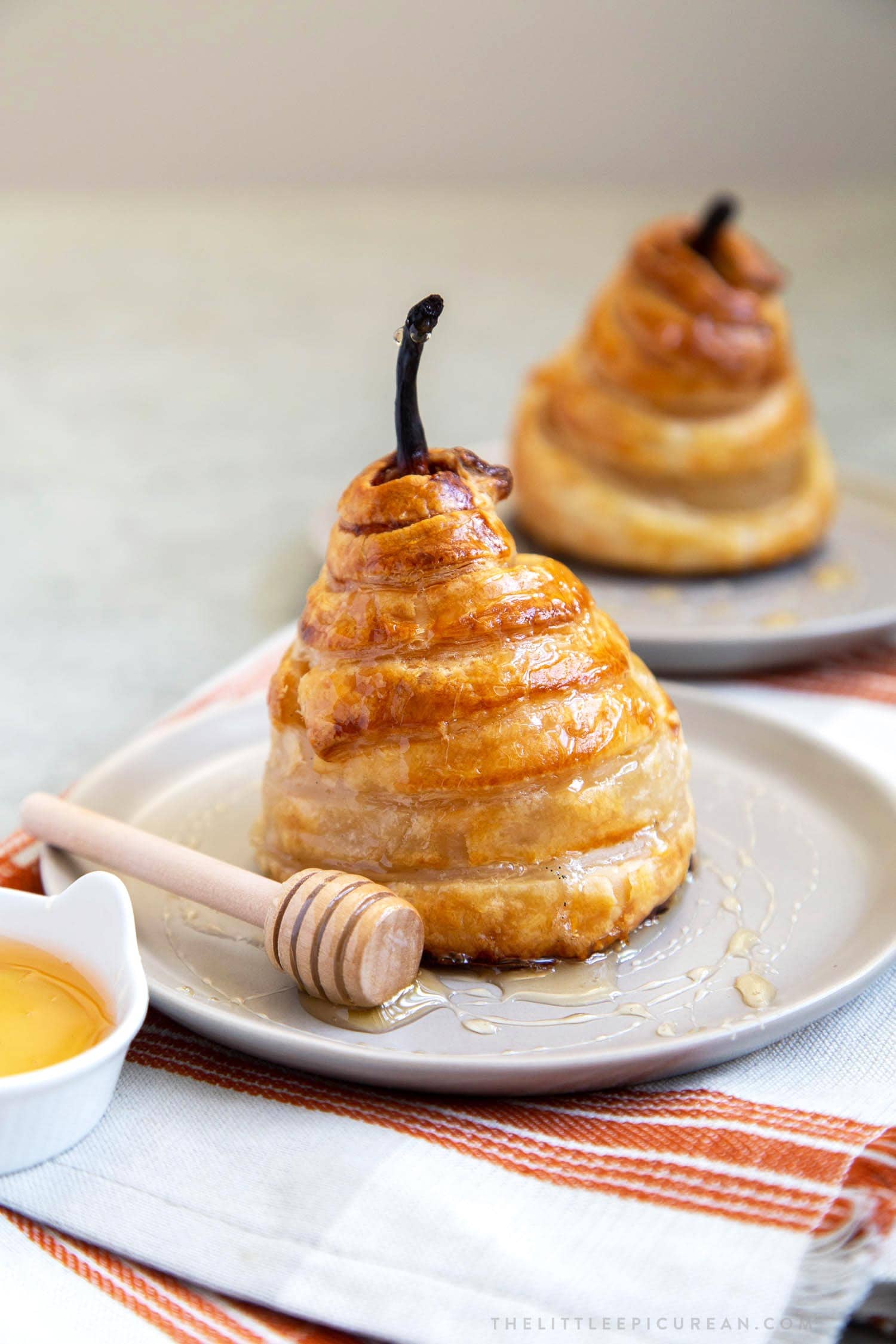 In the near future, I plan to host dinner parties for my family and friends. When that comes, this will be the first dessert I'll serve! 
But for now, I'm perfectly content enjoying these poached pear puff pastry desserts on the couch with a scoop of vanilla ice cream.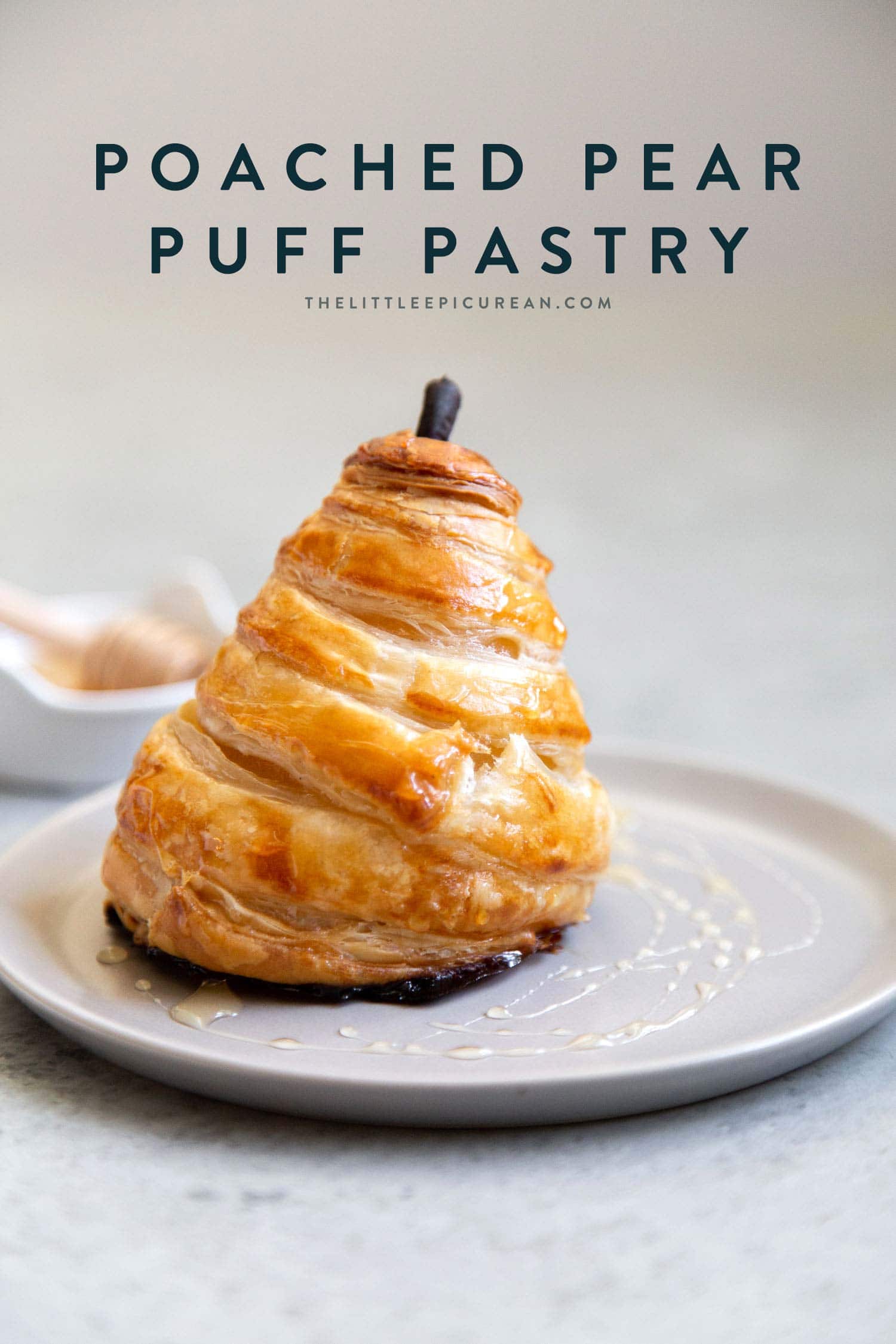 Poached Pear Dessert
This is the kind of fruit dessert you serve to people who claim to hate fruits.
After poaching and baking the pears, they take on a silky, almost custard like texture.
The pears absorb the warm and sweet flavors of the poaching liquid.
The combination of cinnamon, vanilla bean, and honey makes these pears so comforting and delightful.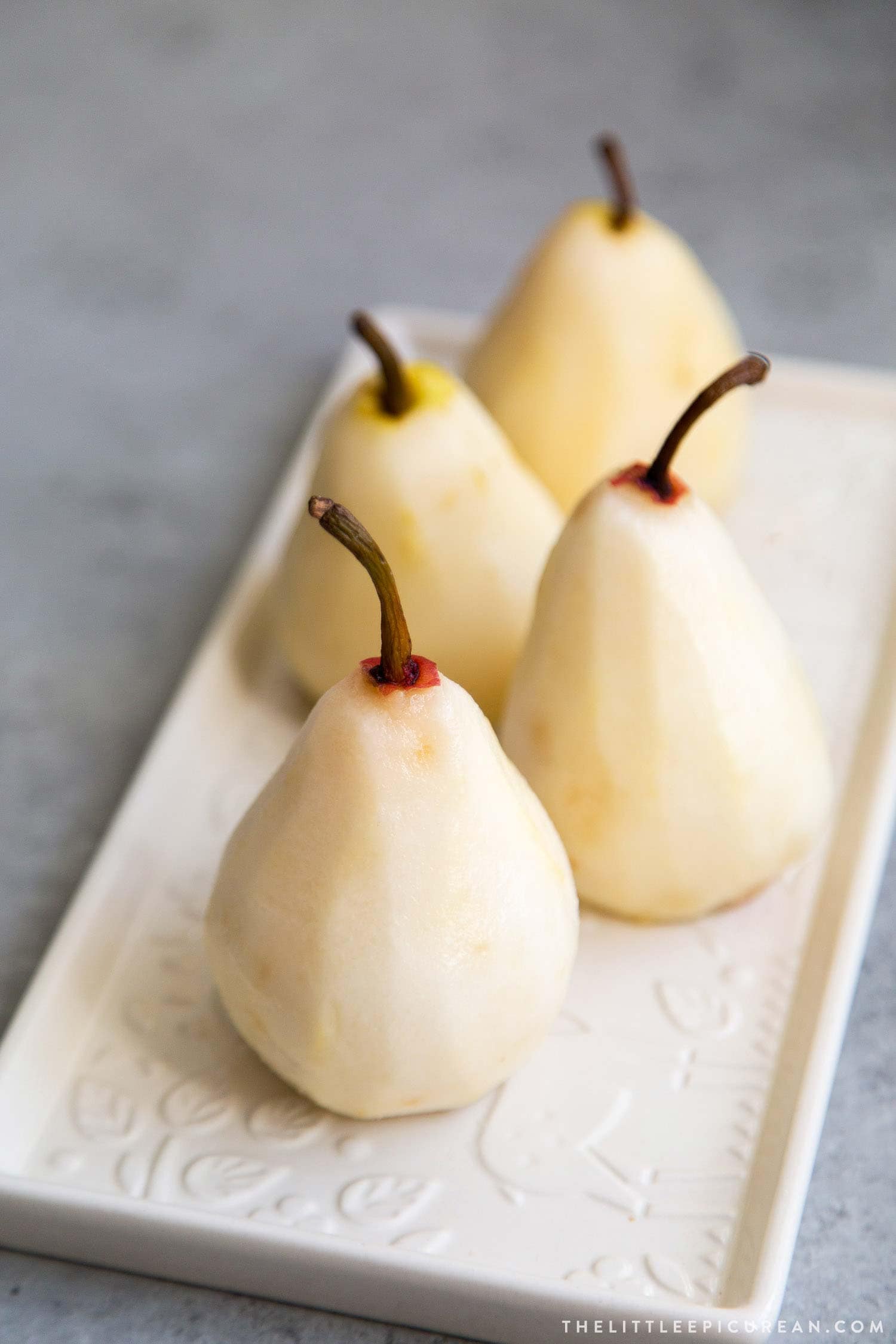 Which pears are best for poaching?
I used Barlett and Starkrimson. Anjou is another recommended pear.
Bartlett:
Known for its iconic "pear shape." This variety comes in two colors: green and red.
Bartlett pears are traditionally used for canning.
Best pear for all around culinary uses!
Starkrimson:
Sometimes, these are simply labeled as "red pears." These pears are very juicy and known for their bright red skin.
Best enjoyed raw, but this pear can also withstand cooking.
Anjou:
Juicy pear that comes in red and green varieties.
Anjou pears are a bit more firm in texture, making them very versatile.
They're great for snacking on raw, but also hold up well for baking and poaching.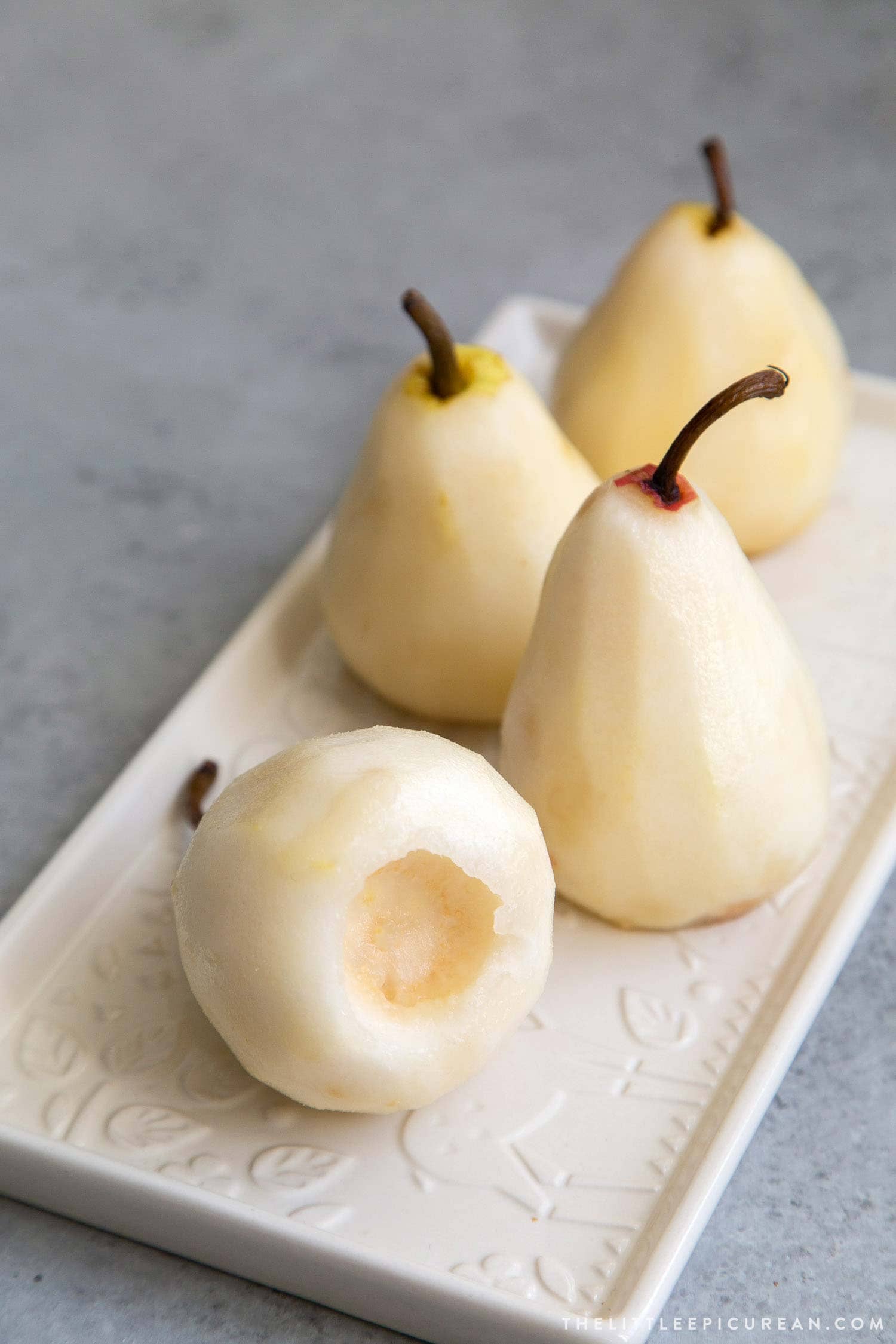 Poaching pears should be just ripe. Not underripe or overripe! But perfectly ripe!
Underripe pears are not as juicy and flavorful. Overripe pears will turn soft and mushy after poaching.
It is best to ripen pears at room temperature. Check the pear's neck for ripeness.
Gently pinch the pear's neck with your thumb and index finger (pointer finger). If it yields to gentle pressure, it's good to go!
For more information about pear varieties and ripeness, check out these posts: No Bake Pear Cheesecake and Pear Rice Pudding with Maple.
How to prepare pears for poaching?
Ensure pears are ripe!
Slice about 1/4-inch off the bottom of pear to create a flat, stable surface.
Use a corer, melon baller or measuring teaspoon to core pear (meaning: remove seeds and hard bits).
Use a peeler or knife to peel skin off pear, leaving stem intact.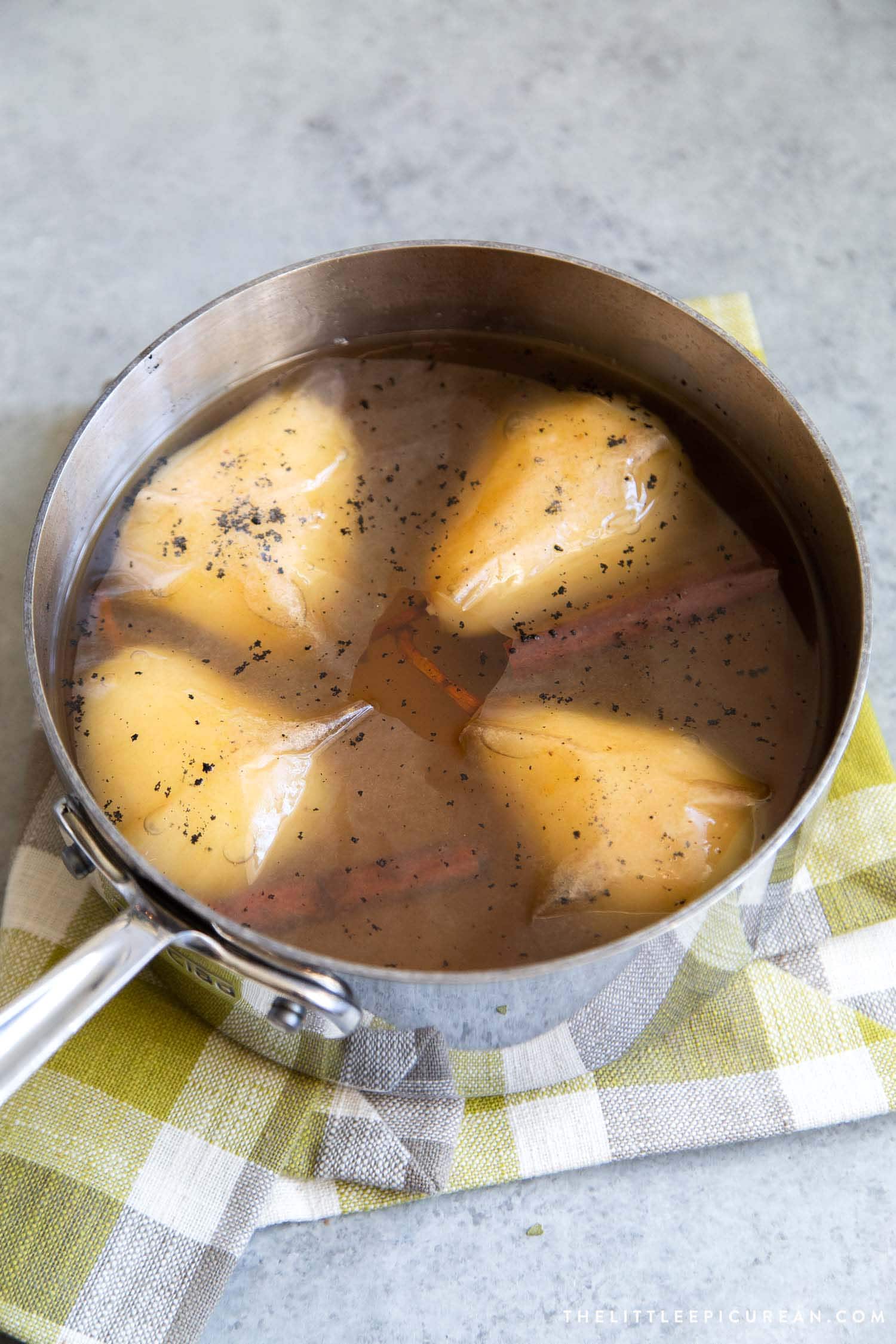 Pear Poaching Liquid
Pears can be poached in a variety of liquids: juice or cider, infused water, liquor or wine!
For this recipe, the pears are poached in a sweet mixture of water, sugar, honey, cinnamon sticks, and vanilla bean.
The pears gently simmer in the poaching liquid until almost tender, about 15 minutes. Once removed from heat, the pears are allowed to remain in the poaching liquid.
To strengthen the pears' structure while also infusing more flavor, the pears remain submerged in the poaching liquid overnight in the fridge.
Once the pears have been strained, the poaching liquid may be used for other applications such as:
Reduce the liquid to create a sweet syrup to drizzle over yogurt, oatmeal, or pancakes.
Use to the poaching liquid to sweetened teas or coffee.
It is an excellent addition to mulled ciders or mulled wines!
Poaching liquid can also be used to moisten layer cake during assembly and frosting.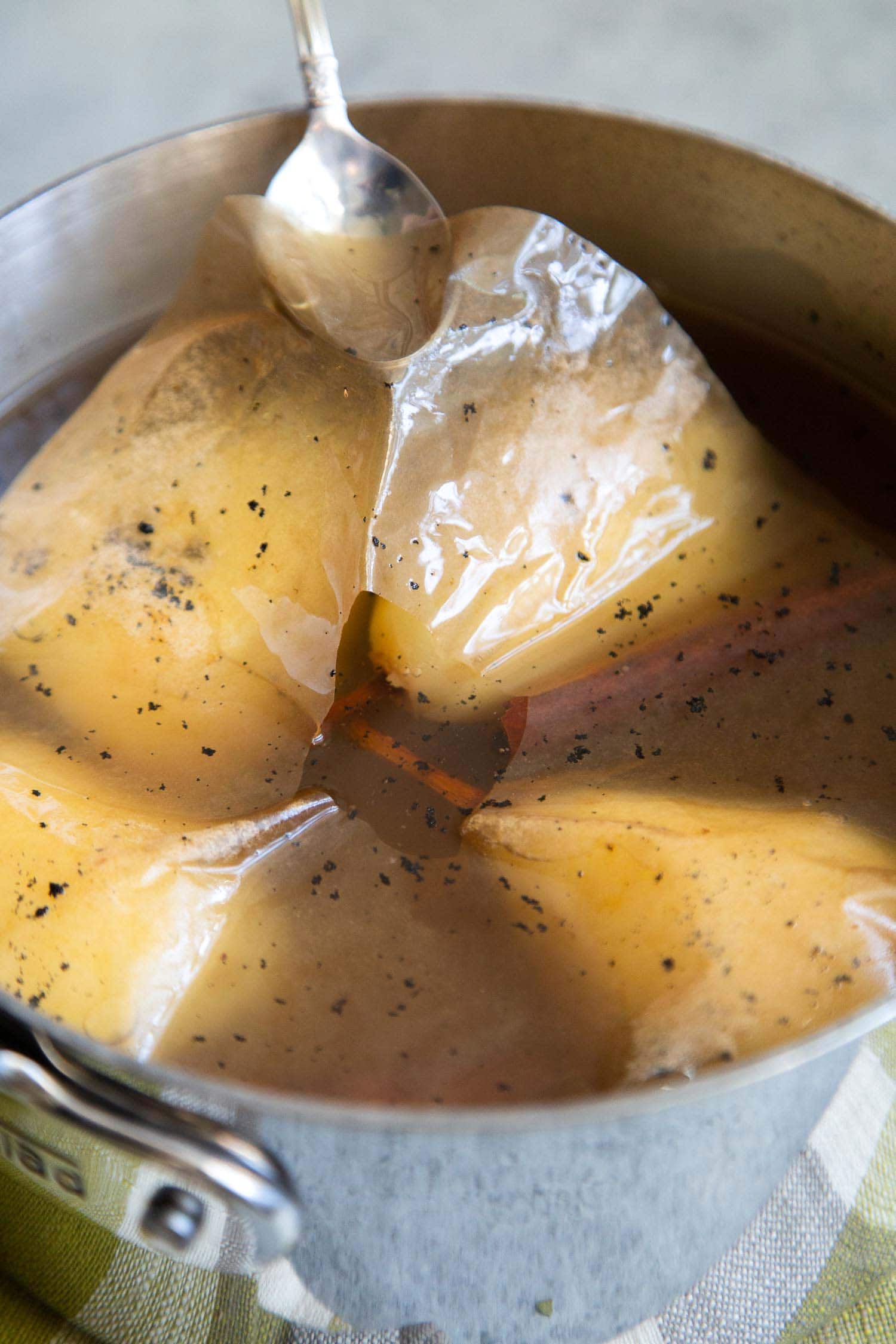 What is a cartouche? Is it really necessary?
Cartouche is a homemade parchment paper lid. It sounds fancy, but it's really easy to make.
(I first learned about this in culinary school and it really does make a world of a difference!)
Cut out a round of parchment paper that will fit inside pot. Cut a smaller round in the center to allow for controlled evaporation.
The bigger the center hole, the more evaporation. And, the smaller the center hole, the slower the evaporation.
The cartouche prevents the pears from drying out by keeping them submerged in the poaching liquid. As the poaching liquid simmers and cooks, the cartouche also prevents too much liquid from evaporating.
This technique is great for poaching fish and braising meats.
A cartouche is different from a standard lid because it allows steam to escape.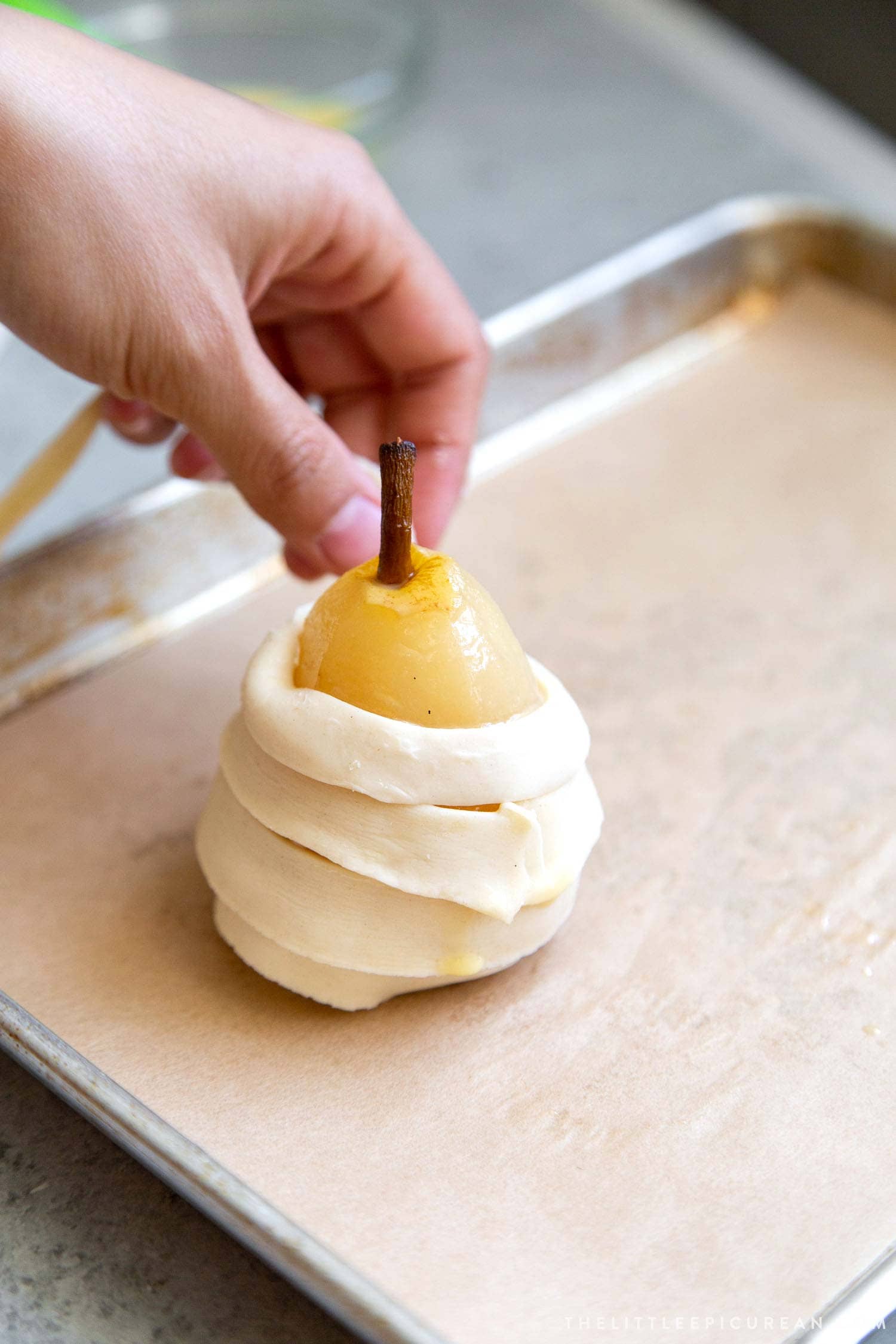 How to assembly puff pastry pears:
Remove chilled pears from poaching liquid. Allow to pears to drain on paper-towel lined plate.
Brush pear all over with egg wash.
Cover bottom of pear with a square piece of puff pastry. Encase body of pear with strips of puff pastry, leaving the stem exposed.
*If you need to use more than one puff pastry strip, use the egg wash as a glue to attach new strip to previous strip.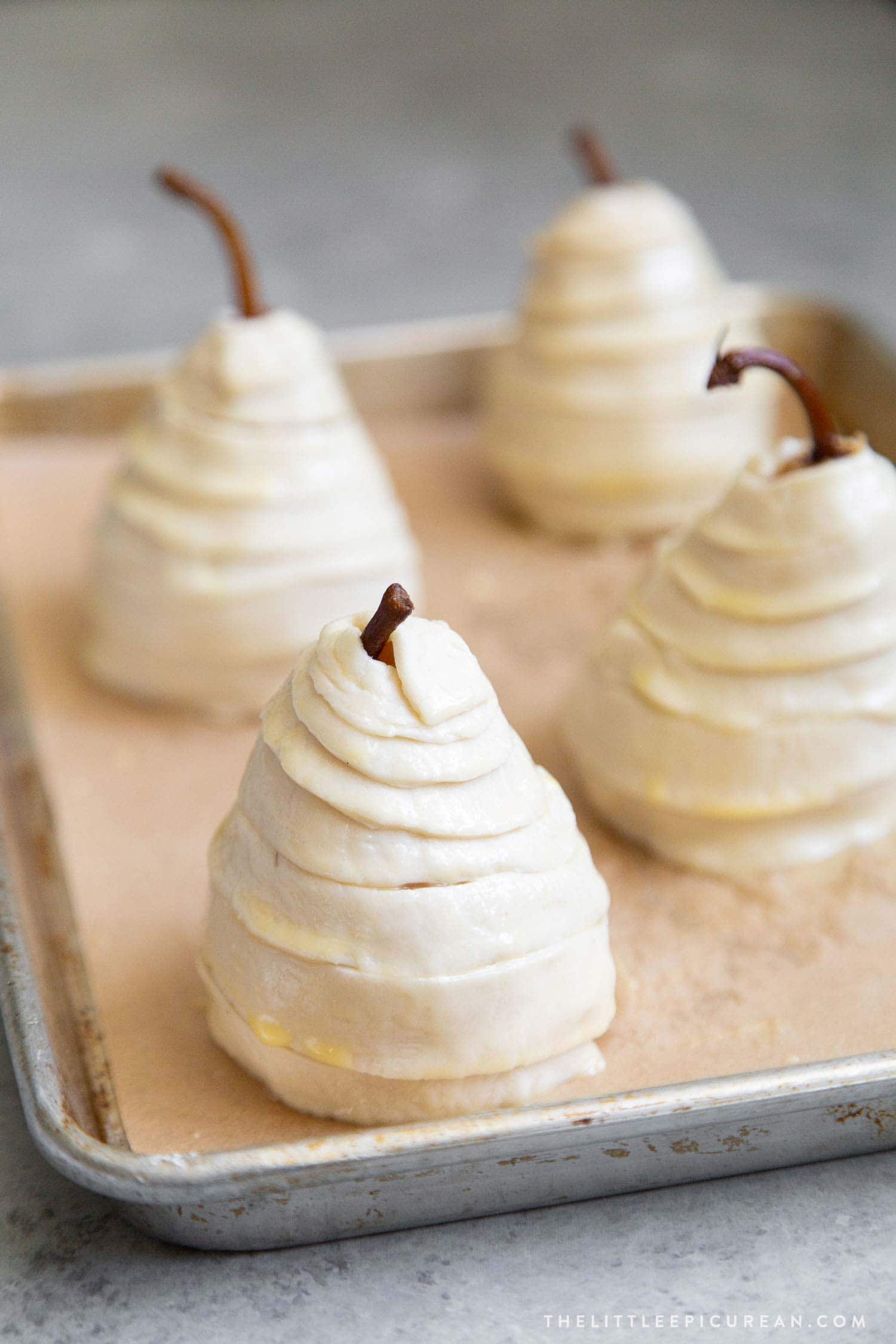 Lightly brush exposed puff pastry with egg wash before baking. This will ensure the puff pastry bakes up flakey and golden brown on the side.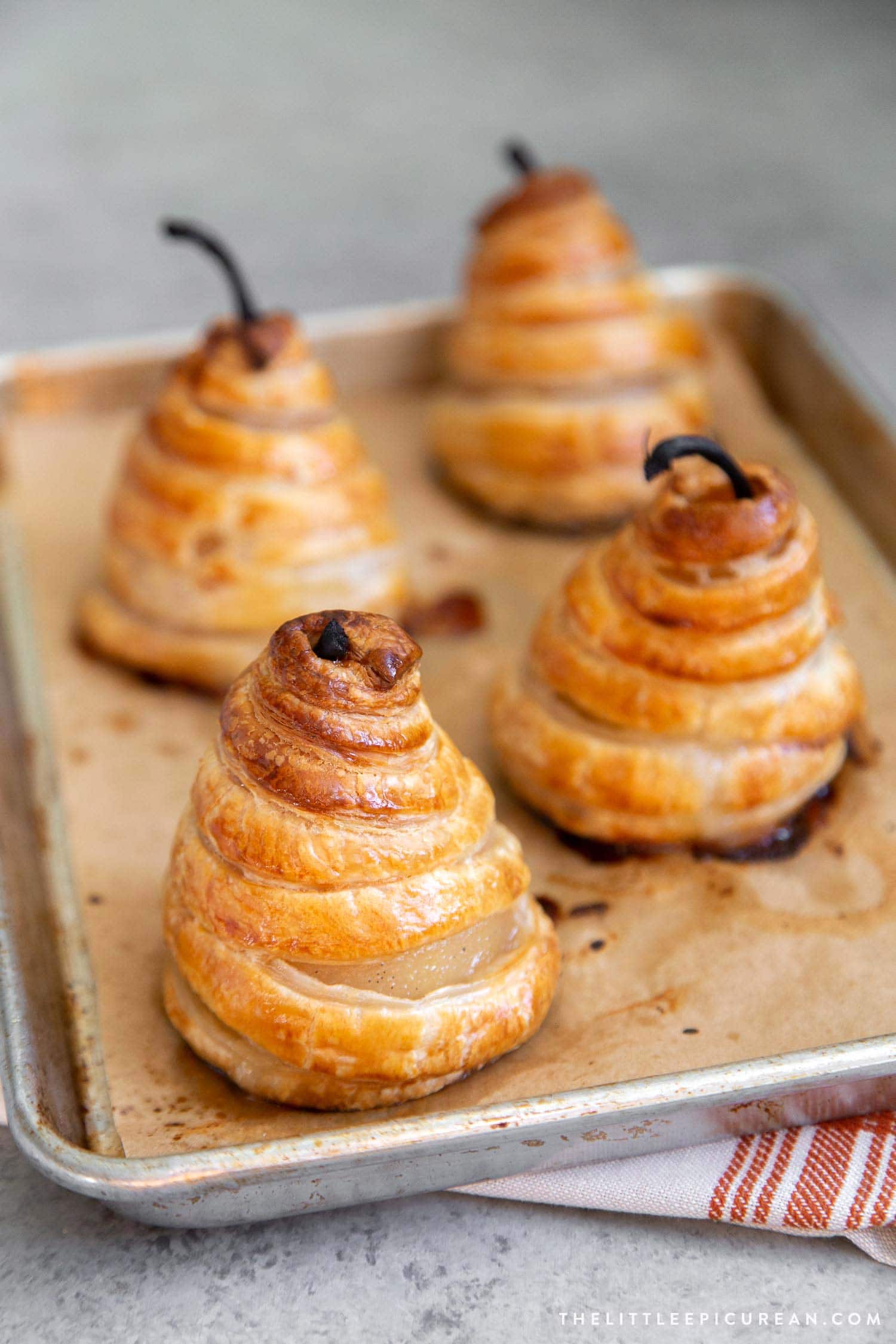 Give pears ample space to allow to air flow during baking. Also, rotate baking pan midway through baking to ensure even cooking.
Allow baked pear puff pastry to slightly cool (about 5 minutes) before serving.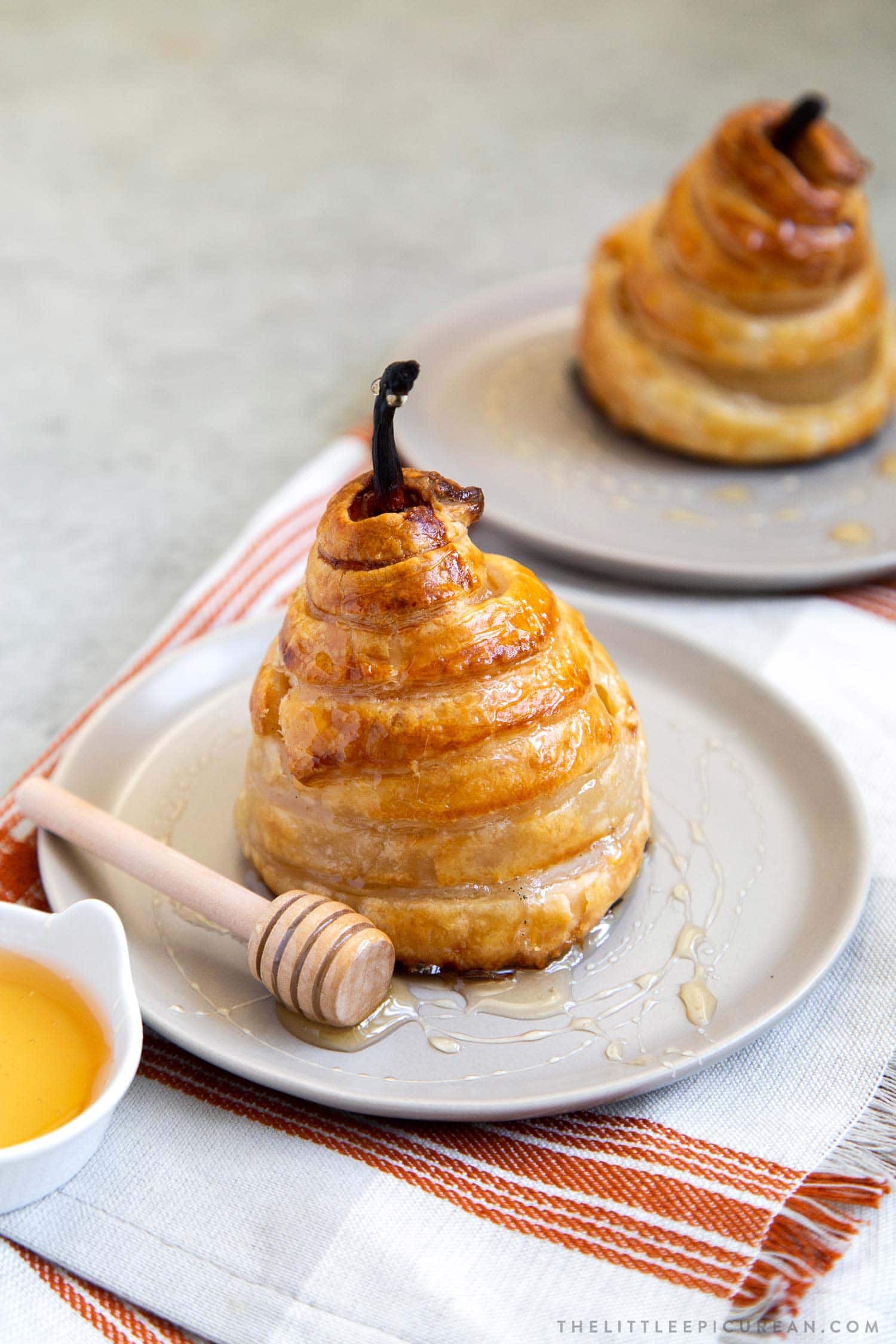 Serving Suggestions:
Overtime, the puff pastry will soak up the liquids of the pear causing it to soften and lose its crispiness.
As such, this poached pear puff pastry is best served warm, fresh from the oven.
For extra sweetness, drizzle the plated dessert with honey or a dust with powdered sugar. Add a scoop of vanilla ice cream for a decadent touch!
NOTE: Poached pears can be stored in the fridge for up to three days before serving. Assemble and wrap the pears in puff pastry just before baking.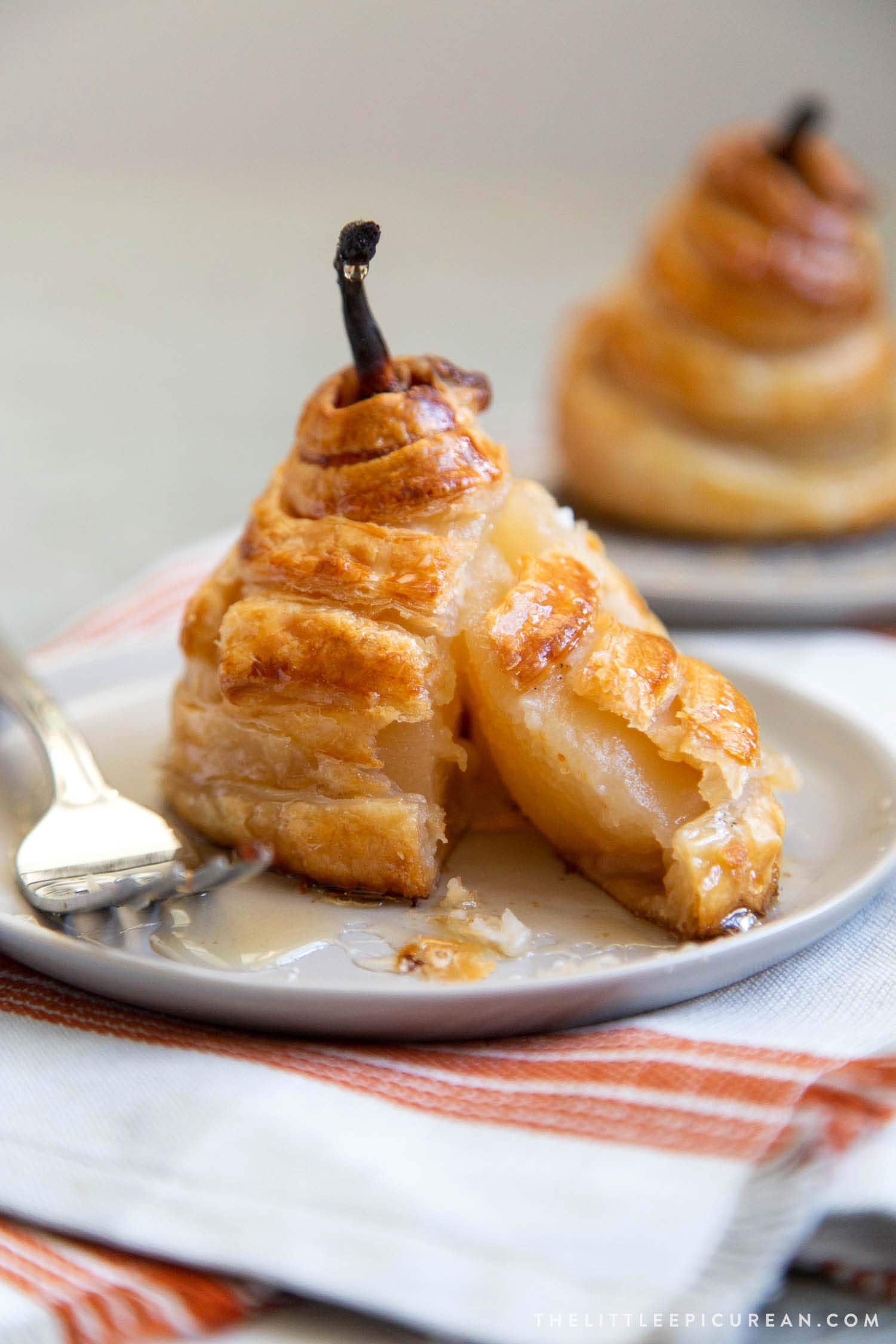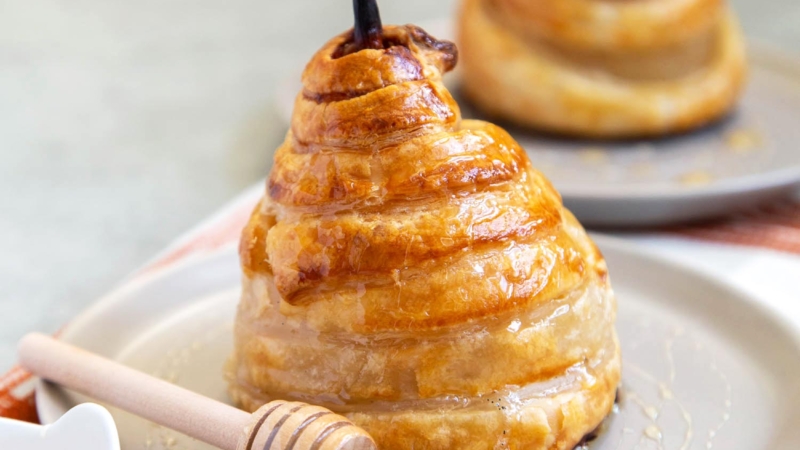 Poached Pear Puff Pastry
Pears poached in sweet vanilla cinnamon liquid. The pears are chilled overnight in poaching liquid. The following day, pears are encased in puff pastry and baked until crisp and golden brown.
Ingredients
Poached Pears:
4

medium pears

5

cups

water

1 ½

cups

granulated sugar

3

Tablespoon

honey

3

cinnamon sticks

½

vanilla bean,

split lengthwise
Egg Wash:
1

large egg

½

Tablespoon

heavy cream,

or whole milk

pinch

kosher salt
Assembly:
1

sheet

store bought frozen puff pastry,

thawed*
Instructions
Poached Pears:
Prepare cartouche, also known as parchment paper lid.*

Slice off about ¼-inch from bottom of pear to create a stable flat surface. Core pears from the bottom. Peel pears, leaving stems intact. Set aside.

In a medium heavy-bottomed sauce pot bring combine water, sugar, honey, cinnamon sticks, and vanilla bean. Bring to a boil and reduce to a simmer.

Gently submerge pears on their side in pot. Cover with cartouche. Simmer for about 15 minutes, flip pears halfway through cooking, until pears are tender. NOTE: Be careful not to overcook pears. Pears will continue to "cook" after simmering.*

Remove pot from heat. Cool pears to room temperature in the poaching liquid. Transfer to airtight container and let pears soak in liquid overnight in fridge.
Egg Wash:
In a small bowl, whisk together egg, heavy cream, and salt until smooth. Set aside.
Assembly:
Remove chilled pears from poaching liquid. Place pears on paper-towel lined plate. Set aside. 

NOTE: poaching liquid can be discarded or saved for other applications.

Unroll or unfold thawed puff pastry sheet. Cut out four squares to cover bottom of pears. Slice remaining sheet into ½-inch wide strips.

Place pears on a parchment lined baking sheet. Brush pears all over with egg wash. Encase bottom of pear with square puff pastry.

Beginning at the bottom, wrap puff pastry strip around pear, leaving stem exposed. Repeat with remaining pears. Space pears at least 3-inch apart from each other.

Lightly brush puff pastry exterior with egg wash. Bake for 30 minutes until puff pastry is golden brown.

Allow to cool for 5-8 minutes. Transfer to serving plate. Garnish with drizzle of honey or dust with powdered sugar before serving. Enjoy warm!
Notes
Suggested pear varieties: Barlett, Starkrimson, or Anjou. Make sure pears are slightly firm and have just turned ripe. Overripe pears will turn very soft and mushy.
To test poached pears for doneness: pierce pear with a pairing knife or fork. The pear should be tender. However, it should NOT be soft and mushy.

To make a cartouche

: Cut a parchment circle to fit inside sauce pot. Cut a small round in center of parchment paper.
Poaching liquid can be used as a simple syrup for teas, coffee or cocktails. See blog post for more details.
Puff pastry is usually sold frozen in folded sheets or rolled up. For best results, thaw in the fridge overnight before use. If possible, use all-butter puff pastry instead of those made with vegetable oils.