Toffee Sticky Buns are filling with cinnamon sugar, coated with a sweet molasses glaze, and topped with homemade chopped toffee bits!  
This recipe post was created in partnership with C&H® Sugar. As always, all opinions stated here are entirely my own.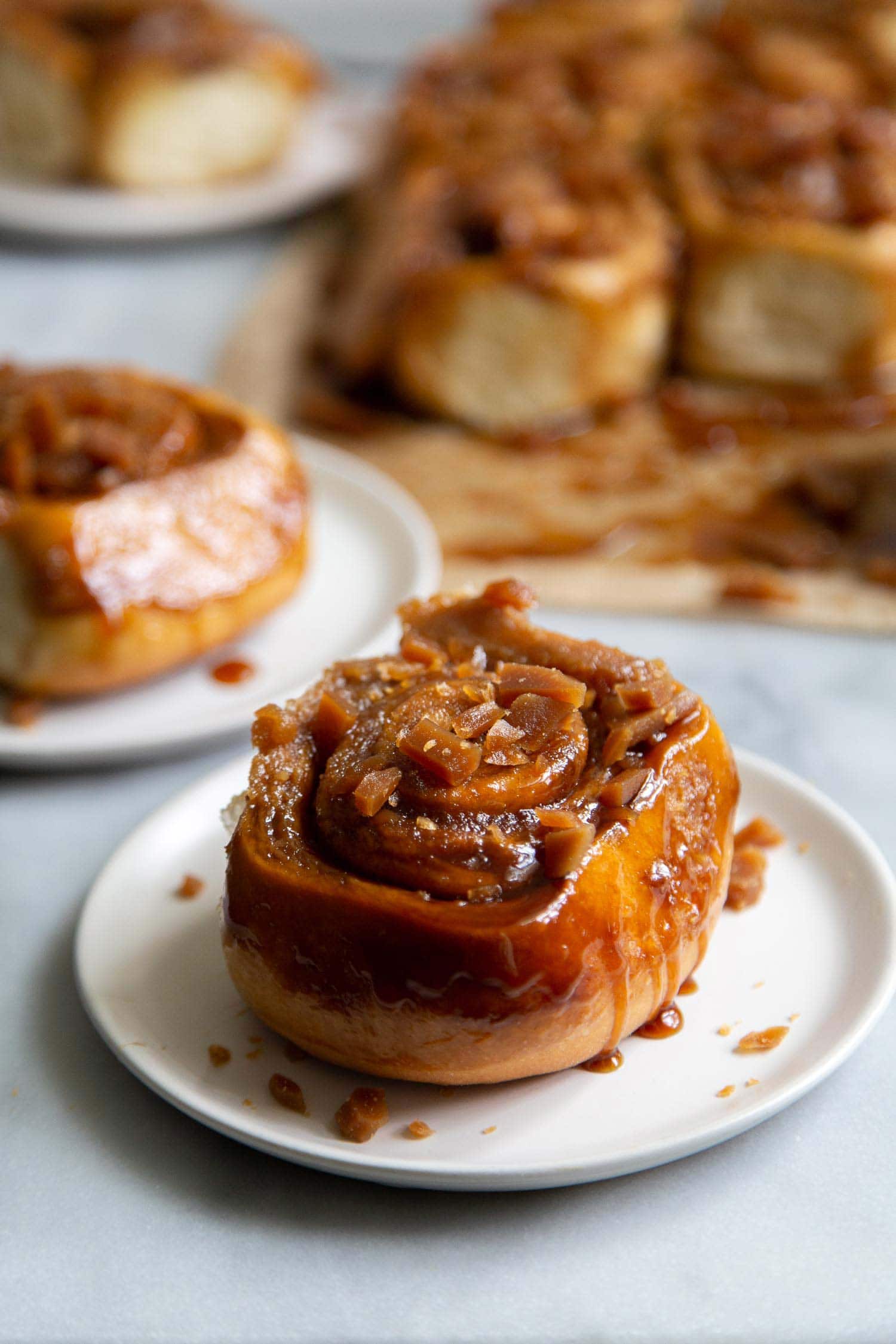 I'd like to believe that calories don't count during the holiday season.
It's a time to be merry and share sweet treats with loved ones.
For Christmas brunch, I'm serving these toffee sticky buns!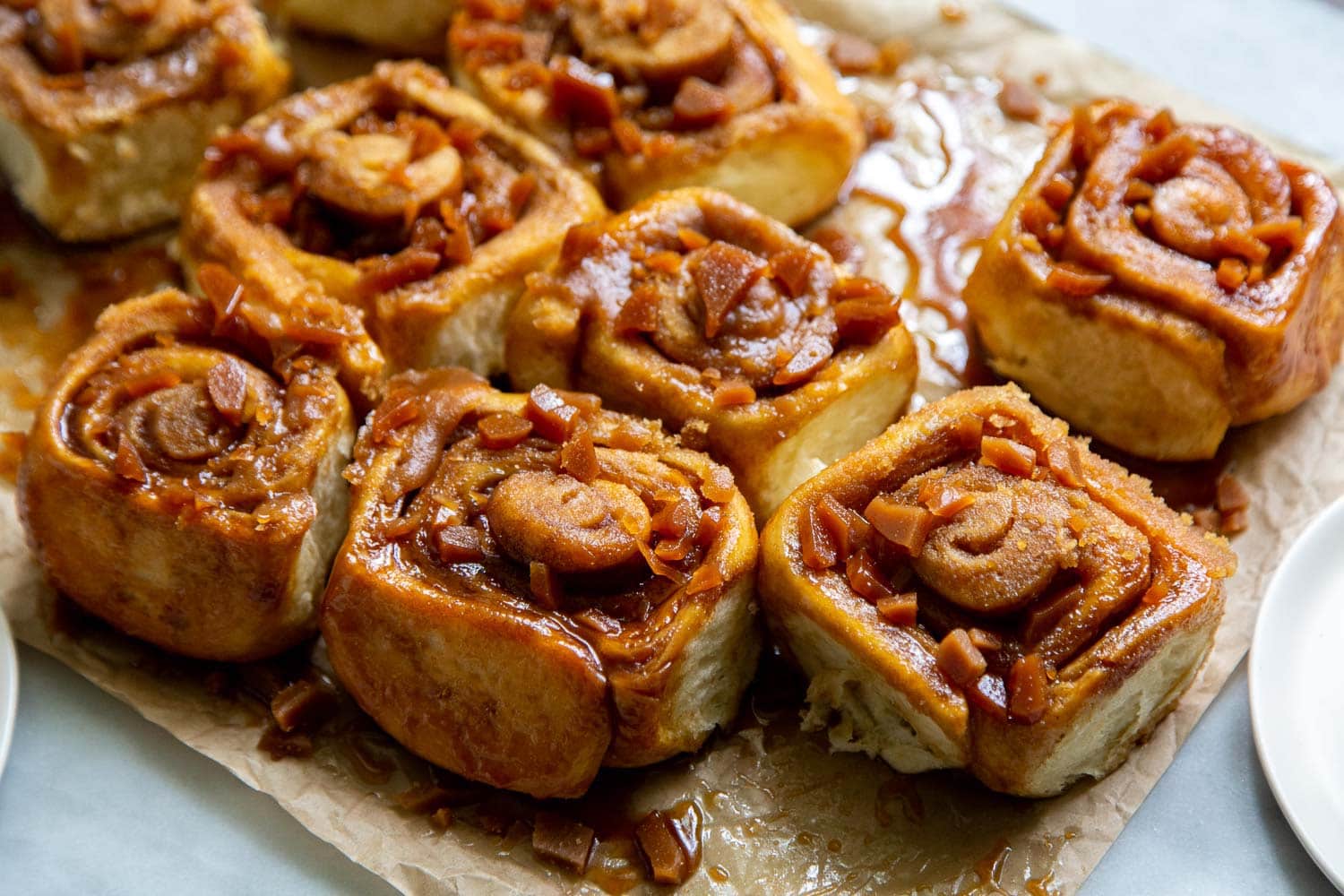 Think of this yeasted bread like the cinnamon rolls' cooler more sophisticated relative.
These sticky buns are filled with cinnamon sugar, coated in a molasses caramel sauce, and topped with chopped bits of homemade toffee.
In one word, it is heavenly!
Toffee Sticky Buns
For as long as I can remember, I've always been baking with C&H® sugar products.
As a kid, I was drawn to the iconic pink packaging of C&H® Granulated Pure Cane Sugar.
Now that I'm older and wiser, I'm a fan of the brand for other reasons. (More details below!) 
Components:
Homemade Toffee
Yeast Dough
Cinnamon Sugar Filling
Molasses Caramel Sauce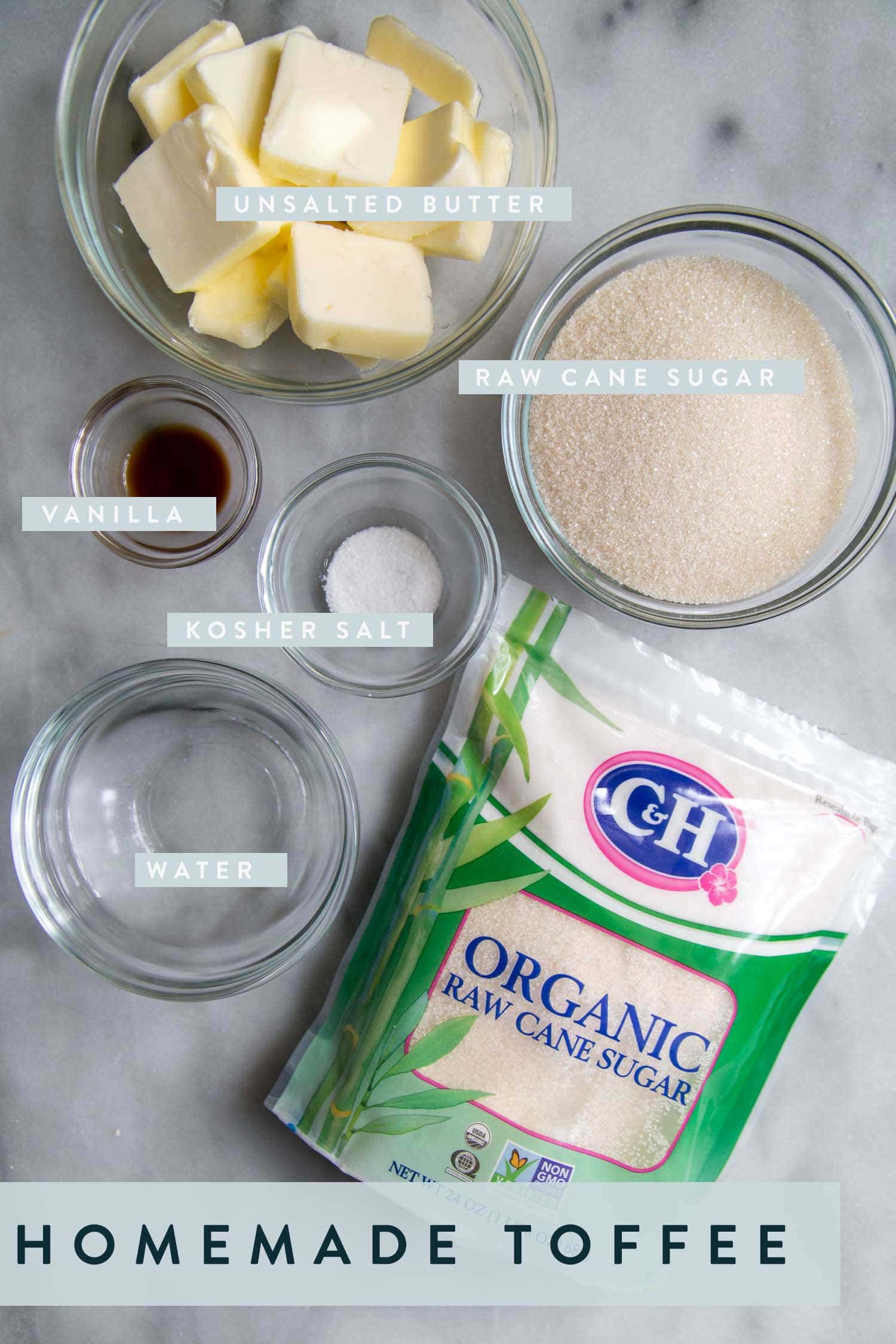 Homemade Toffee:
You may certainly use store bought toffee bits. But since it's the holiday season, let's make toffee from scratch!
Toffee is simply a mixture of butter, sugar, and water. That's it!
Since toffee requires so little ingredients, it's best to use high quality products.
Use real, all natural, unsalted butter and pair it with C&H® Organic Raw Cane Sugar.
C&H® Organic Raw Cane Sugar is harvested and milled on the same day from certified organic sugar cane. They use a special process to preserve the flavor of the sun-sweetened sugar cane!
For extra goodness, the toffee is enhanced with a little bit of kosher salt and a touch of pure vanilla extract.
The toffee is cooked stovetop until rich golden in color.
Once set and cooled to room temperature, the homemade toffee can be used for a variety of other applications.
Use to make pecan toffee chocolate chunk cookies or sprinkle toffee on top of ice cream or yogurt!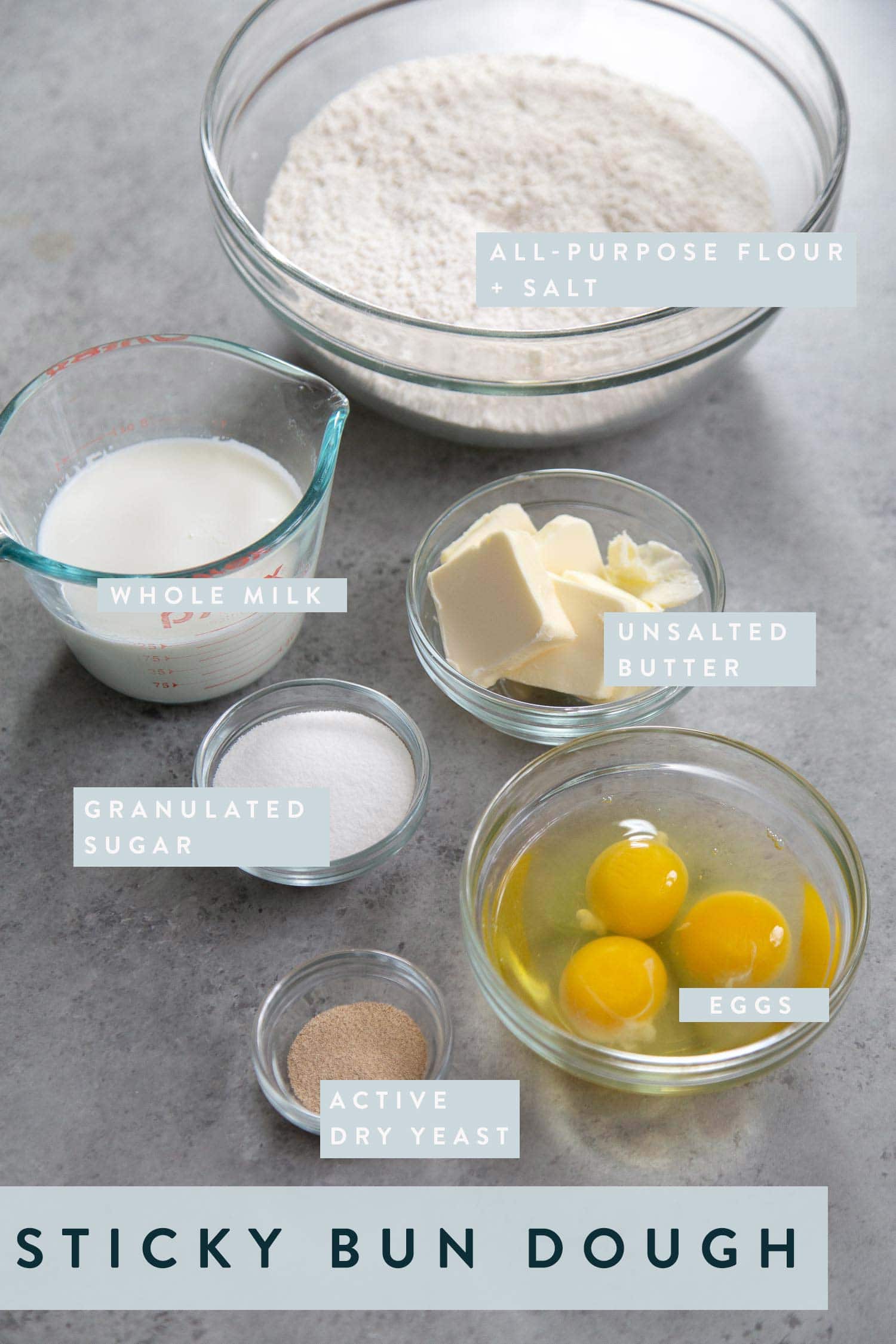 Sticky Bun Dough
The dough begins like any standard yeasted dough.
Mix the active dry yeast with warm milk and a teaspoon of sugar. Once bubbly, add in the room temperature eggs and remaining sugar. 
Mix in the flour and butter and knead together until dough is smooth and elastic.
The dough's recipe instructions are for a stand mixer.
However, with a little elbow grease, you may certainly knead the sticky bun dough by hand.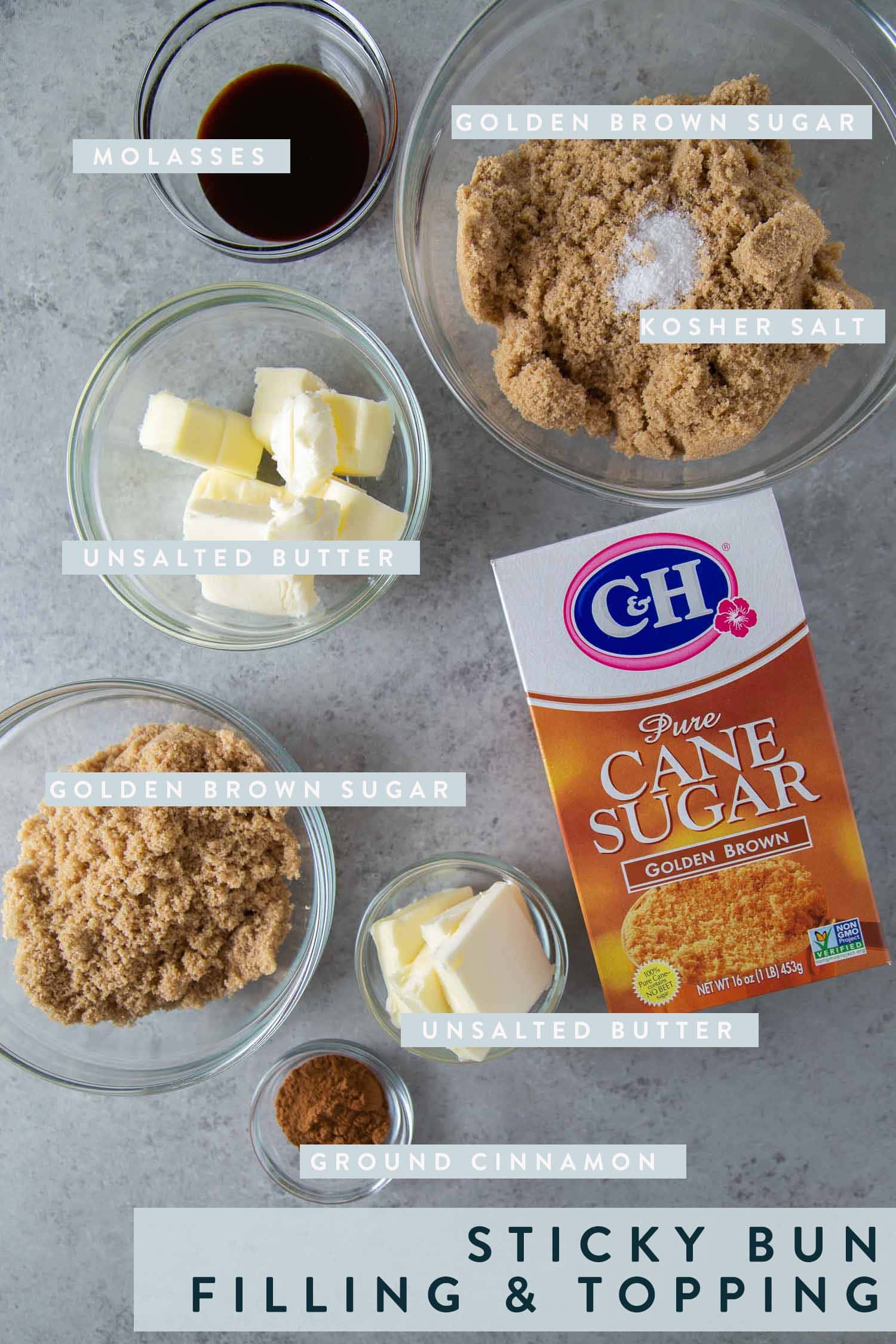 Cinnamon Sugar Filling:
The yeasted dough is filled with cinnamon sugar. I used C&H® Golden Brown Sugar. It has the perfect amount of warmth that pairs wonderfully with ground cinnamon.
C&H® Golden Brown Sugar is my choice brown sugar for chocolate chips cookies, spice cakes, luscious brownies, pecan pie filling, and so much more.
It has nutty caramel flavor that works with so many recipes. 
Sweet Molasses Caramel Sauce:
The molasses caramel sauce is a simple mixture of C&H® Golden Brown Sugar, salt, melted butter, and molasses.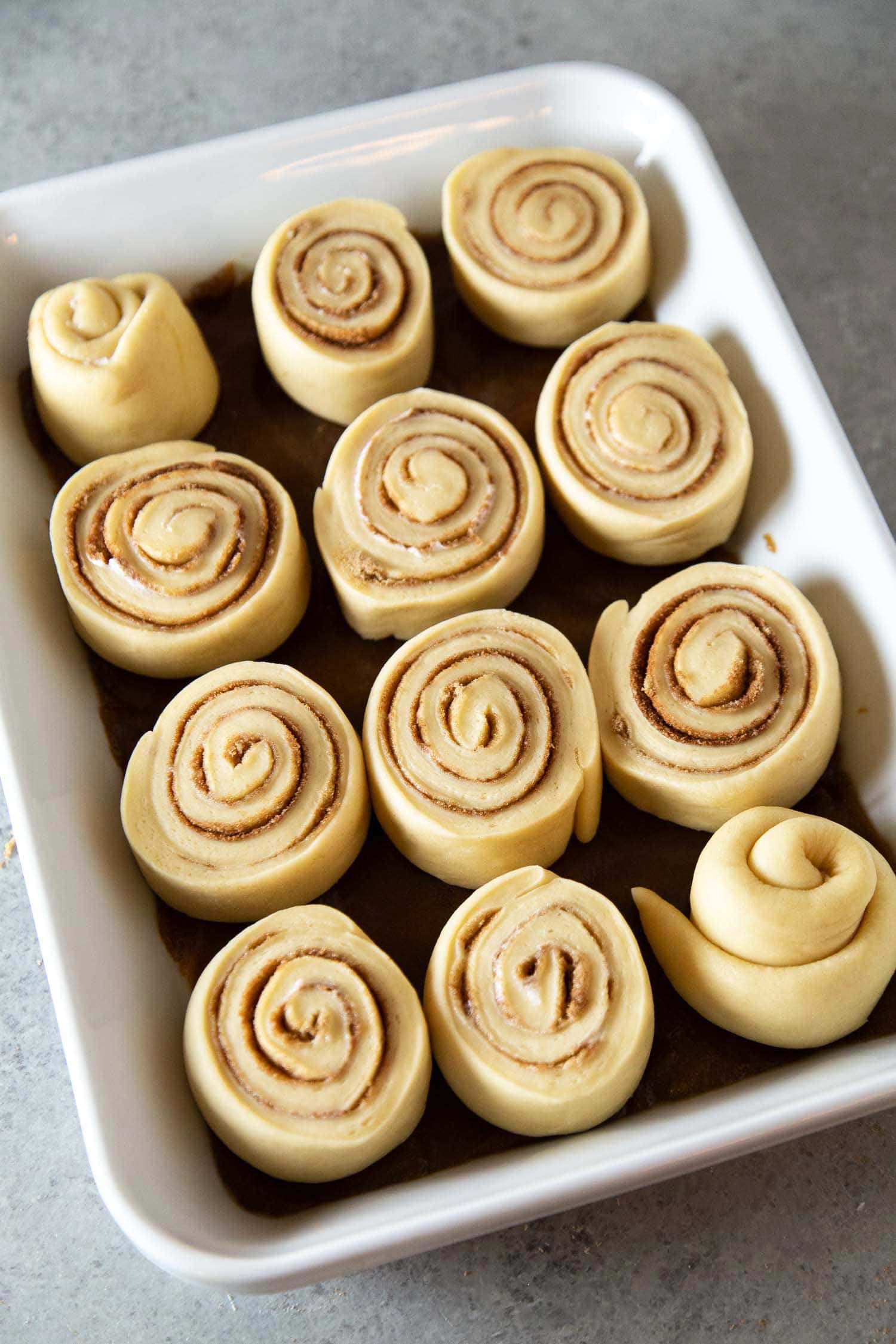 Assembling Sticky Buns:
Evenly spread the molasses caramel mixture in the bottom of a greased baking dish.
Place the assembled buns on top cut side down. 
The buns will look small at first. However, after proofing, they will expand and fill the entire baking dish.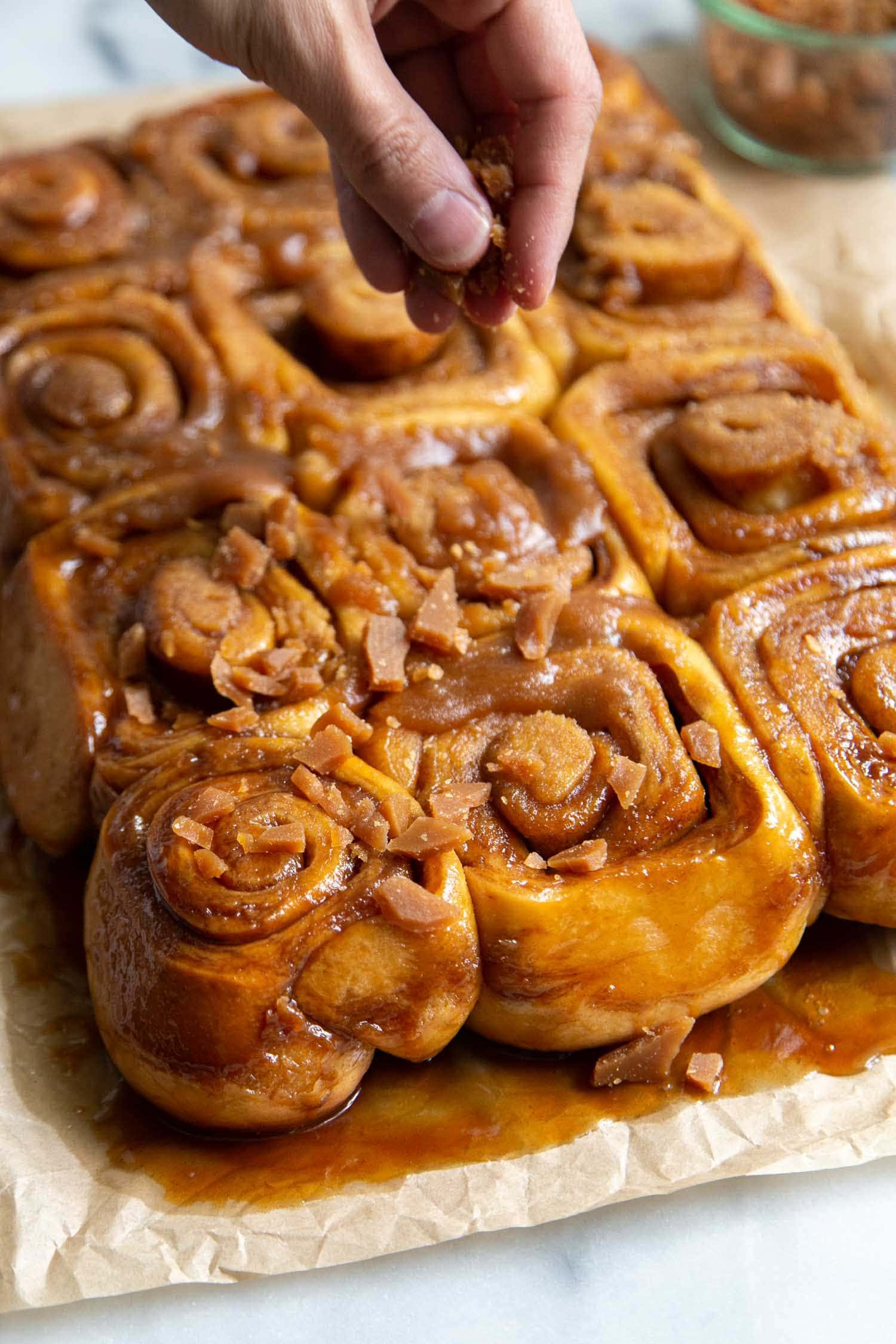 During baking, the molasses caramel melts into a sticky delicious sauce.
Invert the baked sticky buns on a serving dish or platter to expose the caramel topped bread rolls. 
For the finishing touch, generously top the warm sticky buns with chopped toffee bits.
The toffee pieces add a pleasant crunch and textural variety to this sweet breakfast treat.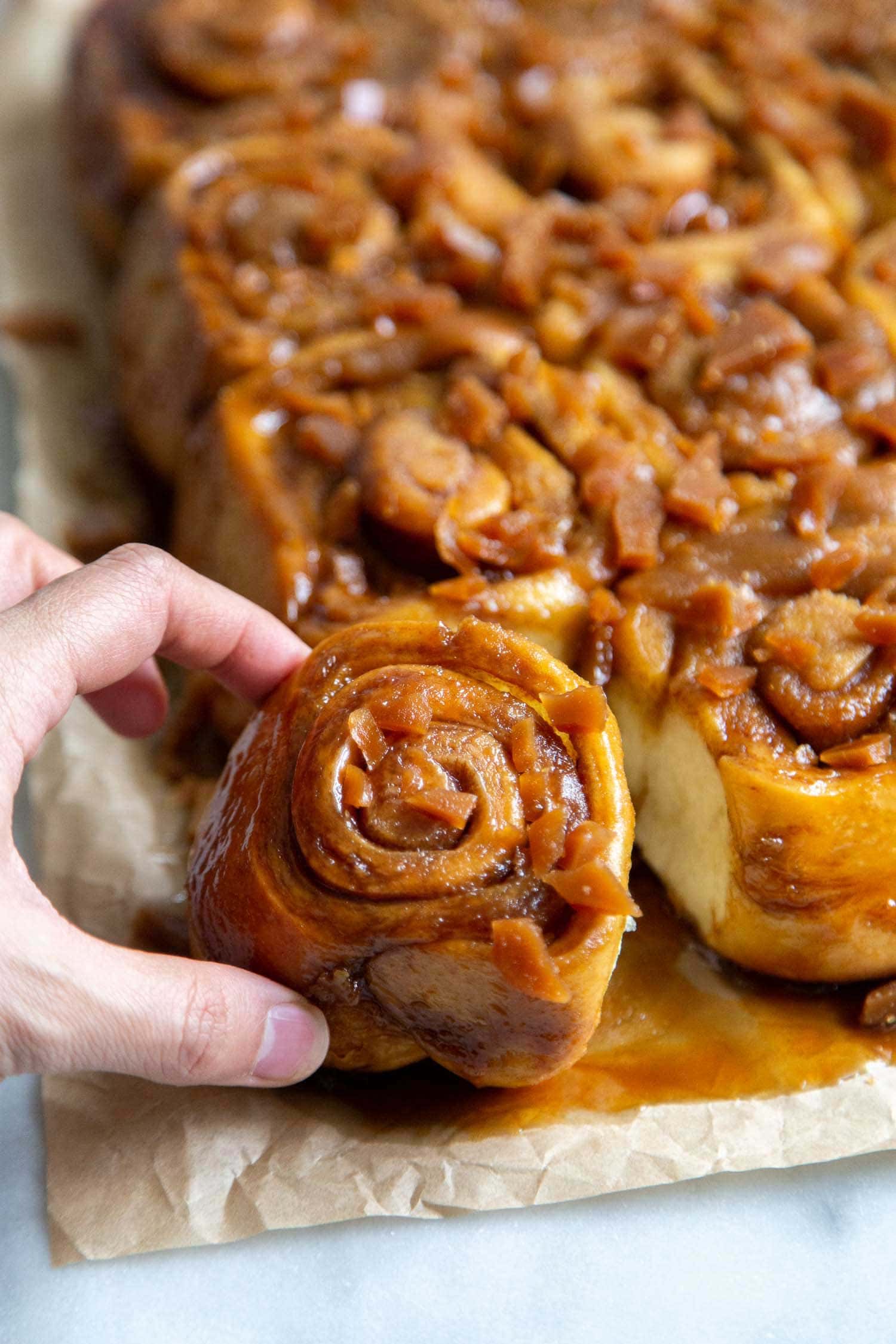 Pressed for time? These buns can be made ahead of time.
Prepare the components a day ahead. Store the assembled sticky buns in the fridge overnight to slowly proof.
The following day, allow the rolls to come to room temperature. Then, bake as directed in the original instructions.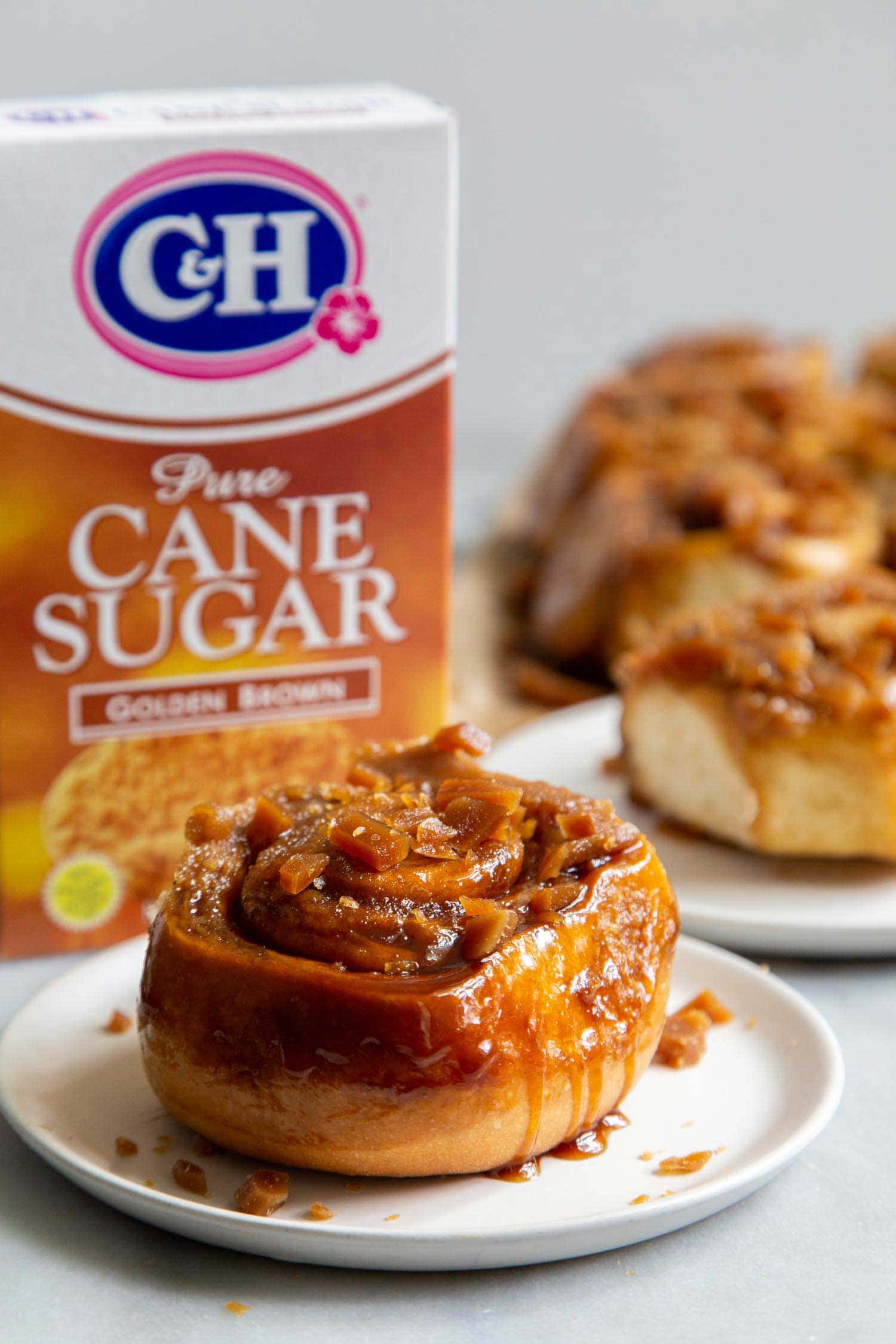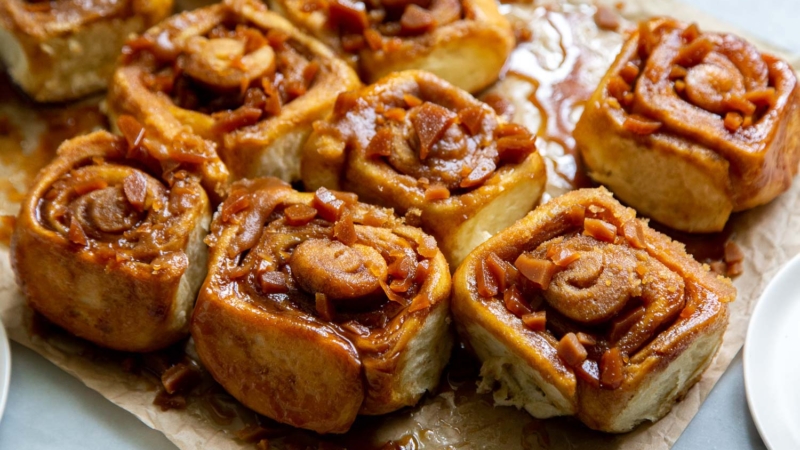 Toffee Sticky Buns
These Toffee Sticky Buns are filling with cinnamon sugar, coated with a sweet molasses glaze, and topped with homemade chopped toffee bits! 
Yield: 9×12-inch baking dish
Ingredients
Instructions
Toffee:
Line rimmed half size baking sheet (18×13-inch) with silicone baking mat. Set aside.

In a heavy bottomed sauce pot, add sugar, water, and butter. Set over medium heat and bring to a boil without stirring. Continue to boil for about 2 minutes until butter and sugar has completed melted.

Attach candy thermometer to sauce pot. Continue to boil until mixture reaches 300°F. This will take anywhere from 8-15 minutes depending on size of pot, ambient temperature, and humidity of room. At this point, you may whisk the mixture as needed to distribute heat and prevent mixture from burning along the edges of the pot. Mixture will change colors from pale yellow to caramel brown as it reaches 300°F.

Remove from heat. Whisk in salt. Whisk in vanilla. Immediately pour hot mixture onto prepared baking sheet. Let sit at room temperature. Toffee will harden and solidify as it cools. This will take anywhere from 15 to 35 minutes.

NOTE: Mixture will bubble and steam when vanilla extract is added.

Once toffee is set, transfer to cutting board. Use a sharp knife to cut toffee into smaller bite sized pieces. Store in an airtight container at room temperature until ready to use.
Dough:
In the bowl of a stand mixer, combine yeast, warm milk, and 1 teaspoon sugar. Let sit for 5-7 minutes to allow mixture to bubble and activate.

Whisk in eggs and remaining sugar. Attach dough hook to stand mixer.

In a large bowl, whisk together flour and salt. Add 2 cups of flour mixture to stand mixing bowl. Mix on low speed until dough begins to come together. Add another 1 cup of flour mixture. Mix on low speed until incorporated. Add another cup of flour. Mix until incorporated.

With the mixer running on low speed, add softened butter one tablespoon at a time. Add remaining 1/2 cup of flour and knead until dough is smooth and pulls away from the sides of the bowl.

Transfer dough to a lightly greased bowl. Cover with plastic wrap and let dough rest at room temperature for 75-90 minutes until doubled in volume.
Molasses Caramel:
In a medium bowl, combine sugar, molasses, salt, and melted butter until smooth. Evenly spread mixture on the bottom of a greased 9×12-inch baking pan. Set aside.
Cinnamon Sugar Filling:
Set aside softened butter. In a small bowl, whisk together brown sugar and cinnamon. Set aside until ready to assemble.
Assembly:
Punch down risen dough. Transfer to a lightly floured work surface. Roll dough to an 20×14-inch rectangle.

Spread softened butter over surface of dough. Distribute cinnamon sugar filling over buttered dough.

Starting at the longer end, roll dough into a log. Slice log into 12 equal parts. Place rolls cut side down in molasses caramel baking pan. Cover with plastic wrap and let rolls rest for 1 hour at room temperature.

*NOTE: For overnight rolls- cover with plastic wrap. Let rolls chill in the fridge overnight, up to 12 hours.

Center a rack in the oven. Preheat oven to 350°F. Remove plastic wrap covering. Bake rolls for 35-38 minutes until golden brown on the outside and the internal temperature of rolls registers at least 185°F. Allow rolls to rest for 5 minutes before inverting into a serving dish. Top with chopped toffee bits. Serve warm or at room temperature.
Notes
OVERNIGHT BUNS: Let buns proof overnight in the fridge, up to 12 hours. Before baking, allow buns to come to room temperature (about 30-45 minutes). Then, bake according to instructions listed above.
Sticky buns are best enjoyed the same day they're baked. However, these can last at room temperature for up to 3 days. Keep leftover buns in an airtight container or tightly covered with plastic wrap. Reheat in the microwave.